These days, people want more from their haircare than to buy a generic hair product from the local drugstore. More people are becoming interested in high-performance hair care to see the results they want.
If this sounds like you, you likely heard of Oribe. Oribe is a brand that revolutionizes many aspects of beauty. For example, they don't just use any generic fragrance in their products. They use a fine fragrance in all of their products, including their hair products.
For this review, I used Oribe's Shampoo for Beautiful Color. I just recently dyed my hair and was looking for a new shampoo for color-treated hair. So, is Oribe shampoo worth it?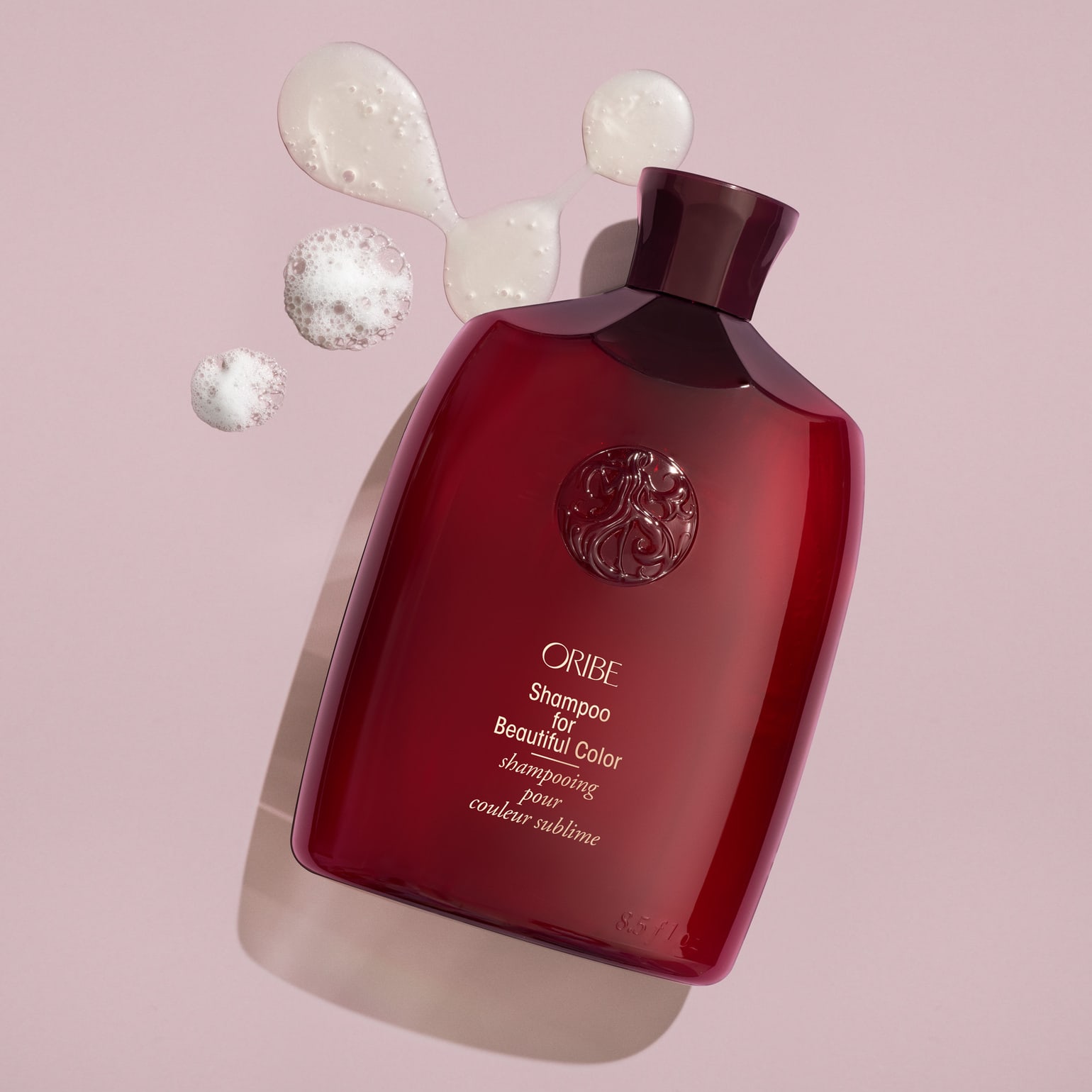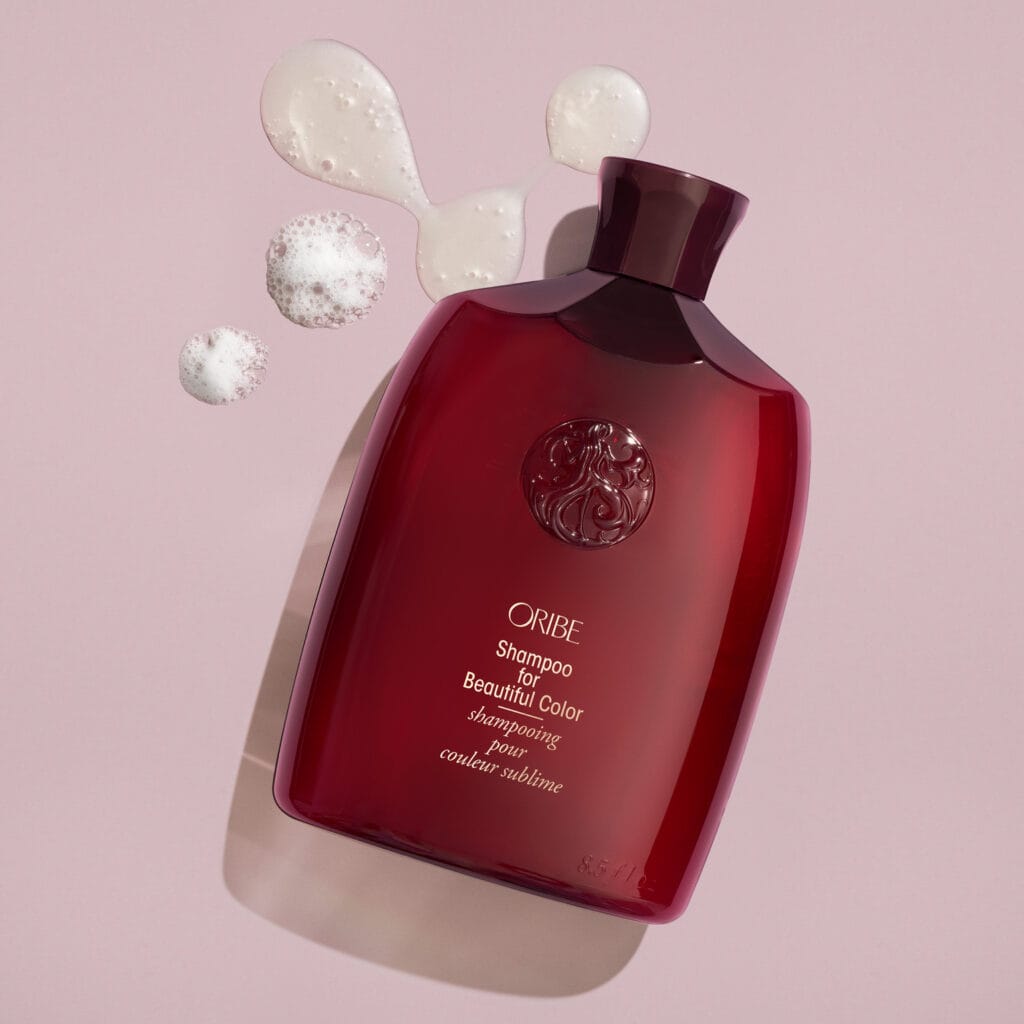 Features
Preserves color (for the Beautiful Color shampoo)
Cleanses thoroughly but gently
Ideal for all hairstyles, including chemically-treated and ultra-processed hair
Protects against sun damage and environmental pollutants
Pros
Smells amazing
Leaves hair feeling smooth and smooth
Cons
Doesn't lather well
Very small bottle
Expensive
Not worth the price
About the Beautiful Color Shampoo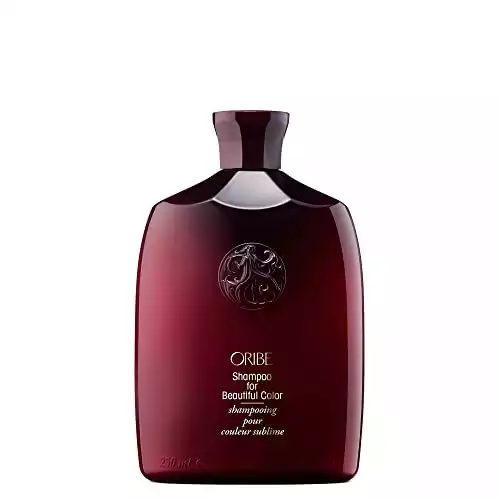 Oribe Shampoo for Beautiful Color | Amazon
An ultra-gentle cleanser for ultra-beautiful color. Extend the bright, happy life of your dye with high-tech ingredients that target damaged areas for intense moisture treatment and protect your hue from the elements.
Buy at Amazon.com
We earn a commission if you make a purchase, at no additional cost to you.
08/03/2023 10:06 pm GMT

Before getting into this review, let's cover some facts about the Beautiful Color Shampoo. The goal of this shampoo, as well as other color-preserving shampoos, is to keep your hair color looking as though you just walked out of the salon. To do this, this shampoo cleanses gently yet thoroughly.
In addition, the shampoo is formulated with botanical hydrators to prevent drying out your hair. This also makes Oribe Beautiful Color Shampoo a great option if your hair is damaged from dyeing hair. After using this product, your hair feels healthy and strong and you don't lose your color.
The shampoo is made with UV protectants to ensure your hair doesn't sustain further damage from the sun and other environmental factors.
I recently dyed my hair black, my usual go-to color. I started going gray at 20 so I dye my hair regularly. I dyed my hair only a few days ago and I wash my hair once every few days. I've only washed my hair once since I dyed it, and used the Oribe shampoo initially.
My Review
So without further ado, let's get my honest take on the Oribe shampoo!
Size and Packaging
When you read online that the shampoo is only 8.5 fl oz, you hope that you read the size wrong. Nope, you didn't. The Oribe shampoo is only 8.5 fl oz. And when the shampoo arrived, I was still very shocked at the small size. To put it in perspective, I was using Nexxus before. That shampoo is 13.5 fl oz and is a fraction of the price of Oribe.
Keep in mind, if you really love the Oribe shampoo, you can buy a liter-size for $147 (not sure if that's CAD or USD). If you only want to try Oribe, I suggest buying their travel-sized shampoo first. It's $16, but still cheaper than $45.
However, I have to freak out over the packaging. It's absolutely beautiful! All Oribe products have their own unique packaging. The Beautiful Color line is dark maroon-red and square-shaped. There's a carved image toward the top that has a Grecco-Roman aesthetic to it.
Also, the shampoo arrived in this pretty box. I do appreciate it when brands take the extra step and supply nice packaging during the shipping process.
Price
At only 8.5 fl oz, you would hope the Oribe shampoo is very affordable, right? Nope. For just the shampoo, I paid $57 CAD (about $45-$46 USD). I'm not someone who is cheap when buying high-quality shampoo, but even that price is pretty steep for me.
I will go into my experience using the Oribe shampoo in a minute, but first, I had to research why the Oribe shampoo is so expensive. According to this source, the performance of the products is not the only aspect that reflects the price but also the quality of the ingredients. So much so to where Oribe is nicknamed the "diamonds of hair cosmetics."
The small size is justified by the concentration; pretty much, you only need a small amount of product to get the job done. I disagree with this, as I will describe more in my review.
Overall, Oribe is so expensive because they aim to be a luxury haircare line with high-performance ingredients.
Because of the steep price, I don't recommend using this as a daily shampoo. Maybe use it once a week or on a day when your hair has to look amazing. Fortunately, since I don't wash my hair often, this shampoo will likely last for me.
In addition, Oribe does offer some generous samples when purchasing from their website. I bought my shampoo from Sephora and you can bet those $57 worth of points went toward a nice Beauty Insider gift and other freebies!
Using the Shampoo
Knowing this product is expensive with high concentration, I only put a small amount of product in my hand. It's a liquid formula and pretty much colorless. As I start rubbing it into my hair, I noticed two things:
It takes a bit to work up a lather
This shampoo has one of the best scents ever
Let's go into the scent. As stated previously, Oribe crafts their own scents for their shampoo and they never use generic and stock fragrances.
The shampoo's scent smells like a fine fragrance. It's definitely more on the woodsy side, which I love. Oribe specifies their fragrance scent for most of their products, but can't find the exact one they use for this shampoo. The scent fills up your bathroom and your shower.
The scent also lasts on your hair (but it's very subtle). Because of how much people love their scents, I read some reviewers use Oribe shampoo as a body wash (Oribe makes their own body wash so this isn't recommended).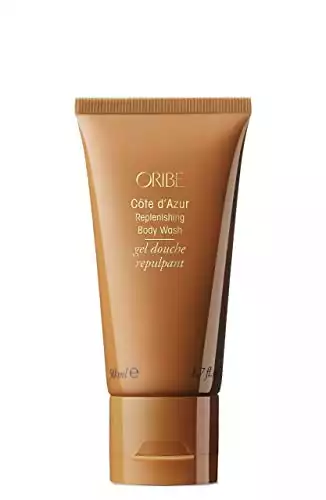 Oribe Cote d'Azur Replenishing Body Wash | Amazon
Luxuriate in the lather of this restorative cleanser infused with our signature Côte d'Azur fragrance. The pearlescent wash gently cleanses skin while adding silky softness.
Buy at Amazon.com
We earn a commission if you make a purchase, at no additional cost to you.
08/02/2023 06:37 pm GMT

Now, let's go over the lather. I was disappointed to see the shampoo didn't lather well at first. Then again, the lack of lather is actually a good sign. Sulfates give shampoo that frothy lather and everyone with color-treated hair knows that sulfates are a big no-no. But trust me, give it time and the lather will improve.
What I learned was to put a small amount of product on different parts of your hair. Product and oil build-up is the worst at the front of my hair and toward the crown of my head, so I used the bulk of the product there and lathered it around the rest of my hair. After doing that, the lather improved.
Final Result
Now that my hair is dry, my hair still holds the intense black color I had after walking out of the salon! Then again, this is the first time I have washed my hair since getting it dyed, so I'm not sure if color intensity matters in this scenario.
Otherwise, I'm shocked how well Oribe shampoo cleaned my hair with it having a fairly weak lather. As I mentioned, I only wash my hair once every few days, which means I lather up the dry shampoo. It was all stuck on my scalp, but it didn't take much for the dry shampoo residue to leave my hair. My hair feels very clean and healthy.
Not only that, but my hair is also very moisturized. It's soft and shiny, with virtually no frizz. It's apparent that Oribe cleans your hair well without stripping your hair of hydration. Now, I'm just interested in how long Oribe will maintain my hair color.
About Oribe
Oribe is a luxury beauty brand that was formed in 2008. They originally formed only as a haircare brand, paving the way for luxury haircare. Oribe was formed by Daniel Kaner and partnered with two legendary hairstylists, including Oribe Canales (who the brand was named after).
What does "luxury haircare" mean? This brand blends performance, craftsmanship, and decades-worth of hairstyling experience. The result is one of the most advanced haircare solutions in the world. They have won multiple awards and their products are favored by celebrities.
Since then, Oribe has expanded its line to make body products and even their own line of fragrances (which I now want to try).
Other Oribe Shampoos
The Beautiful Color line is not the only shampoo that Oribe offers. They have an extensive catalog of hair products for just about everyone.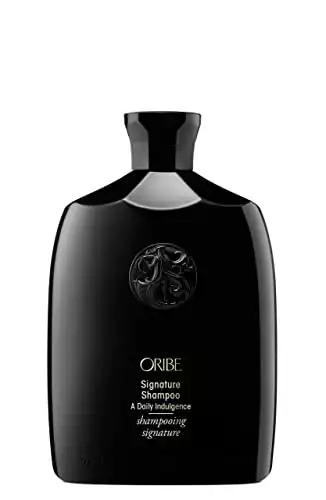 Oribe Signature Shampoo | Amazon
Every morning should start with a little indulgence, such as this rich daily cleanser, custom-blended from the most exclusive ingredients to silken, detangle and protect. Prepare your hair for glamour.
Buy at Amazon.com
We earn a commission if you make a purchase, at no additional cost to you.
08/03/2023 03:37 am GMT

This is Oribe's classic shampoo that's gentle enough to use daily. It's a weightless formula that's still very hydrating and cleanses well. This shampoo offers shine, body, and makes your hair more manageable. It's ideal for practically all hair types and can be used for just about any purpose.
The Signature Shampoo is formulated with amino acids, botanical hydrators, and essential proteins.
Cleanse Clarifying Shampoo
If you truly want a cleansing and lathery shampoo, try The Cleanse. It has a creamy texture and cleanses your hair extremely well. This is also one of the best shampoos to use if you have long and thick hair (me!) and typically shampoos don't clean your hair as well as you want it to.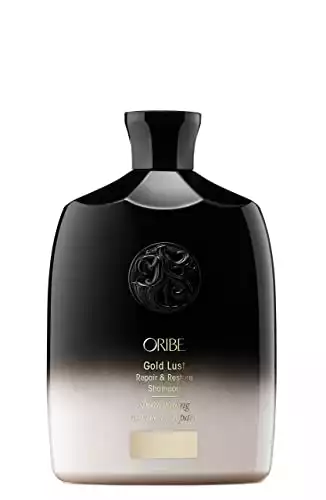 Oribe Gold Lust Repair & Restore Shampoo | Amazon
Reawaken your hair to its glossiest, healthiest prime. This rejuvenating cleaner and conditioner blends time-honored oils and extracts with our high-tech, bio-restorative complex to smooth each cuticle and undo the damage of time.
Buy at Amazon.com
We earn a commission if you make a purchase, at no additional cost to you.
08/03/2023 08:28 am GMT

This is actually the Oribe shampoo I see hyped most often. This is the best shampoo if your hair is dry, damaged, brittle, lackluster, and manageable. This is also the ideal shampoo if your hair is damaged due to over-dyeing and processing. The shampoo nourishes hair with ingredients such as Argan Oil, Cypress Oil, and Maracuja Oil.
The result is clean hair without breakage or dryness. In addition, this shampoo helps you maintain a healthy pH balance to rebuild hair health and accelerate hair growth.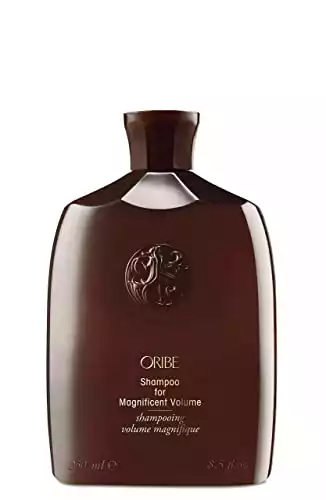 Oribe Shampoo for Magnificent Volume | Amazon
Because everyone needs a little largesse. Body-building polymers wash in truly uplifting volume and thickness, while rare botanical extracts leave hair full, lush, strong and easy to love.
Buy at Amazon.com
We earn a commission if you make a purchase, at no additional cost to you.
08/03/2023 02:29 am GMT

If you have flat hair, the Magnificent Volume shampoo is right for you. The shampoo is formulated with botanical extracts and body-building polymers so your hair appears thicker and stronger. Your natural hair's volume will also improve with consistent use.
Comprising of plant-based proteins and glycerine, its nourishing formula will also make your hair smooth, shiny, and silky. Finally, keratin provides your tresses with the strength it needs to keep your hair lifted and bouncy.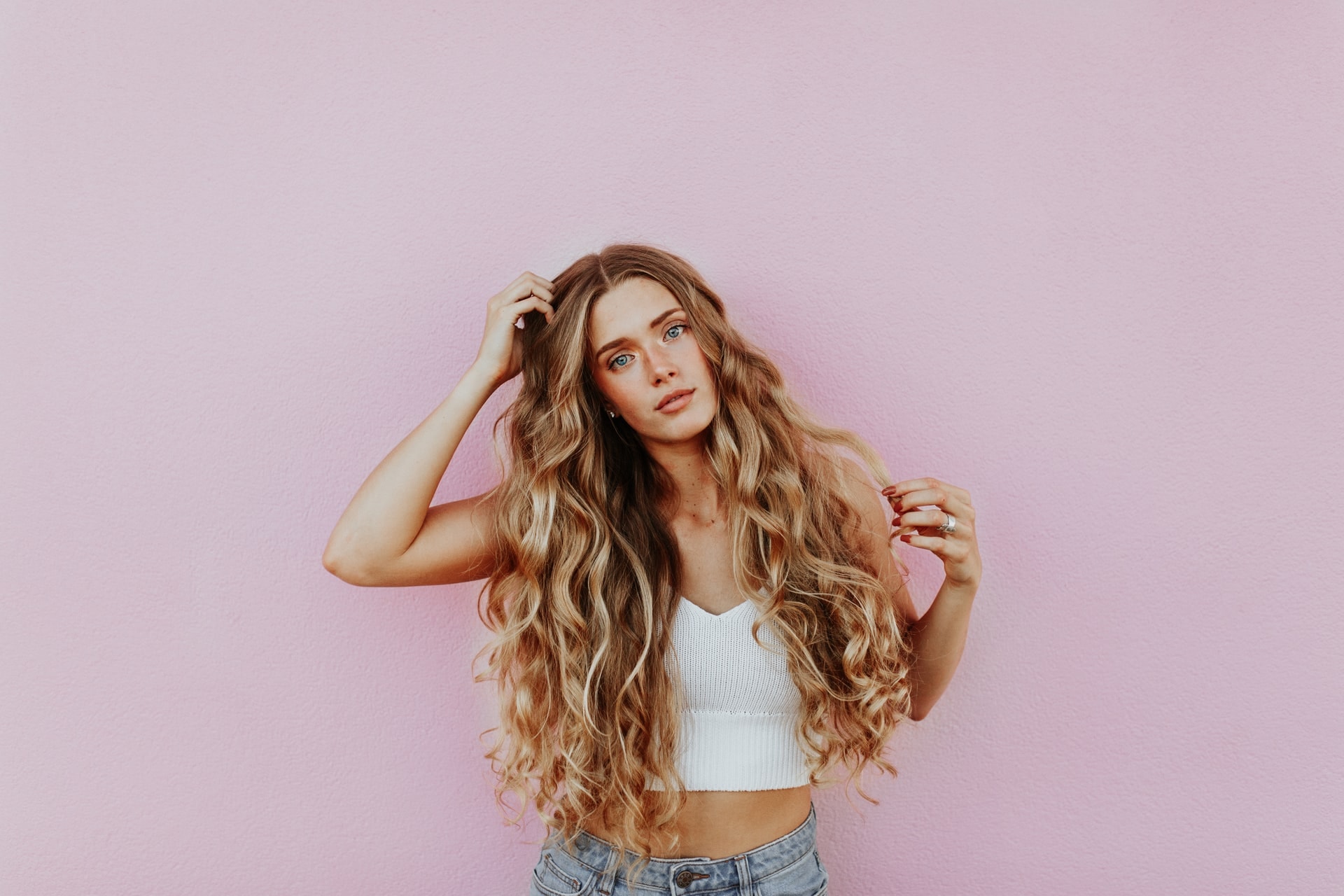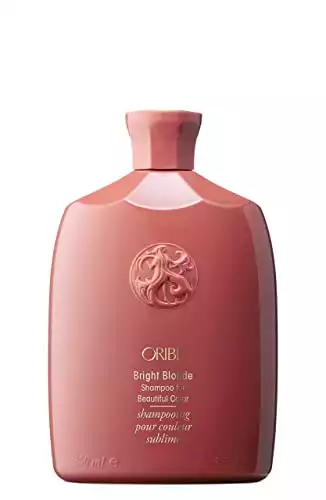 Oribe Bright Blonde Shampoo for Beautiful Color | Amazon
Immediately illuminate blonde and silver hair. This revitalizing violet shampoo corrects brassiness and yellow tones while brightening natural highlights for hair that is healthier, shinier, and lit from within.
Buy at Amazon.com
We earn a commission if you make a purchase, at no additional cost to you.
08/03/2023 01:15 pm GMT

If you want to prevent brassiness, the Bright Blonde shampoo is the way to go. This shampoo not only prevents orangey tones but also makes your blonde hair brighter. The shampoo is formulated with vivid violet pigments and botanical strengtheners to give you true blonde hair, perfect for platinum-to-medium blonde.
Did your hair get damaged during the dyeing process? This shampoo will also maintain your hair health and you won't suffer any breakage. Are you a natural blonde? Don't worry, you can also use this shampoo and can accentuate your natural highlights!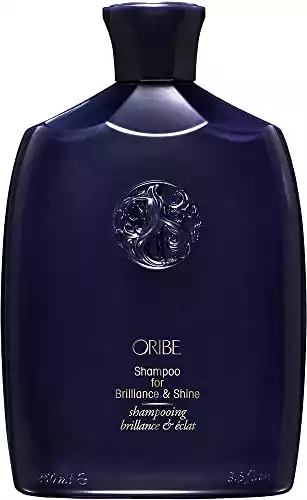 If shine is all you want, then try this shampoo. This shampoo will not only clean debris and dirt that makes hair dull but is also formulated with pearl protein and silk amino acids to boost shine. These ingredients also deeply condition hair so your hair will feel healthy and hydrated.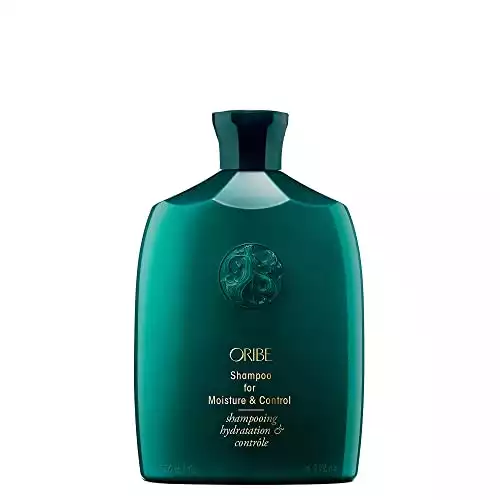 Oribe Shampoo for Moisture & Control | Amazon
Curly, coily, thick hair gets instant moisture gratification and even a bit of devolumization, leaving it smooth, sleek and completely under control.
Buy at Amazon.com
We earn a commission if you make a purchase, at no additional cost to you.
08/03/2023 06:27 am GMT

This shampoo is an ultra-nourishing formula with a rich texture. It's ideal for anyone who needs an extra dose of moisture, especially those with curly and unmanageable hair. Your hair will feel softer and this shampoo can easily detangle even the most difficult hair. The shampoo is also formulated with botanical extracts to strengthen hair.
Alternatives to Oribe's Shampoo for Beautiful Color
While I'm not too keen on the price of the shampoo and the size you receive, I am generally happy with the shampoo. But there are many good alternatives out there.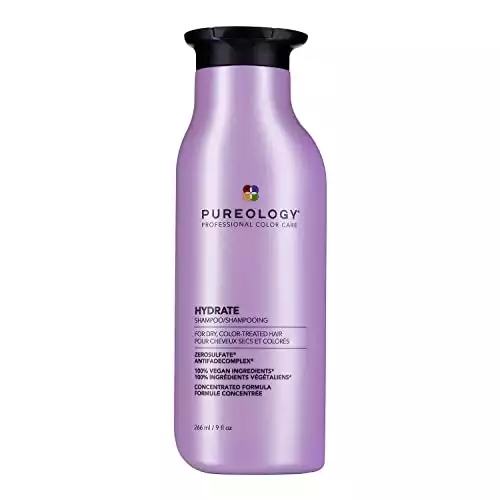 Pureology Hydrate Shampoo | Amazon
This creamy, sulfate-free, vegan shampoo deeply hydrates and gently cleanses normal to thick, dry, damaged, frizzy and color-treated hair, providing superior moisture, touchable softness and extraordinary color protection
Buy at Amazon.com
We earn a commission if you make a purchase, at no additional cost to you.
08/03/2023 09:07 pm GMT

Reading the descriptions of Oribe shampoo reminds me so much of Pureology shampoo. Even though Pureology is pricey, it's still cheaper than Oribe (Sephora price is $37 CAD/$30 USD). Plus, the bottle is slightly bigger – 9 fl oz.
Rather than listing one specific Pureology shampoo, I just mentioned the brand name because all of their shampoos are amazing. The entire line is color-safe and they make their products with botanicals that keep hair feeling moisturized. Pureology is honestly my HG and the shampoo I always return to, so I recommend Pureology if you want high-quality that's slightly cheaper than Oribe.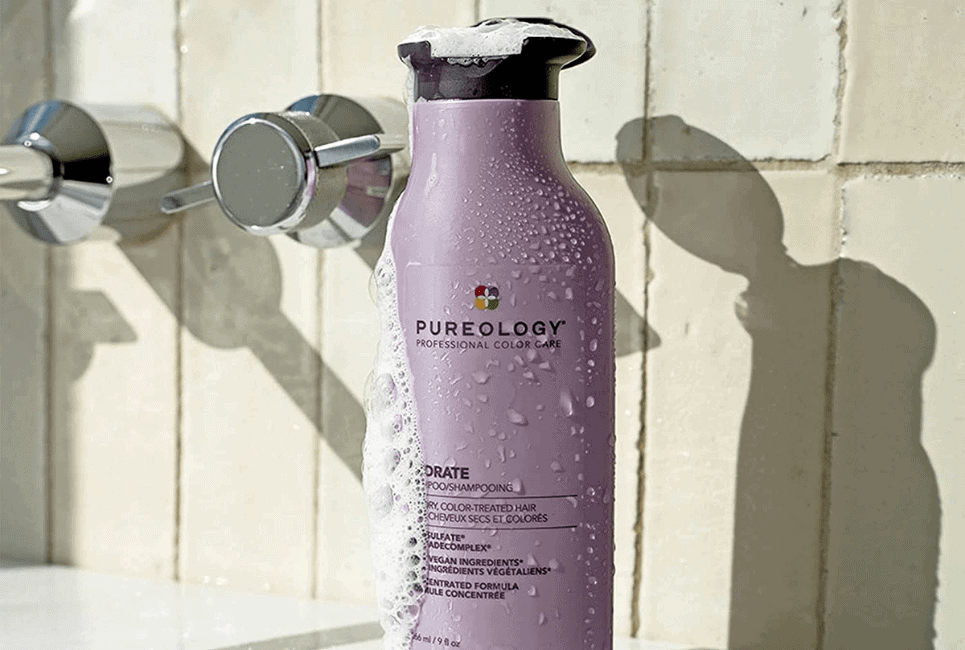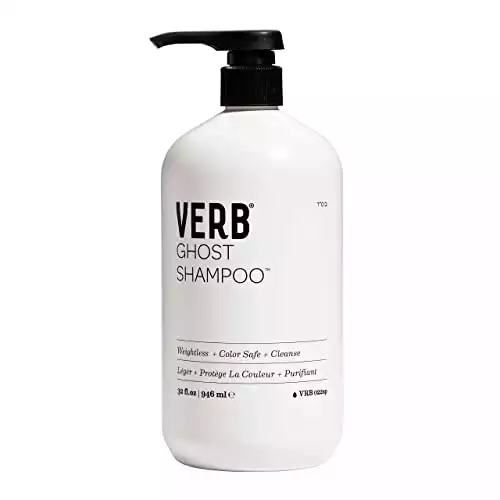 Verb Ghost Shampoo | Amazon
Verb Ghost Shampoo weightlessly conditions fine hair, protects color and leaves hair tangle free. Moringa oil infuses the hair shaft with essential nutrients that naturally smooth frizz for all hair types.
Buy at Amazon.com
We earn a commission if you make a purchase, at no additional cost to you.
08/02/2023 07:59 pm GMT

So I never used Verb's shampoo but I'm in love with their dry conditioner. It's no surprise that this shampoo tops the list of Oribe alternatives for other users. At 12 oz, the shampoo is $20 CAD ($15 USD) at Sephora, which isn't much more than the price of the specialty shampoos at the drugstore.
This shampoo is color-safe, cleans hair while maintaining hydration, and doesn't weigh down hair. It's ideal for just about all hair types, including fine hair.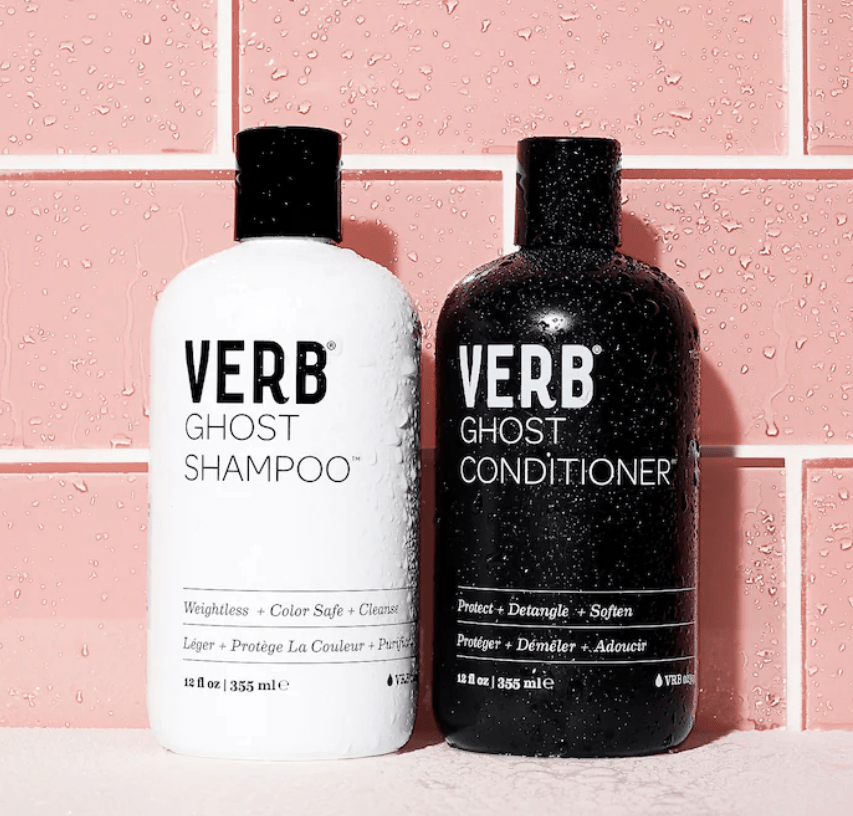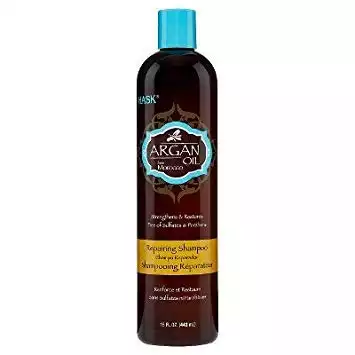 HASK Argan Oil Repairing Shampoo | Amazon
Revive and restore the look of your hair with Hask Argan Oil from Morocco Repairing Shampoo. Infused with moisturizing Argan Oil, this shampoo penetrates the hair shaft, gently cleansing while repairing damage and breakage.
Buy at Amazon.com
We earn a commission if you make a purchase, at no additional cost to you.
08/03/2023 01:31 am GMT

You've likely heard of the brand Hask, or at least seen it at your drugstore. Their Argan Oil Repairing Shampoo is especially popular and is a great dupe for the Oribe Gold Lust Repair and Restore Shampoo.
The Hask shampoo can repair damaged hair with its extremely moisturizing formula. It's also ideal for keeping frizz at bay and boosts a sulfate-free formula. And it's usually priced at less than $10, depending on your region, so you're not spending a huge sum of money.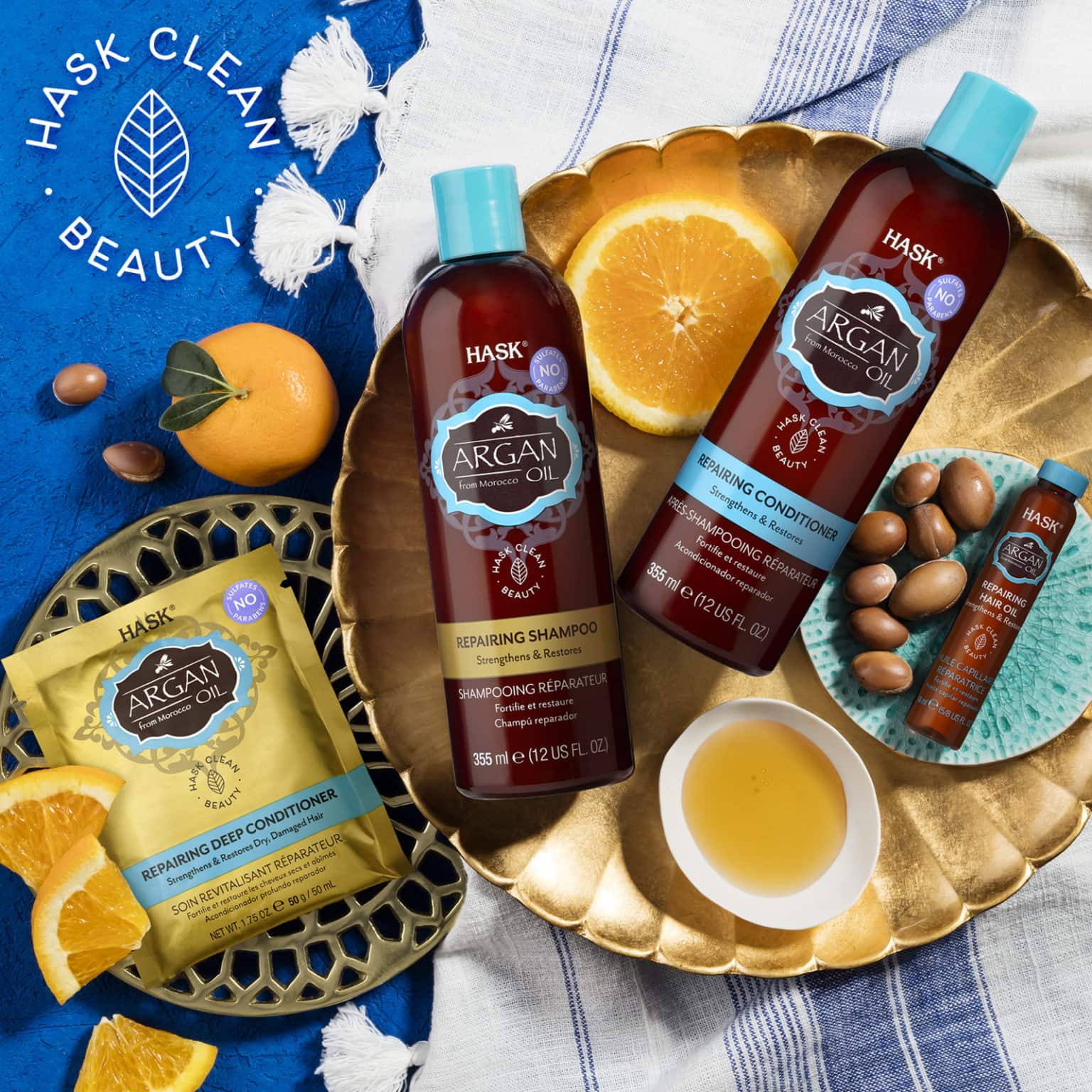 FAQs
Question: Is Oribe Bad for Your Hair?
Answer: Actually, it's the opposite. Oribe is arguably one of the best products you can use for your hair. The reason why is their line is completely free of sulfates, including SLS and SLES, that strip your hair, deplete your hair color, can irritate the scalp, and sulfates even weaken your hair.
Question: Is Oribe Worth It?
Answer: When looking at the price tag, it's no wonder you and many others have this same question. Hey, I will admit I thought the same thing at first.

There's a short and long answer to this. The short answer is yes, Oribe is worth it. The long answer is not everyone will be willing to shell out the cash for Oribe, no matter how much it's worth it, and I completely understand why.

Just know that if you buy and use Oribe shampoo, you're using one of the best hair care products out there. Their high-performance and high-quality ingredients will take your hair game to new levels. However, there are other great hair products out there.
Question: Will Oribe Make My Hair Greasy?
Answer: If you use the wrong formula it will. If you have thin hair that weighs down easily, use the Clarifying or Magnificent Volume shampoos. Avoid the Gold Lust shampoo, especially.
Question: Where Can You Buy Oribe Shampoo?
Answer: You can buy Oribe shampoo and other products directly on their website. They do have some legitimate third-party sellers. I bought my shampoo from Sephora. There are also regional hair salons that carry Oribe products, so it's worth it to do a local search. Be aware of Oribe products on Amazon, I found some fake listings.
Bottomline
More people are caring about the quality of products they use, including the ones they use on their hair. For this review, I tried the Oribe Beautiful Color Shampoo for my recently dyed hair. My color looks vibrant and my hair is clean yet moisturized. The shampoo also smells amazing!
While I really like and recommend this shampoo, I also suggest trying the more affordable alternatives before sticking to Oribe shampoo.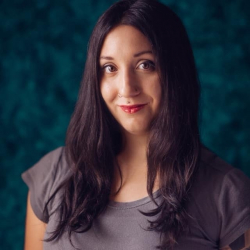 Latest posts by Stephanie Jensen, Hair Trend Spotter & Home Tester
(see all)