Did you know that 85% of women color their hair once every eight weeks?
Are you one of these women? If so, do you prefer dyeing your hair your natural color to cover up your grays? Or do you love experimenting with different colors, specifically unnatural colors? If you said yes to the latter, you will love trying out magenta hair!
Magenta hair will give you that rocker with ease. This color looks amazing on just about everyone. There are so many shades of magenta, so you can easily find your perfect shade.
Not sure which magenta looks to rock? Here are some of our favorite looks plus a guide on ideal shades, hair lengths, dyeing your hair, and additional maintenance tips.
What Is Magenta?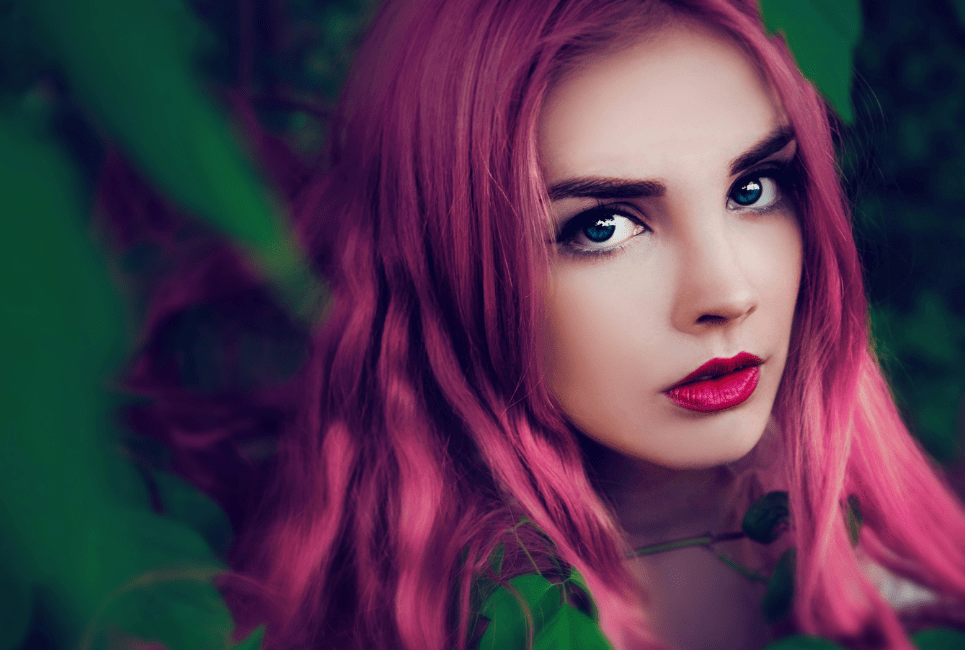 There are some questions as to what magenta actually is, so let's cover this first. Magenta is best described as the mid-way point between red and blue. That's why magenta often looks purple but it also looks like hot pink. However, magenta is an entire color of its own.
Magenta vs Pink
Magenta is more purple than pink, which is why magenta often looks darker than pink. When you think of pink, think Barbie. The color on all of Barbie's packaging is classic pink. Anything purple or reddy is likely magenta.
Magenta vs Purple
Magenta and purple have very similar tones, so it's easy to confuse these colors. To me, magenta looks a little more red than purple.
However, there are many shades of magenta, so this can also get confusing.
Different Shades of Magenta
Even though magenta is a cross between red and blue, there are still many shades of magenta out there. Here are the different ones and which shade you should choose.
Bright/Vibrant
When most people think of magenta, they're likely thinking of the vibrant color. This bright color stands out because it's lively and will brighten up anyone and any skin tone.
Light/Pale
If you don't want vibrant hair, you can choose a lighter shade of magenta. This color is subtle and looks more like pink or rose compared to true magenta. This color looks better on a lighter skin tone.
Dark/Deep
Don't be surprised if your dark magenta hair stands out as much as bright magenta. This color is very rich and looks amazing on everyone, especially those with naturally dark hair. In the light, you'll likely be able to see the vivid magenta color more.
Different Magenta Hairstyles
If you want magenta hair, understand there are limitless styles you can achieve. Here are a few classic options.
Full Head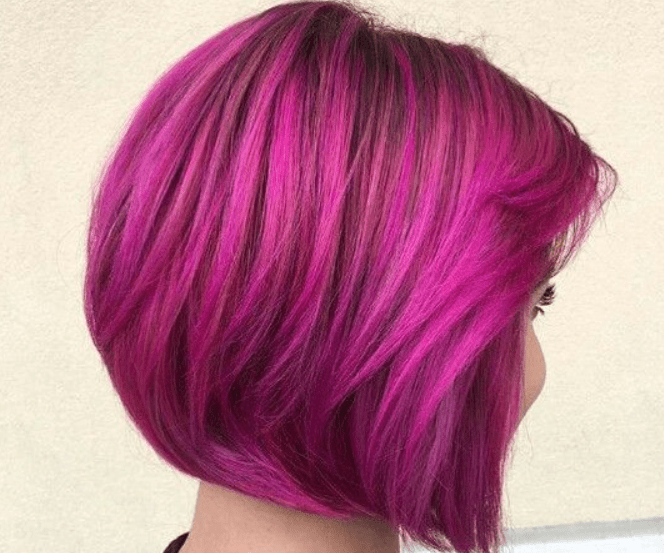 This is the ultimate look if you want to wow everyone! Dyeing your full hair magenta will make you look vivid and you'll have seriously colorful hair. Magenta is a color that stands out but the red tones are very romantic, so this is the perfect color if you're trying to make a statement.
Tips
Do you want to add some magenta to your hair but don't want to commit to a full head? If so, start with the tips. Adding magenta hair dye to your tips will add enough color to liven up your hair but is also less subtle. This is also a great option if you want to test how the magenta hair color will look on you.
Overall, magenta tips are just a great style. This is another option to make your hair funky and cool.
Highlights
The same concept from magenta tips applies to highlights. Magenta highlights will liven up your hair and you'll see how this hair color will look on you. This look is perfect if you naturally have dark brown or black hair since magenta pairs perfectly with those colors.
Balayage
A balayage is a combination of two or three colors where the stylist paints on the color as opposed to using foils.
The result is a sweet look. While most people choose a balayage because it looks more natural, you can do a magenta balayage for a stunning look. Combine magenta with pink or lavender and have the stylist sweep on both colors so they melt together effortlessly.
Ombre
Many people confuse the balayage with the ombre. It makes sense because the two techniques have similar results. An ombre is usually more dramatic since the stylist blends different shades from the root of your hair to the tips.
You can combine different colors with magenta for a spectacular look! My personal favorite colors to pair with a magenta ombre include purple, orange, peach, and pink.
Peak-A-Boo
Adding a dash of color underneath your hair is always a creative look.
This is also a good style if you want to sneak color into your hair. For example, if your job doesn't allow colorful hair, you can disguise the magenta when you wear your hair down. All you have to do is wear your hair in a bun or ponytail to easily show off the hint of magenta.
Tint
Want to dye your hair magenta but want to avoid any vibrancy altogether? Many salons offer a magenta tint as opposed to full color.
Keep in mind, the magenta tint won't appear if your hair is too dark but will also look weird if your hair is too light.
We recommend your hair be a reddish shade of brown, such as mahogany or auburn. The red tones in your hair will grab onto the magenta tones. Since your hair is already brown, the tint won't look awkward.
Magenta With Different Hair Colors
You don't have to dye your hair magenta alone. You can choose a variety of colors to mix in with magenta. But which ones look the best?
Blonde
Magenta sticks out intensely with blonde hair. The color combination is also lovely, especially if you get magenta lowlights with blonde hair. I also envy natural blondes because you don't have to have pre lightened hair, unlike us brunettes.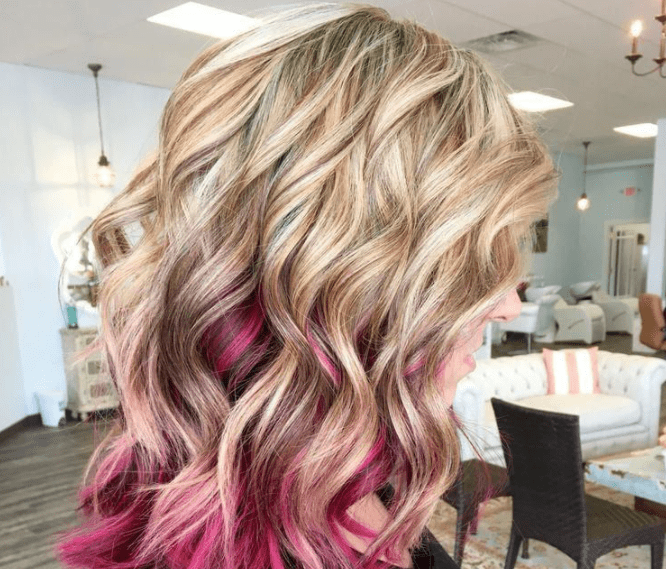 Brown/Black
I personally think magenta looks best with brown or black hair, but I could be biased because I have dark brown hair myself. This look is extremely sultry. Try adding some magenta highlights to your natural brown or black hair.
Red
If you have natural red hair, magenta will blend seamlessly with your hair color. You can also combine magenta with red dye if you want to tone down your magenta color. Either way, this is a beautiful color combination.
How do you combine the colors? If your hair is naturally red, do a smudge root look with your natural color and the magenta. If you're combining red and magenta, these colors will look perfect as a balayage.
Other Funky Colors
The best part about dyeing your hair a funky color is getting creative.
You can easily add other funky colors to your magenta hair look! Do a purple and magenta ombre, a pink or rose gold and magenta balayage, a magenta and orange ombre, blue hair with magenta lowlights, magenta highlights on peach hair, and more. The options are endless!
Our Favorite Magenta Hair Ideas
Now that you know all about magenta hair, it's time to get that look you crave! Here are our favorite magenta hair looks.
Classic Magenta
The first look we're promoting is a classic full-head of magenta hair done on our own, Amy! The magenta is very colorful, and you can tell it was done by a professional. While Amy's hair looks very pink, there is a lot of definition here. The stylist used Joico Color Intensity in Magenta for this look and adds in a few pink highlights to add a bit of brightness.
Blonde and Magenta
We love this look! The model has full-on magenta hair but still has some blonde in her bangs. The magenta is super vivid but the blonde tones it down slightly. Her hair is long and naturally wavy, so it makes her hair look that much more amazing. Hair by @crystallinecolorss.
Short Magenta
Magenta hair doesn't have to be long! We love this short magenta look. Her hair is vivid and has plenty of definition. It also looks like there's some shadow roots going on here. The model looks ready to go out and party! Hair by @capellisalonstudio.
Blue and Magenta
This is one of the most beautiful ombres I've seen! The model has dark blue on top that fades into vivid magenta at the bottom.
While this isn't an easy look to achieve, it looks stunning. The model's hair also looks shiny and healthy. Posted by @pravana. I should mention I've used their hair color too many times.
Blue and Magenta Babylights
Babylights are becoming my new obsession and I love the way this model's hair looks! @momentsandmanes did her hair. Even with the subtle babylights, the color still looks vivid. This is the best type of look if you want magenta but don't want to go too extreme with the color.
Peek-a-Boo Magenta
Let's switch up our list with a peek-a-boo color look. The model has dark hair — but if you pull some of it back, you see a hint of magenta! The underneath color used to be so popular, it would be cool if it went back into style.
Maintaining Magenta Hair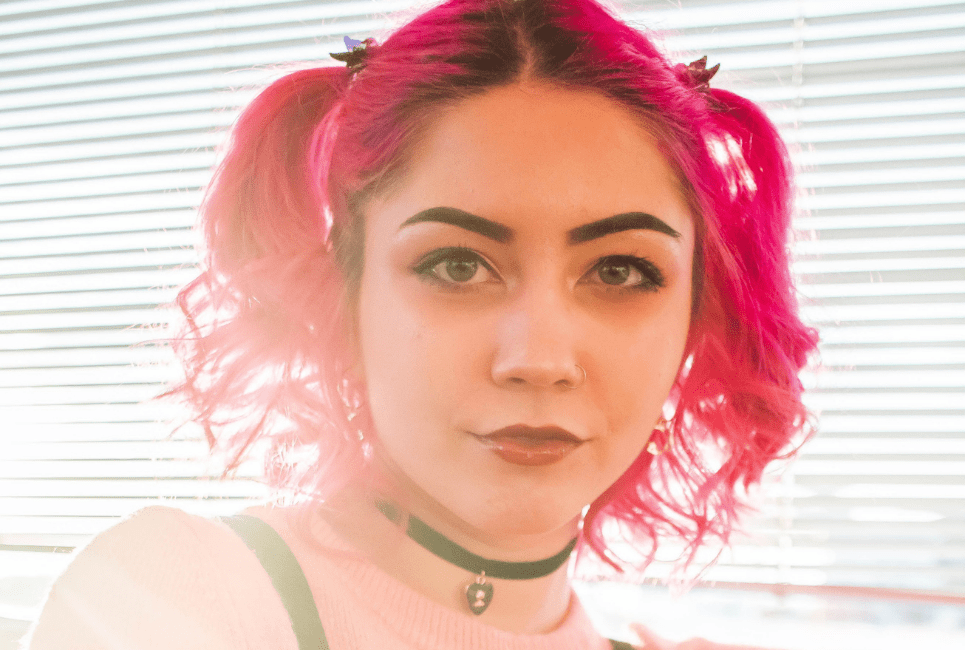 One of the downsides of having magenta hair is maintenance. Any funky color requires a lot of maintenance and touch-ups.
How to Make Your Color Last Longer
When I had magenta hair, I didn't wash it as long as I could. I tried to wash it once a week, but that wasn't always possible. But as long as you only wash your hair three or so days a week, then your hair will last longer than if you were to wash it daily.
How do you ensure your hair doesn't get gross? Dry shampoo is the best option, but I also like cornstarch. It leaves a white cast at first, but it eventually fades away. Many people also use baby powder, but I think the cornstarch works better.
When you do wash your hair, avoid hot showers. The warmth opens up the cuticles and releases excess color. What I would do is wash my hair under the faucet. This is especially useful if you hate cold showers (like me).
Other good practices are to avoid using heating products, don't swim, and use color-safe silicone-free hair products.
What to Do About Your Roots
Maybe the ends of your hair are still vibrant, but your roots are growing back in. Do you need a touch-up? I say judge this by your natural hair color. If your roots are blonde, then throw some more magenta on those roots!
But things get a little difficult if your hair is naturally dark brown or black. What I suggest is asking your stylist to do a shadow root technique, where the stylist blends your natural roots into the dyed hair.
FAQs
Question: How Does Magenta Hair Fade?
Answer: Before dyeing your hair magenta, it's best to expect what color it fades to. The color fades to a lighter shade, usually pale pink or red. If your hair was blonde before, it will fade to blonde. I honestly can't remember what my hair faded to, I dyed my hair magenta so many years ago.
Question: I'm Pale. Should I Dye My Hair Pale or Dark Magenta?
Answer: I'm pale and I say choose any shade of magenta you want! When I had magenta hair, it was a very vivid shade. But my hair is naturally dark brown and I hate the way I look with blonde/super pale hair if that says anything.

Generally, pale people look better with light hair. But other factors play into this, such as your undertones and your features. In short, if you're pale and naturally have dark hair, then dye your hair a deep magenta. I have dark features (brown eyes, dark eyebrows, etc.) so light hair colors wash me out.
Question: Which Is the Best Hair Color to Make You Look Younger?
Answer: Always stick with lighter colors. Blonde is always a classic, but the shade of blonde you choose also matters. Stay away from ashy colors because they will accentuate grays. Golden or honey blonde hair and any shade with warmth will give you a youthful glow.
Bottomline
Lots of women dye their hair, and funky colors like magenta are becoming more popular.
Magenta is a combination of red and blue, and there are different shades of the color. Some shades of magenta look more similar to pink or purple.
You can choose to dye your whole head magenta or settle for tips, highlights, ombre, balayage, and more. Feel free to mix magenta with your natural hair color or other colors!
This article was updated on 08/08/2022 by the Hair Kempt editorial team. Our goal at Hair Kempt is to provide the most up-to-date relevant hair information, ideas, inspiration. We updated some of our Links to give you better hair care information.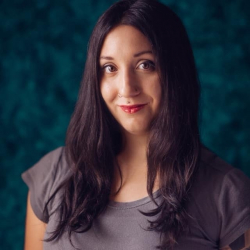 Latest posts by Stephanie Jensen, Hair Trend Spotter & Home Tester
(see all)