Yes, that's right! Bright highlights and bleached blonde are no longer as trendy as dirty blonde which is considered a more natural hair color. Perhaps many of you have tried to conceal that color for many years now but that's no longer necessary since dirty blonde hair has made a serious comeback.
Today's article is full of inspiring ideas.
The Best Dirty Blonde Hair Ideas
Here is where you should start from, if you want to gather inspiration. These days, dirty blonde is seen everywhere you go. The following dirty blonde hair ideas should be the go-to choices that you can talk about with your hairstylist during your next salon appointment.
The

All-Over Cool Blonde
Some of you might prefer cooler hues and this one is a great option. This dirty blonde shade has silvery hues and it's a cool and light type of blonde.
Instead of your classic honey blonde, you should consider this refreshing alternative. If your skin tone is cooler, then this neutral and pearly blonde is the perfect match for your features.
B.

Dark Dishwasher Blonde
This dirty blonde hair color is darker. Some say it's a mix of brunette roots and blonde hair ends. If you want to grow back your natural hair, you should definitely opt for this dark dishwasher blonde since it will easily blend with your current grown-out highlights.
c. Golden Bronze Blonde
This dirty blonde idea focuses on the well-known ombre effect that features darker roots and lighter golden blonde ends. The middle part is a blend of those two sections I've just mentioned. The transition is obvious without being disturbing to the eye.
d. Blonde Highlights and Beachy Waves
If you get blonde highlights and then style your hair in beachy waves, you will achieve an overall bohemian look. Therefore, throughout the dirty and darker blonde locks, you should add some lighter highlights. This style is low-maintenance and looks gorgeous.
The light dirty blonde was perfected and displayed by many celebrities and models such as Gigi Hadid and Cara Delevingne.
e. Dirty Blonde Balayage Babylights
This hairstyle combines multiple levels of blonde hues, from darker blonde roots to lighter blond hair tips. It is a wonderful and very natural look and the hue differences just melt seamlessly one into the other. This dirty blonde idea looks amazing on both straight and wavy hair.
f. Natural Color Waves
This option will certainly compliment your natural hair color with the perfect combination of blonde tips and relaxed hair waves. Jennifer Aniston has a similar shade that could be described as golden dirty blonde hair.
g. Cool Dirty Blonde Balayage
This dirty blonde balayage is ashy and cool and it will provide your hair with a very trendy boost. Ash colors have always looked cute and trendy. From light ash blonde to dirty ash blonde, there are numerous possibilities to keep your hair fresh and low-maintenance.
h. Icy Cool Hair Tips and Dark Roots
This style would look gorgeous on a long bob haircut. Darker roots and icy cold hair tips are a fabulous combo that will make you a very attractive lady. A choppy bob is an ideal haircut for this type of style because it adds both movement and dimension.
Beachy waves also look amazing with this dirty blonde color idea. The final look will be as you want it to be: either sexy and grungy or feminine and soft. Perhaps, a little bit of all these traits.
The Benefits of Having Dirty Blonde Hair
According to hair experts, dirty blonde is a pretty unique color that will look good and flattering on anyone. The specific hue is carefully chosen to suit a person's natural hair shade. However, regardless of your natural hair color, I am positive you can achieve gorgeous dirty blonde locks.
It might not be that easy to attain but it complements the traits of your face, even when your natural hair is dark blonde, brunette, light blonde, or anything in between.
With this new hair color trend, your hair will thank you since you're offering it a well-deserved break from all that bleaching. Too much bleaching will eventually lead to damaged strands and you don't want that.
A few years back, dirty blonde wasn't a hair color that people considered appealing. Today, it has become a unique statement.
As we grow and mature, we become wiser and more content with our natural features, including the color of our hair. Many women who have chosen this hair color are also pleased with very little makeup or no makeup at all.
Dirty blonde hair is also easier to maintain and care for. It's almost like getting back to basics.
Dirty Blonde Hair Tips
If you want to perfect and maintain your dirty blonde look, you should follow these three guidelines described below:
Keep the ends of your hair lighter – most women who would like to change their current hair color and achieve a dirty blonde look want to aim for a very soft and natural appearance as if they were born with that hair shade. The best colors should be lighter at the hair ends just as if the sunlight would brighten one's natural locks;
Make sure the roots feature a darker color – to boost this natural look, even more, you should shade the roots with a soft brown color that creates a very smooth transition from dirty blonde roots to lighter and shimmery blonde hair tips;
Add some lowlights – adding a few lowlights here and there works for those of you who already feature ashy blonde or beige blonde hair. In those cases, a couple of lowlights is all you need to create the popular dirty blonde look.
The Best Dirty Blonde Hair Formulas
Here are some of the best hair dye brands you should consider if you want to try one of the dirty blonde hair ideas mentioned above.
Nutrisse Nourishing Crème by Garnier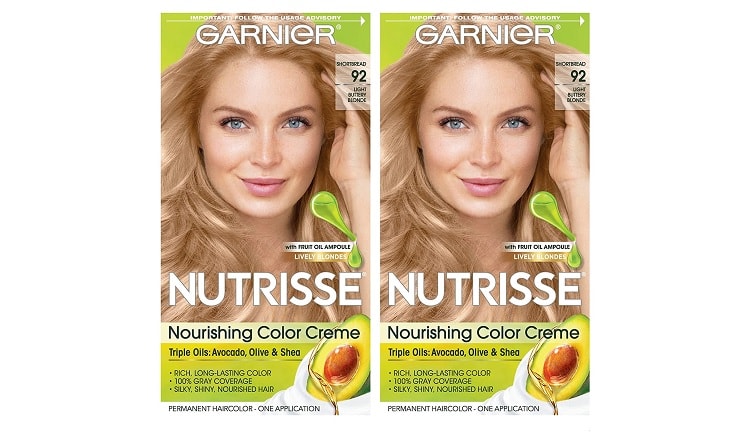 If you're looking for an extensive hair dye line, Garnier should be one of your top choices. The effectiveness of the Nutrisse hair dye is also attested by almost 22,000 positive reviews on Amazon. This shade is a buttery golden blonde that will offer your strands a glossy coat.
Number 92 buttery blonde is a gorgeous formula and it is used by many women at home without dealing with any issues such as allergic reactions. The kit also contains a softening and nourishing hair conditioner which is definitely a major plus.
Permanent Hair Color by Naturtint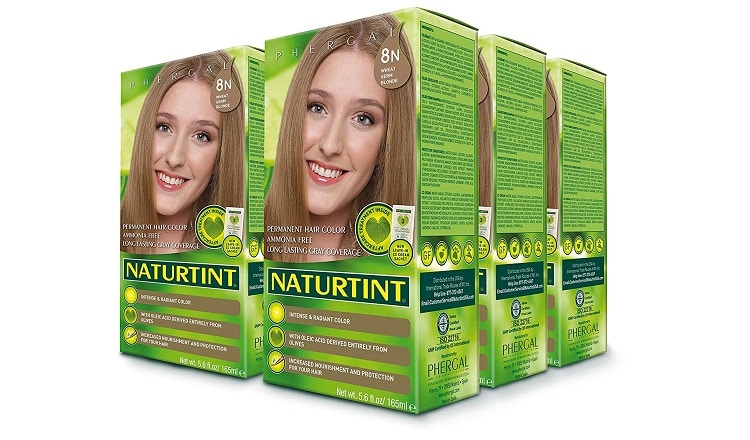 This Naturtint hair dye is a wheat blonde shade which is a beautiful cool-toned hair dye. I would suggest you purchase both the Wheat Blonde and the brand's Wheat Germ Blonde hues to perfect your dirty blonde look.
This formula doesn't contain ammonia and its ingredients aren't harsh at all. The result will be healthy and shiny hair. Other beautiful shades from this brand are terracotta blonde, copper blonde, sandy blonde, and dark golden blonde.
Wella Color Charm Liquid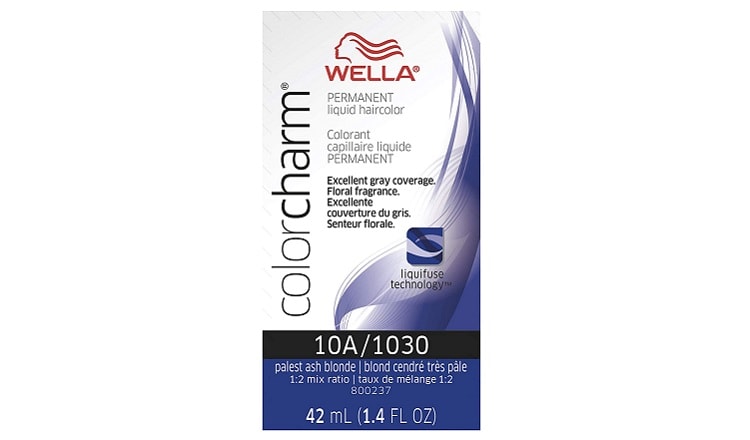 This Wella hair dye should be your go-to choice if you want a look that features an ashy blonde. The perfect ash blonde hue is the one that also features subtle gray undercurrents. It's a sophisticated and very chic style for which beauty salons charge a lot of money to achieve.
Wella's experts have created this at-home dye which most users say it's an easy and fun experience. My favorite shade is the Palest Ash Blonde number 10A. But other blonde shades from Wella have also gotten my attention: honey blonde, satin blonde, light natural warm blonde, dark blonde, and hazel blonde.
These Wella hair dyes will provide you with a long-lasting and outstanding hair color.
Couleur Experte Hair Color Kit by L'Oréal Paris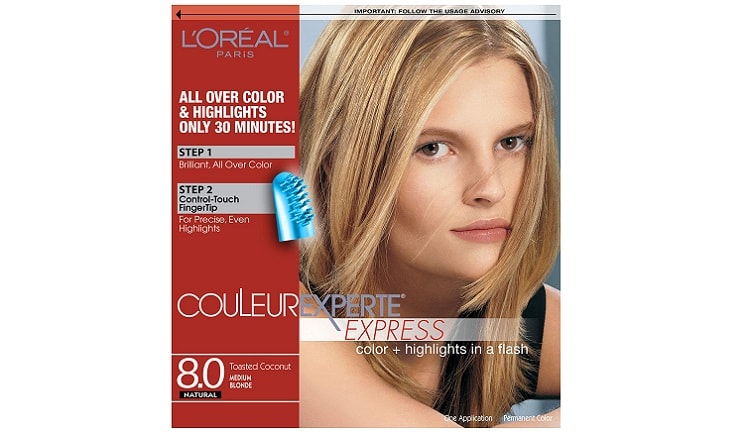 This hair dye and highlight kit from L'Oréal Paris is a 2-step at-home process that will take the guesswork out of hair coloring. With this kit, you will be able to create salon-grade highlights in your very own bathroom and customize the color and the final outcome any way you want to.
One thing I find comforting is browsing through the reviews of this hair dye kit. It is easy to use even for those who have never done this before. It's like having sunlight and the bright summer colors in your hair.
John Frieda Precision Hair Color Foam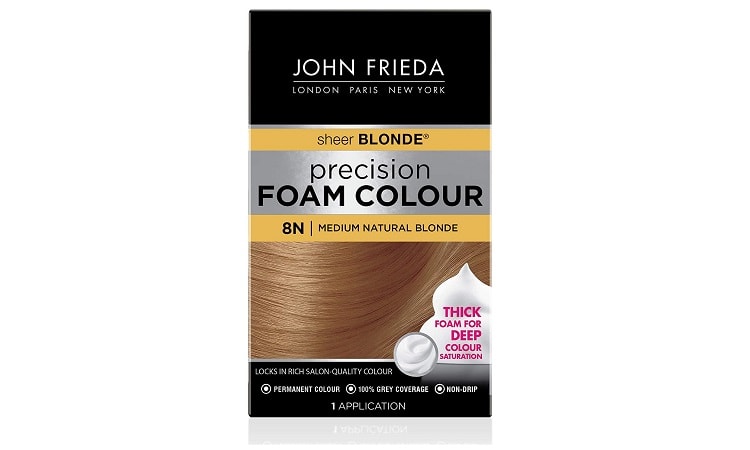 For those of you who feel intimidated by the entire hair dye process, this hair color foam made by the John Frieda brand is a very beginner-friendly mousse. In one single step, you will change the color of your hair locks and the outcome will be flawless.
The product line's Light Natural Blonde is a great choice if you want to achieve extra texture. Many users say that they have tried numerous hair dye products but nothing works as effectively and easily as color foam. This product also seems to be amazing for those who want 100% coverage of their gray hairs.
Excellence Crème by L'Oréal Paris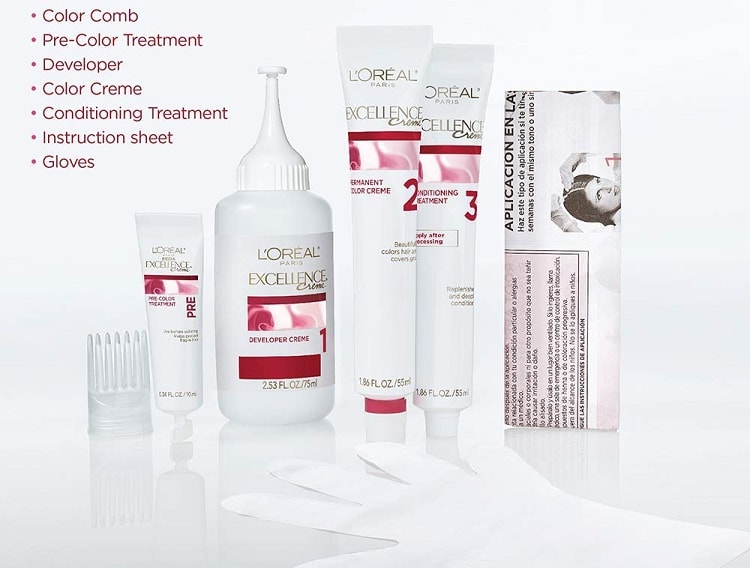 Achieving a lighter blonde color requires bleaching which can lead to damaged hair if you're not careful. However, that isn't a problem anymore with L'Oreal's hair cream formula. The Extra Light natural blonde hue is simply phenomenal.
It's a dye that comes in a box and you can apply it at home but the result looks like one done by professionals. This product won't make your locks break off and the color is long-lasting. The kit comes with a nourishing conditioner that will make your tresses soft, manageable, and strong.
Ammonia-Free Hair Dye by Garnier Olia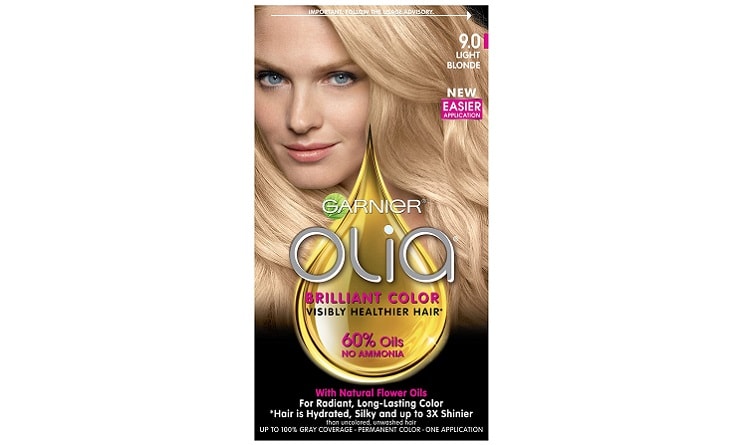 The Garnier Olia hair dye is recommended by many professional hairstylists with plenty of experience in the hair coloring field. On Amazon, this hair dye has received no less than 13,000 ratings of 5 out of 5 stars. The most popular shades are dark blonde and medium pearl blonde.
According to the manufacturer, this hair dye will help you achieve infallible results. The medium pearl blonde hue will make your locks have a beachy tone that's a mix of red, blonde, and gray. The dark blonde shade will cover all your gray hairs in an almost effortless manner.
Keratin Color Hair Cream by Schwarzkopf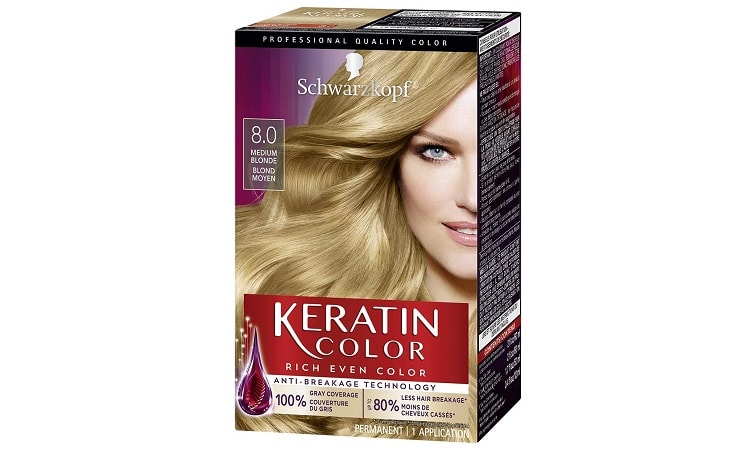 When it comes to changing your hair color, you must tread carefully. Even more so if your locks are very sensitive. Damaged or fragile hair needs special attention, especially when you want to become blonde. Going blonde without making sure your tresses are well-hydrated and nourished could lead to broken or stringy hair.
Fortunately, this Schwarzkopf keratin color cream will leave your hair intact and both your eyes and scalp free of rashes or itchiness. In the end, your hair will have a beautiful and intense color that will last a long time.
Frequently Asked Questions about Dirty Blonde Hair Ideas
Question: How Would You Describe the Dirty Blonde Hair Color?
Answer: Dirty blonde is an appealing yet natural hair color. It's a mix of medium blonde and some light brown tones. Those brown hues are often cappuccino or wheat. Those who have cooler blonde hair and warmer skin tones will be able to pull off this look perfectly.
If you have naturally blonde hair, it will be easier to achieve this color. But those with naturally brown hair can also obtain a dirty blonde look by lightening their natural color with darker blonde tones. This color can also complement a skin that features cooler tones.
Question: How Can You Maintain the Dirty Blonde Look?
Answer: All colored hair locks need nourishing hair products such as hair masks with reparative properties and nourishing conditioners.
There are plenty of high-quality and color-boosting hair treatments available on the market. These solutions nurture your hair strands while also depositing color pigment.
Question: Should You Use Purple Shampoo on Your Dirty Blonde Hair?
Answer: Many seem to believe that purple shampoo might lighten their dirty blonde hair but that's not true.
Instead, it will neutralize brassy tones. In other words, your colored hair won't lose its neutral finish and cool hues. Furthermore, I would recommend using this type of shampoo if your colored hair is blonde.
Dirty Blonde Hair Ideas – Final Thoughts
Dirty blonde hair is trendy and looks sophisticated as well. But, it isn't very easy to achieve that color, especially if you don't really have experience in dyeing your own hair.
However, with the products I've listed above and testing any of the dirty blonde hair ideas detailed in today's article, I am certain you will look fabulous in no time.
Further read: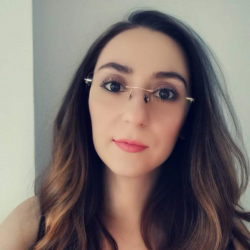 Latest posts by Alexandra Gavrilescu, Home Hair Product Tester
(see all)