Let's be real. We are all down to try something new when it comes to beauty treatments. But what we really need occasionally is something that has been around for centuries.
This is the case with chébé powder, a natural hair product used by the Basara tribe in the African nation of Chad. Due to the use of the powder, they are known for growing their hair well past their waist. Chébé powder's popularity has enjoyed a resurrection due to those using it in their textured hair, but how do we find authentic chébé powder? Let's get to it!
What are the Origins of C
hébé Powder?
Paleontologists discovered the oldest known human ancestor in Chad at the turn of the century. Touma, which means "hope of life" in Dazaga, the language of the country's northern regions, was given to the seven-million-year-old specimen.
Since its discovery, the African country has been dubbed the "Cradle of Humanity." It might also be the birthplace of hair care. The inscription is actually on the wall not far from Touma's resting place.
Chadian women have ancient hair traditions, some of which may be dated back thousands of years through ancient rock art.
Prehistoric rock carvings portray fashion presentations, hair stylings, and rituals centered on chébé, a plant that has for millennia nourished and moisturized Chadian women's hair. a. Petersen, a dual French-Chadian citizen and industry vet who's created best-selling cosmetics for L'Oréal, decided the traditional method should be shared with the world.
The ancient ceremony, also known as chébé, begins with the chunky brown seeds being grilled and ground into a powder, similar to how coffee is ground. e.
It's then braided into the hair by layering water, powder, and nourishing ingredients like shea butter and sesame oil in alternate layers to help the chébé permeate the hair shaft. Chadian women do this a few times a week, soliciting the help of their family and friends.
What is Chébé Powder?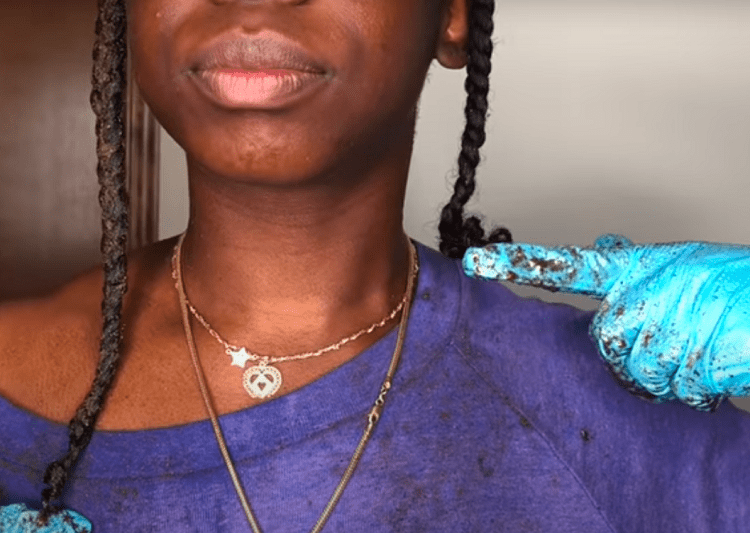 Cherry seeds, lavender, resin tree sap, cloves, and stones are used to make chébé powder. Chébé powder may be turned into clay by mixing it with water and applying it to your hair.
It's a historic African technique that's utilized to decrease shedding and breakage. Chadian women apply chébé powder once or twice a week and keep it on for at least one to two hours, preferably longer. Chébé powder is now being used in a variety of hair treatments, including creams and masks.
People say chébé powder will help you grow your hair from your roots much faster, but that's not the case. Chébé powder helps to hydrate and nourish your hair, so there is less breakage throughout your hair, resulting in your length being much easier to retain.
The benefits of chébé powder include: 
Nourish and hydrate hair, so there is less breakage throughout.

It helps hair retain length.

Helps hair with moisture retention.

Improves elasticity of hair.
How to Use Chébé Powder
Chébé powder provides the nutrients and moisture that your hair requires to be healthy. The powder helps you keep your length by retaining moisture. It's critical to utilize chébé powder appropriately in order to gain advantages. You'll discover how to utilize the chébé powder to develop long hair in this part.
Prep Your Hair
Chébé powder needs to be used on clean, damp hair. If you were to apply this to dirty, wet, or dry hair, the treatment might not be as effective. Clean your hair thoroughly with a sulfate-free shampoo. We want a completely clean surface, but we don't want to completely strip your hair from its natural moisture.
After washing your hair, grab a t-shirt or a microfiber hair towel to wrap your hair up in.
Making Your Treatment
Once you do this, you'll want to grab your ingredients to make your hair treatment.
You'll need:
Two bowls

One teaspoon

Microwave

Chébé powder

Coconut oil and olive oil
Mixing the powder is very easy; use the following steps to make sure your mixture is correct:
Measure four teaspoons of chébé powder into one of your bowls.

Measure three teaspoons of coconut oil and five teaspoons of olive oil into your second bowl.

Put your oil mixture in the microwave for about 30-40 seconds or until the coconut oil is melted.

Pour your oils in with your powder bowl.

You'll want to mix all the ingredients together, making sure that you stir the bottom as well in case any powder does not get mixed in.
Tip: when applying this mixture to your hair, make sure to occasionally stir it up in case any of the powder settles to the bottom.
Your mixture should be a consistency of applesauce. If it is too thick, add in more oils. If it is too thin, add in more powder.
Applying to Your Hair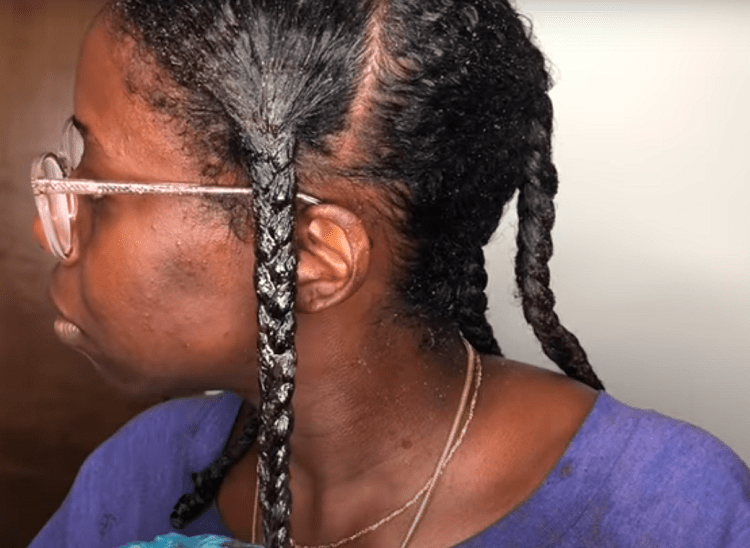 Once your ingredients are thoroughly mixed, and the mixture is the right consistency, you're ready for application.
Take the following steps for a thorough application:
Gently detangle your hair using your fingers or a fine-tooth comb; this way, you don't run into trouble applying the mixture.

Section your hair out. Whether you braid your hair out into sections or tie it up into little buns, it doesn't entirely matter. As long as you have more than two sections of your hair, you're good to go.

Apply the mixture to a part of your hair, concentrating on the ends, which are the hair's weakest point. Make sure the powder is well distributed throughout the region, but avoid putting it on your scalp.

Immediately after you're done applying the mixture to your first section, do a three-strand braid all the way down to your tips.

Repeat steps three and four for the rest of your hair.

Once you're finished, wet your braids with water once more.

Use a conditioning cap or some form of a plastic bag to cover up your head. This will trap the heat from your head, increasing the moisturizing properties of the chébé powder.

Allow for the mixture to stay in your hair for at least two hours after application; then, you can rinse and go about your day.
How to Buy Chébé Powder
So now that we have gone over what it is and how you use it let's look at how to buy chébé powder. The first mistake you may make is buying some random powder in-store that is not genuine chébé powder. The second mistake you may make is buying some online unless you know for sure that the product online is genuine.
We want to make sure that your hair is getting the very best treatment that it deserves. So let's go over some key features of chébé powder to ensure that it is genuine.
Feel the Powder
The powder should not have a normal powder feel to it. Chébé powder should have a gritty texture. It's possible that your powder isn't genuine if it seems smooth.
Smell the Powder
The aroma of genuine chébé powder is similar to that of coffee. If your powder doesn't have this aroma, you'll have to return it and look for the right chébé powder.
Look at the Powder
It should be a dark brown color with white flecks all around. It's possible that your chébé powder isn't genuine if it doesn't look like this.
Common Ingredients
You'll want the base of the powder to have the common ingredients mixed in – mahaleb seeds, acacia gum, croton, and clove – you are most likely going to find that these powders tend to have other ingredients mixed in with the product. As long as the ingredients are commonly used in hair products, you will be fine. If you're unsure about whether the products are safe or not, feel free to look it up on google or ask a specialist.
Where to Buy Genuine Chébé Powder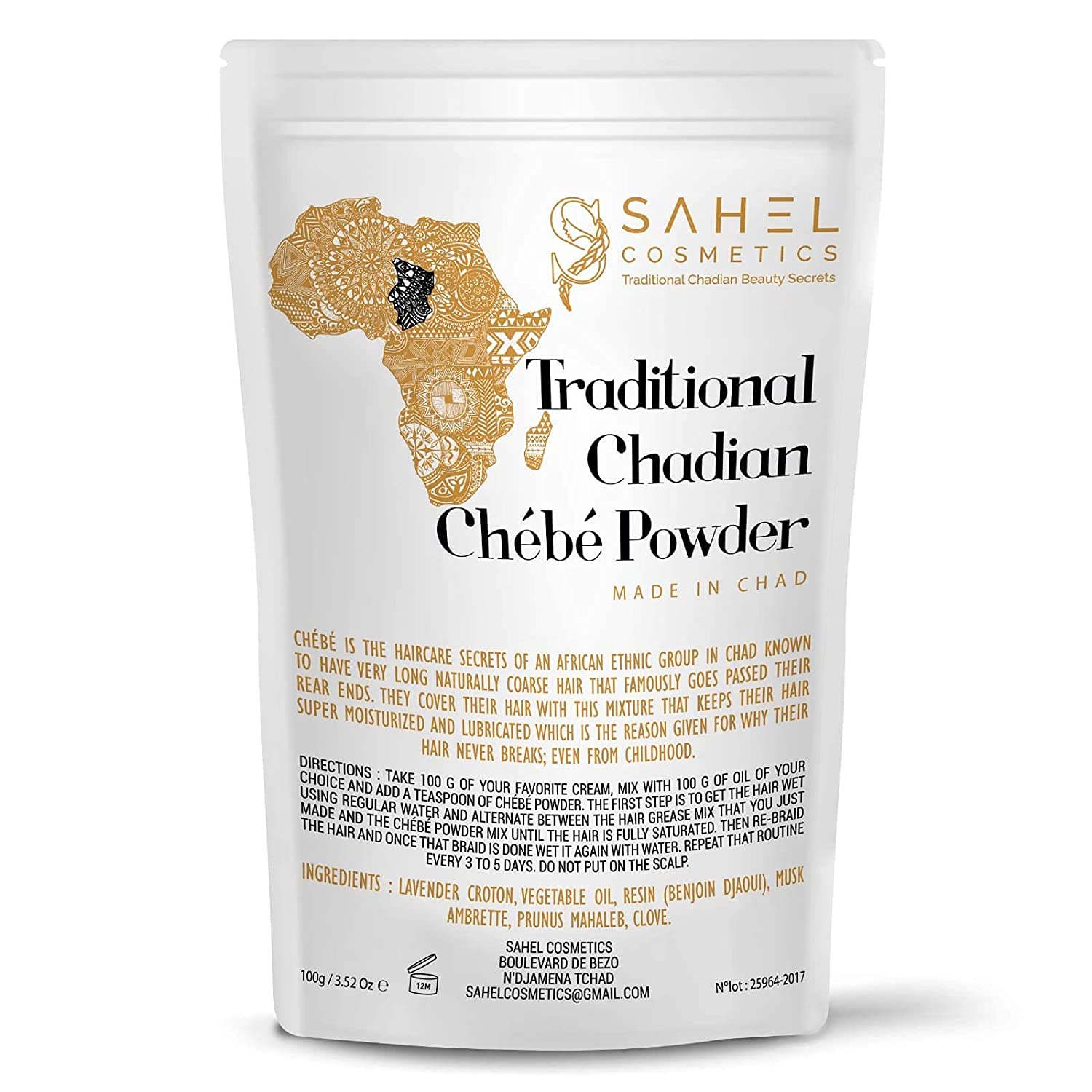 For the longest time, I had crazy damage to my hair, so for years, I was trying new products and mixtures to help heal my hair. It wasn't until a few years I had read about chébé powder, I did my research because I didn't know where to buy this powder.
After a few months of use, I had noticed my hair was so much silkier and healthier than it had ever been. But now, with people just wanting to make money, even if it is selling fake products, it can be hard to find genuine. So, I'm going to let out my secret as to where I buy my chébé powder.
Amazon – Sahel Cosmetics Traditional Chadian Chébé Powder
They have options as to what size pouch you may prefer (20g, 50g, 100g, & 150g) so if you're new to this process, buy yourself the 20-gram pouch. This will give you enough to make the mixture and have a little leftover if you need to adjust your measurements. If you're not new and you're looking for larger amounts to buy at once, go ahead and treat yourself to the 100-gram or 150-gram pouches.
Each size is priced differently, but I think no matter what size you get, it is still a reasonable price. Like the 150-gram bag is $25, which lasts about eight months. Obviously, how big the bag you go should also depend on how much hair you have. If you have short hair (from your shoulders and up), that size will last you about a year.
If you have medium-length hair (from your shoulders to about the middle of your back) – which is my length – that size will last you about half a year, give or take. Now, if you have long hair (from the middle of your back and down), that size will last you less than half a year.
My favorite thing about this specific chébé powder product is that the manufacturer is located in Chad, Africa; that's how you know it's genuine! Lavender croton, vegetable oil, resin, musk ambrette, prunus mahaleb, and clove are among the extra ingredients.
I wasn't concerned about this because these additives are used in most hair care cosmetics. I still have the expected outcome when using this product, so I don't think you should worry either.
Want an Alternative?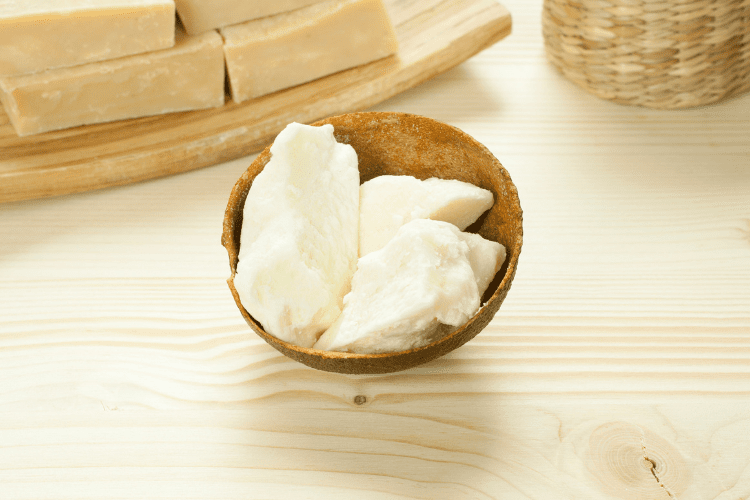 Disclaimer: We mean no disrespect to the originators of the chébé recipe and only wish to open the discussion for experimentation that might enhance our hair care routines.
If you're looking to get a bit experimental, you might be able to create a formula that is very much like chébé powder by substituting s a few of the ingredients.
Amla, Cassia, Neem, or Hibiscus Powder – These powders are excellent for hair strengthening. Cassia functions similarly to henna in that it binds its molecules to holes in the cuticle, allowing moisture to be retained.
Castor oil blended with jojoba and a few drops of lavender and rosemary oils – for a gentler scent, as well as the ability of jojoba to imitate human sebum and permeate the hair, and the antibacterial and thickening properties of castor oil. The rosemary encourages the development of the follicles.
Shea butter or Cocoa butter – to make it spreadable and simple to apply to the hair while also sealing in moisture.
Acacia/ Shikakai- We picked Shikakai powder because of its ability to postpone the development of gray hairs, moisturize, prevent dandruff, and protect against fungal infections. Acacia can also speed wound healing, which is beneficial for people who suffer from scalp rashes or pain.
Here is what a mock recipe of the chébé powder would look like: 
One tablespoon of Neem powder (provides antibacterial properties)
Half a teaspoon of cloves (same as original recipe)
Half a teaspoon of Cassia (provides protein properties)
Half a teaspoon of Shikakai (provides properties)
A few drops of your favorite essential oil mixed with other fragrant oils like lavender (similar to the original recipe)
Three teaspoons of your favorite natural oil or hair butter (shea butter or cocoa oil would work great)
FAQs
Question: What are the Pros and Cons of Using Chébé Powder?
Pros
• Chébé powder consumers say their hair feels softer than ever after using it on a regular basis. This is most likely owing to the powder's hydrating properties.
• Chébé powder's ability to retain moisture is a significant advantage. When you combine the powder with carrier oils like coconut oil or olive oil, you get a lot of hydration in your hair. Many ladies report that their hair feels wonderfully nourished after washing off the powder.
• Detangling can be time-consuming for people with tightly coiled hair. It's much more difficult to detangle parched hair. The hair will be healthier and more malleable after a chébé powder treatment, making detangling more comfortable and time-consuming.
Cons
• When you apply the mixture to your hair, it will end up all over the place. Once blended, the substance has an oily, sandy consistency that can be difficult to clean up. We suggest you use hot water and soap to clean up any mess that you may have made during the application process.
•The fact that chébé powder is famously difficult to rinse out of your hair is maybe the biggest downside. You could rinse your hair for half an hour and still not get all of the product out. Some people become so frustrated with washing off the combination that they give up and leave the chébé powder residue in their hair.
Question: Is Chébé Powder Worth It?
Answer: If you have dry hair or breakage and your hair doesn't seem to be growing, chébé powder is a solution worth trying. It will strengthen your hair strands and reduce breakage, allowing you to keep more length in your hair.
In my personal opinion, if I had found out about chébé powder much sooner than I did, I wouldn't have bothered wasting money and time with all the other 'on-trend' hair regimens. If I were you and needed immediate help with the damage to my hair, this is the treatment I would do.
Question: How Long Will it Take to See Results Using Chébé Powder?
Answer: For the full contrast to really be noticeable, it is in about a 2-month window. You may start noticing a difference within your first use, though. Improved manageability and the reduction of breakage are among the outcomes.
When your hair stops falling out, it might take up to 12 weeks before you notice substantial improvements in terms of hair growth. But we promise you it is worth the wait so you can have healthy and manageable hair.
The Power of Chébé Powder
Sometimes we have to go back in time to find out what works best for ourselves. In this case, chébé powder proves itself with the several benefits it offers to our hair. Although it can be hard to find genuine chébé powder, you now know to smell, feel, and look at the product your purchase to ensure that it's real.
Applying your powder to dirty, dry or, wet hair will not show for the best results. Instead, clean your hair and allow it to air dry for some time until it's damp. Then you'll be set for your application, which is time-consuming, but it also is quite easy, and you'll most likely have 2 out of the three ingredients in your kitchen.
Chébé powder does not grow your hair. Instead, it nourishes, maintains moisture, and heals those split ends allowing for your hair to grow without breakage. We suggest that you buy Sahel Cosmetics Traditional Chadian Chébé Powder from Amazon to protect yourself from the hassle of trying to find a genuine chébé powder in-store and/or online. What do you think about chébé powder?  
Looking for more interesting readings? Check out: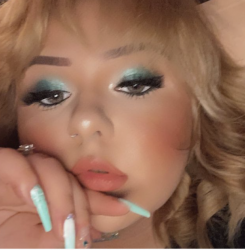 Latest posts by Annalise Swain, Hair Trend Spotter
(see all)