Are you a curly girl who's considering the Deva cut? Well, if you are, that's a great idea. There's something about a Deva cut that just brings hair to life. If you haven't had any success with cutting your curly hair in the past, you should allow a professional to do the cut for you. 
If you plan on taking the plunge and cutting your luscious locks, take a look at this guide first. Below is a list of Deva cut style ideas, as well as some in-depth information about this particular cutting style.
Are you ready to learn more? If you are, just keep reading!
What Is a Deva Cut?
To truly draw inspiration for your new Deva cut style, it's important to know exactly what it is. The Deva cut is a personalized haircut that focuses on sculpting curls so that the angle of the curl pattern is uninterrupted. It's a structured type of cut that really helps to frame the face and give your curls a customized look.
This cutting technique was created by Devachan Salon, and it's specially designed for individuals with wavy, curly, and coily hair. The cut is centered around making each curl look its best. To make sure that's done, Deva cuts are performed on dry hair, so the stylist can see how each curl is falling and how it's shaped. 
There once was a time when curly-haired individuals steered clear of haircuts because they usually resulted in a horror story. But not anymore. The  Deva cut has come to save the day.
How to Prepare for a Deva Cut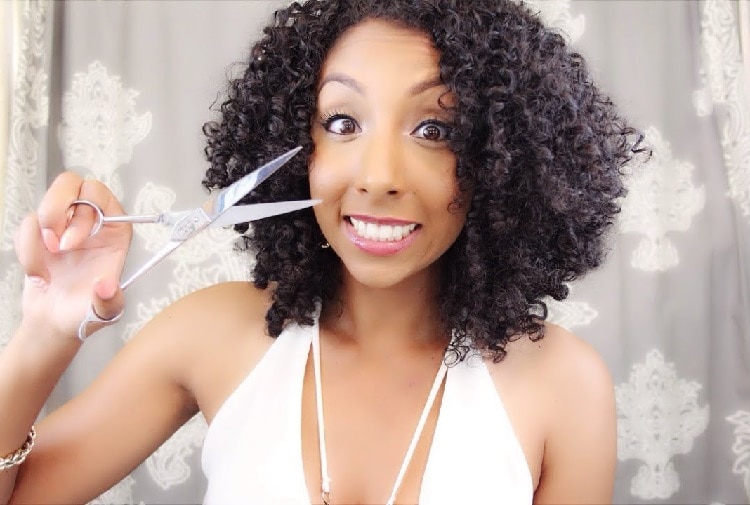 If you have an appointment set to receive a Deva cut, below are some steps you should take before going to the salon:
Co-Wash Your Hair
Devacuts are performed on dry hair, so you should make sure that your mane is clean before heading to the beauty parlor. Wash your hair, but only do so with conditioner. This technique allows for your curls to become super moisturized and defined, making it easier for the stylist to cut your strands.
Detangle
The second most important step is to detangle your hair. You do not want to go for a cut with matted strands, tangles, and knots. That's the quickest way to get a bad haircut. Of course, your stylist might be willing to detangle your hair for you.
However, it's easiest to go ahead and detangle it during the co-washing process. You can pull out matted strands of hair using a wide-tooth comb while the conditioner is still on your locs.
Air Dry Your Hair
After you've co-washed your hair, let it dry without any styling tools. You want your curls to remain in their natural state. If you use a blow-dryer, you could manipulate the hair away from its curly texture. By allowing it to air dry, your curls will remain soft and bouncy.
Allow Your Hair to Fall Naturally
Another important tip is to refrain from braiding your hair or pulling it into a bun or ponytail before your appointment. In order to give you the best cut possible, your stylist needs to see your hair in a detangled, defined state. Pulling it in a ponytail or bun can stretch it out and disfigure your curls.
The Best Hair Types for the Deva Cut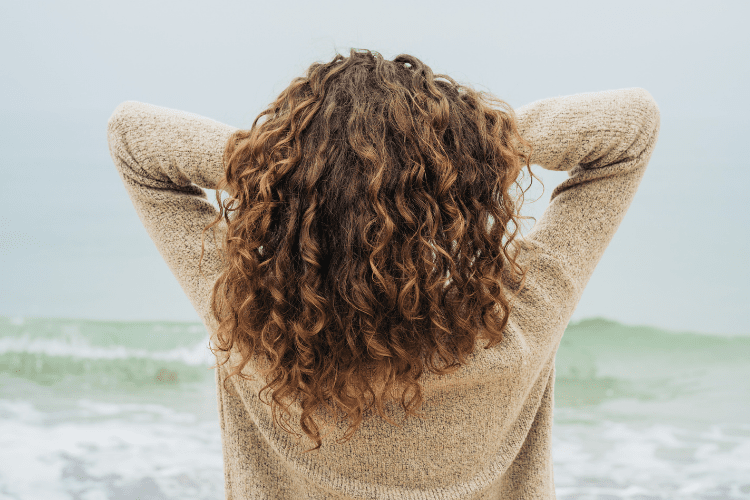 As previously explained, the Deva cut is specially designed for individuals who have textured hair. Below are some of the most common curl patterns and some of the best hair types for the Deva cut:
Type 2 Hair
Individuals with type 2 hair generally have a very loose curl pattern, and their hair is generally wavy. Although this curl type is prone to frizz, a Deva cut helps it to give it more shape and definition.
Type 3 Hair
Type 3 hair textures have a bit more of a curl pattern than type 2. You can see the actual definition of the curl, and it has more of a spiraled construction than a wavy pattern. Curly heads with type 3 hair generally experience more frizz, tangles, and dryness. It requires additional conditioner, oils, and moisturizer to keep it tamed.
Type 4 Hair
Type 4 hair is generally defined as a kinky / coily hair texture. It has a tighter curl pattern and the texture is coarse. Type 4 hair curls require lots of hydration, and it looks great in twist-outs, braid-outs, and wash and go's.
The Various Types of Deva Cut Hairstyles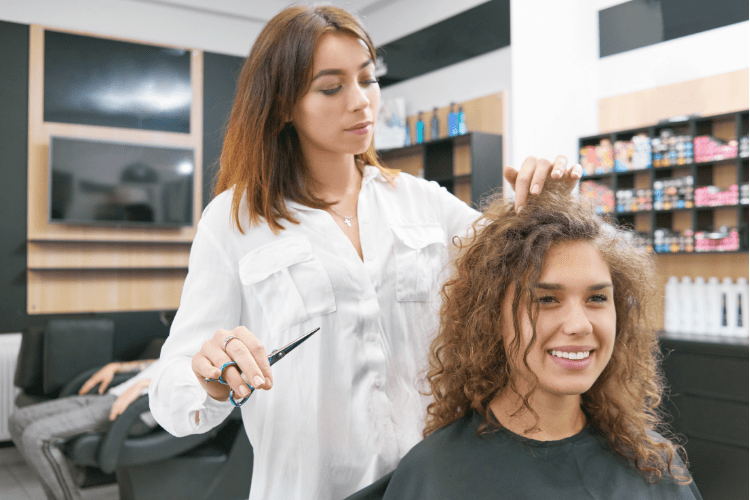 If you're contemplating the type of Deva cut that you want, there are various styles to choose from. Of course, everybody looks different with certain haircuts, so it's best to pick one that'll complement your face. Here are some of the most common Deva cut styles:
Deva Cut With Bangs
Perhaps one of the cutest Deva cut styles is the cut with bangs. If you want bangs in the front, ask your hairstylist to create some near the center of your face. By having shorter hair in the center along your forehead, it gives you the option to do different hairstyles.
 You can put your hair up into a curly ponytail with curly bangs, or you can let it fall freely and shape your face. There are so many cute hairstyles that you can try with this particular cut. Plus, if you don't give them chopped too short, they should still be long enough for you to pull them back or slick them down when you don't want the "banged" look.
Short Tapered Deva Cut
If you want a style that's short and edgy, this is the way to go. No matter what type of hair you have, this style will look good. It complements type 2, 3, and 4 hair. This haircut is sassy, yet sexy. The edges around the perimeter of the hair are cut very short, while the center of the hair remains in its curly state. 
You can go for a grungy look and even cut patterns and shapes into the hair surrounding your head. Plus, for those times when you want to do something different from the curls, you can add in faux locks, braids, twists, or anything you'd like. This is also a very good style for dyed hair. Red, blonde, and even light brown are all fantastic colors for this look.
Shoulder-Length Deva Cut
If you're coming from long hair, and you want to get rid of a significant amount of length without going too short, this is the perfect hairstyle. It allows you to hold on to some of your locks, without keeping the elongated look. 
This type of Deva cut frames your face nicely and gives curls a healthy look. Of course, you can do this cut for any hair type, but it looks great on type 2 and 3 hair.
Frequently Asked Questions About the Deva Cut
If you're seriously considering getting a Deva cut, you may have many questions about it. Hopefully, you can find the answers in the frequently asked questions section below:
Question: How Do I Know If the Deva Cut Right for Me?
Answer: In order to get the best results from the Deva cut, you must wear your hair in its naturally curly state the majority of the time. If you frequently flat iron your hair, some of your curls might have damage. Unfortunately, that means that it'll be harder for the hairstylist to shape your curls because they may be uneven.
Question: What's the Difference Between a Deva Cut and a Regular Curly Cut?
Answer: Well, each technique is done on dry hair. However, a curly cut is generally performed in the same manner as a traditional haircut. The ends are clipped in an effort to create a short style. 
On the other hand,  Deva cuts are specifically designed to cater to each curl. Not only that, but individuals who perform Deva cuts should be Deva cut trained to provide the perfect style.
Question: Can I Flat Iron My Hair After a Deva Cut?
Answer: Absolutely. A Deva cut won't affect your ability to wear straight hair from time to time. Just keep in mind that you don't want to use flat irons and other heating tools too often. Otherwise, you could ruin your curls, and the shape of your cut won't look the same once you have heat damage.
Question: Does a  Deva Cut Make Curly Hair More Curly?
Answer: No, it doesn't. After your Deva cut, your hair will continue to grow in the same manner that it always has grown out from the scalp. The only thing the Deva cut does is shape your curly cut in a way that complements your face and works with your curls, not against them.
Question: Will I Look Right With a Deva Cut?
Answer: As long as your stylist does a good job, a Deva cut can improve the look of your curls. Unless you're going for an elongated style, a Deva cut is the perfect method for giving the shape of your curls. You can wear wash and go's, twist outs, and braid outs that'll look incredible once your hair has more style and definition.
Final Thoughts on the Deva Cut
Honestly, you can't go wrong with getting the Deva cut. If you want to switch things up and give your curls more shape, this is the way to go. Traditional cuts don't work well with curls and coils, and so far, the  Deva cut has been the best technique for cutting curly hair.
Hopefully, the style ideas listed above have inspired you and made you excited about your new look!
Looking for more inspirational readings? Check out: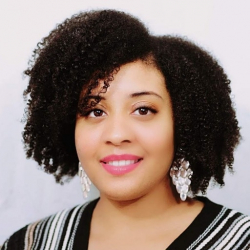 Latest posts by Candis Pope, Home Hair Product Tester
(see all)