One true superfood many of us may not know is olive oil. In this best olive oil shampoo guide, you will learn the secret method of growing your hair fast with olive oil shampoos.
Olive oil has unsaturated fats and is also rich in antioxidants. The taste of olive oil is delicious in various recipes, and professionals link it to lower the risk of stroke and other cardiovascular diseases!
However, are you aware of the different benefits of using olive oil for your hair? Olive oil can make your locks longer, shinier, and smoother.
At a Glance: Best Olive Oil Shampoo Products for Dry Hair
OKAY – Olive Oil Shampoo: Best For All Hair Types and Textures
Heritage Store Olive Oil Shampoo: Best For Daily Use
Garnier Whole Blends Replenishing Shampoo: Best For Scalp Maintenance
Palmer's Olive Oil Smoothing Shampoo: Best Overall
ORS Olive Oil Professional Neutralizing Shampoo: Best Hair Conditioning Shampoo
Nioxin Cleanser Shampoo: Best Scalp and Hair Cleanser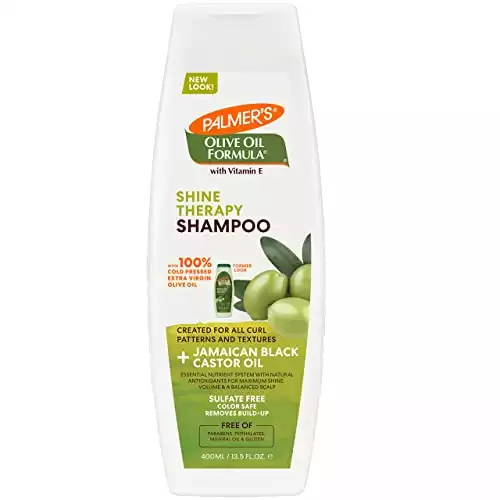 How Does Olive Oil Shampoo Work?
Olive oil shampoos have many essential nutrients for the beauty and health of your hair. It is not surprising since they are olive oil-based. Olive oil is rich in vitamin K, vitamin E, Omega-3 fatty acid, and many other substances that can do magic to your hair.
Olive oil shampoos feed your hair with the nutrients it needs and can create thin layers over your hair follicles, thereby locking in the moisture.
With that, anyone with a dry hair problem can solve it by using olive oil shampoo. These shampoos can also solve dandruff problems by feeding the scalp skin cells with everything they require.
Ultimately, olive oil shampoos can significantly deal with dirt. The shampoos will make hair beautiful and clean. Olive oil shampoos have a nice smell like coconut, lavender, and so on because they use plant-based flavors. With this, they can make hair smell wonderful.
Who Should Use Olive Oil?
Every hair texture and type may not find olive oil suitable since many hair types can retain oil longer than others. However, these hair types will find using olive oil pretty ideal:
Processed hair

thick hair

split end
After conditioning, olive oil can also help with:
Dandruff

Lice

Other dry scalp issues
How Effective Is Olive Oil At Treating Dandruff?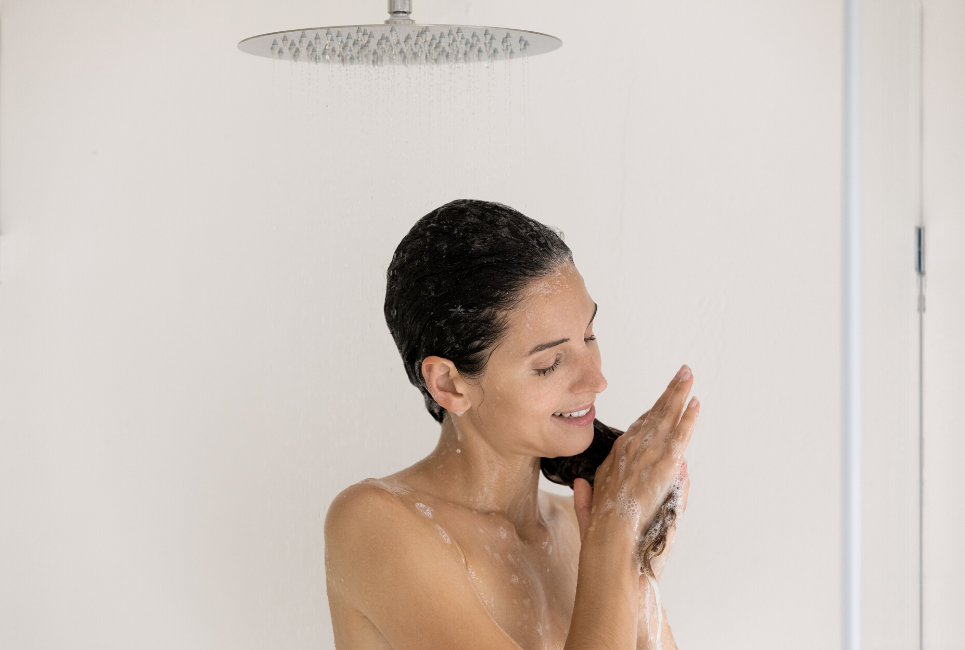 Olive oil is quite effective at treating dandruff, and its efficiency is obvious immediately you start using it. You can expect to see improvement from the first use. Here are a few things olive oil can do for your hair.
Effective Against Dandruff
Olive oil has been an ideal product for treating dandruff if you want the best natural conditioners for your hair. Olive oil is not like other conditions purchased in regular stores that will irritate and clog your scalp. Instead, the oil will soothe flaking and moisturize the dry scalp.
Conditions Hair
Olive oil can penetrate the hair fiber and, with that, it serves as a hair conditioner. The oil nourishes the hair with its monounsaturated fats components. Therefore, it will leave any hair feeling frizz-free, soft, and silky.
Prevent Damage
With olive oil, you can end the issues of split ends and hair damage. When you use olive oil regularly, you can prevent damage as the oil will help boost hair health and scalp. In addition, since the oil is rich in antioxidant properties, it will help reduce oxidative damage.
Different Ways of Using Olive Oil for Dandruff Treatment
Here are a few different ways of treating dandruff using olive oil.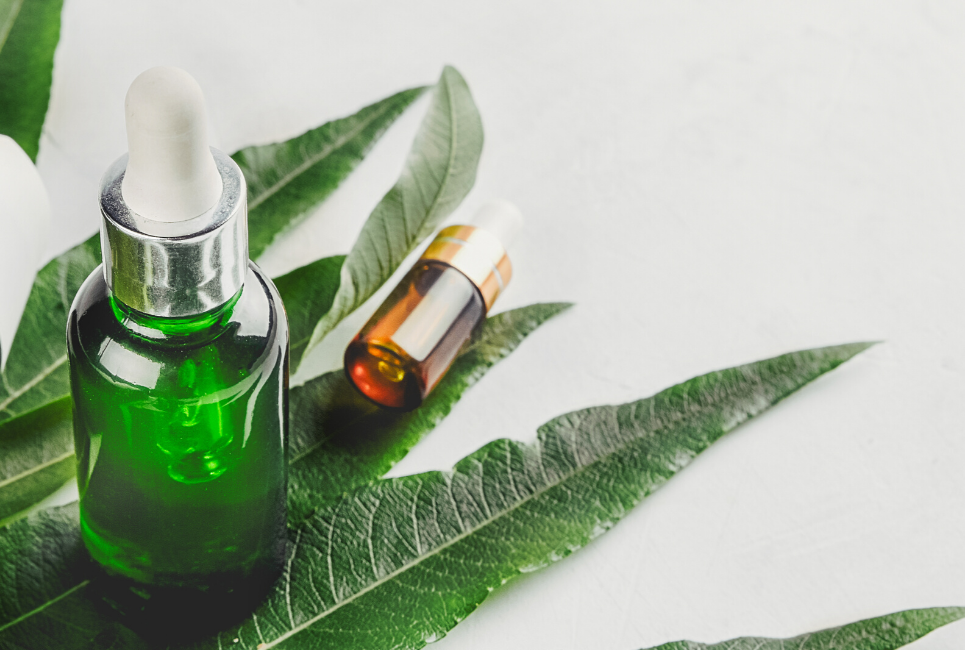 Olive Oil and Neem Oil for Dandruff Removal

– use them together by adding a teaspoonful of

neem oil

with two tablespoonfuls of olive oil and apply the blend to your scalp.

It works because neem oil has anti-fungal and anti-bacterial properties that help with dandruff treatment.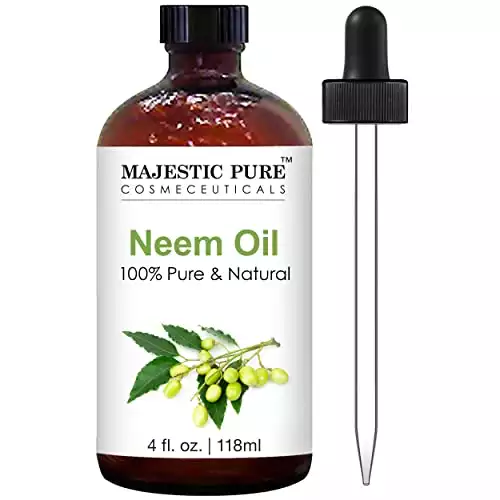 Majestic Pure Neem Oil | Amazon
Majestic Pure Neem Oil is 100% pure and natural, expeller pressed, and widely used in cosmetics, skincare, and hair care products.
Buy at Amazon.com
We earn a commission if you make a purchase, at no additional cost to you.
08/03/2023 10:16 pm GMT

Olive Oil and Methi for Dandruff Control

– have some

methi seeds

in water overnight and grind them to a smooth paste the following morning.

Mix olive oil with three tablespoonfuls of methi and apply to the scalp before washing with the shampoo.

You can get rid of dandruff with methi's natural anti-fungal and anti-bacterial properties.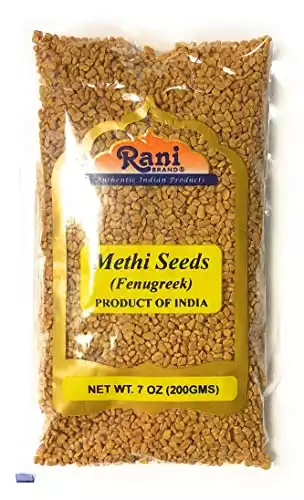 Rani Fenugreek (Methi) Seeds Whole | Amazon
Fenugreek (also known as Methi) Native to the eastern Mediterranean, the English name derives from Middle French fenugrec from Latin faenugraecum and is cultivated widely in India, Pakistan, Morocco, France and Argentina.
Buy at Amazon.com
We earn a commission if you make a purchase, at no additional cost to you.
08/02/2023 08:44 pm GMT

Olive Oil and Apple Cider Vinegar

– dilute apple cider vinegar's quarter of a cup with a distilled water.

Then mix a teaspoonful of lemon juice and olive oil.

After mixing, apply to the scalp.

It works perfectly because cider vinegar has excellent cleansing properties that can eradicate bacteria and fungi that cause dandruff and other scalp infections.

Olive Oil and Tea Tree Oil

– mix two to three tablespoonfuls of olive oil with four to five tablespoonfuls of tea tree essential.

Apply the scalp gently for a few minutes and wash it off with a mild shampoo after about 40 to 50 minutes.

It works well to control dandruff since tea tree oil offers natural antibiotic and antiseptic properties that leave your hair with a clean, fresh scalp.
Are There Any Dangers To Using It?
When it comes to olive oil's downsides, it is just that it is not right for everyone, as with all good things in life. We have already discussed how olive oil is antimicrobial and helps with dandruff by moisturizing scaly and flaky patches.
However, many dermatologists have different opinions. One of them is Whitney Bowe, MD , who asserts that yeast can cause dandruff on the scalp. She maintains that people can be feeding the yeast when they apply olive oil, leading to worse dandruff.
Bowe also indicates that she is not against using olive oil as a hydrator, particularly on the extremes. However, using the oil might not be appropriate for everyone.
It is also not appropriate to use a blow dryer or hot tools after using your olive oil. The oil has 320 degrees burn temperature, which is unsuitable for most hot dryers and tools in the market since they go well above that. Doing this means cooking the strands.
Another danger of using the oil is clogging unintentionally and resulting in worse breakouts if your hair is long enough to touch any acne-prone areas on your back or chest.
Possible Side Effects
Olive oil has some drawbacks that can cause you significant health damages. So before you start using olive oil, check out some of its side effects.
High on calories

– one of olive oil's main side effects is unnecessary weight gain when consumed in high degrees.

Can cause diarrhea

– olive oil has high-fat content that can cause digestive disorders and impact gastrointestinal issues like diarrhea.

Gallbladder stones or blockage

– this issue is one of olive oil's severe side effects.

You must not consume too much oil as it can lead to painful gallstones or block the gallbladder.

Can cause inflammation

– olive oil is loaded with fat that may increase the possibility of developing body inflammation.

Lowers blood pressure

– the general belief is that olive oil can keep the heart healthy.

However, many surveys have discovered that there can be a massive fall in blood pressure with its over-consumption.

Lowers blood sugar

– olive oil can also lower blood sugar below the normal level.

The primary cause of its action against blood sugar levels is that it allows for increased insulin resistance.

Trans-fat related-diseases

– every tablespoon of olive oil has around 120 calories and 14 percent saturated fat since it is rich in monounsaturated fat.

Causes blackheads

– olive oil can encourage

blackheads growth

on your face since it is extremely oil and sticky.

Not suitable for dry skin

– those with extremely dry skin should not think of using olive oil because the oil has oleic acid properties that can break the skin's natural moisturizing capabilities.

Inappropriate for baby's skin

– it can be risky to use olive oil on babies since they have the most sensitive skin.

As such, using it can lead to irritation, redness, or rashes on the skin.

Can cause skin rashes

– people with oil skin must stay away from using olive oil as it can result in severe redness, rashes, or irritation on their skin.

Causes allergies

– olive oil can cause acute allergy for many people as it can aggravate your condition if you have allergies to it.
Best Olive Oil Shampoo To Use
With all being said so far about olive oil, it is still the best option for your hair if you are looking to sport magnificently luscious locks.
The oil shampoos' organic and natural ingredients can nourish the tresses from a tip to root and cleanse them without causing any damage. Those with brittle and delicate strands can also depend on olive oil to care for and moisturize their hair.
If you are looking to save hours researching the right products that will deliver a fuller, thicker, and healthier mane, take a look at our best olive oil shampoo guide. We chose the olive oil shampoos listed in this guide based on affordability, availability, and customer reviews.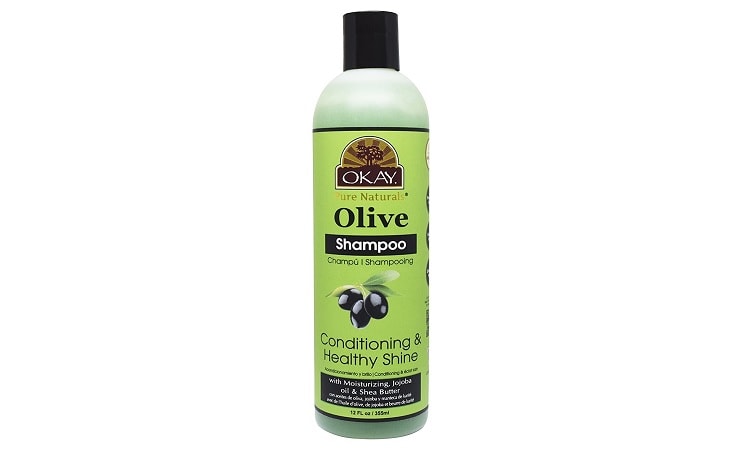 The OKAY – Olive Oil Shampoo is enriched with shea butter, jojoba oil, and olive oil that intensely nourishes your hair from the tip to the root.
Using this shampoo is getting four different results, including hydrating, conditioning, nourishing, and cleansing. The oil formula also restores lost elasticity and moisture while boosting hair growth and reducing scalp irritation.
The jojoba oil in the shampoo has wide coverage and deep penetrating properties that make the hair more manageable and prevent frizz.
In addition, the shea butter reduces hair loss and breakage while strengthening and coating the hair. It also protects the hair against damage the styling tools can cause and repairs damaged hair.
Pros
congratulations-free

Silicone-free

Itchy scalp releases

hair shine boosts
Cons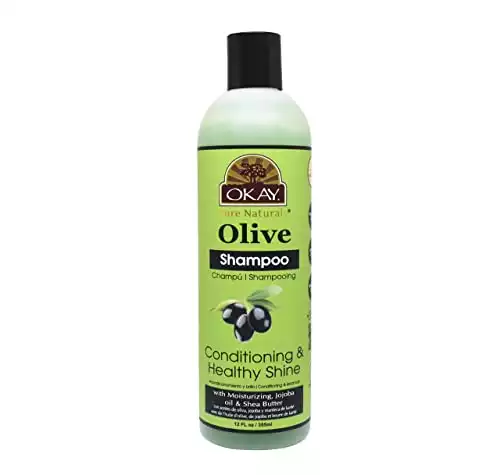 Okay - Olive Oil Shampoo | Amazon
This gentle cleansing shampoo helps relieve dandruff and dry scalp; it helps tame frizz, and protects hair from split ends and breakage.
Buy at Amazon.com
We earn a commission if you make a purchase, at no additional cost to you.
08/03/2023 01:35 pm GMT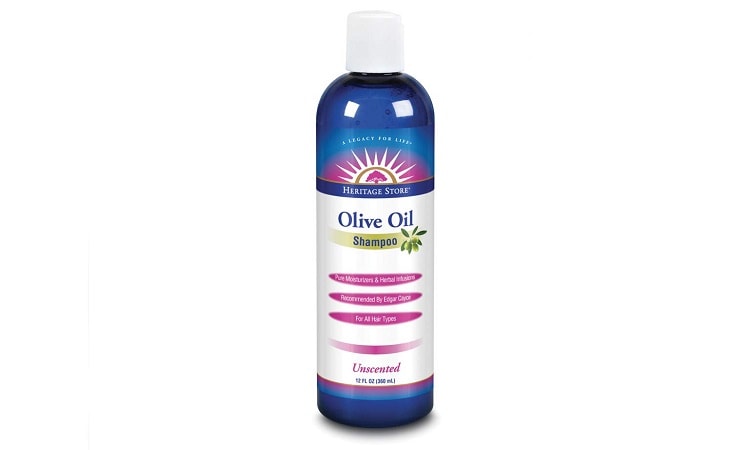 Heritage Store Olive Oil Shampoo is an unscented hair cleansing product with organic olive oil and a castle base formulation. Heritage's olive oil shampoo will not strip the natural oils as it gently cleanses the scalp and hair.
It is easy to notice the natural conditioner that blends with shampoo and coconut oil, which prevents early hair graying, smoothens split ends, and helps with easy detangling. It also helps protect the strands from breakage when combing.
Treating many scalp conditions and stimulating thicker hair growth is the rosemary. Also, deeply cleaning the scalp and clearing residue is the nettle plant extracts with astringent properties.
Yarrow reduces hair loss, dissolves buildup, reduced itchiness, and soothes the inflamed scalp. Users can also get instant shine and enjoy the dark hair from the oil's sage property, which boosts blood circulation and strengthens hair roots.
Ultimately, the lemongrass property can improve hair texture and effectively against dandruff with its anti-fungal properties.
Pros
congratulations-free

Sulphate-free

gluten free

100 percent vegan

pH-balanced

plant-based formula
Cons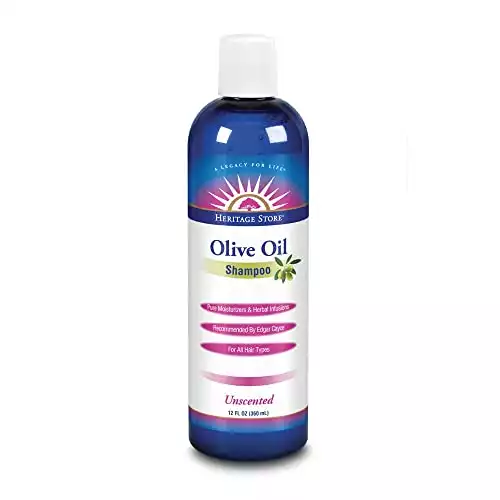 Heritage Store Hair Shampoo | Amazon
Sun, pollution, salon treatments and harsh hair care products can do a number on your hair. Rediscover natural softness, manageability and shine with Heritage Store Olive Oil Shampoo.
Buy at Amazon.com
We earn a commission if you make a purchase, at no additional cost to you.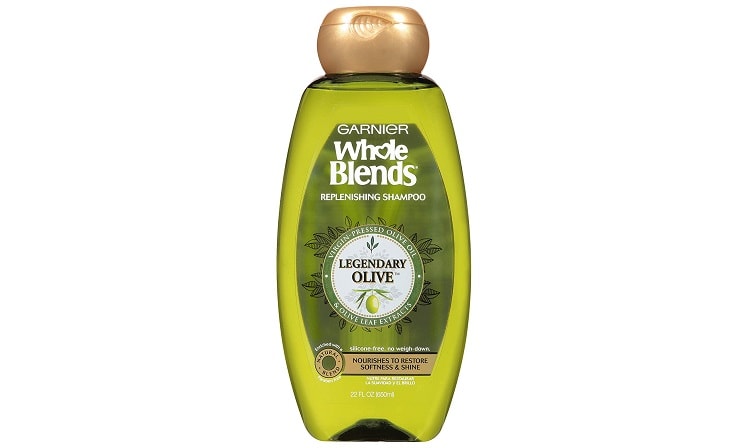 Garnier Whole Blends Replenishing Shampoo moisturizes lost nutrients with its signature blended formula while replenishing any lost nutrients.
The oil has 100 percent purest form with Italian virgin-smoothed olive oil that reverse damage, take frizz immediately, and nourish hair.
There are potent antioxidants in its extracts from olive leaves, such as oleuropein that add a healthy sheen to the hair, soothe irritated and itchy scalp, and condition hair. In addition, each wash with this shampoo leaves a lasting fleshly fragrance.
Pros
It does not contain paraben

It does not contain silicone

sustainably sourced

Appropriate for sensitive scalp

Pleasant fragrance
Cons
It can weigh down the hair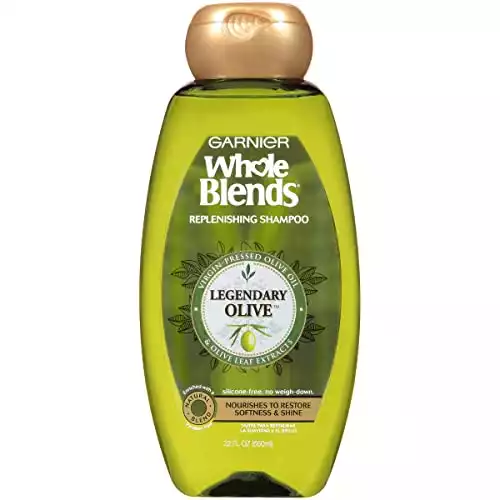 Garnier Whole Blends Replenishing Shampoo | Amazon
Garnier Whole Blends silicone-free, replenishing formula for dry hair, blooms with a caring fragrance of virgin-pressed olive oil & olive leaf extracts, bringing to life our wholesome care that replenishes dried out hair from root to tip without weighing down.
Buy at Amazon.com
We earn a commission if you make a purchase, at no additional cost to you.
08/03/2023 04:21 am GMT

Palmer's Olive Oil Smoothing Shampoo is your choice if you want a distinctive shampoo that can give you an all-around hair care blend. The shampoo can tame, condition, moisturize or cleanse any curly hair.
In addition, it can replenish lost moisture, ensuring that you can manage your strands. This shampoo's extra virgin olive oil is enriched with antioxidants that can fight free radicals causing hair damage and deeply moisturizing.
The shampoo gives healthier, thicker, longer hair through vitamin E, strengthening and stimulating the follicles. It also has Jamaican black beaver that protects hair from styling damage and coloring chemicals, relieves irritation, dry scalp quenches, and soothes inflammation.
In addition, the keratin property in the shampoo is a strengthening protein that enhances elasticity and texture while adding instant shine to your hair.
Pros
cruelty-free

Sulphate-free

Oil-free mineral

Phthalate-free

congratulations-free

Dermatologist-tested

Hypoallergenic
Cons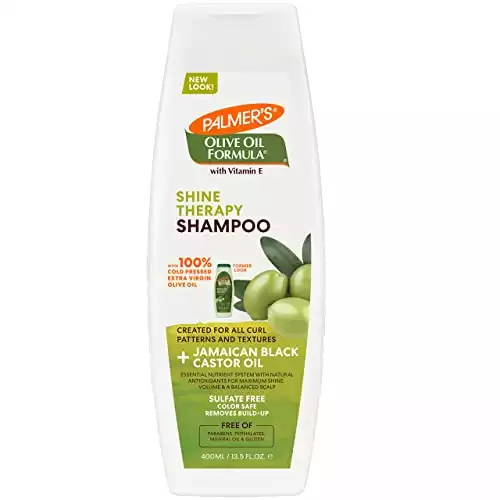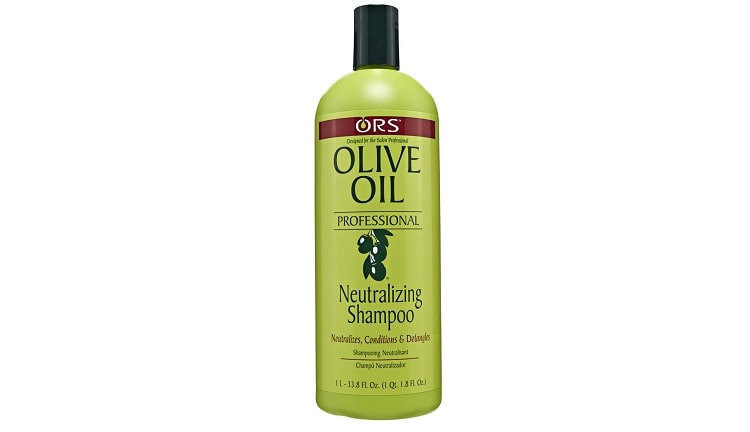 A potent root stimulator is the ORS Olive Oil Professional Neutralizing Shampoo is a blend of ingredients that promotes rapid and healthy hair growth. The shampoo can make the hair more manageable, sleeker, and softer with its three-action formula.
It is also enriched with olive oil, which moisturizes the hair from deep within and adds a healthy sheen through its vitamin E property.
In addition, the aloe vera leaf juice property of the shampoo cleanses adds sebum buildup, unclogs follicles, soothes itchiness and inflammation, and hydrates the strands. Pantheon, also known as pro-vitamin B5, is another ingredient blended in this shampoo.
This property tames frizz, seals moisture, and penetrates the scalp. The olive oil neutralizing shampoo also has lecithin, the natural emollient that revives brittle, dry hair.
Pros
Sulphate-free

congratulations-free

cruelty-free

Get rid of calcium buildup from the scalp

little amount lasts a long time

Organic ingredients
Cons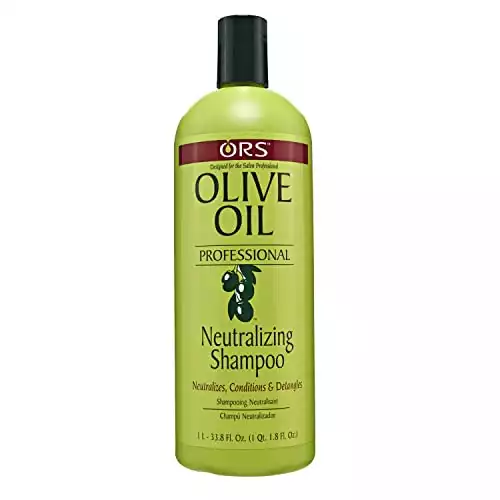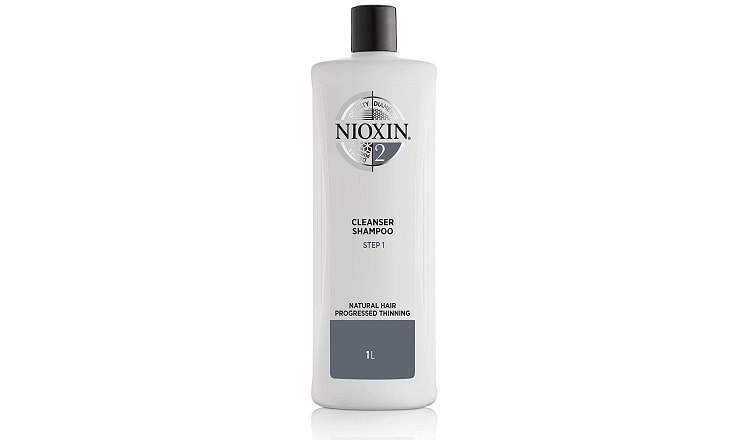 Amazon has labeled Nioxin Cleanser Shampoo as Professional Beauty, which only the professional-grade and top-quality cosmetic product can get. With this, no one needs to convince you more that this olive oil shampoo is the best you can get in the market.
Its awesomeness comes from how the manufacturer made it from the blend of humectants and botanicals. These properties supply your hair with all the nutrients it needs.
In addition, the detoxifying properties of the shampoo make it perfect for professional use. While people may see it as expensive, add consider its benefits to the hair.
Pros
Rich in hair-friendly nutrients

Detoxifying properties

Professional-grade shampoo
Cons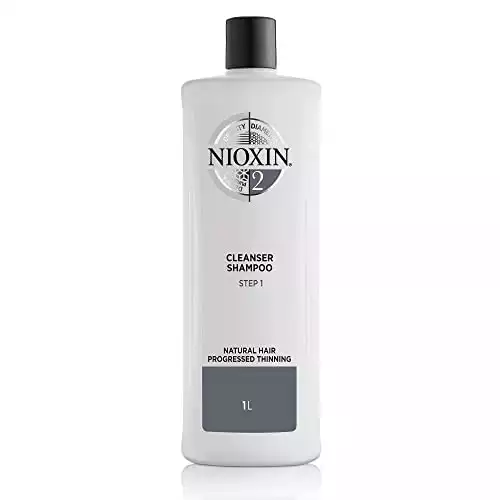 Nioxin Shampoo System | Amazon
Professional hair and scalp cleanser shampoo for natural hair with progressed thinning.
Buy at Amazon.com
We earn a commission if you make a purchase, at no additional cost to you.
08/03/2023 02:17 am GMT

How To Apply These Shampoos?
Olive oil can help your hair to replenish damaged, curly hair. The oil can even help fill the required moisture to have healthy hair if you have heavily processed or thick hair. As you read on, you will learn how to use olive oil treatment to restore your hair.
Using Olive Oil Once a Week
Before taking a shower, you can use olive oil once a week. Choose a day or night you will be at home since the oil will need to sit in your hair for some time if you want to get the full effect. Even with that, you will still have greasy hair after rinsing the oil.
Use the olive oil after washing your hair and condition it.

However, rinsing your hair after you must have applied the oil is the most effective method.

Using olive oil after you shampoo your hair is wrong.

If your hair is not shampooed and clean, you will have a better hair treatment.

As shampoo can strip your hair of oils, it is an astringent.
Prevent Hair Loss and Treat Dandruff
Olive oil can help calm an itchy scalp and prevent dandruff. The oil can even prevent or slow down hair loss. While people are different and have no guarantee regarding hair loss, it is not bad to try olive oil and see if it works. Use the oil for eight days as you massage your scalp with it every evening. Then use a plastic shower cap to shield your pillow and leave it overnight. You can use shampoo on your hair the next morning.
Fight the Frizz
You can control frizz by applying a drop of olive oil on dry or wet hair and create a desirable natural shine. Put a small amount of oil in your palm, rub it together, and apply it by finger-combing it through your hair.
Find a Shampoo Containing Olive Oil
You can replenish your hair's natural nutrients when using a shampoo containing olive oil . These shampoos have olive leaf extracts or olive oil that will hydrate and rejuvenate your hair.
Soothe and Stimulate Scalp
Olive oil can nourish the hair and invigorate the scalp by massaging it with the scalp and hair. Doing this will leave the hair vibrant, healthier, and more manageable. While you can shampoo out the olive oil, you can also leave it in when styling.
What Other Drugs Interact With It?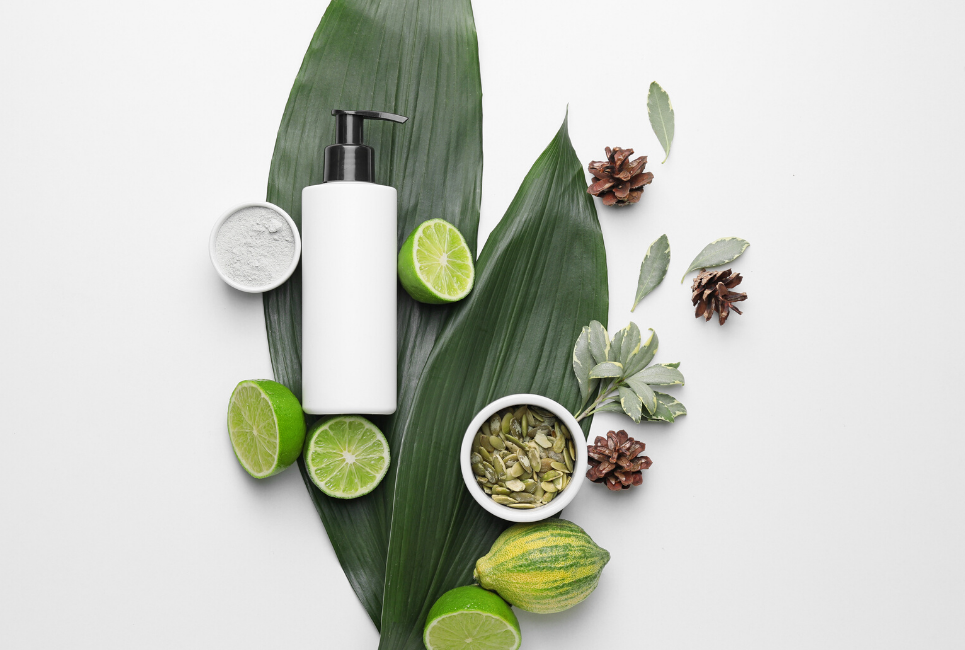 When it comes to moderate interaction, it is essential to be cautious. For example, olive oil can decrease blood sugar, and people can also lower blood sugar with diabetes medications.
However, you can have significantly low blood sugar when taking diabetes medications with olive oil. Therefore, assess blood sugar closely as you may want to change your diabetes medication dose.
Some medications used for diabetes are tolbutamide (Orinase), glipizide (Glucotrol), chlorpropamide (Diabinese), rosiglitazone (Avandia), pioglitazone, insulin (Actos), glyburide (Micronase, Glynase PressTab, DiaBeta), and others.
Like blood sugar, high blood pressure can go too low when taking medications with olive oil.
Some high blood pressure medications include furosemide (Lasix), hydrochlorothiazide (HydroDIURIL), Amlodipine (Norvasc), diltiazem (Cardizem), valsartan (Diovan), losartan (Cozaar), enalapril (Vasotec0, captopril (Capoten), and several others.
The Clinical Studies
Many clinical studies have looked into olive oil's health benefits since it is the best quality oil rich in antioxidants that prevent cellular issues that caused molecules. Here are some of the studies carried out on olive oil.
When it comes to nutrition, the United States Department of Agriculture suggested that 13.5 grams or one tablespoonful of olive oil can provide:
Vitamin K of about 8.13 micrograms

Vitamin E of around 1.9 milligrams

13.5 grams of fat with a saturated amount of 1.86 grams

119 calories
FAQs
Question: Is Olive Oil Good for Itchy Scalp?
Answer: Many people have confirmed that olive oil has potent anti-fungal properties that fight against bloodstream infections . These anti-fungal properties soothe redness and inflammation and help loosen itchy scales buildup. However, this regard requires more research.
Question: Does Olive Oil Thicken Hair?
Answer: The omega acids of olive oil are a property that the follicles can easily absorb. That is why the oil can help with thicker hair growth. Furthermore, it reduces residue and softens the scalp. In addition, the oil strengthens brittle hair and treats dryness.
Question: Is Olive Oil Shampoo Good For Your Hair?
Answer: All hair types can benefit from olive oil shampoos, particularly those with fragile and dry strands. The shampoo lengthens and strengthens the hair while adding shine and volume. It also makes hair more manageable and prevents flyaways and frizz.
Bottom line
Our top pick is Palmer's Olive Oil Smoothing Shampoo . We chose the shampoo because it can help protect hair from styling damage while relieving itchy, dry scalp through its Jamaica Black Castor Oil component.
It also has Vitamin E, keratin amino acids, and a balanced extra virgin olive oil blend that leaves hair softer. In addition, it cleanses thoroughly with easier to style and a smoother texture.
Ultimately, this shampoo can eliminate product buildup, replenish nutrients and moisture, and stabilize frizzy hair.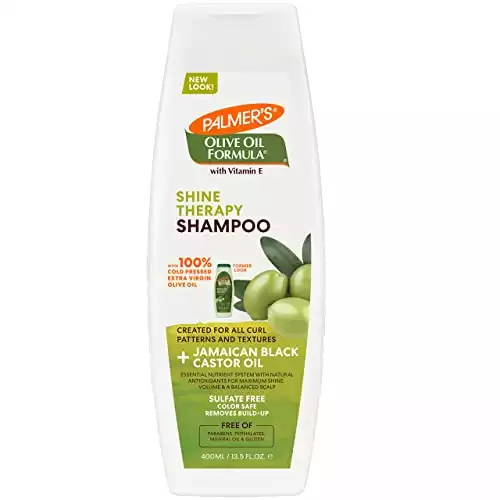 There you have our best olive oil shampoo guide. These shampoos are your best choices if you want to moisturize dry hair or repair damaged hair.
However, you won't be disappointed with whichever olive oil shampoos you pick. Still, you can choose one of the best olive oil shampoos we reviewed above if you want the best for your hair.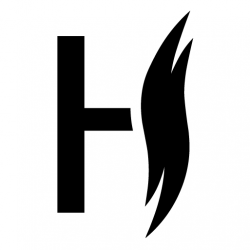 Latest posts by Hair Kempt Team
(see all)