Several months ago, I spent a few hours searching for the perfect money piece hair brunette ideas and styles because I was ready to shake up my own 'do.
A money piece on brunette hair was the perfect solution to my ongoing problem–how could I brighten my look without heavy highlights? I was not cut out to be a blonde (any shade), though it took me several rounds of lightened locks to finally accept it.
Maybe you're in the same boat or don't want the damage or upkeep that comes with heavier highlights. I got partial highlights for dimension, but all the drama stayed near my face for a solid summer refresh that didn't totally change my hair color.
Let some of these ideas guide you toward your perfect money piece idea for your brunette hair.
My Favorite Money Piece Hair Look for Brunettes
I love the brightest blonde money pieces on blonde hair, but my top picks for brunette hair are soft caramel and deep honey blonde. These are the most universally flattering money piece options across all shades of brown hair and a wide range of skin tones.
If your hair is a lighter shade of brown and your skin tone complements it, a shocking light (almost platinum) or pale beige blonde money piece looks beautiful and natural with brunette hair. I'm mildly obsessed with this option, but I feel like it's not "me" whenever I try it.
If your hair is darker than that and you want drama, bright blonde makes the statement you're looking for. I love these options, but they're not my personal picks.
There's one more type of money piece for brunette hair I didn't consider until I started writing this article. Now I'm in love with it: Lavender. Skip the shades of blonde and light browns and go pale purple if you're feeling daring–it's lovely! You could choose any color you like, of course. Still, there's something about a lavender money piece on dark brown hair that gives a simultaneously edgy and ethereal vibe.
Are Money Pieces Low-Maintenance?
Yes! That's another reason I love them so much. They don't take much time or money to maintain, but they still work wonders to update your look. Of course, there's some maintenance involved, and you may have to switch out your shampoo and/or conditioner if you go light. Still, compared to some other options, this is nothing where maintenance is concerned.
Should You DIY It?
I'm always hesitant to recommend DIY when it involves bleaching your hair, especially when it's focused on the front face-framing sections. That said, I know a lot of people will want to try it simply because it costs less, looks easy enough to accomplish, and you can easily reach those sections of hair.
Brad Mondo has a quick guide (I love the breakdown of what to use and where to paint) for those who want to try to create a money piece at home. Watch his video before you get started.
How I Chose the Best Money Piece Hair Brunette Ideas
I was looking for various styles and shades to suit all coloring, features, and preferences, but that's not all. 
Since the placement is so specific, there's only so much you can creatively do with a money piece look. However, I wanted to show you how placement and contrast can shake up a look. A brunette can get anything from natural to dramatic effects just by painting that section of hair by the face. 
The 15 Best Money Piece Ideas for Brunettes
Money piece ideas and styles for brunettes are some of my favorites. When I first started looking into money pieces on dark hair, I thought they were all pretty much the same. There's so much variety within this specific category, though. 
From shades of blonde, brown, caramel, honey, chocolate, etc. to unnatural shades, you can update your look with a simple money piece. 
There's lavender (or any color you want). There are bangs, no bangs, waves, and straight hairstyles.
I'm obsessed with this money piece on dark brown, almost black hair shared by live_love_dohair. It's a sweet caramel shade concentrated just at the front with a medium contrast. However, faint strands of caramel appear further back, blending it all together and adding dimension to the dark brown shade.
One of my favorite money piece looks involves the lightest brown hair and pops of pale blonde in wavy layers around the face. It looks so natural and beachy, and it accents the facial features at the same time. The model in _hairbykinsey's photo looks like she just strolled in from the beach and is headed into fall. That's something else that makes money pieces perfect–they flawlessly transition from one season to the next.
If you are a fan of heavier highlights, your money piece won't stand out as much. However, it can still brighten your overall look, as shown here by lauraelenahairartist. There's barely a difference in the shades of the money piece and highlights throughout the rest of the hair, but it's adding that extra "something" to the whole look.
If it's drama you're after, don't let the traditional money piece looks fool you. There is drama to be had when you mix a bright blonde money piece look with dark brown hair. I'm sad I can't pull a look like this by theblonde_wizard off. There's just enough blonde to make things bright and exciting, but not so much that the shade washes out her skin tone. I love that there aren't other lighter pieces throughout her brown hair.
Money piece placement like this look by jordipaintshair makes it look like you're walking around with the sun shining right on your face all the time. It's your own personal, portable spotlight. This one is best for lighter shades of brown hair and people willing to lighten the ends and enjoy some balayage, too. It's the opposite of the "Dramatic Masterpiece" above.
However, it's still a masterpiece on its own–one that looks natural, lived in, and glowy. If this option worked with my skin tone, I'd probably go for it and never look back. 
Just look at the rich chocolate shades in this photo from kaylawalker_education. Subtle honey waves and a honey money piece with a barely-there sliver of almost-white at the very edge take it further to accent the movement and beauty of the deeper tones in the brown base. I love the gradient of color here, and that the hair's ends, sides, and back only have the subtlest honeyed highlights.
Think Reddish-Brown Hair Can't Participate in the Fun? Think Again.
Chestnut hair, accented with a bright blonde money piece and lighter ends, is stunning and perfect for fall (or any time of year). This photo from hairbystephanieng shows us a chunky bright blonde face-framing area and lighter ends on reddish-brown locks. Cue the apple-picking, cute boots, and flannels. This is such a warm, photo-ready look.
Especially when paired with loose waves and layers, this caramel money piece and subtle highlighting work by manehairbybrooke soften this model's whole look. The shade is the perfect addition to her natural shade–it's almost as if the sun did it–and it makes her eye color stand out like no other shade would.
High-contrast money pieces are having a moment right now. This (almost) high-contrast example from hairbysaretta shows how magical that can look on medium or dark brown hair. Even though it's so different from the base, the honey shade looks sun-kissed, like the most perfect summer just happened.
There are ribbons of the same honey-blonde shade throughout the rest of the hair, so it all ties together. There's still no mistaking the model for a blonde. This look has the perfect placement and shade to straddle the line between natural and bold.
Does a money piece have to be lighter brown or blonde? Nah. Those are beautiful, but there are no rules in beauty. Look at this gorgeous lavender money piece look on brunette hair, shared by artistic.aestheticss. Lavender does here what caramel, honey, and blonde can do in more natural looks. It brightens and softens the model's face and adds visual interest to the brunette shade.
The color does all the talking in this high-contrast option, also from artistic.aestheticss (I can't get enough of this account now that I've discovered it, just sayin'). White sections in the front section of dark brown hair is about as high-contrast as you can get for a brunette. The long, smooth layers keep it flowy and soft without demanding attention of their own. They're a beautiful backdrop for the bright color.
Many money piece ideas and styles for brunettes have golden undertones, but let's not forget about the gorgeous, cool-toned, icy blonde. The money piece is subtle in this look from hairbykatelynmarie, as it's front and center in an ash blonde balayage look. However, it adds a bit of brightness to the front that thinner highlights in a more toned-down shade wouldn't.
Your bangs already frame your face and call attention to your best features, but what if they did even more? What if they were part of the money piece look, used to brighten your complexion and add drama to your look? Check out these silvery blonde bangs on dark brown hair, shown by allthatjazzyhairstylist.
Pink Streaks on Short Hair
There are two things I love about this style from Stella Cini that makes it stand out from the crowd. First, it's pink. Second, it's on short hair, whereas most money piece styles I've seen have been on long hair.
Side Part with a Money Piece
This money piece style isn't exclusive to brunette hair. Still, I wanted to include it anyway since this is one of the things I was wondering about when I was trying to decide on my own next look. I had a side part at the time, and most of the photos I saw had women sporting middle parts, which I wear less frequently. 
Mirella Manelli's video demonstrates how to do just that–a money piece with a side part. The end result is a bright money piece with heavy highlights. It's gorgeous!
FAQs: What to Know Before You Lighten That Chunk of Hair
Question: Are money pieces in style in 2022?
Answer: Yes, absolutely, very much so! They're everywhere, and for good reason. They accomplish so much with such little commitment.
Question: Can a money piece be darker?
Answer: Technically, they can be whatever you want them to be, as long as they're sections that stand out right by the face. However, they're usually at least slightly lighter than the rest of your hair. There doesn't have to be a dramatic difference between shades. But it's always up to you to take a trend and make it work for you–go lighter, darker, or choose an unnatural shade to express yourself and get the look you're after.
Question: Why is hair called a money piece?
Answer: According to Godrej Professional, it's because of how much time and money focusing on that section of hair can save you. It's low-maintenance but offers a powerful effect.
Should You Get a Money Piece as a Brunette?
If you're considering a money piece for your brunette hair and still wondering if you should do it, my answer is yes, absolutely! It's an excellent way to brighten up your face without going lighter all over. You can add highlights to other areas or skip them–up to you. Money piece sections of hair can look natural, sexy, and playful. They can also be dramatic or glamorous.
Looking for more interesting readings? Check out: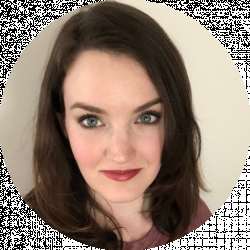 Latest posts by Crystal Schwanke
(see all)