Black and red hair is a stylish yet unique combination, and this look is still popular today. I've had this look countless times, and it's one of the best hair looks I've had. The first time I ever dyed my hair, I got red highlights! The best part about this look is the different ways you can pull off red highlights. You can get big red chunks in your hair or opt for streaky lowlights. Plus, there are so many shades of red you can choose — from copper-toned spicy red hair to vampy dark red.
Do you want to add red highlights to your black hair but aren't sure what you want? Take a look at some of my favorite black hair with red highlights ideas!
Bottom line up front: The red highlight hair idea that I recommend depends on your hair length and preference. I absolutely love the short and spikey hair. The shade of red used is gorgeous and looks amazing on short hair. Those with long hair will love the subtle red balayage. The model has a dark shade of red that blends effortlessly into her black tresses.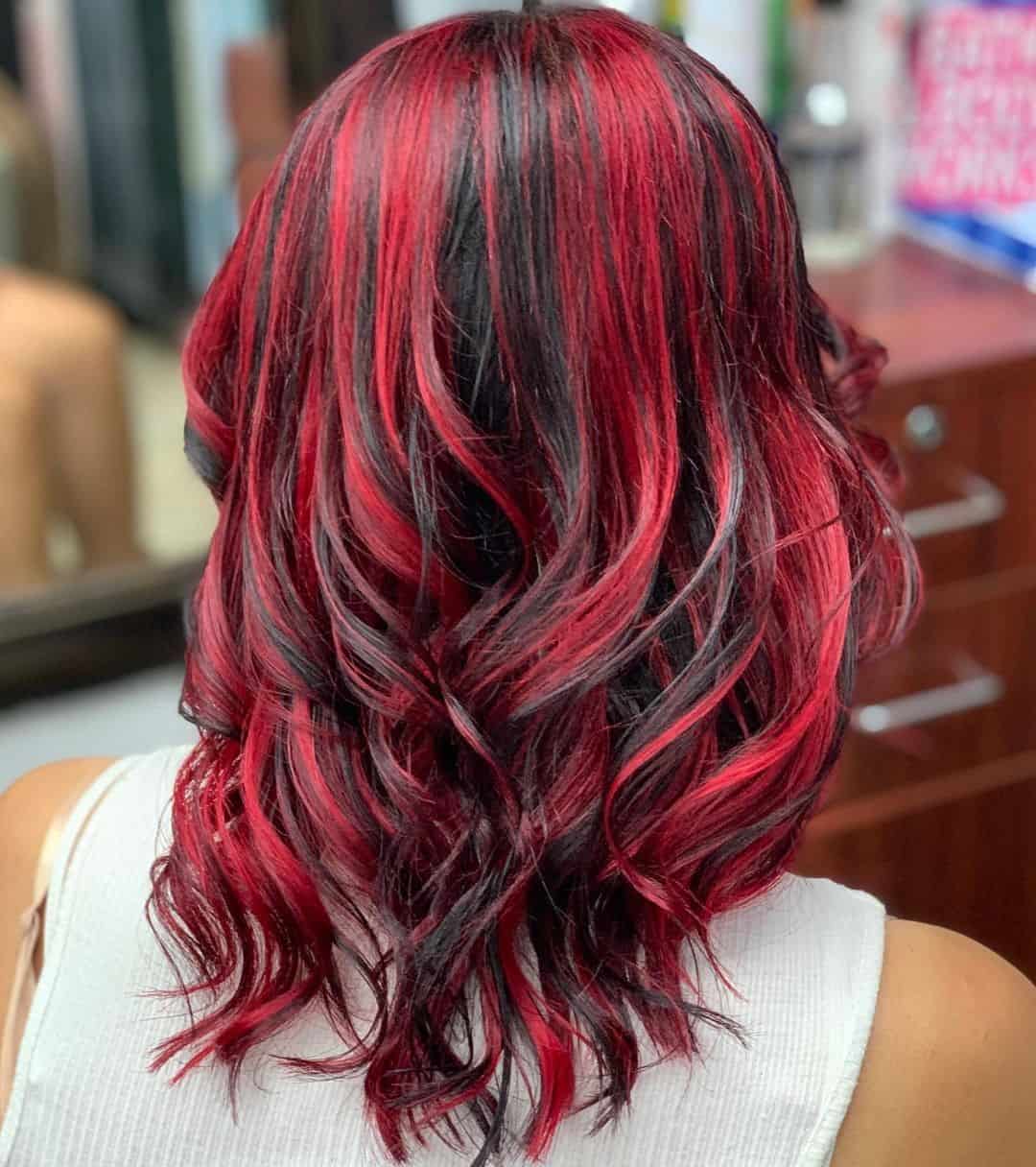 How I Chose These Ideas
Before I cover my favorite black hair with red highlights looks, I want to mention a few things I considered when choosing these looks. This was to diversify my ideas and choose styles that fit all readers.
Technique
There are various highlighting techniques out there. The most popular ones include:
These different techniques will impact the look of your red highlights, so be sure you know which one you want before seeing your colorist.
Shade of Red
There are countless shades of red out there. Some shades look more natural, such as auburn, and blend with darker hair. Other shades, such as blood red, are brighter and have a stark contrast to black hair. You should also choose the shade of red that matches better with your undertones. For example, if you have cool undertones, choose a shade of red with purple undertones such as raspberry red.
Hair Type and Style
Everyone has a different hair type which can affect how highlights look on you. For example, I think dimensional highlights look better on those with curly hair as opposed to those with straight hair. Hair style is also a factor I considered. I would suggest lowlights or a balayage to someone with long hair instead of short hair. I also considered some funkier hairstyles, such as dreadlocks and mohawks.
Maintenance
Red hair is one of the most difficult colors to maintain. I tried to find some of the easiest red highlight looks as far as maintenance is concerned. I still recommend washing your hair as sparingly as possible. In addition, your hair look may require touch-ups. I suggest asking your colorist for insight before dyeing your hair.
My Favorite Black Hair and Red Highlights Looks
Are you ready to rock a new hair look? Here are the best black hair with red highlight examples I could find on Instagram.
The model proves that you can rock a bright red with black, even with short hair. The fiery red tips look vibrant against the black hair, making the model's hair pop.
Even though the model has a subtle pixie cut, this look proves that you can still add some color so your tresses can stand out.  If this look is still too bold for you, I suggest choosing a darker shade of red or adding fewer red tips. Credit: @eb_hairandbeauty_.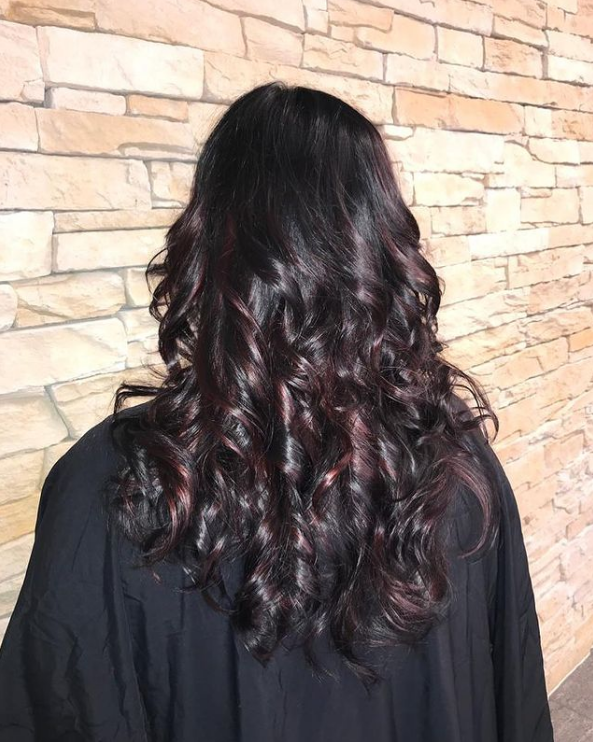 Who said your red highlights have to be bold? If you want to add a subtle touch of red to your long dark hair, this balayage is my pick. The shade of red that the model chose looks like mahogany, a reddish-brown color that blends faultlessly with her black hair. I love this color because it looks amazing on everyone and is perfect if you're veering into red hair but don't want a color that's too vibrant. You can still achieve a brighter version of this look by choosing a bolder shade of red. Credit: @trendcoiffuredagmersellen.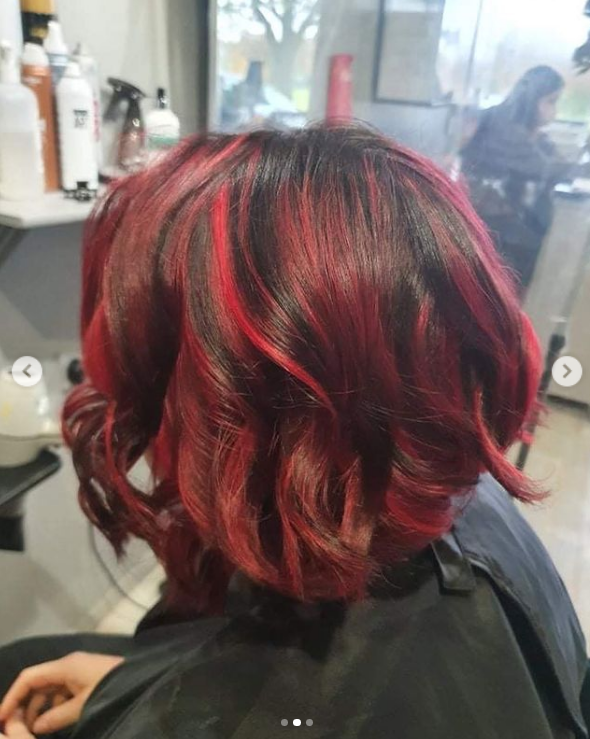 The model's cherry red highlights look super fiery! With her dark base, the fiery red highlights stand out and add more dimension to her bob. If this shade of red is too warm for you, you can achieve the same stylish look with a raspberry red. Her hair is cut as a bob, proving that you can achieve stylish vivid red highlights even if your hair is on the short side. This look is also great if you want to dye your hair red but only dye it in sections. Credit: @tops_hairfashions.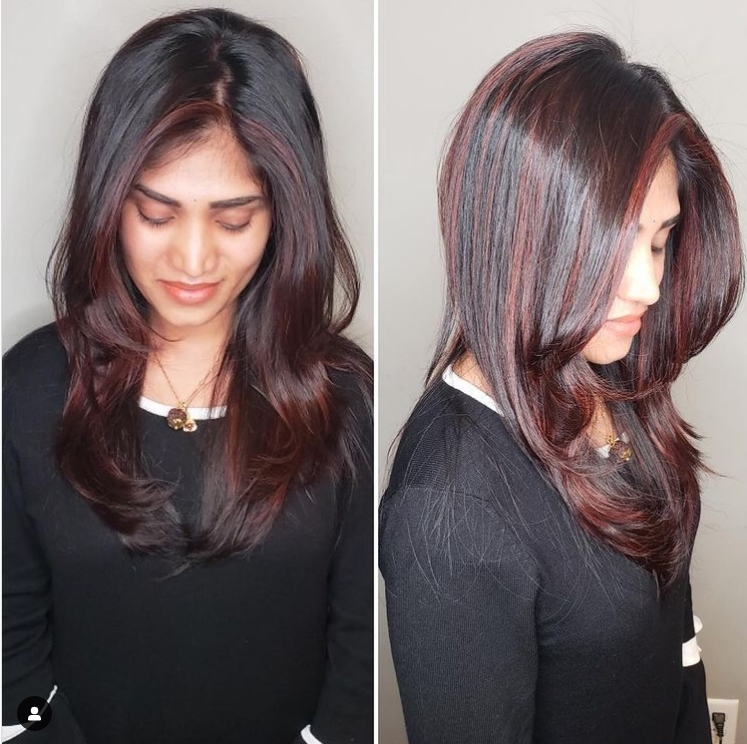 This is another great look if you want subtle red highlights. The model has a few streaky pieces of burgundy on her brunette hair. The shade of red is light enough to contrast her dark locks, but this look isn't too loud. I love the ribbon look of these highlights — they brighten the model's complexion while still adding depth. The model's hair looks straight, though I see her hair looking exceptional with waves and curls. Credit: @meagan_theodore_salon_m.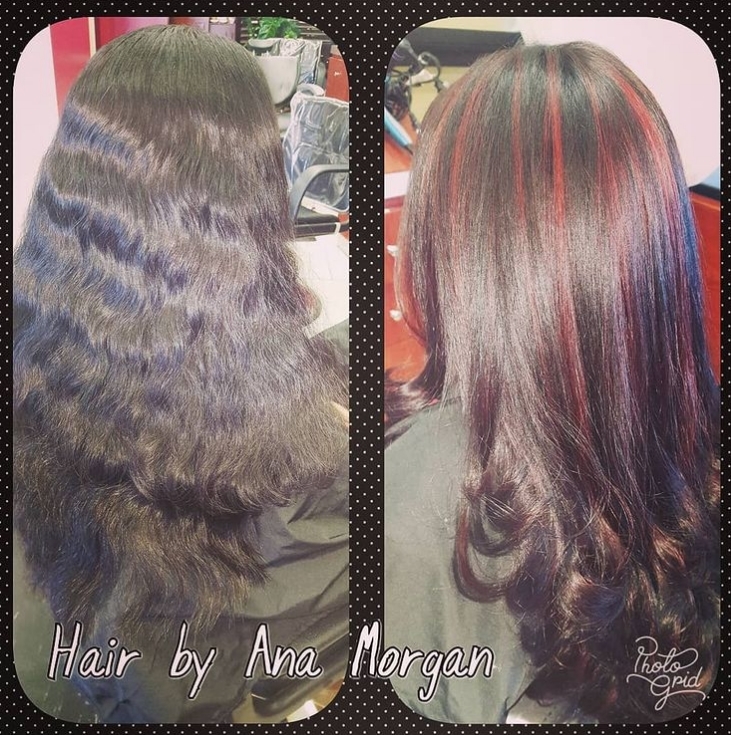 This is a similar look to the last one, but the shade of red used is a lot brighter. I recommend choosing this look if you want the red to stand out more in your hair. This shade of red wine is one of my favorites, and I've had it many times before. I love the way it pairs with the model's naturally dark hair. If this color is too warm for you, a raspberry red or burgundy will also look great. Credit: @thestylistana.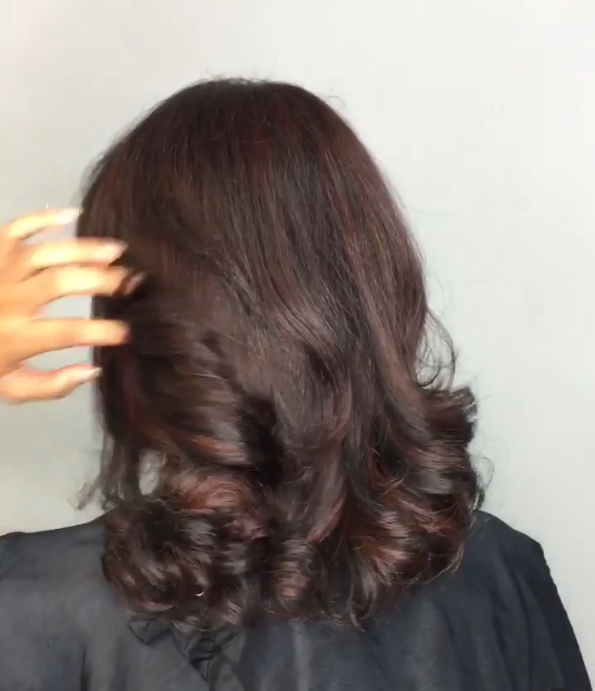 If you have warm-toned tan skin and want to brighten up your dark hair, choose copper highlights. I think the copper highlights on the model's hair are subtle but make her hair so much brighter. Copper is a trending color and is easier to maintain than other shades of red. This look won't require many touch-ups, which is a major plus. Credit: @t_bellerose.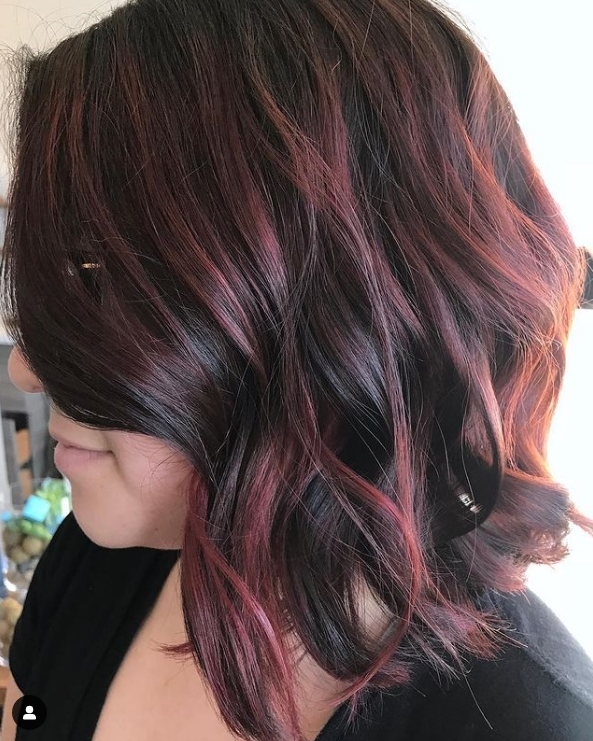 This is a great look if you want red highlights but have cool undertones! This is a red-violet color that adds vibrancy to the model's complexion without looking too bright. I also love the placement of the streaks and the hairstyle — it gives the model's hair so much more volume. Her hair is on the short side; this once again proves you can have chic red highlights, no matter the length of your hair. Credit: harpershairculture.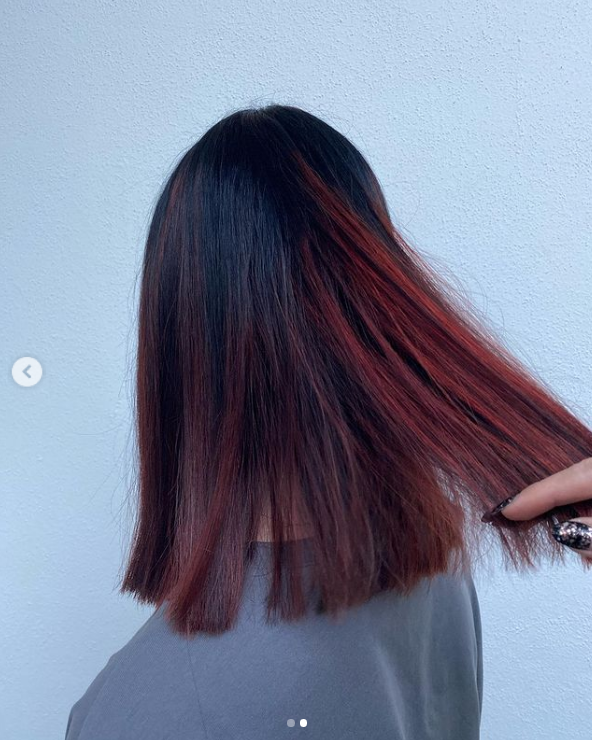 While "highlights" refer to colors higher up on your hair, ombres are still lumped into this category. This burgundy ombre look is beautiful if you prefer a red ombre over highlights. The burgundy shade here is vibrant enough to stand out, and the placement is also pretty subtle.
To ensure this look lasts, I suggest refraining from washing it as much as possible — when you do, use color-safe hair products. I also suggest staying indoors as much as possible; the sunlight will also weaken your color. Credit: @sandra_fiedl_cut_color_makeup.
Ruby Red Highlights
The model here has more of a brunette color as opposed to black hair color, but this look is still really pretty. It almost looks like there's a ruby tint on her brown hair. The look is bold but toned down enough to still be appropriate for the workplace. Plus, I see this tint looking great on everyone, regardless of your skin color or undertones. The only downside with these tints is they wash out easily. I suggest touching up the tint if you want the color to last.
Cherry Red Balayage
I saw this look on the Aveda Twitter page, and I absolutely love it! The model has a couple of different tones of this lovely cherry red color that pops against her black hair. This is a great look if you want red hair but don't want to dye your full hair. I love how the red becomes thicker toward the bottom, making this a super fun hair look.
While most balayages are low-maintenance, this color does wash out easily. I suggest working out a re-touching schedule with your colorist, avoiding washing your hair, and only using color-safe products when you do.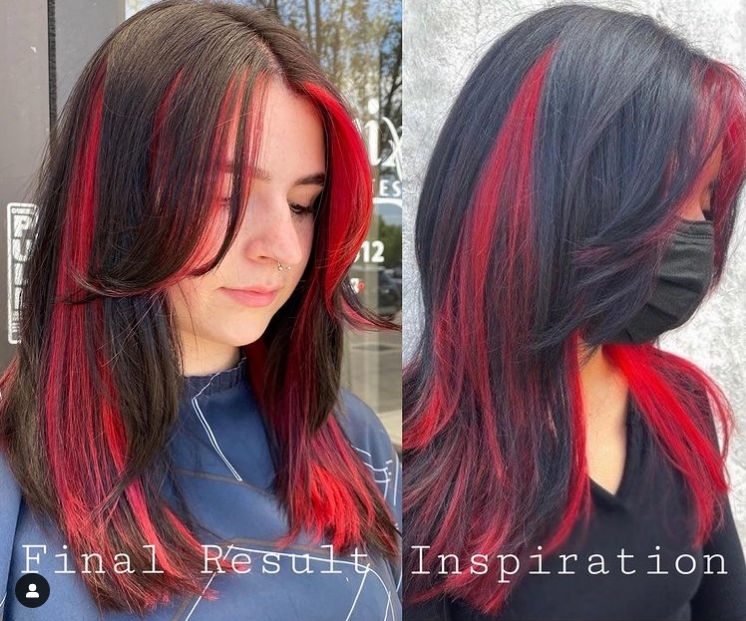 Peekaboo highlights are great if you want a tad of brightness but nothing too crazy. The fiery red hair pieces stand out against her dark base and brighten up her complexion. Plus, you can easily take this look to any hairstylist, and they can recreate the look for you.
As I've been saying, red isn't an easy color to maintain. But the nice aspect about peekaboo highlights is the wash-out won't be as noticeable. I still suggest speaking to your colorist about ways you can improve the grow-out process. Credit: @maggie_santanello_hair.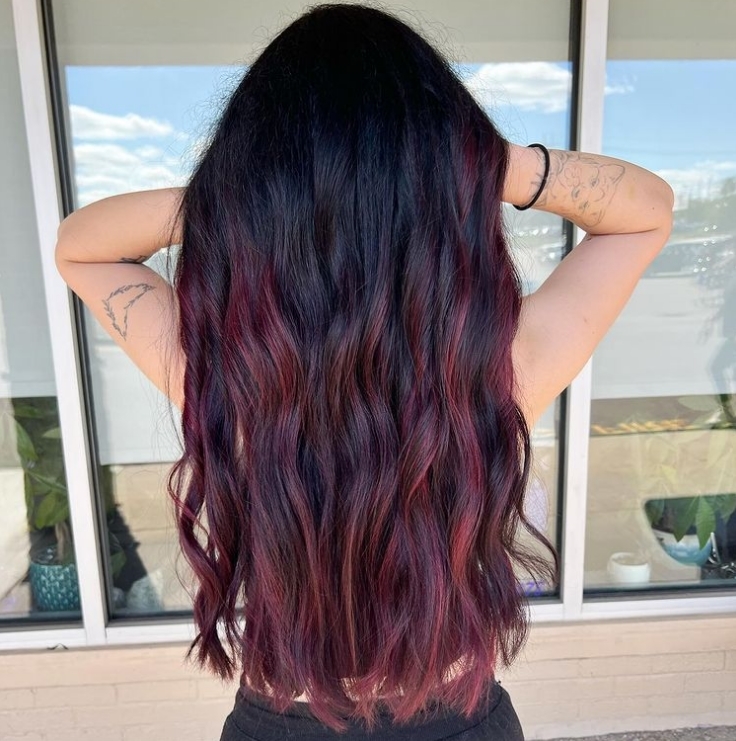 If you want a red balayage but have cool undertones, I suggest choosing this dark raspberry red color. It's subtle enough yet stands out against a dark base. Depending on your office dress code, I can see this look still counting as professional since the red is toned down. Even though this is a subtle look, your colorist may still have to bleach your hair. While your hair doesn't have to be as long as the model's, a balayage does look more noticeable on long hair. Credit: @beautyby_samanthabriere.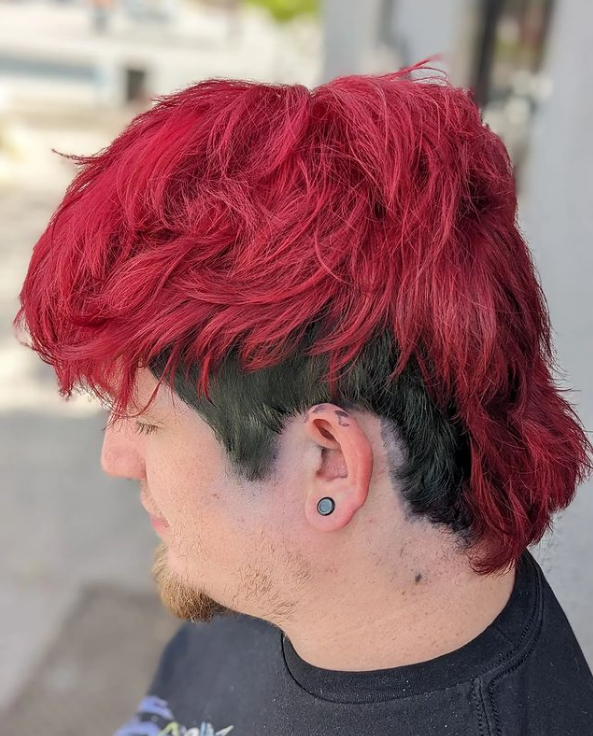 This look is everything! The model has shaggy hair with an undercut. The hair on top is red while the undercut is black. I also love the shade of red used. It's very vivid but unique; you can tell it was mixed to create an individualized shade of red. I do suggest going to a professional for this, especially if your hair is naturally black since the colorist will have to bleach your hair. And since this looks like a mixed shade of red, you won't be able to find that color on the shelves. Credit: @cosmetology_justice.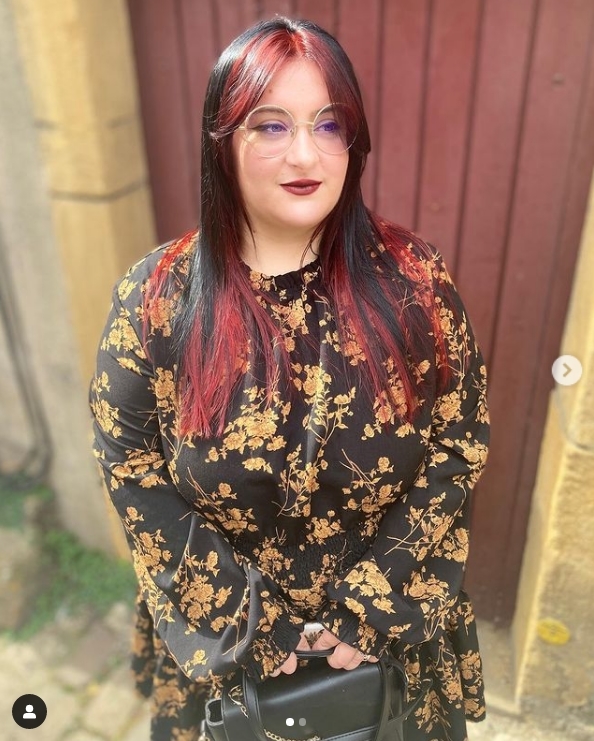 These highlights are perfect if you want to brighten up your naturally dark hair. The model has thick red pieces on her bangs and some peekaboo red on the bottom of her hair. It will require bleach to get your hair this bright, so I suggest seeing a professional. I also suggest refraining from washing your hair and only using color-safe hair products to maintain the vibrancy of this red. Since the red is close to the model's scalp, you may need to do root touchups. Credit: @miss_vonbarber.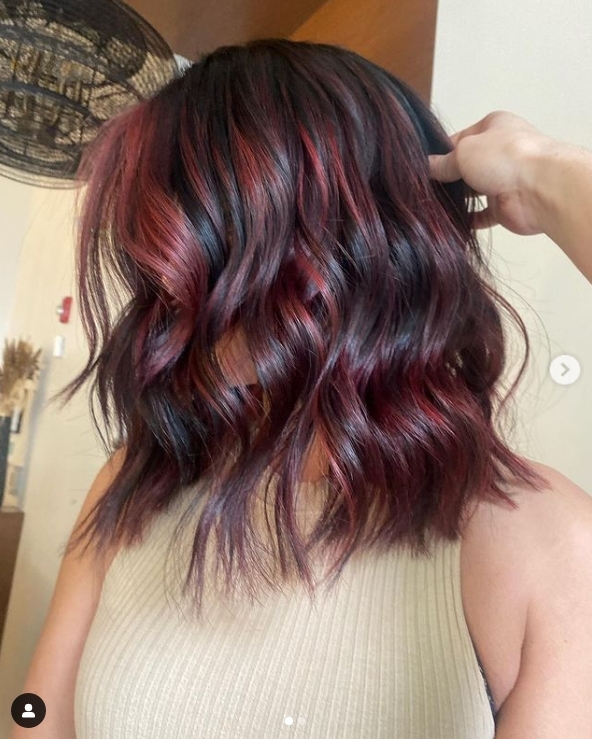 If you want autumn vibes in your black hair, this look is so ideal for the fall! A balayage is more low-maintenance than any other highlighting method. The red used here is dark red, which adds a fun pop of color to the model's hair without looking too bright.
Her hair is also short and wavy, so the balayage gives a subtle flair to her locks. The balayage can be as chunky or as ribbon-like as you want. The model has a ribbon-like balayage, adding more dimension to her hair. The balayage starts at her roots, so the red blends seamlessly with her dark hair.
I still suggest going to a professional for this look, since you will have to bleach your hair. The balayage is also difficult to achieve on your own. Credit: @behindthechairwithvictoria.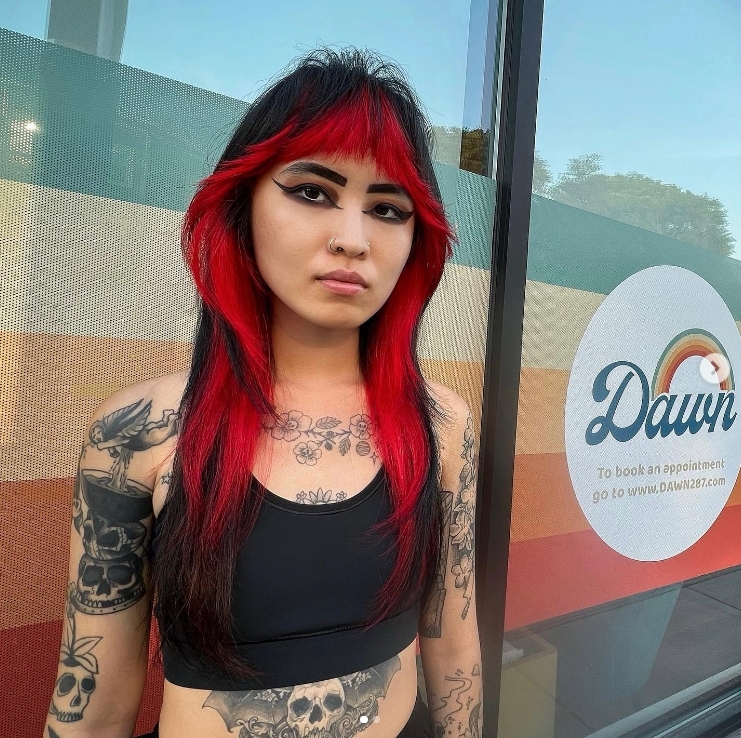 If you have dark tresses and want to brighten up your complexion, choose a face-framing red such as this look. The fire red used hair creates a funky look. This is a partial highlight; the red is only applied to the bangs and chunky pieces in front. The result is a fearless and inventive look. Since the dye was applied close to the roots, a root touch-up may be necessary. The color used was so bright, so you may also have to come back for a color refresh. Credit: @lizgracehair.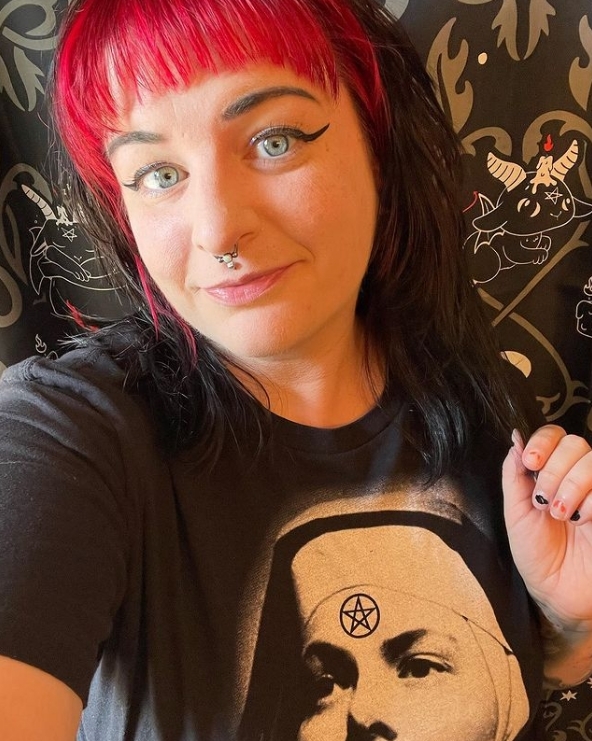 If you want to brighten your complexion but don't want the face-framing highlights in the last post, only dyeing your bangs red is another option. The model here uses tomato red for the bangs. If the color is too warm for you, a raspberry red will also look amazing. This is also a good look to do DIY since you're only lifting and dyeing the bangs. Just keep the fade in mind — don't be surprised if the color turns pink. Credit: @kristiluppold.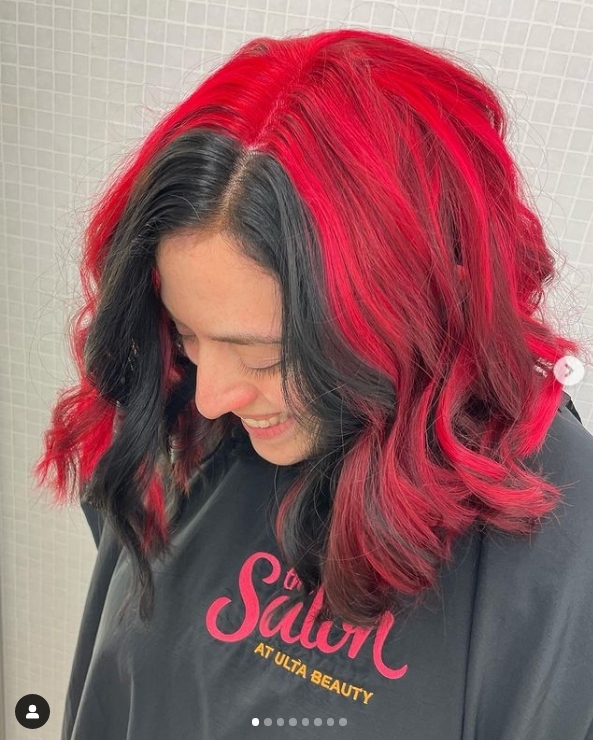 I've been focusing on red highlights in the front but not in the back. The fire red blends so well with her naturally dark hair. I can also see this look growing out well, especially since the color was applied to the back. I do suggest seeing a professional for this look since you will have to lift up your hair a lot to achieve those bright red hues. Because the red is so vivid, this color is high maintenance. Credit: @emie_ann_beauty.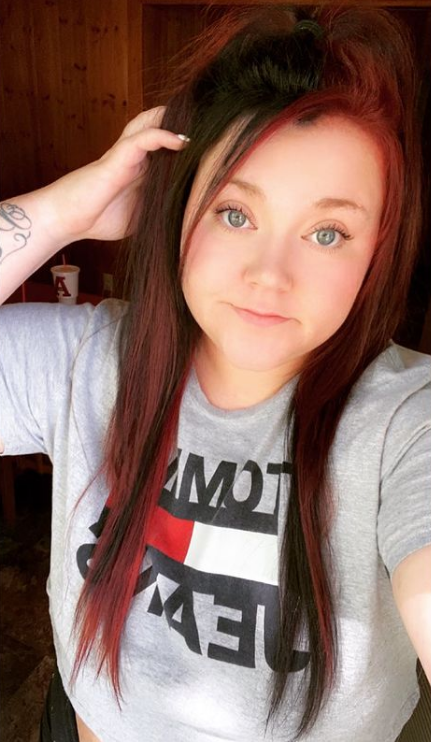 To end this list, I will mention an easy shade of red that anyone can pull off. Anyone looks amazing on auburn, no matter what type of hair you have. There are different shades of auburn you can achieve. The model here has a rich shade of auburn. If you want something lighter, I suggest choosing a copper-auburn. Plus, this color is easy to achieve DIY. You don't have to lift your hair too drastically to achieve auburn highlights, especially if the auburn is close to your natural color. Credit: @southernmama_21.
FAQs
Question: Why do red highlights look great on black hair?
Answer: I think it's because nearly every shade of red looks amazing on black hair.
Question: Can I do red highlights DIY?
Answer: Yes, but you will have to bleach your hair. I don't suggest doing DIY red highlights unless you're experienced with bleach, or you don't have to lift your hair too much.
Question:What other highlight colors look great with black hair?
Answer: I love the way jet blue highlights look on black hair! I've also had that color numerous times.
Bottom Line
The red highlight idea I suggest depends on your current or preferred hairstyle. The short and spikey red highlights are my favorite because this look is so unique. Even on short hair, the bright red color pops against the black hair.
But I don't have short hair, and I understand that not everyone prefers keeping their hair short. In that case, I suggest the subtle red balayage. Anyone can pull it off, and you don't have to bleach your hair a lot to achieve that color. Plus, that look is easier to maintain than most of the other ideas on this list. I also suggest looking at all of the other ideas to find your next hair color!
Looking for more interesting readings? Check out: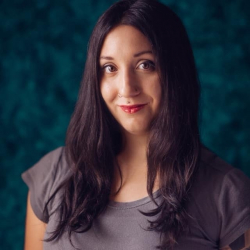 Latest posts by Stephanie Jensen, Hair Trend Spotter & Home Tester
(see all)