As the rarest hair color in the world, so many different people want red hair. The first time I ever dyed my hair I had red highlights. I've achieved this look multiple times, from bright red to cherry cola, and I think red is one of the best hair colors for me (other than my natural dark brown hair).
Are you considering going red? If so, consider a red ombre. The red ombre is not only trendy, but there are so many ideas you can do with red hair. I may even consider these looks one day! Here are my favorite red ombre hair ideas & style guide.
Bottom line up front: Out of all of these looks, the first option is my favorite — the black that fades to a firetruck red. While that look is likely expensive and difficult to maintain, the result is worth it. My favorite red hair colors are very vivid shades. I definitely recommend asking your colorist if they recommend that look.
Advice When Getting a Red Ombre
Red hair is totally chic, but it's one of the most difficult colors to maintain. Especially if you choose an ombre; maintaining the various shades in your hair can be a challenge. You'll also have to choose which shade(s) of red you want, know the price you can afford, and know if you'll even look good with red hair. Here's some advice to know before getting a red ombre.
Maintenance
As stated previously, red is a very difficult color to maintain. Because they have the largest color molecules, red dye rinses out faster than any other color. At the same time, everyone is different. I still have red highlights in my hair from the myriad of times I dyed it red.
There are some best practices to know when getting a red ombre. Wash your hair as little as possible. When you do wash your hair, wash it in cold water. You may need to go back to the salon when your dye washes out. That is if you want to continue keeping your red ombre bright and luscious. On average, you will need to redo your red ombre every three months. At least three months have been my experience with red hair. You may need to go more frequently. Always ask your colorist for advice.
Choosing the Right Shade of Red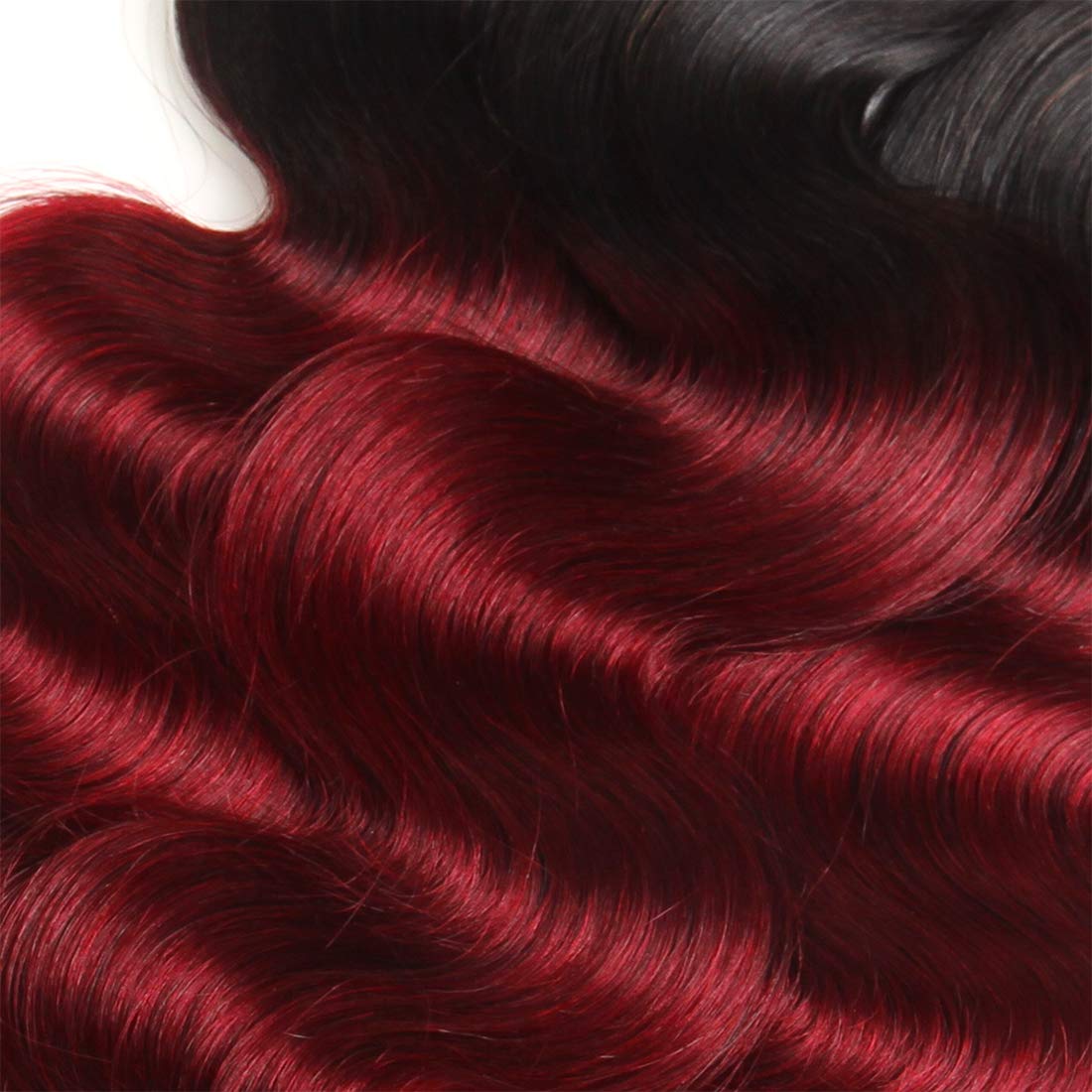 There are various shades of red, from dark red all the way to strawberry blonde. The shade you choose depends on what looks best on you and your preferences.
If your hair is naturally brown or black, stick to darker shades of red such as garnet or wine red. If your hair is blonde, you can achieve a bright red such as Ariel's hair color.
If your skin undertones are warm, choose warm-toned shades of red such as tomato red. In other words, make sure your red hair has more orange tones. If your skin undertones are cool, choose shades of red such as watermelon and cranberry. In other words, your red hair should have more purple.
Who Looks Best With a Red Ombre
In addition to those who are naturally red, brunettes also look amazing with red hair. That's because brown hair has natural red undertones. However, some natural blondes also look great with red hair. I just suggest choosing a shade depending on your undertones, as I explained in the previous section.
Cost
The price of a red ombre varies. That's because everyone chooses different shades of red and a different number of colors in their ombre. Some people also need to bleach their hair before doing a red ombre. Plus, your stylist could use a number of different techniques.
Keep Color Looking Bright
A good chunk of the colors I'm showing are very vivid. So, how do you keep your hair dye looking bright? The core advice is what I mentioned already. Avoid washing your hair and only use color-safe ingredients when you do. You should also avoid going out in the hot sun. If you do, wear a hat to protect your hair color. It's also a good idea not to go swimming.
My hairstylist also suggests using color depositing products. These are conditioners with dye. They make specialty conditioners with color. My stylist also told me if I'm on a budget, throw some Manic Panic dye on my hair to maintain the color's vibrancy while adding a little moisture.
Ask Your Colorist for Advice
If you're still stuck on your red ombre look, ask your colorist for advice. There are so many shades and red and even more looks that you can achieve, it can be difficult to choose one. That's why going to a professional is crucial. They will be able to tell you which shade of red looks best on you and which technique to use.
How I Chose These Looks
First, I considered the shade of red and the number of colors used. A red ombre could look as natural as you want or as fierce as you can get. Plus, there are so many shades of red you can use — everything from dark red to strawberry blonde. Everyone has different preferences, so I made sure to choose looks that fit everyone. I also considered natural hair color. There are red ombre looks you can achieve if you naturally have black or brown hair, blonde hair, and even if your hair is naturally red.
My Favorite Red Ombre Ideas
Without further ado, here are my favorite red ombre looks!
Fire Engine Red Ombre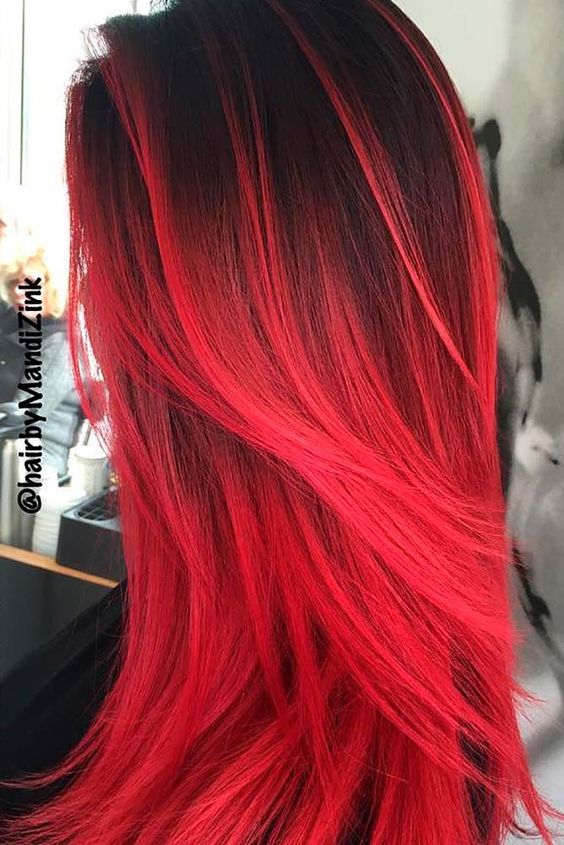 Even if your hair is naturally black or dark brown, you can pull off this firetruck red hair color. This color blends so well with your roots. When you maintain the color, you will only have to apply more color to the ends, so it stays bright. I still suggest avoiding washing your hair daily and only using color-protecting products.
Red and Magenta Ombre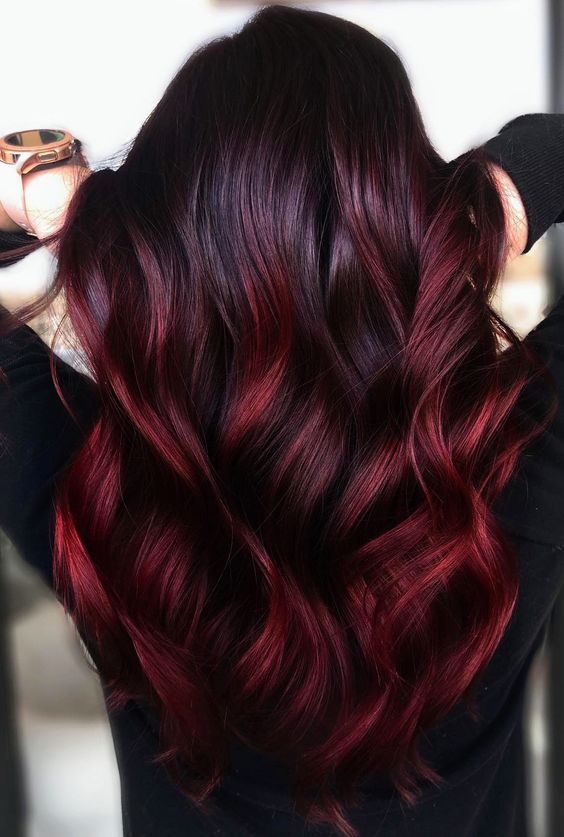 Can't decide between a red or magenta ombre? Choose both colors! I especially love how these colors are combined with a balayage technique and blend seamlessly with her dark hair. Her curls also bring out the texture in her hair and make the color even more vivid. I definitely suggest avoiding washing your hair to maintain this hair color.
Red-Violet Ombre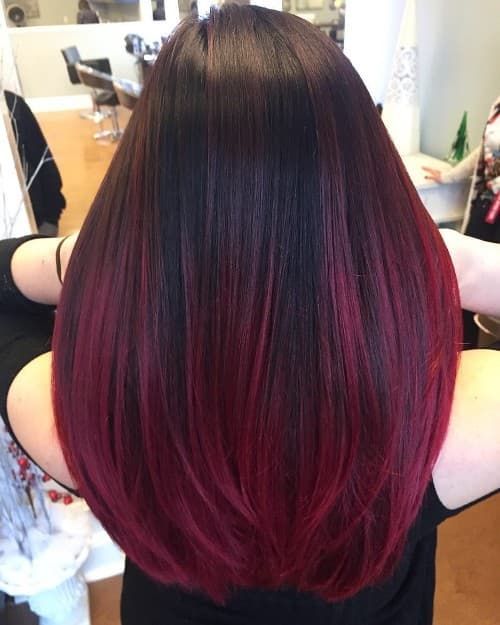 As an alternative, you can combine the colors red and violet for this unique streaky ombre. This color is great if you have cool undertones. I especially love the streaks here — the color literally looks painted on the hair. This is a good choice if you don't want the full blocky ombre look.
Reverse Red Ombre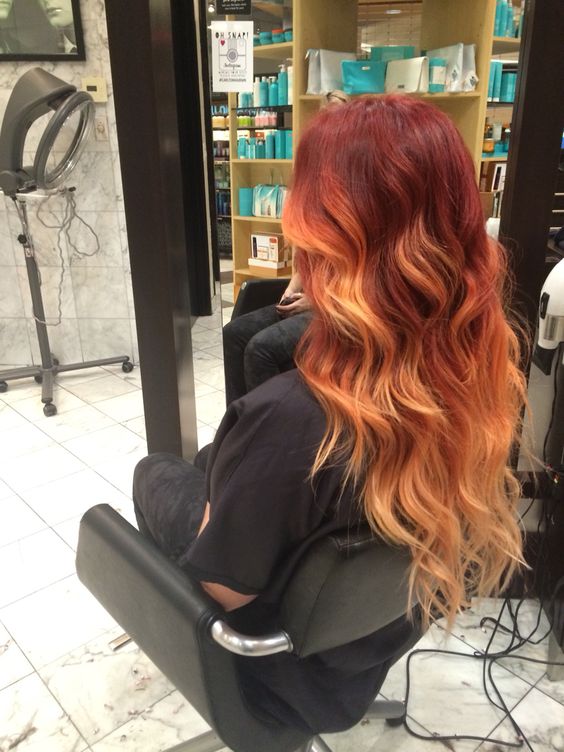 Who said the red locks have to be on the bottom? This is a great ombre for natural redheads! As you can see from her roots, auburn red is her natural hair color. Her hair goes from a peachy-orange color down to blonde at the tips. I absolutely love how the colors blend so well together. You will have to bleach your hair to achieve these colors, but the payoff is so worth it. The model says these are extensions, but you can achieve a similar look if your hair is shorter.
Strawberry Blonde Ombre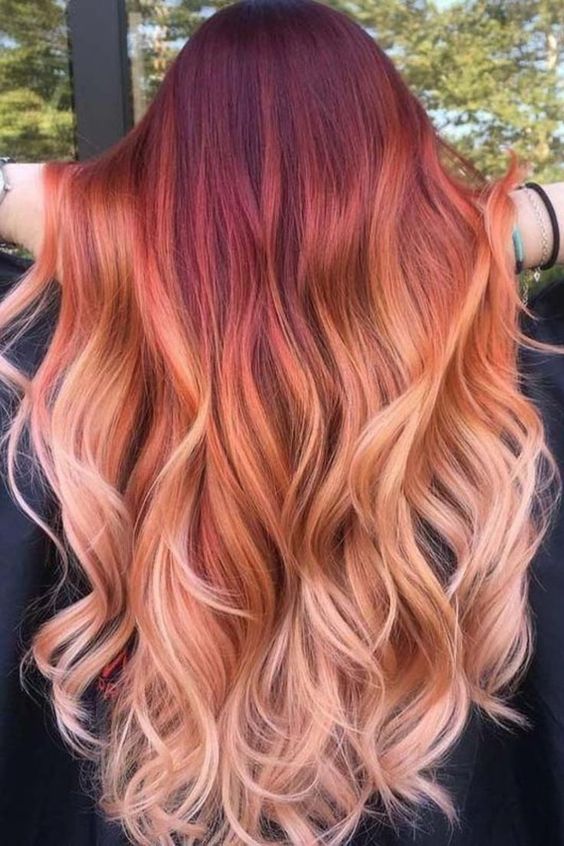 Another ombre look you can achieve as a natural redhead is this strawberry blonde look. Similar to the last look, the roots start out as red and fade to orange. But instead of platinum blonde tips, the tips are strawberry blonde. If this were me, I would fade my natural red hair to strawberry blonde at the bottom, though I do like some of the gold pieces in this look. I also love how the model's hair is curly at the ends, it accentuates all of the different colors in her hair.
Red Ombre on Short Hair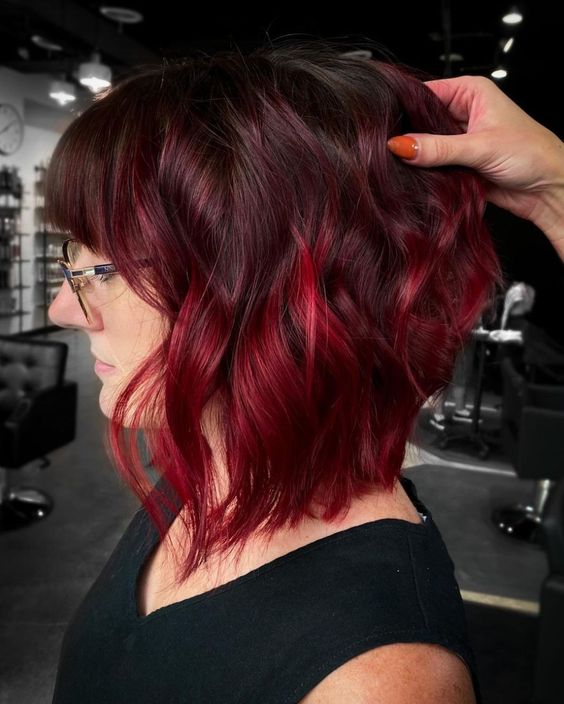 I love this look for many reasons. Let's say you have an office job where you have to keep your hair conservative but still want something funky. Or you want to do the red ombre on your short hair. I love how the purple and bright red colors are subtle yet so dramatic. They also blend in with her dark roots really well.
Golden Reverse Red Ombre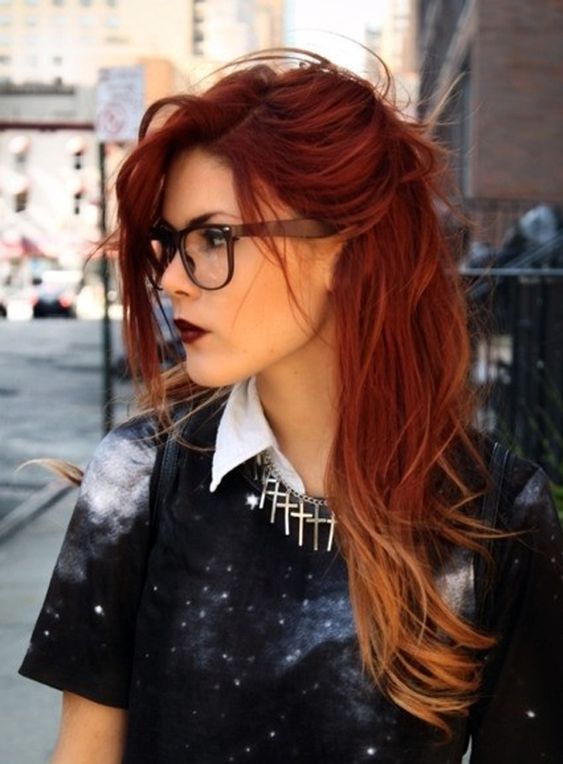 If your skin tone is more on the warm side, this is a great reverse red ombre. Start with your natural red hair and add golden blonde to the ends. I also like how the red at her roots isn't too light. It's a deeper red, so the honey blonde ends stand out more.
Dark Red Ombre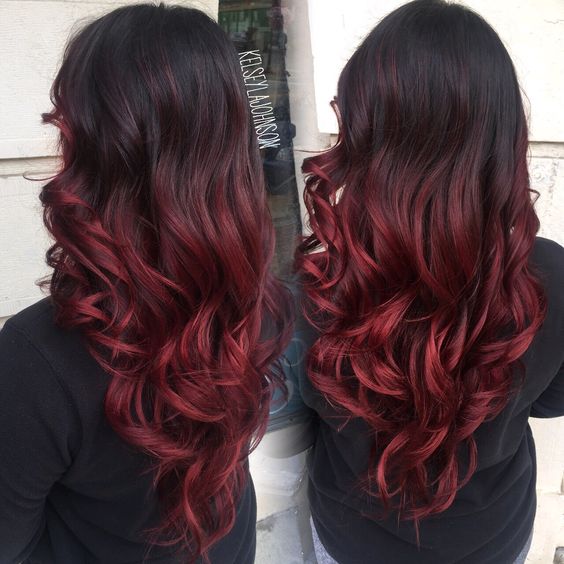 If you're looking for a dark and subtler red ombre, this look is gorgeous. The red is on the darker side, so it blends easier with her natural brown hair. This look is also best if your office has a strict dress code, since this ombre isn't too bright. Plus, it's easy to maintain! I would still refrain from washing my hair daily, but you can sneak in a few extra shampoos if you choose this look. This is a more cool-toned red, but you can change this to a warm-toned dark red, such as deep tomato red.
Rosey Red Ombre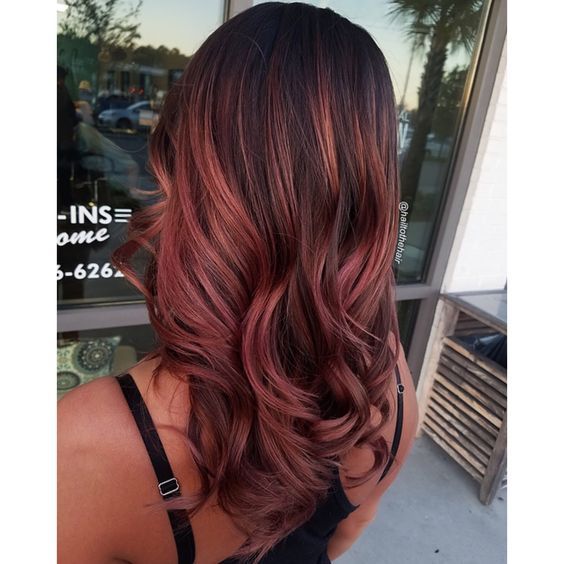 I'm not sure what else to call this unique color except for rosy red. The color is a fiery red, but there are pink undertones. The color also blends into her dark hair really well, so this is a good look if you want to hop on the pink hair trend without going too light.
Red Ombre for Brunettes
If you're a true brunette and want to find a show-stopping shade of red for your ombre, I suggest this color. The model calls this Russian Red, similar to the MAC lipstick color. This shade of red is trendy in the makeup world, so I'm glad it's making its way to the hair industry.
Golden Red Ombre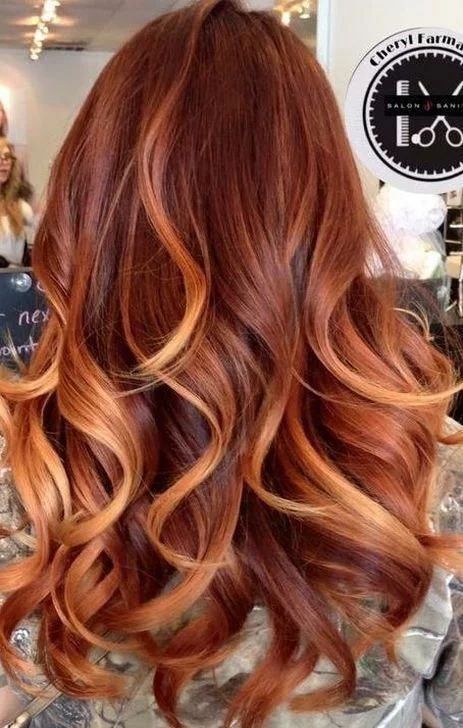 If you're a natural redhead and want to fade your hair to something lighter, I suggest this golden red ombre look. Plus, this look is subtle enough for the office. I also love how the model's hair is styled. The curls accentuate the golden blonde and copper ends.
Edgy Black and Red Ombre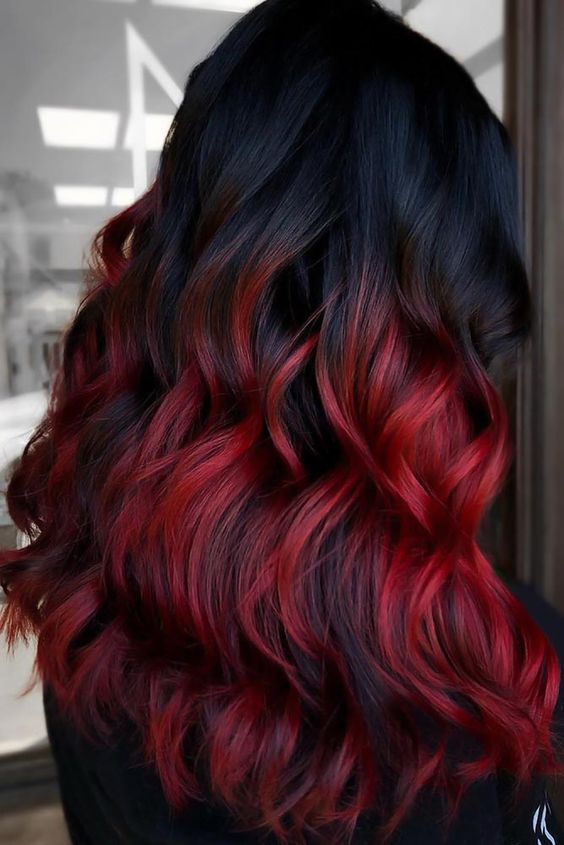 If you truly want an edgy red ombre, I suggest the black and red look. Black roots that fade to red tips is the ultimate rocker look. As an alternative, you can have red roots that fade to black at the bottom. I used to have that look, and I loved it!
Edgy Black and Red Ombre on Short Hair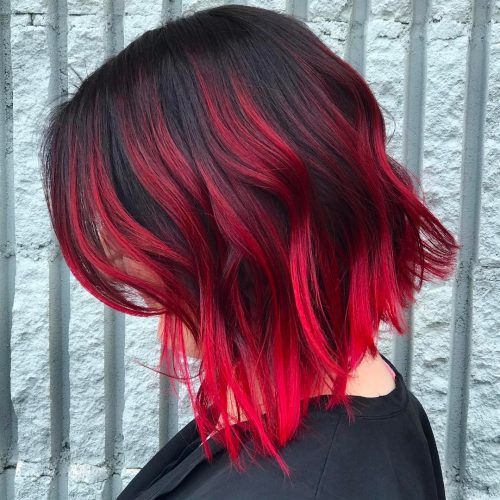 If your hair is short, you can still do the same look as the one mentioned previously. This look still has that same rocker vibe, but the short hair is easier to maintain. I especially love how the model has a streaky red ombre — the colors mix in with her black hair so nicely.
You should still maintain your short hair well, so the red doesn't fade. I suggest using a color refresh conditioner or applying Manic Panic dye to your ends, as my stylist suggests.
Chili Red Ombre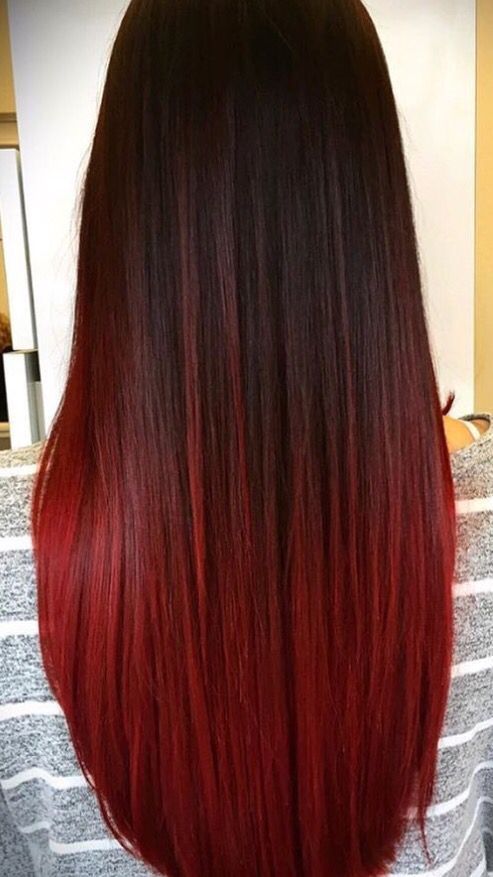 There are so many shades of red you can choose from. Here's one ombre look in the color chili red. This color is brownish-red that's toned down enough to blend into natural brunette hair, which is what the model has. The technique that the stylist used is also perfect for her straight hair.
Sunset Ombre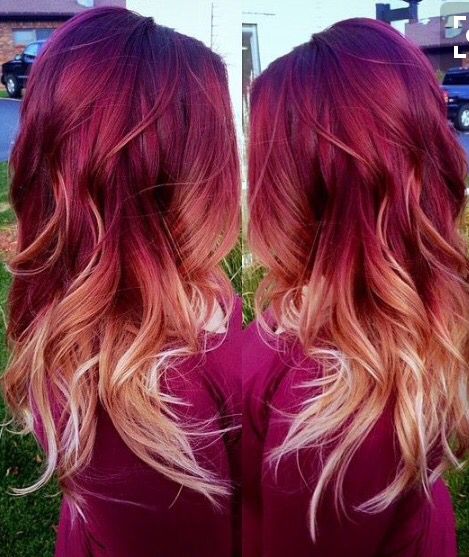 Wouldn't you love to wake up to this hair every day? I know I would! A sunset ombre aims to replicate the way the sky looks during a sunset. Since you see many colors in the sky, there are a variety of sunset red ombres that you achieve. The model here has a pretty red pink at the tops that dip down to golden blonde, then white blonde at the ends.
Fire Red Ombre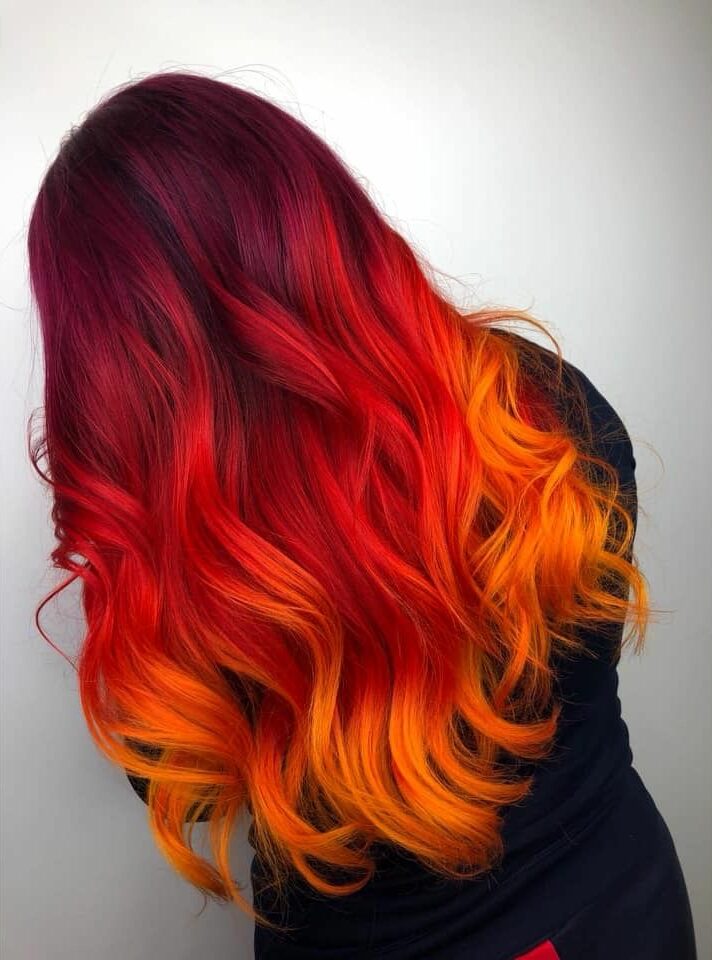 Do you want to achieve a fiery look with your ombre instead of a sunset look? If so, I recommend this look. The model has brown roots that fade to red, then cascade down to an ombre of orange and yellow tones. This is a great look if you want to add more than red to your ombre.
Red and Rose Gold Hair
If you want a unique red ombre, I suggest a look like this. The model's brown roots blend into red hair but fade out to a lovely rose gold color. If I did this look, I would add more red than what the model has. If you don't like the rose gold look, you can achieve this same idea with other colors.
Natural Red Ombre Curls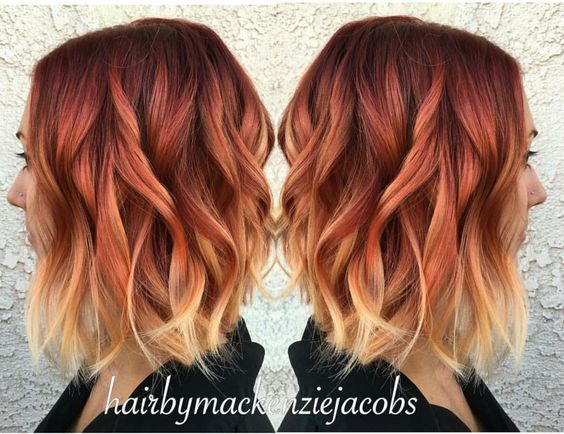 I suggest doing a look like this if you love curly hair. There are various red tones mixed with orange and blonde. The curls accentuate all of these different tones. Plus, this look is neutral enough to where it can work in various office settings. I do suggest refraining from washing your hair and using color-protective products, to ensure all of the different tones stand out and keep your color looking new.
You can always add more daring shades of red for a stand-out hair look, but I do love the model's hair look. I do think the curls look better on her hair length, though you can achieve this same look if you prefer keeping your hair long.
Red, Purple, and Blue Ombre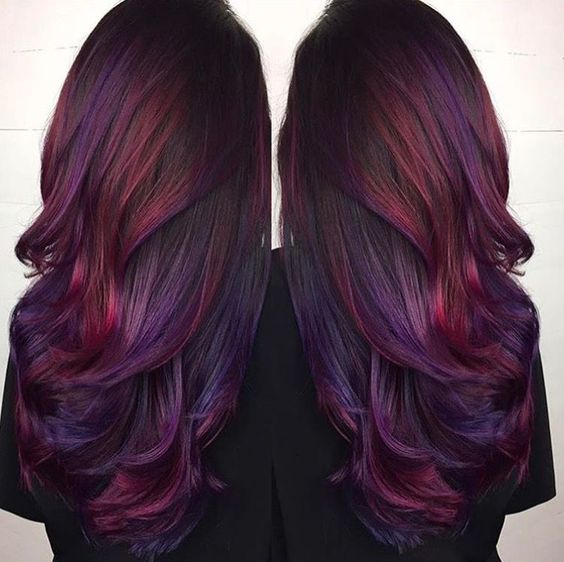 This hair color is absolutely gorgeous. I actually tried to do a look similar to this many years ago, but it didn't come out as lovely as the model's hair. The model's natural hair is a dark brown that fades to red, purple, and blue. The tones get brighter and more intense toward her ends.
Fiery Red With Brown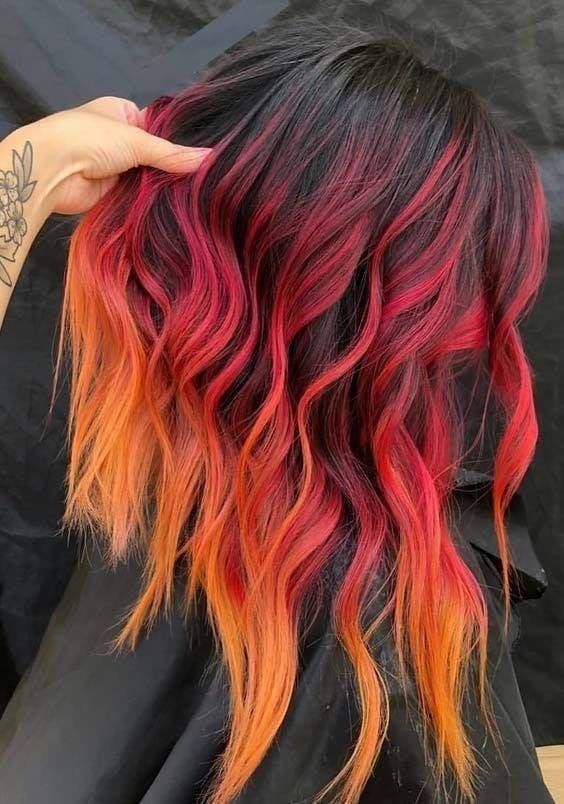 This is another fiery red ombre that I honestly think is more lively than the other ones I recommended. That's because the fire hues look more intense when combined with the model's brown hair. Her brown roots are longer. They fade to magenta and then to a bright red to orange at the ends.
Raspberry Red Ombre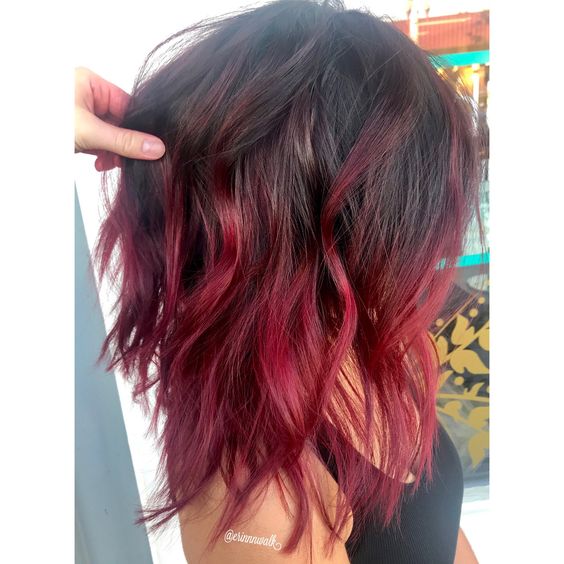 If you have a cool undertone, a raspberry red will work better for your undertones. The model has natural brown roots that fade to just the raspberry color. I also like how the model only has this one color, but you can make your look more intense with more shades of purple.
Scarlet Red Ombre
This is another one of my favorite red ombre looks on this list. This is more of a balayage than an ombre, but the color does fade to more of a scarlet red at the tips. This is a good choice if you want a combination of a balayage and ombre.
Opposite Ombre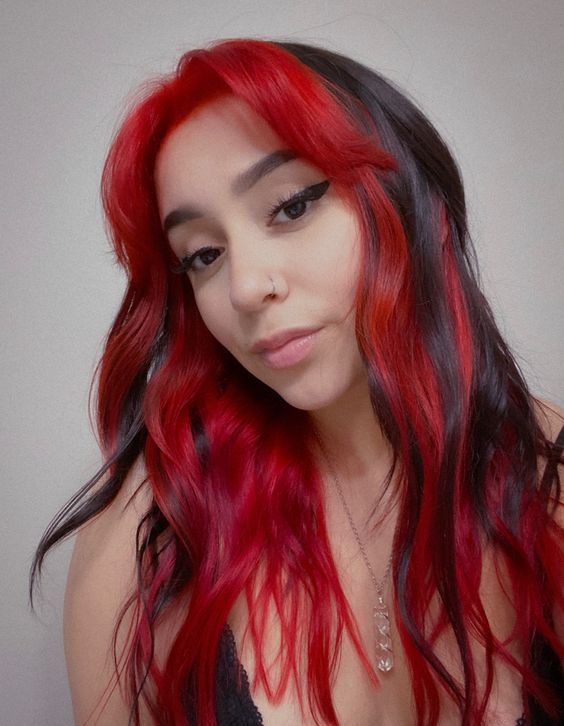 Your ombre doesn't have to fade to red from top to bottom. The red color can frame your face. Take this stunning look as an example. The model's top part of her hair is black, but the front part is red. This is a good option if you want the red color to brighten up your face.
Long Natural Red Ombre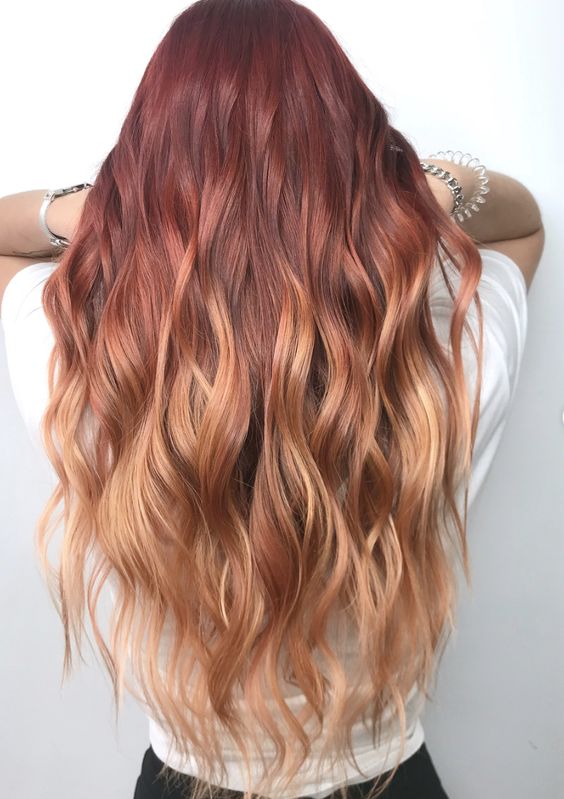 This is another look if you want your red ombre hair to be on the more natural side. The model's hair is auburn and slowly fades out to a golden blonde. I also love how long the model's hair is and her natural waves.
Red Ombre With Bangs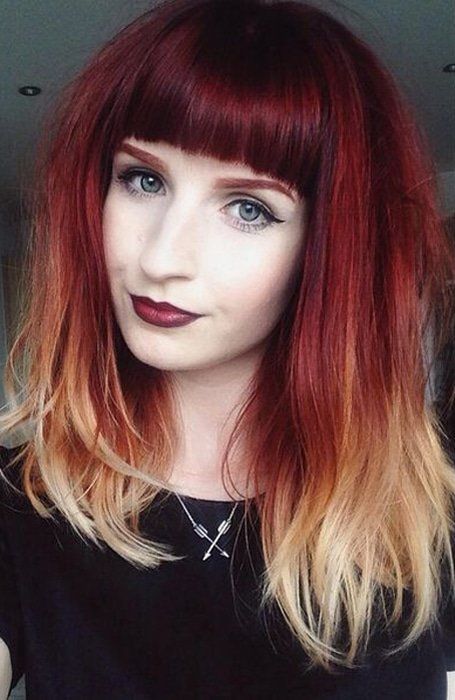 I realized I haven't shown any red ombres with bangs! I love how the model's hair is such a dark red and then fades to orange and then to blonde at the tips. Her hair is also pretty short and has a natural wave to it.
Alternative Ombre Colors
Are you looking through these red ombre looks and realized that this isn't the look for you? Here are some alternative shades!
Burgundy
Burgundy is technically a shade of red, though it is darker. Think of the color of the famous wine. This is the color I recommend most if your hair is naturally brown or black. Burgundy blends seamlessly with brunette hair. However, a blonde and burgundy ombre would still look lovely.
Magenta
Magenta is a mix of red and blue. It's recommended for those with cool undertones. There are variations that are more on the purple or pink side, but magenta is usually in the red family. You can also opt for a dark magenta or a very light and vivid shade.
Purple
If even magenta is too red for you, I suggest going all out and doing a purple ombre. There are so many shades of purple you can play with, from plum to lilac. In addition to a purple ombre, you can try to rock purple highlights or a balayage.
FAQs
Question: Can I do a DIY red ombre?
Answer: It depends. If you're experienced with hair, go ahead. But if not, then going to a professional is the best option. I definitely recommend going to a professional if your hair is dark and you need to bleach it.
Question: Is red ombre hair considered low-maintenance?
Answer: If you have a natural shade of red, such as auburn, I would consider your ombre to be low-maintenance. But if you opted for a firetruck red ombre, then you'll have to care more for your hair. The red hair color fades more quickly, in general. This is especially true if you choose an unnatural shade of red. That's why a red ombre may require more upkeep.
Question: How should I style my red ombre hair?
Answer: There are so many looks you can do! Wavy, curly, straight, half-up-half-down, space buns, ponytail — you name it, and it will look amazing as an ombre.
Bottom Line
My favorite red ombre on this list is the first firetruck engine red ombre. Even though this color is difficult to maintain, I love the eye-popping shades of red. Plus, I think that shade of red will look amazing on virtually anyone. I especially love how that intense shade of red blends into black hair.
Looking for more interesting readings? Check out: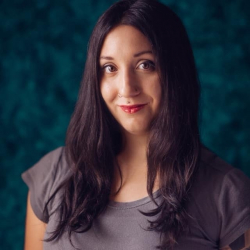 Latest posts by Stephanie Jensen, Hair Trend Spotter & Home Tester
(see all)