Teal blue hair could seem odd for some, but this is one of the most beautiful colors for my readers and me. Alongside turquoise and green, teal blue is my favorite color. Even my engagement ring features a central teal blue diamond. So, today I've decided to tell you how to find the best teal hair dye on the market by keeping specific tips and guidelines in mind.
Moreover, I've also gathered a list of the most effective and vibrant teal hair dyes out there. Finally, I spoke about their pros and cons to make purchasing easier for you.
Bottom Line Up Front!
I have sensitive skin and scalp. So, the most important thing about finding the best teal hair dye is the ingredient list. I always check it to see the content and substances of the formula I'm about to purchase. As a woman with a sensitive scalp, I focus on buying non-toxic, safe, and natural hair dye products.
Besides the ingredients, you should also pay attention to the hair dye's vibrancy and pigmentation, natural hair color, and commitment to this unconventional hair shade. The last tip helps you decide between a permanent and temporary hair dye.
My favorite teal hair dye choices
Permanent dye –  L'Oreal Feria because it gives me the power to stand out everywhere I go due to its shimmer effect. Also, it's highly affordable and provides excellent value for the money;
Semi-permanent – Wella Color Charm because it's paraben-free, vibrant, and has a mild fragrance;
Demi-permanent – RAW Twisted teal dye because it's cruelty-free, vegan, and easy to apply;
Temporary/washable – Punky Color Tealistic because it doesn't require a long-term commitment to this color and nourishes my hair.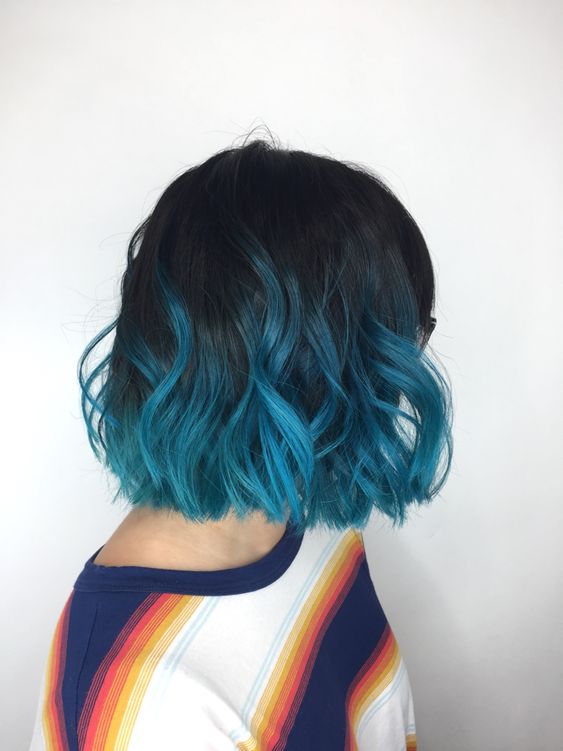 How to Find the Best Teal Hair Dye – Things to Consider
Here are the things I consider important to keep in mind when searching for the best teal hair dye. I considered them when browsing for the best options on the market, and you should remember them too.
Check the Ingredients List
Besides verifying the list to avoid certain chemicals, the ingredient label also shows the hair dye's saturation level. See if that matches your preferences. But, for me, the essential elements are natural ingredients that I know won't damage my hair follicles.
Better yet, natural formulas are gentle on my scalp, and nourishing ingredients will moisturize and replenish my hair. If you don't find a vegan hair dye, check if the product contains essential oils and amino acids that give you a glossy and vibrant result. After reading the label, you should only apply a small amount of hair dye on your head to see how your scalp reacts to it.
If you're dyeing your hair at a beauty salon, tell your hairstylist if you deal with a sensitive or irritable scalp.
Conditioning Formulas
My favorite types of hair dyes are those that are formulated with built-in conditioners. I've used both natural and chemical dyes, and I must say that, in time, my locks seemed a bit dry, and my hair had split ends, especially after I opted for blonde highlights. Hence, I know now what to look for, and conditioning formulas are always a great idea.
Your hair dye should contain two nutritious and conditioning ingredients: quinoa seeds and keratin. The first one ensures your hair's moisture and shine, while the second compound strengthens your tresses. So not only will the new hair color last longer, but you'll also avoid damaged or broken hair.
If I were you, I would avoid teal hair dyes made with ammonia, sulfates, parabens, gluten, phthalates, and other similar chemicals.
Hair Dye Pigments
The pigments in a hair dye will establish the color vibrancy. So, products that contain more pigments will help you achieve a more vibrant hair color. I guess we all want an intense result with higher saturation. Usually, the best dyes are those that last longer, don't stain, and don't bleed a lot.
The teal shade is important, and you should choose one that matches the color of your current locks. Bleached hair will produce brighter teal hues, while unbleached hair results in darker teal shades. If your hair is dark brown or black, you must bleach it. Otherwise, you won't achieve the color you're looking for.
I have naturally brown hair, but I've dyed it multiple times. In addition, I'm a fan of lighter highlights, which shows in my current locks. Hence, my hairstylist had to combine a couple of shades to ensure I achieved my desired results. It wasn't easy, but she managed somehow.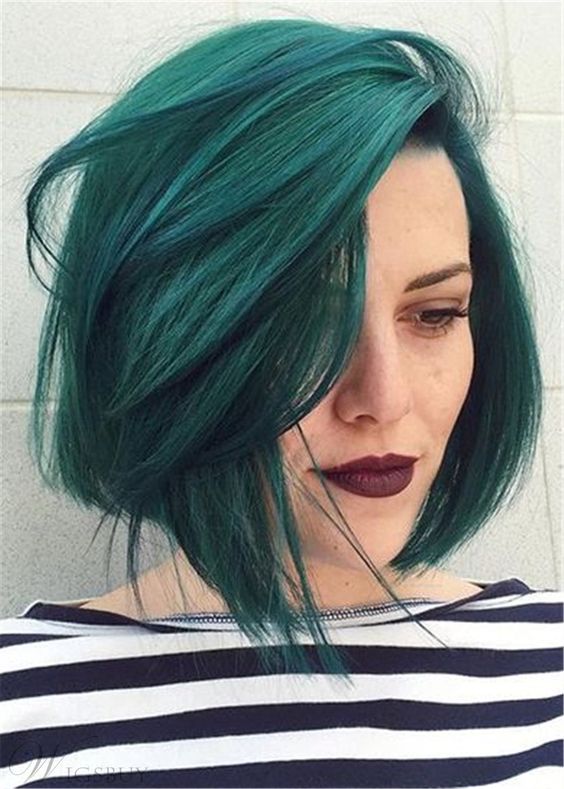 Hair Dye Type
Do you want a permanent hair color or a semi-permanent one? If you know precisely that this is the color for you, then go ahead and choose permanent solutions. Otherwise, you should opt for demi or semi-permanent alternatives if you have doubts and might change your mind after seeing your teal hair.
That's what I did the first time I colored my hair. Back then, I was obsessed with red hair but was afraid to dye it all at once. So, I compromised by doing highlights with a semi-permanent hair dye. Semi-permanent dyes are also a great choice if you tend to change your hair color a lot. For example, with this type of dye, your teal locks will last up to ten washes.
I don't really recommend demi-permanent hair dyes since they tend to fade away unpleasantly over time. But, they can last up to four months. Besides demi and semi-permanent dyes, you can also opt for temporary products, which are the safest since you can get rid of them after only two washes or so.
For this kind of outstanding hair color, I would certainly try a moisturizing yet temporary dye first just to make sure I'm not doing a dramatic makeover that I'll regret later on.
Selection Criteria
I've chosen the following hair dyes based on their popularity, brand reputation, lasting effect, and coloring results.
Finding the Best Teal Hair Dye – My Top 11 Choices
Teal hair makes me think about the sea, the ocean, and mermaids. I'm a hopeless dreamer, and somehow, this hair color suits my inner energy. That being said, let's take a look at some of the best teal hair dyes out there. They aren't listed in any specific order.
Best Permanent Teal Hair Dyes
Got2Be Metallic Hair Dye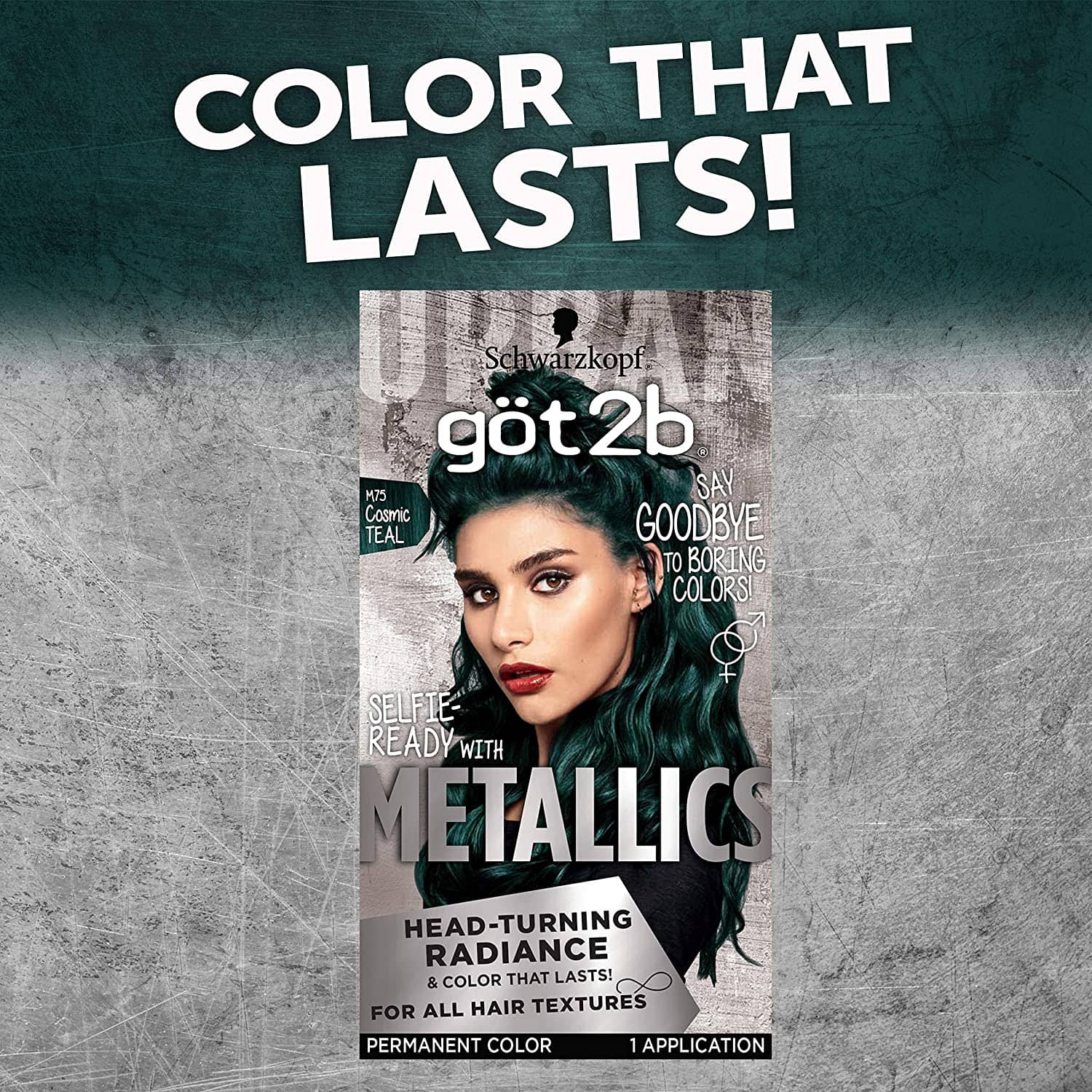 I'm so impressed by the cosmic metallic teal shade of this Got2Be hair dye. It's a highly affordable product that's suitable for normal hair. I was mesmerized by the multi-dimensional teal color that almost looked 5D to me. Moreover, being a permanent dye, it lasts for months. The formula's shine booster is what provides this shimmering look.
I loved the whole package since everything I needed came inside the box, including gloves, the color cream, the developer, hair treatment, and instructions.
Pros
Amazing vibrant color;
It comes with a hair treatment with nourishing properties;
It's long-lasting;
It offers a metallic radiance.
Cons
It's a bit too dark for my taste and for the type of teal I wish to achieve;
One tube isn't enough for long hair.
L'Oreal Feria Multi-Faceted Dye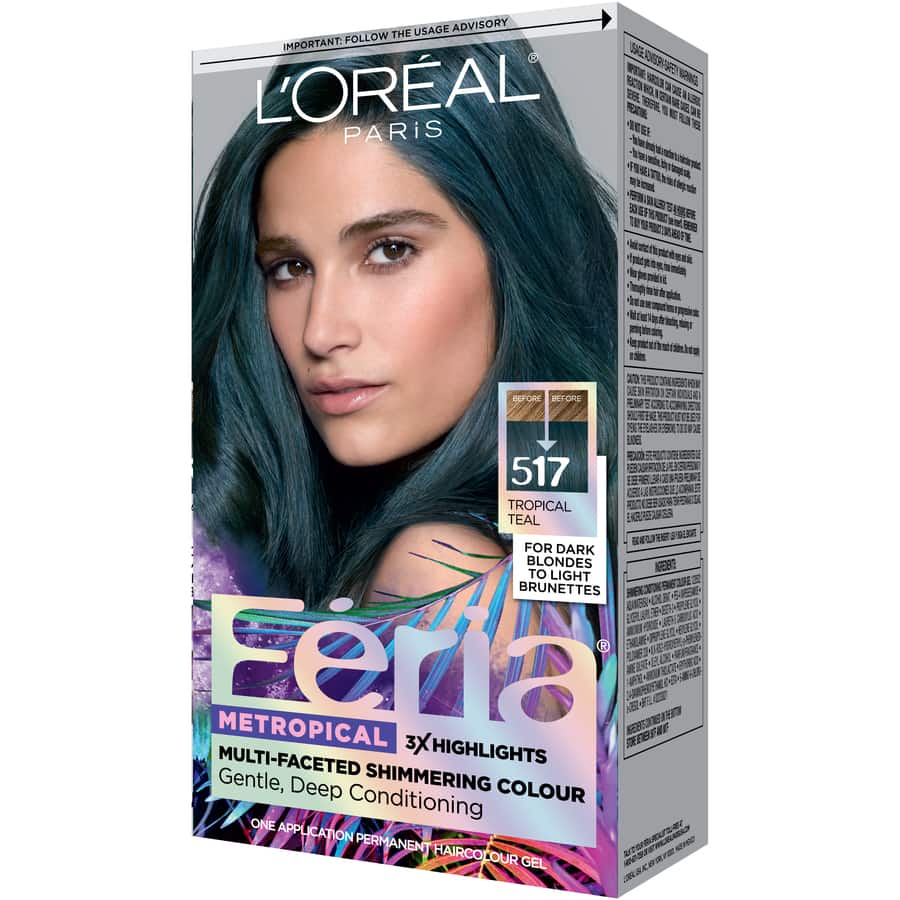 This is my favorite permanent teal hair dye. L'Oreal Feria makes my hair beautiful and shimmery while also conditioning it. This nourishing formula comes in numerous bold shades, including Tropical Teal. One of the things that made me include this product on my list was that L'Oreal, a leading beauty company, produces it.
The other characteristics of this hair dye made it my favorite choice. It's very affordable and offers excellent results. Inside the kit, I found the color cream, a shimmer serum, a developer, and a conditioner to boost the shine effect.
Pros
It's long-lasting and multi-faceted, which means your hair will never look dull;
It comes with a nourishing conditioner;
The formula is gentle on your scalp and hair;
It's versatile and works well on various hair colors and types.
Cons
My hair is medium/dark brown with lighter highlights. So, I loved the result on the highlights, but on my natural hair, this dye is a bit too dark for my taste;
Very affordable;
I had to apply two full tubes to cover the length of my tresses;
The result might not be optimal when applied to white hair.
Best Semi-Permanent Teal Hair Dyes
Colorista Teal Hair Dye by L'Oreal Paris

I chose this L'Oreal teal hair dye due to the brand's reputation and highly-appreciated image. But, more than that, I am also pleased with this product due to its vegan formula. Moreover, I like that it's a delicate hair dye without peroxide or ammonia. What's even better for me is that Colorista is dedicated to brunettes like me and doesn't require me to bleach my hair.
I didn't even have to mix the dye. I like this teal hair color because I'm a huge fan of pastels. The pigmentation is good, and the application is relatively easy. You won't have to worry about permanent effects since this product fades away and disappears after a few hair washes.
Pros
The color is lovely and very trendy;
I loved the ombre effect I achieved, but that's probably because I have lighter highlights in my hair;
Great pigmentation and gentle formula, which is excellent for my sensitive scalp.
Cons
It's better suited for brunettes which means that blondes might not achieve the same results;
After two weeks, your color will be a lot brighter than the initial shade, but you could mix some of the dye with your hair conditioner for a more long-lasting effect. So that's what I did.
Wella Color Charm Hair Dye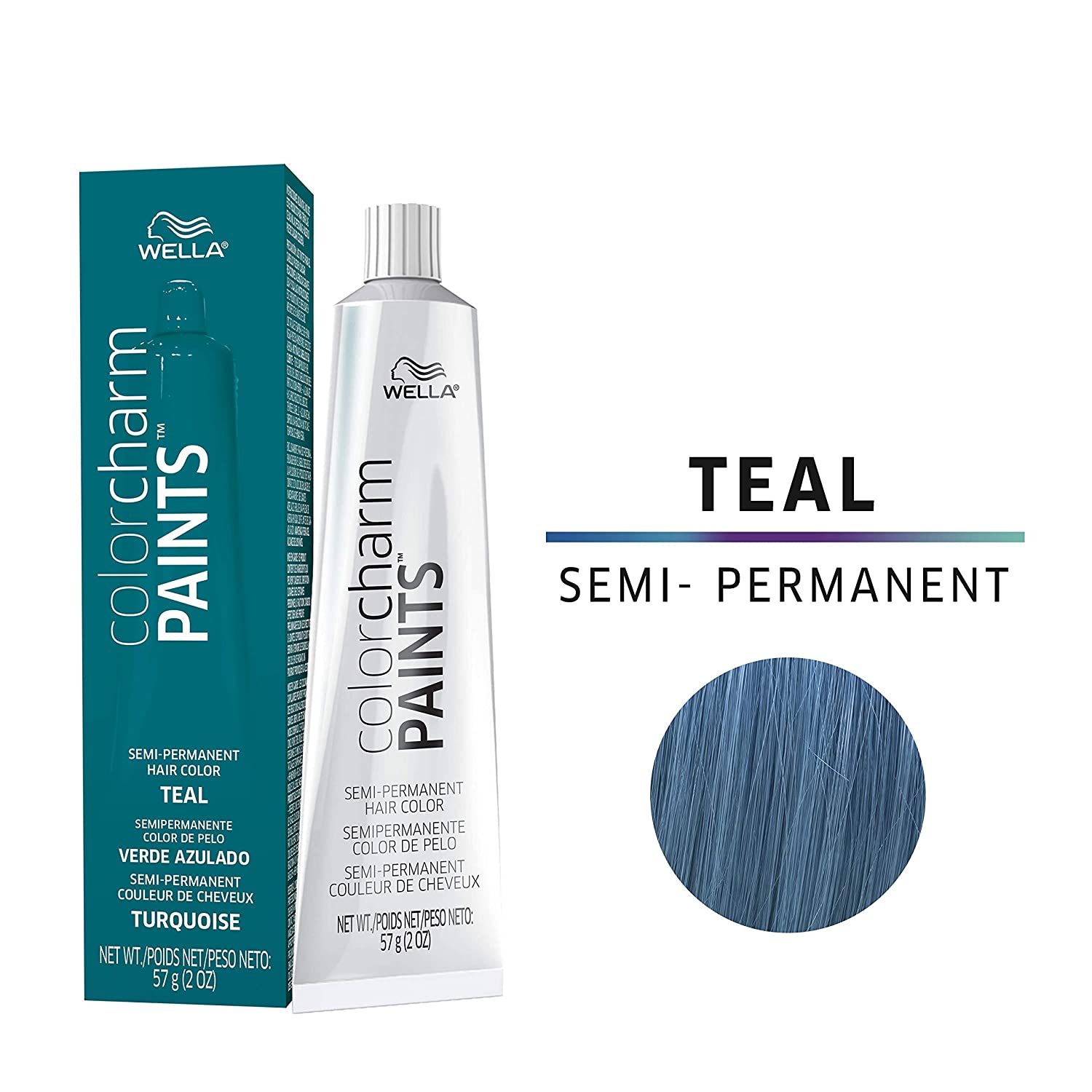 Wella is another reputable hair care brand I had to include in my article. This teal Wella hair dye is paraben-free and doesn't contain ammonia. Besides this lovely teal shade, Wella Colorcharm Paints also comes in numerous other beautiful hues, including coral, blue lagoon, mai tai, light pink, sunkissed, strawberry, and many others.
If I could, I would try all of these fantastic colors. This Wella inter-mixable hair dye is affordable and lasts 20 washes. I love to be able to express my true personality with this vibrant color. I don't even need to use a developer with this particular hair dye.
Pros
You'll achieve a vibrant and intense color that's also long-lasting;
This dye doesn't contain ammonia or parabens;
It's easy to use and apply;
I wouldn't say I like hair products with strong fragrances, and this hair dye comes with a mild smell which is great.
Cons
If you have dark hair, the result might be less intense than expected;
One container isn't enough to cover long hair;
I was disappointed to see this teal dye fade out a bit quicker than I would've wanted it to last.
Best Demi-Permanent Teal Hair Dyes
N Rage Twisted Teal Hair Dye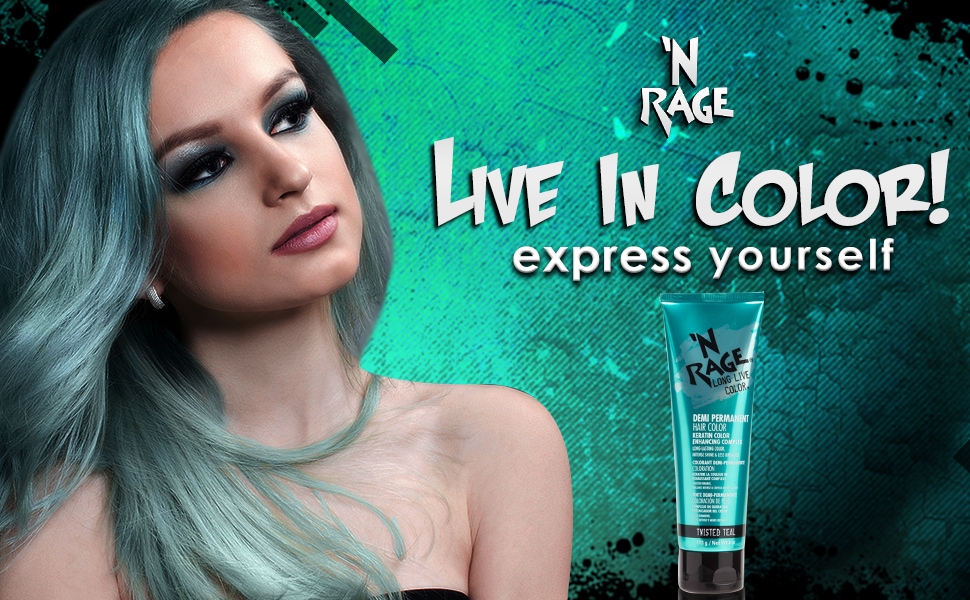 This demi-permanent hair dye, marketed by N Rage, is so cool and features a lovely teal shade. In addition, it's climate-friendly and cruelty-free, both of which are important advantages in my book. If you try this teal shade and, after a while, you want to change your hair color, I also recommend the product's three other available hues: Cobalt blue, Purple plum, and Feisty fuchsia. They are both incredibly unconventional and vibrant.
I love this dye container because it's easy to use and apply the product to my hair. I know my new teal hair color will last longer and maintain its pigmentation, even during summer. That's possible due to the dye's UVB and UVA inhibitors. I'm also happy to know this formula contains keratin because I'm very fond of my locks and want to protect my colored hair as much as possible.
Pros
I love this hair dye since it's cruelty-free;
It isn't formulated with any animal-derived compounds, which makes it vegan;
It lasts pretty long for a demi-permanent solution: a maximum of six weeks;
It's a high-quality product manufactured in the US;
This protective keratin-based hair dye will help you achieve intense color and avoid breakage.
Cons
This is a great hair dye, so it was tricky to find any fault. However, after dying my hair and washing it, I saw that some of the dye had transferred to my shirt. Luckily, I was wearing an old one. I'm now curious to know if it will continue to transfer after a couple more washes;
My hair looks a bit more blue than teal, but that's maybe because of my natural darker hair pigmentation.
RAW Twisted Teal Dye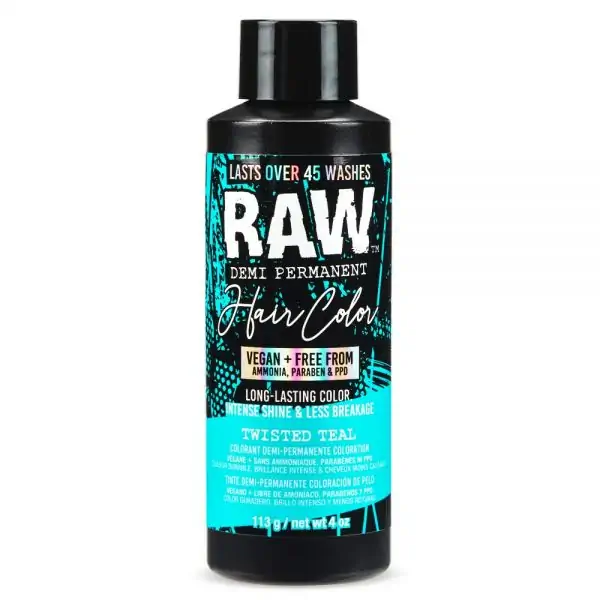 This RAW hair dye has impressive, long-lasting results. It's a gentle vegan formula that doesn't damage your scalp or hair. I could genuinely steal the spotlight with this unique hair color. I was pleased to learn I don't need peroxide or any other activator to apply this dye to my hair. Moreover, it helps you achieve excellent results, regardless of your hair type or natural color.
I recommend mixing it with a small amount of conditioner to make the blending process even easier. It's incredible how vivid this hair color can be if you follow the instructions on the label. I also like its price tag. This is a pretty affordable hair dye. The teal shade will undoubtedly make you receive plenty of compliments.
Pros
You will enjoy a vibrant teal color that lasts more than 40 washes;
Easy to apply;
Free of parabens;
It's a cruelty-free hair dye;
Your hair won't be damaged after using this formula;
Vegan formula.
Cons
It's a great hair dye, but it dried my hair a bit, and I found out that that occurred because of the product's silicone content;
I have dark brown hair, so the final result was not as bright as expected.
Best Temporary/Washable Teal Hair Dyes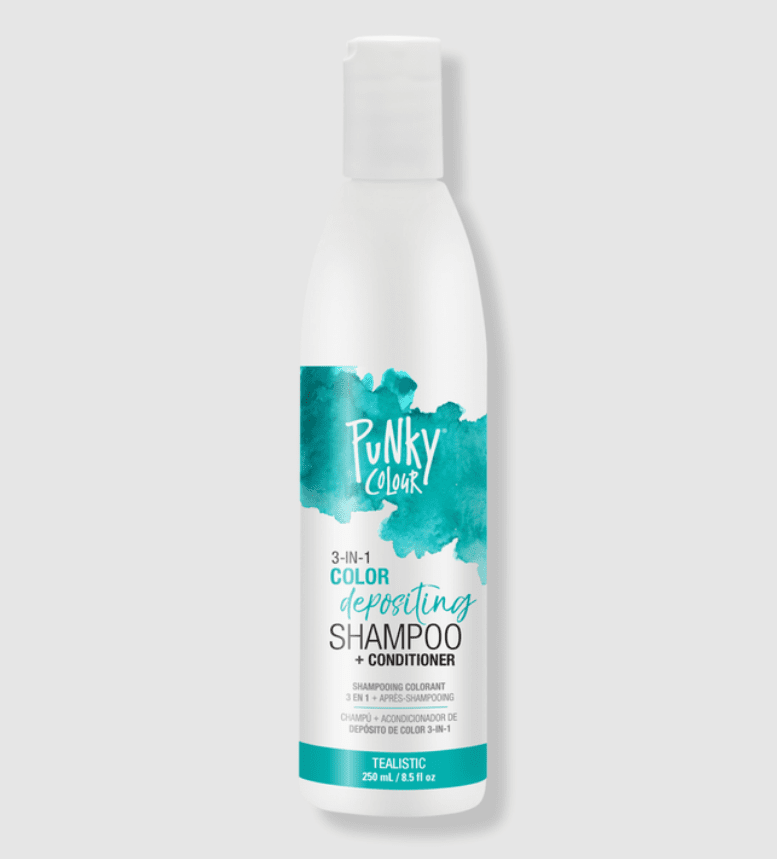 After thorough research, I think I found what seems to be the best washable hair dye that's also easy to use weekly. So, without further ado, I present the Punky Color Tealistic Shampoo and Conditioner to you. I am a fan of versatile products that have multiple uses. And this is a 3-in-1 hair product because it works as a shampoo, a conditioner, and a temporary hair dye.
Here's what I discovered after using this washable hair dye. First, no matter how often I used it, the amount of color absorbed by my tresses wasn't increasing. So, even if you wash your hair with this product a couple of times a week, it doesn't mean you'll achieve a more vibrant color than the first time.
Since that revelation, I have only used it once a week.
Pros
The color penetrates my hair follicles quickly as I wash my locks;
I like the color's vibrancy and, for a temporary dye, it lasts pretty long;
I love the way this product smells;
Due to the conditioner's properties, my hair becomes more manageable.
Cons
The formula got a little messy because I used it in the shower without wearing gloves;
Being a washable formula, it doesn't last that long;
It stains.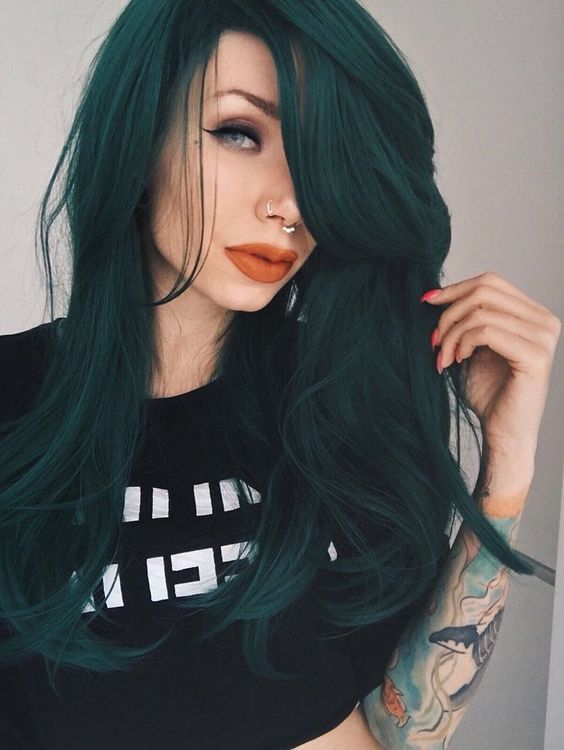 Bonus Options that I'm Sure You'll Love
Garnier Teal Forest Dye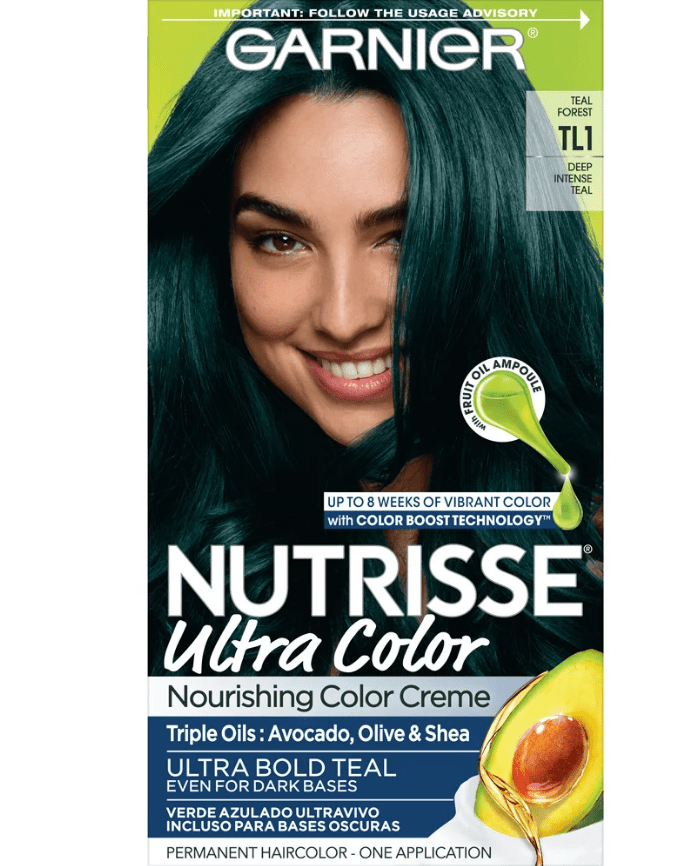 This hair dye convinced me to try it on my hair since I saw its name, Teal Forest. I love teal, it's one of my favorite colors, and I love forests and nature. So, yeah, I had to see what was it about. You'll find this color in the shade TL1 and Garnier included it in its Nutrisse Ultra-Color product line.
I like its nourishing ingredients, including Shea butter, avocado, and olive oil. I should also mention that this is a permanent hair dye.
Pros
I love how nourishing and creamy this hair dye is;
The color is simply amazing with deep highlights and rich textures;
It's a super affordable hair dye;
You can achieve an amazing and shiny color quickly and easily;
Works pretty decent on most hair types.
Cons
If you have dark hair, you might not achieve a super rich teal color;
It stains so make sure to wear old clothes that you don't use anymore while you're applying this dye on your hair;
It starts to fade away after a couple of washes.
Manic Panic Atomic Turquoise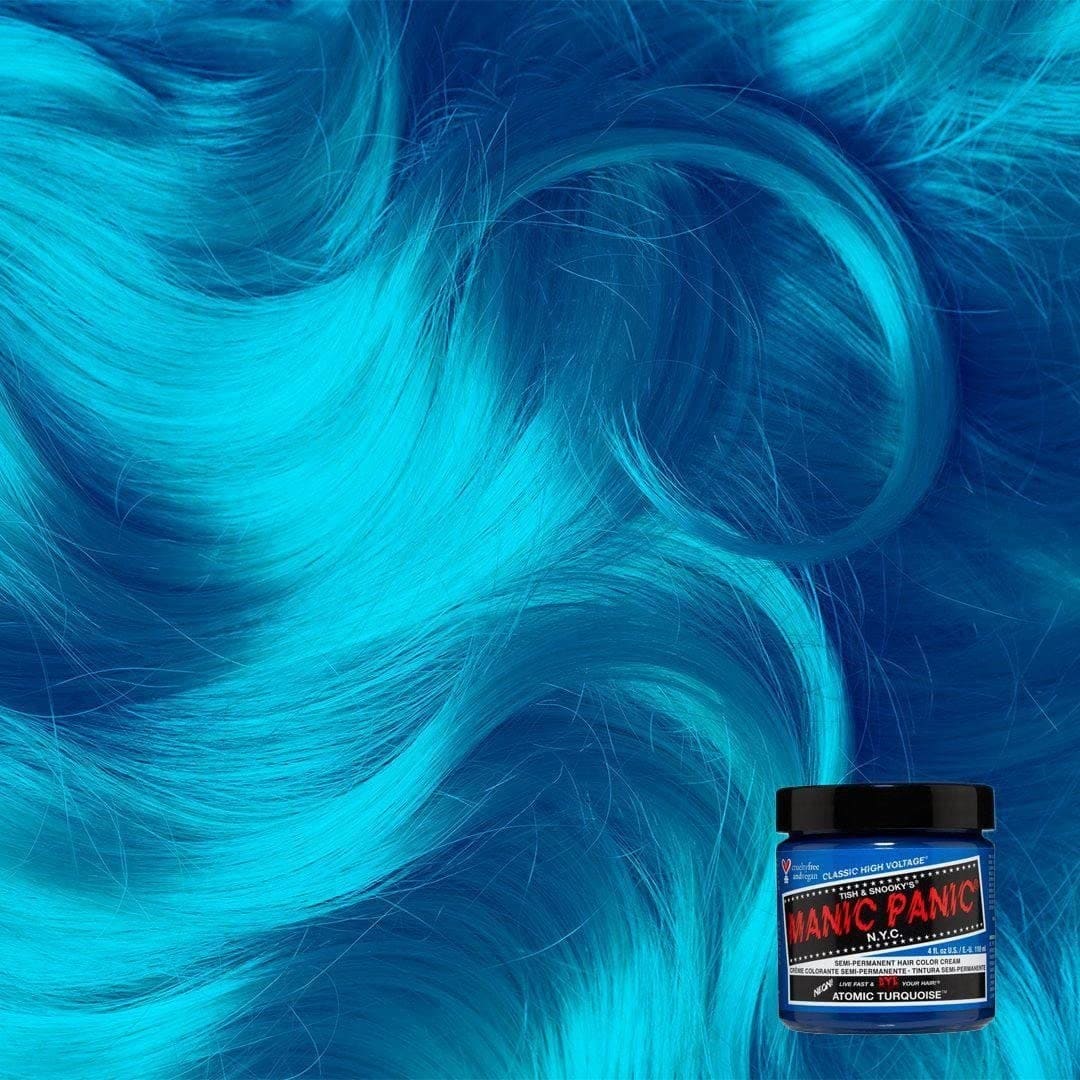 This semi-permanent hair dye from Manic Panic is great if you only want to try a bold hair color for a limited period of time. It's affordable and paraben-free. Moreover, it comes in the form of a cream and the color you achieve starts to fade after four or six weeks, based on how well you follow a good maintenance routine.
Unfortunately, this hair dye isn't great for all hair colors. It's best suited for light blonde, whereas on darker locks appears less turquoise. I'm curious to try it on since I have brown hair, but it's already dyed with lighter highlights.
Pros
It's made in the US, and it's cruelty-free;
This dye doesn't contain paraben;
It's affordable and last long enough for a semi-permanent dye;
The formula is a vegan one.
Cons
If your hair is dark, you might not achieve the expected outcome;
It's a high-maintenance hair color;
The label says this hair dye features a creamy texture, but it felt more like a gel to me.
Arctic Fox Aquamarine Dye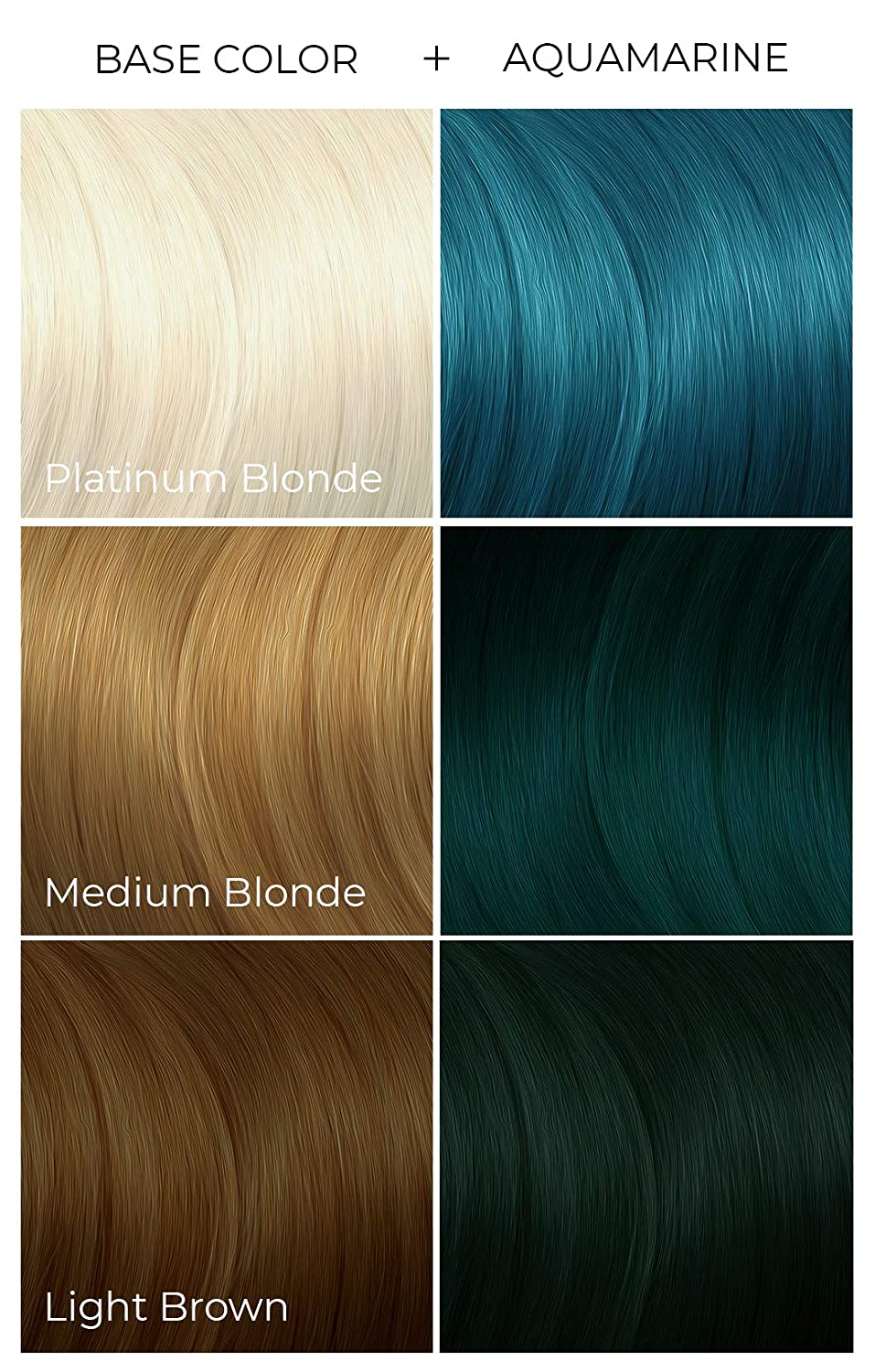 I confess this is another hair dye brand I haven't tried yet, but after seeing the reviews, it got my attention, and I put it on the list for future hair experiments. But, first, you should know that the Arctic Fox aquamarine hair dye is semi-permanent and a little bit more expensive than other similar products.
Secondly, it's cruelty-free, which I like, and formulated with vegan ingredients. These two are important advantages to me. Still, the lighter your hair is, the more vibrant the result will be. So, if your hair is dark, I wouldn't try this hair dye if I were you.
Pros
It works great for light and medium blonde and remains a pretty decent color for light brown;
It's pretty good even if your hair isn't bleached – I avoid bleaching my hair even when I try a new hair color;
This hair product is cruelty-free and vegan;
This hair dye smells fantastic.
Cons
Not suitable for darker hair;
A bit on the pricey side;
It stains, so you should wear protective gloves when applying it.
Sea Witch Hair Dye by Lime Crime Unicorn
This Lime Crime hair dye is semi-permanent, and I love its container since it's very easy to use. Just like Arctic Fox, this one is a tad more expensive than other hair dyes, but it comes with delicious citrus and vanilla combo scent. It does an excellent job of moisturizing your hair and making it vibrant without damaging your locks.
It conditions your hair due to its vitamin and fatty acid content.
Pros
My hair looks a lot shinier after using this hair dye;
It smells great;
It's sulfate-free;
This is a vegan formula;
The color you'll achieve will be excellent and vibrant.
Cons
A bit expensive;
The color isn't that vibrant on dark or unbleached hair. 
How to Find the Best Teal Hair Dye – FAQs
Question: How Does Teal Color Look Like?
Answer: Teal is a mix of two colors: blue and green, both of which I love. These shades and turquoise are my favorite colors. Teal hair will certainly draw a lot of compliments and attention. It's a unique color that comes in many hues, from bright to dark, from sea green to pastel blue and bright jade.
Question: Is Teal Hair Shade a Pastel Color?
Answer: Yes, this is a pastel shade that's warm. Therefore, it suits those who have warmer skin tones. However, you could cool this hair dye down by doing some purple or blue highlights. My skin is pale, so I should use cool undertones on my hair, but that didn't stop me from trying a teal hair dye.
Question: Can I Color My Brown Hair Teal?
Answer: You could try, but I don't think the result will satisfy you since this bright color requires bleaching. All pastel hair dyes look better on lighter or bleached hair. On the other hand, I wouldn't recommend bleaching your hair more than once at a time since that could seriously damage your locks.
Both brown and black hair colors can be transformed with a teal hair dye, but the result might look darker than expected.
Question: How Should I Maintain My Teal Hair Color?
Answer: Being so vibrant, teal hair is high-maintenance. So, you should use lukewarm water when washing your hair and avoid hot water because it will make the color fade away quicker. Also, opt for sulfate-free hair care products. Finally, avoid using hair-heating tools like curling or flat irons. If you do use them, make sure to apply a generous amount of heat-protecting spray.

Drawing to a Close
Teal hair is so cool and trendy, don't you think so?! It may seem like a dramatic change, but I feel it's what I need whenever I want a real makeover. This hair color has the power to freshen up my appearance and make me feel special or stand out. Of course, I don't always feel that way since I'm a bit shy, but once in a while, I dare to do something out of the ordinary.
So, teal blue is a rich hair color that makes you look attractive. Moreover, it suits everyone, regardless of their skin tone. Teal is also a versatile color that comes in numerous shades, from delicate pastels to darker hues.
You could even unleash your inner mermaid with teal hair if you're into that. If you have kids, I'm sure they would love it.
To conclude with, you should check the ingredient list and pigmentation when searching for the best teal hair dye. Also, you can choose whatever product you want from my list, but my favorite would be L'Oreal Feria as a permanent solution due to its
If I were to choose a temporary alternative, my go-to product would be the  Punky Color Tealistic Shampoo and Conditioner.
Looking for more interesting readings? Check out: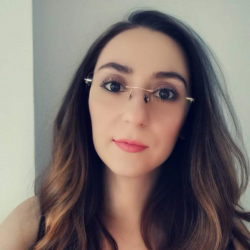 Latest posts by Alexandra Gavrilescu, Home Hair Product Tester
(see all)