There's a reason why you're seeing midnight blue hair everywhere. Midnight and dark blue hair looks amazing on everyone, regardless of skin color and undertone. I've had midnight blue hair a number of times and I can attest that this color is amazing and easier to maintain than other unnatural colors.
Are you trying to find a midnight blue hair dye? Since I've had this color a number of times, I know what to look for in a dye. Here's how to find the best midnight blue hair dye and other advice to help you get the best color.
Bottom line up front: While midnight blue dye looks amazing on everyone, you'll want to take special consideration to choosing the best dye. This includes knowing which shade of blue works best with your skin tone/undertones and your features. You'll also want to know how dark you want to go. I recommended a few dyes, but the Manic Panic High Voltage Dye in After Midnight is my favorite. It's dark but still vivid enough to see the blue.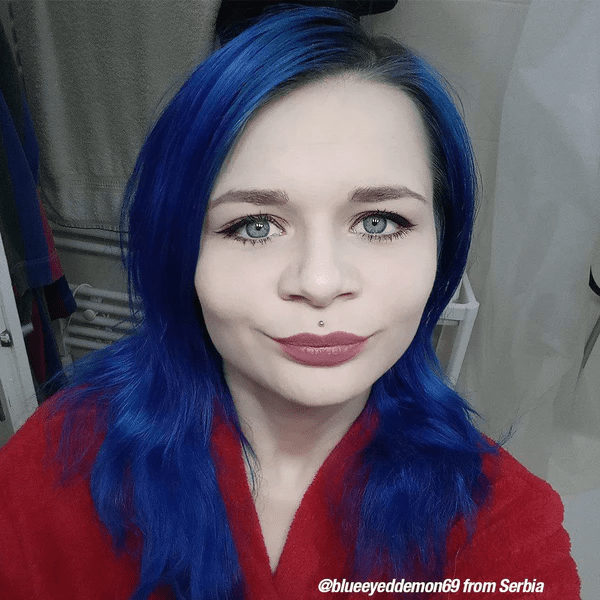 What Is Midnight Blue Hair?
Think of the night sky — dark but not fully black. Midnight blue is a very dark blue color but can encompass different varieties of darkness. In other words, some shades of midnight blue are actually pretty bright while others are extremely dark. Some shades of midnight blue look like a vibrant navy while others look nearly black. There are different ways to rock midnight blue hair. You can opt for all-over color, ombre, lowlights, and highlights.
How to Find the Best Midnight Blue Hair Dye
Here's some advice I have to find a midnight blue hair dye that you'll love.
Find a Color That Complements Your Eyes
As stated previously, midnight blue hair looks amazing on everyone. But you have so many hair dye choices. If you're not sure which one to choose, first consider your features. I will focus on skin undertones in another section, so I will focus on eye color now.
Blue eyes. You'll want a vibrant shade of midnight blue to brighten your eyes. Instead of "midnight" blue, I suggest finding the color "moonlight" blue. It's a wintery shade of dark blue that's more daring than your traditional midnight blue.
Green eyes. Choose a midnight blue that's neutral, even more on the ash side. This color will enhance your eyes. "Smoky" midnight blue is a color to look for. Or, you can mix colors or create a palette for your stylist. Keep in mind that the ash brown will take away from the intensity of the blue.
Hazel eyes. Honestly, I think all shades of midnight blue will look great with hazel eyes. But if you want a specific color, I suggest trying a midnight blue that's more on the purple side. Look for "midnight indigo" instead of midnight blue. Or, you can mix midnight blue with purple to get the look. You can also add purple streaks to your midnight blue hair for the same effect. If you want the indigo to stand out more, dye your hair medium-brown instead of black.
Brown eyes. As with hazel eyes, any shade of blue works with brown eyes. However, teal-based blues will make your eyes pop. Consider adding teal to your midnight blue mane.
How Dark Do You Want to Go?
Midnight blue is on the darker side but you have more flexibility to go lighter. This is why you should know how dark you want to go before dyeing your hair. If you're not sure, your natural hair color is a good place to start. The darker your hair naturally is, the more satisfied you'll be with dark midnight blue hair. If your hair is lighter, you should opt for a brighter shade of dark blue. If your hair falls in the middle, you might want to dye your hair dark midnight blue hair to play it safe.
Consider Your Undertones
There are three undertones:
You have warm undertones if your veins look green. Therefore, warm shades of midnight blue will work best for you. Cobalt blue is the best example of warm-based blue. This shade of blue is naturally muted, so you can easily combine this with a dark hair dye to get the color you want.
You have cool undertones if your veins look blue. Fortunately for you, your midnight blue options are nearly limitless. I would go with a dark navy, though any shade of midnight blue will work for you.
Warm-toned skin looks more olive and cool-toned skin looks pinker. You have neutral undertones if your skin doesn't look like either. In this case, any shade of blue will also look amazing on you.
Dyeing Your Hair Midnight Blue at a Salon vs. At Home
I understand this is a "how to find the best hair dye" guide, but I always like including the salon vs. DIY option. I've dyed my hair myself and with a professional, and I always preferred going to the salon. This is especially true when it comes to unnatural colors; your stylist can bleach your hair in a way that causes minimum damage. Plus, they can look at your features, undertones, and preferences to mix the perfect hair color for you. But there are pros and cons to both.
DIY
Let's first cover dyeing your hair midnight blue at home. You can find more unnatural colors on the market than other before, thanks to brands like Manic Panic and Arctic Fox. Understand that most of these dyes are semi-permanent, so they won't last as long as permanent dyes.
Depending on how dark your hair is, you may need to lighten it. Even for midnight blue, it's a good idea to tone down already black hair so the blue can stand out.
Salon
Your stylist not only went to school to learn how to do hair but also dyes hair every single day. They have the best skills and the most experience to ensure you get the midnight blue hair you want. You'll get even better results if you see a stylist who specializes in unnatural hair colors, such as my stylist.
The dyes I will be recommending are ones you can get over-the-counter. However, your stylist can get even better dyes such as Pravana hair dyes. Out of all of the unnatural hair dyes I've used, Pravana is by far the best one. The colors are so vibrant and last a long time. You can only get Pravana dye with a hair stylist's license.
What to Expect When Dyeing Your Hair Midnight Blue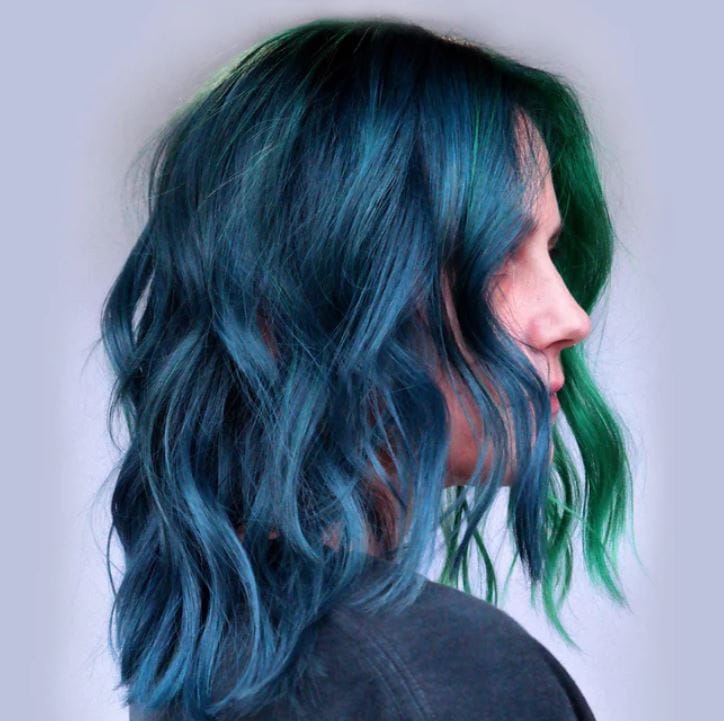 Whether or not you do your hair DIY, there are some things you should expect. For example, if your hair is black, you'll have to lighten your hair first before applying the midnight blue dye. It usually doesn't have to be a lot, probably to around a level 5. If your hair is already light, even if it's a light brown, you shouldn't need to bleach it first.
You should also plan the type of look you're going for. While dyeing your whole head midnight blue is simple, adding lowlights or a balayage will take more skill. Be sure to plan your midnight blue look and know if you should see a professional or do your hair DIY.
How to Take Your Midnight Blue Hair to the Next Level
Not satisfied with all-over color? Or maybe you dyed your hair midnight blue and want to spice it up a little bit? I suggest adding a different color. As I mentioned earlier, purple and indigo are perfect colors to add to midnight blue. You can also add teal and green for more dimensions. I suggest adding these colors to the end as lowlights or a balayage.
Silver and gray also complement blue well and still create dimension. Add some silver or gray streaks. A balayage will also look stylish.
How to Maintain the Midnight Blue Hair Color
Fortunately, midnight blue is one of the most low-maintenance unnatural hair colors I've had. But you should still properly maintain your midnight blue hair.
First, refrain from washing your hair daily. Ideally, wash your hair once every two days. If you can't do that, wash your hair every other day. When you do wash your hair, use color-safe shampoo and conditioner. Be sure to use a dry shampoo and dry conditioner in-between washes. It's also a good idea to use a leave-in conditioner every day and use a conditioning hair mask once a week.
It's also best to avoid heat since excess heat will decrease the intensity of the blue. Avoid heat styling products. If you do use heat styling products, use UV protectants. Wear a hat when you're in the sun.
Best Way to Style Midnight Blue Hair
Since it's recommended you don't use heat styling products on colored hair, you're probably wondering how to style it in the first place. What I like to do is wash my hair at night so it air dries. In the morning, I apply a texturizing hairspray to give my hair some natural waves. You can also do up-dos and braids.
Midnight Blue Hair Ideas
Are you in need of some inspiration? Here are some of my favorite midnight blue ideas I found on Pinterest!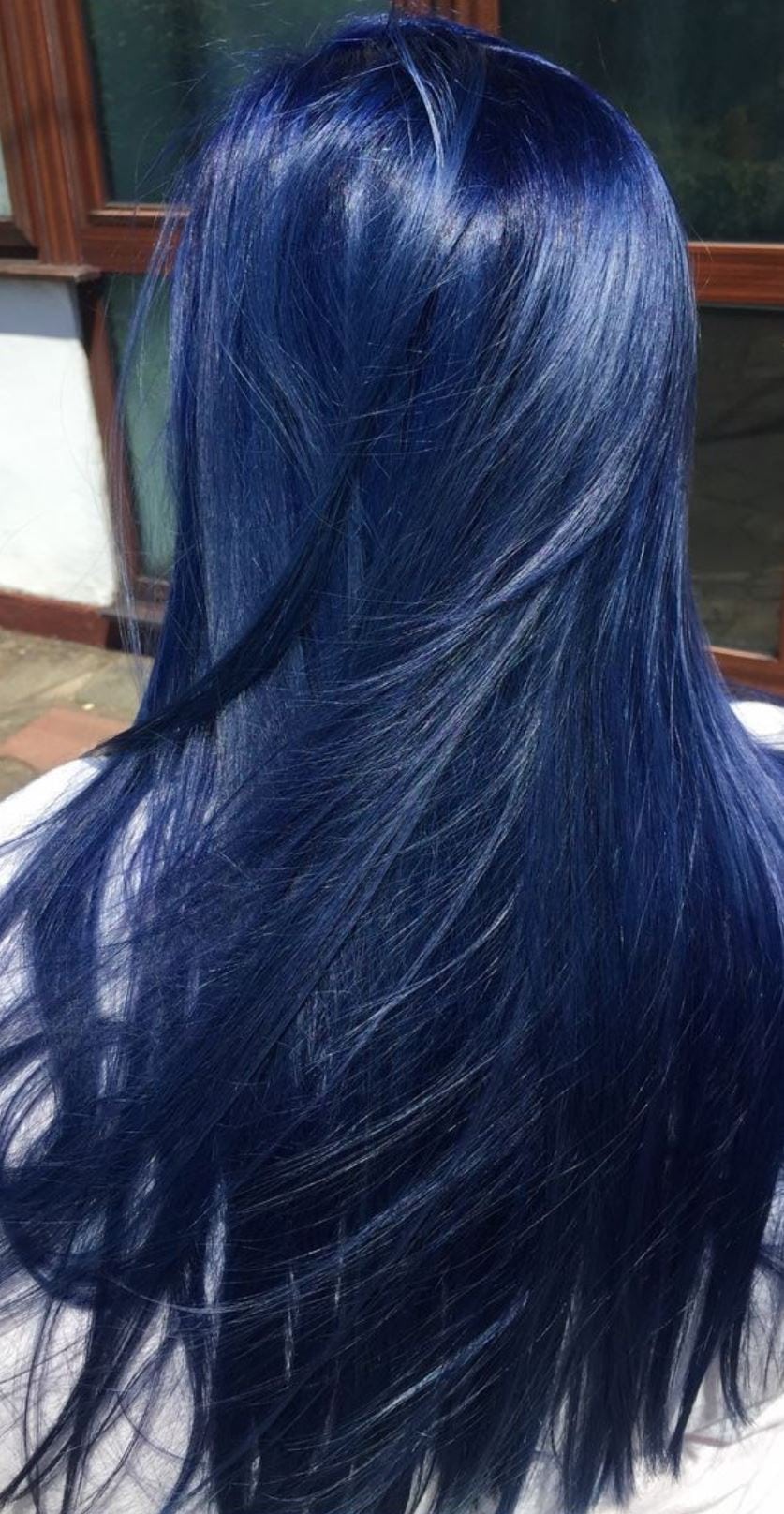 This color is so vibrant it almost looks radioactive! This is a great color if you want your hair to be dark but don't want to miss that cerulean mermaid vibes. The model's hair here is shiny and straight but I can see this color looking amazing on curly hair.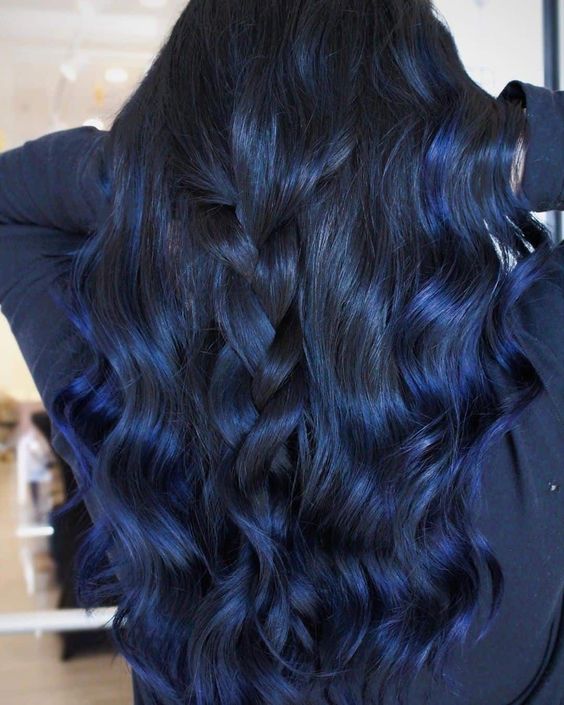 I love how this color is dark at the top and goes to moonlight navy blue at the ends. It's a daring shade of blue but also subtle enough if you're not ready to take the plunge into full blue hair yet. This is such a great color but I can see this looking amazing during the winter. Plus, I can see this color being easy to maintain. Keep in mind that you should get this done at the salon for the best results.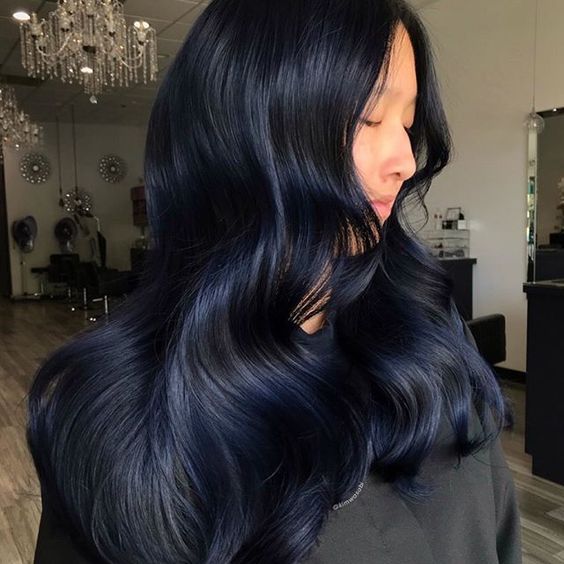 This is the color I've had time and time again. The color is very deep but you can see the blue in the model's hair. The model has wavy hair which makes the blue stand out more. This is a great look if you want to add some drama to your hair without bleach.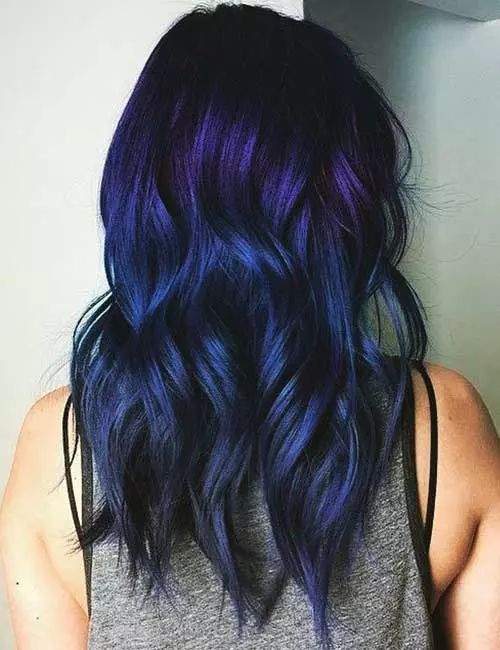 The blue and purple tones go so well here, it's almost like they're the same color! I recommend this look if you want a more subtle version of rainbow hair.
My Favorite Midnight Blue Dyes
Are you ready to shop for some midnight blue hair dye? Here are my favorite picks!
There's a reason why I'm recommending the Manic Panic High Voltage Semi-Permanent Dye first. Manic Panic is one of the first dyes that specialized in unnatural colors and has been a trusted name in the industry for decades.
I love the color After Midnight. It's a very bold midnight blue that's still very vibrant and pigmented, despite it being so dark. If you want a lighter blue, you can combine it with another Manic Panic color or cut it with conditioner. Even though Manic Panic colors are so affordable, they last a long time — with the right maintenance, the color can last for up to eight weeks.
For After Midnight, Manic Panic recommends dyeing your hair a light blonde. If your hair is medium brown, the blue will only appear as a tint.
The Classic High Voltage colors are free of PPD and are vegan. The dyes are easy to use. Customers complain about staining, but I even struggled with this with Pravana dye.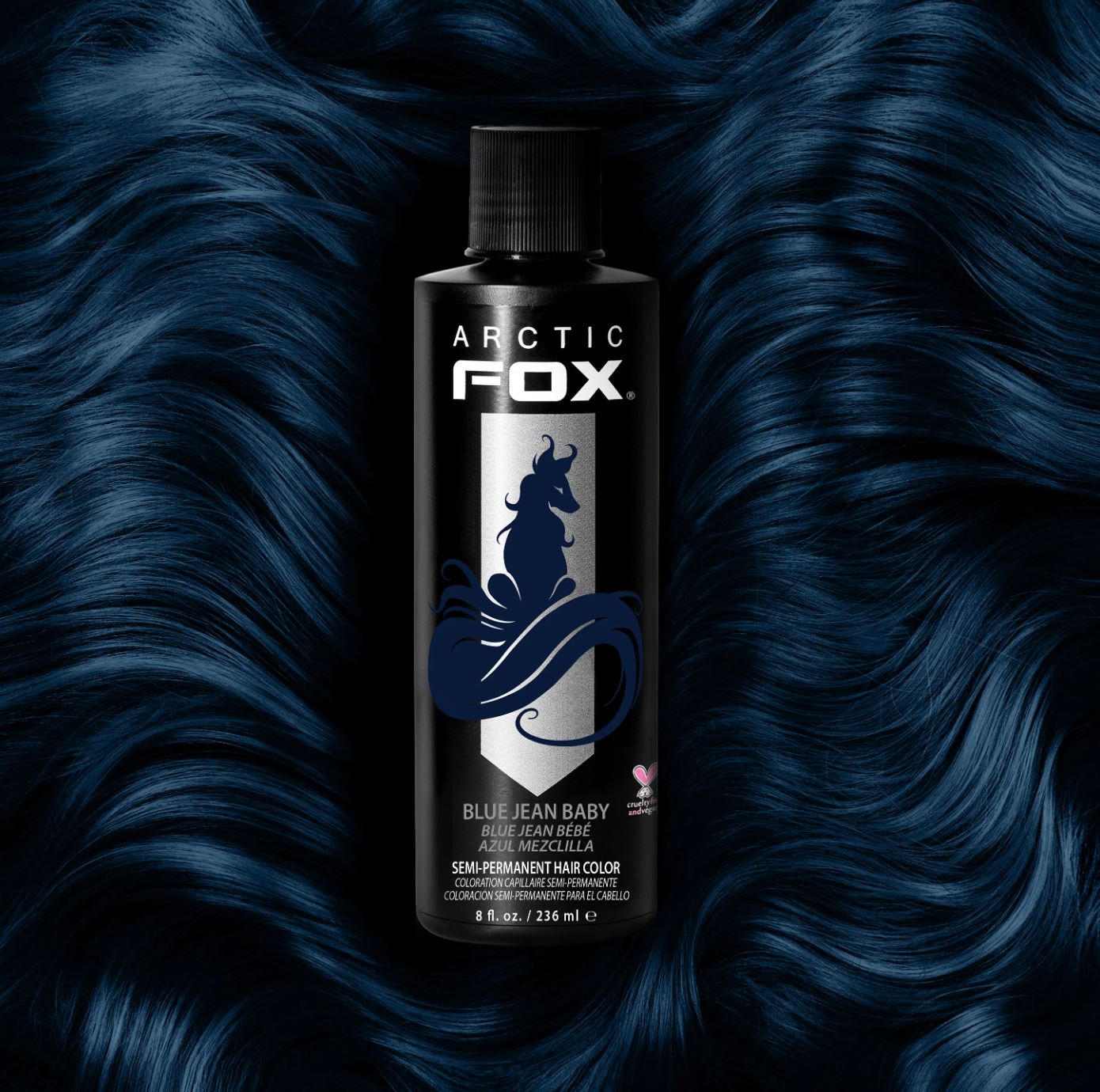 Arctic Fox is a brand I've been seeing all over the internet. This semi-permanent midnight blue dye is perfect if you don't want a bright blue but also don't want a black-blue. To me, the color looks like a vibrant navy. While you'll get the best results when your hair is platinum blonde, this color still looks beautiful if your hair is light brown. You can even use this dye over dark hair if you want a blue tint.
Arctic Fox dyes are not only moisturizing but don't contain any peroxide. Plus, these dyes are cruelty-free. Arctic Fox dyes last a long time — usually about 40 washes. Reviewers are also saying the color fades nicely, to a silvery-blue and not green. Be sure to follow our maintenance instructions to ensure your color holds well.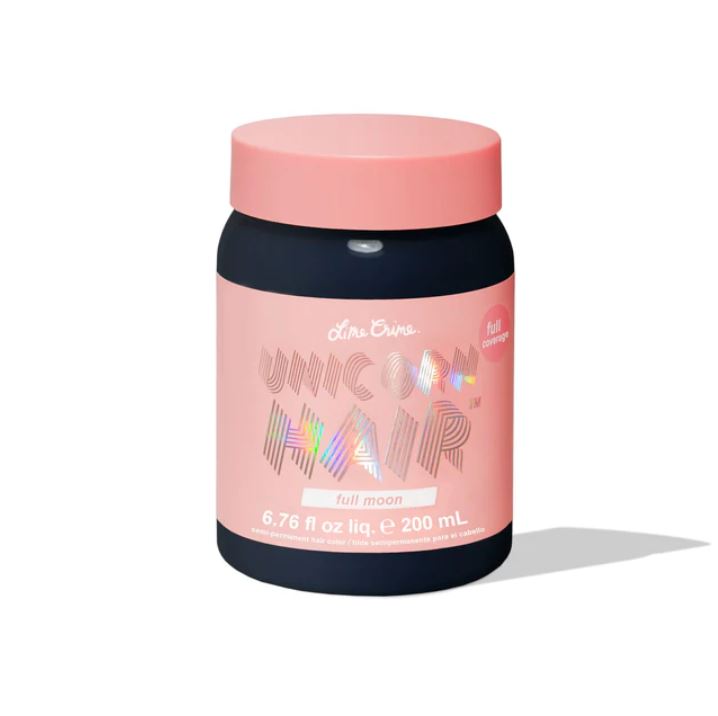 I'm really impressed by these Lime Crime hair colors. They offer a range of colors and they're all very bright. The color Full Moon is what it sounds like — a very dark blue. When dyed on platinum hair, the color looks like a vibrant navy. But even when you apply this color to black hair, the blue tint is pretty pigmented. Lime Crime hair dye is cruelty-free and doesn't contain ammonia. Plus, it smells amazing!
The only downside to these dyes is they don't last as long as the Manic Panic and Arctic Fox dyes, but they still do last about a month.
Got2B doesn't really have a midnight blue. They have a color called Blue Charcoal but it doesn't really look blue at all. So use this color if you really want to take the plunge into blue hair. If your hair is light, the color will look more like denim blue. But even if your hair is dark, the color will show up as a deep navy. These dyes are great because you get a multi-dimensional hair color without combining multiple colors. This color in particular is very shimmery, looking almost metallic.
There are reasons why this color isn't at the top of my list. It contains ammonia, so it may leave your hair feeling dry. The dye is patchy and also has an unpleasant smell.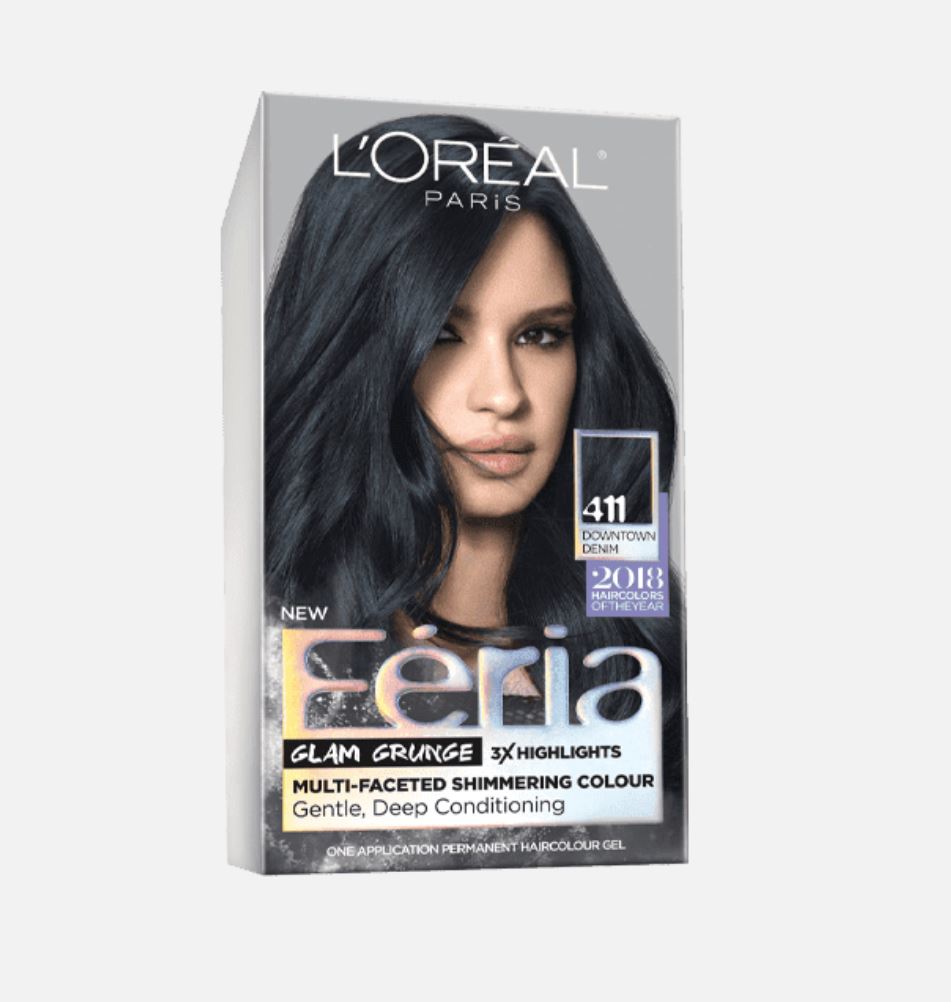 This color is a lovely blue-black but it's last on the list because it fades very quickly. Even though it's a dark color, it still works best on bleached hair. That's because there are highlights which add depth to the color. L'Oreal promises this dye won't wreck your hair and reviewers have said their hair looks shiny and healthy after using this product. I'm still reading some complaints, like how these dyes are messy.
FAQs
Question: What does midnight blue fade to?
Answer: This depends. For most, midnight blue fades to green. But this only happened to me when I dyed my hair a bright blue. When I had midnight blue, the blue just faded to dark brown/black. On some, midnight blue turns to a silvery color.
Question: I dyed my hair midnight blue but it didn't turn out well. What do I do?
Answer: Try dyeing it again, but this time, try mixing dyes to create your own color. Manic Panic, Lime Crime, and Arctic Fox lets you mix their dyes.
Question: I tried dyeing my hair midnight blue but it came out too light. What do I do?
Answer: If your hair was light before dyeing it, your color probably turned out very vivid. You can still get the color you want. Try mixing blue with a dark color such as black. You can also add dark purple or even dark green for more dimensions.
Bottom Line
To get the perfect midnight blue dye, consider your own features, skin tone/undertones, and how dark you want to go. While midnight blue is a blue-black color, you have the flexibility to mix dyes and create the look you want.
Out of all of the colors I recommended, the Manic Panic High Voltage Dye in After Midnight is my favorite. It's dark blue but not fully blue-black. But I suggest looking at the other dyes and brands to find the best midnight blue hair dye for you.
Looking for more interesting hairstyles? Check out: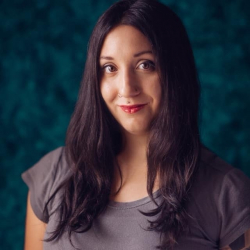 Latest posts by Stephanie Jensen, Hair Trend Spotter & Home Tester
(see all)