There will always be a special place in my heart for pastel blue hair ideas and styles because my daughter spent most of her time in middle school with a soft purplish-blue shade in her hair.
Sometimes we added purple; sometimes, there was royal blue instead. (If you're curious, we used Arctic Fox dyes, but not before we let a pro handle the bleach since her hair was a medium-dark brown shade).
The common thread, though, was always that pastel blue shade. It almost looked more natural on her than her natural hair color. I'm still not sure how that happens.
Bottom Line Up Front
I'm obsessed with several of these pastel hair ideas and styles, but if I had to choose just one, I'd go with the way Guy Tang used pastel blue in his hologram hair video. 
I also love the Neon Accents in Pastel Blue look–the way the neons pop against the tranquil blue makes me think of how beautiful the world looks after it rains and the sun starts to come out–the sky's still a little gloomy-looking. Still, everything else seems so vibrant and especially beautiful.
Finally, for a more allover blue option, I think the whimsical Periwinkle Length and Braids is my favorite one. It reminds me of my daughter's color for over a year (plus those braids!). 
How I Chose Which Pastel Blue Hair Inspo to Share
I had a hard time narrowing down my favorites, but my goal was to show you enough ways to use pastel blue in your hairstyles that you'd walk away inspired. 
I found ways to use pastel blue with other light shades, in a hologram effect, with icy blonde hair, hidden in the layers of brunette hair, and more. 
Some options might be DIY, while others will absolutely require a pro (and some of them will take hours and hours and a hefty amount of money).
"Pastel blue" means different things, so I've included everything from sky blue to steel blue.
My 22 Favorite Pastel Blue Hair Ideas and Styles
I felt so inspired by all these pastel blue hair ideas and styles that I had a hard time stopping myself. I could look at pastel blue hair masterpieces all day. 
Cute Blue Bob with Bangs
This blue bob is so cute on Evelyn Fernandez. In her video, she walks you through how she colored her hair with a mix of conditioner and hair dye, starting from icy blonde/white.
The Softest Blue
If you look at this hair long enough, it'll calm you down. It is such a peaceful, soft shade of blue, perfectly applied. It reminds me of fairy hair. It's just stunning. Thanks to morebeautybymillak for sharing it on Instagram for inspiration.
Two Pastel Blues
If you love a few different shades you'd consider pastel blue, you should just mix them up like hairbymichelleee did here. The top half is more of that sky blue shade a lot of people immediately think of when they hear "pastel blue," while the bottom half flirts with purple.
Hint: determine which one looks best with your skin tone and put that on top so it'll frame your face, then use the other one on the bottom section.
Half and Half
Can't decide if you want pastel pink or pastel blue hair? No problem. Split it down the middle and do half pink and half blue, like the hair in this photo hairministryltd shared. Styling it will be so fun because of the way a different part, twist, or braid can shift the whole look.
Pastel Blue with Darker Roots
I love how this darker blue fades to pale blue and then to a silvery blue. I feel like darker roots add so much depth to pastel hair and help make the whole look appear more natural. Depending on your skin tone, a technique like this could be the key to making pastel blue work for you.
Periwinkle Length and Braids
It's hard to look away from this periwinkle blue shade that borders on the palest of purples. The color itself is beautiful and glows against the black top the model has on. The intricacies of the braids make it look even more magical. 
Blue Crop
I love the combination of fun makeup and cropped haircuts in unnatural colors. It's an expressive look; you can say much without uttering a word. What does this pastel blue crop say to you? 
Neon Accents in Pastel Blue and Turquoise
There's a lot going on here, and I love every bit of this hair shared by nealmhair. There's a lot of pastel blue here anyway, but you could add more (maybe where the turquoise is placed here).
The neon strands on top of it kick the whole look up a notch and make the pastel blue look even more calming by contrast. 
Long Pastel Blue with Lighter Ends
Want blue all over? Take inspiration from this photo by hairordyechick. The ends are a little lighter, and there's some dimension, but it's truly blue all over. If it's your favorite color or the best one for your complexion, this may be the one for you. 
Steel Blue Streaks
If you have ash blonde, gray, or silver hair, you might want to consider a pale, steel blue instead of the usual shades. This photo everlong_hair shared is so gorgeous, and it'll work on a different range of skin tones than the pastel blue you see in cotton candy and a lot of unicorn hair. 
Glowing, Icy Blue
I love how this wispy short cut seems to glow against the model's complexion in this photo by wellaeducation_sverige. You can tell the hair had to be white to begin with, but depending on your starting point, you might decide it's totally worth it. It's shocking in the best possible way!
Sky Blue Highlights in Layers
Keep it simple and opt for sky blue highlights on medium-to-long layers for a look that's relatively easy to care for, as far as pastel hair colors go. The blue highlights in this photo shared by vanity.bystacygodwin give the model a calming vibe that still manages to be fun, too. The cut is a classic style that almost makes the blue look natural. 
Pastel Blue and Lavender
I can't think of a color that's a better match for pastel blue hair than lavender, and careyx.tarothair is proving my point. Look how well the two colors blend together in these long, layered waves.
The whole look is peaceful, and shades like this complement fair, cool-toned skin (like the model has) so well that it almost looks like it could be her natural color. 
Pastel Blue Bangs
If you want to keep the color limited to a particular area, why not put it in the bangs and front layers like hair.by.oli did here? This keeps all the visual interest in the front and frames the face with a pop of color. Then the rest of the hair can remain a natural color. 
The Softest Pastel Blue
This very cool-toned pastel blue shared by mikkulee_hy is so soft and delicate. The color frames her face and complements her coloring, while the pixie cut shows off her gorgeous facial features. 
Pastel Blue Ends
Here's another way to go lower on the commitment scale: only dye the ends of your hair pastel blue. You could (possibly) do this at home, depending on your experience level and starting color. 
Pastel Blue Highlights on Pale Pink Hair
If you love all the pastels, there's a good chance you'll not want to choose just one. I love how these pastel blue highlights sit on top of the pastel pink hair in this photo from evolvehairkc. It's more balanced than the half-and-half pink and blue option above, but you still get to play with both colors. 
Black and Blue
Speaking of split hair, though, I'm obsessed with this look from artistic.aestheticss because of the possibilities switching up the part and experimenting with different hairstyles could bring. Half of the hair is black, and the other starts blue and fades to a warm blonde.
One half says playful mermaid, and the other says mysterious and seductive. I love when hairstyles and colors give you a chance to embrace and blend all the sides of your personality.
Rainbow Hologram Prism Hair
Guy Tang never ceases to amaze me with his work, and I had to include this video by him as inspiration for including pastel hair in your total look. Even if you don't go the holographic route, this placement and idea could spark an idea incorporating pastel blue.
Barely There Blue Balayage
Because this color is so icy, the pastel blue hair weaves in and out almost undetected (but not quite!). I love how subtle it is, and I think it's the epitome of pastel blue hair ideas for winter. 
Peekaboo Blue on Brown
Many pastel blue hair ideas and styles are done on icy blonde hair, or the pastel blue is worked into a whole look with other unnatural colors.
This peekaboo blue idea from gingerlemonhair shows us how you can still make it work with your brown hair–and it doesn't have to be shocking or obvious.
I love how all the blue is underneath the top layer of hair. Being able to choose when you show off or hide your blue hair is valuable. 
Pastel and Royal Blues
This pastel blue hair idea and style shared by hairriloves demonstrates how you can use pastel blue on the top layers and dye the bottom layer a deeper shade of blue to mimic the look of natural hair color. The glam waves show that blue hair doesn't just have to be fun and whimsical–it can be sexy and glamorous. 
FAQs: What to Know about Pastel Blue Hair
If you're still not sold on pastel blue hair, here are some of the most frequently asked questions to help you decide whether your pastel blue hair ideas should come to life or if there's a better option you'll love more.
 
Question: What does pastel blue hair fade to?
Answer: It'll end up fading to a pale green shade. You can delay the inevitable by using a blue shampoo, but you'll need to freshen it back up with more of the pastel dye you used within a few weeks. 
 Question: What skin tones go with blue hair?
Answer: Cool undertones go well with blue hair. My daughter had periwinkle blue hair for a long time, and it was perfect with her fair, cool-toned skin. If you have warm undertones, a hint of green in your pastel blue can make it more flattering.
Question: How do you get pastel blue hair?
Answer: Bleach (it's almost guaranteed you'll need bleach), a lot of patience, and painting on your light blue hair dye of choice.
Question: What goes well with light blue hair?
Answer: Other pastel shades (especially pink and purple) and even neon yellow and pink pops. Jewel tones like royal blue, deep purple, and emerald green also go well with light blue hair.
Question: What does blue hair say about you?
Answer: You have a calm, peaceful personality, but you know how to have fun and don't take life too seriously.
Question: Is pastel blue hard to get out of hair?
Answer: A tint will probably hang around for a long time, and it'll be a little on the greenish side. It fades fast until you don't want it anymore–what lingers behind can be difficult to remove.
Question: Is blue hair hard to maintain?
Answer: No harder than other pastel colors, but they're all high-maintenance. It'll only last a few weeks.
Conclusion: Should You Try Pastel Blue Hair?
If you're comfortable with having your hair bleached quite a bit and maintaining the color, go for it.
Pastel blue is gorgeous as an allover color or an accent shade. If you love it (particularly if you have cool undertones in your skin), you'll probably get a lot of joy from wearing it.
If you're not 100 percent sold on going so light to put pastel blue on top, you could try a darker shade of blue.
If your warm skin tone makes you nervous about putting such a cool blue shade on your hair, you might prefer turquoise or teal. The green in those will be more flattering with your skin tone. You could also use a cool, pastel blue as an accent shade.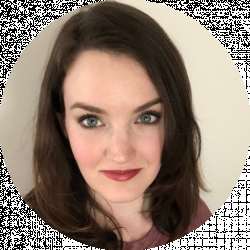 Latest posts by Crystal Schwanke
(see all)