Celebrities such as Billie Eilish have catapulted green hair into the mainstream. I dyed my hair a couple of shades of green and teal in the past, but emerald green was my favorite. Even though my green hair dye literally stained everything, I absolutely loved this hair color and it's the longest-lasting unnatural color I've had.
I went to a professional for my green hair, but you can totally do this color DIY! Here's how to find the best emerald green hair dye and some of my favorite dye recommendations.
Bottom line up front: If you don't mind getting your hair done professionally, I suggest choosing the Pravana dye. I had the Pravana green before and it's extremely vivid. Plus, it was extremely conditioning and never damaged my hair. But if you prefer DIY dyes, there are still plenty of options on this list for you.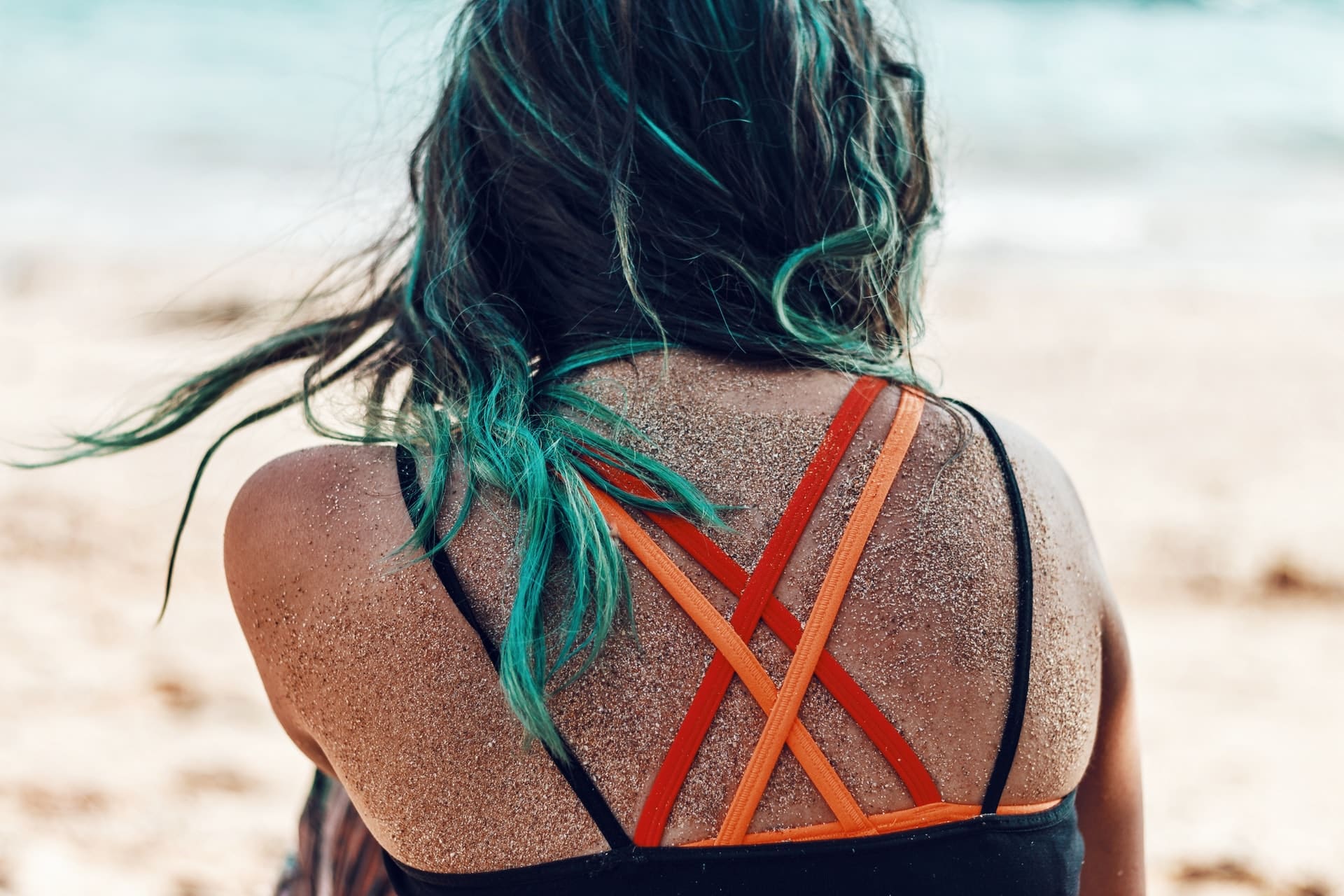 How to Find the Best Emerald Green Hair Dye
While you can look at my product recommendations, I suggest you read through this list to ensure you know how to find the best emerald green hair dye.
Longevity
Since emerald green is an unnatural hair color, you'll only be able to find this color in demi-permanent, semi-permanent, and temporary options. These don't last as long as permanent hair dye. Most of the colors I'm mentioning are considered semi-permanent and will last up to four weeks with proper care, though they may last longer.
Color Payoff
Emerald green is a cool-toned green but is still vibrant. The dye you use should be bright and vivid but also be true to the color. Keep in mind that the final color depends on the color your hair was before you dyed it. For example, if your hair was on the darker side initially, the color likely won't come out as vivid as if you dyed it on platinum blonde hair.
Hair Care Benefits
These days, many storebought hair dyes are made with conditioning ingredients. This way, your hair will look smooth after a dyeing session. It's also important to buy a hair dye with conditioning ingredients if you bleach your hair. This way, your hair won't look frizzy after applying the emerald green dye.
Safety
Some hair dye is made with harmful chemicals that can damage your hair. In addition, I chose hair dyes that include easy instructions. While you can mix some hair dye to get a custom color, I don't suggest doing this unless you combine hair dye colors from the same brand.
My Favorite Emerald Green Hair Dye Picks
To simplify the buying process, I'm recommending some of my favorite emerald green hair dyes. Keep in mind that some of these dyes are only available for professional use.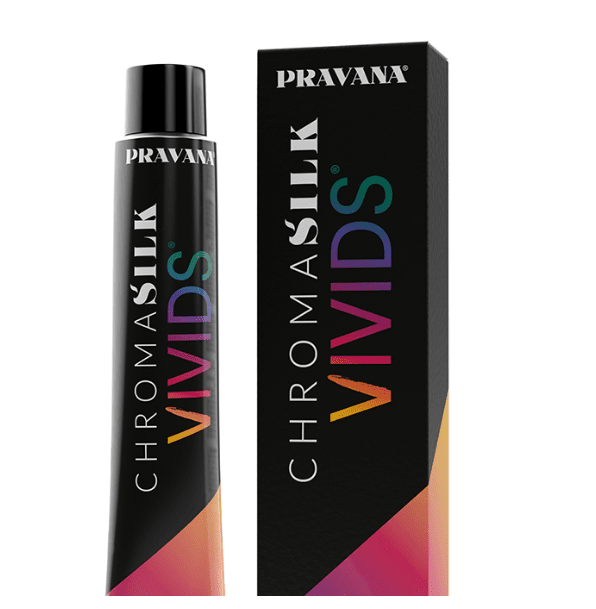 I always get funky hair colors done professionally and my stylist usually always uses Pravana dye. Every Pravana dye I've ever used is vivid and provides full coverage, even covering up my grays. I also love the versatility of these dyes. You can dye your full head or opt for streaks, highlights, lowlights, an ombre, or balayage.
This color from Pravana is semi-permanent. Even with that being said, they last way longer than your average Pravana dye. I used Pravana dye when I had green hair and my color lasted over a month. I did touch up my color once. My hair always feels amazing and looks shiny after my stylist uses Pravana hair dye, thanks to the silk amino acids and keratin.
Out of all of these dyes, Pravana's Emerald is my all-time favorite green. Some green dyes look like a moldy mess, but not Pravana Emerald. The green is very vibrant and is a beautiful poison ivy color. The color also fades beautifully; the color is a true green but looks less intense. The only downside of this dye is it's the most staining hair dye I've ever used. It stained lots of my shirts, nearly all of my towels, the shower, my pillows, and even the chairs at the office I was working at.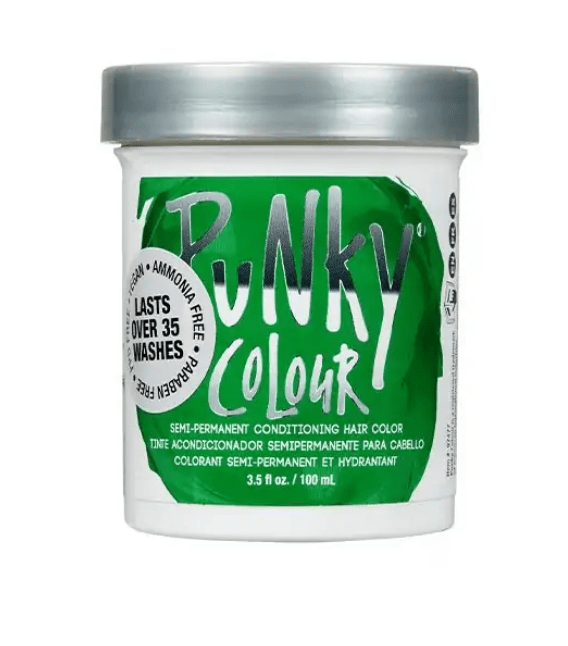 I wanted to recommend this dye in Alpine Green, which is closer to emerald, but that color was out. This color is a little bright and warm, not so much emerald but it still works. I suggest if you want something closer to emerald, don't bleach your hair too light. Level 7 should be fine.
You may be clicking the link and thinking the color looks light. From the pictures I'm seeing and the reviews I'm reading, the packaging isn't true to the color. The color is a little darker than what the packaging says — one reviewer compared it to a green traffic light rather than a green apple. But still, I suggest dyeing this on platinum bleached hair.
Punky Color offers many benefits. These dyes are easy to use — all you have to do is apply directly to hair and leave on for up to 30 minutes. No need to mix developer or anything into these dyes. This semi-permanent dye is also very conditioning. It's made with a vegan keratin complex that will leave hair silky smooth. This dye also lasts a long time — some reviewers are saying it lasts as long as one month.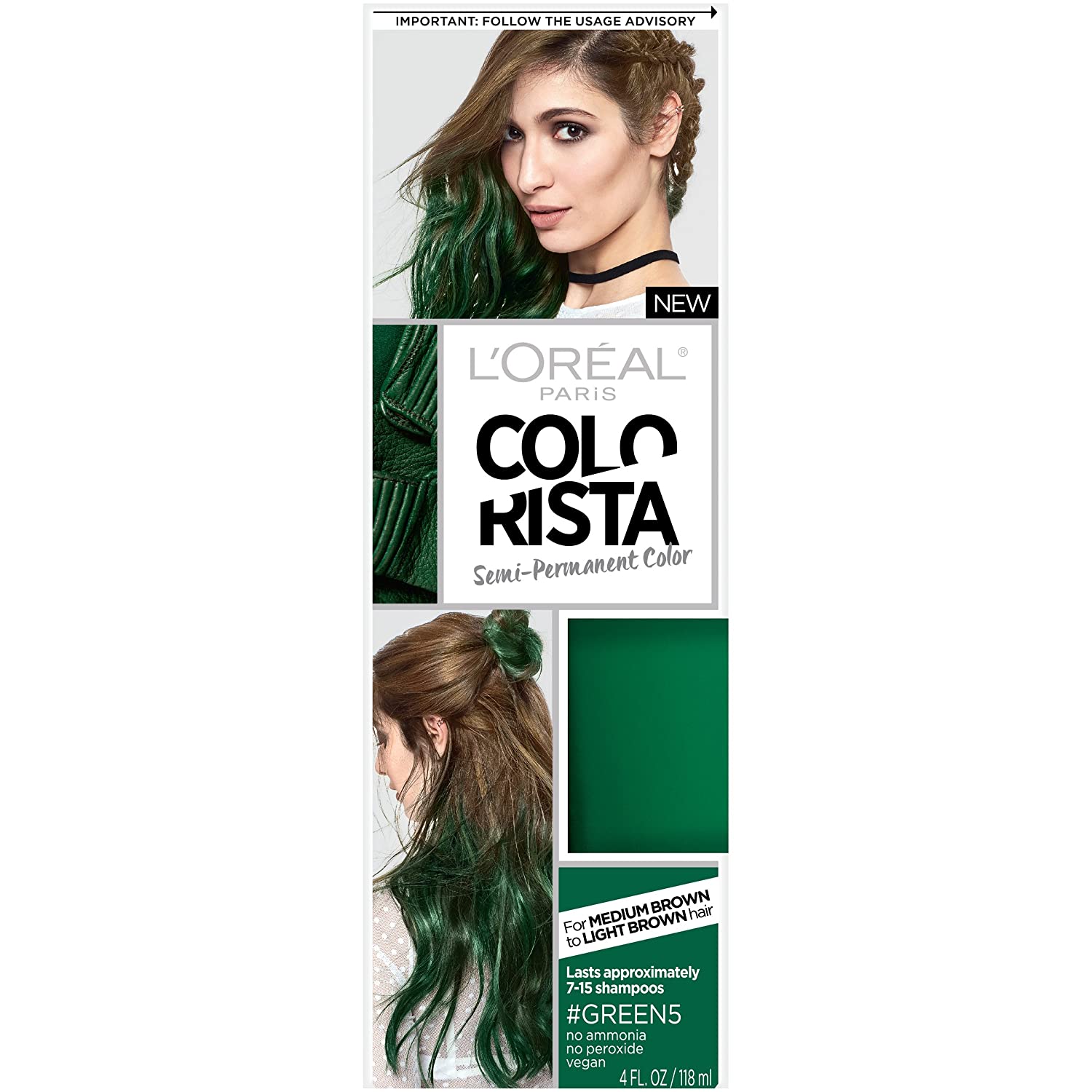 One of the common problems with funky hair colors is they only work on blonde hair. Coming from a brunette, this is infuriating. I don't like bleaching my hair and am often stuck with black hair. However, L'Oreal found a solution to give brunettes funky colors. With this dye, you can get your green hair without bleach. Keep in mind that your hair should be medium brown for this dye. Any darker and the dye won't show.
As a semi-permanent dye, this dye should last at least a couple of weeks. Reviewers are saying every color fades differently. Some reviewers say this dye can last up to 10 washes, so I suggest only washing your hair a few times a week if you can.
The dye is very easy to use. Just apply it where you want and rinse after 30 minutes. The color is very pigmented — if your hair is blonde it will look brighter but it will be a true emerald green when dyeing it over medium brown hair.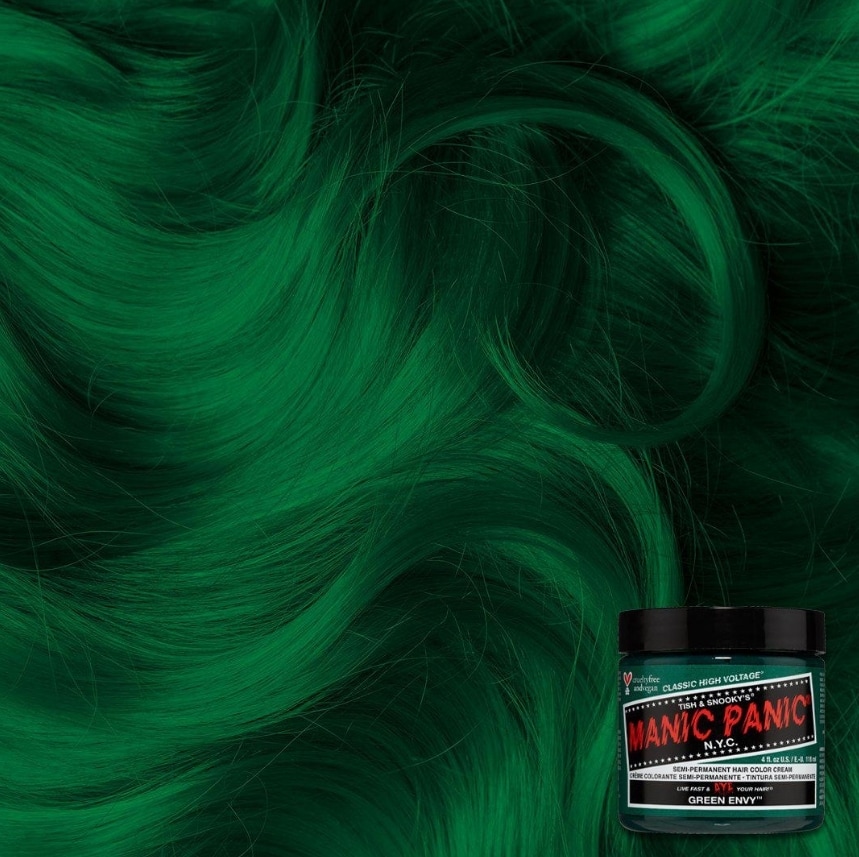 If funky colors are your jam, you probably love Manic Panic dye. They have literally every single hair color out there, including several shades of green. I absolutely love their Green Envy dye. It's a gorgeous shade of deep emerald green that's very bold. Even though this is a semi-permanent dye, it's very long-lasting. As long as you maintain your hair color, it should last at least five washes.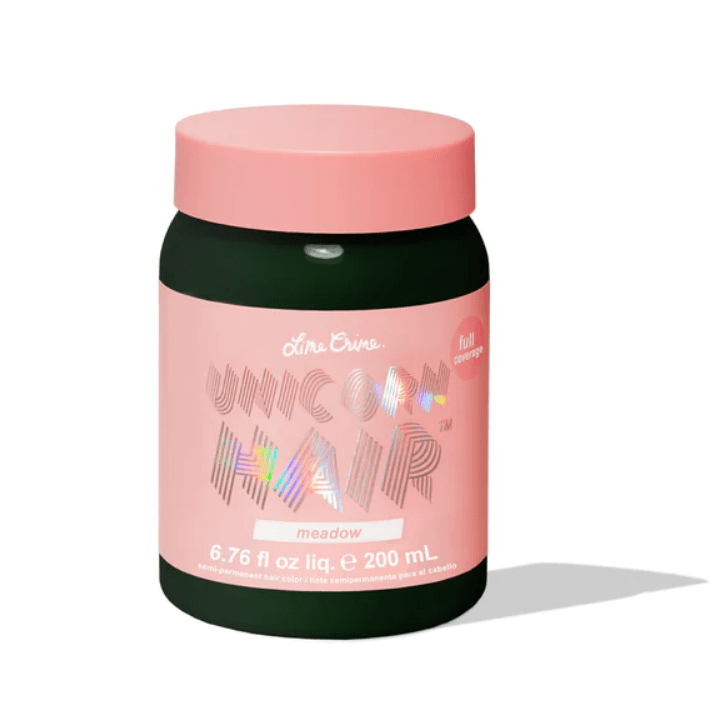 For the longest time, I was weary about Lime Crime's security breach. However, I think they improved themselves and their products again. I'm especially in love with their hair dyes. Not only do they offer various bold colors but their dyes are so moisturizing.
I chose the color Meadow. It's a very vibrant dark cool-based green, the closest color to emerald that I could find from them. Lime Crime recommends your hair be light — ideally a level 10, but the dye will still be intense on level 7 hair (medium blonde). However, if you have brunette hair, the dye will look like a tint on your already dark hair.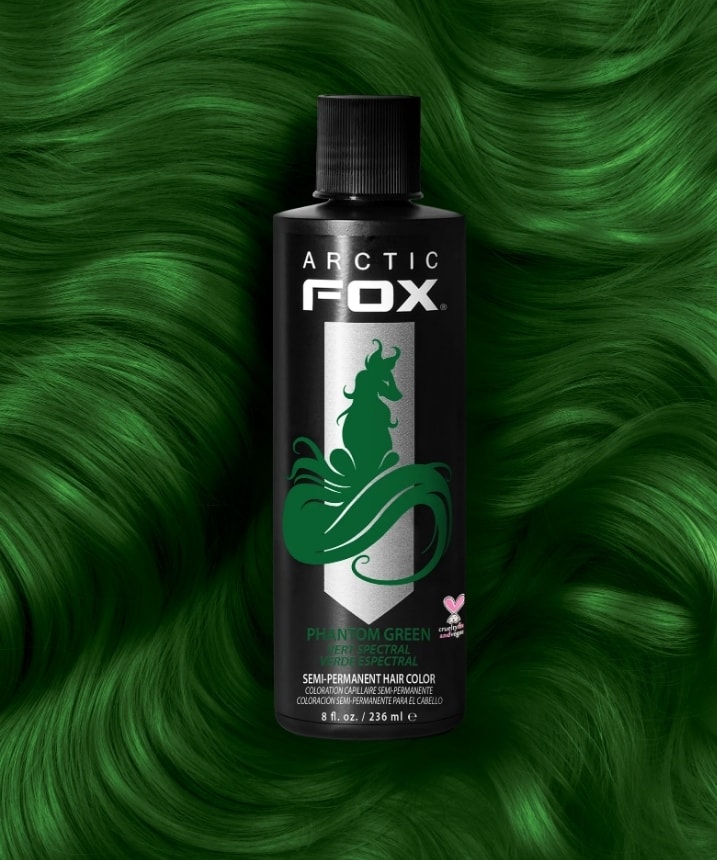 Arctic Fox has been trending among hair enthusiasts. Their vegan, cruelty-free, and hydrating dyes are adored by so many people. Plus, Arctic Fox dyes aren't made with common irritants, such as ammonia, peroxide, PPD, and ethyl alcohol. You also don't need a developer for Arctic Fox dyes.
The color I chose here is Phantom Green. It's a dark and subtle emerald that will fade to a stronger blue-based green color. One of the best aspects of Arctic Fox dyes is you can mix them for your own unique color. Arctic Fox recommends mixing Phantom Green with Aquamarine for a more teal-based emerald. If you want a brighter color, try mixing Phantom Green with a color like Iris Green.
Another reason why Arctic Fox dyes are so popular is because of how long they last. As long as you maintain your hair properly, your color may last as long as eight weeks!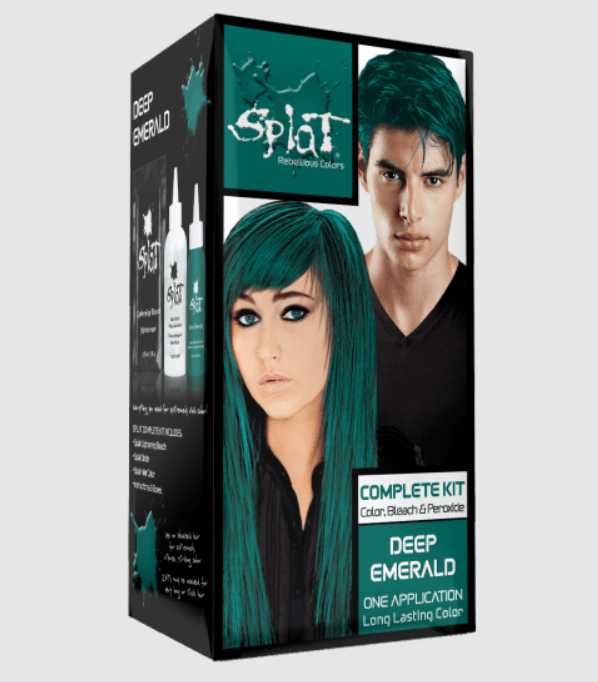 Splat, along with Manic Panic, were some of the first crazy color hair dyes I ever saw on the market. Like Manic Panic, Splat offers nearly every color under the sun. They also have a wide variety of dyes, from semi-permanent dye all the way to one-wash temporary dye. This dye is convenient since bleach is included in the kit.
I chose the semi-permanent dye in Deep Emerald since it's an intense color but dark enough if you don't want your emerald hair color to be too vivid. Even though this is a semi-permanent dye, it's pretty long-lasting (though not as long-lasting as the other dyes on this list). For example, some reviewers have said their color only lasts about two weeks before it starts to fade.
Splat makes their dye with a variety of ingredients that condition and strengthen your hair. These ingredients include quinoa extract and baobab seed oil.
I love these Keracolor products because they're so versatile. On one hand, this acts as a hair dye. And to maintain your color, it acts as a hair conditioner that deposits color with every wash. The conditioner/dye is formulated with ingredients such as keratin that not only leaves your hair silky smooth but continues to strengthen your tresses. This is also the perfect shade of emerald — it's very vivid but also dark.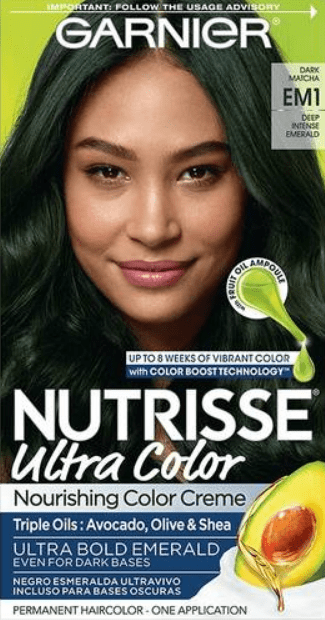 So first off I have to say that Garnier is saying this is a permanent dye. Even though it's a dark green, it's still an unnatural color. Therefore, I have no idea how this can be a permanent dye.
Reviewers are saying this lasts about seven or eight weeks, which is why the dye is last on the list. That is a long time, don't get me wrong, but not for a permanent dye. Some of the dyes I already mentioned, such as Arctic Fox, last longer than this and they're semi-permanent dyes. I suggest trying those first before the Garnier one. I'm also reading that Garnier discontinued this shade. I still found the dye on the company website so I'm not sure if that's true.
There are still other reasons to consider this hair dye. For example, Garnier is a well-known brand and always makes good products. I never tried their hair dye, but I do like their skin and hair care products. If you have dark hair, this is one of the better options if you want a tint. It still does come out pretty bright if you have blonde hair. And this dye is formulated with nourishing ingredients, such as olive oil, avocado oil, grape seed oil, shea butter, and more. It's also not formulated with ammonia.
At the same time, there are other cons that put this at the bottom of the list. It doesn't fade well and has a strong smell.
FAQs
Question: Can I dye my hair green without bleaching it?
Answer: It depends. If your hair is brown, you can but the green will look more like a tint. If that's the look you're going for, you won't need bleach. There are also hair dyes that work on brown hair. But if you want full green hair, your hair will have to be blonde. If you already have blonde hair, then that shouldn't be a problem for you. Also, if you have black hair, dyeing green over top won't show up at all, even as a tint.
Question: What will my green hair look like when it fades?
Answer: That depends on the dye and your hair undertones. When I had emerald hair, it faded to look like a muted yellow-green color. But when I had teal hair, it faded to a washed-out blue. If your hair has red undertones, it will look brassy and yellowy, like mine did. That's why it's best to stick with colors on the warmer spectrum. You can also opt for a warmer green as opposed to an emerald color.
Question: Do I have the right hair type for green hair?
Answer: It depends. Your hair should be pre-lightened, especially if you're going for pastel colors. Otherwise, green hair will work for everyone.
Bottom Line
Green hair is now in the mainstream. If you want to dye your hair emerald green, you'll need to know how to find the best hair dye. Out of all of these colors, the Pravana green is my favorite. My stylist used this color. It was vibrant and lasted a long time. However, Pravana dyes are only available to hair stylists. Going to a professional is the route I suggest you take. However, if you prefer DIY dyeing your hair, you have many green hair dye options.
Further Reading: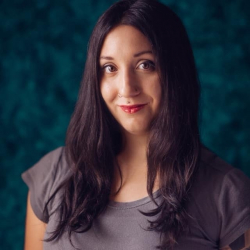 Latest posts by Stephanie Jensen, Hair Trend Spotter & Home Tester
(see all)