Black cherry is one of my favorite fall hair colors ever. It's a dark and vampy color, blending black with red. Some variations are also more on the brown side, while others feature different colors like purple. I tried black cherry for my hair last year. I loved it at first but it faded to a weird auburn color. Since then, I've stuck with classic black.
Because of my experience with this color, I learned a thing or two that I can teach you. Read my black cherry hair color ideas & style guide for more inspiration!
Bottom line up front: Out of all of these looks, I love the black cherry balayage the best. Even though a balayage is expensive, it's totally worth it. Plus, the black cherry balayage is so versatile. You can either opt for a playful balayage that's more vibrant or a subtle balayage with dark red hues.
I do suggest you opt for the more vibrant look if you're working with a lighter base. You'll need to bleach your hair when working with dark hair. Keep in mind that the black cherry balayage isn't the only look on here and I suggest scrolling down through all of my recommendations.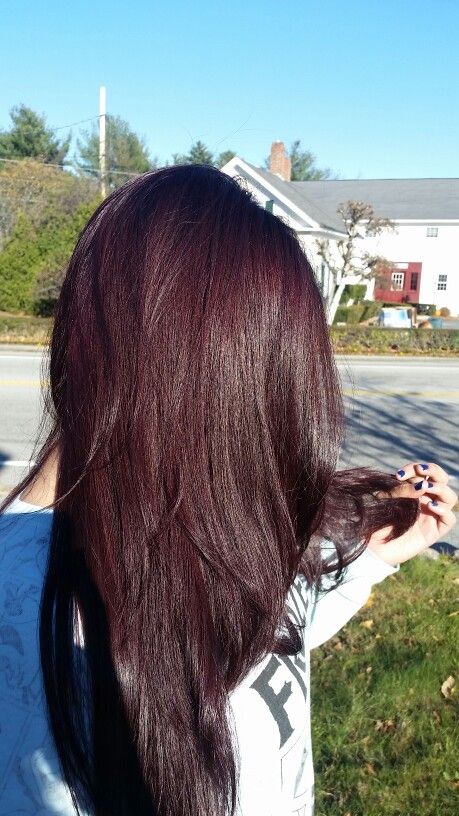 What to Know Before Dyeing Your Hair Black Cherry
I dyed my hair black cherry because I like how the color looks. But I wish I knew these facts before dyeing my hair this color.
Maintenance
I have naturally dark hair, so the color lasted a long time. Actually, I got my hair dyed black over the black cherry about four months after I first dyed it. My stylist said there were still red highlights (though it was faded). I still suggest maintaining your hair by not washing it and using color-safe hair products. But this advice especially applies if you have naturally light hair. It will take more hair care for you to maintain this color, and you may even need to do regular touch-ups.
DIY vs. Salon Dye
I went to a salon for my black cherry hair. Other than dyeing my hair black, I always choose to go to a salon for hair color. Even then, I've been going to a salon just to dye my hair black.
I know there are plenty of people who prefer dyeing their hair DIY. Fortunately, you can find plenty of black cherry color over the counter. But the nice aspect about a salon is that a professional can mix a dye that works for your hair type and existing color. That's what my stylist did, and the color was beautiful.
Plus, you have to consider if you want your hair more on the darker or cherry side. You can mix a color yourself, especially with great brands like Arctic Fox, but a professional can help you pick the best color that fits your preferences.
Your Style
With that being said, your style will dictate your results. I love the goth and vampy look, so this darker red-based hair color worked for me. If you like something brighter, I suggest going for more of a cherry than black hair color. And if you're on the darker side, I recommend choosing a color similar to mine. My stylist did a color that looked like dark brown/black with red highlights. She called the color Cherry Coke, and that's exactly what the color looked like.
Price
The price you're willing to pay depends on the type of dye you should get. At-home hair dye can cost anywhere between $5 and $40. But if you go to a salon, you could spend as much as $200 for your look. Remember that if your hair is already dark and you're only adding the red highlights, you should only spend $150. When I got my hair dyed this color by a professional, I don't think I spent more than $100.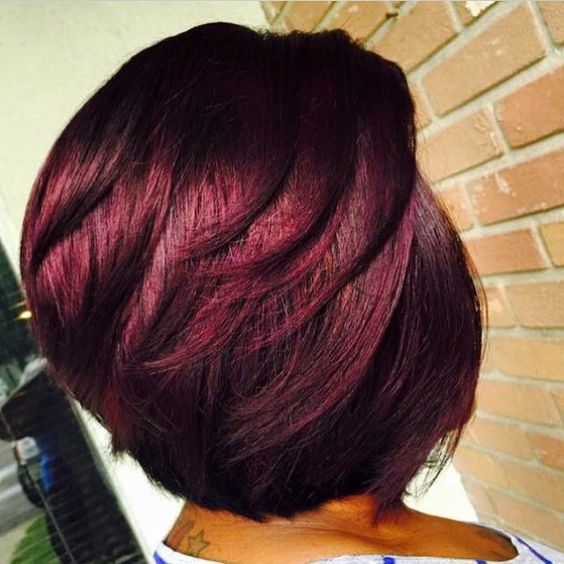 Tips when Dyeing Your Hair Black Cherry
The main tip I can offer is to keep your color's vibrancy. This goes beyond using color-specific hair products — you'll want to avoid dyeing your hair and using heat products. The dye you'll use is most likely semi-permanent, which means it won't last as long as permanent hair color and even demi-permanent dye. If you want to prolong your color, you'll have to preserve it.
My hair stylist tells me skipping a few washes is the key to maintaining your color. The more you introduce water to your hair, specifically hot water, you open up your hair cuticles, and more dye emerges. If you can, wash your hair once a week. But if you can't go that long without washing your hair (I don't, I can't), then washing your hair every other day will suffice.
Even after you wash your hair, let your hair air dry. As stated previously, excessive heat opens up the cuticles in your hair, releasing more pigment. Make sure also to use heat protectants when styling and a red toning shampoo once a week.
How I Chose These Black Cherry Hair Color Looks
Black cherry hair dye is more versatile than you may think. There are warm tones and cool tones in this hair color. While cool-toned black cherry hair dye will look more purple, it will better suit those with cool undertones. If your hair is naturally light, I found some looks that suit lighter-haired readers better.
I also took other concerns into account, such as covering gray hair. I also considered looks that will do the least damage, so your hair is healthy and beautiful after your new color.
My Favorite Black Cherry Hair Color Looks
Are you ready to explore amazing black cherry hair looks? Here are some of the best I can find on Pinterest!
Playful Balayage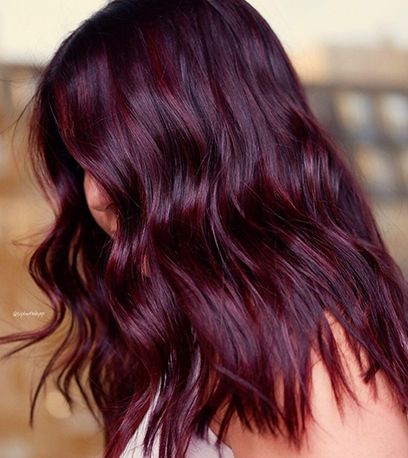 I love the balayage look. You get these pops of color intertwined with other colors. This look is probably the best example of a black cherry balayage highlights I've seen. This look makes a statement while offering a subtle way to introduce red and purple tones into your look. Plus, the balayage is pretty low maintenance. Still, I would skip some washes and avoid using heat-styling products with this look.
Not-So-Vibrant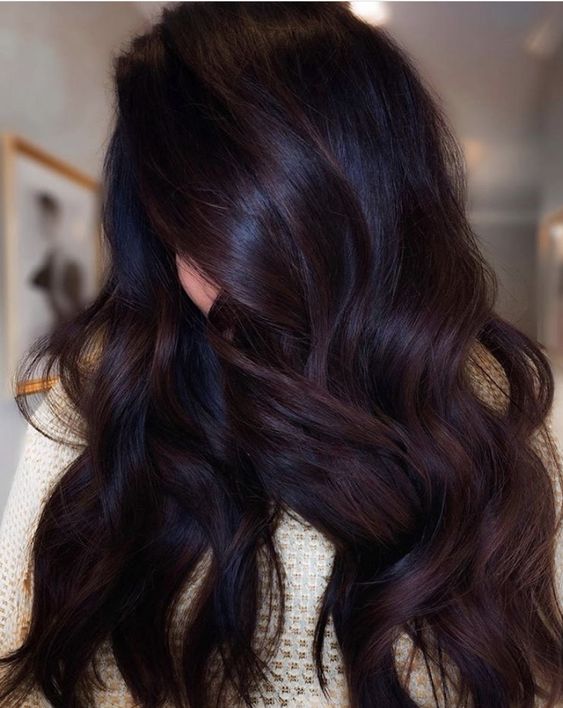 Who said your black cherry look has to be vibrant? This look proves you can still take the creativity of the black cherry hair color and use it more subtly. This look is dark on top and features auburn at the bottom, resulting in a very relaxed ombre. The curls here make the subtle red color stand out more.
Best for Regrowth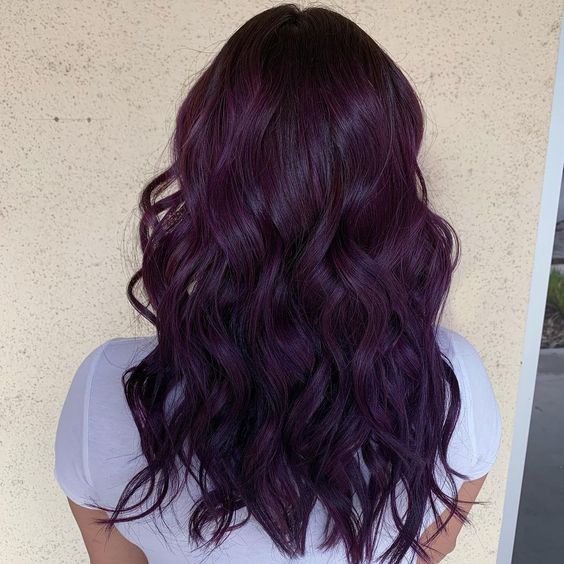 Hair dye fades. It's inevitable. It will fade no matter how much you do to preserve your dye. That's why it's best to consider growth when choosing your black cherry hair dye color. This example is the best for regrowth. The color is dark at the roots but fades to a dark purple-red color.
The purple-red will fade over time, but the color will retain its richness. This means you don't have to rush to the salon to touch up your color or dye over it. I do suggest doing this color if your hair is naturally dark. When your roots grow, they blend in better with the purple-red than if your hair is naturally light.
Rich Streaks
Red streaks were so popular in the late 90s and early 2000s. I remember red streaks were the first color I ever had (I was 10!). So when I saw this look, I had to include it just for nostalgic sake. I love how the streaks here look so rich, especially on black. Unlike some of the colors I included here, these streaks are more of the cherry-red color I would expect from a black cherry hair look. The streaks are thin and look subtler than blocks of red dye. The contrast between the red streaks and black base color is also playful.
Soft Black Cherry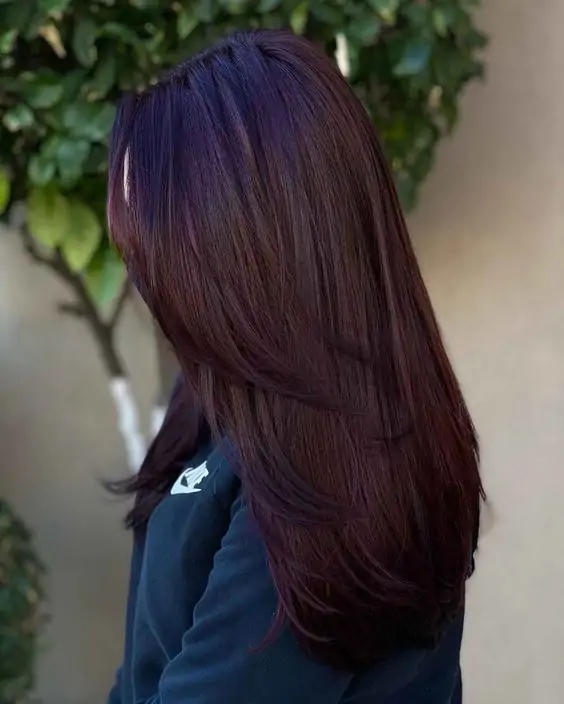 The cherry highlights blend more in with brown, resulting in a softer look that still has an edge. Since this is less sharp, it's a better option if you have a strict dress code at your workplace. I also love how the model's hair is styled — the straight locks look so soft you can run your hands through every strand.
Tantalizing Black Cherry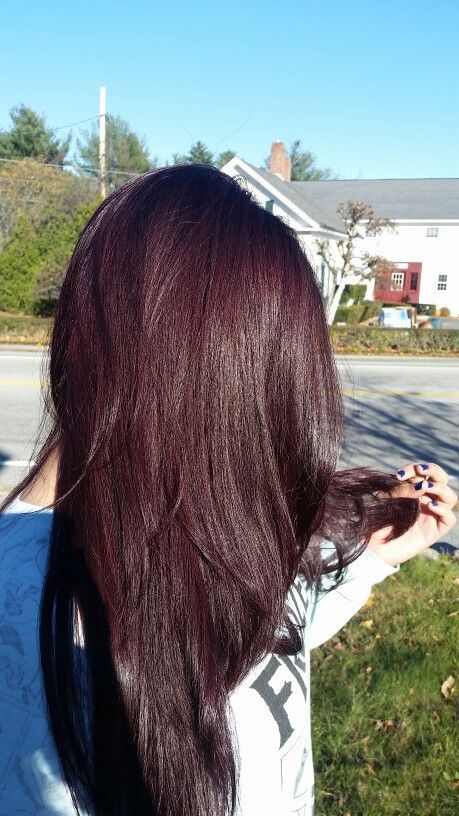 This cut and color are similar to the last one, though I think it's slightly more tantalizing. The subtle hue rue complements the rich brown color so perfectly. Plus, the long and straight hairstyle makes the color look richer. If you want to dye your hair black cherry but don't want to go too intense, I suggest a look like this.
Hints of Purple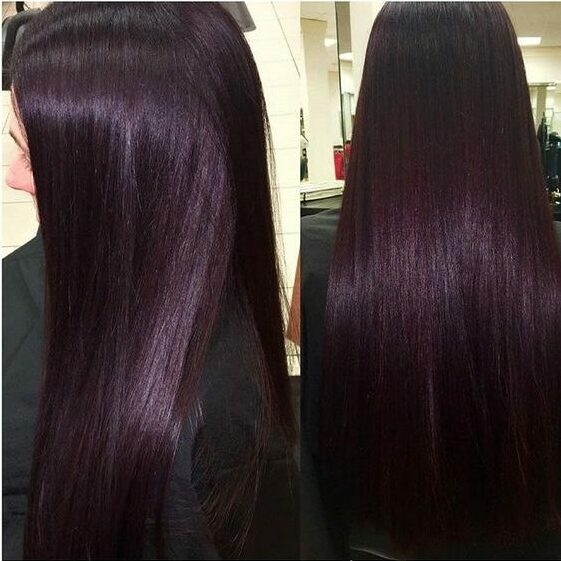 If you have a cool skin tone, I suggest this look. It's black cherry since you can see the red, but there are hints of purple mixed in with this color. These highlights are extravagant yet subtle. If you're not used to this much color, this will still be a bold choice. But if you want to go more intense, I suggest making your purple streaks even brighter.
Violet Cherry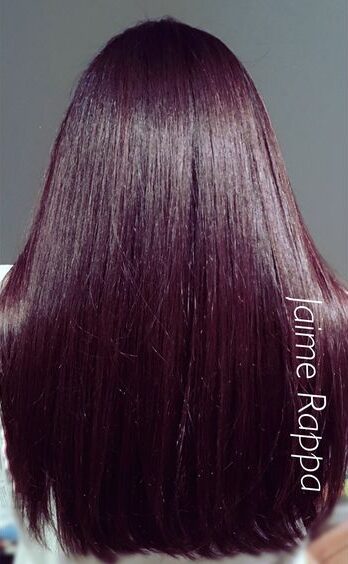 This color is similar to the one above though it is a bit warmer. The highlights are black cherry but border on violet. I suggest this look if you have warm undertones but want something more purple. Plus, the color is soft enough to where it will grow out gradually. So touch-ups are needed!
Black Cherry Waves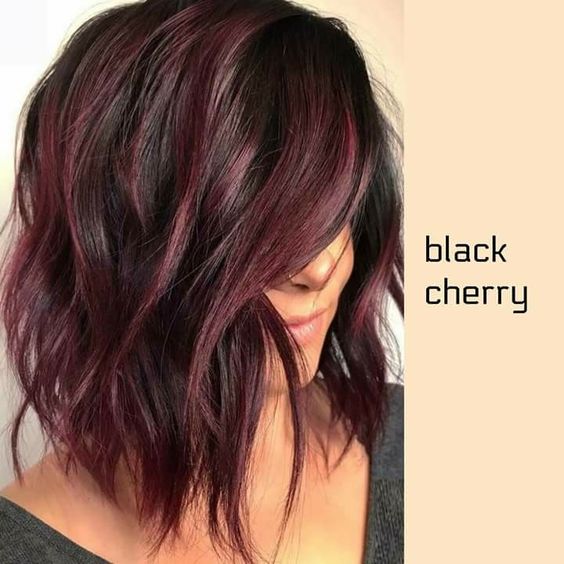 This is a great look to accentuate your hair's natural waves if you usually wear your hair wavy. This way, you don't have to flat iron or use other styling tools. Just add some texturizing spray, and you're good to go! This look does feature more colorful black cherry highlights than what I included. However, I like how the bold highlights give the impression that black cherry is the model's hair color. The highlights are woven into some black for more dimension.
Shiny Black Cherry Hair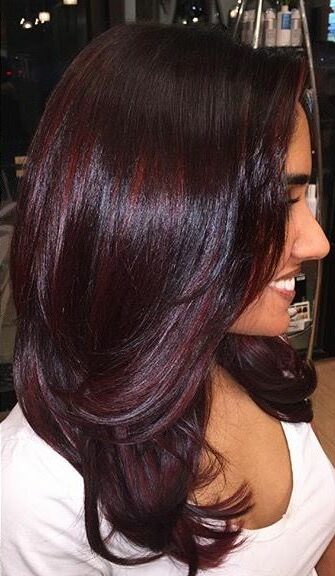 The shine on this look is so intense that it can blind someone! But seriously, the shiny hair and black cherry highlights look so effortless. I also love the hints of magenta I can see here. This look is sure to turn heads!
Red in the Sun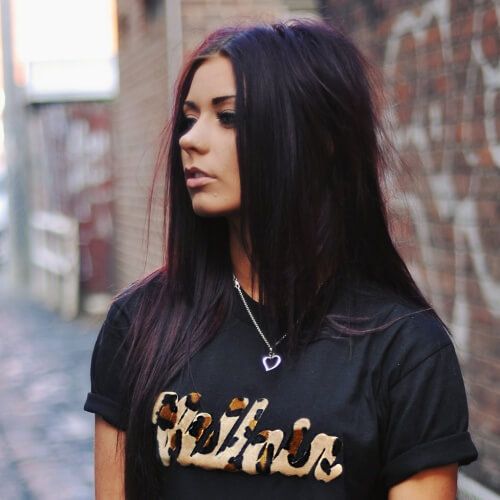 When I had my black cherry hair, this is the most comparable look I had. My hair was dark, but you could see the red highlights in the sun. I love these peek-a-boo highlights in the sun because it creates such an exciting contrast to the dark hair. The best aspect about this look is you don't have to pre-lighten your hair, or at least I didn't. If you have cooler undertones, you can do this same look with magenta.
Granite Brown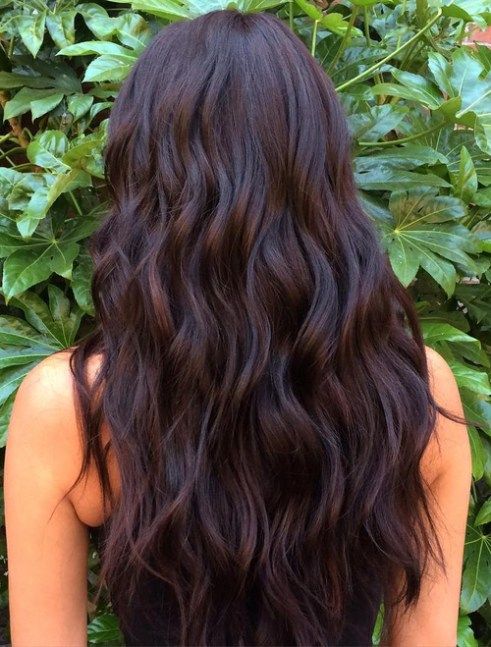 This is such a unique color, the only name I can think of for it is amethyst brown. It's a rich brown color with a slight granite-red sheen. This is a great way to achieve the black cherry hair color, but by cheating a little bit and including more of your natural brown hair color. And just because it's a natural color doesn't mean it looks dull. Like the model's hair looks, I suggest adding some texturizing spray, so the amethyst undertones stand out a bit more.
Just Cherry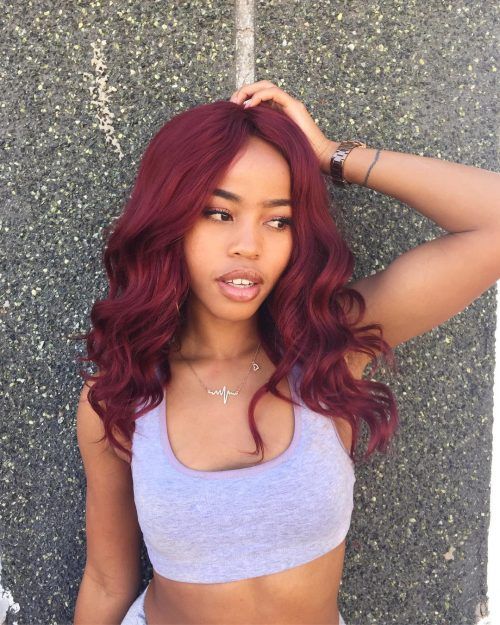 Do you want your black cherry look to be more on the cherry side? This is a great look if you want something redder and not so black. I also see this look as being a great way to transition to a darker color. If you're feeling unsure about this intense cherry color, try a more auburn shade.
Healthy Black Cherry Hair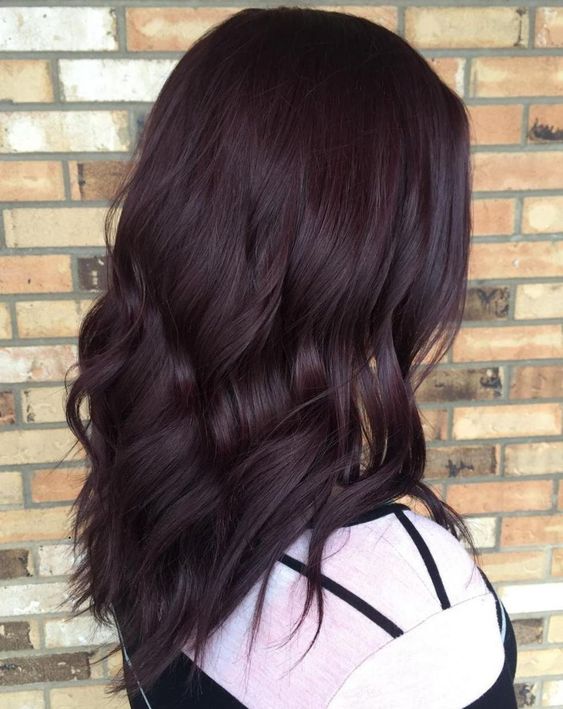 Do you want to dye your hair black cherry but want to keep your hair healthy? This look is great if your hair is naturally dark — you don't need bleach, just some permanent hair dye. Even after undergoing some color, a look like this can keep your hair healthy. The model's hair isn't frizzy, and every strand looks silky smooth.
Purple-Cherry Glaze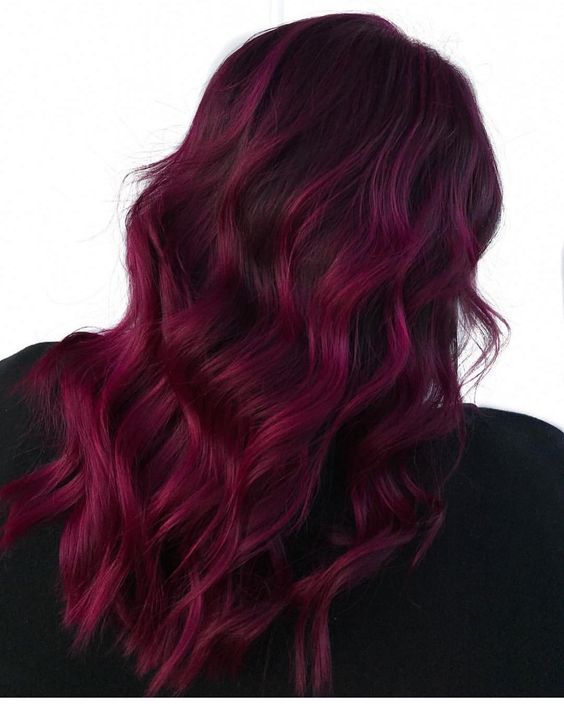 The color intensity of these purple-cherry tones here looks like a glaze. I especially like how there's so much color, but it's not all over — the black roots give this look more dimension. I only advise you to go to a professional for this look unless you're experienced at DIY hair dye. I just fear that if you try to do this look DIY, you will risk messing it up.
Really Cherry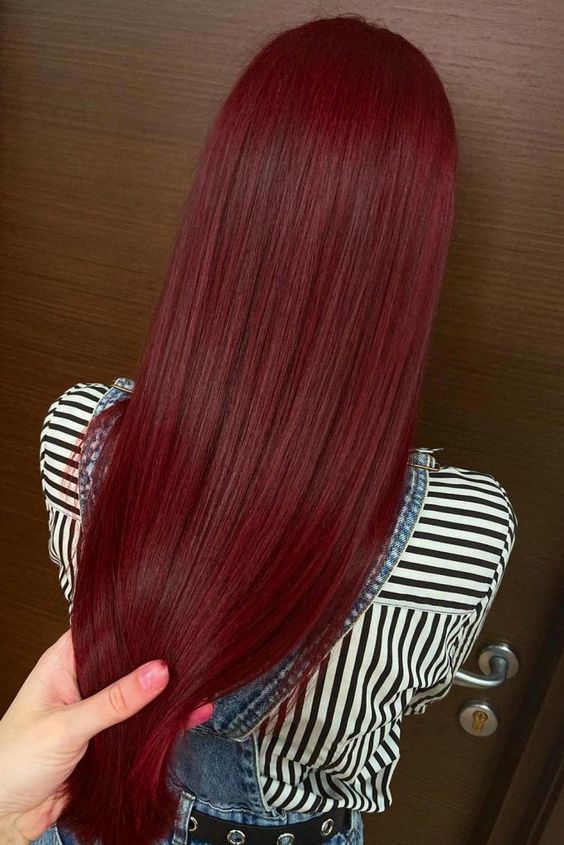 Finally, I wanted to feature something on the more cherry end. This is more of a cherry-chocolate color as opposed to black cherry, but it looks fantastic with the model's straight hair. The cherry-red here is vibrant enough to turn heads. This look can give your hair more of the oomph you need if you're the type with naturally stick-straight hair. And if you're a natural redhead, this color will be low maintenance.
Alternative Hair Colors
Did you look through the list and are unsure if you want black cherry hair? Here are a few alternative hair colors. Keep in mind that some of these options are already on this list.
Red Velvet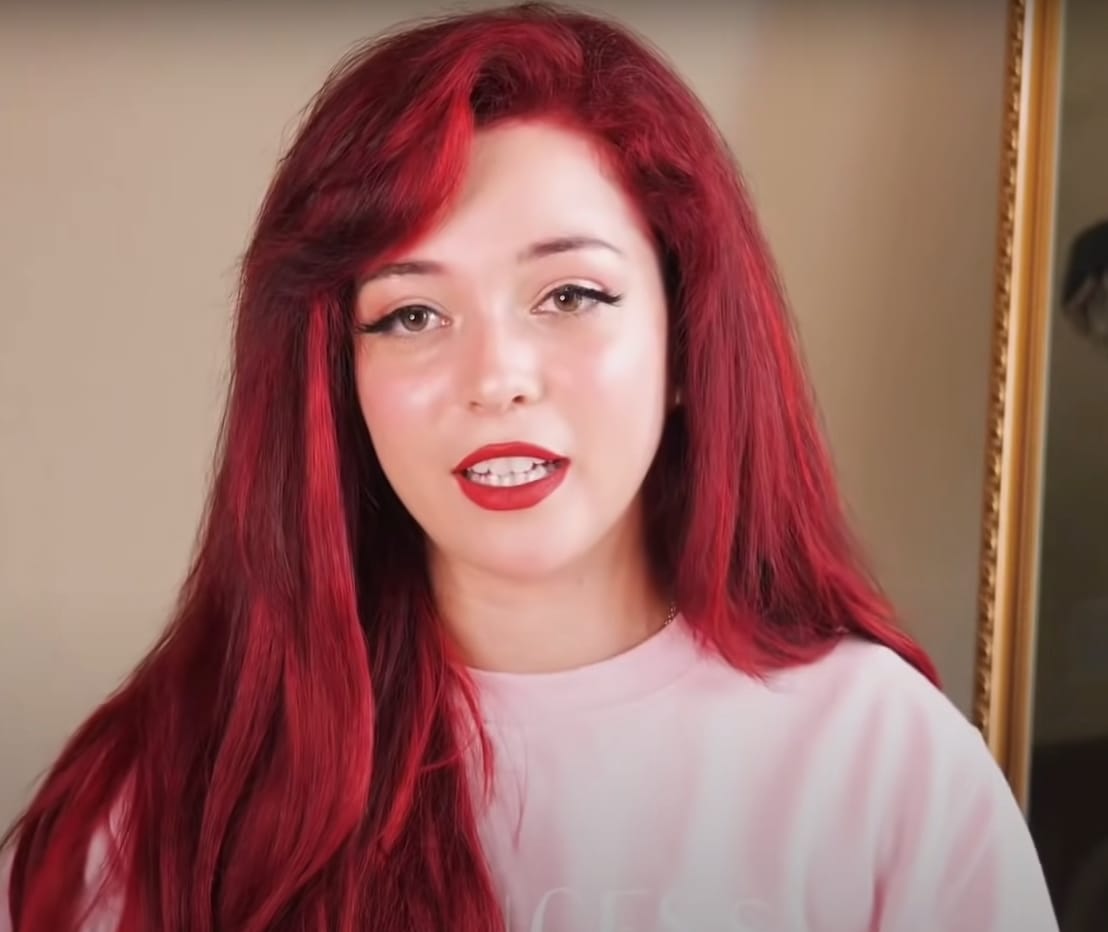 Red velvet is a multi-faceted shade of red that's very intense. Think of the color of a ruby. It's a true red that looks amazing on pale skin, those with naturally red hair, and anyone with warmer skin tones.
Chocolate Cherry
Unlike black cherry, chocolate cherry uses a natural brown base instead of a black one. This is a great color if you're a brunette who wants to add more red highlights but still wants something that's easy to maintain. This look is subtle but still enough to attract some attention.
Magenta
Magenta is an electric shade that mixes pink with the traditional red color. While magenta may be too bold for some people, it's a great color because it looks great on everyone. Since it mixes a cool color with a warm shade, nearly anyone can pull off this hair color. It's definitely a great color if you think black cherry is too delicate for you. For more magenta looks, check out these magenta hair color ideas.
Plum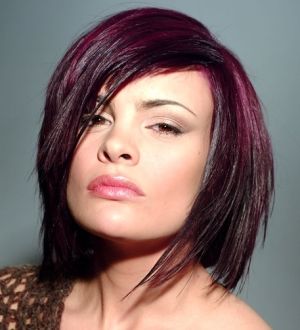 I suggest going for a plum color if you want something on the cooler scale. Plum is a shade of dark purple that looks very alluring. I suggest this color if you prefer purple hair over red but still want something within the black cherry category. For more plum hair color ideas, check out "15 Best Plum Hair Color Ideas."
Mahogany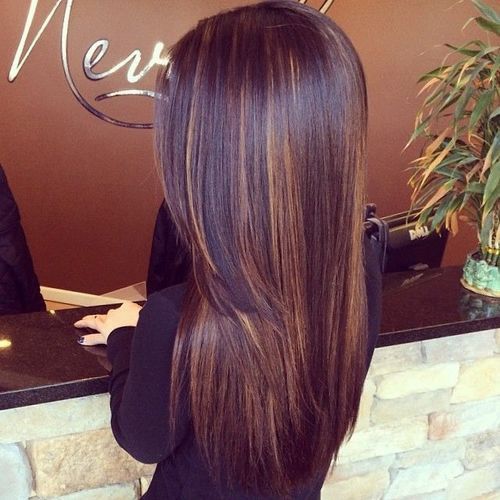 Mahogany is a dark reddish-brown deeper than auburn but only adds a pinch of red. It's a color that is great on its own. Keep in mind that this color is best for those with warm undertones.
Bright Red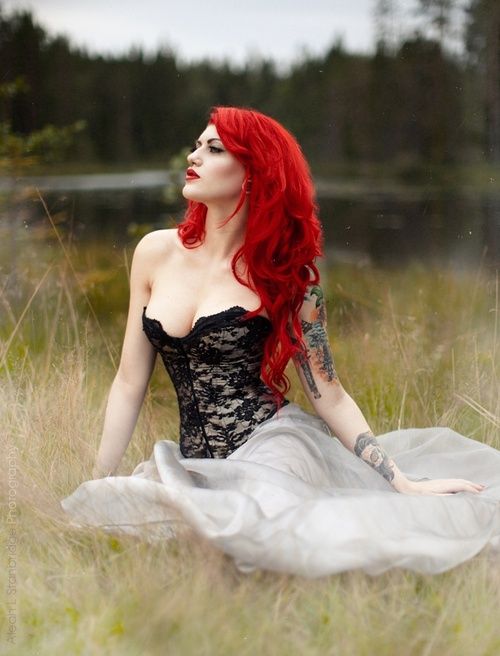 If you want to step up your hair color game from black cherry, I suggest going all-in with a bright red. As the name suggests, bright red is the most vivid shade of red you can achieve. Bright red is great if your hair is naturally red, though you will need to bleach your hair if you're working with a dark base. Don't want to go full bright red? Bright red highlights are a great way to transition into this look. For some more red hair inspiration, check out this other article.
Wine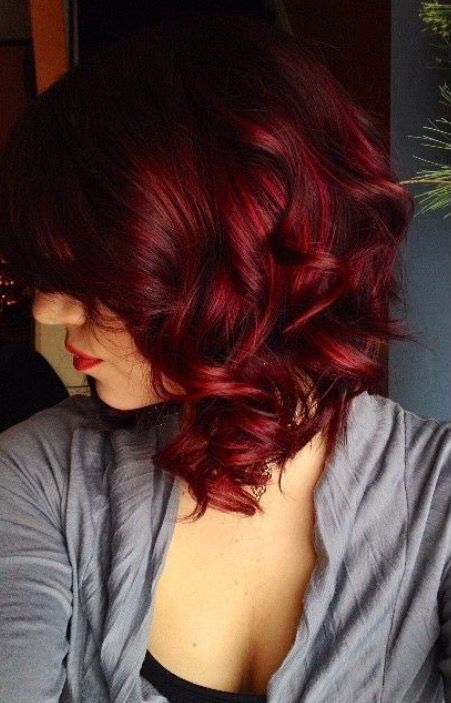 Wine is a shade of dark red that's very romantic. It's a stunning alternative to black cherry, especially if you want to stay dark but want something more on the red side. There are various shades of wine you can choose from — some fall more on the Burgundy scale while others are cooler-toned. I suggest asking a stylist which shade of wine will look best on you.
Violet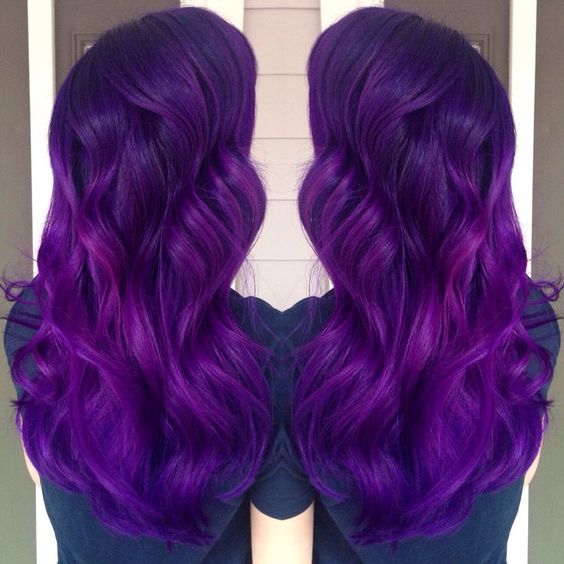 Do you want another purple hair option? Violet is a versatile option. Violet is a combination of red and blue. While it appears more purple than anything, there are many ways to mix up violet to fit your preferences. Darker shades of violet fall on more of the plum scale, and warmer violet shades fall more on the red/burgundy scale. You can also opt for a light violet that looks more rose. For more ideas on violet hair, check out our purple ombre ideas.
Auburn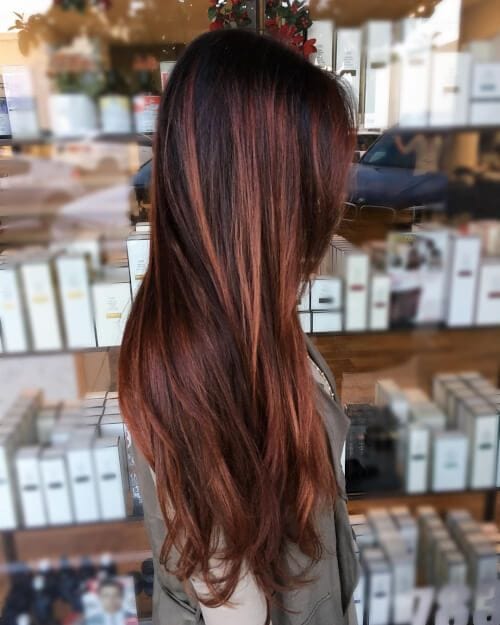 Do you want to go red but have light hair? I suggest not bothering with the dark bases and sticking with something that aligns with your natural hair color. Auburn is the best example. Auburn is a light brown-red that's only a tad darker than honey. Keep in mind that this color is on the warmer side.
FAQs
Question: How can I dye my hair black cherry?
Answer: There are various shades of black cherry that you can buy at any beauty store or pharmacy. These dyes are usually available as semi or demi-permanent dyes. Make sure you follow the manufacturer's instructions when dyeing your hair DIY.
Question: I just dyed my hair black cherry! What color clothes and makeup should I wear?
Answer: Here are the colors that look best with black cherry:
– Magenta
– Burgundy
– Black
– Violet
Question: Should I choose black cherry or burgundy hair?
Answer: If you want something deep, I suggest black cherry. If you want something more natural, I suggest choosing burgundy. I also recommend considering your natural hair color and style preferences to choose the look that suits you best.
Bottom Line
Out of all of these black cherry looks, I love the balayage looks the best. I loved the black cherry peek-a-boo highlights I had, but the balayage is so much more intense. And the way that the stylist does a balayage lasts a long time. You can go very playful with a black cherry balayage or subtle red tones. Your choice depends on your preferences and what works best with your hair. However, I suggest going to a salon for the balayage look.
Looking for more interesting readings? Check out: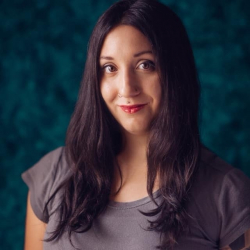 Latest posts by Stephanie Jensen, Hair Trend Spotter & Home Tester
(see all)