Even though black is the most common hair color in the world doesn't mean it isn't chic. I've actually been dyeing my hair black ever since I was a teenager (my hair is naturally dark brown). I love the black hair and pale skin combo; so goth yet feminine!
Do you want to dye your hair black? You may wonder how to find the best black hair dye. Coming from someone who has dyed their hair black in a salon and at home, I'm confident that I know what to look for in a black hair dye. Continue reading to learn how to find the best black hair dye and to discover some of my recommendations!
Bottom line up front: I recommend the AgeBeautiful dye. The color black is vibrant and perfect if you want a true black. But I suggest knowing how to choose black hair dye before reading these recommendations. Always know which shade of black you want, know your formula preference, make sure the dye offers 100% gray coverage, buy from a reputable brand, ensure the dye is long-lasting, and ensure the dye doesn't contain dangerous chemicals.
How to Find the Best Black Hair Dye
Safety. If you're allergic to any ingredients found in hair dye, make sure you read the ingredients to use products you know won't irritate your scalp. Even if you don't have any allergies, it's best to avoid hair dye that contains dangerous chemicals. Examples include DMDM hydantoin, lead acetate, methylisothiazolinone, and even some fragrances.
The shade of black. Yes, believe it or not, there are different shades of black. Some different black shades you'll find in hair dye include:
Vantablack (also called super black, the darkest shade of black that absorbs 99% of light)
Carbon black (traditional black color)
Roseman black (gray-black)
Red black (muddy dark red)
Coal-black (jet black with blue undertones)
Midnight (black with blue undertones, slightly lighter than coal-black)
Graphite (black with a mix of green and blue undertones)
In addition, there are black shades with a mix of color highlights such as blue, green, and purple. No matter the shade of black you choose, the color should be accurate to the packaging.
Gray coverage. If you have grays, the dye should be pigmented enough to cover your grays and have full coverage for any hair color needs.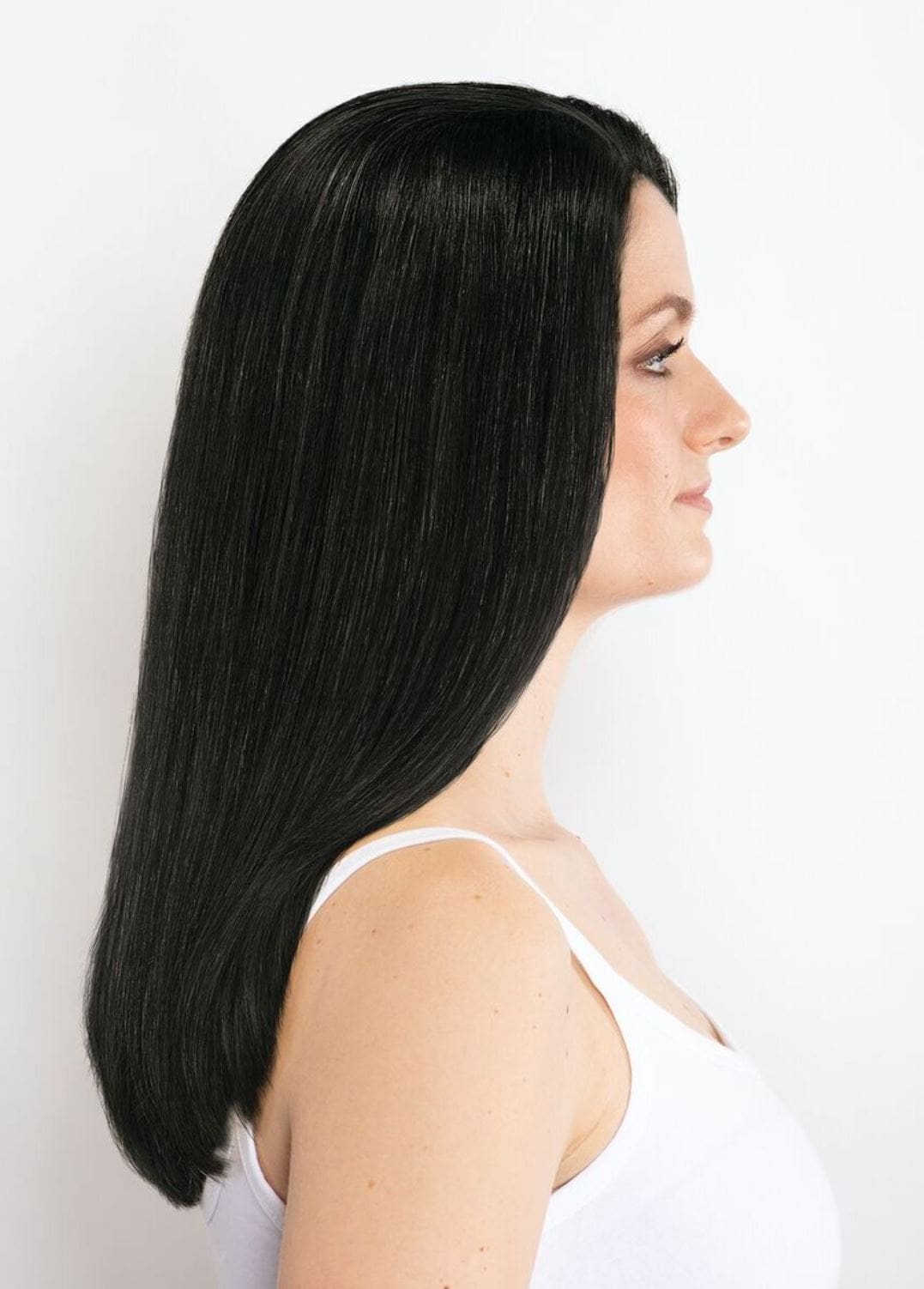 Conditioning ingredients. No matter which color you choose, look for conditioning ingredients, such as argan oil to make your hair smooth and shiny.
Type of hair dye. Black hair dyes come in a variety of types:
Permanent
Demi-permanent
Semi-permanent
Temporary
Since black is a natural hair color, it does come in permanent color options. The type of dye you choose depends on how you want it to fade. If you plan on keeping your black hair dye for years, choose a permanent dye. You only need to update the roots and redo the color occasionally when it fades.
I choose permanent hair dye since I've had this color for years. But if you only want to try black hair dye, I suggest selecting either demi or semi-permanent dye. The dye doesn't penetrate the hair shaft and will fade quicker. Still, your dye should still last several weeks unless you're using temporary dye.
Ease of use. C'mon, this is black hair dye. You're not bleaching your hair or doing crazy looks. Therefore, the dye should be easy to use, and the brand should provide clear instructions.
Read reviews. I can't stress this enough. Most reputable websites will have reviews, and you can read reviews on various internet databases, such as Amazon. Look for specific details, such as how the buyer's hair feels after applying the dye and how long the dye lasts.
Salon vs. At-Home Hair Dye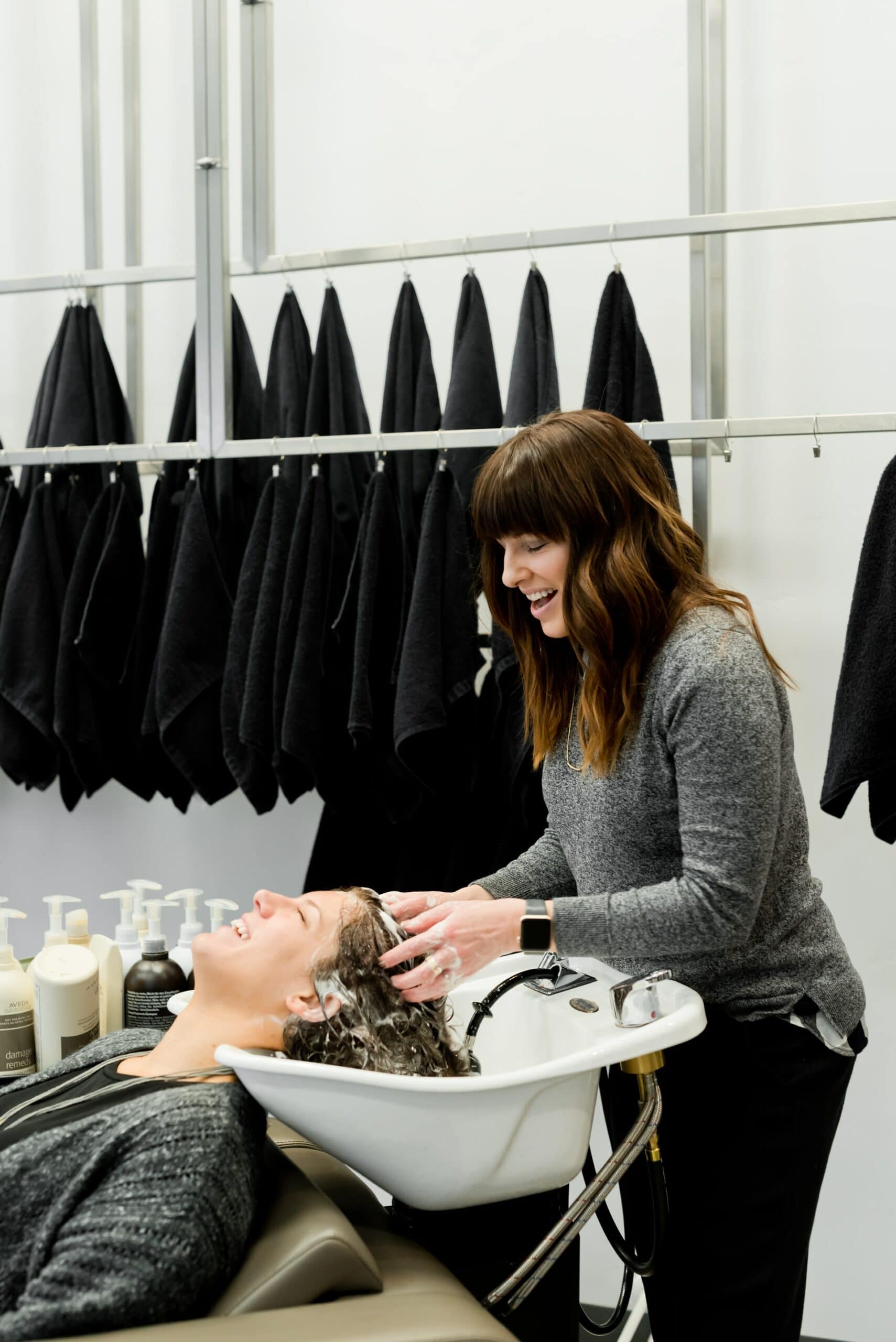 I want to include this part before I get to my hair dye recommendations. I've colored my hair at home and dyed my hair at a salon. Now, I only get my hair dyed at a salon. Even though most black hair dyes are very easy to use, I'm just not good at dyeing my own hair. Unless I have someone helping me, I prefer a professional to dye my hair. Black hair dye is also messy and prone to staining. I ruined a few good shirts when I dyed my hair black DIY!
Plus, I have thick and long hair. I need to buy at least two boxes, if not three. With the amount I spend on at-home hair dye, I might as well go to a salon. My stylist is amazing and affordable, and I don't pay more than $100 on a cut and color, so I might as well go to a professional. I also have grays, and my stylist knows the perfect shade to match my skin/undertones while providing enough gray coverage.
My Favorite At-Home Black Hair Dye
Did you decide that at-home black hair dye is right for you? Here are my favorite options.

I used this hair dye once before. I can't remember which exact color I used, but the shade was a very dark and rich shade of black. I assume that color was jet black. AgeBeautiful offers multiple shades of black. They're all beautiful from what I'm reading, so I'm confident you'll be satisfied no matter which shade you choose.
Just because this is an anti-aging hair dye doesn't mean you need to have aging hair to use it. This dye is formulated with keratin, a patented conditioner, and silk protein. While it's made to improve aging hair, nearly anyone can use this product. I used this dye when I was 20, and I got beautiful results. Plus, my hair felt silky smooth after using it!
Pros
Long-lasting color
100% gray coverage
Cons
Some customers complained the color wasn't accurate to the packaging (I didn't have that problem)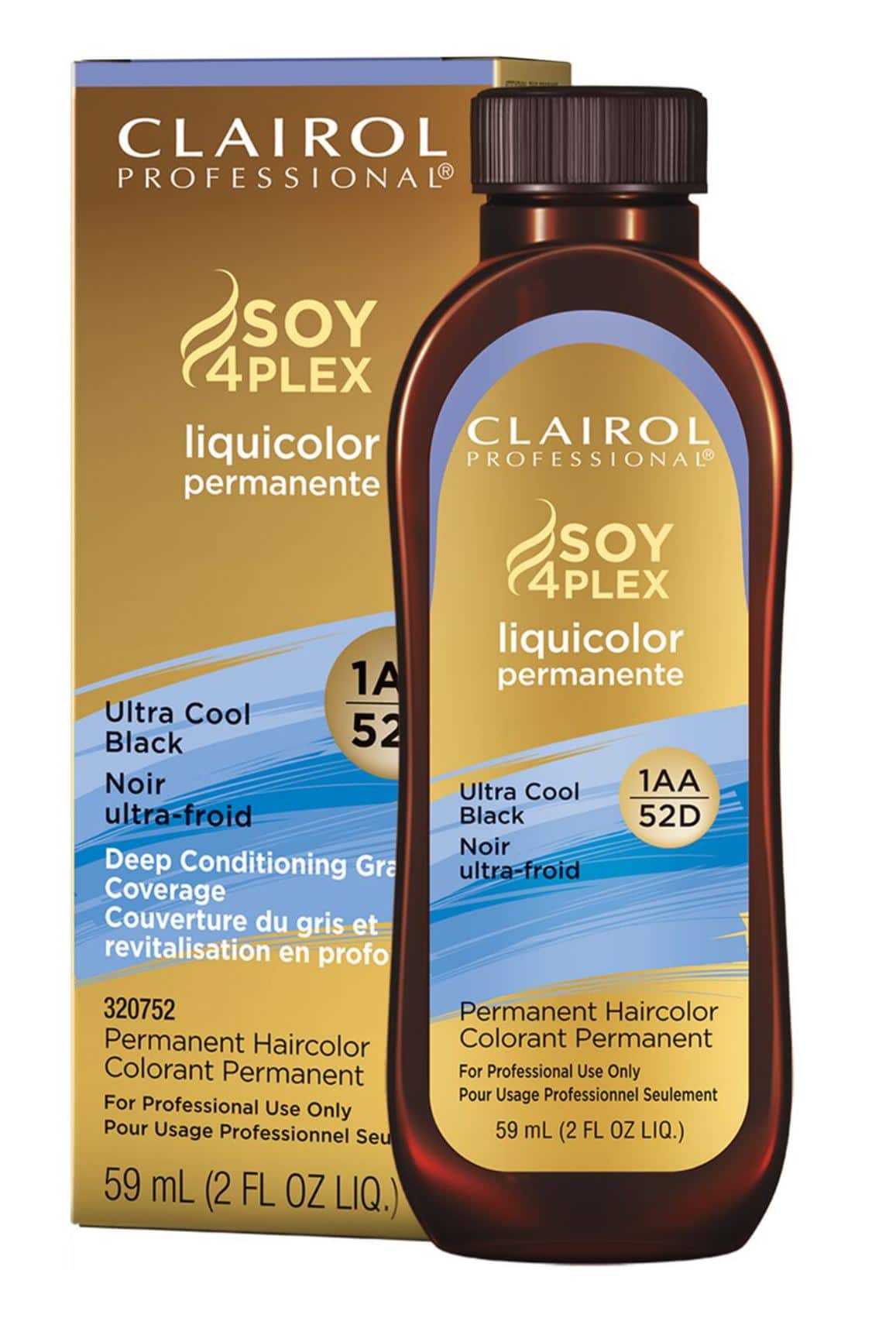 This is one of the top-rated hair dyes at Sally's, and I love this shade of black. It's extremely dark, so only choose this dye if you really want those Morticia Addams vibes! The dye has professional results with 100% gray coverage and long-lasting results. Plus, it's less than $10! This dye is 84% more conditioning than other dyes, thanks to Clairol's SOY4PLEX.
Pros
Works for several hair types
Cons
Some customers complained the color isn't accurate to the packaging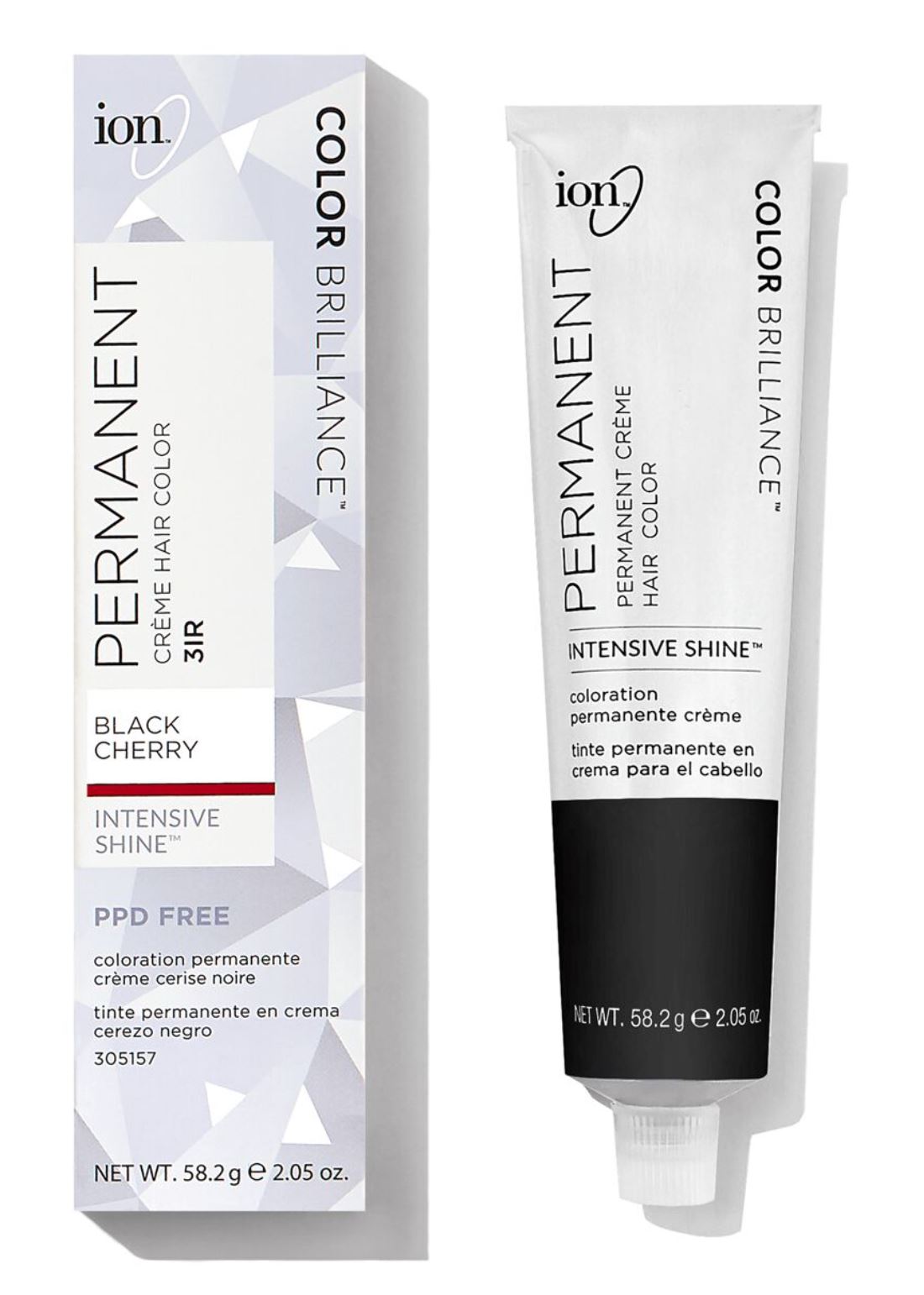 Color Brilliance by Ion has so many shades of black, but I don't see this black cherry color too often. I had my hair this color once before and loved it. I see that Ion offers it, so I want to recommend this shade. From reviews, I am reading that the color will come out dark at first but will lighten to its natural shade after one wash, so don't be alarmed if your black cherry hair is very dark at first.
Ion's Color Brilliance line uses micro-pigments to deliver more intense color. This also means this line has impressive gray coverage; from reading reviews, this seems to be a popular reason why people are using this dye. The dye lasts a long time but also fades beautifully. This dye is vegan and cruelty-free, but it does contain other ingredients that may cause allergies. I wouldn't recommend this to those with a sensitive scalp.
Pros
Beautiful color
Easy to use
Cons
Your hair may need to be lighter for the red to show
Customers complained about the smell
Not the most conditioning dye on this list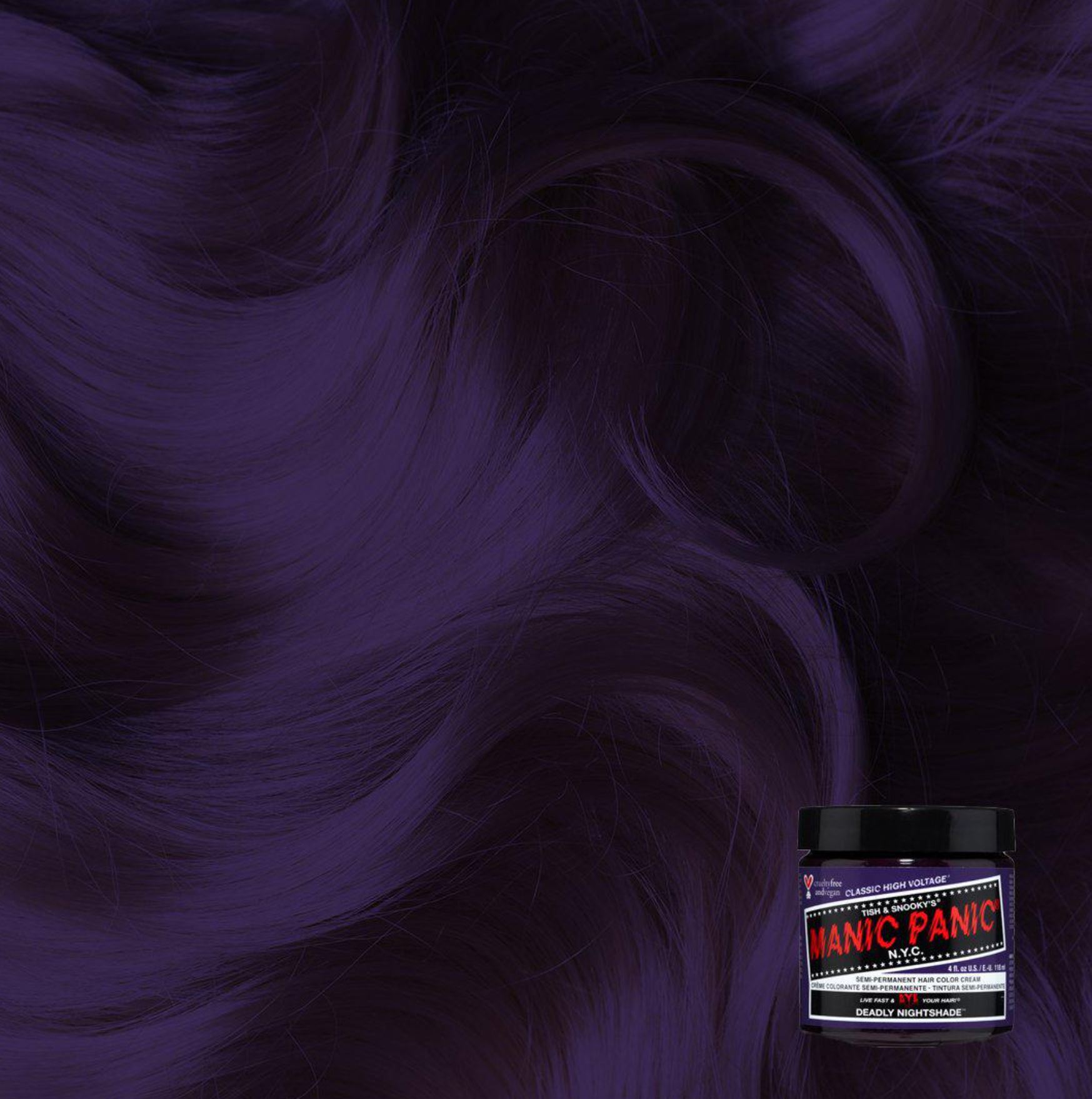 If you want a unique shade of black, definitely check out Manic Panic. They're the premiere dye company to offer literally every single hair color under the sun, and every color you use is highly pigmented.
Manic Panic offers several shades of black, but Deadly Nightshade is my personal favorite. This dye is black with eggplant highlights. This is a semi-permanent color so that it will fade. But as the dye fades, it fades to a neutral purple. While the color is truest when dyed over light blonde, the purple still stands out if you dye it over medium-brown hair (level 4). Any darker and the purple won't stand out at all, so I don't recommend using this dye if your hair is already dark. All Manic Panic hair colors are also very conditioning.
Pros
Can mix different Manic Panic colors to create your own
Hair feels soft after using
Vegan dyes
Pigmented, even though it's a darker color
Cons
Not the longest lasting since it's a semi-permanent dye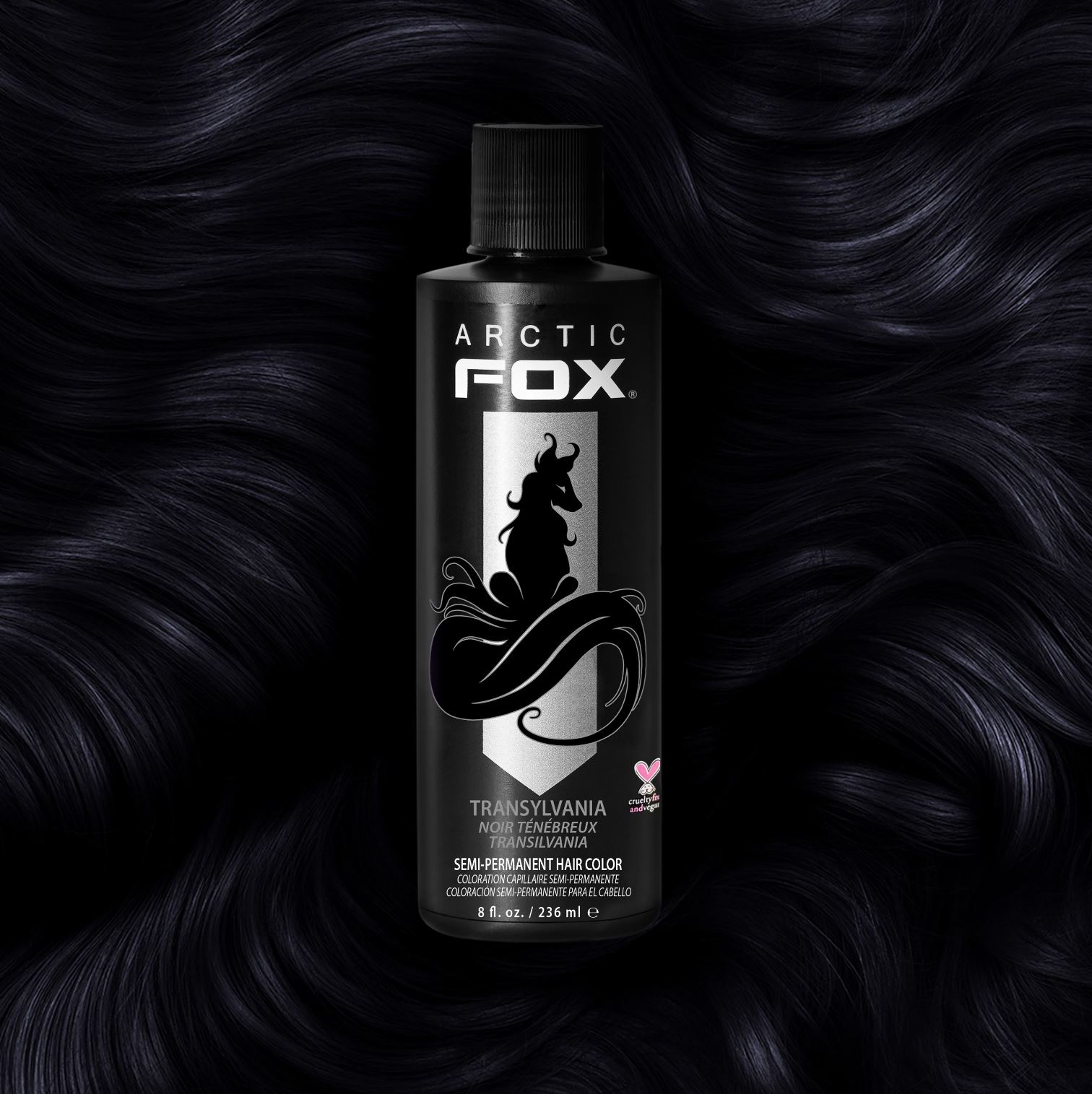 Arctic Fox is a brand I've been seeing everywhere. They developed a cult following, not just because of their wide assortment of fun colors but also because their dyes don't contain harsh chemicals such as ammonia, peroxide, and PPD. Plus, these dyes are made with a deep conditioning formula, so your hair feels hydrated after using these dyes.
I had to mention the important safety information, so now it's time to talk about this fun color. Transylvania is the perfect raven black if you want to give off those serious vampy vibes.
If you use this color on blonde hair, it will look more like a blue-black. But if your hair is darker, it has that perfect midnight black color. Arctic Fox says this dye takes well to various hair colors, so I recommend using this on already dark hair if the blue highlights aren't a big concern for you.
All of the reviews I'm seeing say that Arctic Fox hair color is very long-lasting, even as a semi-permanent dye. I'm reading that this dye can last as long as eight weeks! All Arctic Fox colors are vegan and cruelty-free.
Pros
Takes well to a variety of hair colors
Fades well
Cons
Reviewers complained the color looks more like a dark brown, especially if your hair is level 5 or above.
Blue undertones don't show up if you have dark hair
It's a semi-permanent dye, so that it won't last as long as permanent dye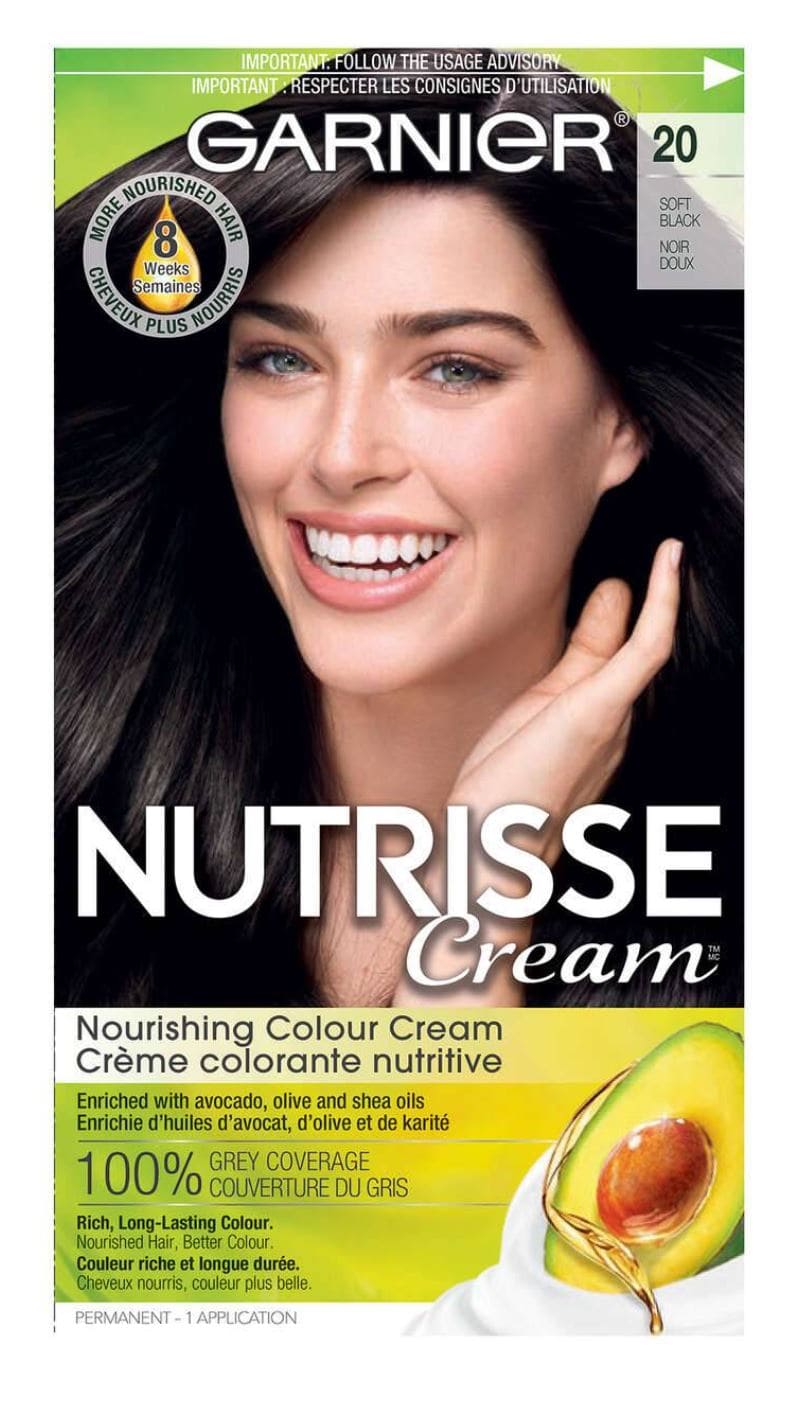 While I always love intense black, sometimes I just want a more natural shade of black. That's why I'm choosing this Garnier Nutrisse dye in soft black. This color is dark but soft enough to look natural. The color is still powerful, providing excellent gray coverage. This color cream is very nourishing, so your hair won't dry out. The kit also includes an after-dyeing conditioner formulated with olive, avocado, and shea oil.
Pros
Perfect color if you want a natural black color
100% gray coverage
Long-lasting
The scent isn't bad
Conditioning formula leaves hair soft and smooth
A little goes a long way — those with long hair only need two boxes
Cons
Soft black might be a little too light for someone who wants intense black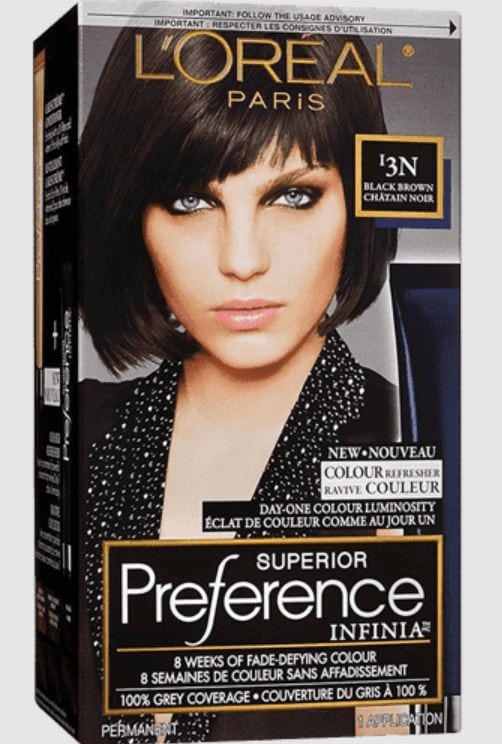 I'm kind of iffy about this color. First, it says it's a long-lasting and fade-defying color, but L'Oreal states it only lasts eight weeks. As a permanent dye, I expect more. Nonetheless, this dye also offers other benefits. This kit contains a conditioner formulated with ingredients such as vitamin E, so your hair looks silky smooth after.
I also really like this color. While I mentioned a natural-looking soft black, not everyone wants to go entire black when they dye their hair darker. Black-brown is an excellent in-between shade that's dark yet still natural-looking. This is an excellent way to describe my natural hair color — it's dark enough to be black and has natural brown highlights. So if you don't want black but want something more than dark brown, I suggest choosing this color.
Pros
Conditioning formula that leaves your hair feeling soft and looking shiny
Cons
Some reviewers complained this dye looks more black than dark brown
Not the easiest dye to use
Reviewers complained that the dye stains
Be careful when ordering online — reviewers on Amazon complained that the box arrived damaged or the product didn't look authentic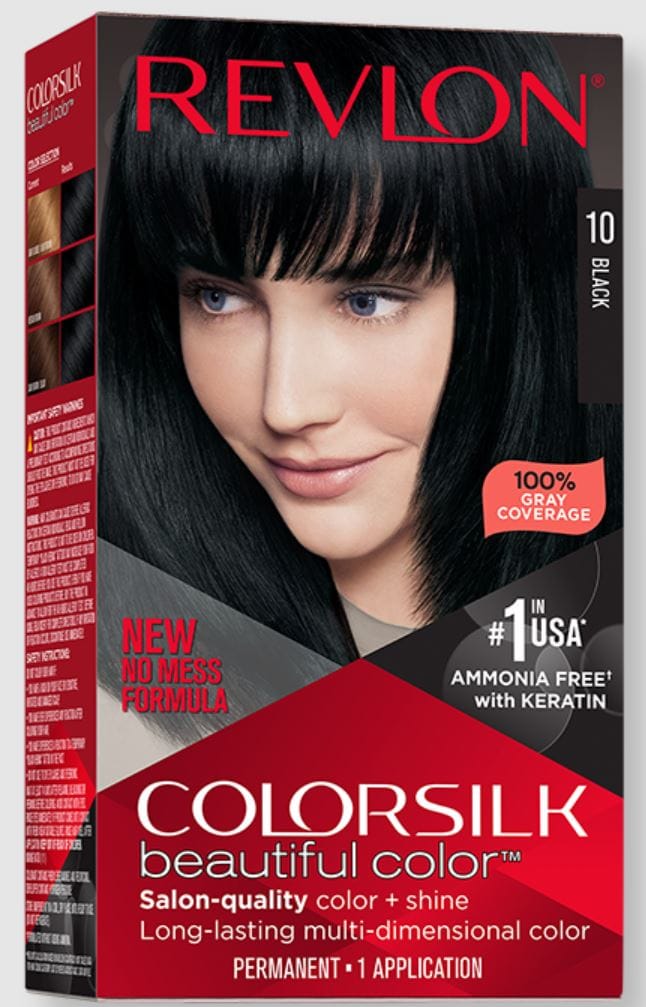 As a permanent color, this is a good choice. It's not made with ammonia and offers full gray coverage. I'm reading reviews where users said their grays didn't grow back for a couple of weeks! This dye is formulated with keratin, so your hair will feel strong and healthy after use. I chose the simple black dye, and it looks like this is a true black with no highlights.
Pros
100% gray coverage
Box includes everything you need, including gloves
Doesn't have a strong odor
Easy to use
Only need two boxes if you have long hair
Conditioning formula
Shade is accurate to the packaging
Long-lasting
Cons
Color may be too dark for some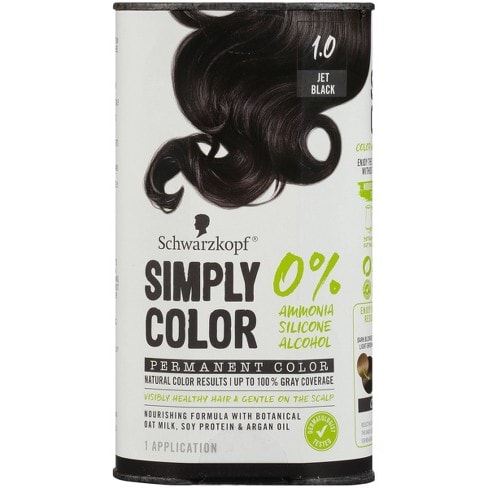 This permanent dye from Schwarzkopf doesn't contain silicone, ammonia, or alcohol. This jet-black color is vibrant and provides 100% gray coverage. However, it's not the longest-lasting option — reviewers said their grays started coming back in after a week.
Still, this dye offers other benefits. It's formulated with soy protein, oat milk, and argan oil, so your hair looks healthy after using. It's dermatologist-tested to ensure it's not irritating to your scalp. However, some reviewers with sensitive scalp did say the dye itched their scalp a little bit. That happens to me even when I'm at the salon, and I don't think that's the worst thing in the world.
Pros
No dangerous ingredients
Easy to use
Good for those with sensitive scalps
Smells great
Conditioning formula
Accurate shade to the packaging
Long-lasting
Cons
Color might be too dark for some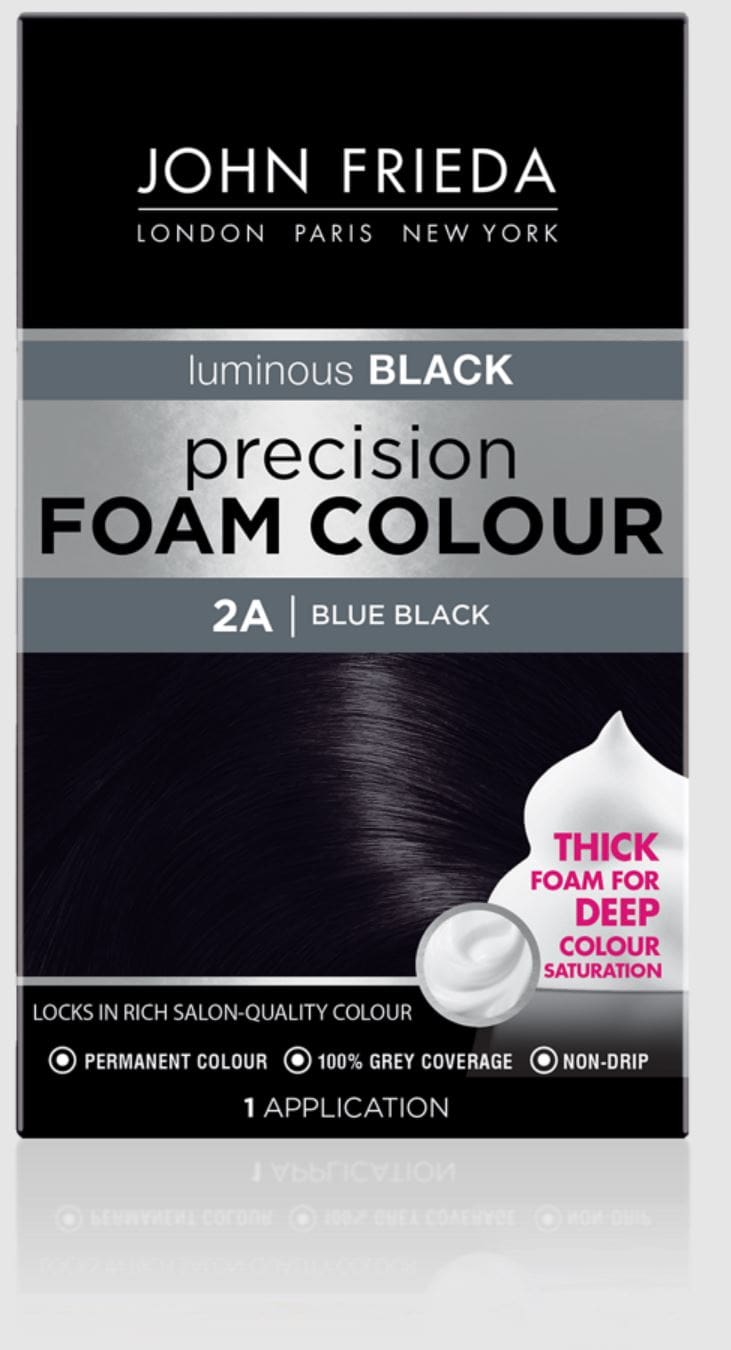 I wanted to include another blue-black option if this is the color you want. The dye has a foam consistency that's thick and covers your whole scalp. The foam consistency helps the dye absorb into your hair shaft easier, delivering impressive color payoff. This vegan dye is excellent for everyone, no matter your experience dyeing your hair. It's easy to apply and doesn't drip, so you'll get fabulous color completely mess-free. The kit includes an after-dye conditioner to leave your hair silky and shiny.
I like this dye because it gives you salon-quality results and offers full gray coverage. The color is a deep blue-black but isn't intensely blue. For a John Frieda product, I thought this was going to be more expensive. But at about $12, you can't beat that price (you may need two kits if you have long and/or thick hair). You definitely get your money's worth, especially since the color lasts a long time.
Pros
100% gray coverage
Not intensely blue
Conditioning formula that leaves hair feeling soft
Cons
Not the easiest dye to use
FAQs
Question: What's the darkest black out there?
Answer: Hey, I like my hair looking like a void, too. But it's challenging to find a true dark black with no highlights. Vantablack is that color, though I never see it on dyes anywhere. I say jet black is the closest color to the darkest black hair color. You should still make sure the dye has 100% coverage and is true to the packaging.
Question: When should I bleach my hair before dyeing it black?
Answer: The best part about dyeing your hair black is you don't have to bleach your hair. Black looks great over any existing hair color. Plus, bleaching your hair first can make the black not last as long. Even if you're dyeing your hair a blue-black or purple-black, the extra colors are meant to act as highlights, so they will stand out regardless of your hair color before (though the extra colors are more intense on light hair).
Question: How can I dye my hair without damaging it?
Answer: First, dyeing your hair black causes minimal damage. You're not bleaching your hair, and most dyes have conditioning formulas. But after you dye your hair, you should continue using conditioning hair products. This doesn't require you to wash your hair — dry conditioners and leave-in conditioners suitable for dry hair can help you skip a couple of hair washes while moisturizing your hair and extending your black hair dye.
Question: I want to use permanent hair dye. Will it ever fade?
Answer: Permanent hair dye doesn't exactly mean permanent. The color will eventually fade. For black, that means your color will look less intense. My black dye isn't as dark, and my natural highlights show. However, I usually only dye my hair once every three months, even with grays.
Bottom Line
Black is one of the most stylish hair colors ever. I have natural brown-black hair, though I've been dyeing my hair jet black ever since I was a teenager. I've used both at-home and professional dyes. Though I only dye my hair professionally now, I do think it's important to recommend at-home colors since so many people prefer coloring their hair DIY.
To find the best black hair dye, know which shade you want, make sure you only buy from reputable brands, read reviews, know which type of dye you want, and make sure it doesn't contain dangerous chemicals.
Out of all of these dyes, the AgeBeautiful dye is my favorite. I've used that one before. I never got an allergic reaction; the shade of black is vibrant and was personally recommended by a friend working at Sally's. I still suggest looking through my list of recommendations, especially if you want another shade of black.
Looking for new hair color? Check out: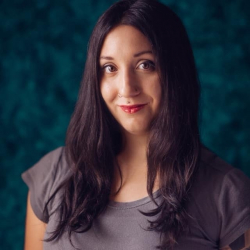 Latest posts by Stephanie Jensen, Hair Trend Spotter & Home Tester
(see all)