For over 100 years, L'Oréal has been at the forefront of personal care products that are high quality yet affordable. Their haircare is among one of the most varied brands readily available at your favourite drugstore! L'Oréal has you covered with enriching formulas for low prices for any hair type.
When it comes to drugstore brands, I never stray from L'Oréal hair products! I alternate shampoos every so often, depending on the season and my hair quality, and I'm never disappointed by their diverse shampoo options.
But going to the drugstore and trying to shop from a wall of L'Oréal shampoos is daunting! I'm writing the best L'Oréal shampoo guide to help you beat the overwhelm so you can go to the haircare aisle with an eagle eye for what you want!
Bottom Line Up Front
I'm constantly alternating between L'Oréal shampoos and trying different formulas whenever my bottles run out. But in my shower right now is the Dream Lengths Shampoo – I love my long hair and always want it to grow longer, so I need a shampoo that will keep my hair strong and healthy to prevent breakage. It's my first time trying this shampoo, and it doesn't disappoint!
Selection Criteria
I made the selections for this list based on a few criteria.
Various Lines: L'Oréal has two current lines for haircare – EverPure and Hair Expertise. I made selections from both.
Different Hair Types: Everyone has different hair needs, so I chose shampoos for thin hair, thick hair, curly hair, long hair, and more!
Different Hair Goals: Whether you're looking for hydration, nourishment, stronger strands, or damage repair, I made selections based on several possible hair goals!
L'Oréal Shampoo Line Up for 2022
There are over fifteen different L'Oréal shampoos to choose from, and they're tough to keep straight. Here's everything you need to know about every shampoo they formulate!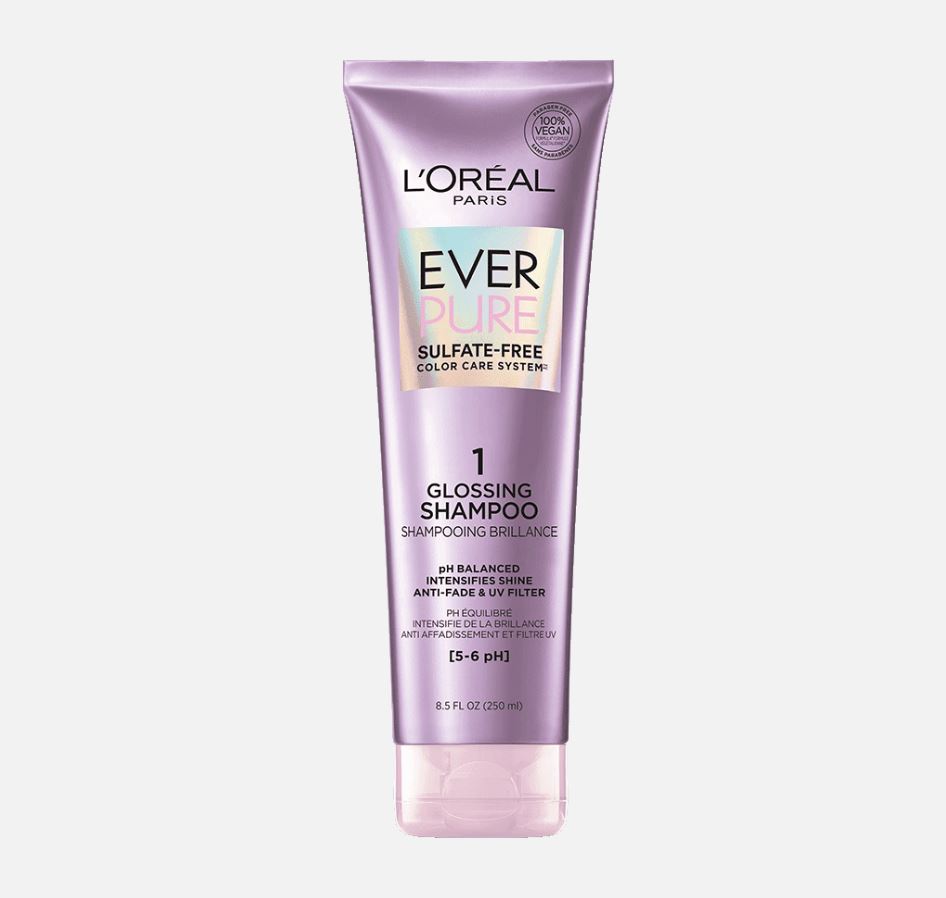 Colour-treated hair needs to be washed with special care. I have virgin hair, but I know when you bleach, colour, and process it, it can damage the quality of your hair. Noticeably less shine, lustre, and strength are typical when you colour your hair regularly. The EverPure Glossing Shampoo balances your hair's pH to restore shine and a glossy finish to your strands!
The formula helps seal the hair's cuticles, locking in your colour longer and creating the perfect surface for shine. With the scent of sandalwood and rose, you'll feel like your locks are being treated by a professional.
Pros
The formula is anti-fade with a UV filter.
Infused with Argan oil for luxe shine.
Salon-quality results and relaxing scent.
Cons
Needs the entire lineup of products for the best results.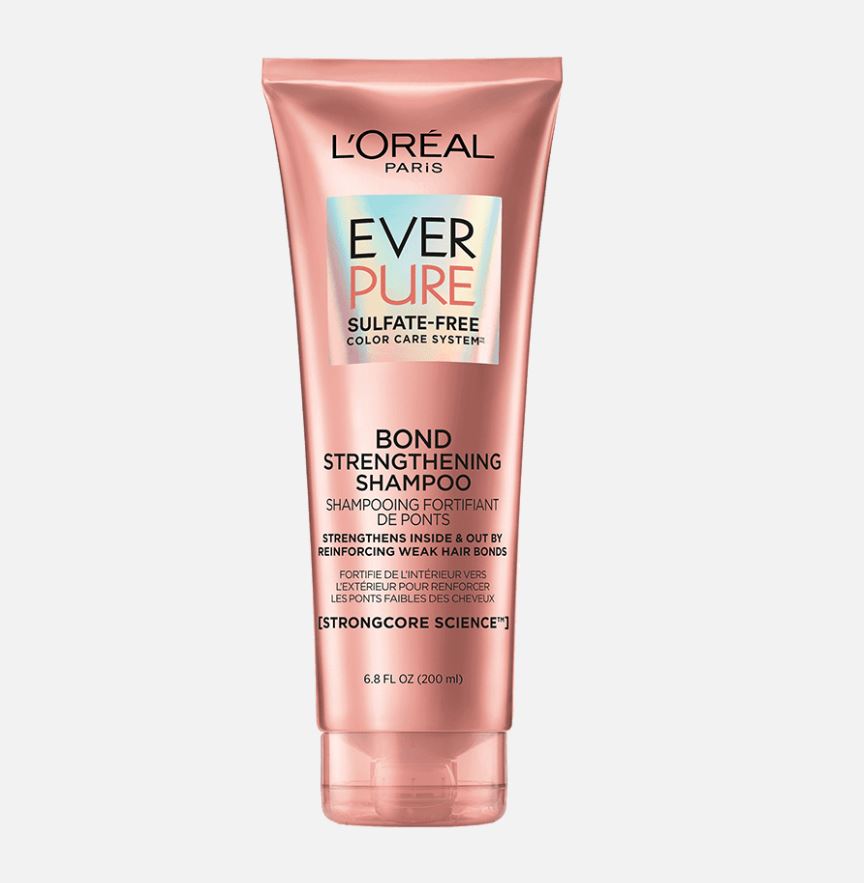 Stronger hair is healthier hair! When you're noticing a lot of breakage, heat or colour damage, and brittle strands, Bond Strengthening can completely fortify your locks. Hair follicles are made up of bonds, and weak bonds are what make me the most miserable. With a bond strengthener, I'm guaranteed more luscious hair.
The formula gets to the root of the strand to bulk it up and bring out its best quality, and colourists swear by it! So you know it's a quality product!
Pros
Strengthens and hydrates all in one formula!
Leaves out harsh ingredients like parabens, sulphates, and salt.
Combats frizz and leaves hair shiny.
Cons
There is a strong scent of patchouli – if you're not a floral lover, it's something to consider.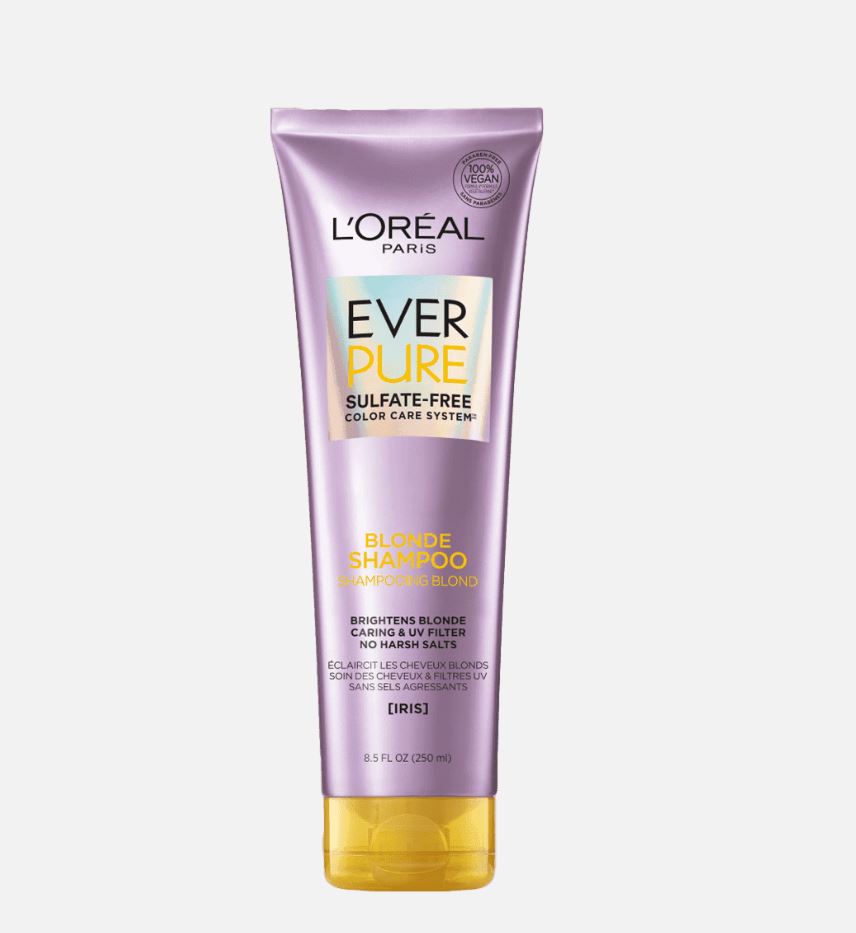 Blonde shades need more maintenance than other hair colours. As a redhead, I've never dealt with the annoying struggle of fighting with dullness, brassiness, and yellowing of the hair, so I can only imagine the headaches of fighting with your hair. Blonde shampoos are a gift from heaven (at least that's what my blonde friends tell me)!
Neutralizing brassiness and keeping colour-treated hair natural-looking and shiny is a big task, but EverPure's Blonde Shampoo takes on the challenge like a champion.
Pros
Gentle on colour, whether you're Barbie blonde or icy blonde.
It keeps your hair looking salon-fresh longer than ordinary shampoos.
It even works on greying hair!
Cons
The purple tint in this formula is light, making it better suited for everyday maintenance instead of significant damage control.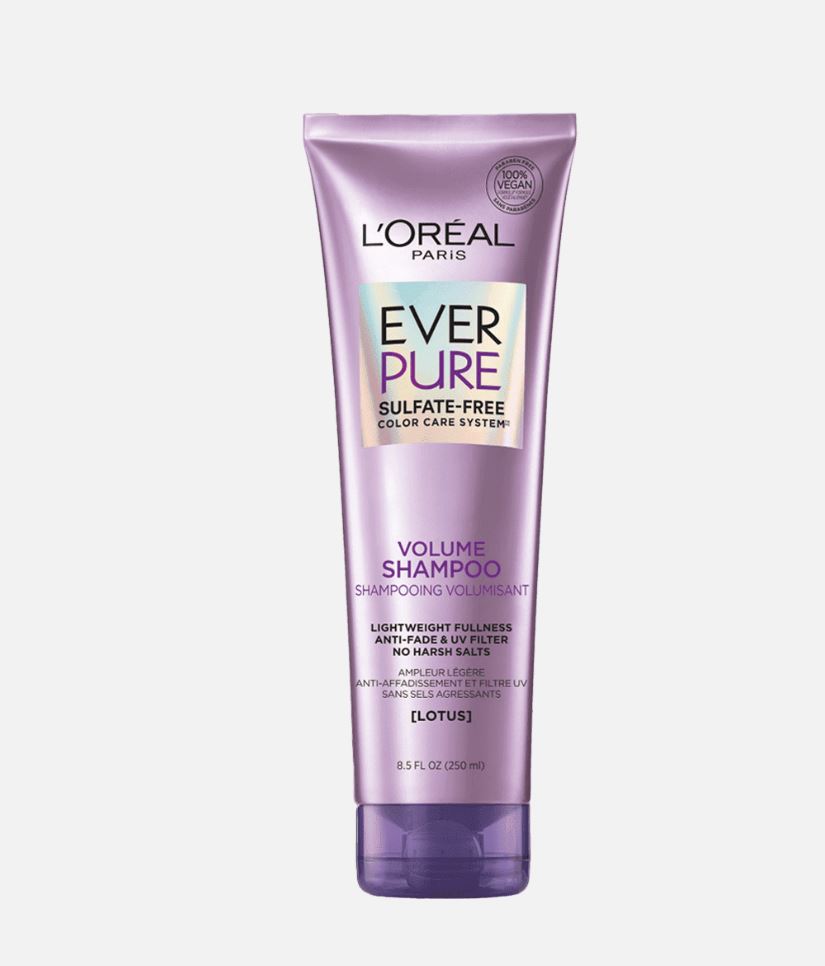 Hacking thin hair is easy with EverPure's Volume Shampoo! It's lightweight, making your hair look lifted at the roots and doesn't make your hair fall flat! This shampoo makes volume styling easier while keeping your hair soft and frizz-free, which we all need, regardless of texture.
Lotus flower gently cleanses the scalp to help promote healthy hair growth long-term, reviving flat, dull hair. Even though I don't have thin hair, I love the luscious, flowery scent and how it makes my hair feel soft and sleek!
Pros
Paraben-free, gluten-free, sulphate-free, and without irritating salts.
Adds hydration without the heavy weight associated with moisturizing shampoos.
Offers clean like a clarifying shampoo.
Cons
The scent is a hit or miss for your senses.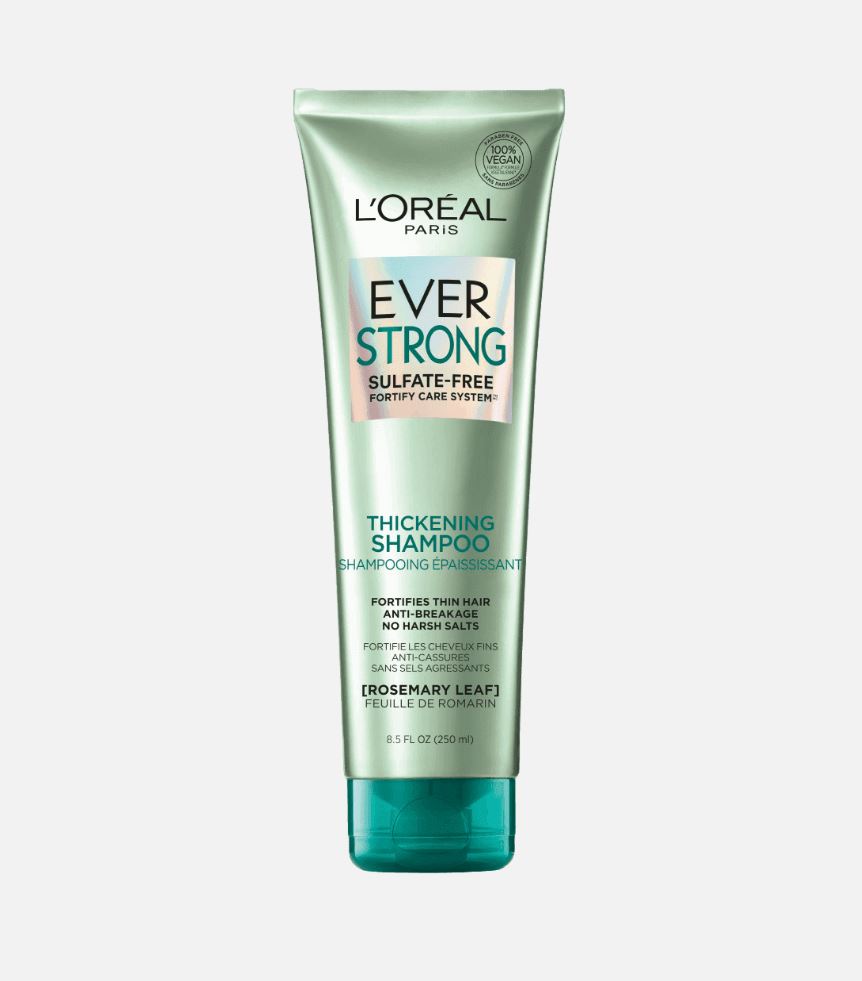 This shampoo really feels like it's fortifying the strands. When I tried it out for the first time, I was trying to help fix breakage and hair loss – the EverStrong Thickening Shampoo helped reduce the amount of strand breaking quickly. The hair feels reinforced without heavy product residue.
Rosemary extract is the gem ingredient – it helps strengthen the existing strands and allows hair to appear thicker and fuller.
Pros
Naturally derived ingredients to support hair health.
It makes thin hair appear thicker.
Fresh rosemary scent.
Cons
For best results, you need every step of the EverStrong line.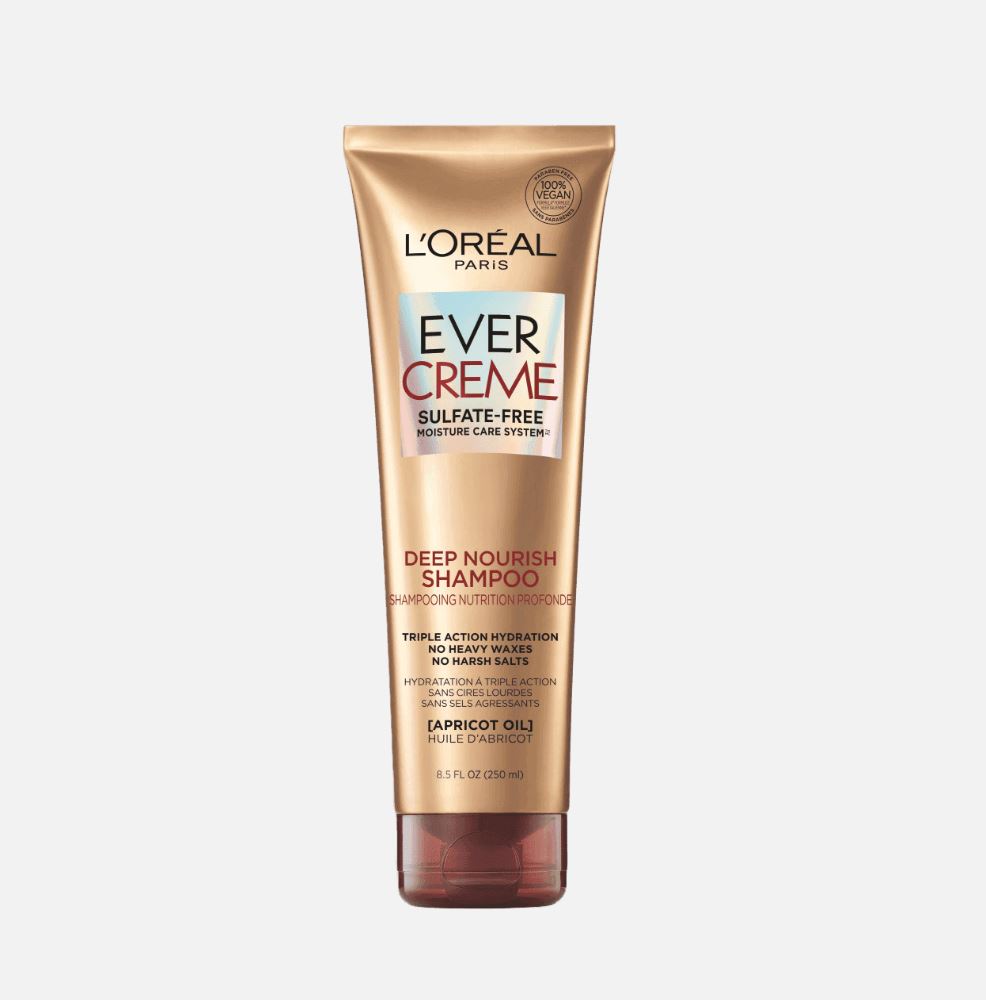 When your hair just feels like it's lacking and it needs something powerful to bring it back to life, the EverCreme is what you'll want. Apricot oil transforms the hair inside and out without weighing your strands down. I think this gold bottle is fitting because there's liquid gold inside!
It's the key to restoring your hair's best state without drastic cuts or expensive salon treatments. The nourishing formula is like pressing the reset button on your locks!
Pros
Smooths and softens hair without leaving frizz behind.
Weightless hydration doesn't flatten your style.
Delicious apricot oil is luxurious and nourishing.
Cons
The fruity scent is powerful and can irritate those with sensitive scalps.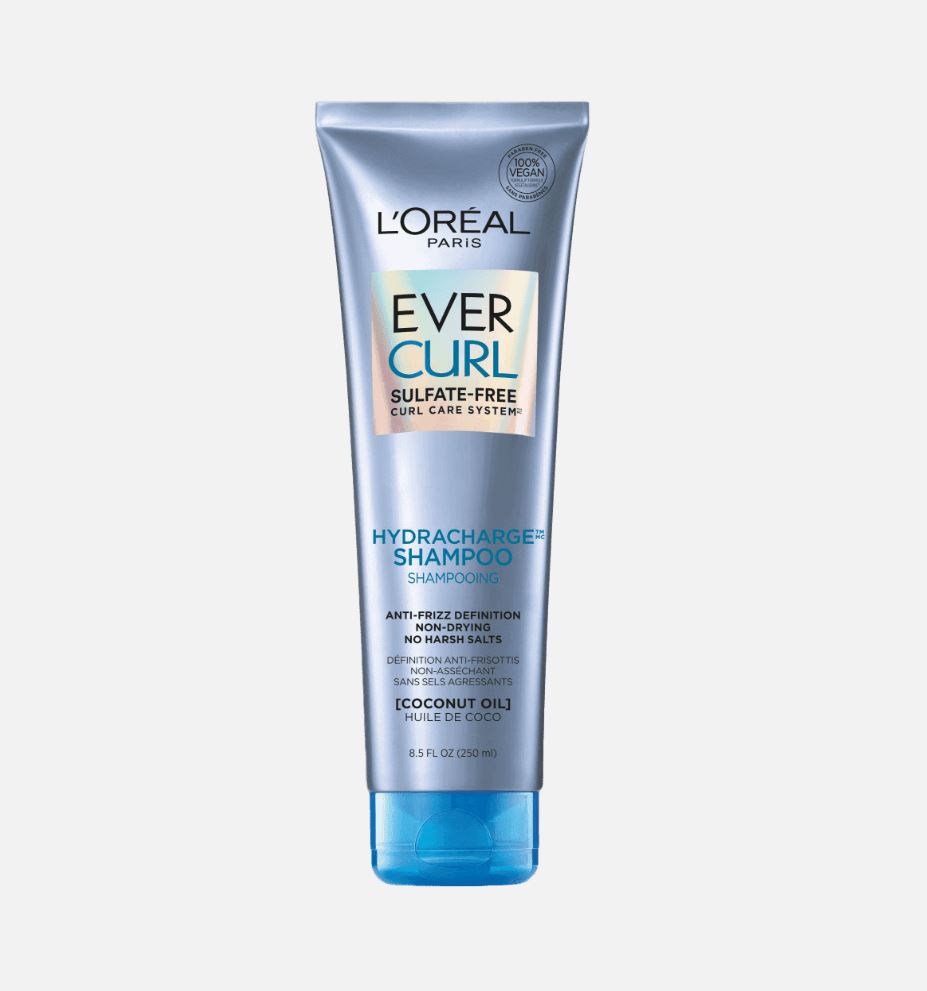 Curly girls like me know the importance of shampoo specific to curly hair – curls lack moisture naturally, so hydration is key when shopping for shampoo. The EverCurl Hydrocharge Shampoo is my go-to when I leave my curls natural. It doesn't weigh my hair down and tames frizz like nothing else!
With coconut oil to help condition the strands, my curls turn out lush with locked-in moisture, making styling much easier!
Pros
Rich in antioxidants from coconut oil.
Colour safe.
Nourishing without buildup on the scalp.
Cons
Works best with the complete three-step regimen, including the conditioner and curl-defining cream.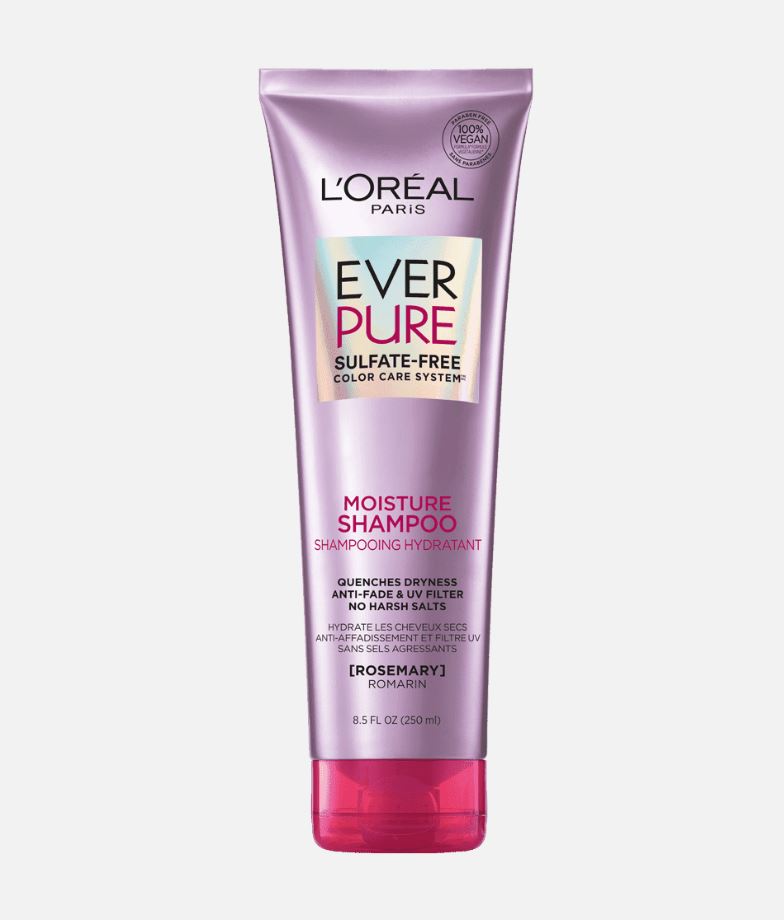 EverPure's Moisture Shampoo is like a tall glass of water to your hair for just a touch of everyday moisture for moderately dry hair. Luxurious shine is restored to your hair, and added rosemary is a bonus if your dryness comes from colouring. The rosemary keeps your colour fresh while deeply hydrating.
I love the botanical ingredients in this formula – deep moisture comes from the shampoo's rich ingredients, and this shampoo has it all.
Pros
UV filters protect hair from sun damage and colour from fading.
Makes styling easy and frizz-free.
It keeps your hair healthy for longer between cuts.
Cons
The tube is the worst part – you have to fight to get the product out, so maybe move the shampoo to a new bottle.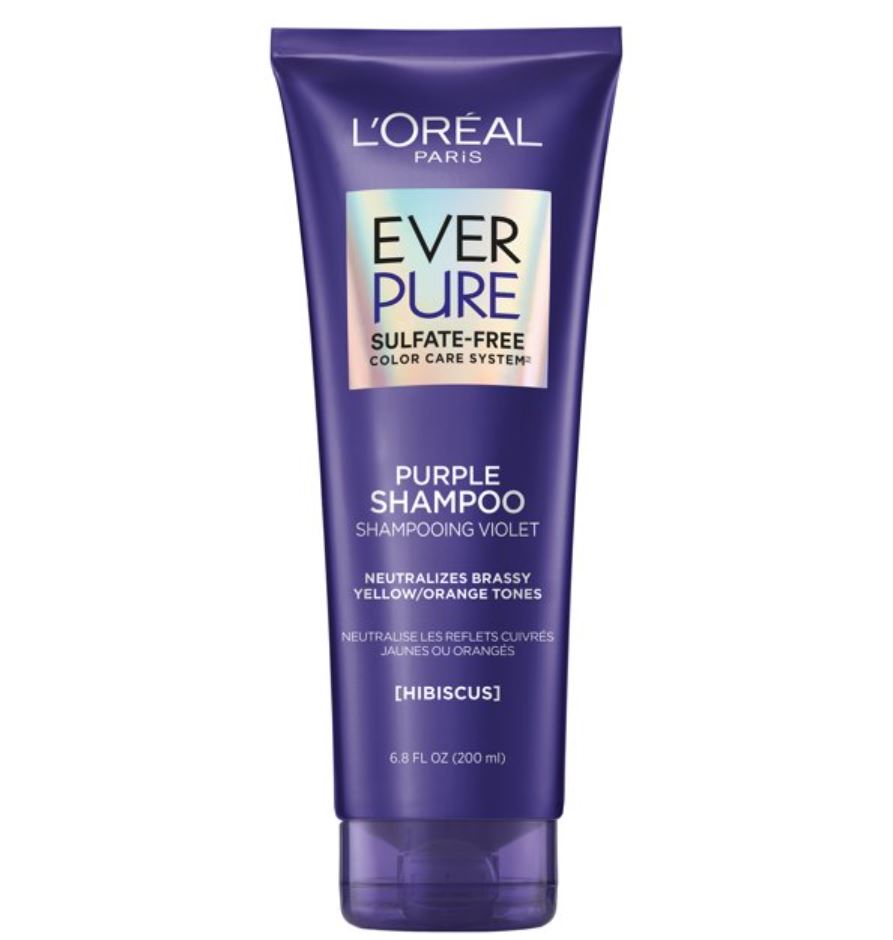 I have a blonde friend who worked as a swim instructor when we were students. With all the time she spent in chlorine-filled pools, she was fighting green hair daily. On a student budget, the EverPure Brass Toning Purple Shampoo was the go-to because of its affordability – especially since she was going through so many bottles!
The purple dye keeps your blonde (or grey!) hair looking its best without discolouration. Purple neutralizes the brassy yellow and oranges and restored my friend's chlorine-green back to blonde.
Pros
Hibiscus keeps hair strong and shiny after your wash.
It is comparable to salon brands like Pureology.
Increases the longevity of your blonde colour.
Cons
It can be a little drying with excessive use.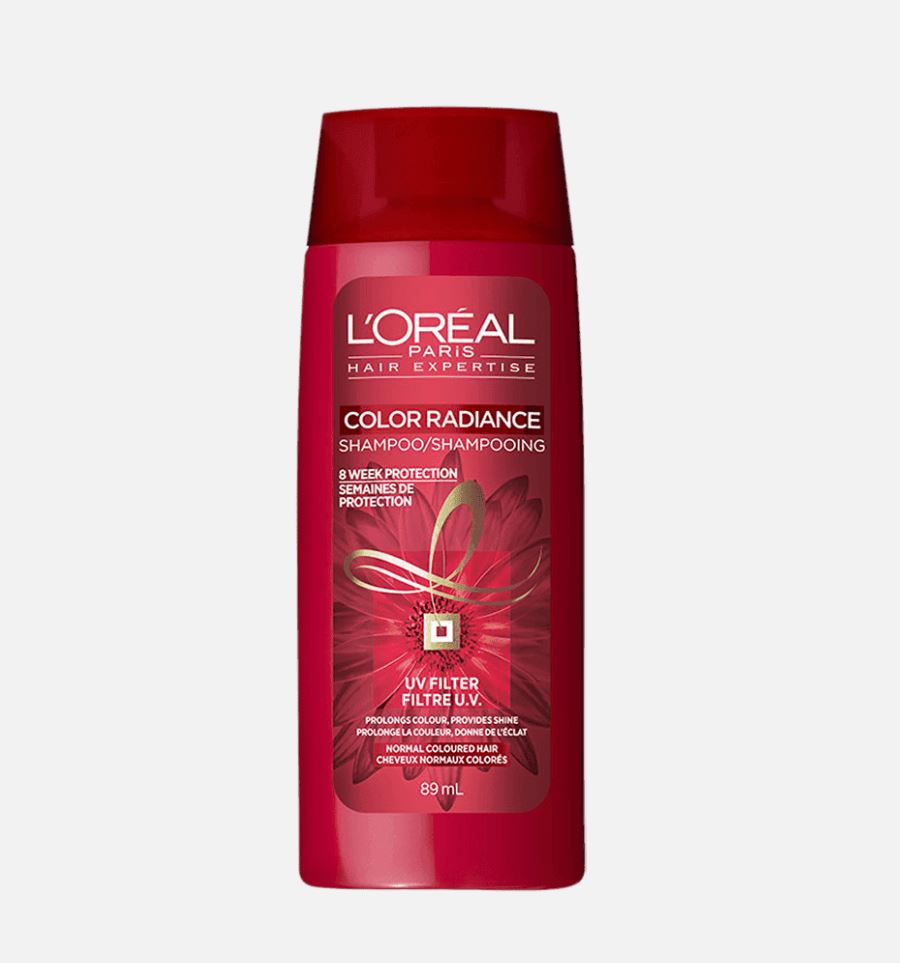 Extending your hair colour starts as soon as you leave the salon – the Colour Radiance Shampoo helps protect your colour for up to eight weeks without sacrificing important parts of hair health like moisture and shine. Not only will your colour look great, but your hair will look natural and bouncy.
The UV filters help keep the sun from damaging your colour, and if you live in a sunny spot, discoloration from the sun is a genuine concern. Bleaching your hair at the salon is one thing, but bleaching under the sun is less appealing.
Pros
Triple-action shampoo aims for colour maintenance, hydration, and a glossy finish.
Strengthens the hair cuticles to seal the colour in.
Anti-fade and antioxidants prolong the life of your colour.
Cons
Needs the complete Colour Radiance system for optimal colour protection.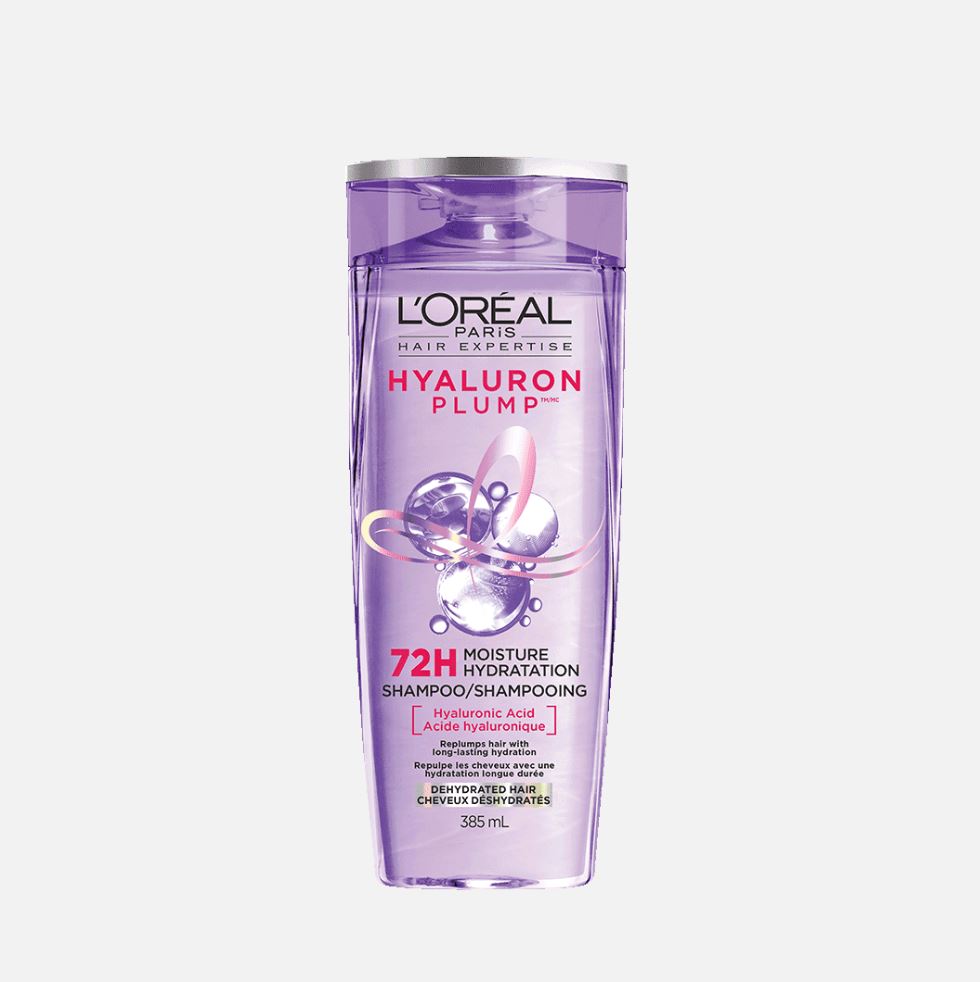 I've heard of hyaluronic acid in skincare, but I was shocked to learn that L'Oréal has a haircare line with hyaluronic acid, too! For days when your hair is looking and feeling lifeless, this formula boosts hair hydration and coats the hair strand to transform the look of the hair.
Hyaluronic acid works to "plump" up the hair as it does with skin, and the formula makes hair hold onto moisture more than any other hydrating shampoo! I live in such a dry area, so this will be on my list to try for the summer.
Pros
Hair is 10x more revitalized than with other shampoos.
Hair is 2x replumped compared to other shampoos.
Hyaluronic acid retains 1000 times its weight in water, super hydrating the hair.
Cons
You need the four-step lineup of products for noticeable results.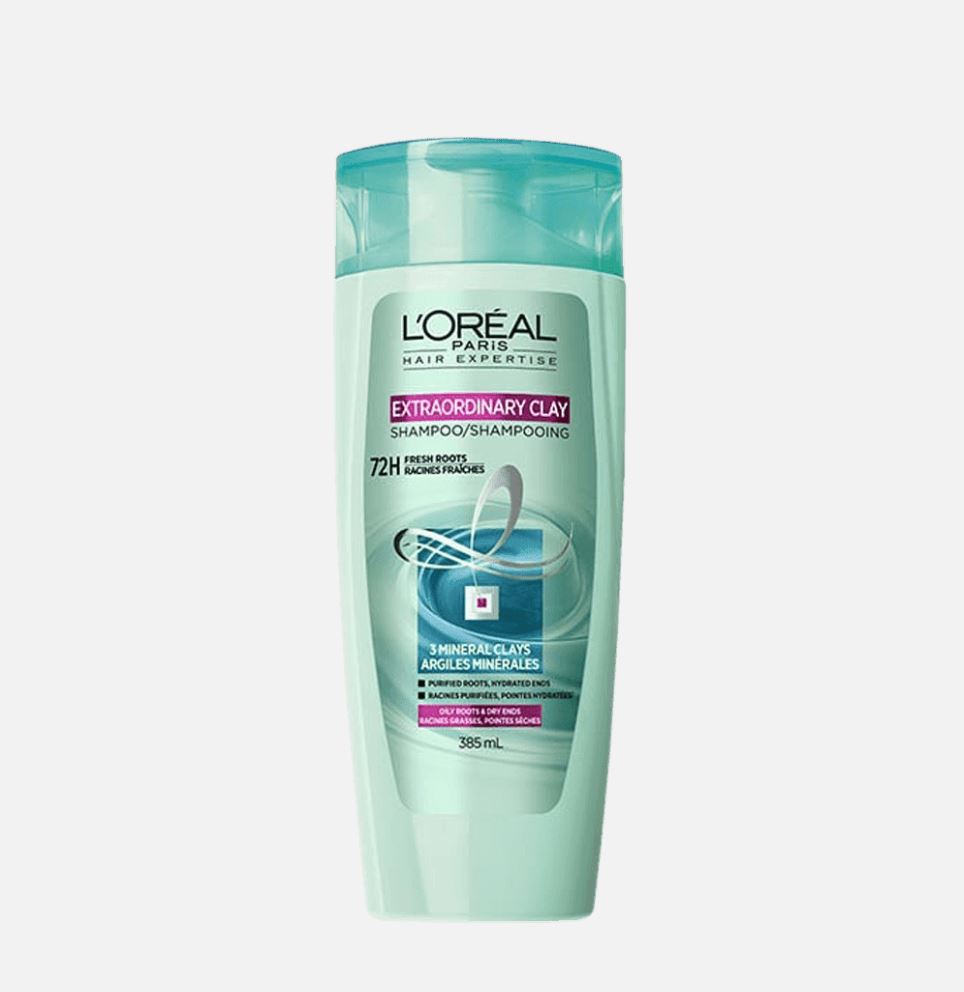 While I haven't tried the Extraordinary Clay Shampoo, I have used their old hair mask in this line, and I loved its effect on my hair! This shampoo includes three different mineral clays that help absorb impurities that get missed during regular shampoos. It's the perfect balance for your scalp to create the best environment for healthy hair growth.
I'm looking forward to trying this formula because its benefits are supposed to last for several days – perfect for those who take breaks between washes.
Pros
Silicone-free formula.
Rinses clean with no residue left behind.
The weightless formula brings hair back to life.
Cons
Far more therapeutic for the scalp rather than the ends, so you need the conditioner for all the benefits to your hair's tips.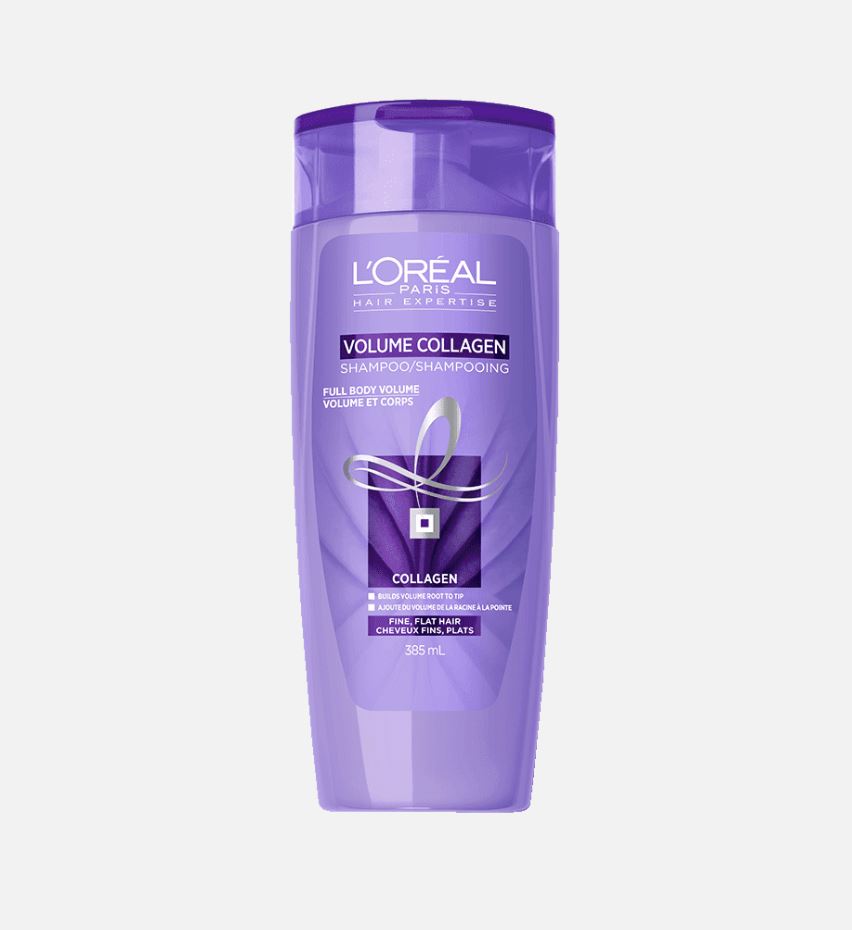 Get rid of flat hair with collagen-infused shampoo. Collagen is known for its plumping benefits; just like it benefits your skin, it does the same for your hair. I'm looking forward to trying out this shampoo because I always love products that give me a little lift at the root!
This line offers weightless volume at the roots and through the body of your hair. It will make your styles look more glamourous for just every day.
Pros
Penetrates the hair fibre for lasting volume.
Treats the hair from root to tip.
Cons
Best for fine hair rather than thick hair.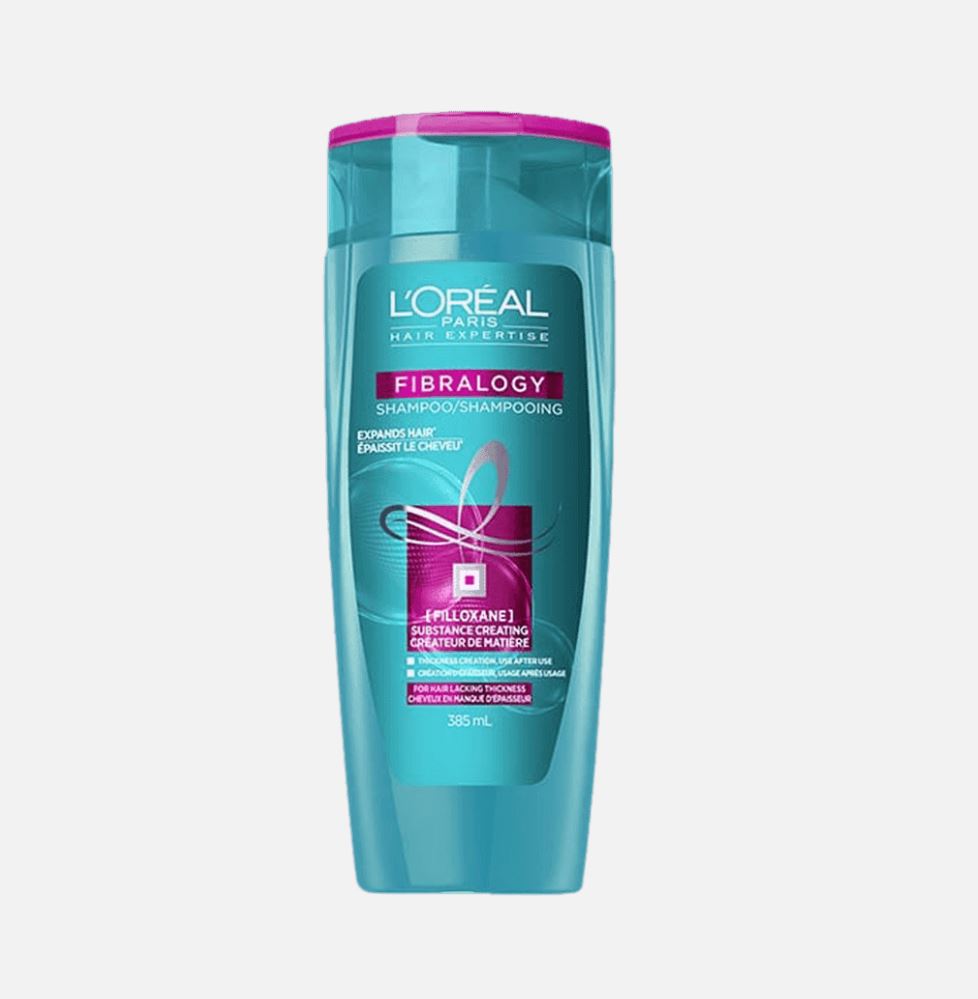 For thin and fragile hair, sometimes a traditional volumizing boost isn't enough – you need to pull out the miracle worker. Using filloxane, a thickening component, the formula infuses itself into the strand to expand the follicle from the inside out. With every wash, the benefits compound and build on themselves.
Pros
Great for thin hair, frail hair, breakage, or naturally thin hair.
Gets better with every use.
It adds shine and eliminates frizz.
Cons
Works best with the entire Fibralogy line.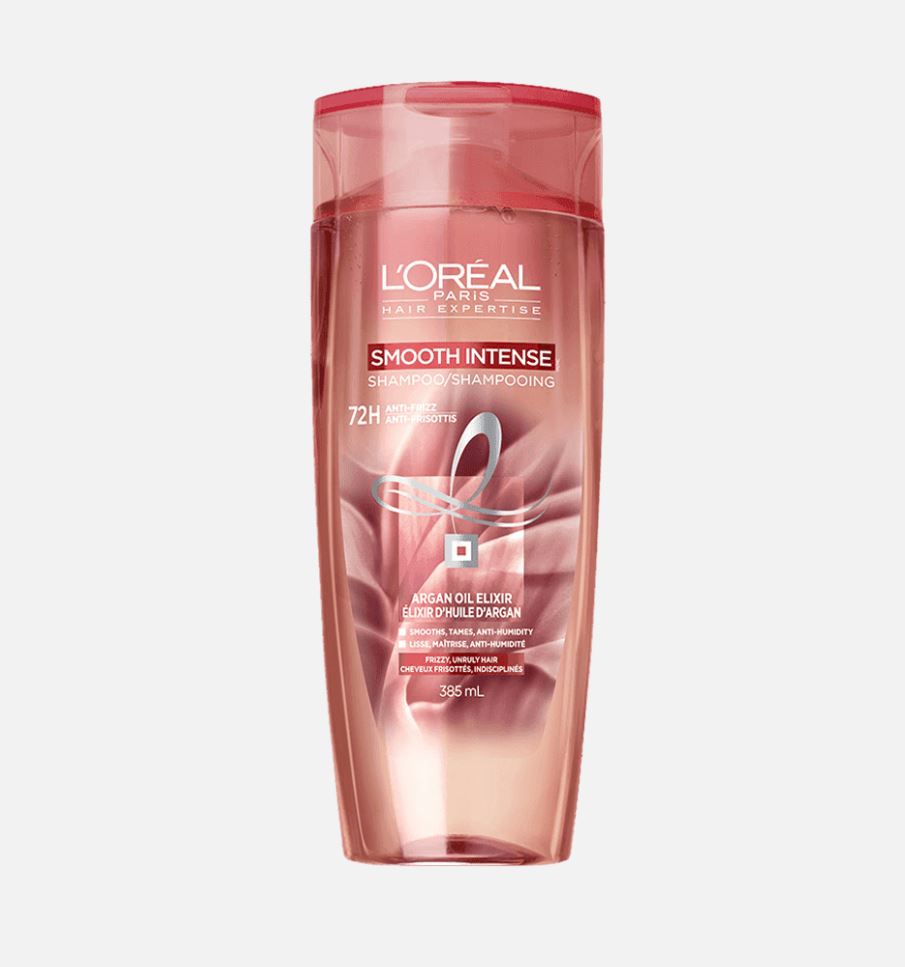 This summer, this shampoo is going to be my go-to! To beat summer humidity and moist climates, this formula aims to smooth out frizz once and for all. When faced with humidity, I tend to get the Monica hairstyle – my hair inflates, grows, and frizzes up like nothing else.
With luxurious Argan oil, you don't have to worry about wild tangles or frayed hair cuticles. Instead, you can just enjoy endless good hair days. I can't wait to reap the benefits of hydration, light, bouncy texture, and soft-to-the-touch strands.
Pros
Fights frizz for up to 72 hours.
The weightless formula doesn't make hair fall flat.
Argan oil transforms hair and seals the hair's cuticles.
Cons
You need the three-step system for your style to last.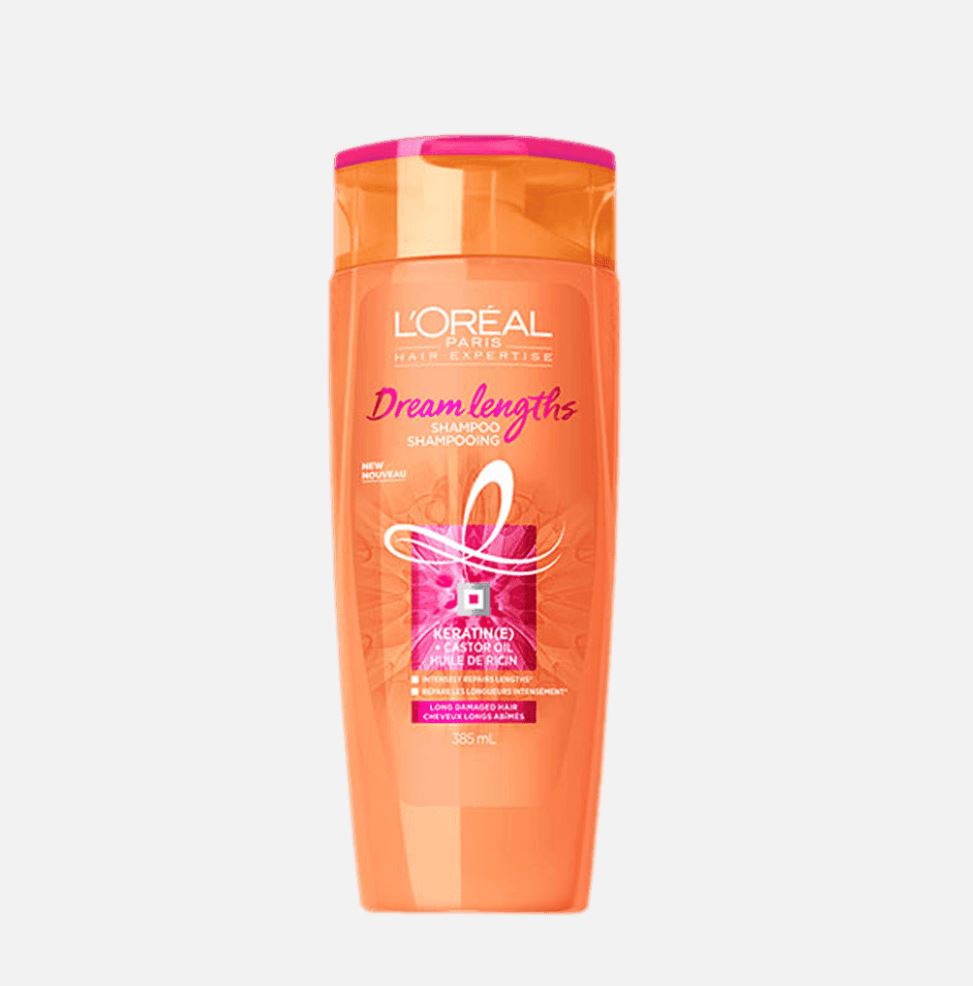 Growing out my hair is a constant hair goal – I'll probably only stop once I get to Rapunzel length strands! Anything that claims to support long hair is something I want to use. Stronger hair with preserved split ends is the goal, and Dream Lengths Shampoo delivers.
I've reduced the frequency of my haircuts and noticed that my ends aren't as bad as before I started using the shampoo regularly. I heat style like a maniac, and still, my strands feel soft and smooth – my ends look less frayed and fried, too!
Pros
Vegetal Keratin and castor oil nourish and repair your locks.
Amazing shampoo to help support the repair of colour-damaged hair.
Cons
The product's smell isn't my favourite, but it grew on me over time.
This ultra-nourishing oil-infused shampoo is incredibly luxurious for a drugstore option! In the winter, this is my favourite to keep my hair free from brittle strands in the dry, cold air. It's hydrating, and the oils in the shampoo don't weigh down the formula and make your hair look flat.
With six different oils, including coconut and argan, your hair is ready to take on any styling tools you can throw at it.
Pros
Sub-varieties for thick/coarse hair, thin hair, and medium thickness hair.
Boasts 6x more shine than other shampoos.
Perfect for dry, curly, and brittle locks.
Cons
It can be a little too oily.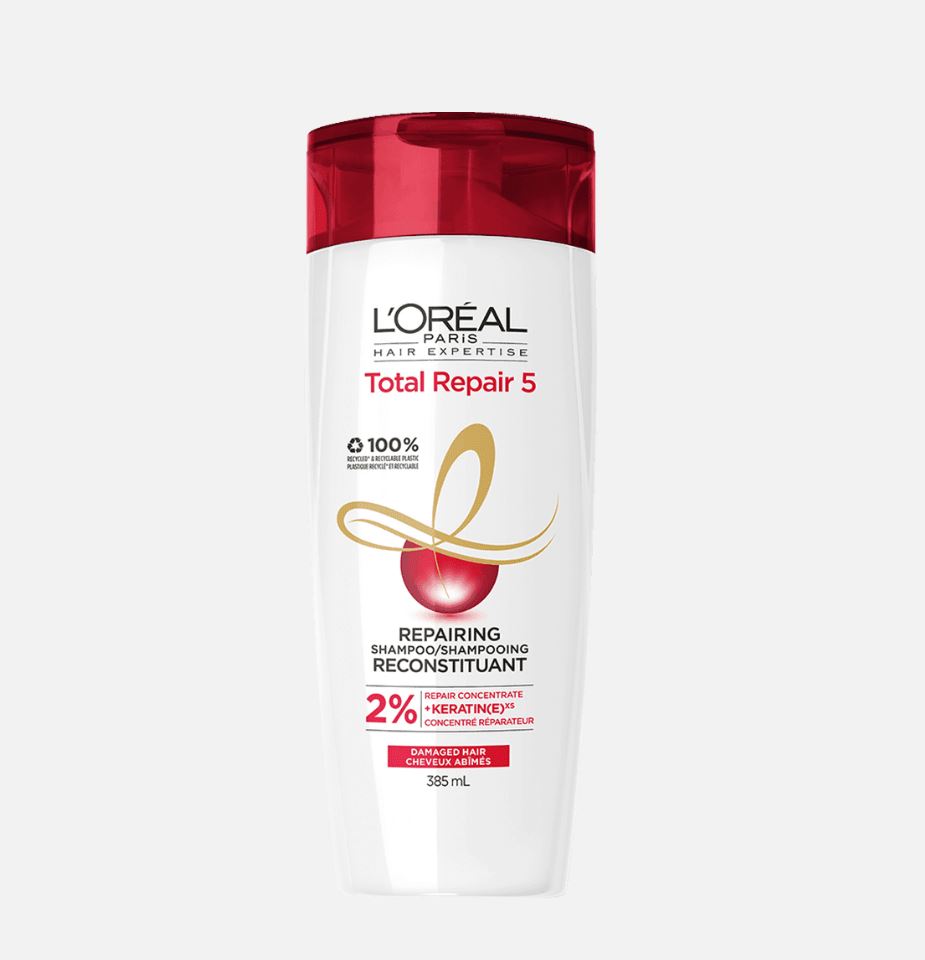 Total Repair 5 is the powerhouse shampoo I reach for when my hair just isn't going right. This line addresses hair issues from the inside out and addresses five primary hair qualities: vitality, strength, resistance, silkiness, and shine! Infused with Keratinxs, damaged hair doesn't stand a chance.
Pros
Hair fibres get noticeably repaired after just a few washes.
Restore softness to hair.
It contains protein to help rebuild strands and prevent further damage.
Cons
You need to use the entire lineup of Total Repair products to maximize the benefits.
FAQs
Question: Is L'Oréal shampoo sulphate-free?
Answer: Yes, L'Oréal is proud to say their shampoos are all sulphate-free!
Question: Is L'Oréal a good brand?
Answer: L'Oréal is a trusted, well-known, and well-respected brand in all things makeup and hair. Consumers are loyal to the brand because of its increasing commitment to social responsibility. It's a strong brand overall, and while it's not perfect, they care about its products and strive to make quality products accessible to folks with lower budgets.
Question: Can you use L'Oréal shampoo daily?
Answer: You should avoid washing your hair daily – it can dry out your hair, strip natural oils from your scalp, and waste a lot of product you don't need to use. But if you need to wash the dirt, sweat, or grime out of your hair beyond a dry shampoo, L'Oréal shampoos are safe to use for a few consecutive days if necessary.
Bottom Line
L'Oréal has a ton of shampoos to choose from – no one has time to be standing in the haircare aisle trying to find the perfect shampoo. Hopefully, this guide helped you find a few contenders to try out on your next trip to the store.
I have a goal to try out the whole collection of L'Oréal shampoos, but the next one I will try is definitely the Extraordinary Clay Shampoo to treat my hair and scalp to some luxury!
Looking for more interesting readings? Check out: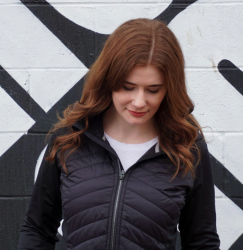 Latest posts by Kelsey Purcell, Hair Product Collector & Tester
(see all)