Have you found yourself eyeing purple hair dye lately so you can change it up a bit? If you're dreaming of going purple, whether for just a few weeks or as a more permanent option, now just might be a perfect time. Purple hair dye has been increasing in popularity lately, and as a result, you've got endless choices. 
Whether you're thinking of a silver shade of purple, a soft lilac, or a bright neon, there's an abundance of hair dyes to pick from. It's great to have options. but it also means you might end up choosing the wrong dye for your hair type, the wrong color for your complexion, or even just the wrong brand altogether.
Purple hair, like any other unnatural shade, is a little more challenging than simply refreshing your roots with a dye that is the same color as your natural hair. But don't worry! You don't have to fork a fortune at an expensive salon just to get your dream color. In this guide, we'll tell you all you need to know about finding the best purple hair dye for you.
The Basics of Choosing the Best Purple Hair Dye
Choosing your new hair dye is not as simple as heading to the nearest store and picking up the nicest-looking box on the shelf. If you want to get only the best of the best — both in terms of keeping your hair healthy and in terms of color — then you need to think carefully. 
What are the main points to consider when picking your new purple hair dye?
Depending on your final hair goals, you'll want to be careful in choosing the best product for yourself.
Permanent vs semi-permanent vs temporary.

A huge consideration for anyone who wants to color their hair is always whether it's going to be a permanent change. If you're not quite committed to purple just yet, semi-permanent might be a safer option. Temporary hair dye only colors your hair for a wash or two.

Color tone.

The truth is, not every shade of purple will suit every skin tone. This is true for any other color out there. Whether your skin is fairer or darker, with yellow, orange, or pink undertones, your skin tone will still have an impact on the way your hair color looks for you. This is an important consideration when shopping for hair dye.

Ingredients.

Some hair dyes contain harsh chemicals. Things such as ammonia, phthalates, resorcinol should be avoided if at all possible. If not, make sure you buy a

good conditioner for dyed hair

. It can work wonders and it also helps you preserve your color for a longer time.

Color fading

. Depending on the hair color that you start with, you should consider the shade your purple will eventually fade into. A few weeks will pass and you may be left with a color that doesn't please you. Purple often fades to grey, pink, blue, or blonde.

Ease of use

. Dyeing your hair at home is not that difficult, but some dyes make the process more intimidating than it has to be. If you're a first-time hair dye user, you might want to go with something that is known for being simple to apply. We will recommend some quick and easy dyes below.

Bleach.

Depending on the color you want to use, you may first have to bleach your hair to achieve the desired purple. Bleaching is not a very gentle process and can damage your locks, so it's important to consider the current state of your hair before you pick a color that requires bleaching beforehand. 
Sounds like a handful? Don't worry! You've got right here a guide to help you through the entire process. Keep reading below, where we will elaborate on the above points, and then share some of our favorite hair dyes with you.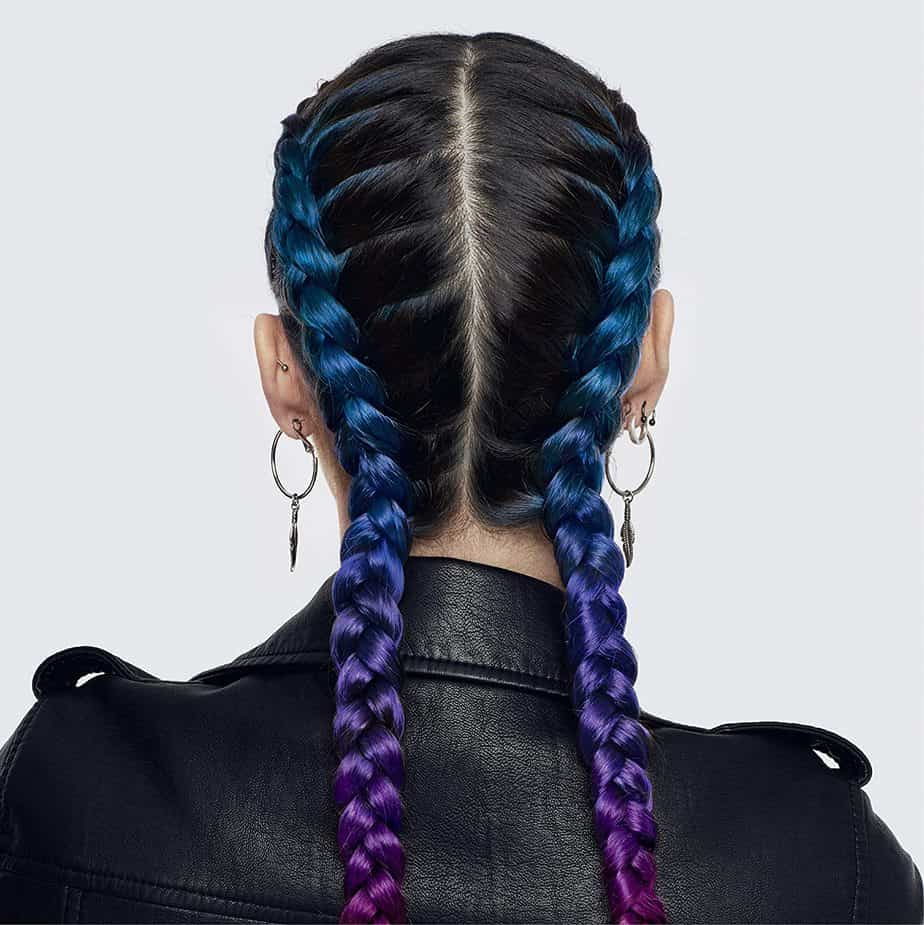 Permanent, Semi-Permanent, or Temporary?
Choosing how long your hair dye is meant to last is probably one of the main considerations to keep in mind. There are some differences between the three types of hair dye (permanent, semi-permanent, temporary). 
These differences are seen both in the ingredient list and the way the dye itself works. How can you choose which one best for you? First, let's go over the three types of dye in greater detail.
Permanent Hair Dye
Permanent hair dye is the dye most people use when they want to commit to a certain color for a longer time. This type of hair dye alters the pigment of your hair permanently and does not wash out the way semi-permanent dyes do. Of course, the color still fades over time, but your hair will not look the way it did before even after a few months. This means that you need to consider whether purple is something you want on your hair for a long time.
Going permanent ensures that your previous hair color will be covered up well, as this dye offers the strongest coverage. Most colors will cover up grey hair with no problems. Permanent dyes look vibrant right after dyeing and come in a large variety of purple shades, from light violet to dark purple.
Permanent hair dye tends to have a much less hair-friendly list of ingredients than semi-permanent dye. This is because this type of dye needs to truly get inside every strand of hair and alter its structure. As such, chemical processing is necessary. 
Hydrogen peroxide and ammonia are both chemicals found in most permanent hair dyes. Those two chemicals bond together and open up the hair cuticles. This creates a reaction and interacts with the keratin and melanin in your hair. The result is a permanent change in your hair structure. This change allows the dye to be deposited, thus changing the color.
While permanent hair dyes might bring better results and are easier to maintain, the use of chemicals is definitely a downside. If you have thin, damaged hair, you should proceed with caution when using this type of dye.
Pros of Permanent Hair Dye

Vibrant, long-lasting colors

The color doesn't wash out

Strong coverage
Cons of Permanent Hair Dye

Chemical ingredients

Not great for damaged hair

Color fades over time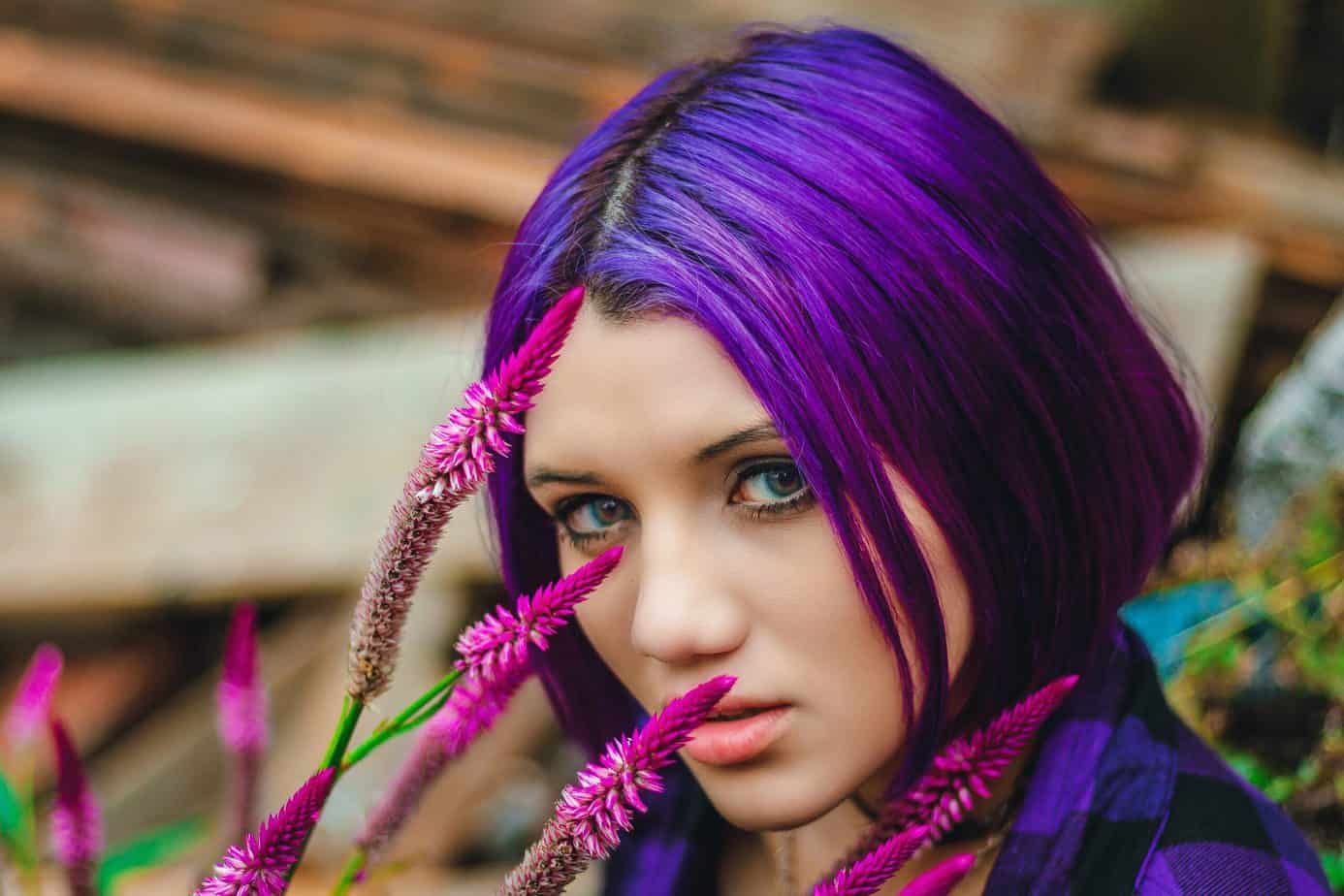 Semi-Permanent Hair Dye
Semi-permanent dyes are as common as their permanent counterparts. They are especially popular among the lovers of vibrant, artificial colors, as they offer you the option to change your color if you don't like how it turns out. This makes them a safer bet if you're trying out a color for the first time, such as if you want to achieve rainbow hair, or you don't want to commit to just one option.
These dyes typically last around 2-7 weeks. This depends both on the product itself as well as how often you wash your hair. With semi-permanent dyes, each and every wash will contribute to the color fading a little more. After a few weeks, your hair will go back to its natural color. But it might retain a slight tint of the dye for a while longer.
While permanent dyes contain chemicals that change the structure of your hair, semi-permanent dyes most commonly do not. Semi-permanent dyes do not need to penetrate the structure of your hair. This means that even if your hair is thin, frail, or damaged, you can most likely use this type of dye with a certain feeling of security. However, we still recommend using a good conditioner, if only to ensure that you won't have to deal with dry hair or split ends in the near future.
If there is a downside to these dyes, it's definitely in the degree of color penetration. While permanent dye alone is often strong enough to change even the darkest of hairs, semi-permanent dye is usually not. As such, many people treat it as more of a color booster than a long-term solution, but it can still produce some fun colors on the right hair.
You may also apply semi permanent hair dye to pre lightened hair for a more vibrant purple. This creates those artificial vivids that are the brightest of all purple colors.
Pros

Perfect for your first dye – lets you test the color

Large variety of shades

Much gentler for your hair
Cons

Only lasts a few weeks

needs to be lightened with

for bright results

Needs to be re-applied more often
Temporary Hair Dye
This type of hair dye is self-explanatory: it's literally temporary. It's often referred to as wash-out hair color, and that name is just as fitting because temporary hair dyes come off after just a wash or two. These hair dyes are easier and quicker to apply than actual hair dyes. A lot of them come in the form of shampoo or foam that you simply work into your hair during a wash.
You can find some really fun colors in the temporary section, and purples are no different. However, you can't expect great coverage from these dyes. Grey roots or darker hair often remain unchanged. Certain hair colors and types respond well to temporary dyes, though. So you might just go happy-go-lucky and rock a beautiful shade for the night.
For every first-time purple dyer out there, this should be your first choice. Temporary dyes are also a fun way to spice up a night out or a party. Unfortunately, that's all you'll get out of them — one night, and the color will be mostly gone.
Pros

Completely temporary

Safe for your hair

Easy to use
Cons

Comes off after one wash

Weak coverage

More of a shampoo than a dye
This just about sums up everything there is to say about the three types of hair dye that you can find in most stores. However, if your mind is still swimming with questions, head on down to our FAQ — we've got more related info waiting for you!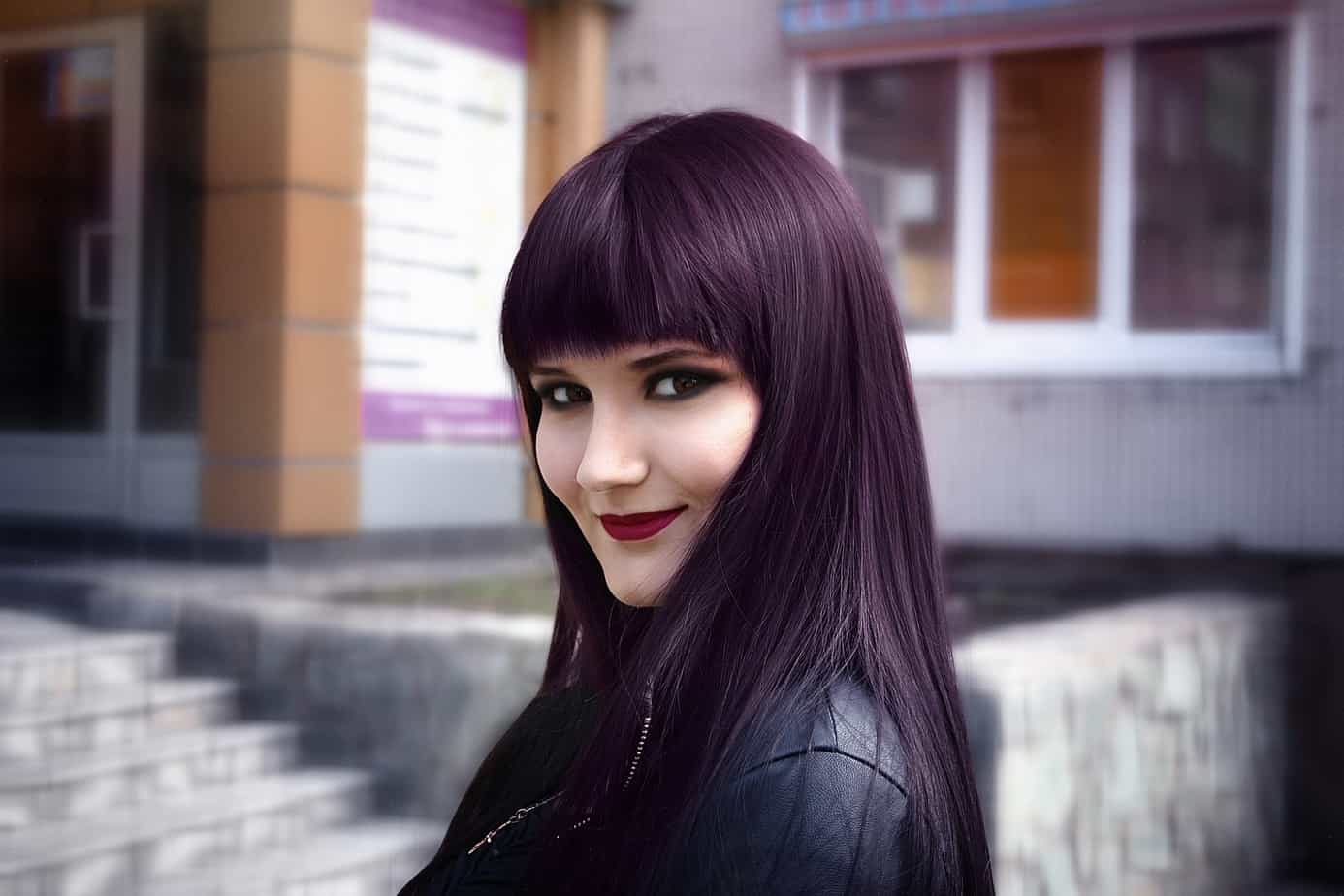 Picking the Right Color Tone
Do you want purple hair? That's great! Want to go rainbow, or perhaps use a few different hues? That's also super fun! However, all of these things can be achieved with many different shades of purple. And with such a flooded market, it's extremely hard to pick just one (or five). What makes it even harder is the fact that the color you like the most might not necessarily also be the one that suits you the most.
Choosing between different kinds of purple is just the same as choosing between cold and warm shades of blonde or brown. Depending on your skin tone, your complexion, and your undertones, not every single hair color will look as flattering on you. While that shouldn't stop you from going with your dream color, you might want to add some slight alterations to make you feel even better when you look in the mirror.
Fairer skin tones tend to mesh well with pastel colors, such as lilac, violet, or light pink. They also go well with silver-tinted purples. Medium and dark skin tones, on the other hand, look amazing with a dark, reddish-purple, such as plum.
When picking your ideal hair dye, it's a good idea to take a selfie in natural light and refer to it when you choose. It's important to consider the hair color you're starting with. Purple, like most artificial colors, is quite tricky when applied directly to your hair. If your natural hair is on the blonde or light-brown end of the hair-shade spectrum, then you should get a color that's very similar to the one on the box. However, if your hair is dark, you can expect less visible results. Instead of a strong purple, many people end up with a mix of purple and dark brown, depending on the shade.
Preparing for Color Fading
Sadly, no one's ever been born to have purple hair yet. Whether you've got a head full of red locks, a sleek dark brown 'do, or a wild blonde mane, your hair color is likely nowhere close to purple (although some of us are blessed with a dark red shade). Luckily, hair experts all over the world put their talents and time into creating beautiful purple dyes, giving us the hair of our dreams.
Once you dye your hair, depending on the type of dye, you'll likely have a few weeks of a gorgeous purple. However, over time, this color will start to fade. How it fades is affected by a few things:

How often you wash your hair

Whether you use a

color-preserving shampoo

The kind of dye you used

Your natural hair color
Even permanent hair dye will eventually give way to shampoo and begin to fade. While purple is one of the colors that tend to fade beautifully (who doesn't love lilac or silver hair?), it's always a good idea to practice good hair care by simply refreshing the color, using purple shampoo, and rinsing with cool water.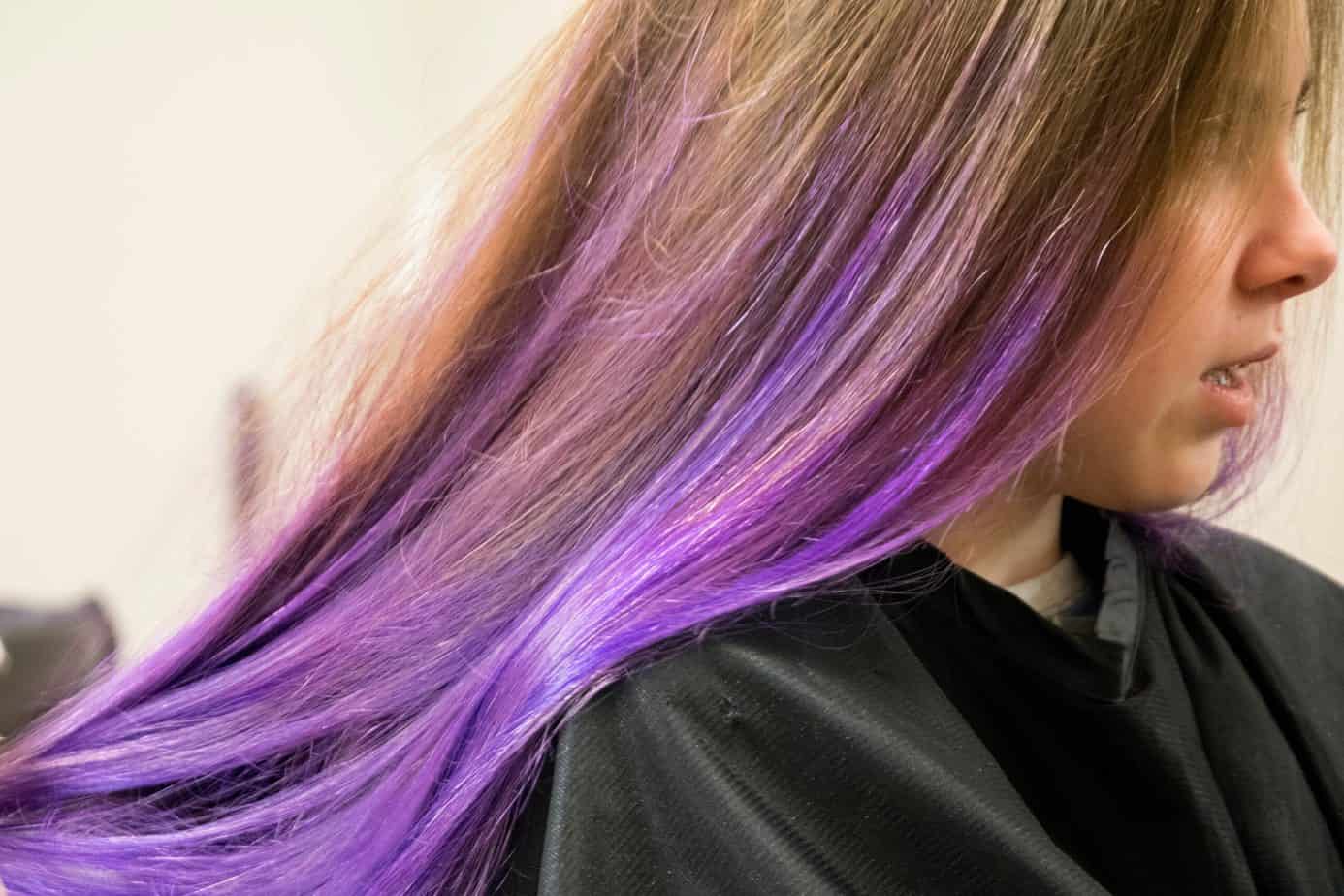 However, if you've used permanent dye, remember that using it too often can be very damaging for your hair. As such, most people who use permanent dyes simply cover up the roots and only refresh the rest of the color with semi permanent dye.
Best Purple Hair Dye – Our Top 5 Picks
We hope that the points we covered above have prepared you for going purple. You know all of the important things to look out for — but do you know which brand and type of hair dye is best for you? If you're not quite sure, we're here to help you out with some of our favorite recommendations.
Best Permanent Purple Hair Dye: Got2b Metallic Permanent Hair Color
If you're feeling bold and adventurous, and a permanent dye doesn't scare you, this metallic amethyst shade by Schwarzkopf is bound to catch some stares. Created by a renowned brand, this is a dye that delivers on all accounts: coverage, longevity, and haircare.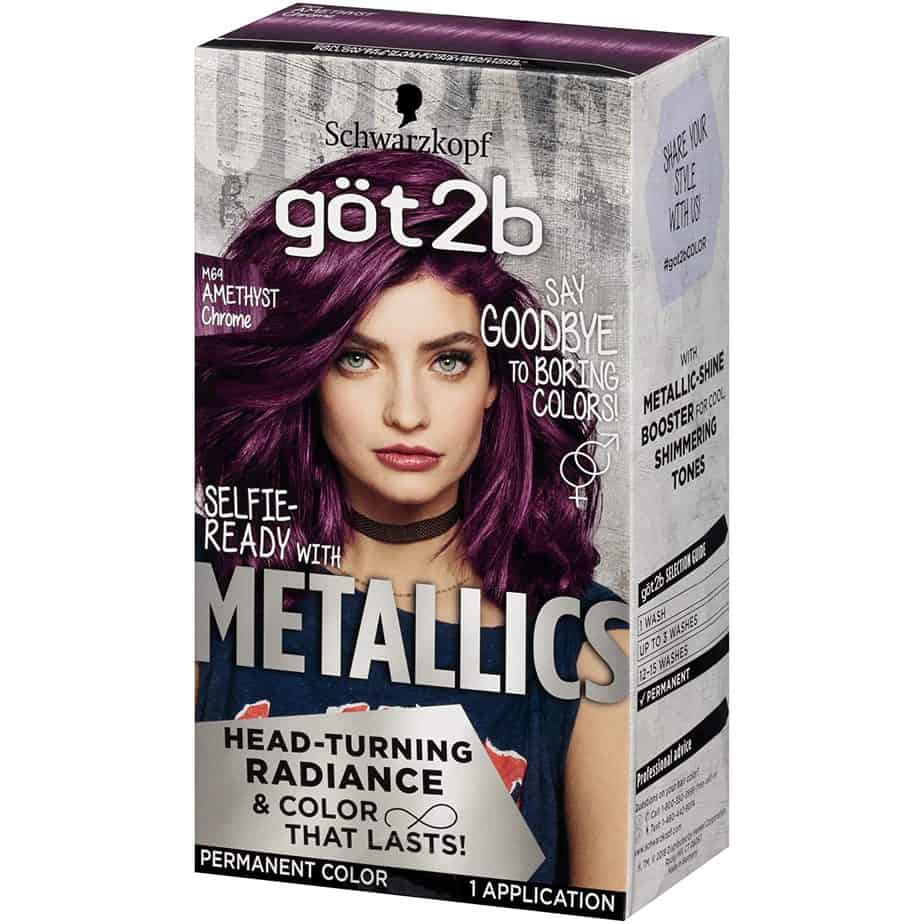 This Got2b hair dye produces a magnetic, eye-catching shade that falls somewhere between amethyst and plum. It's a universal shade that will look gorgeous on both fair and darker skin. It definitely makes a statement, but it's not neon enough to annoy your boss or professor.
Schwarzkopf equipped this dye with an anti-fading formula that ensures a long-lasting effect. Additionally, the dye includes a metallic shine booster that makes your hair look as if you'd just stepped out of a hair salon. 
The box contains everything you need: a tube of coloring cream, an application bottle with developer lotion, an after-care treatment, a pair of gloves, and an extensive set of instructions. One thing to remember — if you've got longer hair, you may need two of these for full coverage!
Best Semi Permanent Hair Color: Adore Creative Image Semi-Permanent Hair Color
You don't have to spend a ton of cash on your semi-permanent hair dye just to get good results. Creative Image is a fair-budget option that produces a breathtakingly rich purple hair color. This color, appropriately titled Violet Gem by the brand, is a bold amethyst-like shade that goes well with most skin tones, although it's especially striking against fair and medium skin.
Like most semi-permanent hair dyes, Adore is free from alcohol, ammonia, and peroxide. This makes it safe to use on most types of hair. 
The color provided by this dye is only made more beautiful by the formula that boosts hair shine and softness. It's not uncommon for hair to come out dry after coloring, but this dye does a good job at preserving the natural moisture in your hair.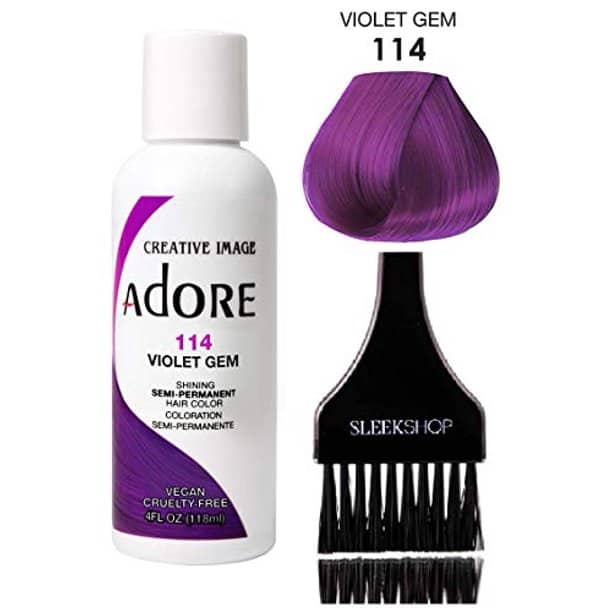 Perhaps the only downside to this product is that it doesn't come with a dyeing kit — you're getting a bottle of hair dye and nothing else. You will also need to bleach your hair before applying this color to get it super vivid.
Best Purple Hair Dye for Blonde Hair: L'Oreal Paris Colorista Semi-Permanent Hair Color
Semi-permanent hair dyes give you heaps of freedom to experiment and play around with different colors — no commitment needed! This is why we love L'Oreal's Colorista line. Full of vibrant colors, Colorista delivers some of the most gorgeous shades of purple, lilac, and pink. If you have natural blonde or light brown hair, then this purple shade will surely catch on beautifully. It's also recommended for bleached and highlighted hair.
L'Oreal's Colorista line is super-easy to apply, as it's more of a hair mask than an actual dye. It doesn't even need to be mixed with a color developer, as all you need is right there in the tub. It's also 100% vegan and doesn't contain any animal-derived ingredients. Free from peroxide and ammonia, this dye is suited even for damaged hair.
While this hair dye doesn't last too long (around three weeks, depending on how often you wash your hair), it tends to fade pleasingly. It's almost like having a brand new color after each wash as the dye slowly fades into pastel.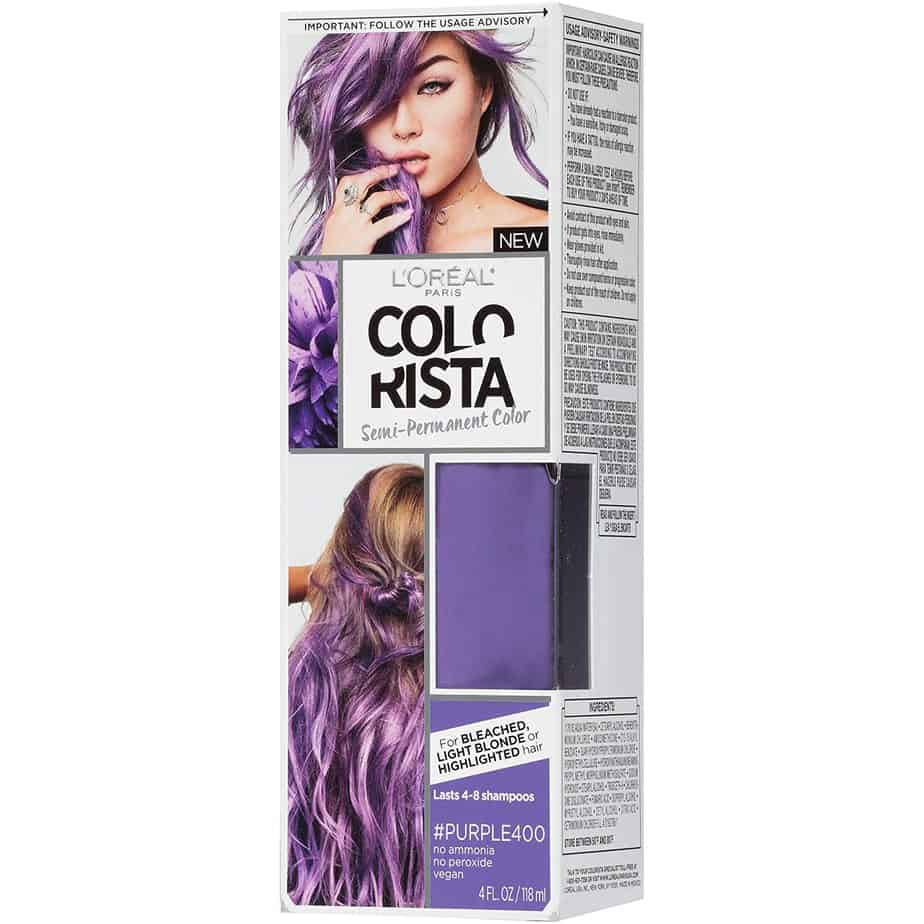 Since Colorista is so easy to apply, it's really easy to pick up a few boxes and mix the colors until you get your very own, unique shade. It's also a great stepping stone on the way to mermaid's hair!
Best Temporary Purple Color: L'Oreal Paris Hair Makeup Temporary 1-Day Hair Color
Have you ever,  at least once in your life, wished you could change hair color as you usually do with makeup? Imagine applying it in the morning then washing it off at night. It seems that dreams do come true because L'Oreal's Hair Makeup line gives you just that — a vibrant hair color that only lasts for one day.
If you're not quite sure whether purple is going to suit you, going with a temporary hair dye has never been easier. Don't bother with Snapchat filters and try out the real thing in the simplest way possible. You just simply have to work it on your hair. You won't even need disposable gloves!
While this particular shade is advertised as being perfect for brunettes, there's no reason why a blonde can't use it. You can simply expect it to be stronger when used on lighter hair, but it will still come off after 1-2 washes.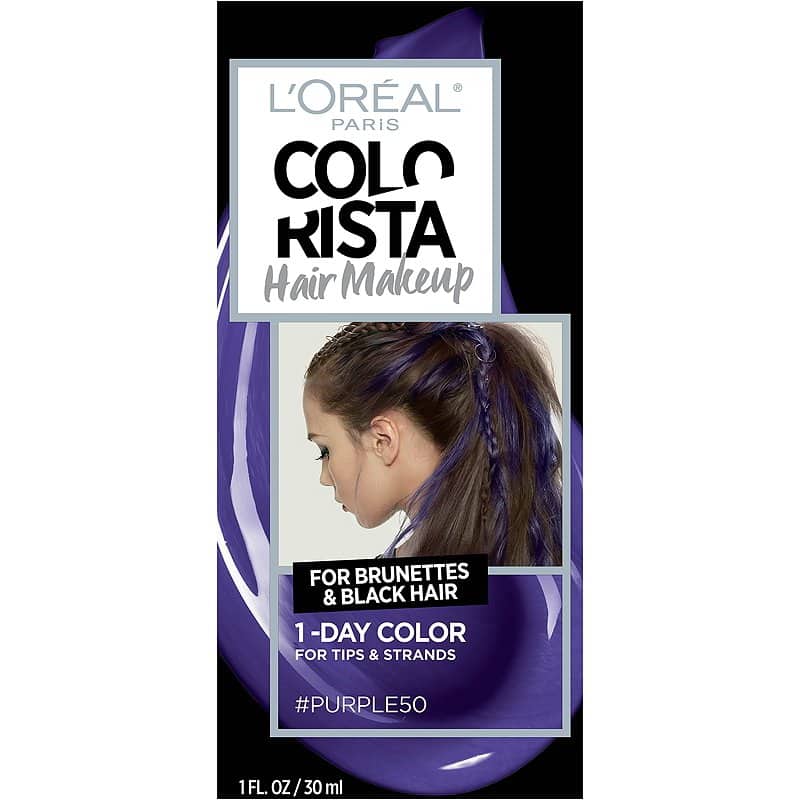 Once your hair is dry, the formula in this temporary dye locks the color inside your hair and minimizes transfer. We still recommend patting your hair with a towel a few times before heading out.
Best Purple Hair Dye for Brunettes: Schwarzkopf Keratin Color Permanent Hair Color Cream
It's no secret that darker hair is difficult to color. As your current shade is already dark and vibrant, it's harder to spot any change to the color that isn't drastic. Moreover, hair dyes just don't catch on as well when your hair is already heavily pigmented. Fortunately, some hair dyes provide beautiful results even on dark hair, and Schwarzkopf's Keratin Color treatment is one of them.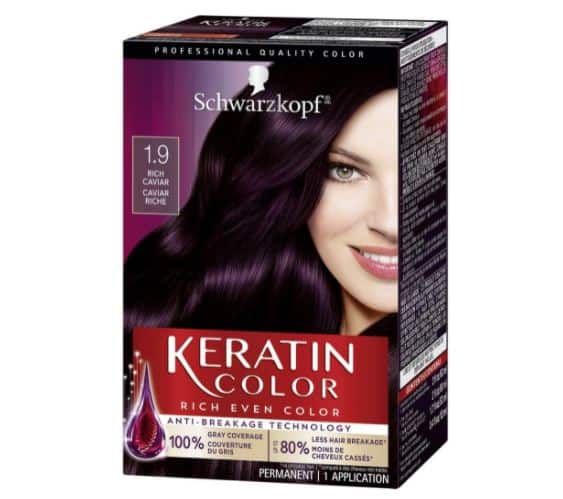 This shade is called "Rich Caviar". It's a fitting name for such an exquisite, deep purple that almost dips into black. Rich Caviar is a strong color that offers 100% grey coverage and shows up even if your hair is dark. And if you've got lighter hair, prepare for a massive change, because you know that this purple is going to alter it fully!
The box comes with everything you need, from an applicator to a protective pre-color serum. All of this ensures that your hair won't break after coloring and will continue to look delightfully luscious and vibrant for weeks to come.
FAQ on How to Find the Best Purple Hair Dye
You've seen our best picks and you've heard our best tips, but if you've still got questions in mind, we are here to answer! Check out our handy FAQ section below.
Question: Can I dye my hair purple without bleaching it?
Answer: Absolutely! Brunettes and black-haired ladies all around the world dye their hair purple with great results. The trick is to choose two things: the right shade of purple and the brand. Basically, you'll want a manufacturer who makes hair colors for darker hair. You will find that some hair dyes disclose right away that their product is ideal for light hair. Avoid those and stick to brands that show up on black and brown hair, such as L'Oreal Paris Hair Makeup Temporary 1-Day Hair Color or Schwarzkopf Keratin Color Permanent Hair Color Cream.
Question: How do I know if purple hair will suit me?
Answer: Dyeing your hair with a color such as purple is even trickier than simply going from blonde to brown and vice versa. Not every shade goes perfectly well with every kind of skin tone, and not all kinds of hair color show the same purple that's promised on the box.
Before taking the plunge into permanent hair dye, it's good to check out a temporary or semi-permanent dye first. This lets you try out the color in real life without having to play with filters or Photoshop. Your other option is to simply take a picture of yourself and look for a filter that turns your hair purple — but you have to remember that the result you achieve in real life will likely vary greatly.
Question: What color cancels out purple hair?
Answer: If you've tried out purple but you don't quite love it, there are ways to get rid of the color. First of all, if you've used temporary or semi-permanent dye, you can expect the color to come off after a few weeks at most. You can speed up the process by washing your hair more frequently, but don't go overboard, as it can be quite damaging to your hair if you wash it too often.
However, if you've gone with a permanent hair dye, your best bet is to simply dye it with another color. Black is usually safe if drastic, option. You can also use orange tones to cancel out light purple, or yellow tones to cancel out dark purple.
Final Thoughts: Get the Best Purple Hair Dye Today
Purple hair is fun, quirky, vibrant, and gorgeous. It's currently loved by celebrities and you can see it out on the streets more and more. It can be treated as a way to express yourself and your own personal style. It's also sure to be eye-catching. Be prepared for a lot of compliments on your hair!
Whether you're looking to make a permanent change or you're just trying it out for a birthday party, purple hair dye is sure to brighten any and all types of hair. We hope we've helped you pick the best purple hair dye with this guide. Going purple in the comfort of your own home has never been easier. Please don't hesitate and get the hair you've always dreamed of today!
Looking for more interesting readings? Check out: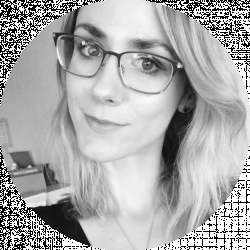 Latest posts by Karyl Trejo
(see all)