Ah, red hair. We know it as one of the rarest hair colors in the world; in fact, only 2% of the world's population have natural red hair. If you still want fiery tresses, there are plenty of red hair dyes on the market in various shades.
Which shade should you choose? Dark red is my favorite shade of red. It's a rich yet versatile color that can be as natural or bold as you want. For example, burgundy hair is a lovely yet natural color reminiscent of wine, while scarlet red is an intense yet artistic shade.
With so many options, you'll first want to know how to find the best dark red hair dye. Continue reading my guide to learn more!
Bottom LineUp Front
To find the best dark red hair dye, you'll first need to know which type of dye you want, the exact shade of dark red, you'll want to find a nourishing formula that's free of dangerous chemicals, use a reputable brand of hair dye, and consider ethics such as vegan and cruelty-free.
The dye I recommend most is the L'Oreal Fade Defying Shine Permanent Hair Color. The color auburn is a very natural-looking shade of dark red, and the results are comparable to what you'll experience in a salon. I also recommended several other hair dyes that you may want to consider, too.
How to Find the Best Dark Red Hair Dye
There's more to buying the perfect dark red hair dye than you think. So, what should you look for?
Type of Dye
Since dark red is a natural hair color, you can find this shade as a permanent option. But bolder shades of dark red will be available as a demi- or semi-permanent hair dye.
What do all of these terms mean? It's how the pigment affects the hair shaft. With permanent dye, the color completely penetrates the hair shaft and completely changes your natural hair color. Inevitably, your natural hair color will grow back in, but this could take as long as eight weeks.
If you don't want dark red to completely deposit into your hair shaft, demi- and semi-permanent are also long-lasting options. Demi-permanent contains no ammonia, which means it will only deposit the pigment. This dye isn't as powerful as a permanent dye, but it's a good option if you're a natural redhead or brunette and want the dark red color to enhance your natural color. Demi-permanent dye lasts as long as 24 shampoos.
Semi-permanent dye also only deposits color. You don't have to mix it with a developer, making it a great DIY dye option. However, semi-permanent dye doesn't last as long as demi-permanent; about 12 shampoos on average. I suggest washing your hair sparingly if you use a semi-permanent dye.
Temporary dye is also an option. These dyes usually only last for one shampoo and only deposit on the surface of your hair. These colors are great if you're unsure if dark red hair will work for you and you want to try out the color, though I don't recommend going this route unless your hair color is either blonde, red, or light brown. If your hair is too dark, the temporary dye won't stand out.
Shade of Red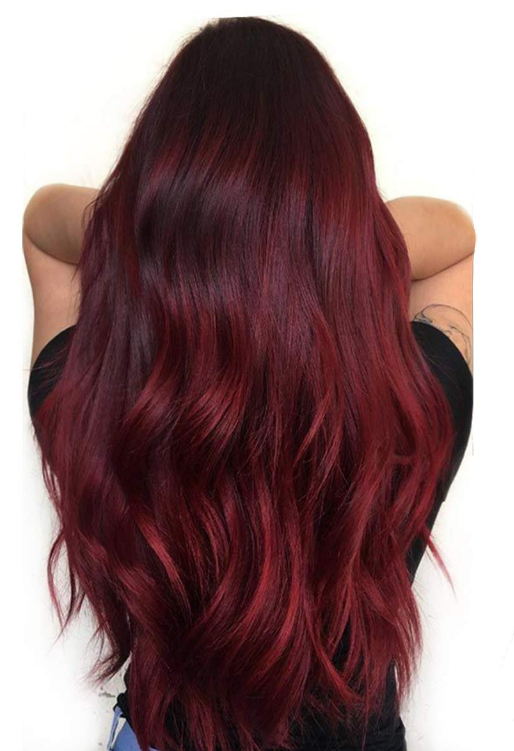 Different shades of red are under the dark red category. I mentioned a few of them, such as burgundy and scarlet red. Here are a few other popular shades of dark red:
Some colors may look better on some people than others. For example, cherry cola is best for those with dark hair who want a red tint while rusty red is better for those who want a brighter red. Chestnut red looks more natural while hot red is fiery. Dark strawberry is best for those with cool skin tones while dark copper is best for those with a warm skin tone.
Nourishing Formula
Your hair dye should do more than deliver rich color. The dye you choose should have a nourishing formula, so your hair looks silky smooth after coloring it. Find a hair dye made with a conditioner or a box set with a separate conditioning product. There are also pigmented hair conditioners out there that you can use to maintain your red hair color, even when you wash your hair.
Brand Authority
It's integral that you use a hair dye from a reputable brand. These companies have years of experience and can deliver high-quality dyes. If you're new to hair dye, it can be difficult to know the best hair dye brands. Don't worry, I will recommend some of my favorites in another section.
No Dangerous Chemicals
Over-the-counter hair dyes commonly contain dangerous chemicals to increase their shelf life. Some of these ingredients include hydrogen peroxide, ammonia, and p-phenylenediamine. These ingredients are a common source of allergies and skin irritation but can also be more dangerous; for example, these ingredients have also been linked to birth defects, endocrine disruption, and toxicity.
Try and use dyes that don't contain these harsh ingredients. I suggest sticking to semi-permanent dyes in this case since these products usually don't contain ammonia and other chemicals.
Vegan and Cruelty-Free
Vegan means the product contains no animal-derived ingredients and cruelty-free means no animal was conducted during any part of the production process. For vegan hair dye, I also urge you to look for the plant-based label, which means the dye contains fewer toxic chemicals than other hair dyes.
Why is this important? It's more ethical to use products that don't exploit animals, especially if you're a big animal lover! You can find vegan and/or cruelty-free hair dyes over-the-counter and at a salon. I will admit that not all of the dyes on this list are vegan or cruelty-free, but I will mention which ones are.
My Favorite Dark Red Hair Dye Options
Are you ready to dye your hair dark red? Here are some of my favorite hair dyes!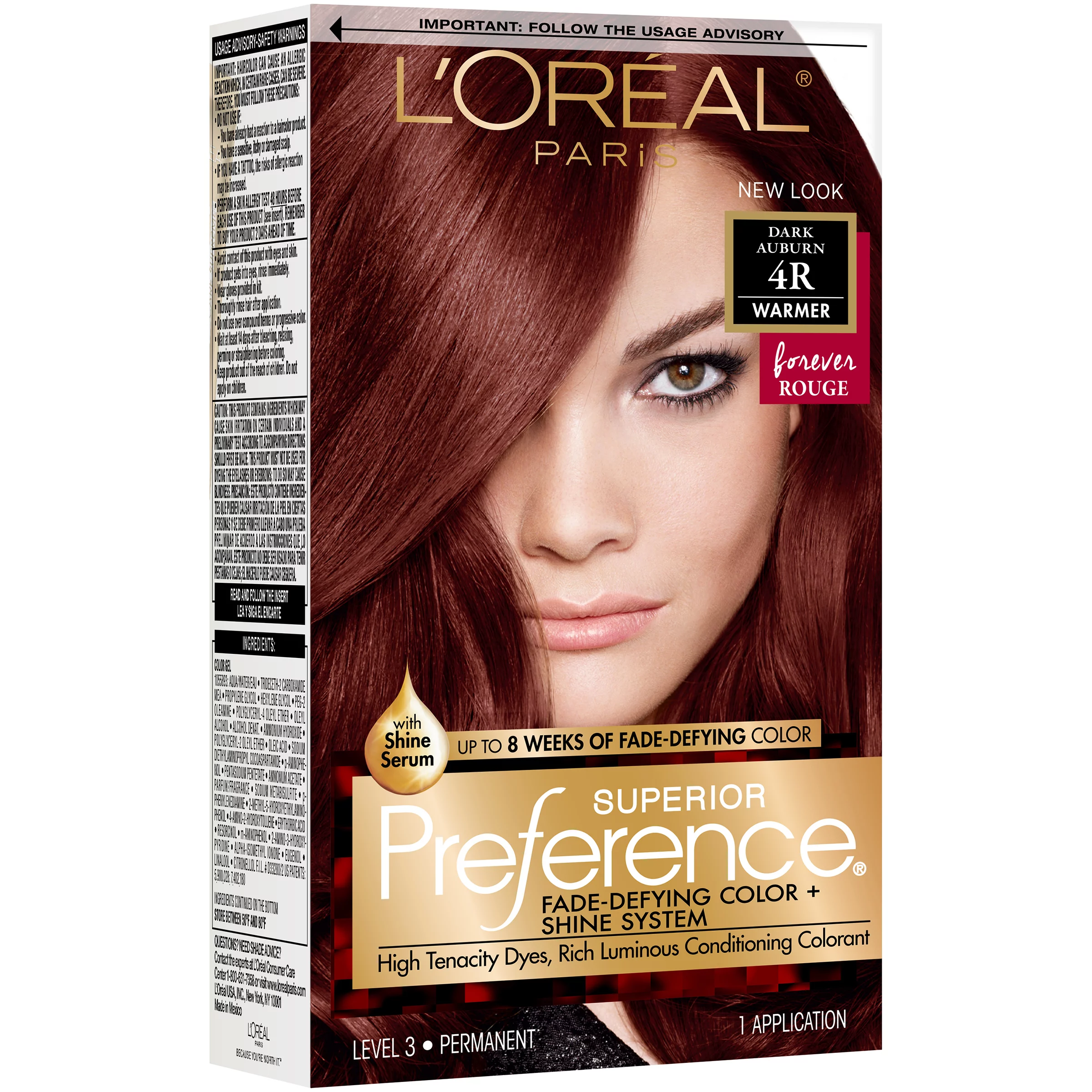 This dye is the closest to a professional and natural shade of auburn that I could find. By looking at YouTube videos, it's not as dark as the picture on the box, but the color is very vibrant and gives your hair some unique highlights.
The color is a warm shade of auburn, so this wouldn't be a good option if you have cool undertones. There are other reasons why I like this dye. The scent is very gentle, which is great for me since I'm prone to migraines.
At the same time, this dye has its setbacks. L'Oreal claims this is a "fade-defying" dye, but reviewers mentioned the dye lasts about three weeks. While that's pretty weak, red dye lasts shorter than most hair dye brands.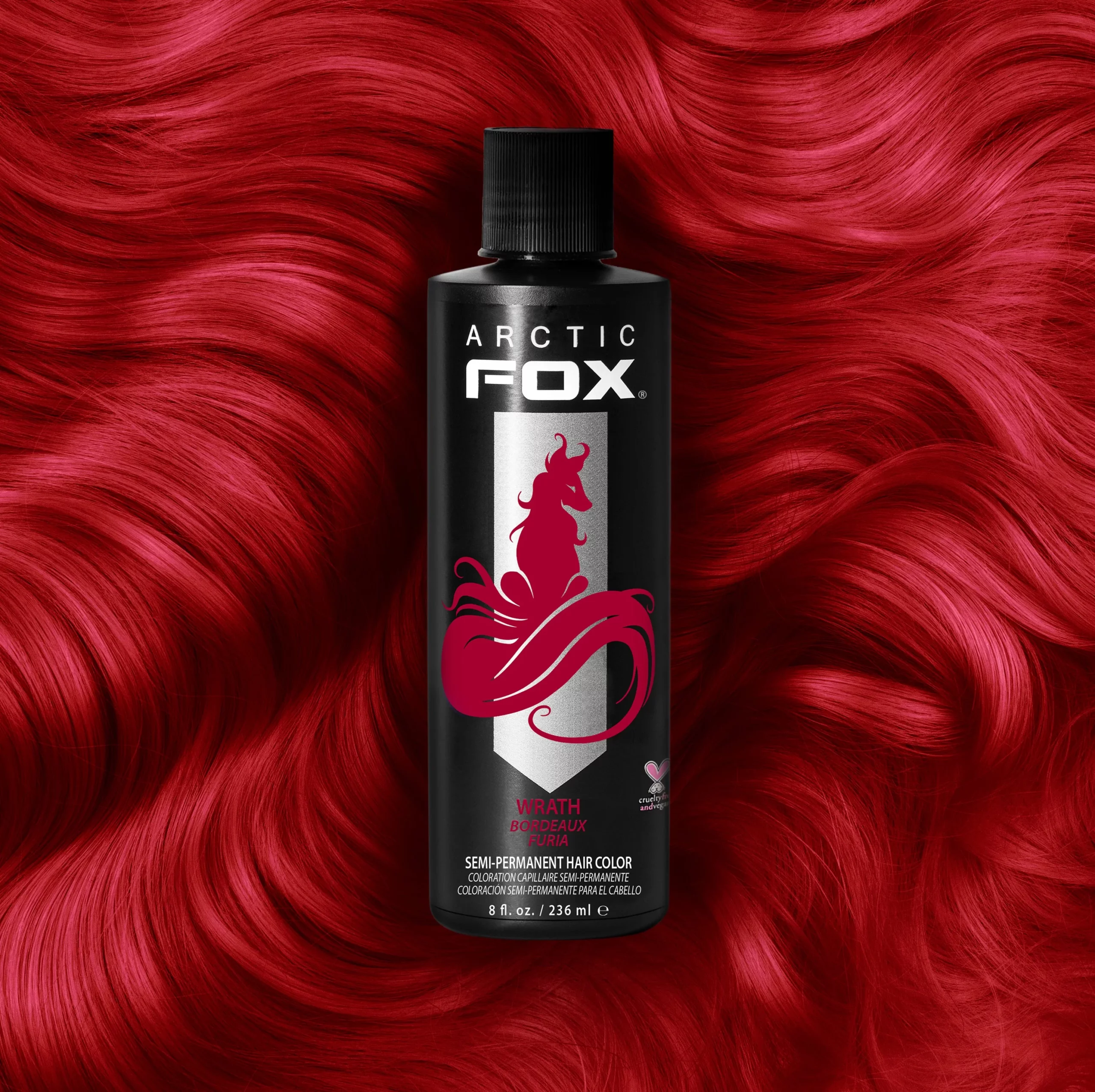 Wrath is a lovely cherry-toned shade of red. Keep in mind that your hair will look super cherry, depending on your base color. If you dye it over platinum blonde hair, your hair will look brighter. But this color is unique because you can dye it over light brown hair for a dark cherry color. For a cherry color, use this dye over brown hair (I suggest letting the dye penetrate longer, so it's more vibrant). The color also has purple tones for more dimension.
There are other reasons why I love Arctic Fox dye. This dye is formulated with a deep conditioner so your tresses will feel hydrated. All Arctic Fox dyes are also vegan and cruelty-free!
As a semi-permanent red dye, this color likely won't last as long as other Arctic Fox dyes. Some reviewers even complained that this color lasted only three shampoos. Wash your hair as sparingly as possible, ideally once a week. It also fades to pink, so keep this in mind before using this dye.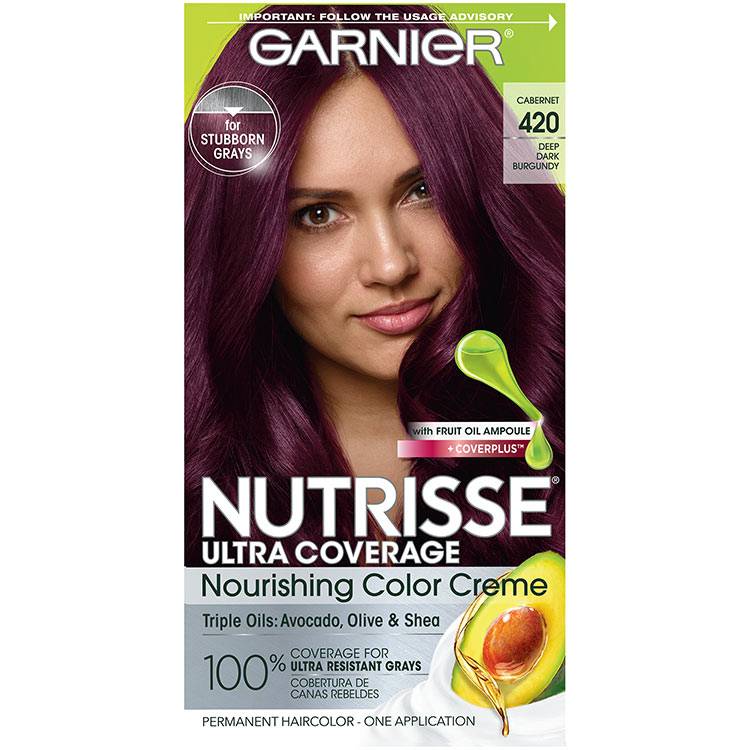 This is a true dark red color. Whether you use this dye on white blonde hair or even dark brown, you'll end up with bold wine-red hair. The box makes it look more purple, but I found some more pictures online, and this color is more of a red. As a permanent hair dye, Garnier promises that this dye has 100% gray coverage and the color is long-lasting. Because of these promises, this dye has garnered a cult following. Garnier is a cruelty-free brand, though I'm not sure if this dye is vegan.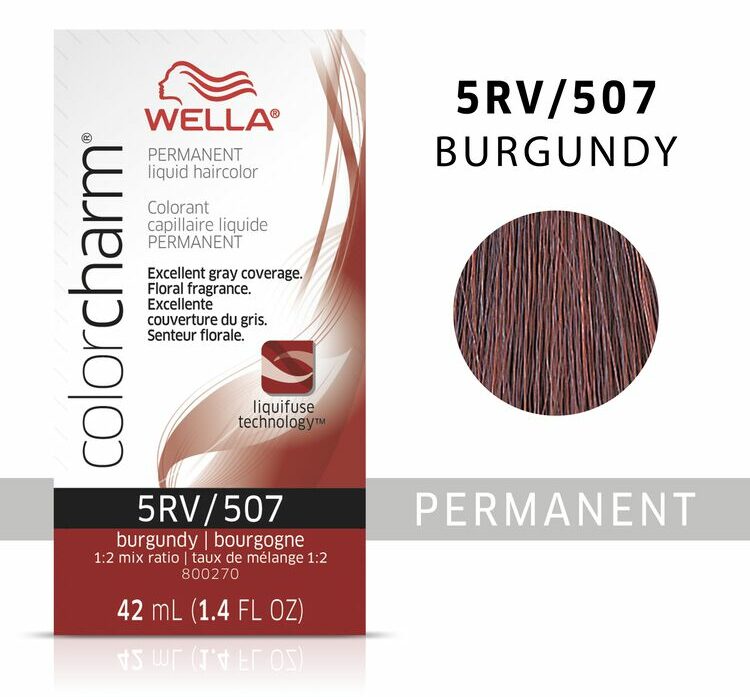 If you want a natural dark red, I suggest choosing this color. From the pictures I'm seeing, this is a cool-toned dark red, which is perfect if you have cool undertones or you don't want a red hair color that's too warm. I do suggest dyeing this over light hair (blonde or dark blonde), so the burgundy tones are more vibrant. This dye will leave your hair soft and shiny. Keep in mind that since this is a permanent dye, you will need a developer. Wella is a cruelty-free brand, though I'm not sure if this dye is vegan.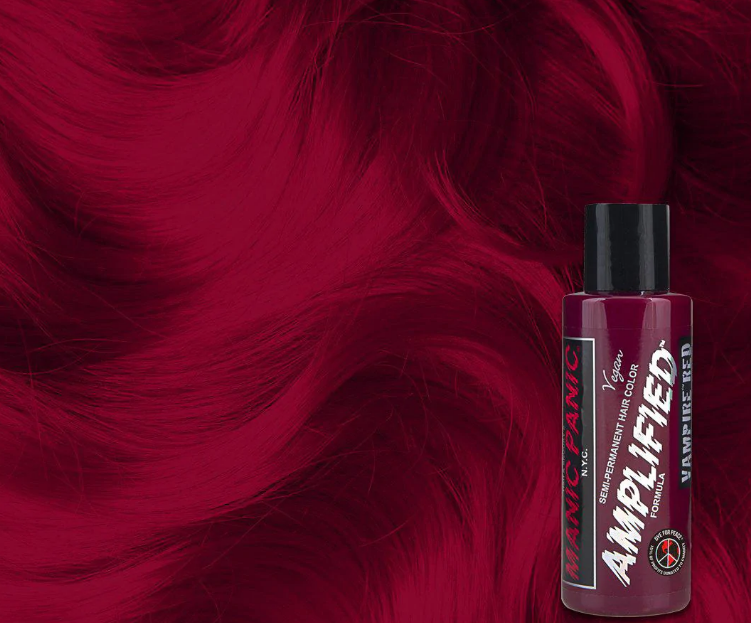 When it comes to bold hair colors, no brand has more leverage than Manic Panic. Manic Panic has been around since the 70s, before having funky hair colors was ever even known. Since then, Manic Panic has developed a cult following and makes every single hair dye color imaginable.
I love this shade of red. Vampire Red is a deep blood red. When dyed on brown hair, the color is more similar to cherry cola; the red is more of a tint that's visible in the light. But if you use it on blonde hair, the color will look more like a candy apple red. The best part about Manic Panic dye is you can mix colors. If this color is too warm for you, you can mix it with After Midnight (deep blue) for a purple-red color.
This color is in Manic Panic's Amplified line, which is more pigmented than its other dyes. The dyes are still very conditioning and aren't made with PPD, decreasing the risk of damage. Manic Panic is a vegan and cruelty-free company.
There are some downsides to Manic Panic. I find their dyes are extremely staining — expect to find some red on your towels, pillows, and clothing. That said, I also find Manic Panic dyes are some of the longest lasting. Even as a semi-permanent dye, I find these colors last the full eight weeks.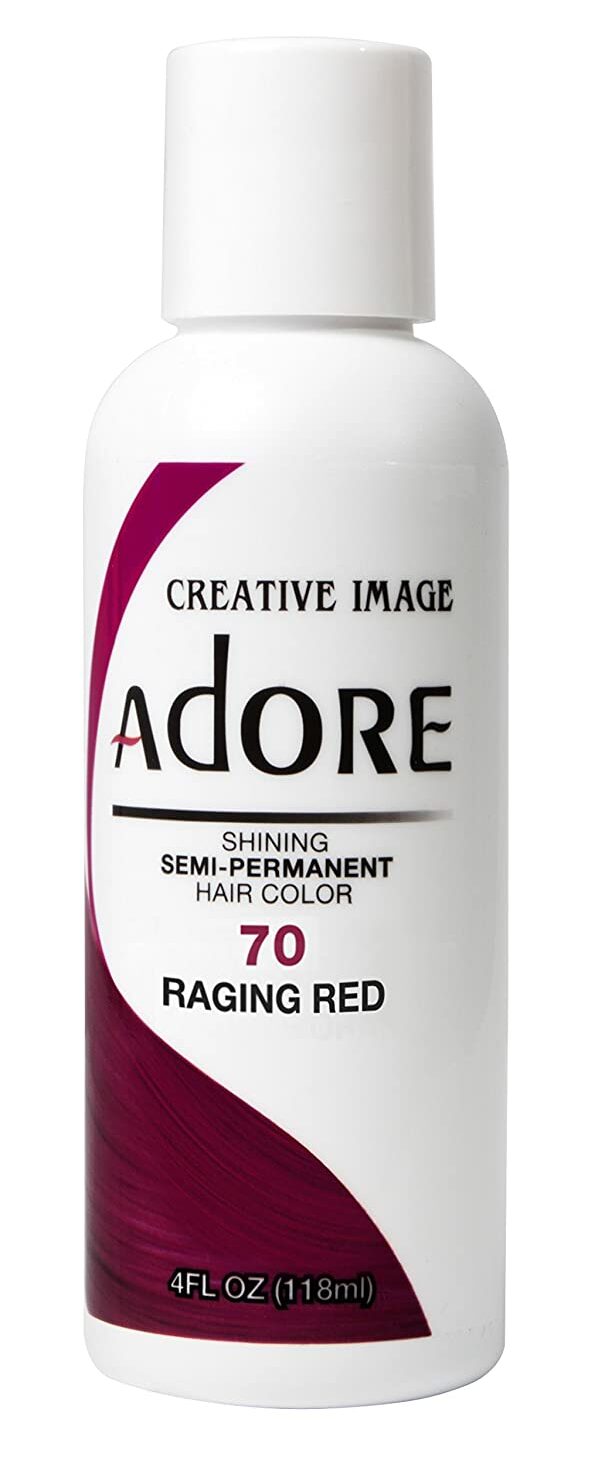 First, I want to say that Adore offers several red shades and nearly any of these can work. I'm choosing Raging Red because it's the boldest dark red, but you have other options. You can use this on brown hair for a tint or on lighter hair for intense color.
As a semi-permanent dye, this is ammonia-free and usually lasts around four weeks. I'm not finding an official statement from Adore, but I am reading they're cruelty-free and that this dye is vegan. I still suggest conducting your own research if these ethics mean a lot to you.
There are some downsides to these Adore dyes. They're liquidy, so they can be hard to work with. I'm reading that users mix them with conditioner to thicken the formula (doing this will also make the color a little lighter). These are also pretty pricey, more expensive than the other dyes I listed.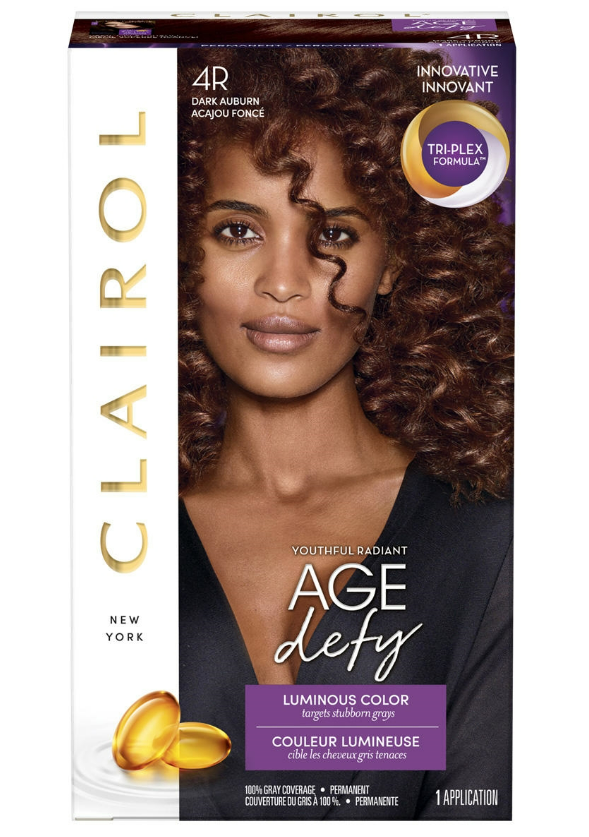 I was debating between mentioning this dye or Clairol's Perfect 10 dye. I chose this one because I like the dark auburn color here better. One problem that I have with OTC red hair dyes is they look really cheap and unnatural. The Age Defy dark auburn looks like you walked into a salon and got your hair professionally done. I do suggest dyeing this over lighter hair, so the red color stands out more.
The only I suggest is being wary about ordering this dye on Amazon. I saw it selling for $20, while the dye is $8 at Walmart. Looking at Amazon customer photos, their hair looks more brown than auburn, so I'm wondering if the dye they're buying is even the real one. Other Amazon reviewers complained about the seller, so I would buy your Clairol dye from other retailers.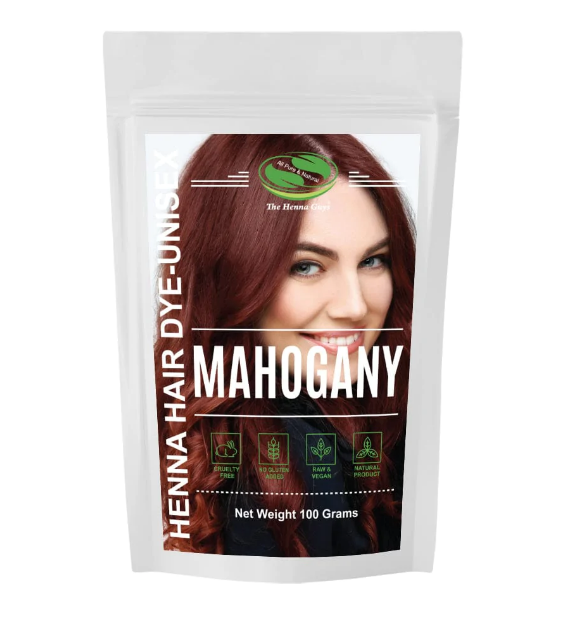 Whether you have a sensitive scalp or would rather use something natural, more people have been jumping on the henna hair dye train. This henna dye offered by The Henna Guys is natural, ammonia-free, and plant-based while giving your tresses a dose of beautiful permanent color. Indigo powder is also included, which helps gives your hair more pigment. Both henna and indigo powder has been used as dyes throughout history. The Henna Guys is a vegan and cruelty-free brand.
Even though I've always liked the idea of henna hair dye, I've always been skeptical. It's rare to find trustworthy henna hair dye brands and most of the products I've considered had as many negative reviews as positive ones. Customers complained the dye is messy and feels heavy on the head. Others complained they got a headache! I'm prone to migraines, so that's something I have to consider for myself.
However, this dye from The Henna Guys seems to be the most legitimate option that I've found. The dye isn't messy, it doesn't stain, and it leaves hair feeling soft and healthy.
The Henna Guys offer various shades of dark red, but I decided to recommend this gorgeous mahogany color. Mahogany is a reddish-brown hair color, though some shades are more red than brown. From the pictures I'm seeing, this dye from The Henna Guys is on the redder side.
You will get the best results when you use this dye over light brown hair, though dyeing this over dark hair will result in a natural red tint. If you have blonde hair, I suggest another shade of red. Reviewers complained that this hair dye turned orange.
FAQs
Question: I have dark hair. Do I need to bleach my hair to dye it dark red?
Answer: It depends. If you want your dark red hair to still be intense, you must bleach your tresses. Fortunately, you don't need to bleach your hair a lot. For most, bleaching it to a level 5 (which is a light brown color) will give you that deep vampy red hair color. I will say that certain shades, such as wine red, probably won't require bleach. The red serves as a slight tint. Even if your hair is dark brown, the red tint should show up.
Question: Which of these shades of dark red will work for me?
Answer: I suggest looking at your undertones. If you have warm undertones, a dark copper-red will work best for you. If you have cool undertones, find a purple-toned strawberry or raspberry red.
Question: Can I dye my hair dark red DIY?
Answer: Yes! Especially if your hair doesn't require bleach. Shop one of my recommended dark red hair dyes and follow the package instructions. If you need to bleach your hair, I suggest going to a professional unless you're experienced bleaching your own hair.
Bottom Line
Dark red hair is one of my favorite hair colors and one I've had numerous times. Before dyeing your hair red, you'll need to know how to find the perfect hair color. Consider the type of dye, the shade of red that you want, ensure the formula is nourishing, the dye contains no dangerous chemicals, you're buying a trusted brand, and certain factors such as vegan and cruelty-free are also helpful!
The dye I recommend the most is the L'Oreal Fade Defying Shine Permanent Hair Color. The shade of auburn is very lovely and is the best option if you want a natural-looking shade of dark red. L'Oreal is also a reputable brand with more leverage than many other companies. I also suggest looking through my product recommendations to find the best dark red hair dye.
Looking for more interesting readings? Check out: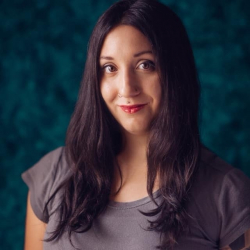 Latest posts by Stephanie Jensen, Hair Trend Spotter & Home Tester
(see all)