My hair is light brown with dark blonde highlights. I love it, so I want to keep it that way as long as possible. For that reason, I've been searching for a color-protection shampoo for quite some time now, and I stumbled upon the Redken Color Extend option. Once I tried it for the first time, I instantly thought of creating today's Redken Color Extend (the Magnetics version) shampoo review to help you guys make a well-informed purchasing decision.
Bottom Line Up Front
After trying the Redken Color Extend shampoo, I can only say one thing: it works pretty well, but it didn't impress me. It smells nice, but nothing out of the ordinary. To me, the scent is very similar to many regular drugstore shampoos. It cleans my hair pretty well, but it tangles it a bit. Once dried and brushed, my hair felt soft but not as smooth as it had been with other, more expensive shampoos.
Regarding the color, I saw a slightly lighter hue on my highlights, but the difference was almost unnoticeable. Redken Color Extend is a decent shampoo with good results, but I prefer other brands.
About Redken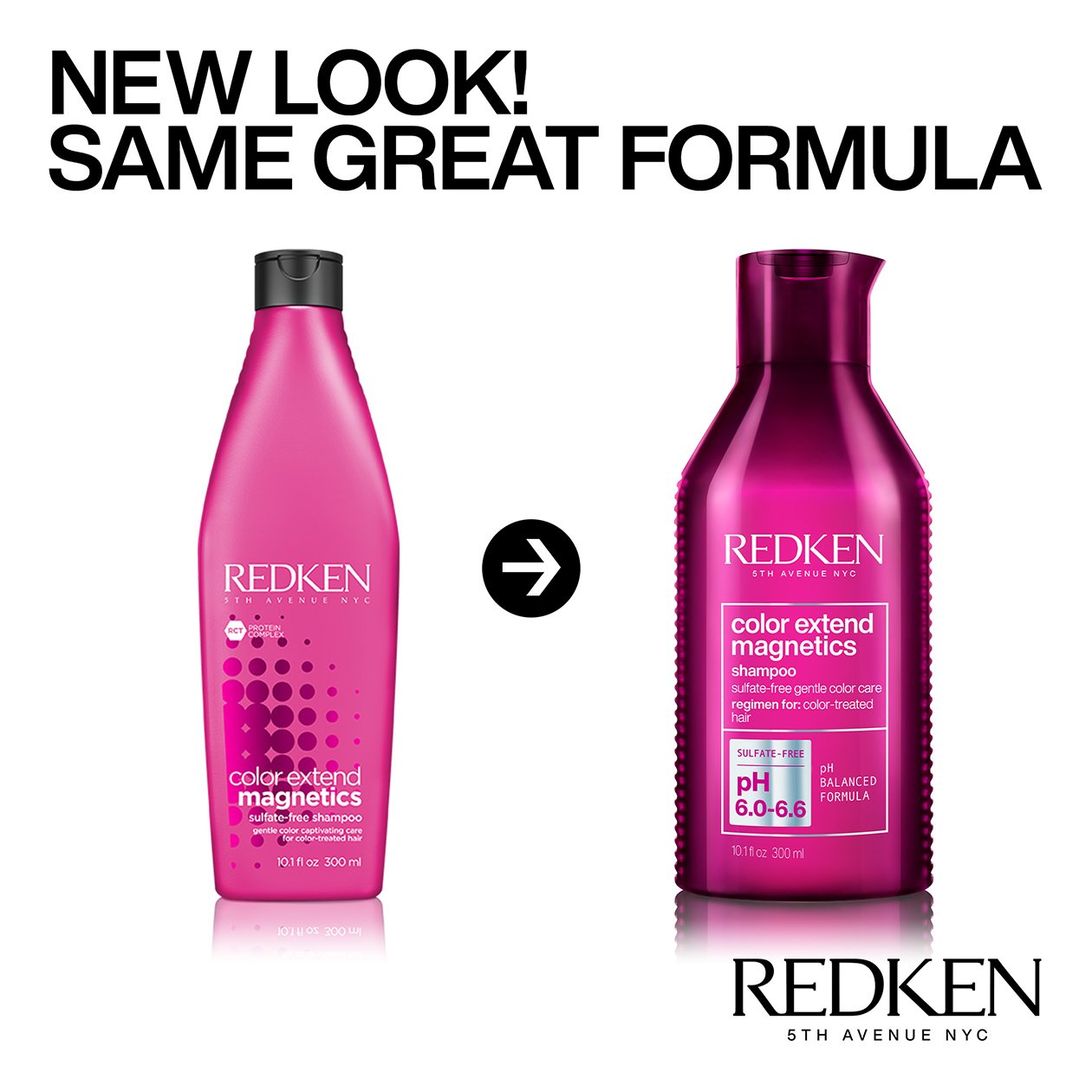 Redken is a famous cosmetic brand that sells haircare products. It has a long history. Paula Kent, a TV drama actress, founded the company in 1960. She collaborates with a reputable chemist who creates special low-pH shampoos. These are suitable for Paula's highly sensitive hair. In 1965, she became the sole owner of the business, and one year later, Redken reached 1.5 million dollars in annual sales.
In the following years, many other well-known hairstylists and public figures joined the company or had fruitful collaborations with Redken. While the business went partially public in 1971, Paula remained the leading player on Redken's board of directors, owning 52% of the shares. By 1983, the brand was present in 13 different countries. In 1993, Redken was bought by L'Oreal Paris.
Over the years, the brand has launched numerous product lines, all of which are appreciated by the public and loyal clients. Paula created a mini-empire with Redken products. She led a long and prosperous life, passing away in 2014 at 82. However, the brand remains popular, purchased by customers from 43 countries.
Redken Color Extend Shampoo Features
The shampoo's primary purpose is to prolong the life of your hair color;
It's gentle on your scalp and locks, being pH-balanced;
It comes in a bulky yet easy-to-handle bottle with a vibrant fuchsia color;
It smells nice, but nothing impressive;
It was effortless to pour and apply the product to my hair;
I love its lathering power and gel-like texture;
Strengthens and cleanses your locks;
I appreciate the shampoo's UV protection.
Ingredients
After using the Redken Color Extend shampoo, I was pleased with the results. My hair felt cleaned and refreshed, although a bit dry. So, I went and checked the ingredients on the label. It's formulated with cranberry oil that boosts your locks' vibrant color. Moreover, it contains ceramide, which strengthens your hair.
Other ingredients worth mentioning are:
Citric acid – can be used as a conditioner substitute due to its properties; it makes your hair softer, adds shine, and closes up the follicles;
Arginine – boosts hair growth and improves your scalp's blood circulation; it also repairs split ends;
Hydrolyzed soy protein – nourishes and conditions your hair by restoring its natural suppleness.
It has a fragrance which, for me, is fine, but for more sensitive people might become an issue.
Size and Packaging
I like the large shampoo bottle, despite its bulky shape. But it's very easy to handle. One bottle of Redken Color Extend contains 500 ml of shampoo, which is excellent. Moreover, the container isn't too tall for my tiny hands, and the lid opens quickly and widely. So, pouring the shampoo into my hand and on my hair without squeezing the bottle was simple.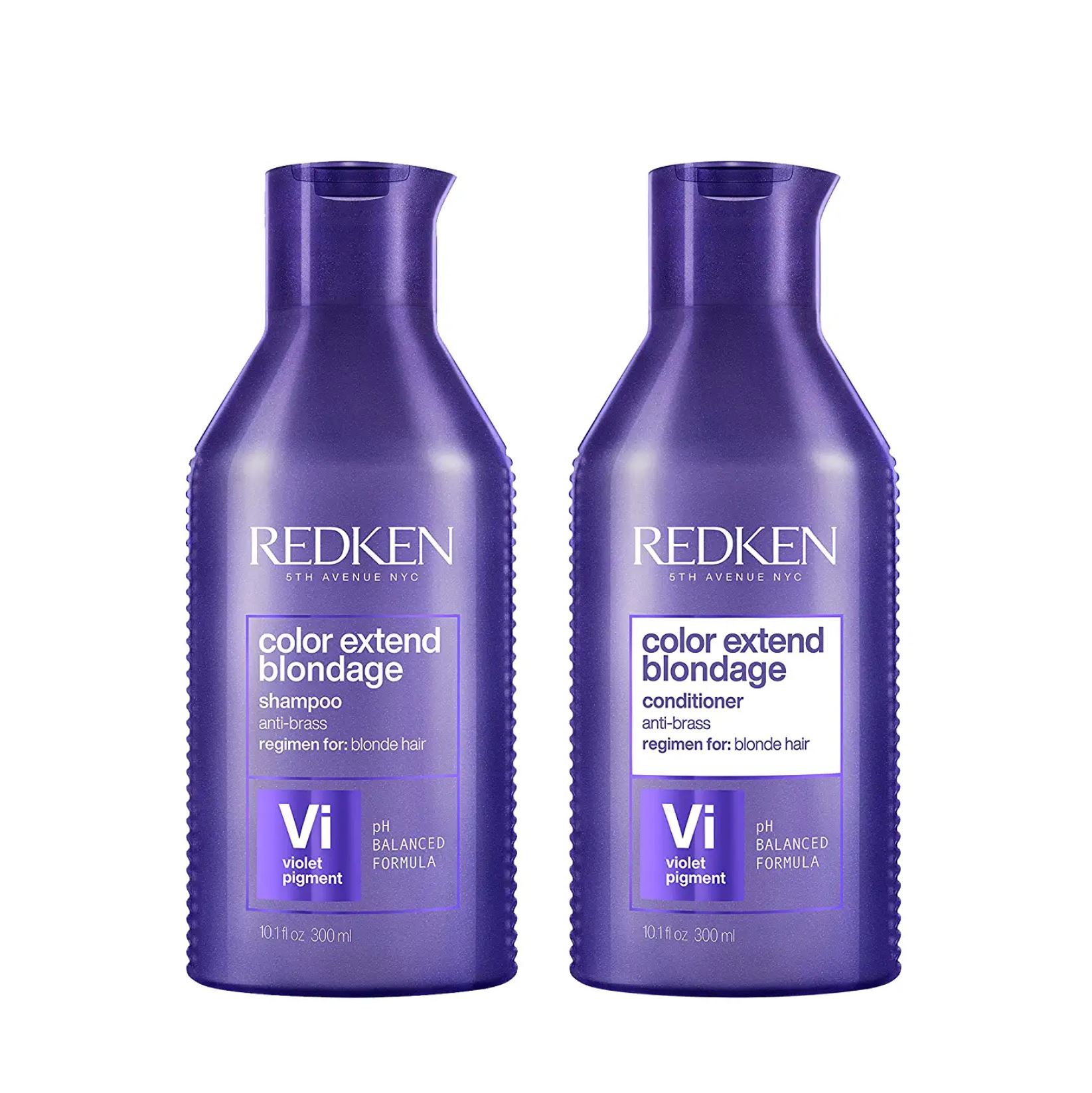 I like the bold fuchsia color of the container, the clear fonts, and the useful details written on the label. It also comes in one-liter bottles, but I didn't want to risk buying and using a product I might not like on the first try. One thing's for sure: I prefer this new bottle design, the one I've captured in my photos, to the initial shape, which was thinner yet less bulky.
Price & Where to Buy
If the shampoo offered terrific results, I would've said it's medium-priced. But, considering I wasn't genuinely impressed with the outcome, I can say it's a pretty expensive shampoo. I would have purchased the smallest available container, one of 300 ml, but on the website, there were two options: the one I chose of 500 ml and the one-liter bottle.
The largest bottle costs around $46, while the smallest alternative is $24. Mine was approximately $30. You can find this product on many online shopping platforms, including Ulta, Hair.com, Amazon, and Lovely Skin. I couldn't find it at Sephora, though.
All in all, I consider this shampoo expensive and not worth the hype. However, I found many outstanding reviews about it. So, perhaps the formula doesn't suit my hair type.
My Experience with Redken
Let's see how well this shampoo worked for my hair type. Here are the results I got.
Before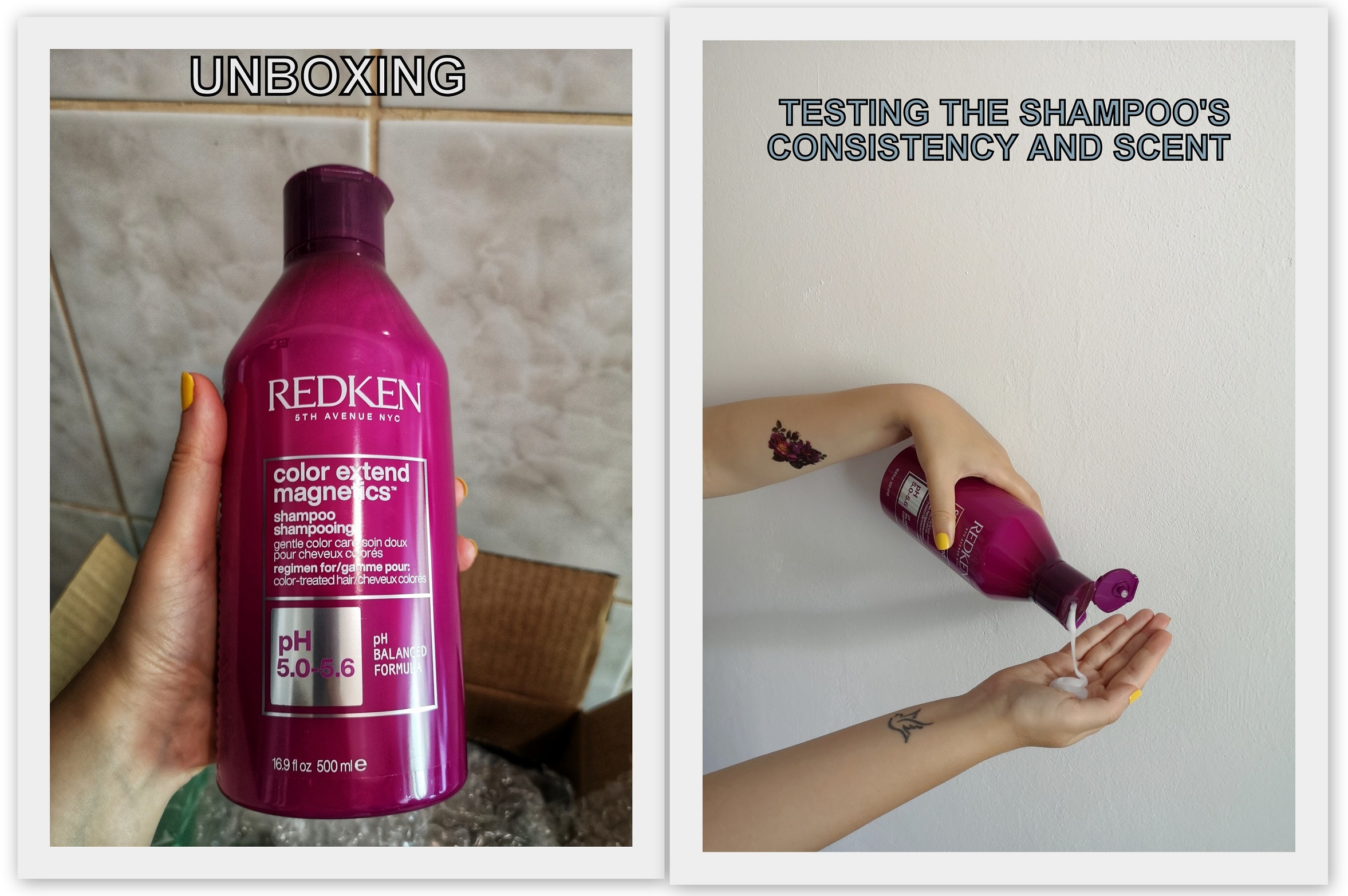 It says on the label that this Redken shampoo is pH-balanced and gentle on your scalp. Moreover, it's supposed to protect your colored locks. So immediately after I unboxed it, I opened the bottle and poured a small amount of shampoo into my hand to check its consistency and scent.
I was surprised to see it's pretty fluid. It reminded me of foam or gel-like texture. It felt lightweight and airy, which I loved. The way a product smells is essential to me. This Redken shampoo smells nice. Still, don't expect anything fancy. There's nothing to be impressed about regarding its fragrance since it has the perfume of your typical shampoo.
During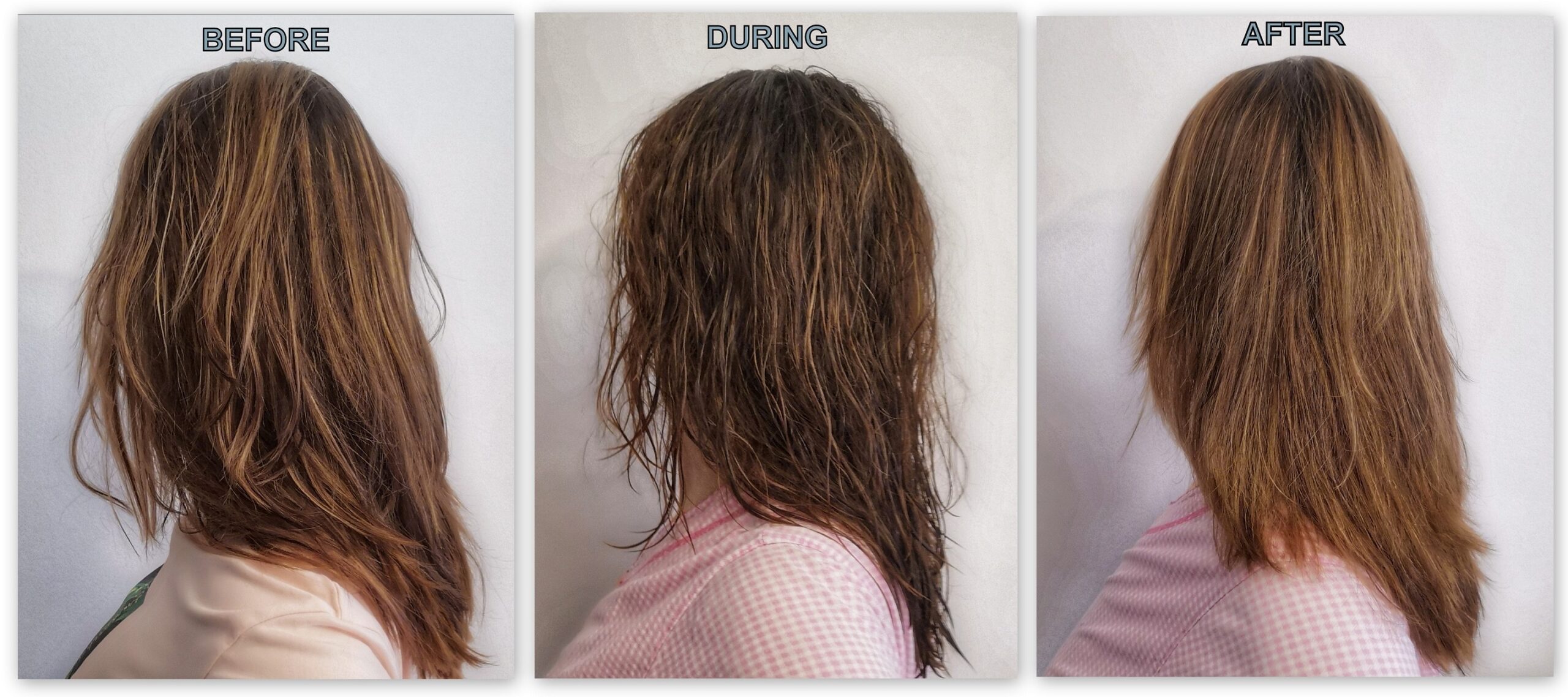 I liked the way it felt on my hair and scalp. It lathers well and makes plenty of foam. I appreciate these traits in shampoo. I also enjoy the perfume not being overwhelming. What bugged me was that, after shampooing, I felt my locks a bit tangled. So, I had to apply a conditioner to detangle my hair. I did that while my hair was still wet, in the shower.
I don't know if the shampoo was to blame for my tangled hair or the fact that my locks are delicate and pretty thin. Perhaps, both these factors led to that outcome. Another thing I noticed was that while rinsing, I felt a creamy, almost greasy sensation on my palms and through my tresses. It was like a few shampoo residues were stuck on my hair. Therefore, I had to rinse until I finally felt my hair was completely clean and shampoo-free.
After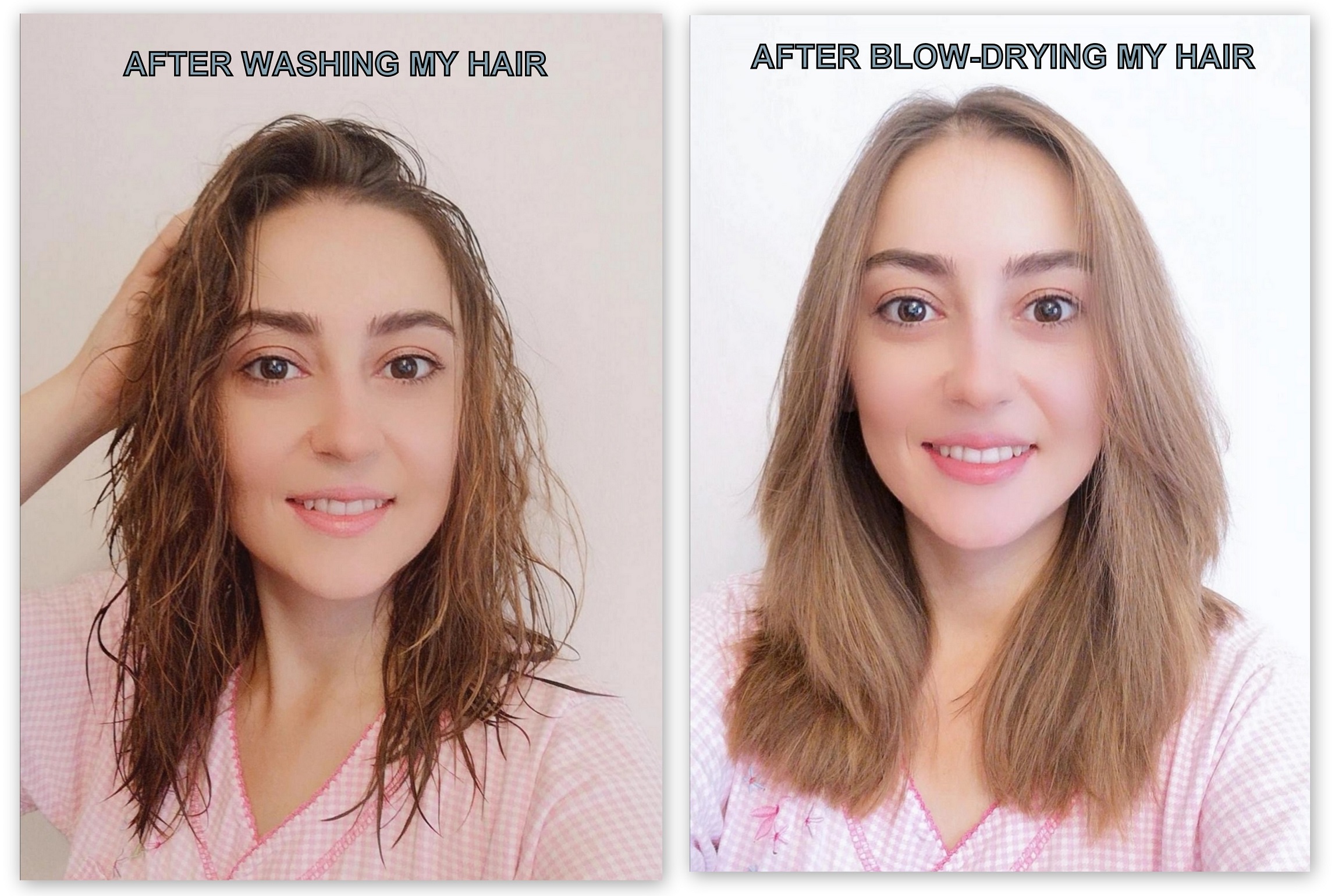 Once I got out of the shower and damped my hair with a towel, I combed it with my fingers but felt shampoo residue on my locks. It goes without saying that it was a disappointing moment for me. I didn't despair, though. Instead, I kept my calm and started to blow-dry my hair. I felt relieved after drying my hair because it felt much cleaner, and the oily sensation was gone.
However, my locks felt dry and not nourished or smooth enough. Moreover, it was still pretty tangled before brushing it. But, again, maybe it's a combination of the shampoo and my poor blow-drying technique. So, I can't put the entire blame on Redken. In the end, I achieved some volume, but less than expected. Moreover, I was curious to see what my colored hair looked like.
After this first wash, my locks looked pretty much the same as before; maybe, a tiny bit lighter, as you can see in the photos. So, I guess I must continue using this product to see if it boosts hair color. But, overall, the results were decent yet average.
After Styling My Hair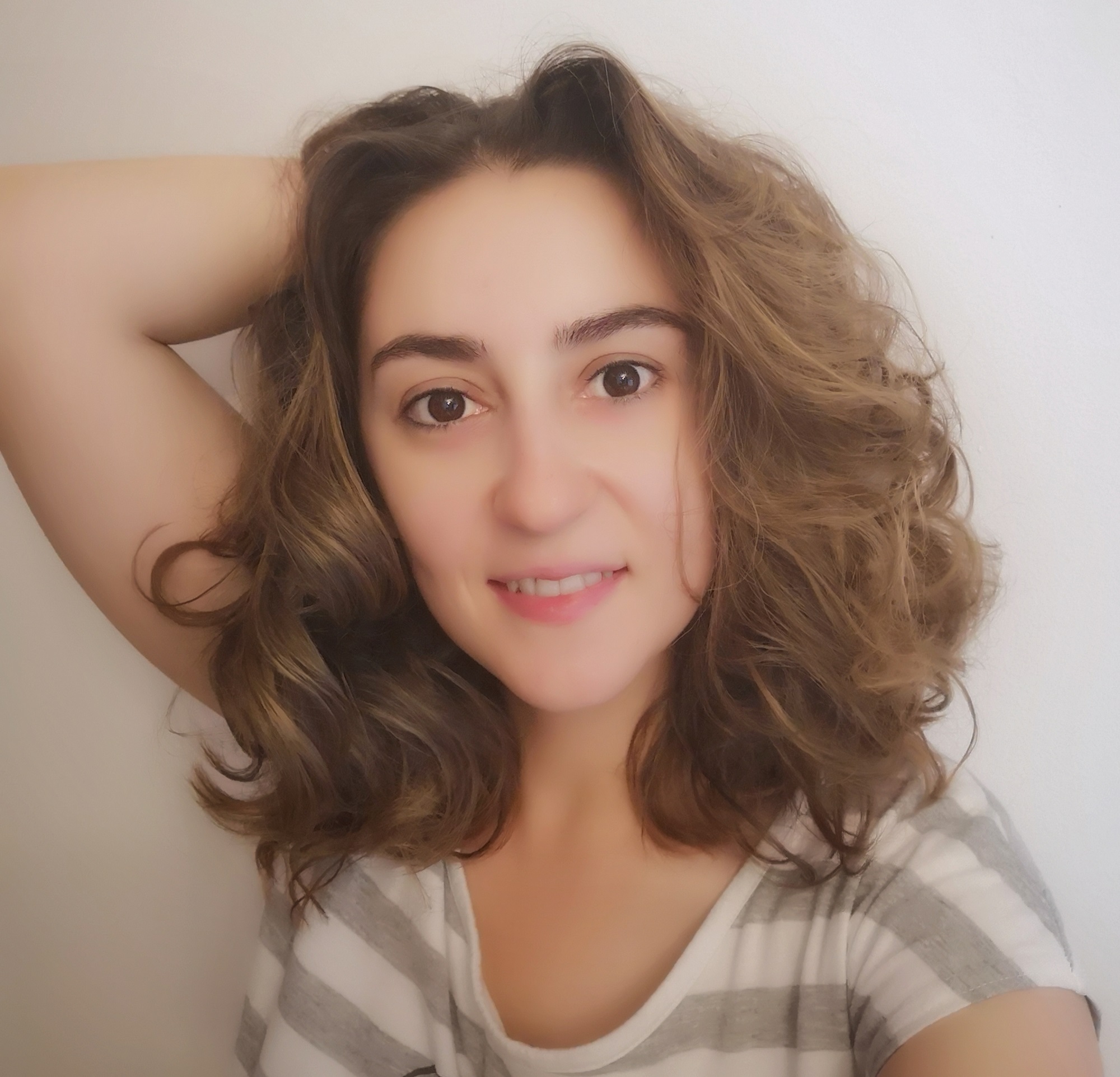 I decided to curl my hair to see its highlights better. But, before that, I must say that the shampoo's scent doesn't last too much. After blow-drying my locks, I could barely sense fragrance leftovers. However, once my hair was brushed, it felt smoother and softer. One result that intrigued and pleased me was how Redken Color Extend tamed my flyaways. This further made my locks easier to style. 
The curling part was easy, but the brushing was tricky. I feared I would break or damage my hair since it felt tangled. Hence, I applied hair oil and used my fingers to comb my hair before brushing it.
What I Liked
Easy to handle;
Large bottle and wide lid;
Flowy and lightweight texture;
Discreet scent;
It's sulfate-free;
Tamed my hair and made it easier to style;
Lathers nicely.
What I Didn't Like
Not that great for blonde hair;
The perfume isn't the best I've ever tried;
A few oily shampoo residues after rinsing my hair;
My hair wasn't smooth enough;
My locks felt a bit dry after using this shampoo.
Other Redken Shampoos – the Color Extend Line
Here are some other Redken shampoos that might suit your hair type better.
Color Extend Blondage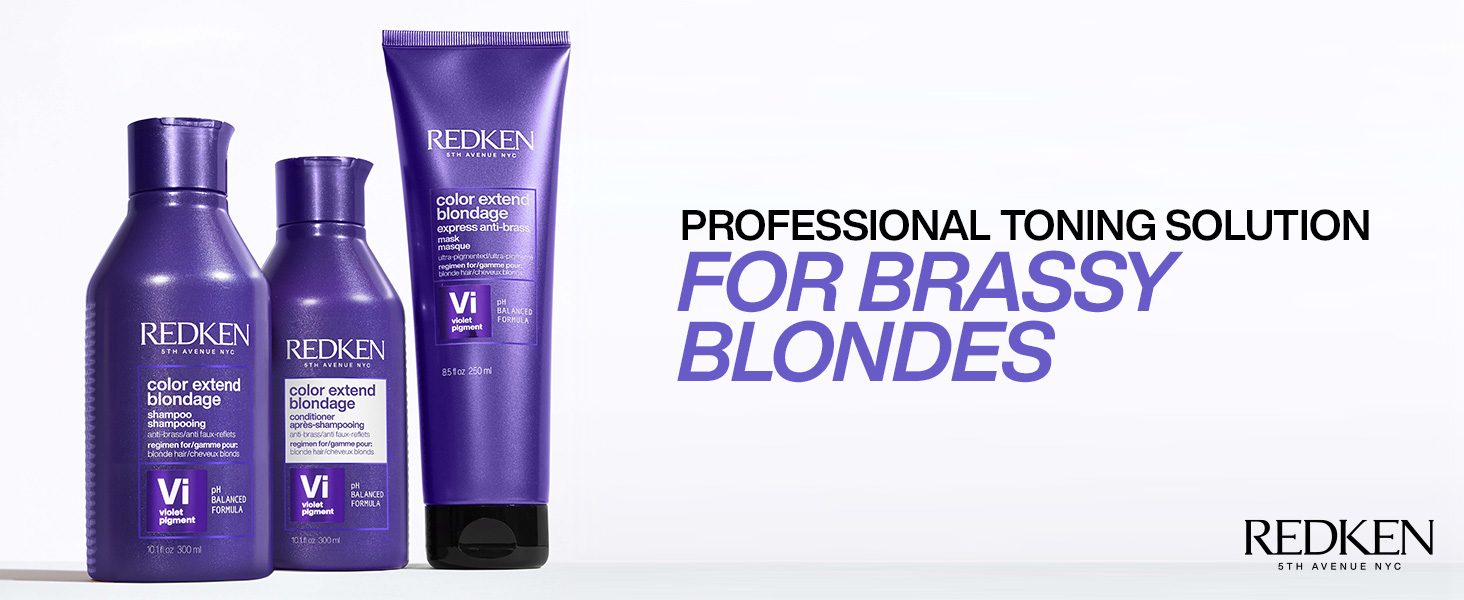 The Blondage shampoo is suitable for blonde hair and blonde highlights because it neutralizes your locks' yellow hues. The outcome is a blonde color with cool tones. You must leave it on your hair for a couple of minutes to ensure optimal effects. I like its purple color, specially designed to protect and prolong vibrancy in blonde hair.
Color Extend Graydiant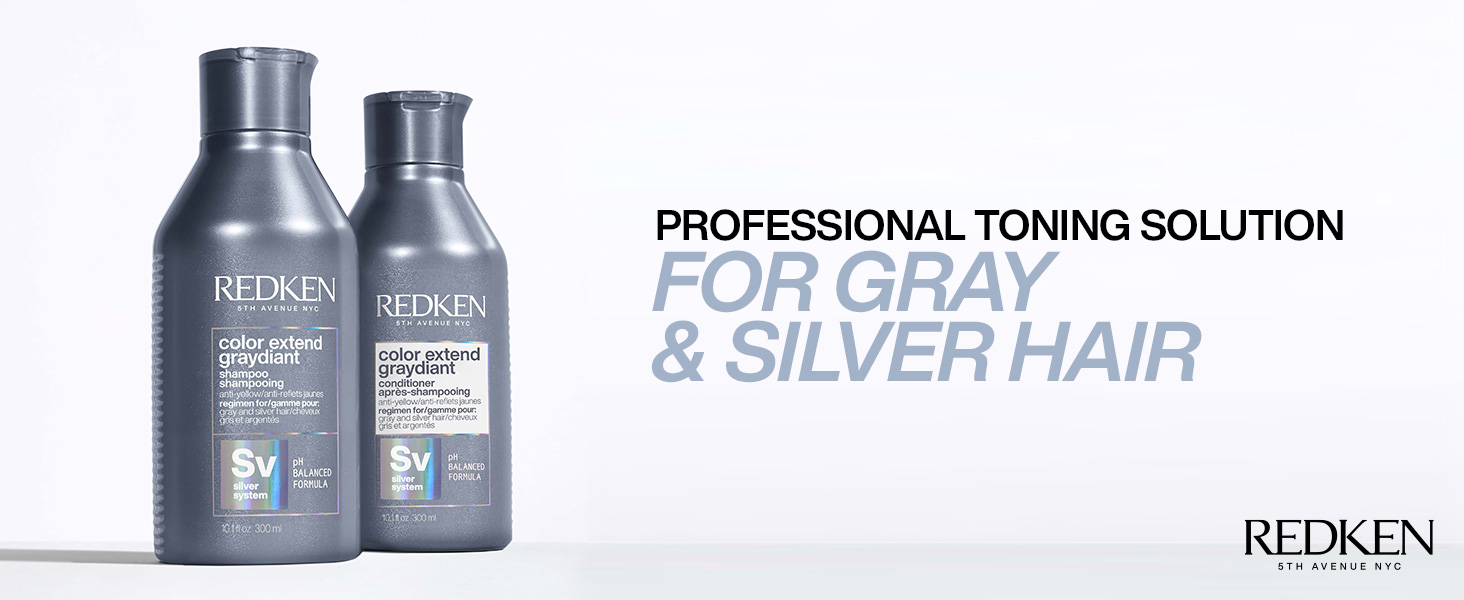 The Graydiant shampoo is perfect for both silver and gray hair. It improves your hair's color while also strengthening your locks. It's an excellent option for your weekly hair care routine. Moreover, it helps you get rid of any yellow tones. The final result will be a shiny and bright color. In addition, this shampoo corrects brassy locks. On the other hand, it might not be the ideal choice if you have dry hair.
Color Extend Brownlights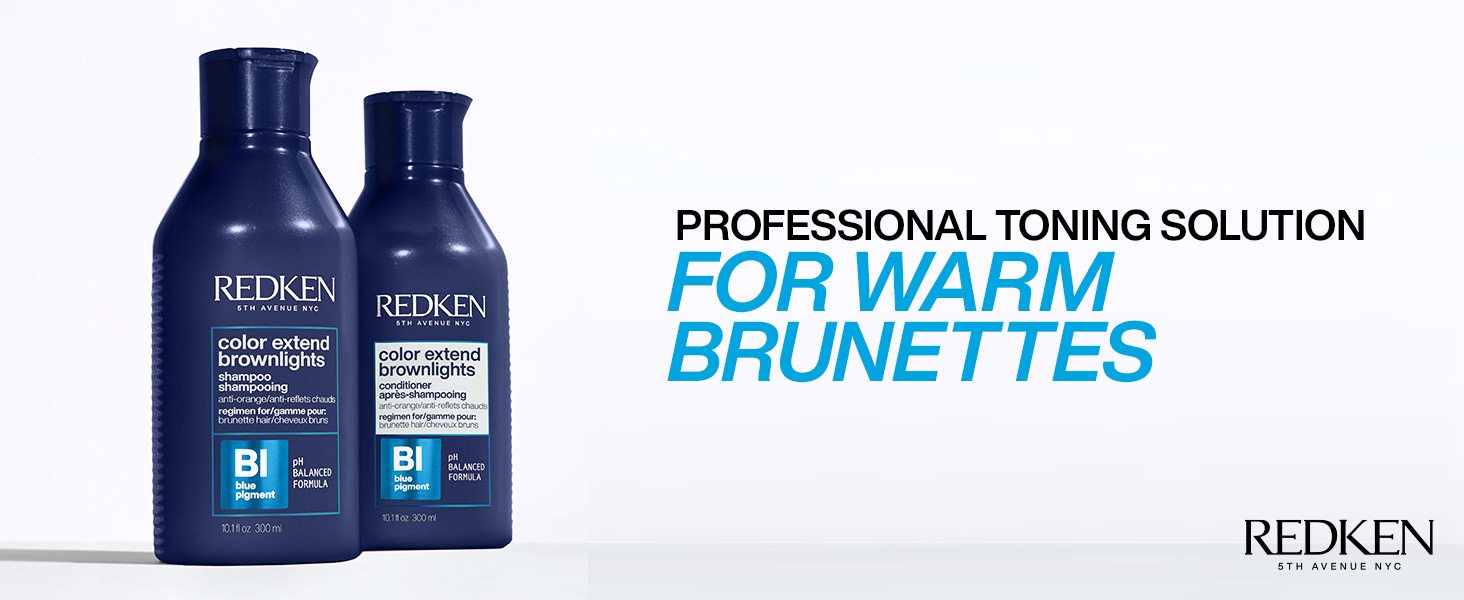 As you can guess from its name, the Brownlights shampoo is the ideal choice for brown-colored hair. It neutralizes orange undertones and helps you achieve a gorgeous brunette hair shade with cool hues. This product also works as a hair toner, and it's sulfate-free. Furthermore, it nourishes and softens your tresses. The pH-balanced shampoo features blue (anti-orange) pigments.
Other Redken Shampoos

Source: I created this photo collage
FAQs
Question: Can I Wash My Hair Daily with the Redken Color Extend Shampoo?
Answer: It's best to use the Redken Color extend shampoo a couple of times per week, not more than 2-3 times. Washing your hair daily could damage it. On the other hand, I can't go for more than three days without washing my locks. It's great if you can use this shampoo right after you've colored your hair to protect the new shade.
Question: Does Redken Color Extend Prolong My Hair's Dye Vibrancy?
Answer: Yes, this shampoo protects your hair color and boosts its vibrancy while also adding shine. But, for that to happen, you must use it several times. After that, your colored hair might become more manageable and smoother, although mine was a bit tangled after washing it with Redken Color Extend.
Question: Can I Use Redken Color Extend on Bleached Hair?
Answer: The shampoo I've reviewed today might not be the best choice for your bleached hair. But Redken sells a unique formula dedicated to bleached locks. The Extreme Bleach Recovery is a great shampoo that cleanses and nourishes your tresses, repairs split ends, reduces damage and breakage, and leaves your locks shiny and stronger.
Final Thoughts
Although the Redken Color Extend shampoo wasn't the best I've ever tried, I will give it a second chance. But, this time, I plan on trying a different Redken shampoo, maybe the one that boosts hair volume. I was impressed with the extensive shampoo collection the brand sells.
Overall, it's a decent choice for a color-protective shampoo that smells nice. While I'm not crazy about it, this Redken shampoo does its job, with a few minor downsides. I suggest you try it once before deciding if it suits your hair.
Other valuable reads you might like: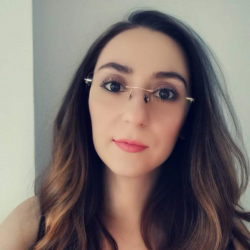 Latest posts by Alexandra Gavrilescu, Home Hair Product Tester
(see all)