Wella Color Charm was a color line I saw as a cheap hair dye that you could buy over the counter without much to say for it. That is until I started seeing actual hairstylists recommending Wella's T18 toner on hairstylist forums to other hairstylists. I finally decided to dive in and give the Wella toner, plus the permanent gel and bleach, a try. This is my Wella Color Charm Review and Guide to that experience.
For a little bit of information up front, my friend Becky has been trying to get rid of the bright red hair that she had colored for a couple of years. She wanted to return to the blonde color that she had before, which you know is a nightmare if you know anything about hair color. I had already lightened her hair twice previously, and it didn't seem to budge any further.
We decided it was best not to try to lighten it any further for risk of damage and wanted to go for a light ash brown with a few highlights.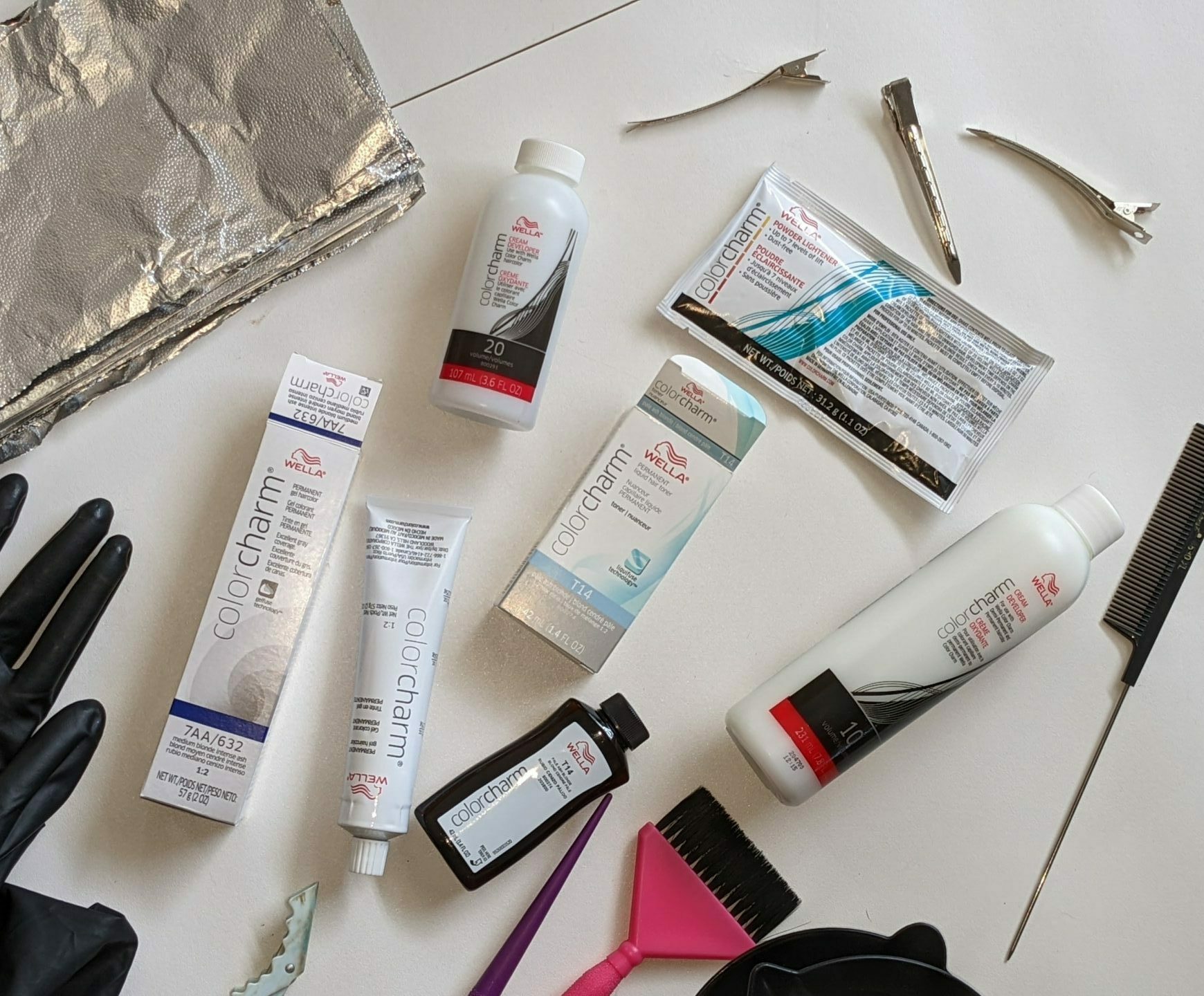 Wella Color Charm Review Up Front
Wella Color Charm is a great hair dye for the price it is sold at. I love that it resembles professional color in that you can customize it to your specific hair and after using it, it has really shown to work well. However, because it is a cheaper at-home color line, it does have its drawbacks, like an unappealing scent and weird consistency. These things don't really seem to affect its ability to color hair well, though.
The Wella Color Charm Line
There are six different types of hair dye in the Wella Color Charm line, and each has its own advantages and disadvantages, plus its specific use. The six different dyes that Wella Color Charm offers are as follows:
Permanent Gels: Gel consistency permanent colors are thicker and easier to apply without making a mess, and Gels do take a tad more work to spread evenly throughout the hair.
Permanent Liquid: Liquid permanent hair colors spread much easier and give the hair a little extra glossiness. However, you need to be more careful during application because you can make a real mess with liquids.
Demi-Permanent: This is the in-between of semi-permanent and permanent color, lasting longer than semi-permanent but still fading a bit and being damage free. Typically demi-permanents are used for revitalizing faded color or toning hair.
Powder Bleach: Wella's powder bleach is very minimalistic and is a "get the job done" kind of bleach.
Liquid Toners: These specific toners are meant to only tone blondes and are permanent vs. the standard demi-permanent that toners usually come in.
Balayage System: A clay consistency bleach that is meant to be free-hand painted onto the hair without foils to create a naturally highlighted look.
Some other factors that you might find important that apply to the Wella Color Charm Line in its entirety are:
It's Not Vegan or Cruelty-Free
Wella Color Charm states that it is cruelty-free, where the law permits. This means that if the law requires animal testing, Wella will test its products on animals. China is one country that does require animal testing on all beauty products, and I know that Wella sells its products in China. That means Wella tests all of the products sold in China on animals, but not those sold in the U.S.
If you aren't a huge nut like me about animal testing, knowing that the products you are specifically purchasing are cruelty-free might be fine. However, I don't particularly appreciate supporting companies that will slide values to the side so they can sell in every country.
I also only found that their demi-permanent line is vegan. It is the only one that has in the description "does not contain animal byproducts." All the other types of color in this line do not claim this, making me assume that they do contain animal byproducts. Vegan companies usually advertise that they are vegan also, and Wella does not. I'm also assuming they are not vegan because they use gelatin in their gel colors.
The Ingredients
Wella Color Charm products basically have everything in them that is needed to make a hair color work properly, no more and no less. You won't find hardly any naturally derived ingredients that you can find in some other hair color options, like sunflower seed oil and chamomile. You also won't find some of the worst ingredients sometimes put into hair dyes, such as PPD, parabens, and formaldehyde.
I wouldn't say that anything they put in Wella color is bad for you. On the contrary, they don't include many things that could be bad for you and your hair, like common allergens and metallics. Wella Color Charm simply isn't trying too hard to replace some necessary hair dye ingredients with equally effective ones that are better for you and your hair but slightly more expensive.
I wouldn't expect any more than this from a cheaper-priced non-professional hair color brand. I would honestly be wearier of the color brands that are similarly priced and claim to be "natural." Those brands are probably replacing chemical ingredients with natural ingredients that are cheap and horrible for your hair, like metallics.
It's Customizable
The major difference between professional color and over-the-counter color is its customizability. Standard box colors take that customizability away by making the mixture as strong as possible, so it works on every hair type and color, which is extremely damaging. Wella gives you the customizability of professional color by having you purchase your own color and then a separate developer that will be better for your specific scenario.
This allows you to mix shades and then use a less potent mixture with a ten-volume developer if you don't need a lot of lift or have non-resistant hair. If you do need some extra lift or have hair that is resistant to color, like greys or coarse hair, you can choose a stronger developer to go with your color. You may need some hair color knowledge to perfect the science of choosing the right shades and developer for your situation.
The Products I Tried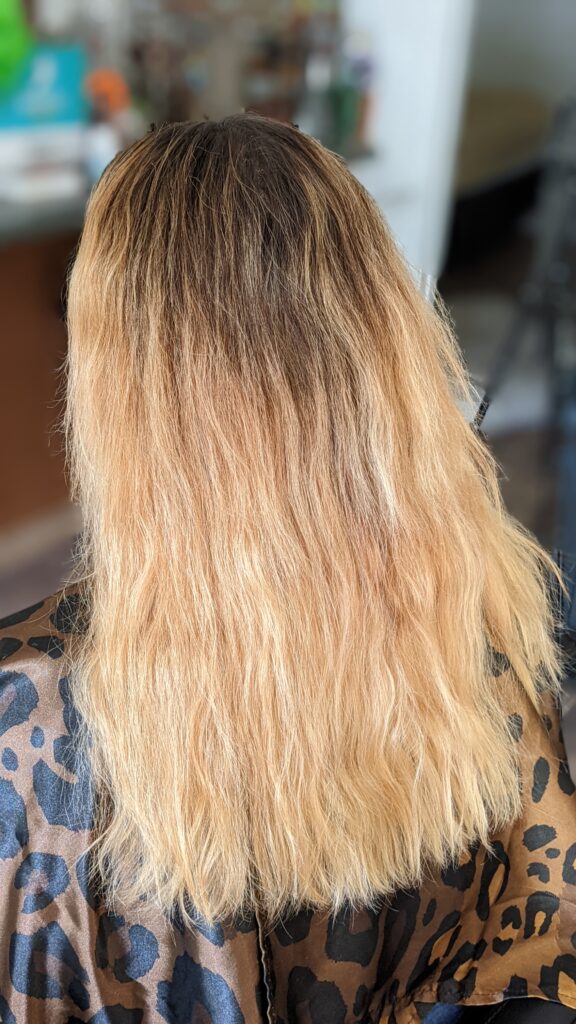 For the purpose of this review, I tried out three of the Wella Color Charm products with two different levels of developer on my friend Becky. Her hair started as a super warm blonde from the previous bleaching sessions.
I had already lightened her hair twice before this review with a different brand of bleach, and she had gotten relatively light, but there were still those pesky warm undertones. Instead of bleaching Becky's hair for the third time, she decided that she would like to simply color all of it a light ash brown with some highlighted dimensions mixed in.
Below I will go over the three products I used to achieve this hair color and how well they did the job.
Wella Color Charm Permanent Gel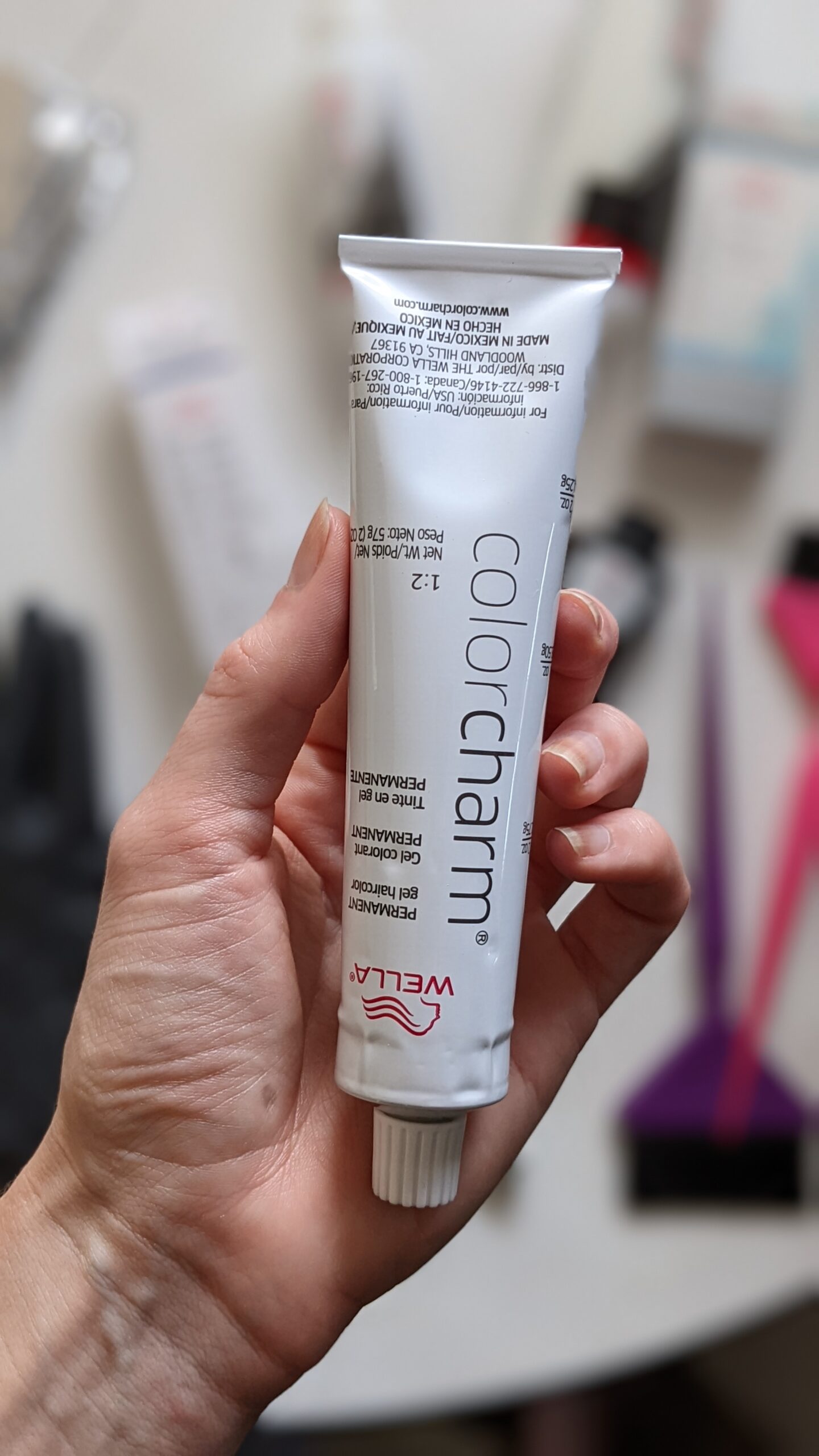 I used the permanent gel in color 7AA, an ultra ash dark blonde, with the ten-volume developer. I chose this color instead of a light ash brown because ash colors tend to look much darker than they actually are, especially when putting them over blonde hair. I put this color between the highlights I added to her hair with Wella's bleach (I'll review that later).
The first thing I noticed right after mixing the color was that the gel consistency seemed clumpy and like it was impossible to mix thoroughly. It was mixed all the way, but that's just the way some gel colors are. The second thing was the unappealing smell that seemed stronger than other permanent colors I've used. Applying the color was pretty much mess free as the color sat on my brush and the hair without dripping.
Getting the color to apply evenly took a little work, but not much more than what I would usually put in to ensure that everything was saturated. I let this color sit for about 35 minutes (the box says 30 to 45 minutes, and her highlights were ready in 35). Once rinsed and blow-dried, I could see that the color covered her bleached-out hair evenly and true to a 7AA.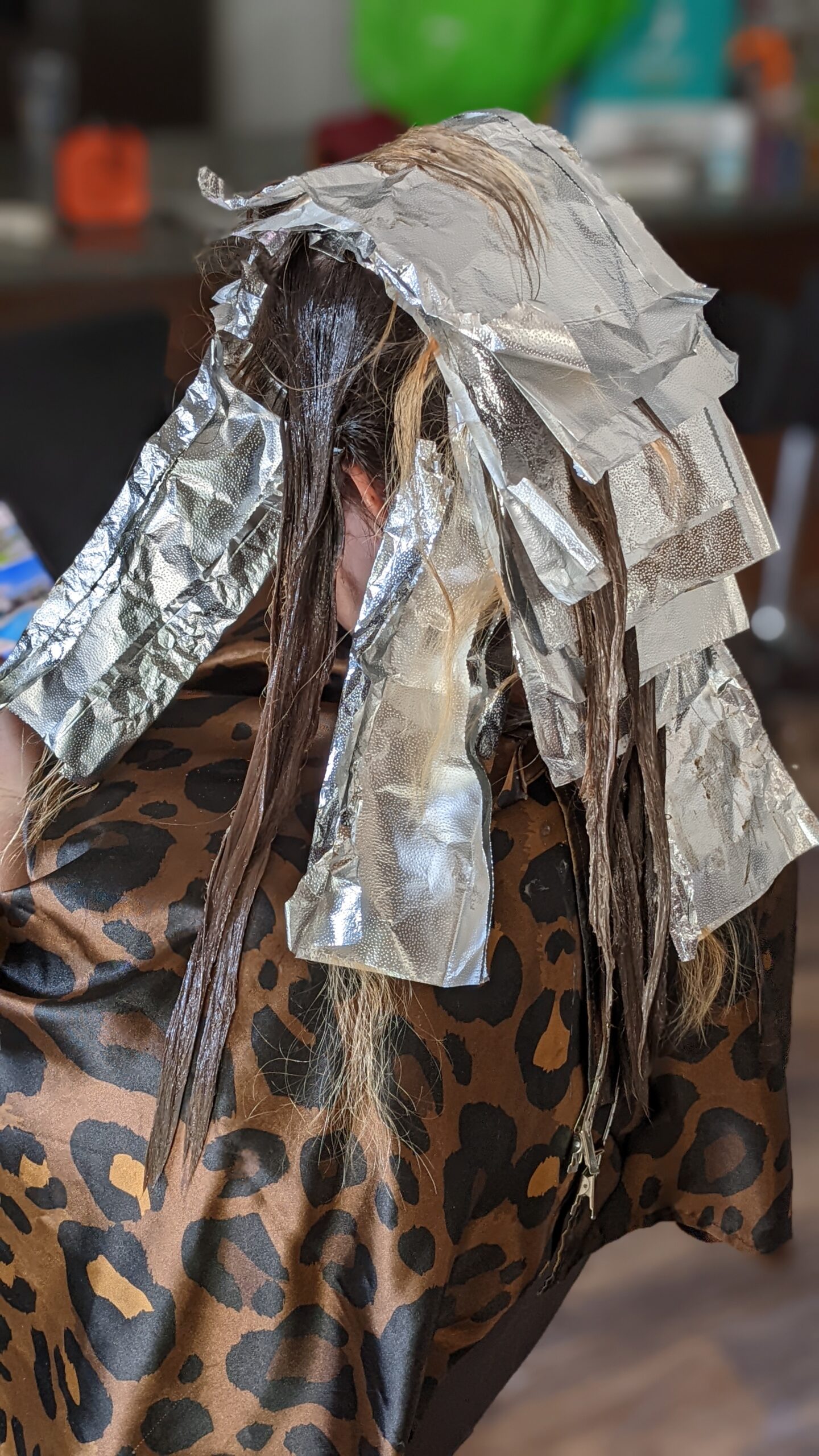 This is actually pretty remarkable because many hair dyes struggle with covering bleached hair evenly because of the hair's porosity. Still, it didn't seem to make a difference with Wella. Another thing I found remarkable is it didn't warm up her natural hair that I covered with the color either. Finding an ash color that doesn't pull slightly warm at the roots is extremely difficult.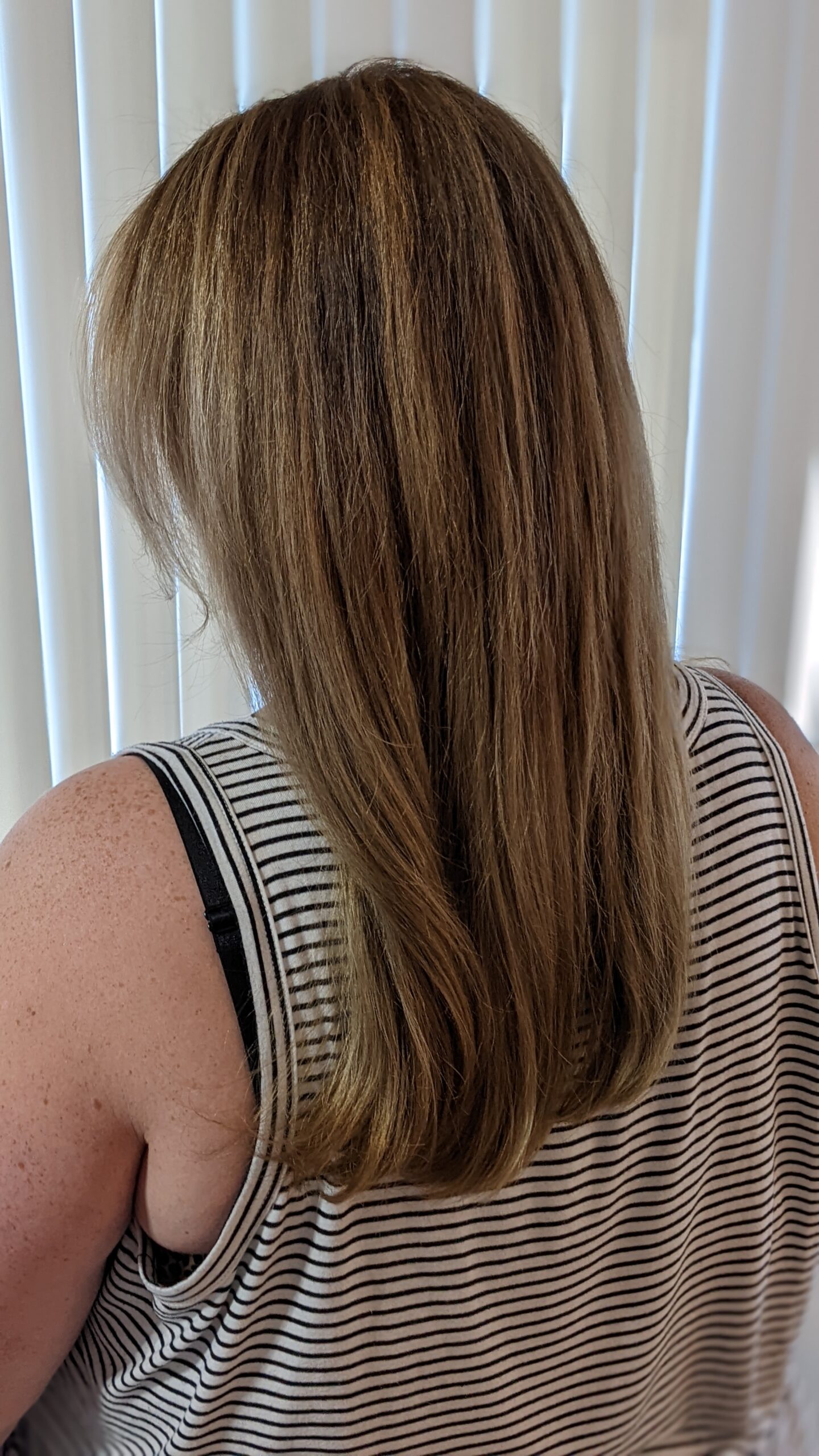 Pros
The color covers evenly and is true to color
The ash color filled her blonde hair extraordinarily well
It didn't seem to warm up her natural hair at all
Cons
The gel consistency doesn't spread as well as a cream formula
I'm not too fond of the smell of it
Wella Color Charm Powder Bleach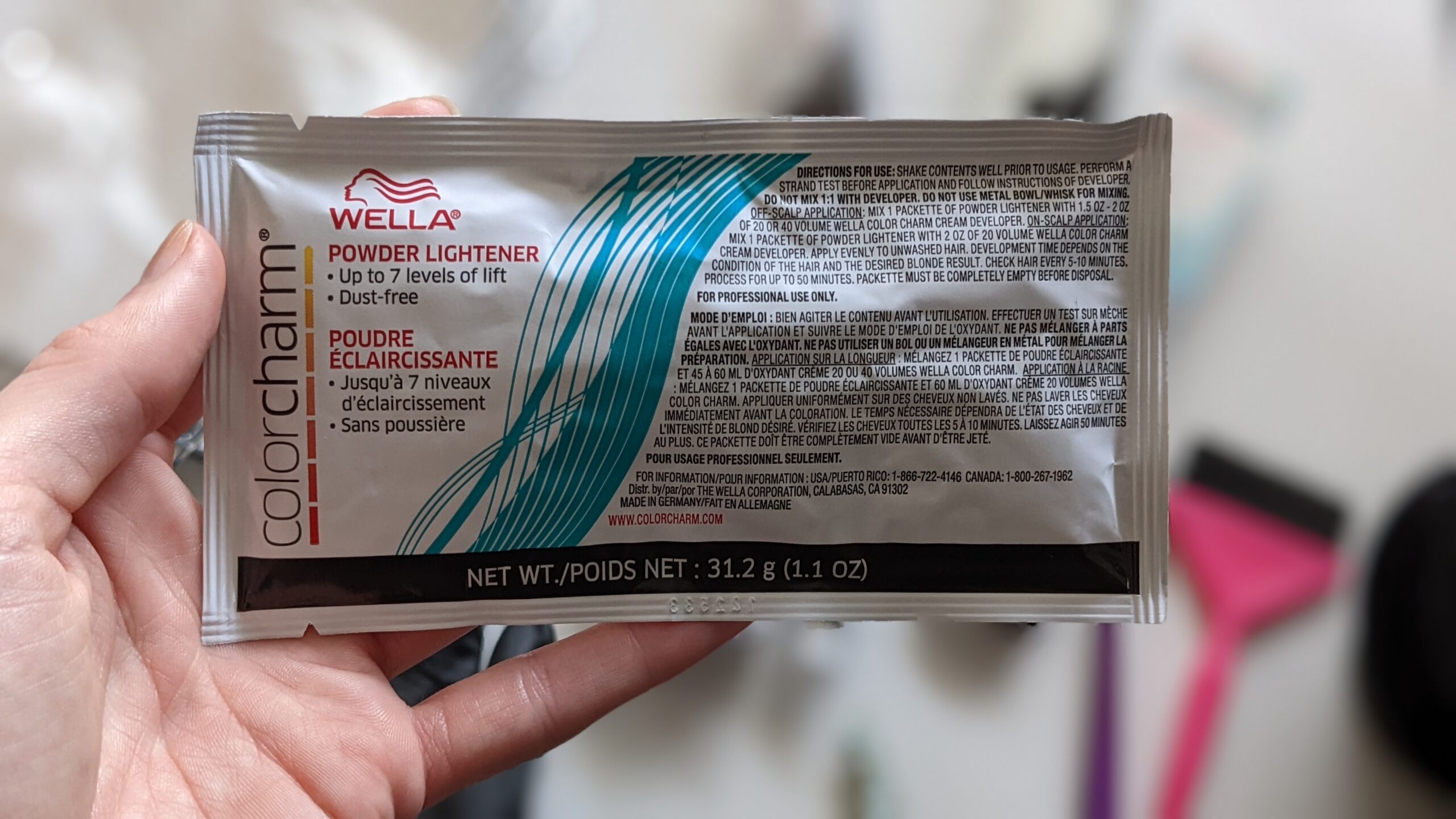 I decided to get the small packet of Wella Color charm bleach to try, and it came with more than enough to add a few highlights to Becky's hair. If you were doing a full head of highlights or an all-over bleach, I recommend getting the tub instead of the packet. I used a 20-volume developer, but you can also choose 30 or 40 volumes if you need a lot of lift and your hair is healthy.
This bleach is one of the main reasons I said Wella Color Charm is a minimal, "get the job done" color line. It doesn't contain any extras, like toning agents or bond reinforcing agents. Honestly, it's kind of hard to wow me with bleach because I find that all of them are really similar. This one has just as good lifting power as any other bleach I've used, and it didn't cause any noticeable damage to Becky's hair, even in the spots where I overlapped over previously lightened areas.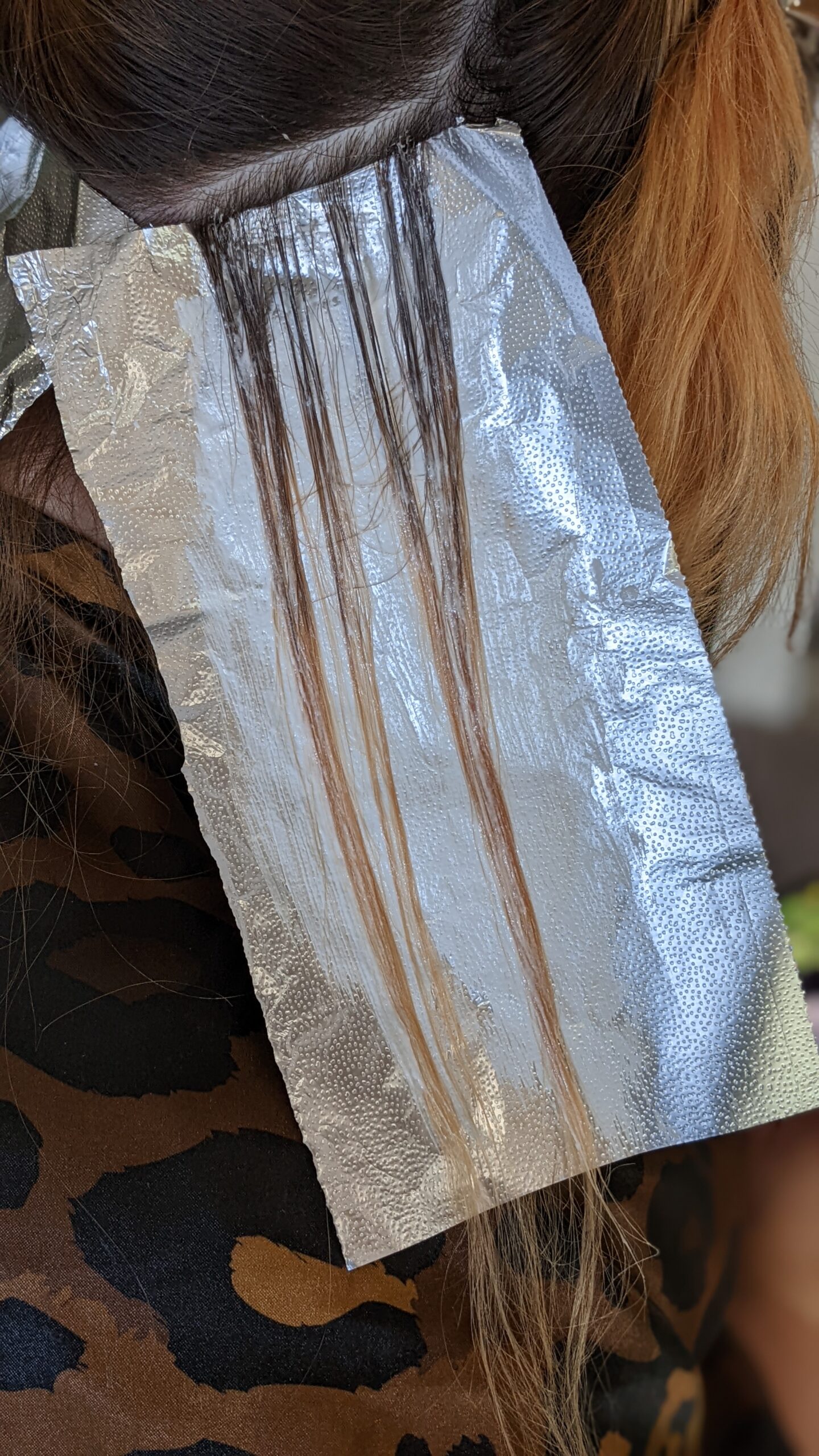 The one thing I did not like about this bleach is that I found the powder much finer than other bleaches I've used. This causes it to poof everywhere when pouring it into the bowl and mixing it with the developer. Although, once it was all mixed, it had a good consistency and didn't thicken up too much while I was applying.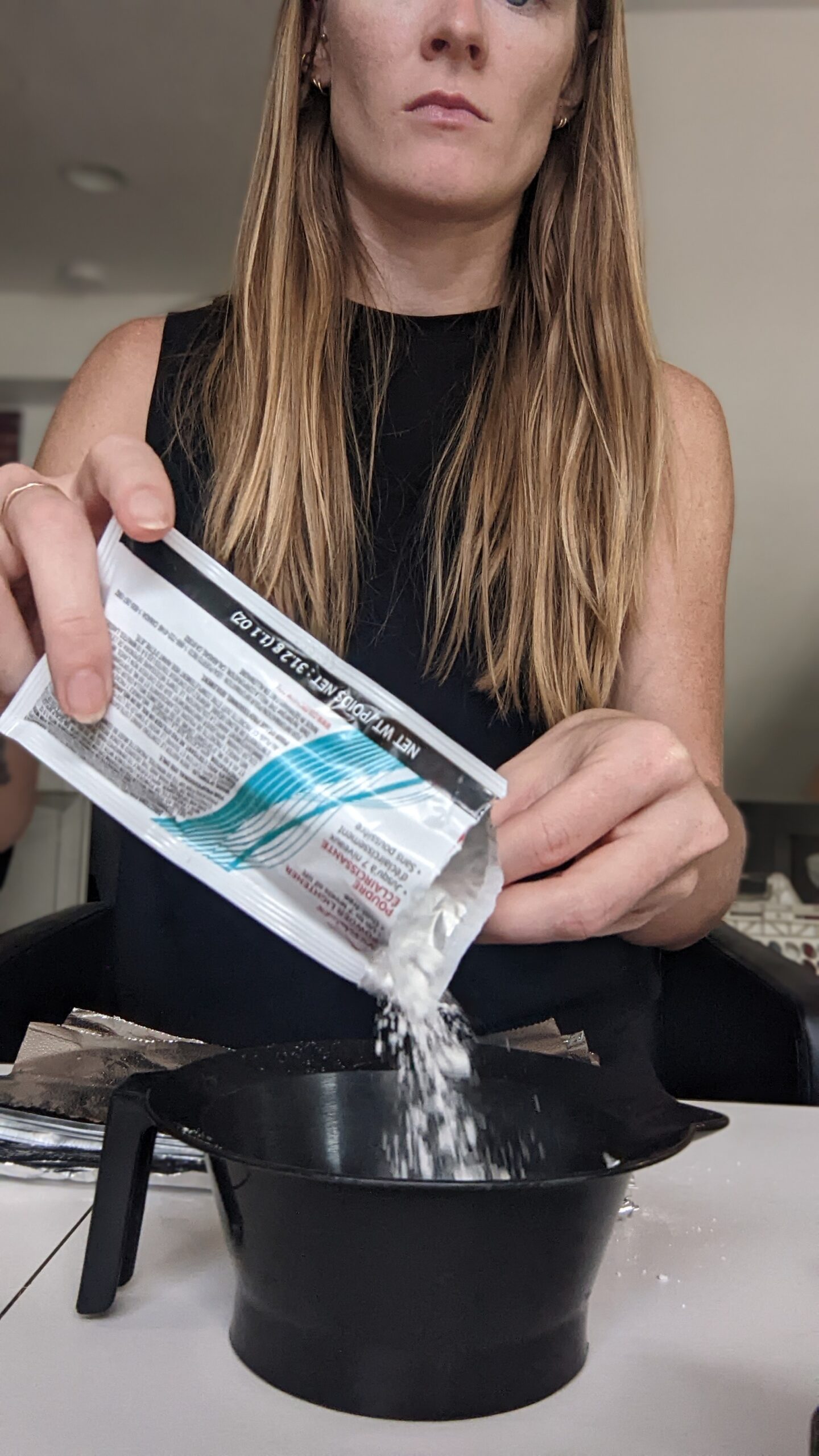 Pros
Has good lifting power
It didn't cause any more damage to her previously lightened hair
Cons
The powder is super fine and poofs everywhere
It has no toning agents to counteract warmth
Wella Color Charm Toner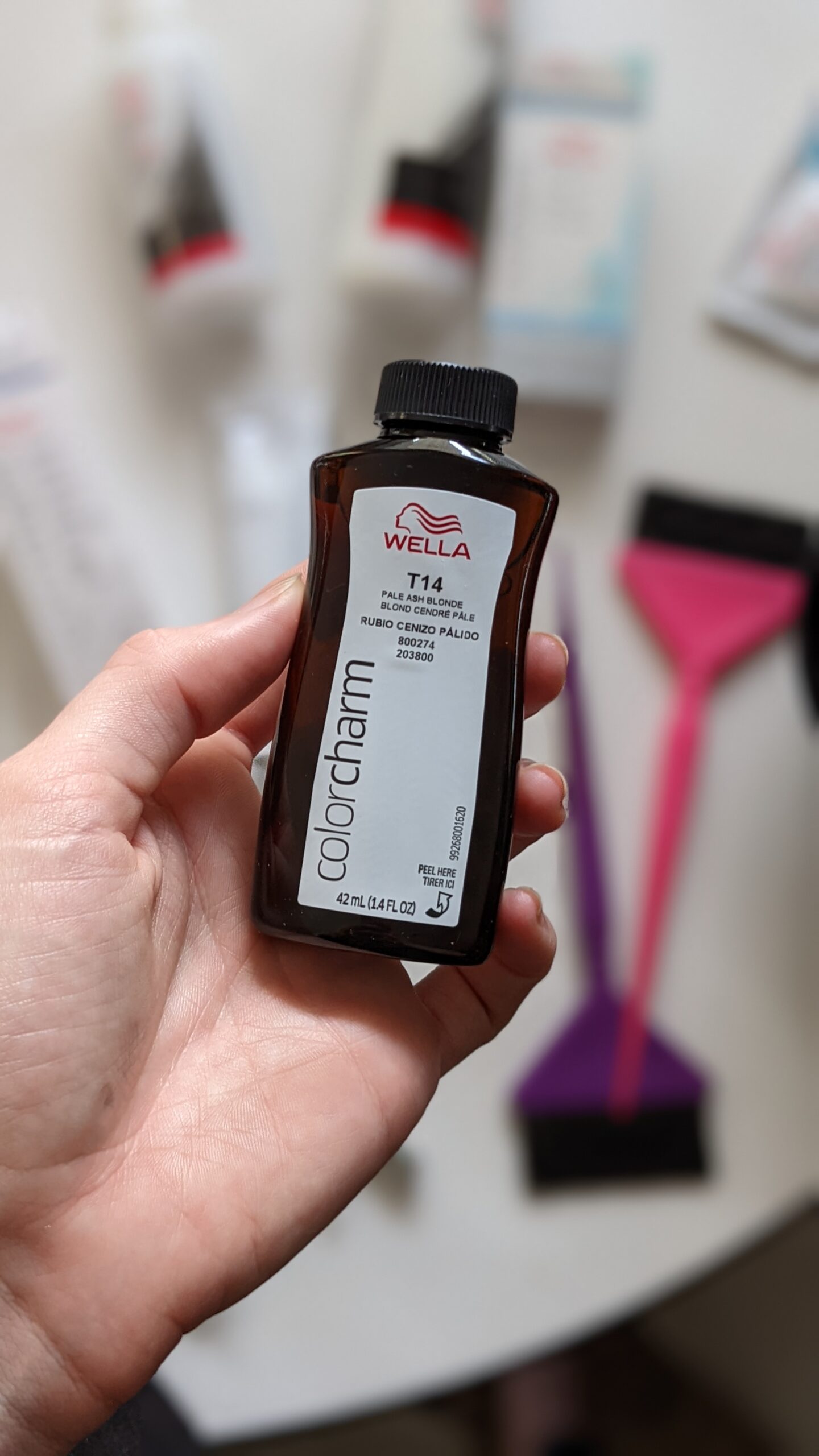 Wella Color Charm toners put Wella on the map in the hair color world. This toner works so well that you will even find professional hairstylists recommending it to other stylists who have difficulty cutting through brass. I have to say that they do live up to the hype.
The main difference between Wella toners and all others is that they are a permanent color rather than a demi-permanent, which means they can break through brassy tones better. It almost scared me at first because, typically, permanent colors will lift virgin hair a shade or two if you tone with them, but to my surprise, this one did not.
I used a T14, pale ash blonde, to tone Becky's hair. This isn't the lightest toner they have, but it was perfect for Becky's hair because I knew her hair wouldn't lift light enough to become the lightest shade of blonde they have. I also mixed this with a ten-volume developer instead of the twenty-volume that the directions say to do on the box, and it worked great. The only thing I hate about Wella toners is they smell powerful.
Pros
Tones extremely well
It didn't lift her natural color, as I thought it might
It's a permanent toner instead of demi-permanent
The consistency was slightly thicker than a typical liquid toner
Cons
The smell is strong for a toner
Wella Color Charm Developer 10 and 20 Volume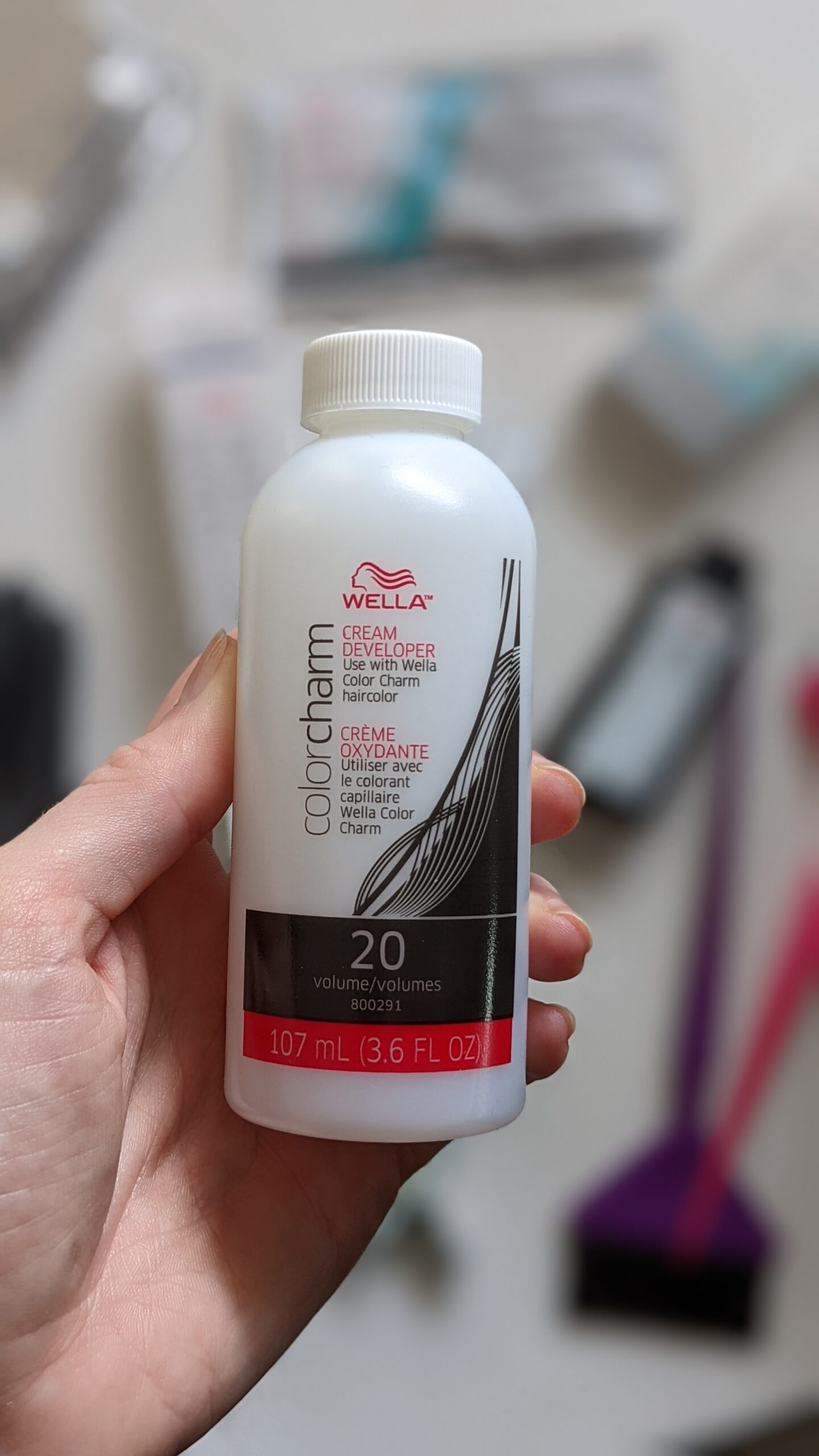 When using Wella Color Charm dyes, you must purchase a developer to go with it. I only bought a ten and twenty-volume developer because I didn't need to do any heavy lifting with Becky's color, and I didn't want to cause more damage to her hair. They come in 3.6 ounces, 7.8 ounces, and one-liter bottle sizes.
The developer doesn't have much of a scent to it, which is actually preferred because I'm not sure I could have handled more scents than what was already coming from the color. I also like the developer's consistency, as it thickened the liquid toner a bit to make it less runny. However, mixing the developer with the colors was a process in itself because I had to mix them pretty slowly, or else the color would have splashed out of the bowl.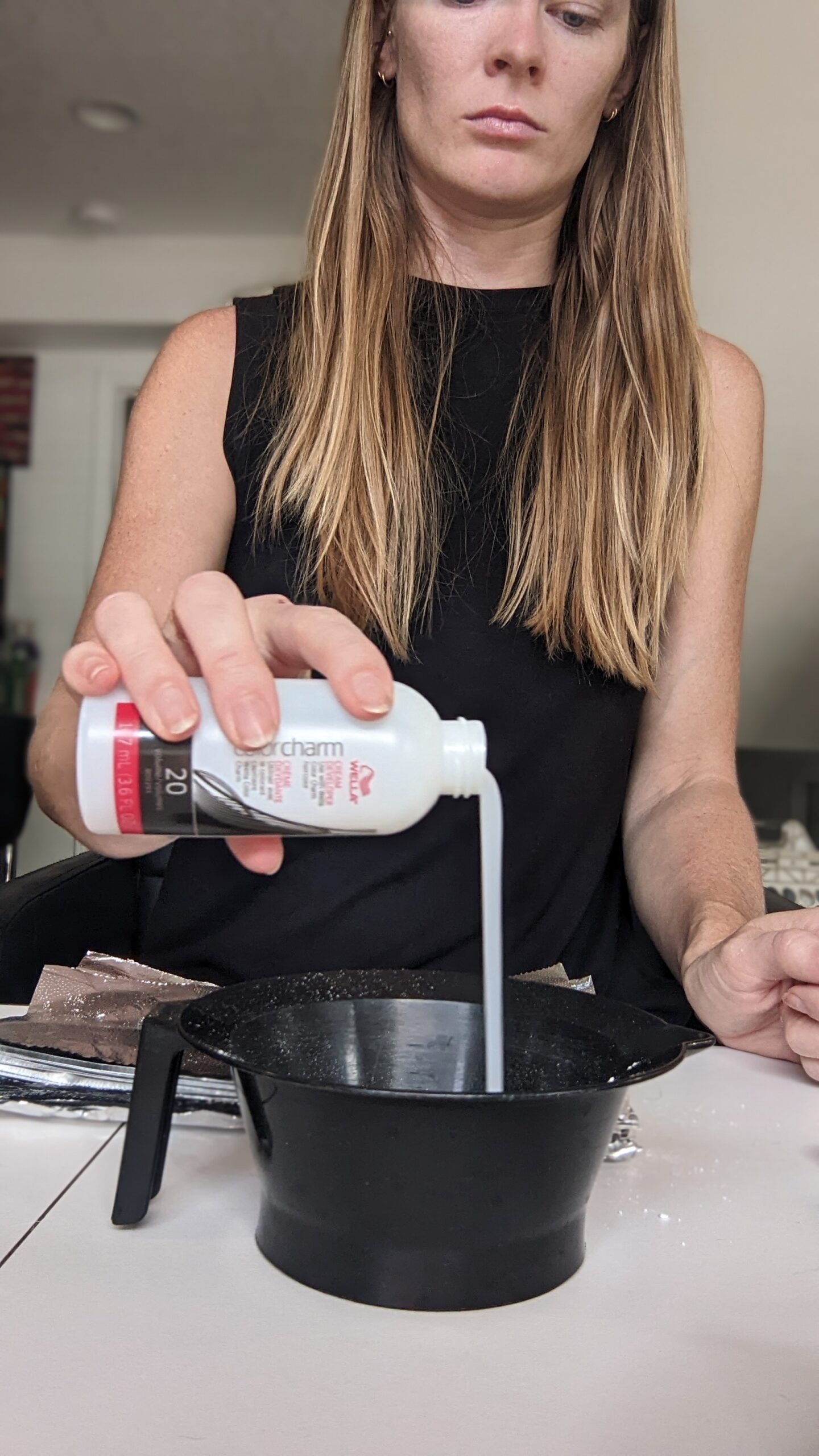 I think the biggest advantage to Wella colors is that they all have a 2:1 (2 parts developer to 1 part color) mixing ratio. This makes the color much more economical because the developer is cheaper than the color itself, so you're creating more color for less money. The tubes of color are only two ounces, which is smaller than the standard three-ounce tube, but when mixed with four ounces of the developer, the amount of mixed color evens out.
Pros
It doesn't really have a scent to it
It thickens up the color a bit once mixed
Formulas are a 2:1 ratio with two parts developer, which makes a little color go a long way.
Cons
It's a little difficult to mix with Wella colors
Before and After Side-by-Side
Where You Can Get Wella Color Charm
Wella Color Charm is a little challenging to find because Wella is pretty good at keeping its products from being ripped off. Below are the few places I would go to for Wella Color Charm.
Sally's Beauty Supply: This is the number one place I would look because you know they will have everything you'll need in stock, and there's usually a store within fifteen minutes of me, no matter where I'm at. This is also where Wella officially sells Color Charm, so you know you won't get defective products.
Amazon: If you just so happen not to have a Sally's near you, Amazon is the second place I would look. They usually have just about everything in stock, and you can get free two-day shipping with Prime. Beware of the seller you get it from, though, because not all Amazon sellers are trustworthy.
Walmart: I don't think Walmart sells Wella in-store, but you can order it off their website and pick it up in-store. They don't always have all Wella Color Charm products available, and you may have to pay for shipping.
Wella Color Charm Alternatives
If you aren't too sure about Wella Color Charm, here are a few alternatives that you can look into: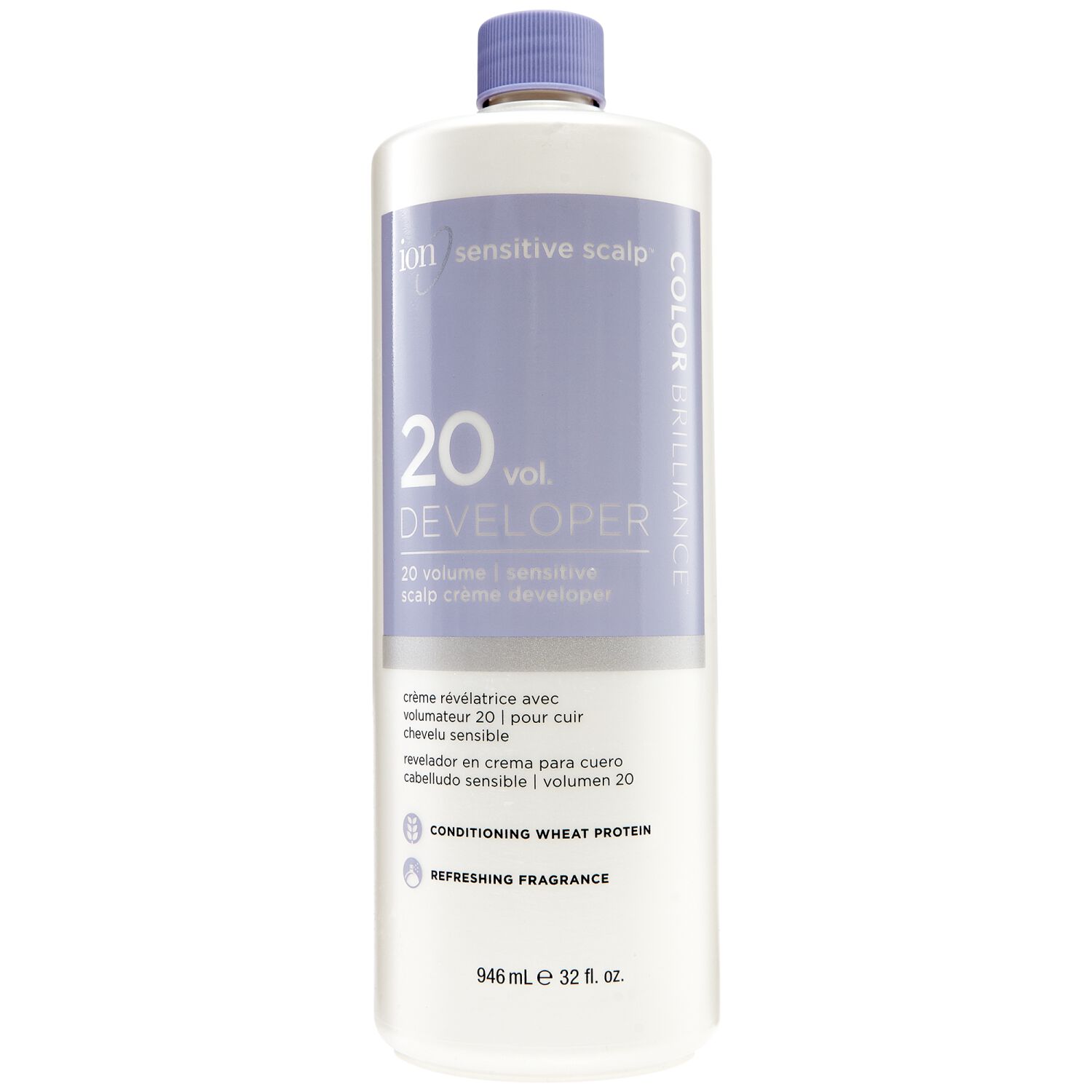 Whenever I am coloring a friend's hair at home, I usually go to Ion Color Brilliance for the majority of their hair color. I like their permanent creme line more than anything else that they have. The creamy consistency of this color spreads evenly, and I've never had an issue with a color pulling the wrong shade. Their color also smells really good compared to Wella.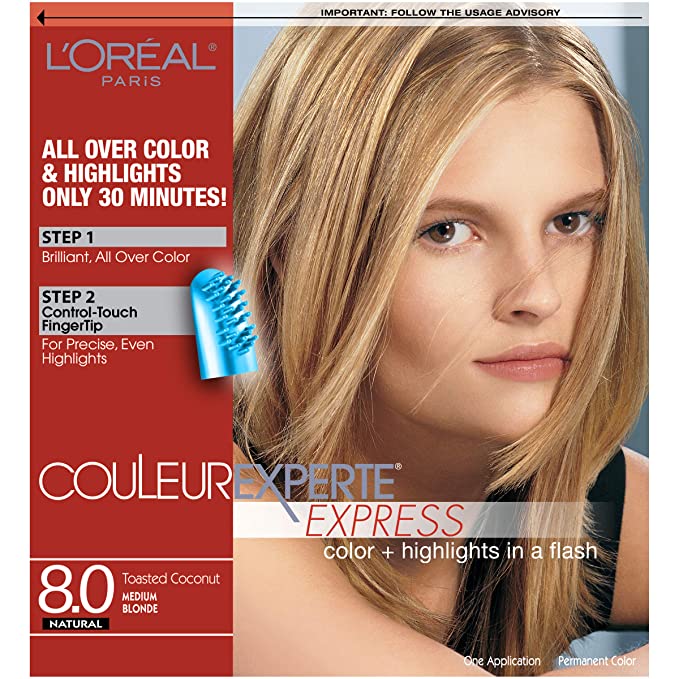 This is another brand of hair color that I have recommended in different articles because it works well, and they have a wide range of hair dye types, from high-lift colors to glossing toners to bright vivids. They also have customizable lines, like Wella available, or boxes containing everything you'll need if you don't want to stress about guessing what is right for you. The only thing I don't like about L'Oreal Paris is the smell of its colors.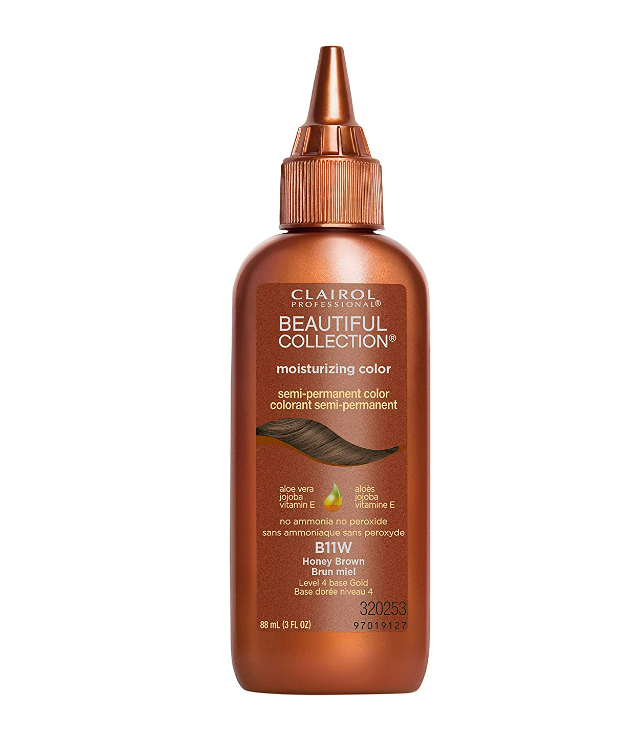 Even though this says "Professional," it is not a professional line because you can find it at Sally's Beauty Supply and Amazon. I feel like this is the same stuff as Wella used to be when they started, except it's been around for a lot longer. Clairol is great for its liquid permanent colors and grey coverage, and it is also one of the cheapest options to go for in a customizable hair dye.
FAQ's
Question: How long does Wella Color Charm process for?
Answer: Wella Color Charm permanent liquid, gel, and bleach can process for 30 to 45 minutes, depending on how deep or light you want the color. I recommend going the full 45 minutes for grey coverage or super light blondes. The toners and demi-permanents can process for 15 to 25 minutes, depending on how intense you want the color. I typically leave toners on for 15 minutes and demi-permanents for 25 minutes.
Question: Do you shampoo after Wella Color Charm?
Answer: You must shampoo your hair after using any Wella Color Charm products. All their hair dyes use a developer, which will work until it is shampooed out. If you don't shampoo your hair after applying Wella colors, the color may continue to be active and over-darken or damage the hair.
Question: Is Wella's hair color damaging?
Answer: When I used the Wella bleach, permanent gel, and liquid toner, it didn't seem to cause any noticeable damage to my friend's previously lightened hair. Although, like any other color, I imagine that if you layer the color multiple times over a short period, it can become damaging.
Question: What Wella toner cancels out orange?
Answer: If your hair is a bright orange, you will most likely need to use Wella's demi-permanent in 9NA or 8NA because the hair is not lifted light enough for Wella toners to work effectively. Your hair must be lifted to a level nine (yellow) stage for Wella toners to work effectively. In that case, I would try the Wella T14 with a 20-volume developer.
Question: How do you use Wella Color Charm?
Answer: Wella Color Charm hair dyes must be mixed with a Wella Color Charm developer. Depending on how strong you need the formula, you can choose between a 10, 20, 30, or 40-volume developer. If you are mixing a whole tube of color (2 ounces), you'll need to add 4 ounces of the developer and mix it with a whisk. You can then apply it how you would usually and let it process for 30-45 minutes.
What I Think About Wella Color Charm
Wella Color Charm is one of the most affordable color lines that I would actually recommend to people. The Wella Color Charm line has come a long way over the years, and I honestly don't hate it like I used to. They could work on a few things, like color consistency and smell, but overall it works exceptionally well.
The one thing I would use from the Wella Color Charm line over other color lines is their toners. They work beyond some of the professional toners I have used, and I like their thicker liquid consistency. One thing that I would probably never use again is the Wella Color Charm Bleach. So many better alternatives are cleaner and have anti-yellowing properties that help during the lifting process.
Overall, Wella gets the job done effectively and has no significant problems. Is it my favorite color line? No. However, you can't beat it for the price they are selling everything.
Looking for more interesting readings? Check out: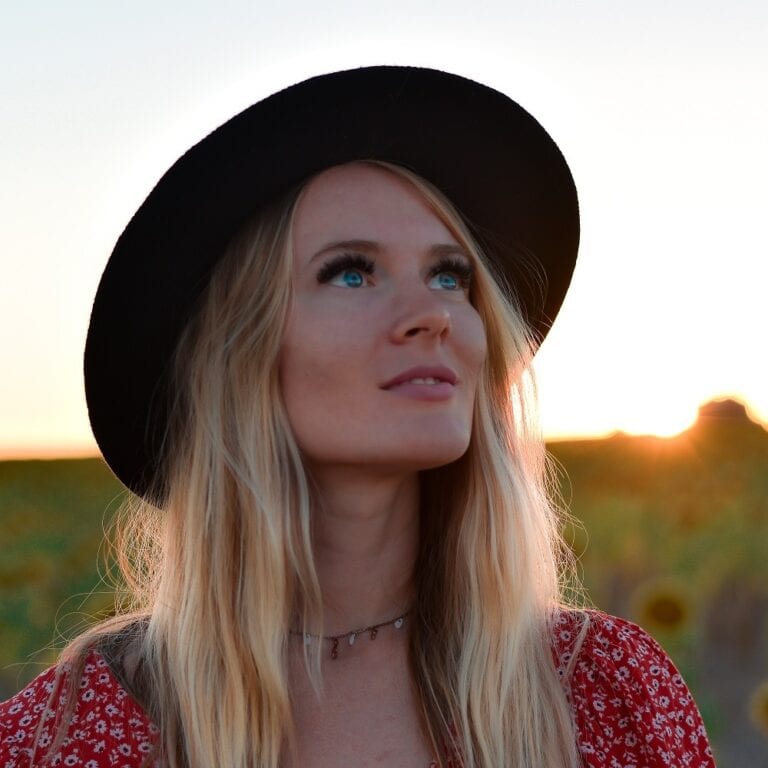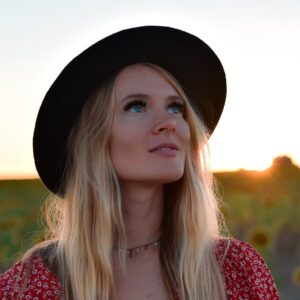 Latest posts by Haley Parker, Licensed Cosmetologist 10+ years
(see all)