There's no better way to amp up your appearance than by dyeing your hair. Black has always been one of the most striking hair colors on women. The raven-haired goddess is a trend that is only becoming more popular, which is why so many people are dyeing their hair black.
One of the best parts about black hair is there are many ways to spice up your locks. You can combine different colors with black for a unique sheen. Blue-black is the most common example; jet black hair naturally has blue highlights in the sun, making your hair look even more extravagant.
I should know this. I've been dyeing my hair black ever since I was a teenager. My hair is naturally jet black, but the Florida sun caused my hair to fade to a dark brown. I prefer the way I look with raven-black hair and have also dyed my hair various shades of black for fun.
The blue-black color is one of my favorites, and it's easier to achieve than you would expect. First, you need to know how to find the best blue-black hair dye. Here's some advice and my favorite hair dye recommendations.
Bottom line up front: To find the best blue-black hair dye, first know if you want permanent or semi-permanent dye. You'll also want to know your preferences, find a conditioning formula, use a dye without harsh chemicals, and find a dye that's easy to use. My favorite blue-black dye is the Revlon one. It's formulated with conditioning ingredients. This dye has a natural yet rich shade of blue-black.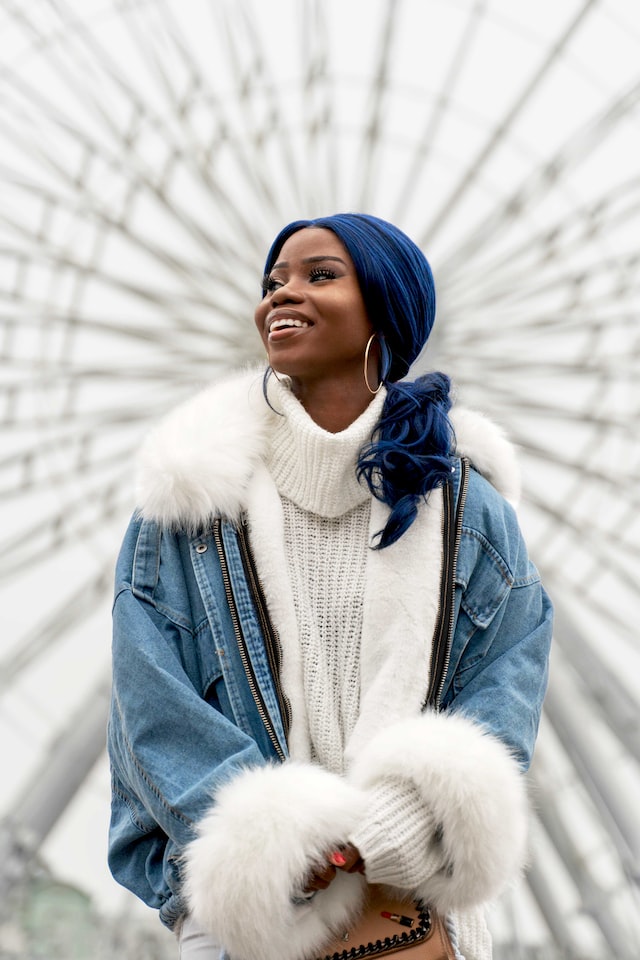 What Is the Blue Black Hair Color?
Blue-black hair is a dual-color shade that can occur naturally or in a hair dye. This color is very intense yet sultry, which is why this color is often a show-stopper. If you want this hair color, the right dye can add a rich blue sheen to your black tresses.
There are some downsides to dyeing your hair blue-black. It's difficult to get rid of this dark hair color. If you want to go lighter, you'll need bleach. And if your hair is naturally light, your roots will show. If you have warm undertones, the blue-black hair color may not look as well on you. There are warm variations of black hair, such as black coffee (a rich and dark black/brown).
Salon vs. DIY Blue-Black Hair Dye
Before finding the best blue-black hair dye, I suggest deciding if it's better to go to a salon or dye your hair DIY.
I always get my hair done at a salon. Black hair dye is very messy and has stained my shower, skin, and clothes. While it's easy to apply, I'm often scared that I will miss sections of my hair. I can always ask friends to help me, which I've done before, but I still prefer going to a stylist.
That said, you can find plenty of blue-black hair dyes at any store to dye your hair yourself. While boxed dyes are a staple, there are also various bottled semi-permanent dyes you can buy online.
How to Find the Best Blue-Black Hair Dye
Did you decide to dye your hair blue-black DIY? If so, you'll need to know how to find the best blue-black hair dye. Here's some advice.
Knowing Your Needs
Everyone has different hair. For starters, the type and amount of dye you choose depend on the length of your hair. It's common for those with longer hair to need two or even three bottles of dye to cover all of their tresses.
Your existing hair color also depends on the dye you need. If your hair is blonde, more blue will appear. If your hair is brown, more of the black will show. If you have brown hair and want your hair to be blue, you'll need to bleach your hair. Don't forget about hair undertones. If your hair is on the warmer side, you may need to neutralize your undertones first.
Your hair type also matters. Hair dye processes on thick hair longer than on thin hair. It's better to use dye on healthy hair, even if you're not using bleach. If your hair is highly porous, you won't need as much dye as hair with low porosity. However, the color will fade quicker on highly porous hair. Those with certain hair types, such as curly hair types, may have better luck seeing a professional since these hair types are more porous. Hair with low elasticity is also more prone to breakage after a dye job.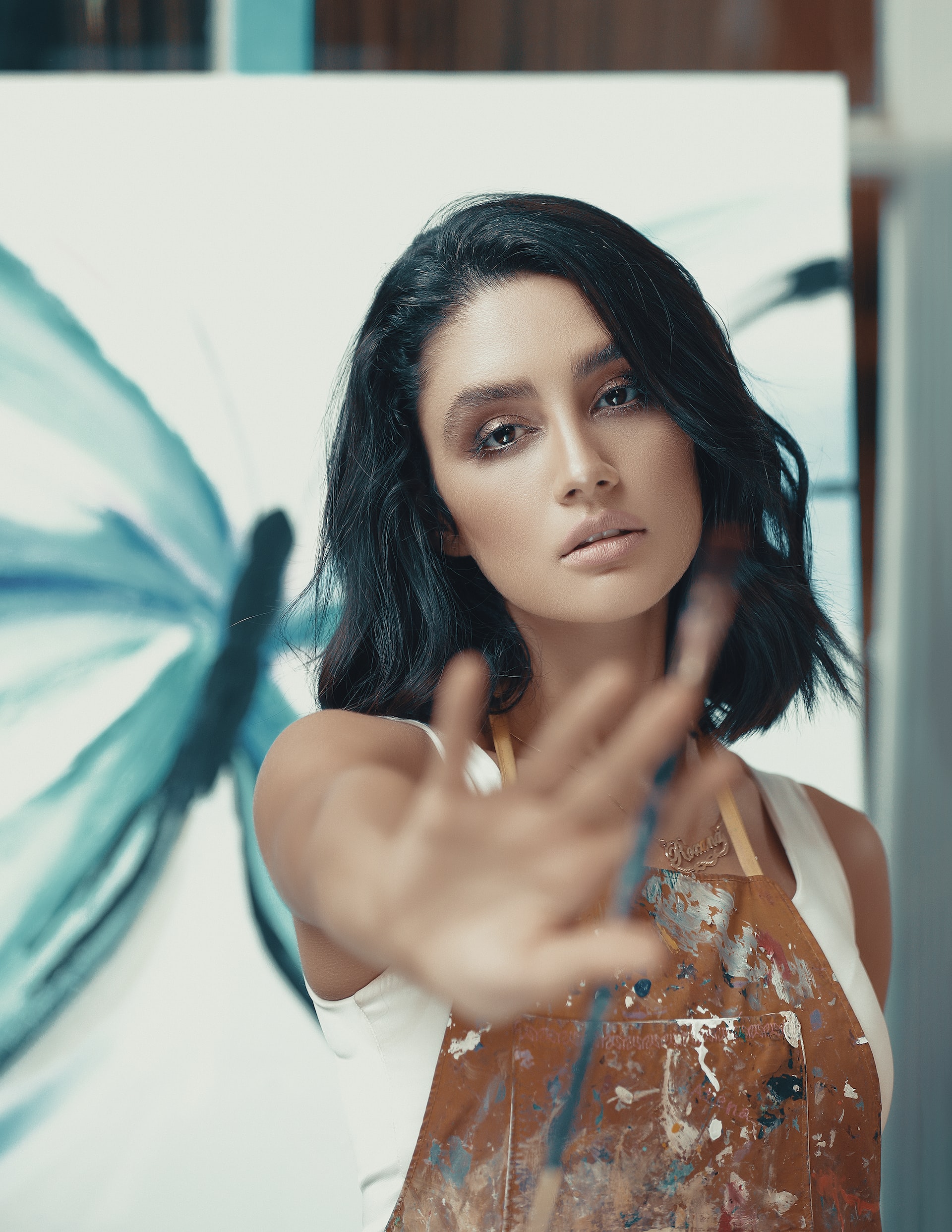 Type of Hair Dye
There are three main types of hair dye:
Permanent
Semi-permanent
Demi-permanent
Temporary
Permanent hair dye lasts the longest. With permanent dye, the color dyes the entire hair shaft. You will still have to redo the dye when your hair grows back. Permanent hair dye also fades with every wash. Since blue-black is a natural hair color, you can find permanent dye in this color. However, it's more common to find semi and demi-permanent blue-black hair dye.
Semi-permanent dye and demi-permanent dye colors the outer layer of your hair, with the demi-permanent dye penetrating the strand deeper. This dye causes the least damage but doesn't last as long as a permanent dye, especially if you wash your hair daily. Your dye can last as long as 10 weeks if you only wash your hair a couple of times a week. A demi-permanent dye can last as long as 24 shampoos.
Free of Harsh Ingredients
Many harmful chemicals are found in hair dyes. Even henna dye may contain para-phenylenediamine (PPD), which may cause a severe allergic reaction. No matter which type of dye you use, make sure it doesn't contain these harsh ingredients:
PPD
Ammonia
Ethanolamine
Quaternium-15
Resorcinol
Parabens
Para-toluenediamine (PTD)
Deep Conditioning
Hair dye can dry out your hair, so it's essential to use a deep conditioner. Some hair dyes have conditioning formulas, so you don't need to follow up with a conditioner. But many box dyes include a conditioner you use after you apply the dye. It's also recommended you use deep conditioning products before dyeing your hair. If you decide to use a separate deep conditioner, use one at least three days after dyeing your hair to ensure the color doesn't fade too quickly.
Ease and Convenience
Let's face it. We're not professionals here. That's why it's essential that you find a hair dye that's easy to use, especially if you have no experience using at-home hair dyes. The dye should provide clear instructions for using the dye and maintaining your hair. In addition, research if you can use the dye as a root touch-up or if you can mix colors for your own unique shade.
Pulling Off the Blue Black Hair Color
Blue-black is a bold color, so you're probably wondering how to pull it off. Fortunately, blue-black looks great on most people.
Even though this is a cool-toned color, those with warm undertones can still pull off this color. I suggest opting for specific shades of blue highlights, ombre, or a balayage. Cobalt blue is a good middle color that's not too cool or warm. Charcoal blue and shadow blue are also extremely dark yet warm shades of blue. You likely won't find a dye in those colors, but you can always mix sky blue or another warm shade with black or gray hair dye.
The final result you want also depends on the shade of blue-black you choose. If you want your hair to look more mesmerizing, choose a classic blue-black. If you want your hair to look more elegant, I suggest choosing a blue-black dye that's more black in color.
After you dye your hair, refrain from washing it. Constantly washing your hair will make your color look dull. I suggest washing your hair only once a week, though you can wash it every other day if you can't wait that long.
My Favorite Blue-Black Hair Dye
While you can shop for your own blue-black hair dye, I want to recommend a few of my favorites to get you started!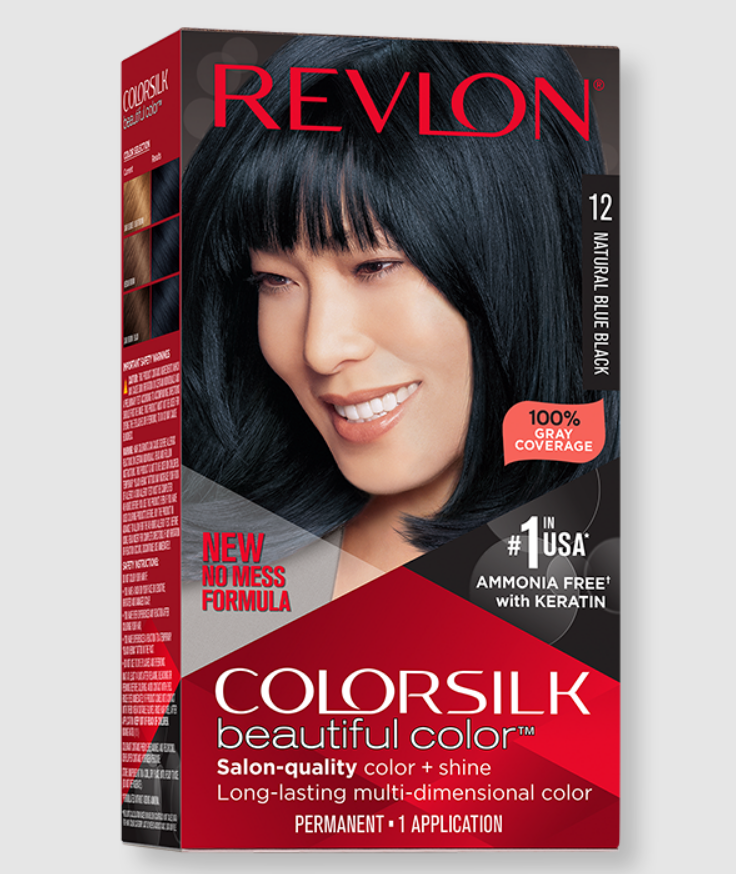 There are many reasons why this Revlon dye is first on my list. As a permanent dye, this is one of the longest-lasting hair dyes on this list. The blue-black color is very natural, perfect if you don't want a color that's too extreme. This dye also has 100% gray coverage.
With amino acids and keratin, this is a nourishing formula, making it ideal for even the dryest hair. I also love how this dye is ammonia-free. The $5 price tag doesn't hurt, either. If you have long hair, you can buy a few bottles without spending more than $20.
From reading reviews, this hair dye is simple to use. If you've never dyed your hair, I suggest asking someone else to help you. The low price tag also makes this hair dye perfect to hold onto, in case you need a root touch-up.
I'm reading that Revlon has a tendency to discontinue hair colors. That's why I suggest still reading these dye recommendations.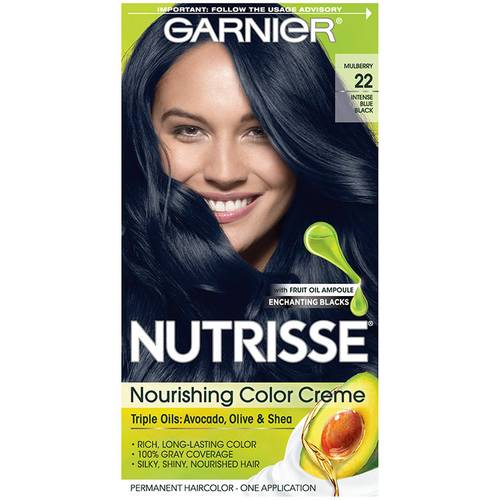 Garnier is one of my favorite drugstore brands, so it's no surprise they sell high-quality hair dye. The color is not only vibrant, but this nourishing formula contains three oils: olive, avocado, and shea oil. Your hair will feel soft and will look shiny after using this dye.
As a permanent color, this color has 100% gray coverage. The formula is creamy and easy to apply, even for newbies. One box is less than $10, so you're not breaking the bank with this dye.
From looking at pictures and other reviews, it's best to use this dye on lighter hair. It seems the blue doesn't come out if you're dyeing this over hair that's already dark.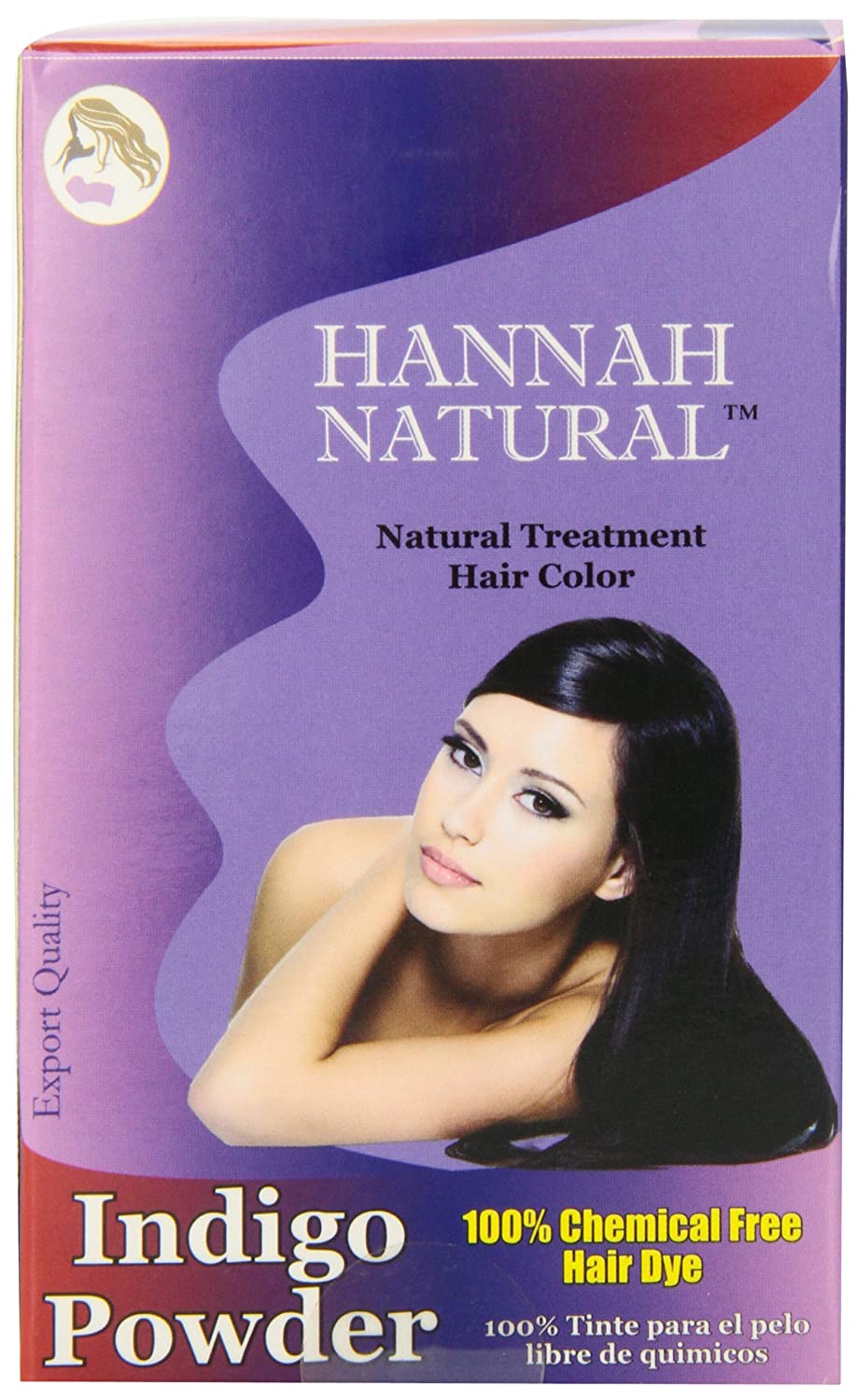 This is one of the few henna dyes I found with no chemicals. Even lots of henna dyes contain chemicals, but this product is just indigo leaf powder. Know that this isn't a quick dye like the others on this list. Hannah Natural provides instructions to mix the dye into a paste. I'm reading that you'll need to keep the dye in your hair for as long as two hours. But when you do wash your hair, your hair will feel clean and will look shiny.
It's also important to note that this isn't a bold color. The color will look like a very natural black with a blueish tint. If you want something more extreme, other dye varieties have more intense colors and don't contain harsh chemicals. If you're using henna dye to cover grays, you may need to apply it more frequently. I'm reading that these dyes usually last about a week, even if you don't wash your hair daily.
Even though henna dye doesn't contain chemicals, I read that these dyes may cause headaches. That's because the paste is very heavy. I'm prone to migraines so I wouldn't use this product.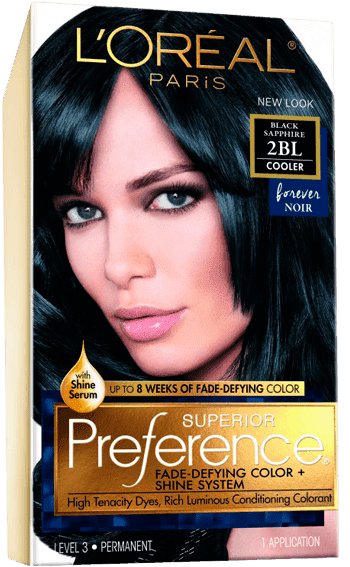 The dyes I've been recommending are more on the natural side, and I wanted to recommend a dye that featured more pops of blue. This color is very deep but still gives you a blue sheen — no bleach is needed. You'll still get the best results if your hair is on the lighter side. If your hair is dark, you'll still have a blue sheen, but it will look more natural.
Conditioner is included in the box, so your hair feels extra soft when it's done. This dye is fade resistant and lasts up to eight weeks. I suggest refraining from washing your hair to ensure this color lasts. And even if you need a touch-up, a box of this dye is $10. Dyeing your hair once every couple of months won't break the bank in this case. But you may need a few boxes if your hair is long.

If you're looking for a semi-permanent dye, this blue black color is a great choice. This dye doesn't contain ammonia, peroxide, or alcohol, so this dye won't damage your hair. This dye also smells good because it doesn't contain harsh chemicals. Adore dyes are easy to use — just apply on dry hair. I also think Adore is the least-staining dye compared to others. Even as a semi-permanent dye, the color lasts a long time. If you only wash your hair a few times a week, the color may last as long as one month.
Out of all of the colors on this list, this dye is the most intense. You don't have to mix other colors to get the desired shade. However, I suggest using this dye if your hair is brown. I'm reading that this color will turn blonde hair into a weird green color.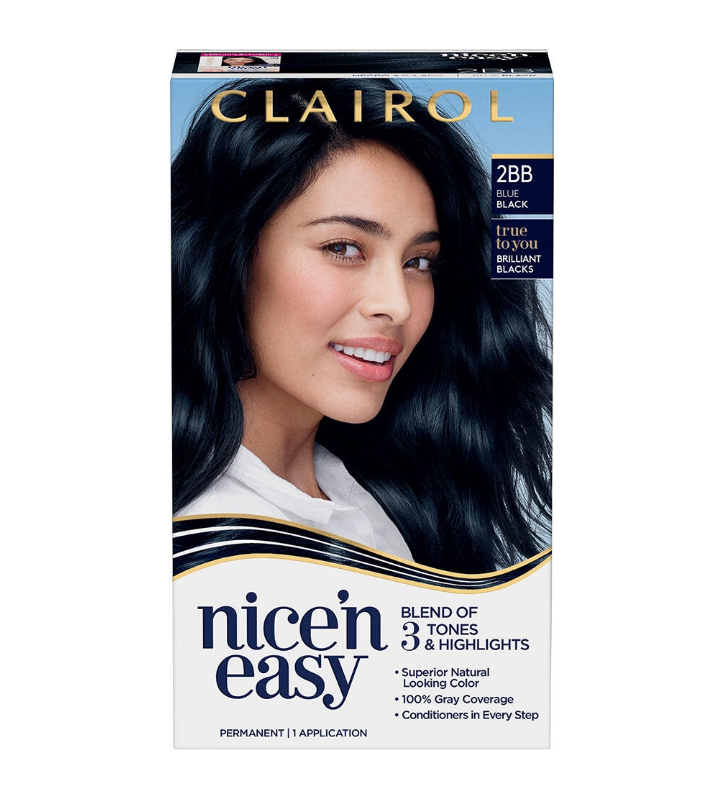 While I consider this dye more black than blue, it is perfect if you want a deep black hair color. It does have a subtle blue tint in the light when dyed on dark brown hair. The blue will be more noticeable if you dye it on lighter hair. This dye doesn't have as much gray coverage as other dyes on this list.
This dye is simple enough to use. Just know this dye does stain, so be careful if you're dyeing your hair alone. The Clairol boxed dye includes conditioner, leaving your hair soft and shiny after you dye it. I love how this dye has more of a floral scent than a chemical smell — the chemical smell gives me a migraine.
This is a permanent dye and is one of the longest-lasting colors on this list. One reviewer said the dye lasted her five months! I found this dye for $7 at Walgreens, so you can't beat that price. But if you have long hair, you'll need to buy more than one box.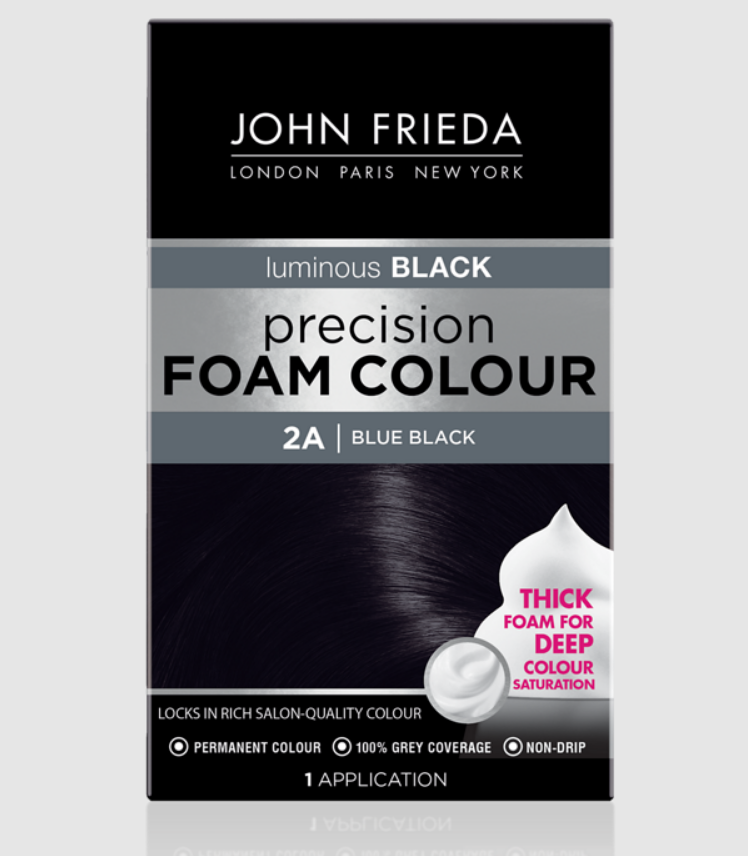 I also think this is a more natural black than a blue-black, but it is a rich color. Because the product is a foam, this dye is easy to apply, even for beginners. I like how this dye doesn't stain as badly as other dyes. As a permanent color, it lasts a long time and penetrates every hair strand. And with 100% gray coverage, you can't go wrong.
This dye includes the color, developer, former, gloves, and conditioner. One box costs around $11 and those with long hair need two boxes. Just be wary if you order this product from Amazon. I've seen some complaints where users bought expired dye.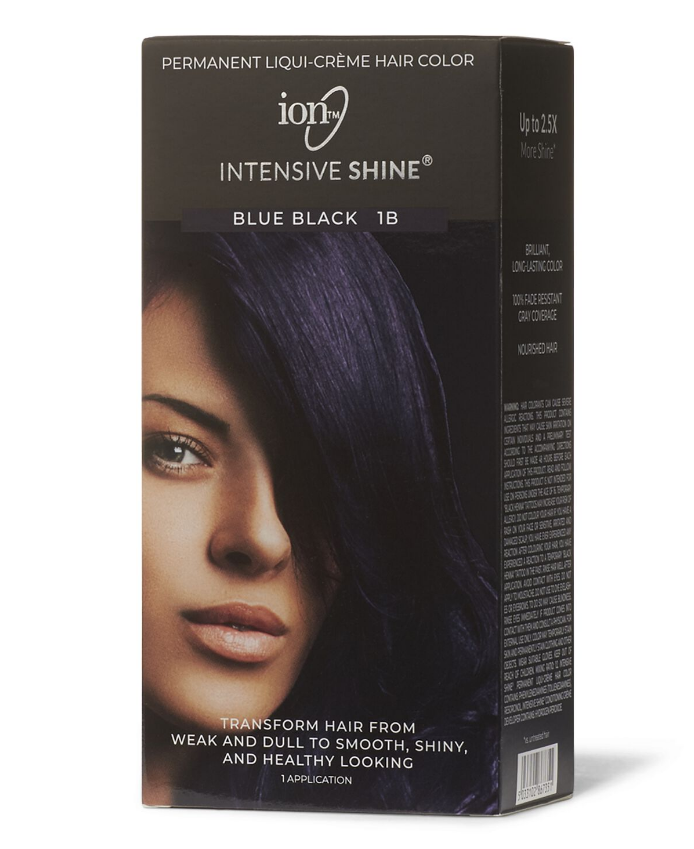 Ion is one of the most iconic names in over-the-counter hair dye. Every time I've used DIY hair dye, I always got it from Sally's Beauty Supply. I've used Ion hair dye before but can't remember which product I used. Ion has so many hair dye options, and I'm mentioning this one because it received the best reviews.
The color is beautiful and vibrant. My only complaint is this isn't the best if your hair is already dark or if you need to cover up grays.
Formulated with a blend of argan, Moroccan, tamanu, Tahitian, coconut, and camelia oils, this kit will condition your hair while leaving it extremely shiny. It also has a nice fragrance. As a permanent dye, this is extremely long-lasting, and customers said that this dye wouldn't even come out in the shower.
The dye is creamy, so it's easy to blend and apply. The box includes the dye, pre-color treatment, developer, after-color treatment, instructions, and gloves. Each kit is around $10.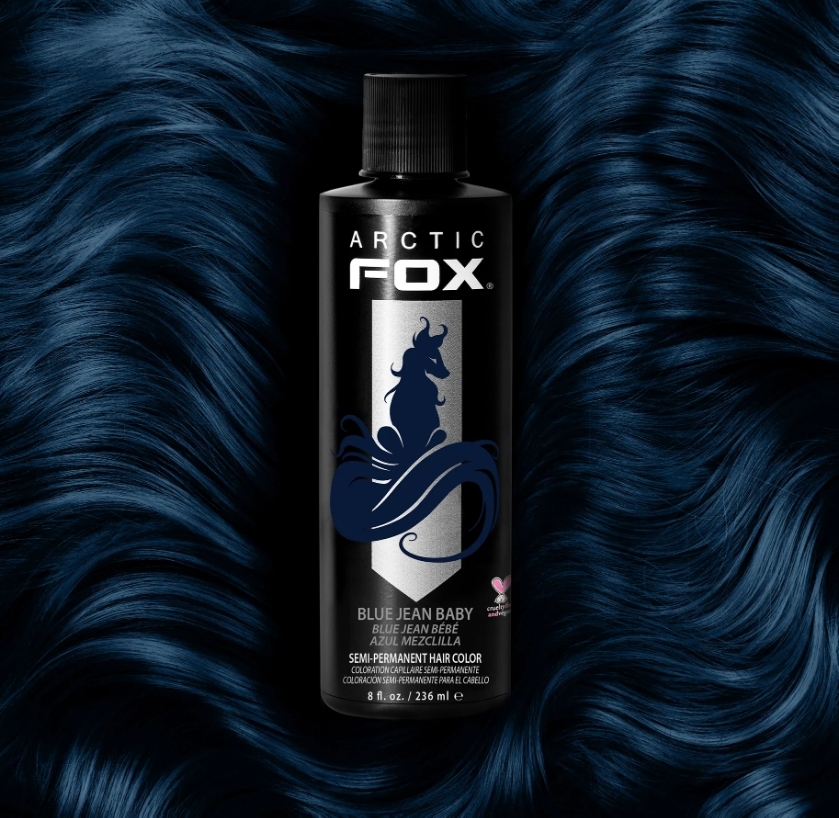 I wanted to include a couple of semi-permanent options, and there's no better option than Arctic Fox. I love how you can combine all Arctic Fox dyes to get the color you want. These dyes don't have harsh chemicals and are hydrating.
If you're looking for a pigmented dark blue, this is the dye I recommend the most. This dye is the color navy, which is a blue-black that's more on the blue side. As you wash your hair, it will fade to a pretty blue-gray color. Keep in mind that Arctic Fox recommends your hair be at least a level 7 to notice any blue. All Arctic Fox dyes are vegan and cruelty-free.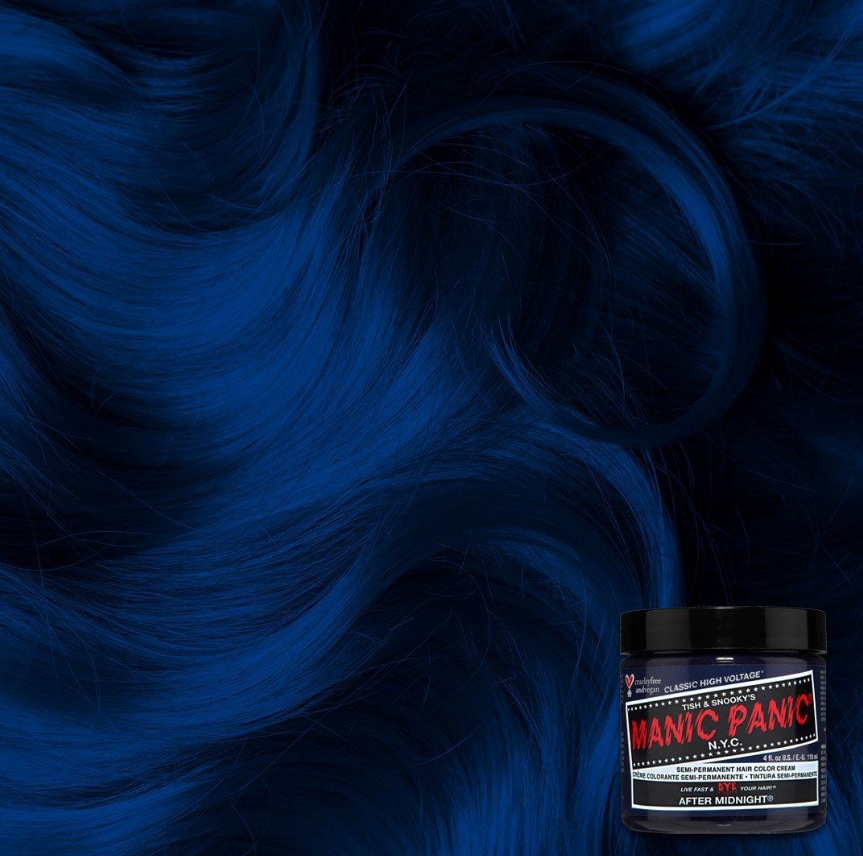 Manic Panic turned heads when they started releasing unnatural-colored dyes in the mid-70s. Formed by two sisters in the original Blondie lineup, they strived to create hair dye with intense hair colors that represented their punk rock lifestyle.
Manic Panic has many blue-black colors, but After Midnight is my pick. This is a deep navy blue that is one of the bluest dyes on this list. Manic Panic only recommends your hair is at a level 9 to notice the blue, though the blue will be more intense if your hair is lighter. If you want a lighter blue, reviewers recommend you mix more conditioner in the dye.
My only problem with Manic Panic dyes is they stain like crazy, so be careful when dyeing and washing your hair. It's also important to note that this is a semi-permanent dye, so it won't last as long as the permanent dyes on this list. I suggest only washing your hair a couple of times a week at the most.
All Manic Panic dyes are vegan and cruelty-free. This dye contains no PPD and will leave your hair very moisturized.
FAQs
Question: Should I wash my hair before dyeing it?
Answer: I don't. How I look at it is you'll be washing your hair after you dye it. I'm also reading you'll need your natural oils to protect your hair from damage.
Question: Should I leave my dye longer than the instructions say?
Answer: No. The more the chemicals are in your hair, the more you risk damage. I would only leave the dye in longer if your hair is porous. I would ask the brand or a colorist for advice before proceeding.
Question: Can I dye my hair while it's wet?
Answer: Technically yes, but it depends on the dye. I would reach out to the brand for advice before proceeding.

Bottom Line
To find the best blue-black dye, you'll need to know your needs, find a dye that's free of harsh ingredients, know the type of dye you prefer, find a dye that's easy to use, and has a conditioning formula. Out of all of these dyes, I recommend the Revlon dye. It has a very natural color. This is perfect if you don't want your blue-black color to be too bold. And with 100% gray coverage, this dye is very powerful.
The dye is also very simple to use. And at $5, you won't break the bank if you need to purchase more than one kit. Before you go shopping, look at some of my other favorite blue-black hair dyes.
Looking for more interesting readings? Check out: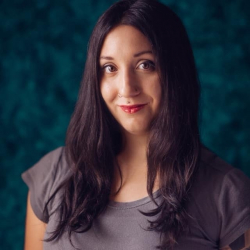 Latest posts by Stephanie Jensen, Hair Trend Spotter & Home Tester
(see all)