Wella is a professional haircare brand that stylists respect and love. They may be an unfamiliar company to you. I didn't know much about them, but as far as salon brands go, they're well-established in the hair community. The company has over 100 years of experience in perfecting its products and has various shampoos to suit any hair type.
One of the great things about Wella is that despite its professional quality, it's incredibly affordable. While you're not looking at drug store prices, Wella professional shampoos come in a variety of sizes, letting you spend less for a smaller bottle of the product. You can get a bottle of their shampoo starting at roughly $16 and up, and you can purchase your products in sets to save money.
Hair coloring is Wella's passion, so it makes sense that Wella is a brand that's typically salon-based. But beyond color, Wella has a range of all the products you need for your hair care routine. You can find Wella at a local salon or order from them online to add professional quality products to your shower.
Bottom Line Up Front
Shampoo is a fundamental part of hair care, and Wella takes its shampoo seriously. They have several lines to focus on everything your hair could need. Their best shampoo is the Color Motion+ Color Protection Shampoo, with bond-building agents and antioxidants to make your hair stronger, your color last longer, and protect your hair from free radicals.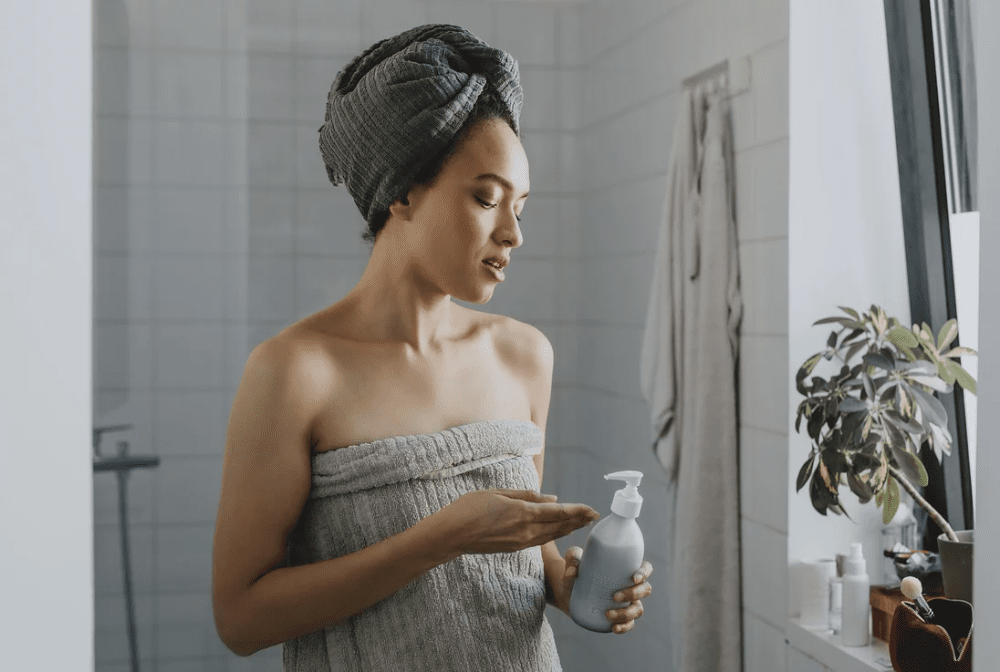 How to Choose Your Perfect Shampoo
Picking shampoo isn't an exact science, but you also shouldn't grab just anything off the shelf. To get the most out of your shampoo and find a shampoo you actually like, look at the big picture of your hair health to guide your choice.
Scalp Type
If you're a beauty junkie, you've probably done all the research to define your scalp type. It's a helpful tool in picking the perfect formula. Shampoo isn't just about cleaning your hair; it can do so much more for your hair and scalp.
Your shampoo is designed to work at the roots of your hair rather than the ends. Typically that's conditioner's territory. Your scalp type should be the main determining factor in your shampoo choice.
Have oily roots? A super-hydrating formula won't be the best, and you need something more cleansing. But if you have a dry scalp, your roots will need the extra moisture from a hydrating shampoo.
Hair Type
Just because shampoo targets the roots, your hair type still comes into play. Whether it's the natural texture you're focusing on highlighting or rebuilding your hair from heat and color damage, different shampoo types will focus on different things.
Also, you'll likely have different hair goals based on your hair type. Maybe you want to embrace your curls and want a shampoo that won't weigh them down. Or, on the other side, perhaps you have curls that you want to style straight and need a little strengthening instead. Your hair type can help guide you in a direction if you're unsure.
Thick hair: If your thick hair needs smoothing, a hydrating and moisturizing shampoo will keep your hair shiny and healthy.
Fine hair: Volumizing shampoos are ideal for fine hair because they won't add extra weight to the hair and lift the hair at the roots – no backcombing is necessary.
Straight hair: Smoothing shampoos can seal the cuticles of your hair to make it easy to wear without extra styling. Formulas with bonus hydration will also be a good fit.
Curly hair: Look for shampoos made specifically for curly hair. They will help reduce frizz, add moisture, and keep your curls bouncy and weightless.
Wavy hair: Not to be forgotten, wavy hair have their own unique needs. Balancing shampoos won't dry out your hair or make your hair too oily.
Damaged/brittle/colored hair: If your hair is newly colored, sticking to a color shampoo will preserve your color and make it last. If you're trying to recover from over-processing and damage, a strengthening shampoo will have some extra proteins to build back your strands' health.
Found where you need some support? Here's a list of Wella's shampoos with all the details so you can make the perfect choice for your strands.
Color Shampoo
As an expert on hair color, it makes sense that Wella supplies a variety of color-safe products.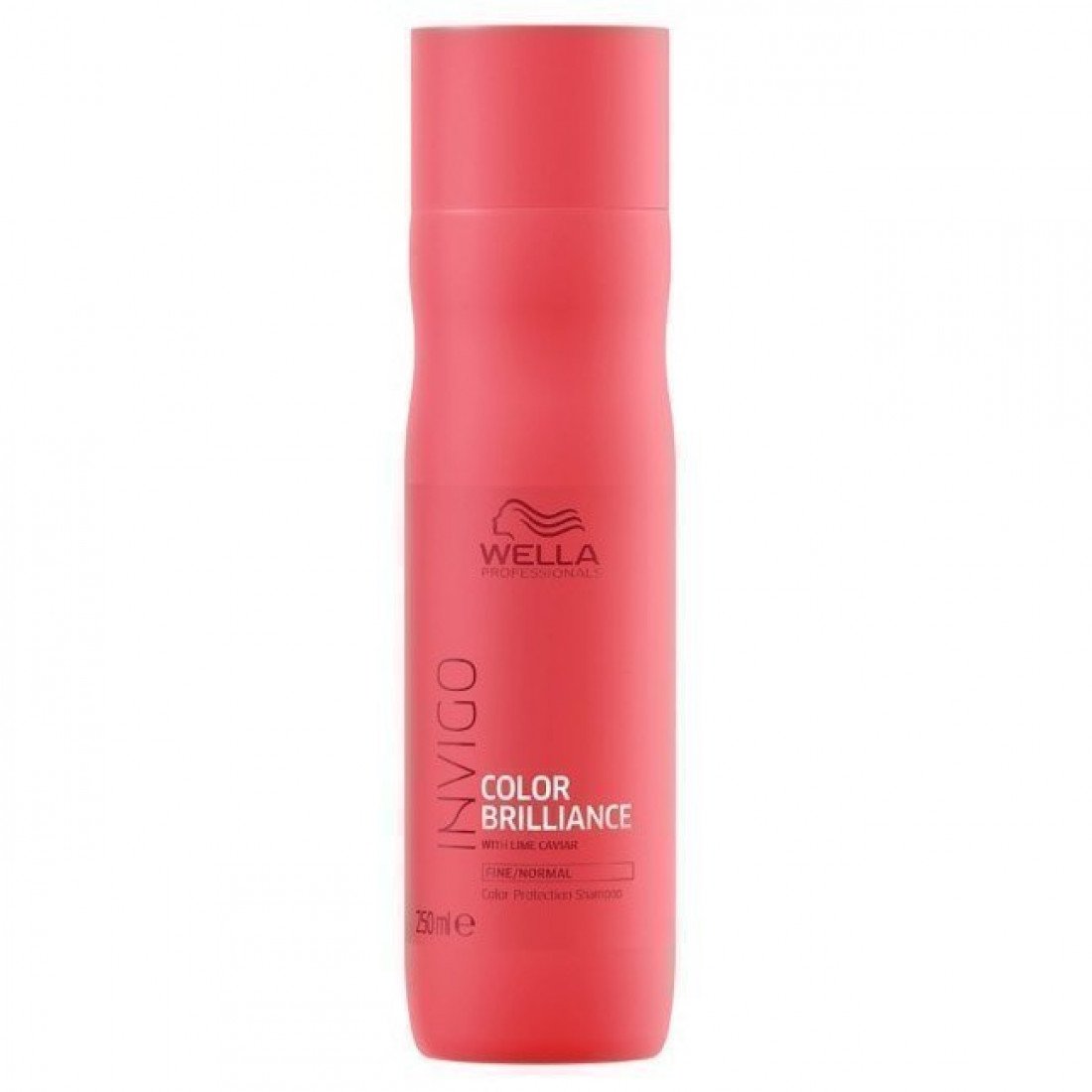 Wella's classic color-protecting shampoo is the Invigo Color Brilliance Shampoo. It's a pH-balanced shampoo that makes your color last longer and still leaves your hair feeling healthy. Lime caviar is the highlight ingredient in their formula. It sounds like a strange thing to add to shampoo, but lime caviar contains anti-oxidants and vitamins known to optimize hair color.
Vitamin E especially helps seal the hair's cuticles to keep the color on your strands longer. Some of the molecules in the shampoo contain copper, which boosts the vibrancy of your hair, no matter what color dye you choose.
 Pros
You can get this shampoo in two formulas: either for fine hair or coarse hair.
Their shampoo has a whole line to complement this shampoo and maintain your color despite heat and other styling.

It's PH balanced so it is good for your

and keeps the

's cuticle sealed.
Cons
Some reviewers say that they prefer the old formula of this classic shampoo.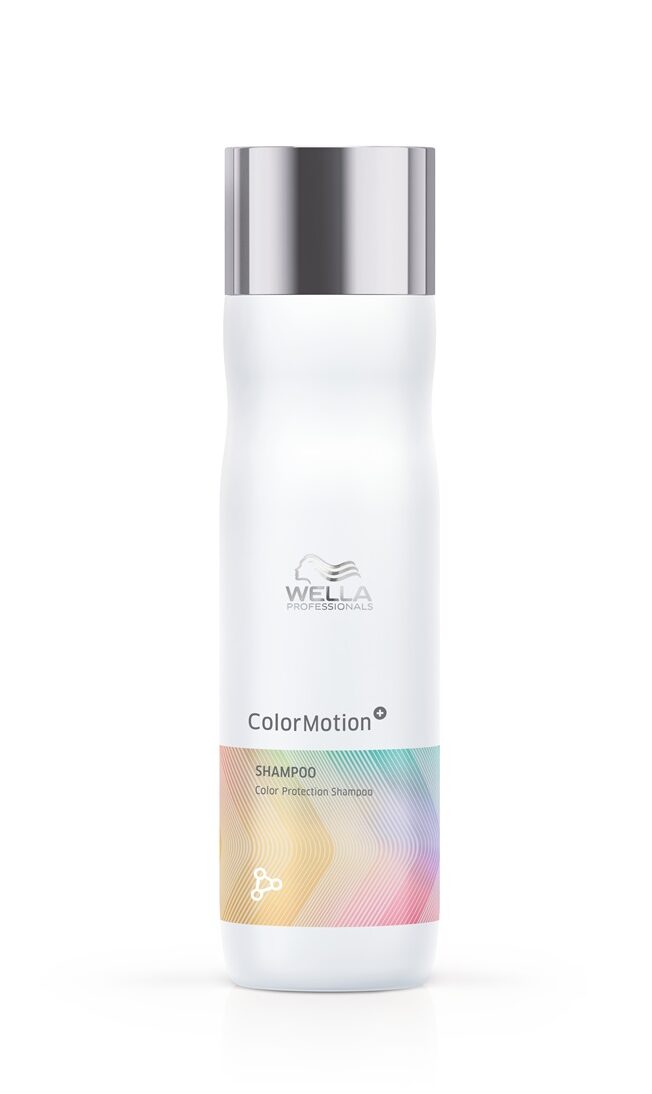 ColorMotion+ is another color protection shampoo that not only protects hair from color fading but keeps hair color salon fresh for up to eight weeks. This shampoo is also fortified with WellaPlex+ bonding agent. It's another property that will help strengthen the hair by rebuilding the hair bonds after the coloring process.
Wella's formula protects from free radicals by including plenty of antioxidants. If you use the entire ColorMotion+ related products, Wella promises stronger hair, more vibrant color, and shine that everyone will envy.
Pros
Reviewers – even professional stylists – rave that it's the best color shampoo on the market.
People who use this shampoo notice stronger and shiner hair.
Cons
The best results come from using the entire line of ColorMotion+ products, which can add up.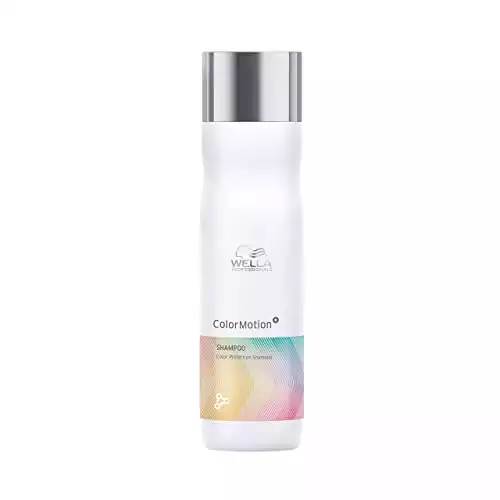 Wella Colour MotionPlus Colour Protect Shampoo | Amazon
Unlock the key to vibrant hair with Wella Professionals Color Motion Color Protection Shampoo. The effective hair treatment offers up to 8 weeks of colour protection, improving the quality of dyed hair in 3 different areas: preserving colour, promoting shine and strengthening strands.
Buy at Amazon.com
We earn a commission if you make a purchase, at no additional cost to you.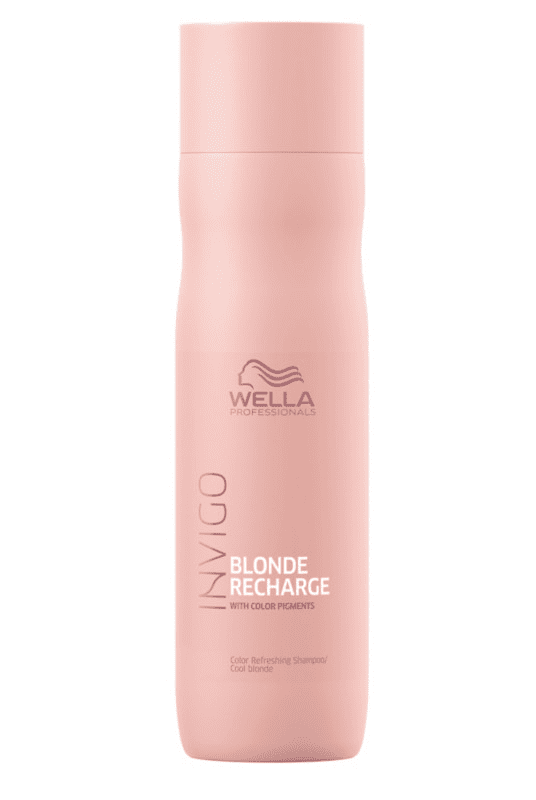 Making their mark in blonde shampoo, the Invigo Blonde Recharge keeps natural, dyed, or highlighted hair more vibrant, longer. It's not so pigmented that it will turn your blonde hair purple, but it's excellent for toning hair. As the name suggests, it's best for cool blondes, so warmer golden blondes may not love this shampoo.
Pros
It can come in two different size bottles so you can try it out or stock up.
Reviewers say it makes hair feel smooth and look shiny.
Cons
Reviewers say it doesn't lather, so it can make your hair feel not totally clean after a wash.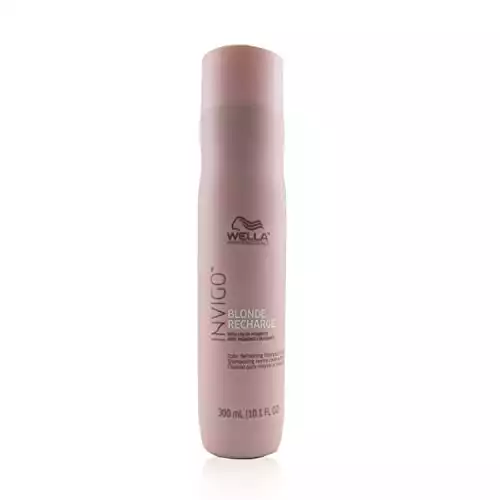 Wella Invigo Recharge Color Refreshing Shampoo for Cool Blondes | Amazon
Wella Invigo Blonde Recharge Color Refreshing Shampoo, for cool blonde tones refreshes and maintains the brightness and vibrancy of natural or highlighted blondes. This violet shampoo prevents natural or colored blonde hair from yellowing and helps eliminate brassiness, leaving it soft to the touch.
Buy at Amazon.com
We earn a commission if you make a purchase, at no additional cost to you.
08/03/2023 11:47 am GMT

Universal Shampoo
Outside of their color shampoo lines, Wella has other options for those who want more volume, more strength, or more sensitive formulas.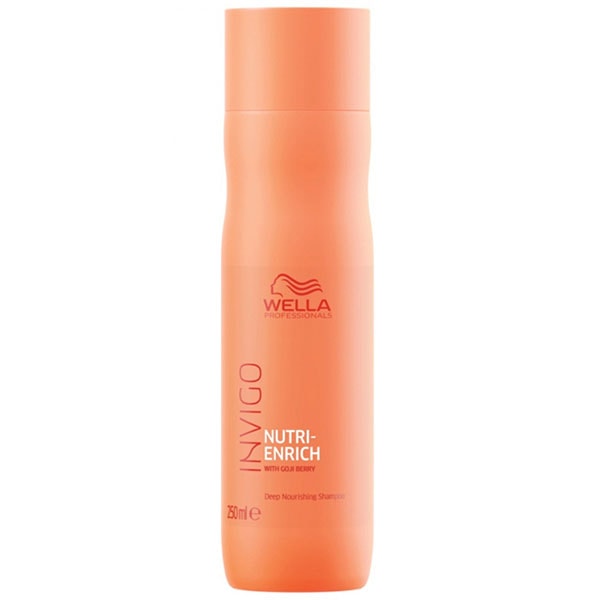 The Nutri-Enrich Deep Nourishing Shampoo is targeted towards people with dry, coarse, or stressed hair. With goji berries, vitamin E, and minerals, the Nutri-Enrich blend gets inside the strand to restore health and energy to your hair. The oleic acid leaves your hair feeling hydrated and nourished, and the Vitamin E reduces the stress placed on the hair.
Pros
Reviewers say that their hair feels stronger and softer with this formula.
A little product goes a long way and it doesn't strip your scalp or dry it out.
Cons
Some reviewers don't love the smell of this shampoo.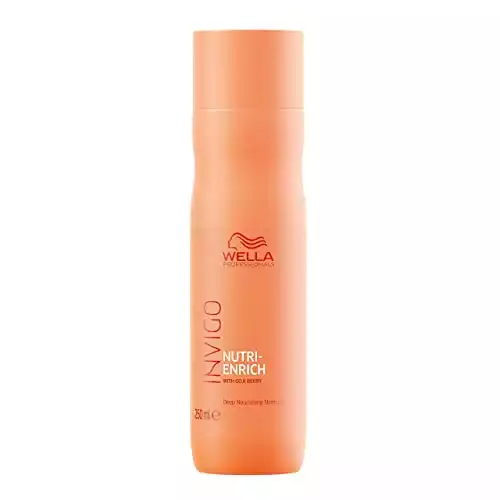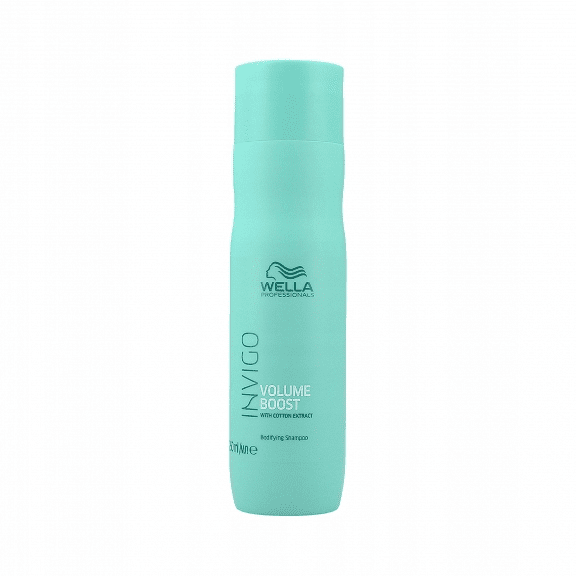 If you need a little lift to your hair, Wella's Invigo Volume Boost Shampoo will be your new favorite. It's designed with fine hair in mind to help your hair look thicker and fuller. The light formula won't weigh down your hair and has what Wells calls Bodifying Spring Force Polymers that accentuate volume with each hair fiber.
Pros
This formula is uniquely infused with cotton to bring endless softness to your hair.
Professional stylists say it stacks up to other professional bodifying shampoos at a fraction of the price.
Cons
It's a popular line, so some reviewers have a hard time finding this particular shampoo in store.
The minimalist of the shampoo world, Invigo Senso Calm Shampoo is a fragrance-free formula for the most sensitive scalp. It's gentle and delicate while still delivering a deep, refreshing clean. This formula contains allantoin extract which works to soften and nourish the hair. Whether you need a more gentle shampoo or like a formula with fewer ingredients, Wella's calm blend delivers.
Pros
The allantoin extract offers anti-aging properties to freshen your hair and keep your scalp healthy.
Reviewers say that even with certain skin conditions, they can use this delicate formula.
Cons
If you love shampoos that lather well, this shampoo may miss the mark.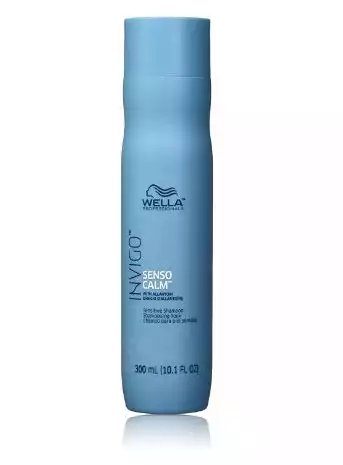 Wella Invigo Senso Calm Sensitive Shampoo | Amazon
Gently cleanse your hair and scalp with this specially formulated shampoo ideal for sensitive skin. It comforts the itchy scalp with enriched lotus extract and menthol while promoting healthy-looking hair.
Buy at Amazon.com
We earn a commission if you make a purchase, at no additional cost to you.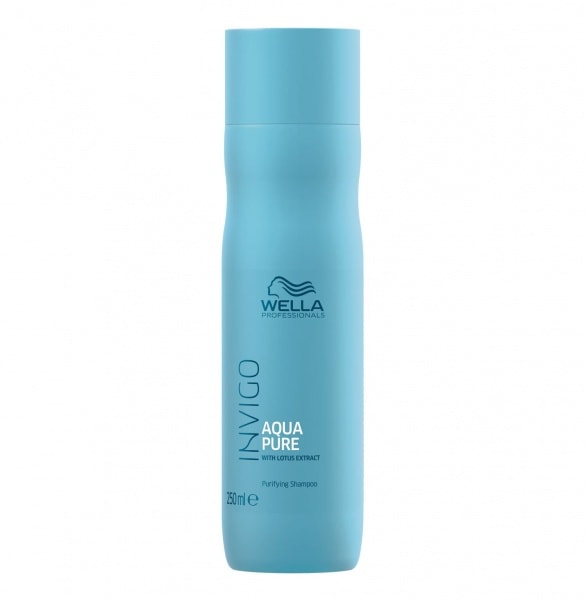 Need a clarifying shampoo to get rid of buildup? Not to be left behind, Wella crafted their Aqua Pure Purifying Shampoo to wash away impurities without stripping your hair. After use, you'll be left with soft, shiny hair that feels renewed and clean.
Pros
It gets rid of all the buildup you don't want but keeps the good oils right where they are.
This formula comes with a clean and fresh scent as a bonus!
Cons
Their bottle design looks exactly like their sensitive shampoo, so read the label to make sure you're getting what you want.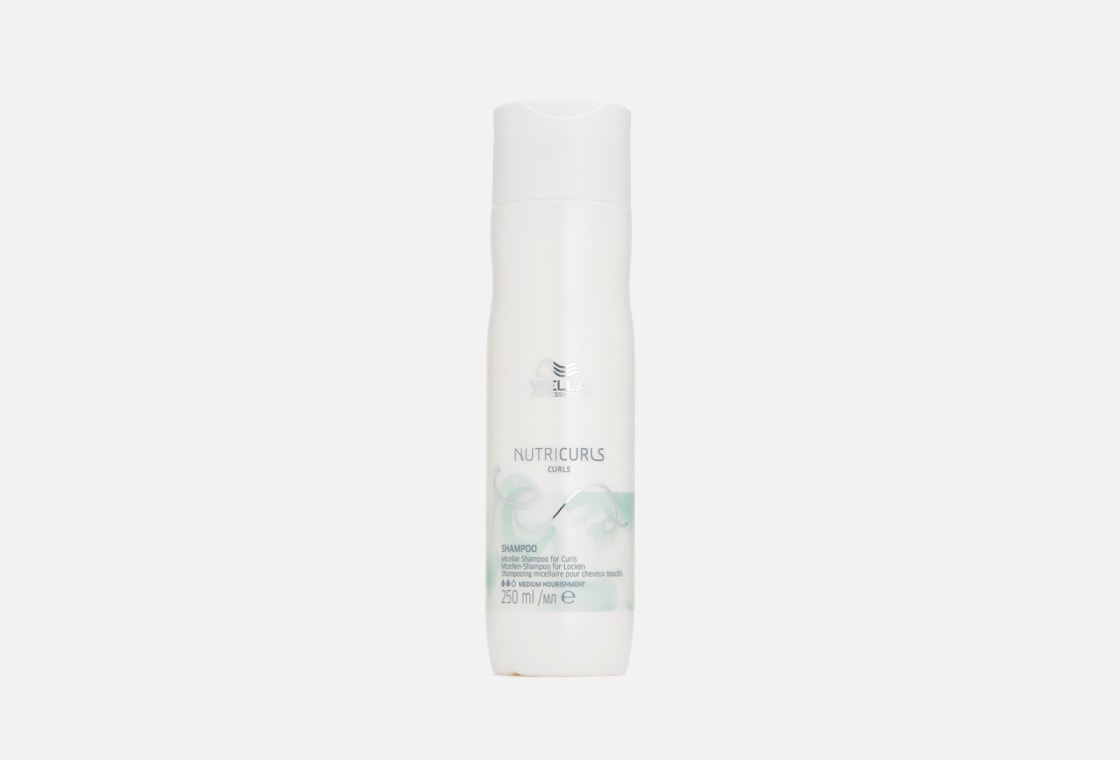 Wella's Nutricurls Shampoo for curly and wavy hair aims to improve the definition of your texture while still giving your hair a weightless clean. Since frizz is the biggest concern among those of us with curly and wavy hair, Wella's formula was designed for anti-frizz and easier manageability. Your curls will stay bouncy, soft, and have endless volume.
Pros
This shampoo is gentle, nourishing, and won't weigh down your hair.
Wella has an entire curly hair care line to help you define your curls, frizz-free.
Cons
It's a relatively recent lineup of products so there are few customer reviews.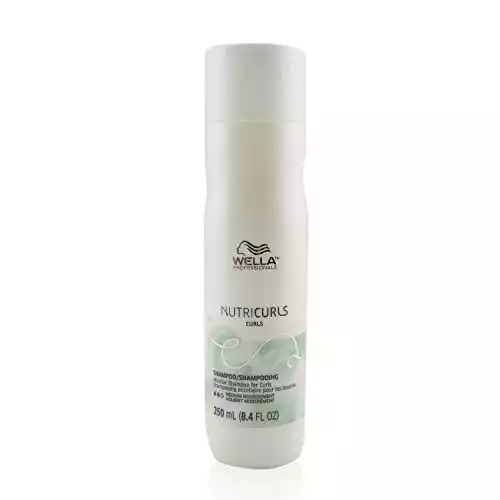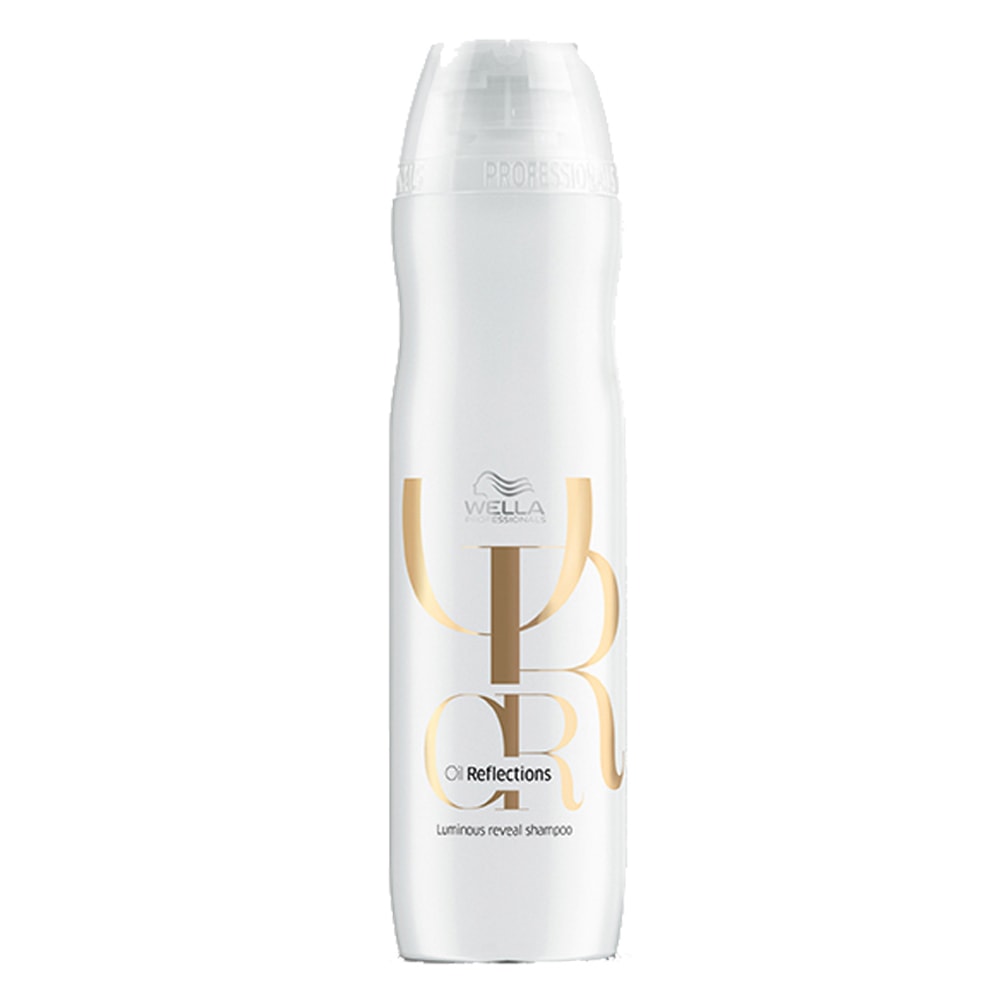 With Wella's Oil Reflections line, creating hair that appears luminous and shiny is the goal. This shampoo is part of a relatively new line for Wella and its light formula is a nourishing addition to the lineup. Wella created this shampoo for all hair types in mind while including camellia oil to revive dull hair.
Pros
Contains white tea extract to strengthen your hair, starting at the follicle.
Reviewers love how low-maintenance it is. If you love washing your hair less often, this shampoo will keep your hair cleaner, longer.
Cons
Since the Oil Reflections line is a new invention for Wella, there are not a lot of reviews out there. However, the ones that exist are glowing recommendations.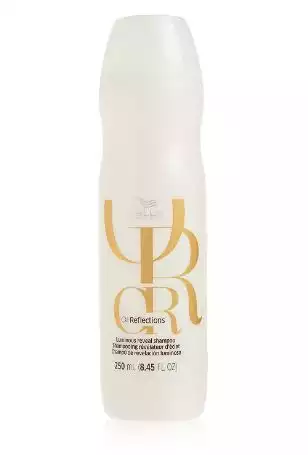 Wella Alternatives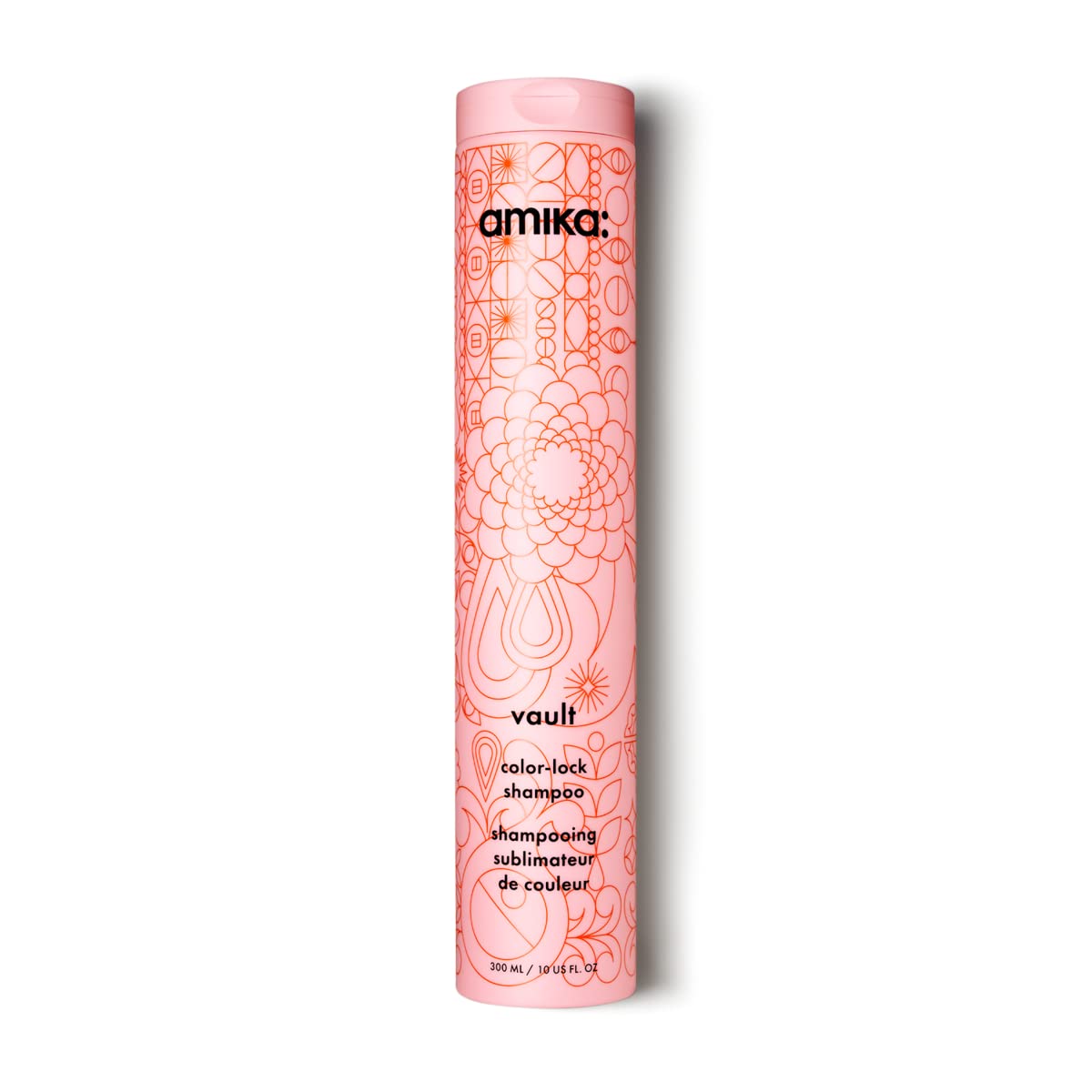 Another tried, and true shampoo that will protect your newly-colored locks is the amika Vault Color-Lock Shampoo. This shampoo has UV filters that protect your hair against the elements. Soybean oil keeps your color bright and can even counteract any hard water-induced dullness. Add a fresh coconut scent, and this formula ticks off every box.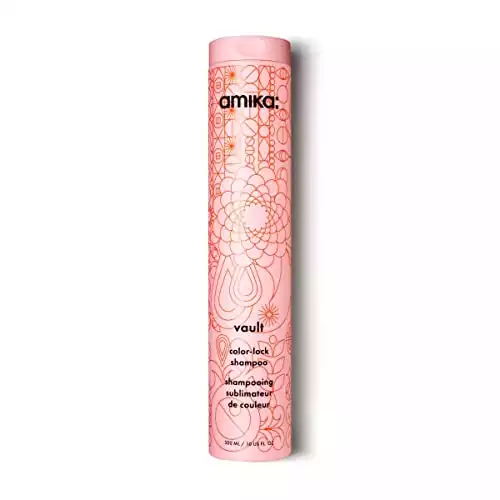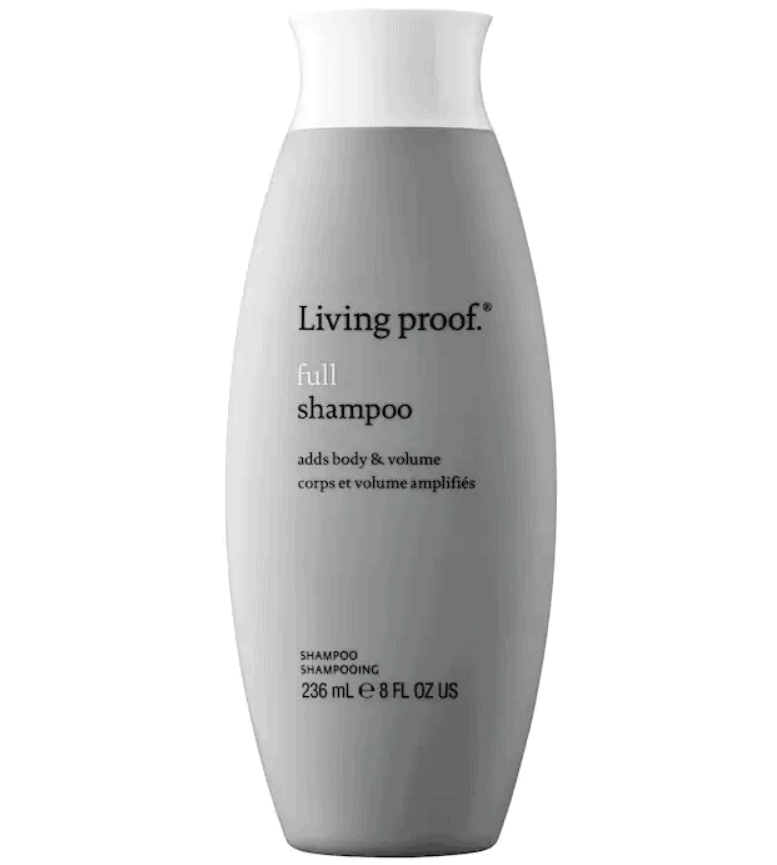 This Living Proof Full Shampoo is a volumizing shampoo for all hair types that aim to boost body without weighing down the hair. It's silicone-free, cruelty-free, and an incredibly gentle formula that thoroughly cleans your hair and scalp. Living Proof's secret ingredient is a patented Healthy Hair Molecule that will keep your hair shiny and strong long after you use it.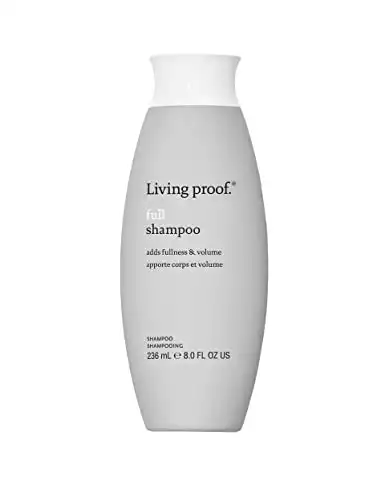 Living Proof Full Shampoo | Amazon
Effectively cleanses without stripping or over-drying strands and plumps hair fibers for bouncier, fuller-looking hair.
Buy at Amazon.com
We earn a commission if you make a purchase, at no additional cost to you.
08/03/2023 06:55 am GMT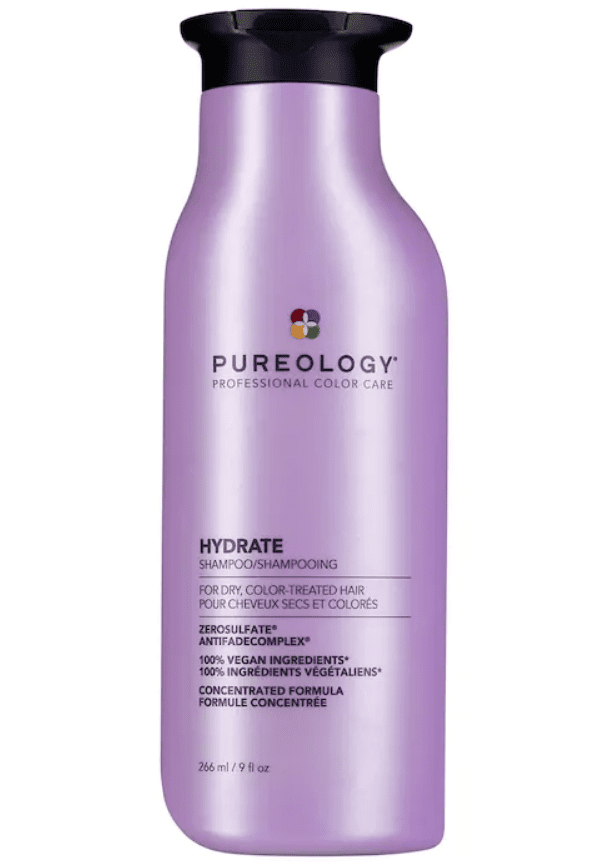 Ideal for medium to thick hair, Pureology Hydrate Shampoo infuses hair with moisture to make it look and feel less brittle. It's a highly concentrated, professional formula that will last you longer than a typical shampoo. This shampoo takes care of multiple hair concerns with jojoba oil for smoothness, green tea for scalp care, and sage to help with dry hair.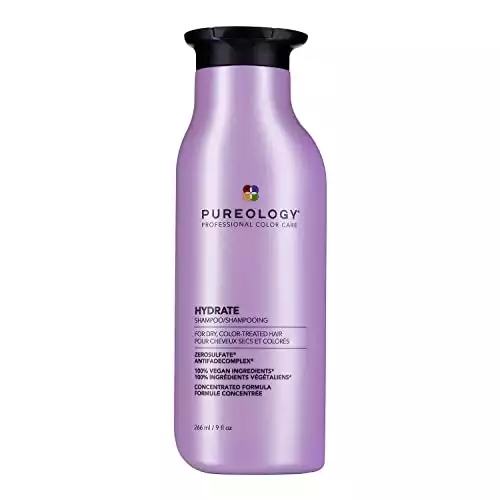 Pureology Hydrate Shampoo | Amazon
This creamy, sulfate-free, vegan shampoo deeply hydrates and gently cleanses normal to thick, dry, damaged, frizzy and color-treated hair, providing superior moisture, touchable softness and extraordinary color protection
Buy at Amazon.com
We earn a commission if you make a purchase, at no additional cost to you.
08/03/2023 09:07 pm GMT

FAQs
Question: Is Wella shampoo good for your hair?
Answer: Yes! As long as you find the right formula for your hair type, professionals rave about their superior quality! If you have difficulty finding your hair type from the guide above, ask your stylist their thoughts on your hair's needs. Use their guidance to find the best Wella shampoo to bring your hair to its best.
Question: Is Wella shampoo sulfate-free?
Answer: Wella's first line that is "free of" is their elements collection. It's a sulfate-free option with natural tree extracts called NuTree complex that provides keratin protection and fortifies hair. This clean line is a reliable option for damaged hair with no sulfates, parabens, or artificial colors.
Question: Who owns the Wella company?
Answer: Wella established itself in Germany in 1880, and through its long history, it's evolved and grown on a global scale. In the early 2000s, Wella was acquired by Proctor & Gamble, and by 2016, Coty procured Proctor & Gamble's entire beauty holdings. In 2020, the Wella Company established itself separately from Coty to begin a new chapter independently. This included brands like OPI, Sassoon Professionals, Clairol, and Nioxin.
Question: Are Wella Products Safe?
Answer: Yes, Wella products are safe! Independent researchers found that Wella is in the top 82% of allergen-free products. If you have a delicate scalp and are worried about irritation, it's best to try out their Senso Calm Sensitive Shampoo to start and stick to that line of products.
Bottom Line
Wella is a professional brand with a solid reputation among professionals for a reasonable price. Though their shampoo repertoire may seem slim for now, they are constantly innovating and looking for new trends and hair concerns to address.
Their color shampoos are their best shampoo. Since they have such a passion for hair color, they are pros at preserving it. For more color longevity that won't damage your hair, their color shampoos are worth exploring.
Want to read more? Check out: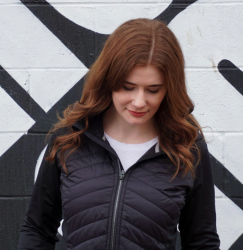 Latest posts by Kelsey Purcell, Hair Product Collector & Tester
(see all)