When people in my salon started telling me the mullet was coming back a few years ago, I laughed and said, "Yeah, right, you won't catch me cutting any mullets!" Now, here I am, loving all of the variations that have come out recently that originated from the mullet. The short wolf cut is one of those variations I have had so much fun with on the few occasions that a client has asked for it. To inspire more people to try this daring, new look, here is a wolf cut short hair idea and style guide.
Bottom Line Up Front
A shoulder-length wolf cut is the most customizable style, changing it to whatever needs you have for your face shape and hair type. You can do a shoulder-length wolf haircut with short layers, long layers, baby bangs, long bangs, mullet-like face-framing, or hardly any face-framing. Starting your short hair wolf cut at shoulder-length also makes it easier to tame down if you decide the layers are too much for you because you can cut up the length to make the layers more even.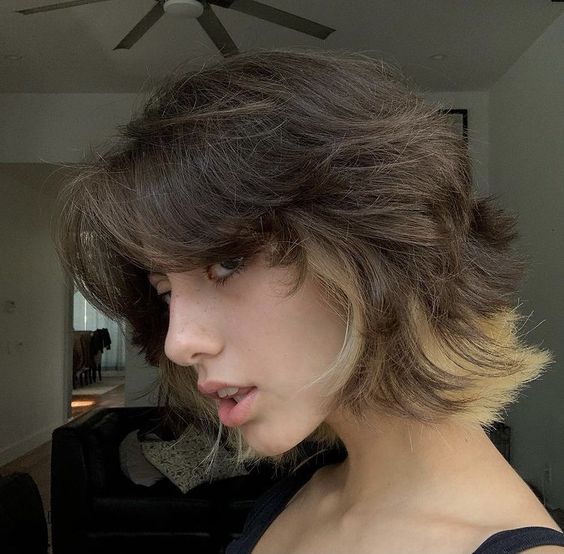 What Is a Wolf Cut?
A wolf cut is a modern cross between a shag haircut and a mullet but gets most of its characteristics from how you style it. What differentiates it from your old-school shag or mullet is that the layers are incredibly choppy and are styled in a messy, throw-it-around manner. Other than that, you can customize a wolf cut to resemble a shag with short layers that leave length or a mullet with a ton of layers that create shorter lengths around the face.
Who Can Wear a Short Hair Wolf Cut?
I fully believe that anyone with the confidence to do so can wear a wolf cut. In my head, it's the equivalent of asking if you can pull off hot pink hair. Anyone can pull it off if they have the certainty to do so. There are also so many different ways to customize a wolf haircut that could make it work for your face shape and hair type. Below is a basic outline of who can wear a short hair wolf cut.
People who like an edgier style
Preferably thin hair but also thick hair for some variations
Best for curly or wavy hair, but can be styled on straight hair
Any face shape if cut to compliment that face shape

Selection Criteria
Trendy
A wolf cut can quickly start looking like a shag haircut or mullet from the 70s or 80s if it is not cut or styled right. The key to having a trendy wolf cut is making it as messy as possible without looking like a homeless person. It's easier than it sounds if you do any of these wolf cut short hair ideas listed below and then the steps on how to style it.
Heavy Layers
A wolf cut is not a wolf cut without shorter layers, especially if you are going for a short hair wolf cut. The nice thing about short hair wolf cuts is you don't need to worry about the layers thinning out your hair too much because there isn't a ton of length to layer it into. I also like a wolf cut where the ends look a little wispier because of the heavy layers.
Easy to Style
Once you get your routine down, styling your wolf hairstyle should be pretty straightforward. You might not even need to do anything with it other than put some styling product in it and move it around until you think it looks good. If you do decide to style it with hot tools, it doesn't need to be, and you probably shouldn't make it perfect for getting the messy effect. It shouldn't take you fifteen minutes to style a wolf cut.
Something for Everyone
The thing about wolf cuts is they are highly customizable, and the style depends on your confidence in pulling it off rather than your face shape or hair type. I genuinely believe that anyone and everyone could have a wolf cut with short hair, as long as you like edgier styles. There are also a few wolf cut styles on this list that men could pull off as well.
Wolf Cut Short Hair Ideas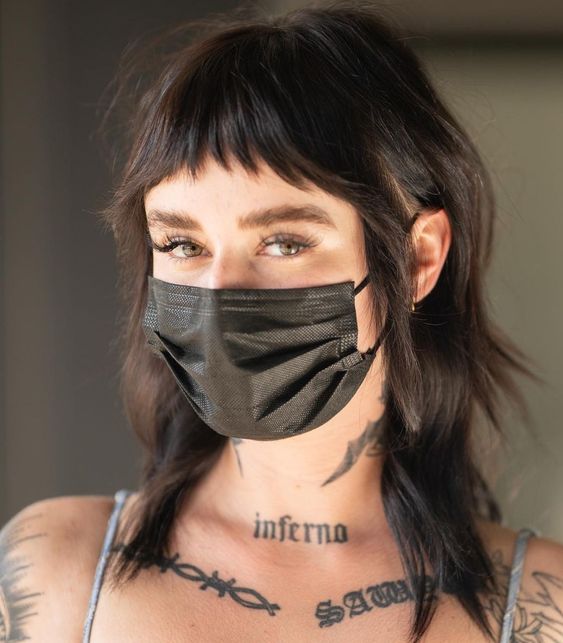 I'm usually not a huge fan of baby bangs, but they work exceptionally well with a wolf cut. I think I like them with a wolf cut on short hair because it further enhances the edginess of the cut, and they blend in well with heavy face-framing and layering. Make sure your baby bangs are cut very wispy instead of blunt and straight across to get the whole wolf cut effect.
Shoulder Length Wolf Cut
I like keeping wolf cuts around shoulder length most because you can get the most shape out of them. The face-framing can be dramatized with the length in the back coming down much further than the lengths around the face. You can also do much more layering with a shoulder-length wolf cut, giving the ends that nice wispy texture that really makes this style stand out. I also recommend this length for those with rounder or square faces to give your face a bit more length.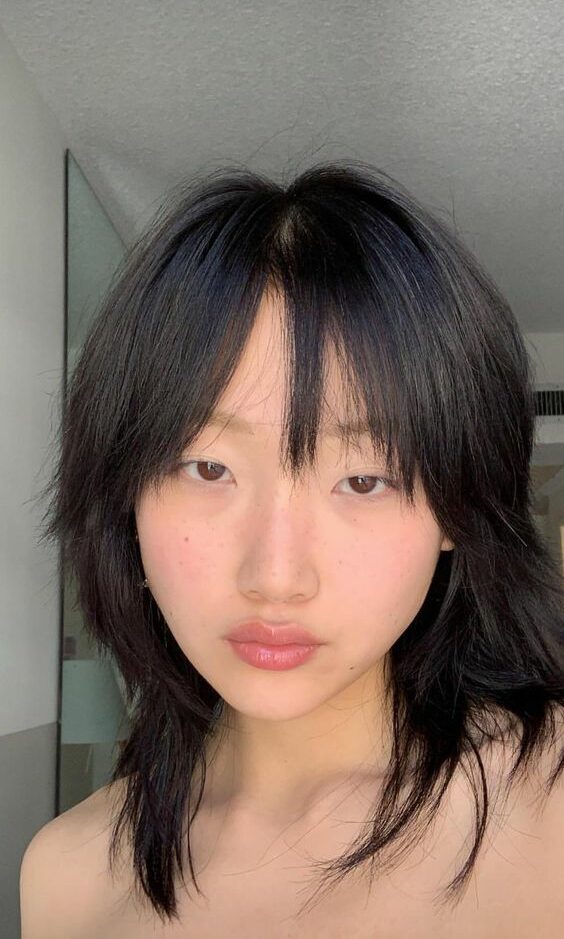 You don't necessarily need bangs with a wolf cut, but I think it adds to the character of the cut quite a bit. Cutting longer, wispy bangs may be a better option if you aren't much of a bang fan but want the complete wolf cut style. They can easily be swept out of your face and blend in well with your layering. I like to make longer, wispy bangs with shoulder-length wolf cuts because if you have shorter hair and long bangs, it can look a bit like a bowl cut.
Short Straight Wolf Cut
I know I said that wolf cuts look best on wavy or curly hair, but you can totally make it work for straight hair too. The cut will need to be texturized much more with straight hair than with curly hair so that it doesn't lay flat and create weird lines in all the layers. You may also need to do some teasing and use some stronger hold products with straight hair to get the messy, voluminous look you want with a wolf cut.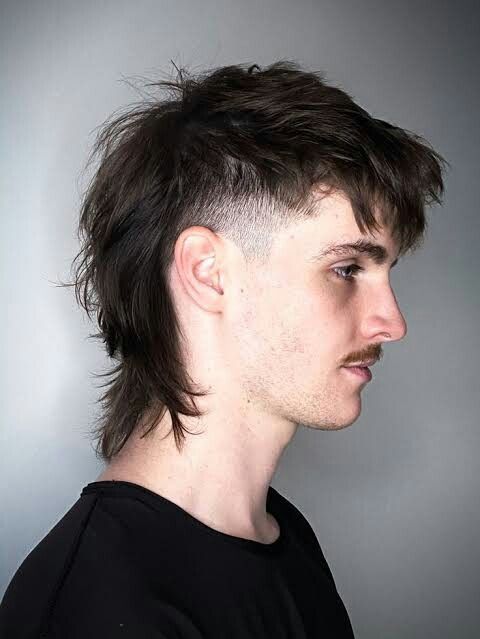 Okay, so this may be venturing into the mullet realm, but I love this style for a wolf-like cut as long as you keep a bit of bang and length on top. This is about as edgy as you can get with this style and looks great on men and women. You will need to make sure that the back is layered quite a bit to get an excellent shape that blends a little better with the sides, but you can make the back length as long as you want.
Blunt Sides Wolf Cut
This is another wolf cut short hairstyle I have seen a lot of lately, and it mixes a smooth blunt look with the wildness of a wolf cut. The mixture of these two textures in one haircut makes it a bit edgier than a standard wolf cut and can add some width to your face, making it great for those with a longer face. Make sure the smooth blunt pieces stay within the face-framing section of hair because if you start wrapping that part of the cut too far around the head, you start getting into jellyfish hair territory.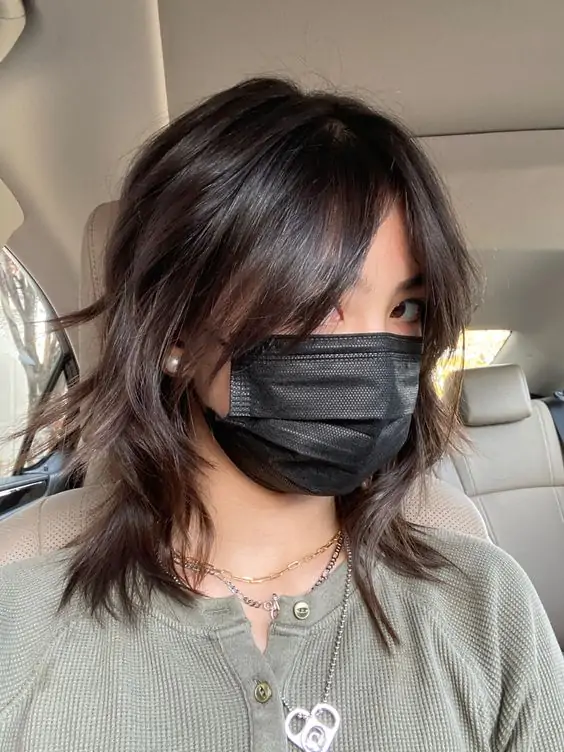 With all the layering put into a wolf cut, if you don't already add bangs, curtain bangs are what you are naturally going to get. This is because the top layers of your hair are cut short and will somewhat fall forward no matter what. It is best to add the curtain bangs on purpose instead of letting the layers do the work because they will frame your face much better. This version of a short wolf cut is also great for those that don't want hair on their forehead all the time.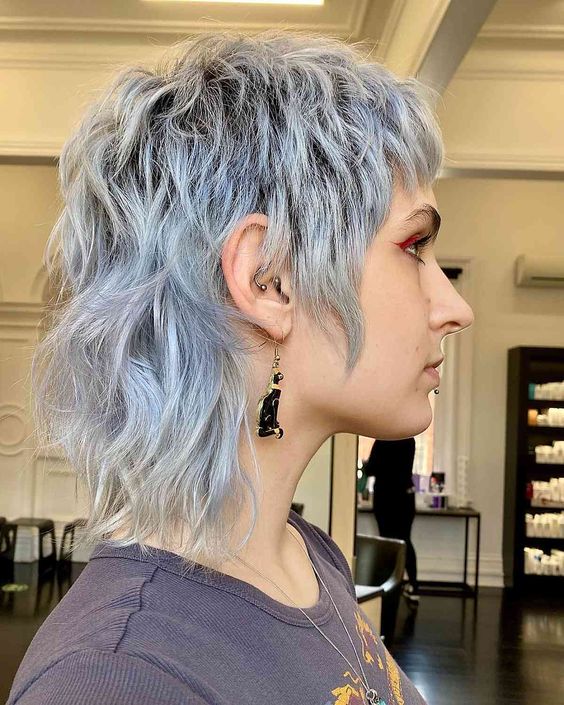 The main difference between a mullet and a wolf cut is mullets have a disconnect somewhere that the hair in the back is drastically longer than in the front. Wolf cuts blend this line to create a more cohesive look. As you can see below, you get the mullet vibe, but the layers all combine into one another rather than you being able to see exactly where the hair becomes longer. I like this look for those with thinner hair because the shorter lengths can be challenging to texturize on thick hair.
Shag Leaning Wolf Cut
A shag-leaning wolf cut has a much less dramatic face-framing area where most of the length around the head is kept intact, whereas a typical wolf cut has shorter hair around the face. I like to start people who are a bit nervous off with this haircut before committing them to grow out those super short pieces around the face if they don't like it. You still get all the layers and a fairly heavy face frame, but it is slightly more subtle and can grow out faster.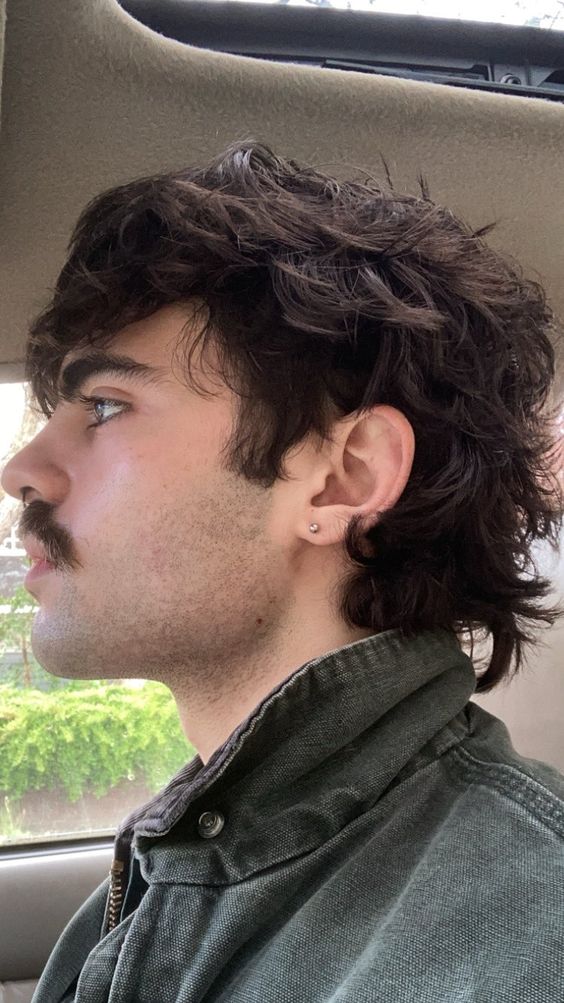 Men are actually the people that started the wolf cut trend, with the earliest one I ever cut being over five years ago. It used to be a cut for those who were into the punk scene but has moved past that into women's haircuts and those looking for something a bit edgier. I like to cut men's wolf cut styles with more tapered sides and an even, longer length through the top and back. This gives the illusion of a square-shaped face, a flattering face shape for a man.
Wolf Cut Pixie
Wolf cuts are not typically made into a pixie, but when I see this style, the best way I can describe it is a wolf cut pixie. It has the highly choppy texture of a wolf cut and frames your face the same way a wolf cut does with tapered sides. This is another look that works exceptionally well for fine hair since it is so short but can also work for thick hair since the sides are tapered off.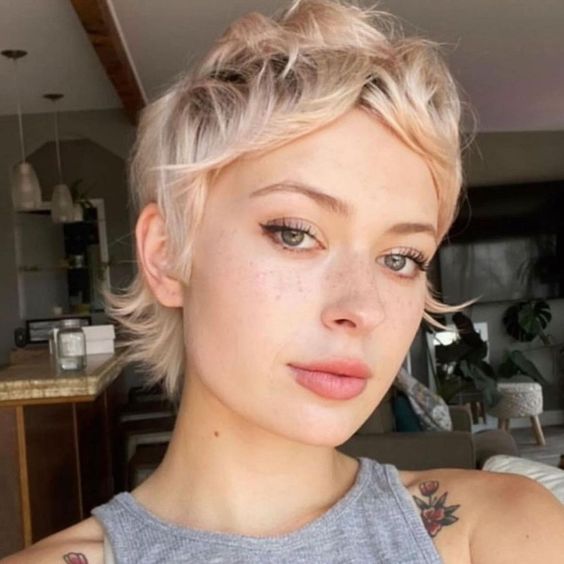 To take the wolf cut pixie a step further, add wispy tails to the sides and back of the cut. I think this wolf cut hairstyle is so feminine and dainty looking, which is quite the opposite of the vibe wolf cuts usually give. This is also one of the few pixie-type cuts that people with round faces can pull off because you can bring the wispy tails down the side of your face a bit more, making a face look thinner.
Chin Length Wolf Cut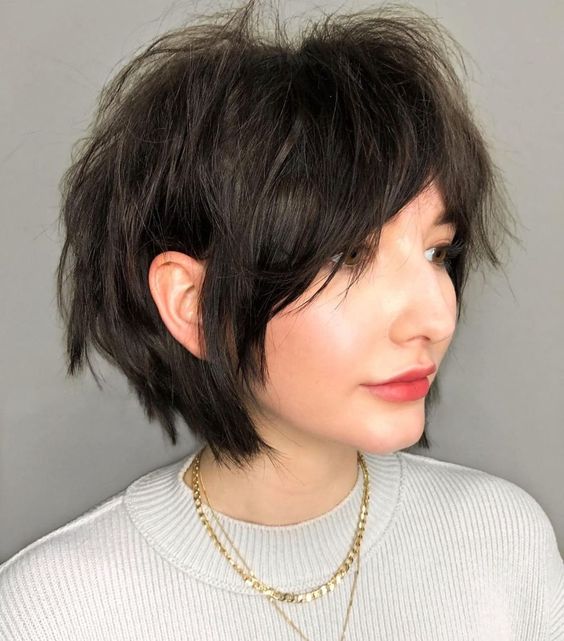 A chin-length wolf cut can be pretty challenging to pull off because you need to add a ton of layering in such a short length to give it that wispy, messy look. However, if done correctly, it can give your face shape some extra roundness and your hair a unique, voluminous look. I also like this length of wolf cut with curtain or baby bangs because in between can give you that page-boy look that our mothers all gave us when we were five.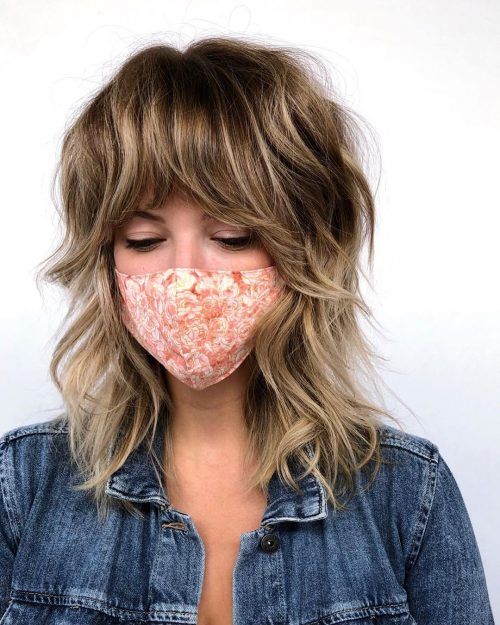 The thing about wolf cuts is that the layering throughout the back will most likely be the same length as your bangs. This means you can style all of your layers forward into your bangs, giving you as thick of bangs as you want. It will provide you with that look of having more volume on top around your face while the rest of your hair is touseled and wispy. I do not recommend this cut for those with round faces because all that volume around your face will make your face look rounder.
Long Layered Wolf Cut
You can still get the wolf cut vibe without adding a ton of short layers, and you do this by making an exaggerated face-framing that starts lower and adding in a ton of texture to the layers throughout the bottom of your hair. With a short haircut, I recommend starting your face-framing and layers at the chin or higher because it can be difficult to create the wolf cut texture if there are hardly any layers.
I also think this haircut is easier for people with thinner hair to achieve since you can get a wispier look with fewer layers.
Short Curly Wolf Cut
Curly hair is one of the easiest hair types to style with a wolf cut because it is the definition of messy and wild. You can literally let your curly hair go with a few curly hair products and let it do its thing with this cut because this style is supposed to look untamed. You need to make sure that the shape of your layering is square rather than round because you could quickly end up with an afro style with curly hair and a short wolf cut. Also, ensure your stylist leaves room for your hair to shrink once it is dry.
How to Style Your Wolf Cut
If your wolf cut is done well, it should be pretty easy to style since it is mostly just messing it up until it looks the right amount of messy. You will need a few products depending on your hair type and the style you are going for. Plus, a few pointers on getting the look without looking overly messy or like you tried too hard.
Naturally Curly Hair
Naturally curly or wavy hair is some of the most manageable to style with a wolf cut hairstyle. Most of the time, you'll have to put a few curl products in your hair, such as a curl creme or mouse, and scrunch it in while also pulling out a few pieces to be less curly than the rest. The trick to having a messy look with curly hair is to make it have variety. I like to flip over my head, scrunch in my product, and then flip it back over to pull out pieces that I want more flippy with hair spray.
Naturally Straight Hair
Even though it is not typical for a wolf cut hairstyle to be styled straight, it can be done and gives you a slightly edgier look. Usually, straight hair does not have much volume to it, naturally laying flat on your head. Therefore, you will need a root boost or volumizing spray and a mouse to blow-dry in.
Flip over your head while you are blow-drying these products in and use a brush to direct the hair up off your head. Once it's dry, you can flip back over to normal and start doing some loose teasing near the top of your head. This teasing is more to add in texture instead of a bump of volume, so don't pack in the tease to the root. Finish off by adding some separation in the hair with hair spray.
Add Curls
If your natural curls aren't working for you that day, or you have straight hair and want a curly wolf cut, you may need some help from some hot tool. The trick to curling a wolf cut is mixing spiral curls and waves with a straightener. This may take some practice because creating messy curls means making them not as perfect as we're all used to. The best way to explain this is through the video below. Go to 6 Minutes for the curly style tutorial.
FAQ's
Question: What is the difference between a wolf cut and layered hair?
Answer: A wolf cut is a layered hairstyle. The difference between a wolf cut and layered hair is that layering is a cutting technique to create various styles, whereas a wolf cut is one of the different styles you can create with layers. Typically when people think of layered hair, they think of a few different lengths throughout the mids and ends of hair, but you can do extremely heavy layering and face-framing layering to create the wolf cut.
Question: Are wolf cuts hard to maintain?
Answer: Wolf cuts require quite a bit of maintenance to keep their shape because the key feature of a wolf cut is the layers, which need to be kept short. Styling a wolf cut is relatively simple since it is a messy style, but you should have it trimmed up every five to six weeks. This schedule will keep your layers from falling and losing shape around your face.
Question: Do wolf cuts look good on everyone?
Answer: I think if you have the confidence to pull off edgier styles, you can pull off a wolf cut. Wolf cuts revolve their look around the fact that they are unique and fashion-forward. They can also be customized quite a bit to your hair type and face shape, so as long as you get a wolf cut done correctly, anyone can pull it off.
Question: Can you put a wolf cut into a ponytail?
Answer: You can put a wolf cut into a ponytail, but you will have quite a few pieces of hair fall around your face. As long as the overall length of your hair is shoulder length or longer, you can put it up in a higher ponytail to get the most amount of hair back as possible. However, wolf cuts typically have some bang and heavy face-framing that will fall out. I like to either braid these shorter pieces back into a ponytail or use a cute headband.
Question: Does a wolf cut require styling?
Answer: If your hair has a natural curl or wave, you may not have to do any styling other than adding in some curly hair products, like a curl creme or mouse. Wolf cuts are supposed to look messy and undone, and curls naturally do that. However, if you have naturally straight hair, you may have to add some curls or work with it to give it a messier look.
Should You Try a Wolf Cut on Short Hair?
If you are someone who likes super trendy styles and isn't afraid of layers, a wolf cut on short hair is for you. I love how customizable it is to fit your exact needs, and it is definitely a cut that will stand out from the crowd. I especially love the shoulder-length wolf cuts, and if you like bangs, baby bangs take this style to a new level of individuality.
Looking for more interesting hairstyles? Check out: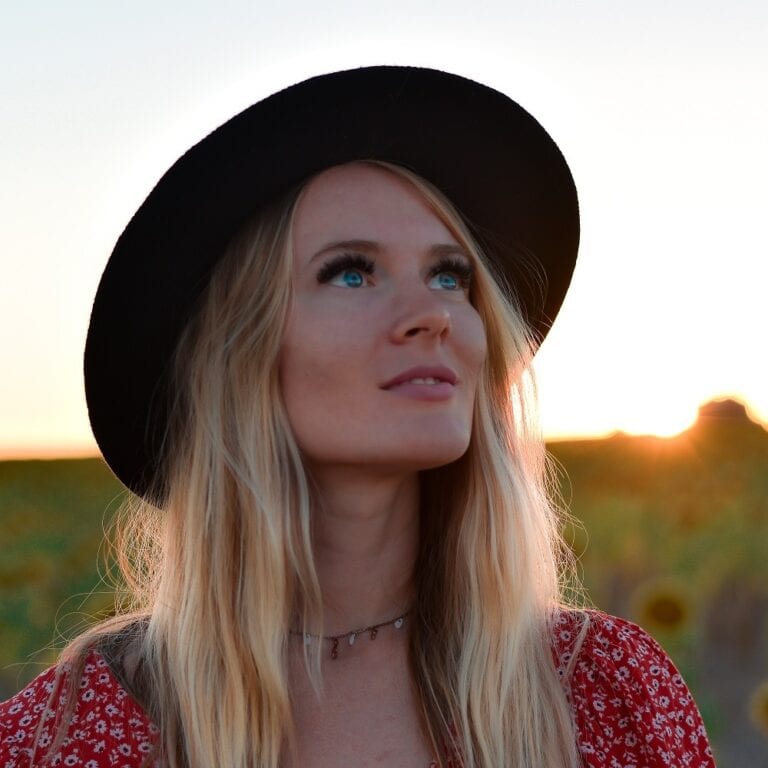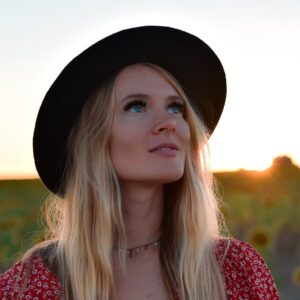 Latest posts by Haley Parker, Licensed Cosmetologist 10+ years
(see all)