Between styling my own hair every day, helping my daughter with hers, and helping friends and family with updos for special occasions (and giving them everyday styling tips, too), I've been able to identify a lot of the best ponytail holders on the market.
Most of my personal experience is based on medium-to-long, fine hair. My hair is fine, but I have a lot of it. And it's wavy.
My daughter's hair was like mine when she was younger, but now it's thicker, straighter, and heavier than mine. I still help with her hair sometimes, and we try out all kinds of hair accessories. I've had the opportunity to experiment with different options and discover the best ponytail holders for hair different from my own.
Bottom Line Up Front
It's hard to narrow down the best ponytail holders to just one option since my favorites serve different functions.
If I had to choose only one ponytail holder to recommend across all hair types and circumstances, it'd be the Scunci No Damage All-Day Hold Elastics. They're the ones I've most consistently used on my hair, bought for my daughter, and would confidently share with any of my friends or family members if they said they needed the best ponytail holder but didn't specify what it was for.
You get a lot of ponytail holders for very little money. They really do hold your hair up all day (except during some strenuous workouts, but even then, they perform pretty well). You can choose a color that blends in with your hair if you want to.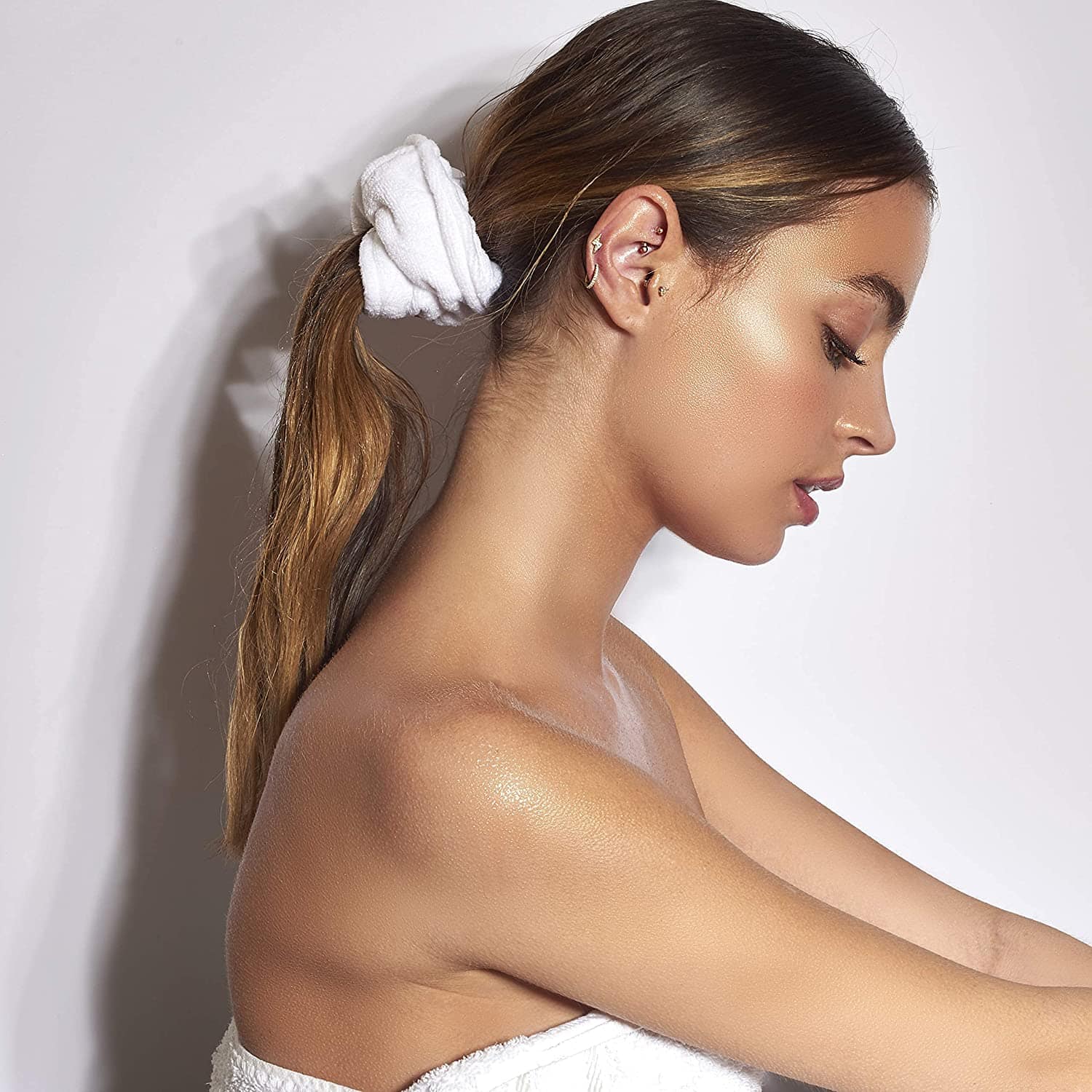 My Top Picks at a Glance
Invisibobble:

 Best at staying put and not tugging during workouts, and doesn't cause creases or dents that show in your hair when you take it down.

Scunci No Damage All-Day Hold Elastics:

 Best all around for all hair types, textures, colors, and situations.

Pony-O:

 For day-to-day, volumized ponytails (incredibly fantastic for thin or fine hair)

Goody Ouchless Elastics:

 For complicated hairstyles that use a lot of small ponytails, braids, or twists to create a look (think special event hairstyles or intricate braids) and need the ponytail holders to be as discreet as possible

Slip Small Slipsilk Scrunchies:

 For sleeping or when hair is particularly prone to damage.

Kitsch Microfiber Towel Scrunchies:

 For when you want to air-dry your hair before you start with the hair dryer or when you want to air-dry it completely while keeping the frizz under control.
Tips for Finding the Best Ponytail Holders
Make sure the ponytail holder's thickness mirrors your hair's thickness somewhat. The thicker the ponytail holder, the better it is for heavy, thick hair. There are some exceptions, like the Invisibobble and Pony-O options.
Look for ponytail holders with enough stretchiness to allow a secure hold without being so stretchy they'll start falling right back out as soon as you start your day.
At the same time, you'll want some degree of stretch, or you won't be able to loop it around your hair enough to keep your style secure.
This could take some trial and error. I usually know a ponytail holder is perfect when it's a little snug on my wrist the first time I pull it out of the packaging, but not so snug it's practically cutting into my skin. Over time, you'll learn the best ponytail holder cues that signal they're perfect for your hair.
Unless you're going for ponytail holders with a specific goal in mind (like moisture-wicking for post-shower or post-workout hair), get as many as you can in a package as possible. Most likely, those things will get lost more often than you expect them to. I don't lose things very often, yet those pesky ponytail holders manage to escape me sometimes anyway.
Decide whether you want the most versatile, best ponytail holders all around or if you're okay with choosing a few options to suit different scenarios.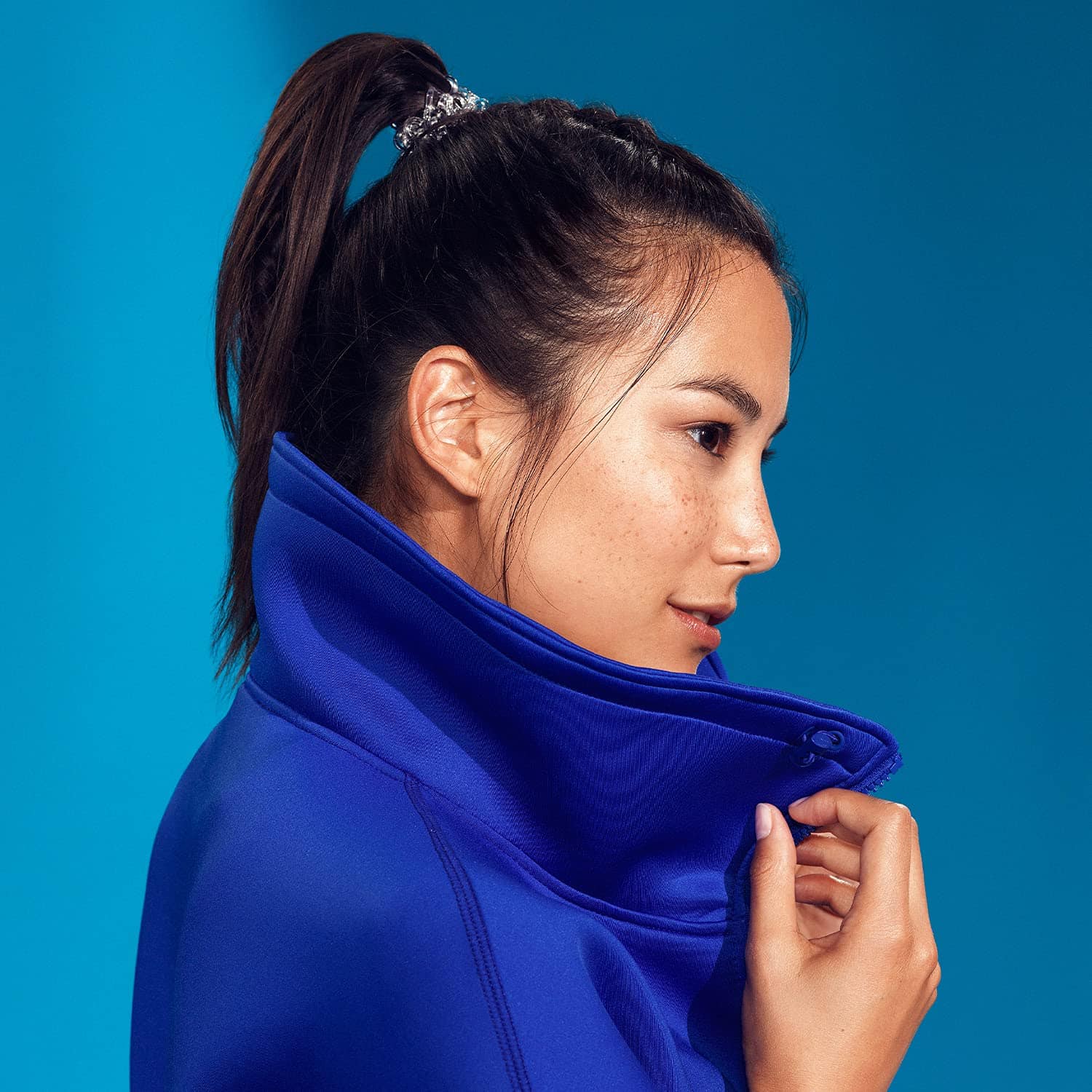 Selection Criteria
The best ponytail holders are the ones that actually hold your hair in place through whatever life throws at you, but they cause no (or very little) damage to your hair.
These aren't all the same thickness or circumference because different hair types have different needs. For example, someone with thick hair will need a thicker ponytail holder than someone with thin, fine hair.
The best options also last a while. I have a love-hate relationship with losing a ponytail holder before it stretches out too much or breaks. I don't want to lose one before I've worn it out over weeks or months, but I don't want it to snap or stretch out too soon.
The 6 Best Ponytail Holders to Buy
There's a best ponytail holder for every hair type and situation. Let's break it down: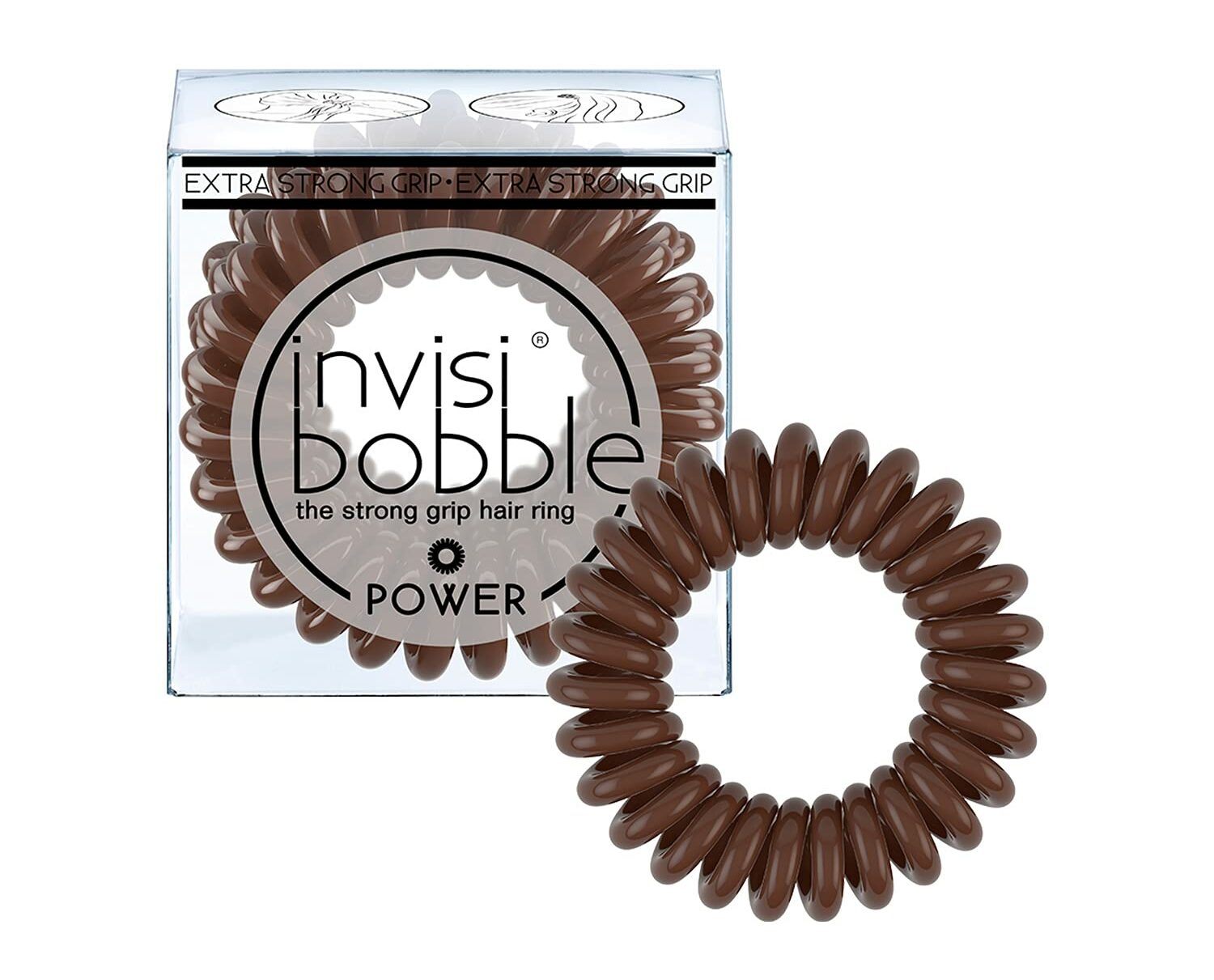 I got hooked on the Invisibobble spiral-shaped ponytail holders a long time ago. I tried them out in many scenarios and promptly bought more for my daughter to hold her hair up through school and playground time. 
At the time, I was doing HIIT workouts several times per week, and I needed something that would keep my hair up high, not fall out, and not cause damage. These fit the bill.
Pros
They don't cause dents in your hair.

They hold your style in place, even at the gym.

They don't pull your hair (I don't have trouble with the hair near my temples feeling like it's getting pulled out with these).

They come in several colors (you can match your hair so it blends in or choose something more fun) and a few sizes to accommodate different thicknesses and hairstyles.

They're not as subtle as some other options, but if you choose a shade close to your hair, they're not too noticeable.

There are fun styles for little girls, like Disney princesses.
Cons
There are cuter options to wear on your wrist when it's not in your hair. I actually don't like how these look when I wear them that way, plus they get stretched out worse than other options on your wrist. It's inconvenient to keep them anywhere else, though.

When you buy a package, you don't get that many (usually between three and eight).

They're kind of annoying to wear on your wrist because they're bulkier than traditional ponytail holders. Mine got in the way so much, I had to just leave one on my desk instead of keeping it with me all the time.
Scunci No Damage Elastics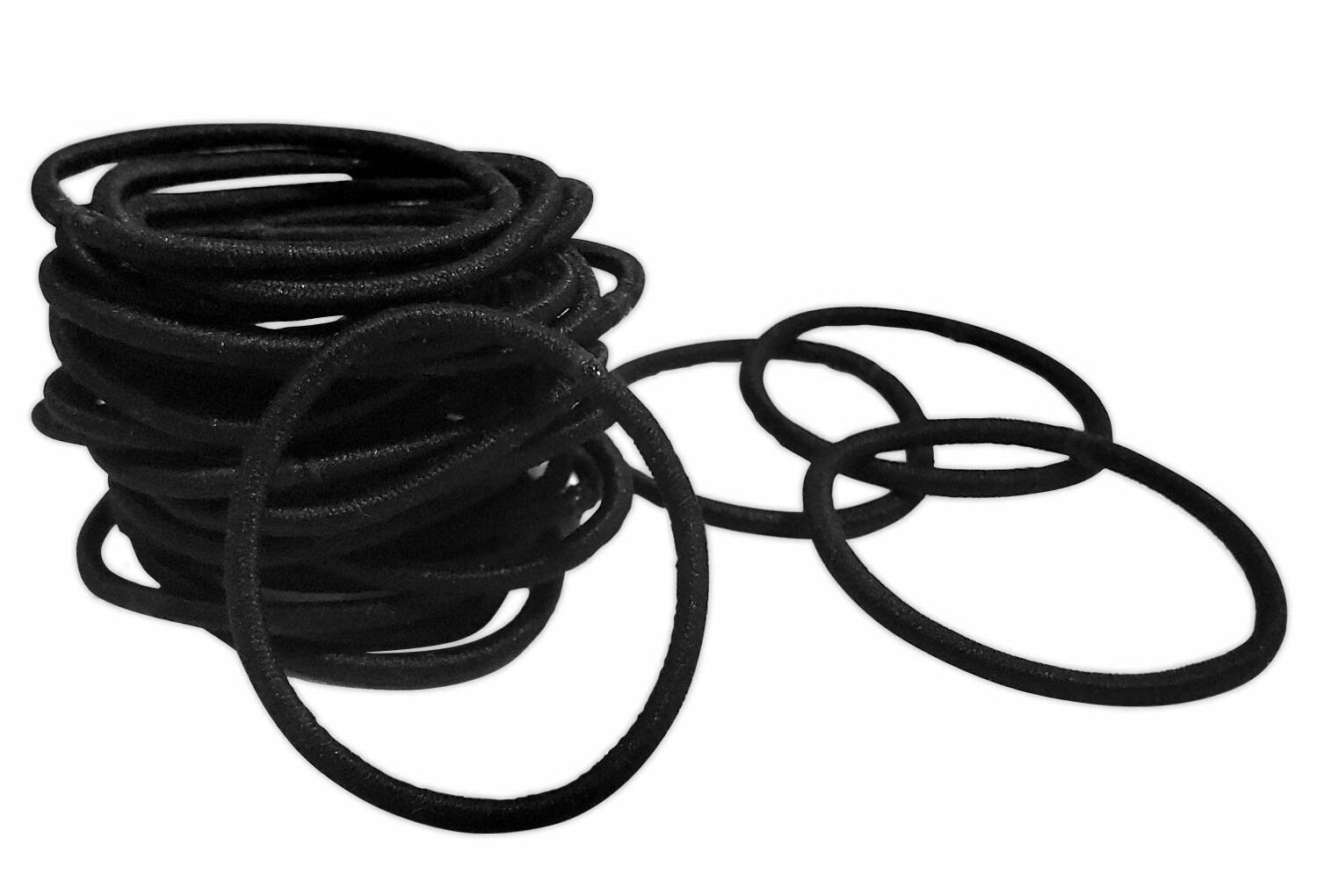 I pretty much always have one of these Scunci ponytail holders on my wrist these days (if it's not in my hair) because it's one of the most versatile options.
I use them for everyday hairstyles like buns and more intricate braids when I feel like experimenting with new styles, and I even trust them when I'm working out.
Sometimes I have to readjust my ponytail or bun during intense workouts, but they perform well in that setting overall. 
Pros
No metal means there's less damage done to your hair.

You can buy different thicknesses in round or flat styles and various colors, so they should be perfect for almost any hair type or texture.

They're inexpensive. You can usually get up to 90 of these ponytail holders for under $10.00.

These can blend in with your hair because they come in a range of shades that can match most hair colors.
Cons
Redheads might have some trouble finding the perfect match for their hair color.

They can be tight on your wrist until they loosen up a little. I usually have to stretch mine a bit on purpose to make it comfortable or keep it in my purse until I've used it a few times.

Every now and then, it can feel like some hairs near my temples are being pulled when I have a bun or ponytail. I'll need to tug at the strands near my face to get relief.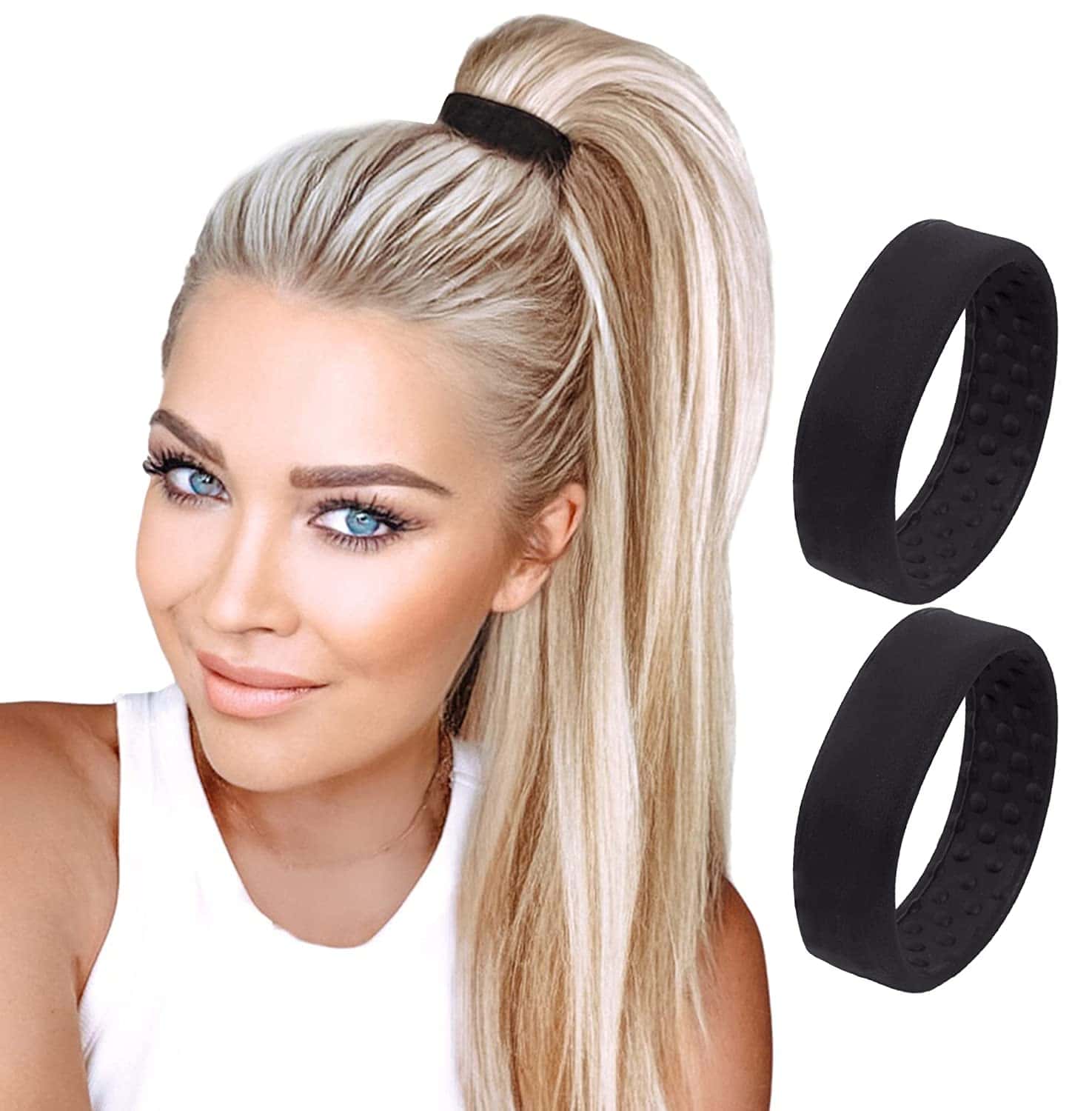 I have mixed feelings about the Pony-O option, but I think they serve a purpose and deserve a spot on the list. I know some people swear by them for working out, but they didn't work well for me in that environment.
However, if I wanted volume and a cute ponytail to wear out to run errands or hang out on the weekend, Pony-O was great. The perkiness of the ponytail never died down.
Almost any hair type can benefit from the Pony-O option. Still, those with thin, fine hair will love it because it makes your ponytail look perkier and thicker.
Pros
You can get a lot of volume from the Pony-O ponytail holders.

They're pretty secure for everyday life, but I don't like them for workouts.

They come in different sizes to accommodate a variety of hair types.

They don't pull your hair out as some ponytail holders do.

They come in many colors and designs, so you can choose something to blend with your hair color or stand out.

They don't cause creases.
Cons
They are a little expensive, starting at $9.00 each.

They're chunky, so if you're looking for something understated, this isn't it.

I didn't have good luck keeping mine in for workouts (some people seem to like them for that, though).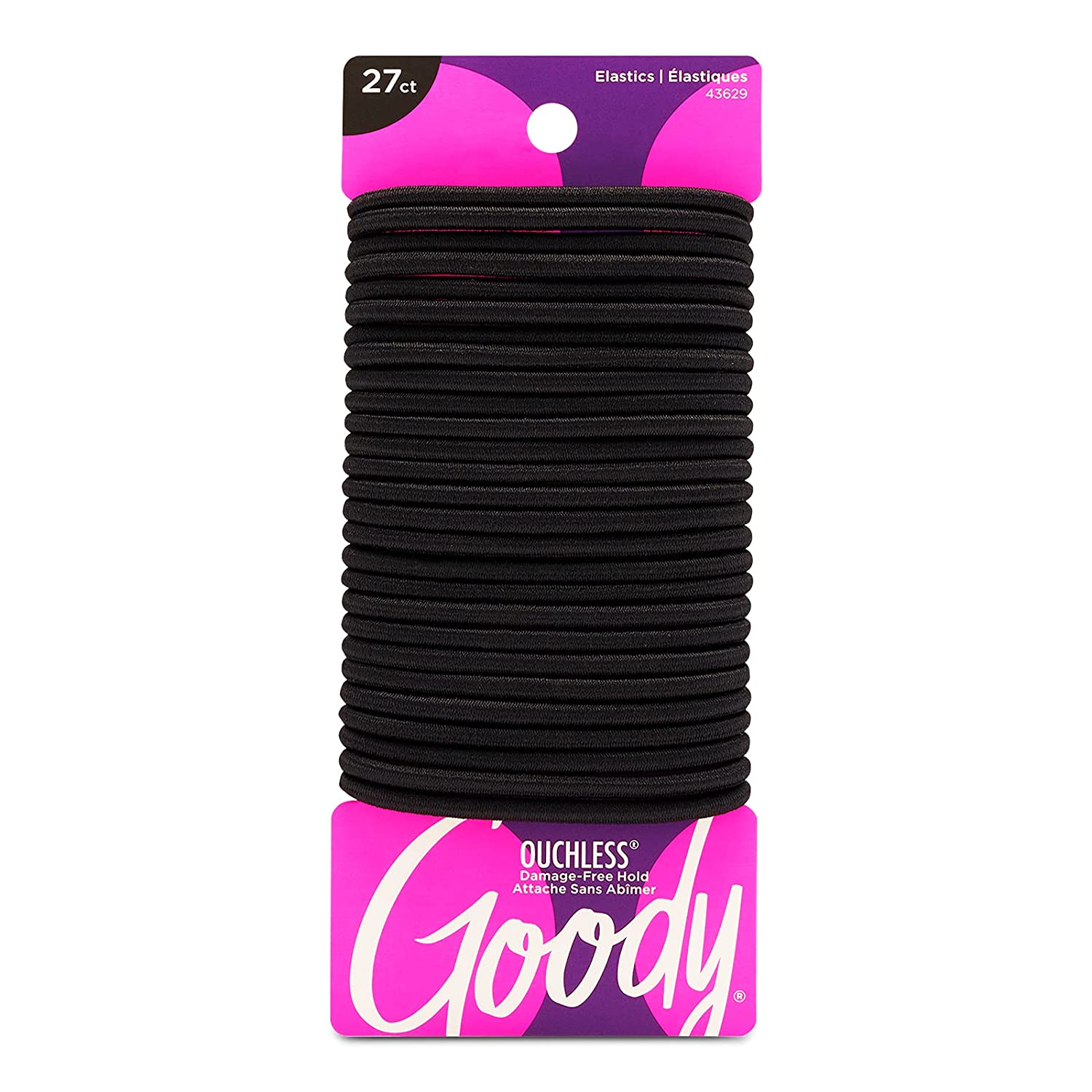 I've used these Goody Ouchless Elastics and similar products for almost 20 years. I love that they're practically invisible. You can create intricate designs and updos because they'll easily hold small amounts of hair without sliding down.
They'll also stay put at the ends of braids or allow you to gather small sections of hair to keep away from your face while the rest stays down.
Pros
You can get a ton of them for around $5.00. I've had packages last me years because there are so many and I don't use them all the time.

The clear ones work with any hair color and easily hide in more intricate updos.

They work well with fine hair.

They don't tend to budge once they're in place.
Cons
Some are thicker than others, so they're not all equally stretchy.

Some will snap before you even get them in your hair once.

They only hold a little hair. These are not to be confused with ponytail holders you can put all your hair up with.

They might rip some of your hair out when you take them out if they're not close to the ends. I've read that touching the elastic with a cotton swab dipped in lemon essential oil will pop them open without damaging your hair, but I've never tried it.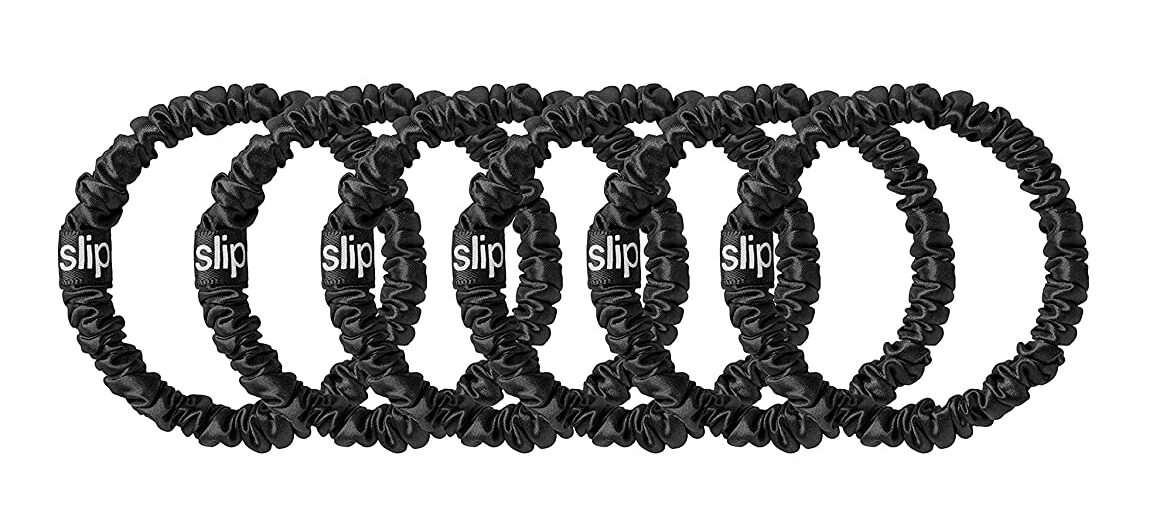 Ponytail holders have a bit of a reputation for being rough on hair, and these aren't like that. Do you know how silk pillowcases are supposed to be good for your hair and skin? These have a similar effect because they're unlikely to break or damage your hair. 
I hate when I put my hair up, and it feels like more than a few strands are being pulled out near my face. I can try to tug on the areas where my hair's being pulled to loosen it up, but I end up ruining my hairstyle and just need to redo it. These aren't as likely to do that.
Pros
Different color and pattern groupings are available, so you can match your wardrobe.

They look cute on your wrist as a bracelet when not in use (but always ready if you need to put your hair up).

They're suitable for all hair types and textures.

They're gentle on your hair.

They don't leave dents in your hair.
Cons
They're costly for ponytail holders ($22.00 for three or $39.00 for six).

They can slide out of your hair more quickly than some other options. I'd save these for putting my hair in a bun, not a ponytail, because they'll stay in better that way.

As annoying as having ponytail holders fall out is, if that happens and you lose the one you had in your hair, you're out more than a few bucks.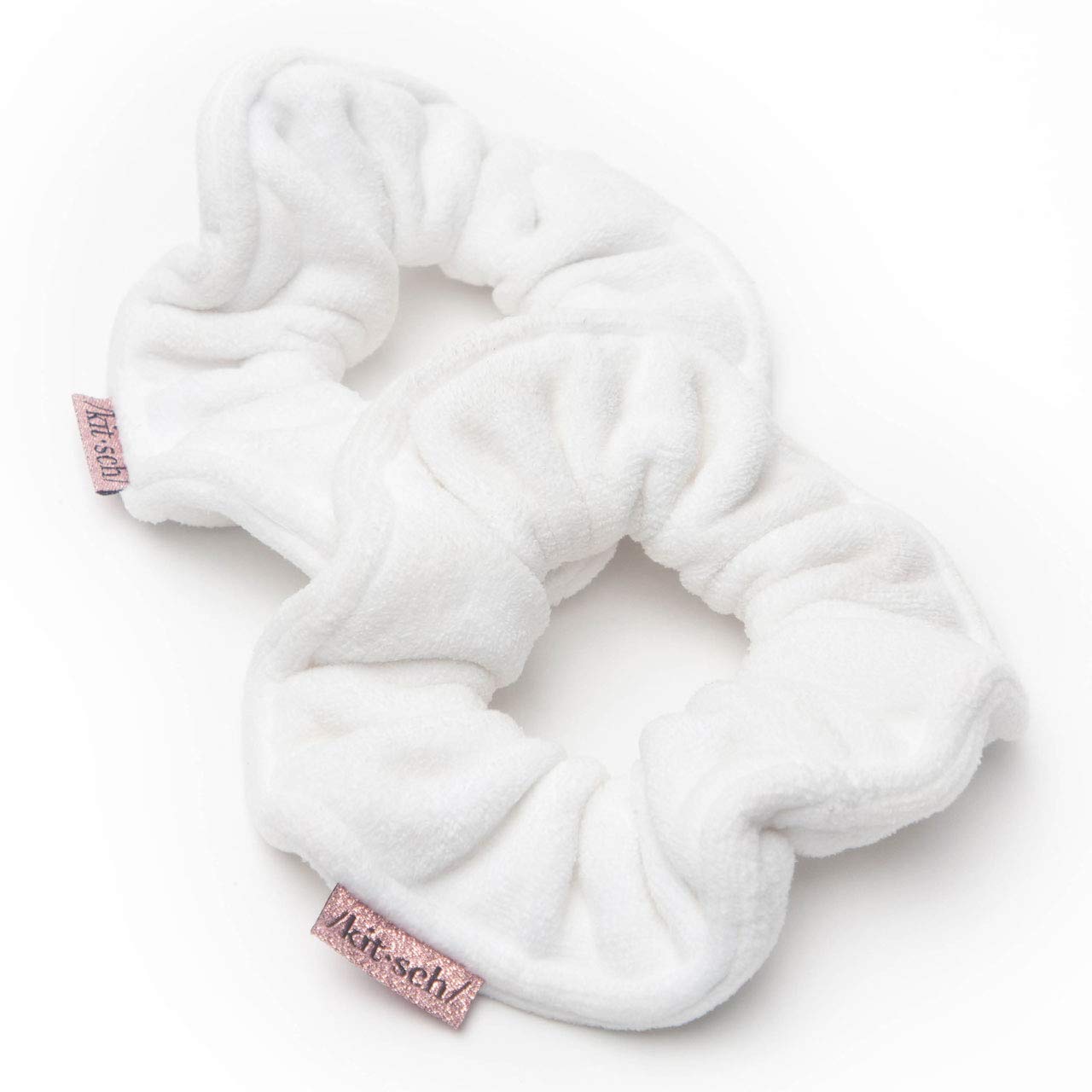 As much as I like how my hair looks when I dry and style it, I don't always want to go through the whole process. I get lazy and take shortcuts more often than I should. One of my tricks is to twist my wet hair into a bun on top of my head, hold it in place with a scrunchie and let it dry that way.
I end up with volume at the roots, subtle waves, and smoothness. 
For the longest time, the part near the scrunchie would not dry. Microfiber towel scrunchies can help with that. They absorb water like other fabrics don't.
Even if you do want to heat-style your hair later, they can absorb water while you do your makeup, enjoy a cup of coffee, or do whatever you need to do before you get to the hair-drying part of your routine.
Pros
They work for any hair texture or type.

They cut down on the heat styling you'll need to do, which means less damage to your strands.

You can use them for workouts to soak up sweat, in addition to using them to tie your hair up after the shower.

They come in cute designs.
Cons
They are expensive at $18.00 for two.

Though the designs are cute, there aren't many to choose from.
FAQs
Question: What ponytail holders are best for your hair?
Answer: It depends on your hair type and your goal (whether you're wearing a ponytail or bun for daily errands, sleeping, or a HIIT workout, for example). In general, thicker hair requires thicker ponytail holders.
Scrunchies and spiral hair ties will cause less damage than traditional hair ties, but if those are the ones you prefer, at least get the ones that don't have metal on them.
Question: What hair ties cause the least damage?
Answer: Anything without metal is a step in the right direction, but silk scrunchies and options like the Invisibobble will tug on the hair less. They'll generally cause less damage than most other types.
Question: Are spiral hair ties better than scrunchies?
Answer: It depends on what your goal is. For the average hairstyle, they'll be about the same. For workouts, the spiral hair ties seem to hold the hair in place better than scrunchies. I'd go for scrunchies every time for sleeping or use on wet hair.
Question: What are the best kind of hair ties to prevent breakage?
Answer: Scrunchies, in general, are good, but silky ones are especially nice when you want to protect your hair from breakage. Products like the Invisibobble option work well, too. You can still use a traditional hair tie style without breaking a lot of hair. Just look for options that don't have the little metal bars on them to connect one end of the elastic to the other.

Conclusion: Which Ponytail Holders Are Best for You?
If I had to choose just one to recommend across the board (ahh, don't make me!), I'd say the Scunci No Damage Elastics line probably holds something for just about everyone.
That said if you want something moisture-wicking or suitable for sleeping in, one of the scrunchies would be the way to go. I don't recommend using the No Damage Elastics on wet hair.
If you're looking for an option that'll hold your hair up for a workout without leaving creases when you take it back down again, the Invisibobble is best. 
Finally, if you're trying to experiment with intricate designs, braids, etc., and you need the best ponytail holders for small amounts of hair, very fine hair, or just the best option that'll be almost invisible, go for the clear Goody Ouchless Elastics.
Still not sure? Just start with the Scunci ones and work your way out from there as you experiment with more styles. They'll keep your hair out of your face while you go about your day, whether you're lounging, working, exercising, or running errands with your kids.
Looking for more interesting hair tools? Check out: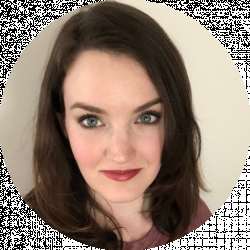 Latest posts by Crystal Schwanke
(see all)