While doing a quick image search for "short hairstyles," an image of the singer Miley Cyrus will probably pop out. Her short hair looks are so fun and diverse that her pictures can be considered a "short hairstyle guide."
I love Miley Cyrus' short hair variations. Is it the bright colors, the length changes, or the fact that she made a couple of short hairstyles a hit? I don't know. 
I know that when Miley cut her hair, people lost their minds. Unfortunately, most of the criticism was centered on her throwing away her more natural-looking brown locks for a dramatic new look. But, who cares!
So, you are planning to get your haircut and look at different short hairstyles? I was in your place a while ago, so I decided to do something about it.
 I found a lot of Miley Cyrus' pictures and started analyzing her best short hairstyles. I have tried most of them, and they all have major pros and some cons. Because of that, I have made my list of Miley's short hairstyles and how you can achieve them.
Let's look at them.
How to Cut Your Hair Short Like Miley Cyrus?
First of all, I don't advise you to cut your hair by yourself if you haven't done it before. A professional can easily create these hairstyles, but a beginner can cut something shorter than intended.
If you still want to cut them by yourself, the easiest one is the clipper cut short hair. 
To create this look, you need an electric clipper and scissors.
With a clipper cut, trim the back and both sides of your head so that your hair is very short and close to the hair. It is usually number 1 on the electric clipper.

Start the shortest (1), and then cut it less short as you move toward the front part of your head ( 2).

You should blend in on top of your hair with the sides and the back and leave the front untouched for now.

Once you blend in the back and the sides, you can move onto the front.

You should jag cut the front part of your hair to achieve the texture you want. 

You can easily style your jagged front part with a molding creme or wax to keep up the smooth but spiky front.
Remember to trim this hairstyle regularly if you don't want it to look messy. Also, your front must be styled short, jagged, and not overgrown. Plus, your back and sides should always be as short as possible.
To get inspired by the many short Miley Cyres hairstyles, check out the ideas below.
Selection Criteria
I selected these nine hairstyles because they are all short but very different and interesting.
Miley has tried them all, from very short pixie cuts to longer mullets and different bobs. Therefore, I attempted to incorporate every short hairstyle phase that she had so far.
You can try these hairstyles from the shortest and then create others depending on your hair's growth. You can also try the one you like from the start and then go shorter or longer next time.
These nine hairstyles are easy to trim and style every day. However, If you are not a professional, I don't advise you to cut your hair by yourself.
Miley Cyrus' Short Hairstyle Ideas
Blond bob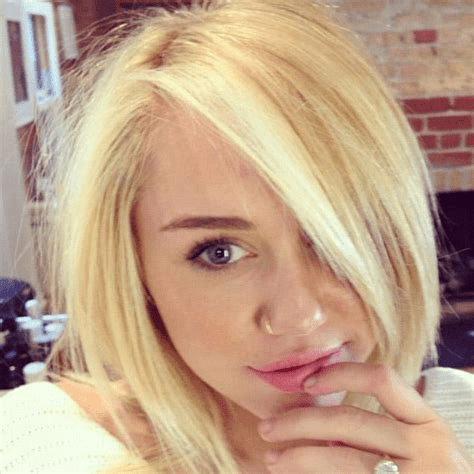 One of Miley's more subtle and classic looks is definitely the classic blond bob haircut. If you are not sure if you want to cut your hair short, this is the perfect transition phase between long and short hair.
A classic bob is easy to cut and maintain, so you don't need to worry about spending hours styling your hair.
A classic bob also allows you to create a shaggy bob look or tiny braids, so you can change your hairstyle every once in a while.
After cutting your hair, you can style it just by blow-drying it or using a flat iron if you have wavy hair.
This look is excellent for both young and older people who want an easy-to-maintain but classy hairstyle.
Short Bob with Darker Roots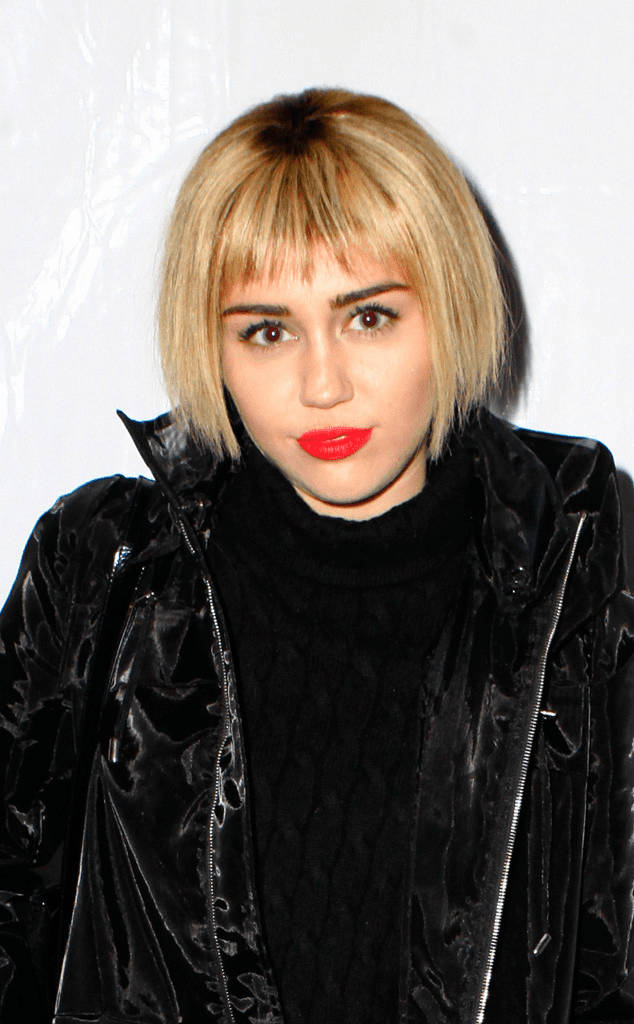 Another less dramatic look from Miley is the short blonde bob with darker roots. It is different from the classic bob because of the angled short cut. 
The angled short cut gives you a more edgy look and highlights your facial features more. In addition, I love the combination of darker roots and blonde hair because it makes the hairstyle even more interesting.
Any hair color would go well with this short bob, but darker roots appear more edgy and fun.
The only downside of this hairstyle for some people would be that you can't style your hair in many different ways. Also, this hairstyle looks good only when your hair is completely straight so you may need a flat iron.
Still, this is a big plus for people who want to have only one hairstyle and maintain it easily.
The angle of this bob is very important, so don't forget to tell your hairdresser that you want a sharp angle.
Keep in mind that you need to trim this hairstyle regularly for it not to look messy and non-defined. If you don't want to wear your hair like this anymore, the most effortless transition would be to a longer bob or a pixie cut.
Clipper Cut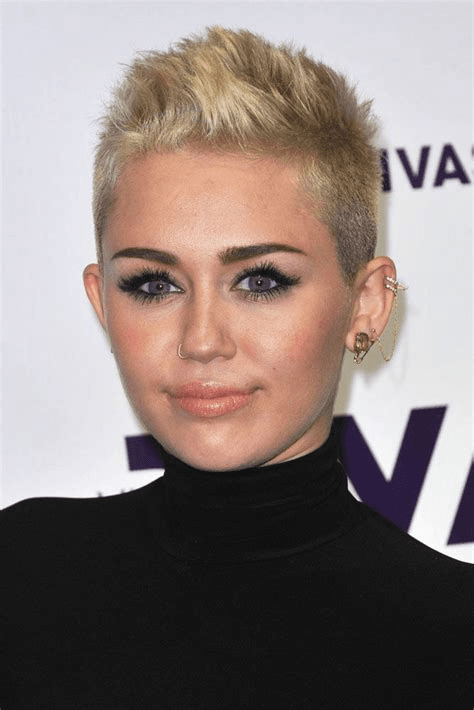 A clipper cut hairstyle is one of the shortest hairstyles that men usually wear. Yet, Miley has decided to cut her hair short, which looks fun and stylish.
If you want a major change and a hairstyle that you just need to trim regularly and wash – this is the one for you.
At the beginning of this article, I explained how you could recreate this look. 
As for maintenance, a  clipper cut is very easy to maintain; you just wash your hair and use wax to keep the front up. So, once you have this hairstyle, you don't have to spend more than a few minutes doing it.
The only downside of this hairstyle is that you can't do anything else with it. That can be both a pro and a con for people, so see if it will work out for you.
I also see curly people rocking this hairstyle. Instead of the jagged cut front, they leave their small curls, which look beautiful.
If you want to change this hairstyle after a while, the easiest transition is to grow a pixie cut or an angled, very short bob.
Short Modern mullet with bangs
The modern mullet is a short to medium hairstyle that's very popular today. It's a great option for people who want to keep their hair long but also want something easy to manage.
 The modern mullet is a layered cut with long layers in the back, and many of the layers are tapered. The haircut is cut using scissors, but there isn't much layering in the front.
Why are modern mullets popular? Modern mullet hairstyles are trendy because they offer plenty of freedom to experiment with styling techniques.
The shaggy texture, clean sides, and flexible length all allow you to create unique looks using your favorite styling products.
This style can be worn straight or curly or anything in between. It's very versatile and works well with any type of hair.
 This style works best with oval faces since there isn't too much volume, and the style doesn't hug your face. But the round, heart, and square face shapes could also pull this off.
Miley's hairstyle is even more interesting because of the dark roots and bangs.
How to style a modern mullet with bangs?
All you have to do is apply a heat protectant serum, blow dry hair and add another styling product depending on what type of look you're going for (volumizing, smoothing, etc.).
Longer modern mullet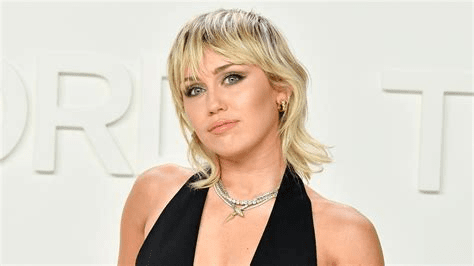 The only difference between this mullet and the one before it is the length. I also love both the short and long versions of this hairstyle, so you can decide which length suits you better.
Miley first wore a short mullet, but then, as her hair grew, she transitioned into a longer mullet.
A longer mullet looks a bit more elegant and classy compared to the shorter version. However, just like the first mullet option, you can style this longer one however you want.
It looks good both when the hair is straight or curly, so you don't have to worry too much about it.
The modern mullet hairstyle is commonly chosen by people who like to be unique and stand out from others.
Spiked hair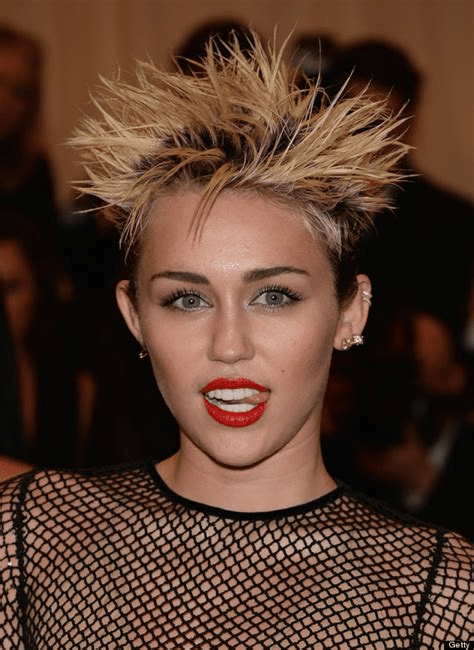 Miley's spiked hair look is one of her most dramatic looks so far. It looks sexy, different, and edgy, so it is not for everyone.
For those of you who are ready for a bold move, this is the right choice for you.
For this hairstyle, you need to have a clipper cut hairstyle but with long front ends. The classic clipper cut hairstyle above consists of the jagged cut front. Yet, for spiked hair, you need a few inches longer for you to create this look.
When you have those inches, you can easily turn your head upside down and create the spikes with wax or gel. Just make sure to use a lot of it for it to stay put.
I recommend using Bed Head for this look. It will lock your hair into place, and it is very durable.
This look is definitely for a special occasion or a night out. It is not your typical everyday look. Miley rocked this hairstyle for an event, but her everyday hair back then was probably clipper cut or pixie cut with a longer front.
Remember that this hairstyle requires a lot of wax, which is not really good for hair if you use it often.
Blue sleek short bob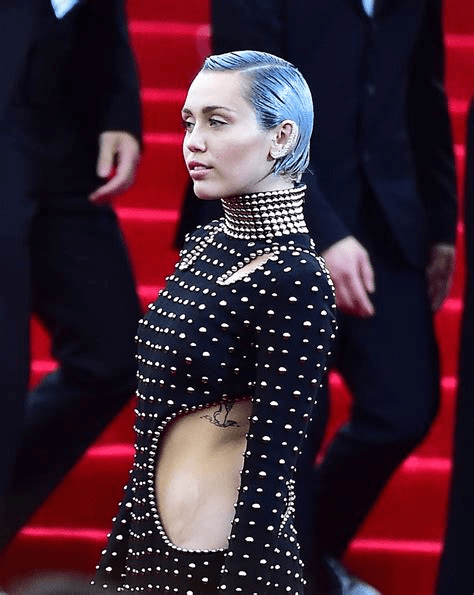 Miley has worn a lot of short bob hairstyles, but all of them typically wear blonde. Yet, here is an example of how you can wear a short blue bob and look attractive and classy.
Miley probably used a semi-permanent blue dye for this occasion, which is a good option if you don't want to wear blue hair regularly.
Still, a short bob goes with every hair color, and this is proof of it.
Usually, people wear a short bob straight or shaggy, but this is an excellent example of a sleek bob.
To achieve a sleek bob, you need to have a short bob hairstyle to work with. Then you just sleek it back with gel or vax.
This hairstyle is good for an event or a night out, and it can look very powerful with good makeup.
You can have a classic short bob for an everyday hairstyle, and then try a sleek bob in a vibrant color when you really want to stand out.
Pixie cut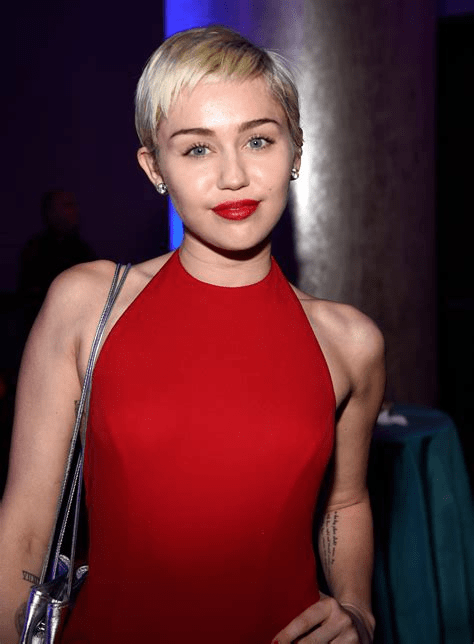 The pixie haircut has certain universal qualities that make it a great look for women of all ages and hair types.
This hairstyle is perfect for women who want to take control of their hair, keep it out of the way, and be able to style it in a pinch.
 Pixie cuts work best on women with skinny or oval faces. Women with large ears should avoid these cuts because they tend to accentuate them.
Also, they are ideal for women with thin or fine hair, as this haircut helps give the appearance of thicker hair.
The pixie is an easy, carefree, and gorgeous hairstyle that is ideal for anyone who wants a short and fun look! Yet, it would be best if you trim it regularly, depending on how fast your hair grows.
Plus, you can't really change your pixie cut that easily; the next transition phase would be a very short bob or a clipper cut.
Miley is wearing a blonde pixie cut, but it can look amazing with any hair color.
Angled Very Short Bob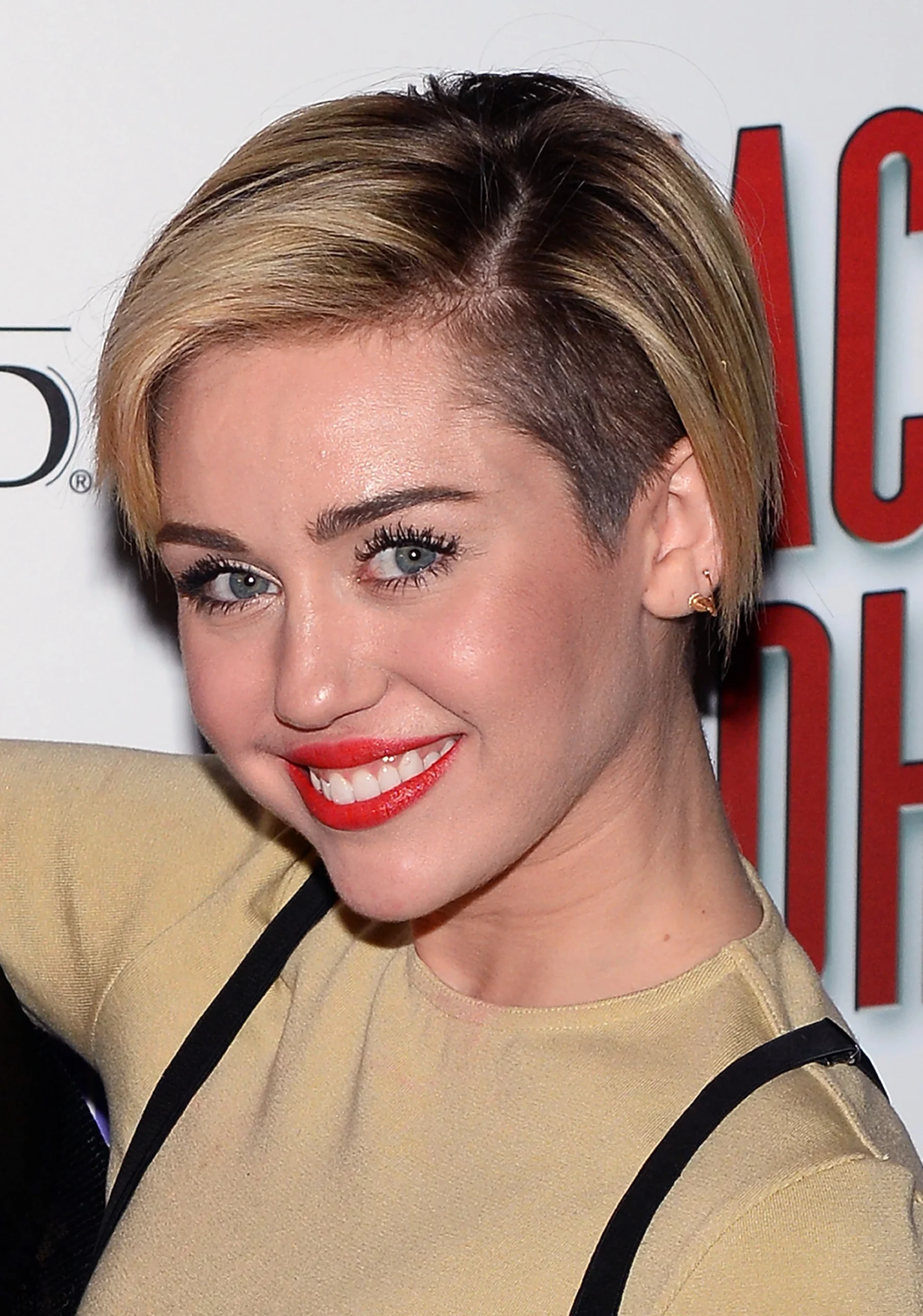 This angled, very short bob kind of looks like a bob because of the front but still resembles a clipper cut because of the sides.
So, this hairstyle is a combination of the two hairstyles above. It is the best for people who want to transition from a clipper cut or don't want a classic bob.
An angled, very short bob is an excellent choice for someone with an oval face since it brings attention to their cheekbones. In addition, the angled bob hairstyle works well for women with fine hair since it tends to give the appearance of thicker hair.
This hairstyle looks best when the sides are cut very short, and the rest of the hair is straight. This is why it doesn't need a lot of styling, but you can't change your hairstyle that easily.
Several variations of angled bobs can be tailored to suit different face shapes and needs.
How to Choose the Best Miley Cyrus short Hairstyle for You?
Miley wore 9 short hairstyles, which all looked amazing on her. So how can you know which one to choose?
You can follow the tips below:
 Determine your face shape – You can ask a professional hairdresser to do this if you are unsure. Not all hairstyles work for all face shapes.

Decide whether you have a cool or warm coloring – This is also important for hairstyles and the color you will choose.

Consider what kind of maintenance is required for your selected style – If you don't want to style your hair every day, choose a low-maintenance hairstyle.

Know that different hair textures require different care and styling techniques – Thick and thin hair people will need to take care of the same hairstyle differently.

Determine if you want longer or shorter hair – This will make your choice easier from the start.
In the end, your hair will always grow out fast if you take care of it. So, if you don't like the hairstyle or you want to change it, you can just wait a couple of months.
How to Take Care of Short Hairstyles?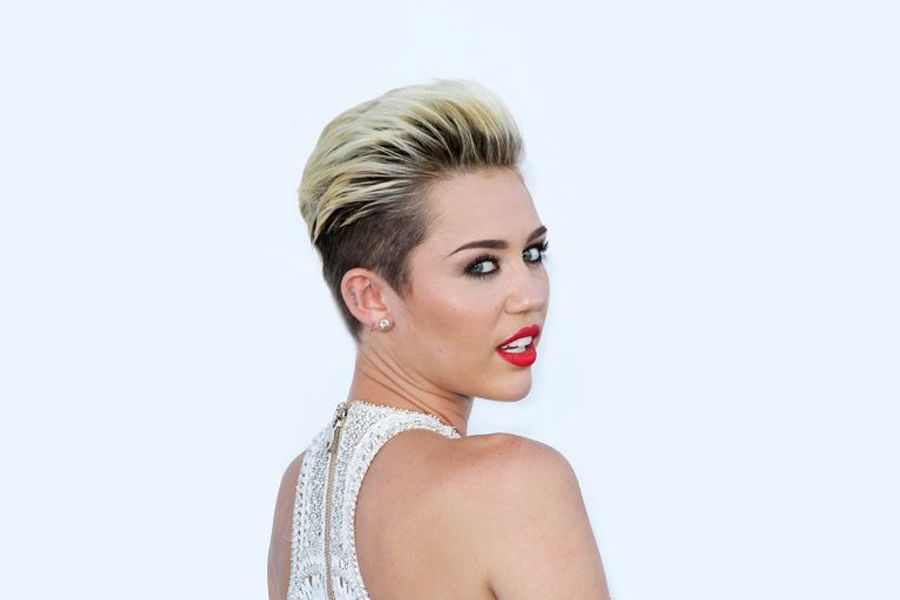 Short hair doesn't require as much styling as long hair, but if you want your hairstyle to look good, you must also take care of your short hair.
Here are our tips for taking care of short hairstyles:
Wash your hair with a gentle shampoo

-This is very important for keeping your hair healthy. I advise using a mild shampoo like

Aveeno Rose Water & Chamomile Blend Sulfate-Free Shampoo.

Use a conditioner

-Even if you don't have long ends, you need to use a conditioner to keep your hair tangle-free. Don't apply it to your scalp directly.

Stay away from sulfate-based products

-They will only dry out your hair and make it dull and brittle.

Protect your hair from heat damage

– Try to let your hair air-dry, but if you need to use heat, don't forget a heat protectant such as

Leonor Greyls.

Get regular haircuts and trims for short hair

– If you want to maintain the same form of your haircut, you need to trim it regularly. You will cut your short hair more than long hair for sure.

Avoid aggressive brushing

– Use a gentle brush and brush your hair slowly not to break it.

Don't rub your hair dry with a towel

– Just gently dab it until it's about 80% dry.
FAQs
Question: What is the Most Famous Miley Cyrus Haircut Called?
Answer: Miley Cyrus has had many hairstyles, but one that stands out among the rest is the modern mullet. The modern mullet is a hairstyle that's short on the sides but left long on top. This style first appeared on the scene in 2010 and has been steadily growing in popularity ever since.
Question: What is Miley Cyrus' Natural Hair?
Answer: Miley Cyrus' natural hair is straight, long, and light brown. Yet she is most famous for her Hannah Montana long blonde wig and short hairstyles.
Question: What Type of Hairstyle did Miley Wear for Wrecking Ball?
Answer: She rocked a blonde pixie cut in her music video for "Wrecking ball."
Conclusion
Short hairstyles give more flexibility for a more trendy look, more freedom for styling, and easier maintenance. 
In a way, we owe the popularity of ultra-short hairstyles like the pixie cut to the dramatic volume changes that can be seen across many star channels. 
However, it is important not to underestimate Miley's role in the trend—she undoubtedly has been one of Hollywood's most influential beauty icons of late, and her style and taste in hair cut are no exception.
The choice to go short is yours, but make sure you thoroughly consider your hair type. Going short would not be a good idea if your last hairstyle was long and thick. It's one thing to do in the process of growing your locks longer; it's another thing to have already decided to cut it all off.
 Make sure you remain open to all possibilities; find out what fits your face best.
 Once you have made up your mind and decided which short hairstyle suits you best, it's time to take some steps to ensure you get exactly what you want. If I were to choose, I would start with a pixie cut and then gradually transition into a very short bob and finally a modern mullet.
We hope this article sheds some light on the different short hairstyles you can choose. 
Looking for more interesting hairstyles? Check out: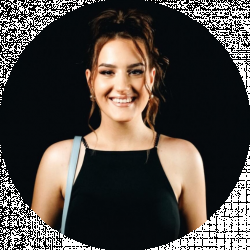 Latest posts by Milica Ugrenovic
(see all)