Not every day is a good hair day or a day where you want to fight with a flat iron. With summer around the corner, with all the heat and humidity that comes with it, low messy buns are an adorable and stylish way to keep cool, ditch the hot tools, and quickly deal with your hair! This messy low bun ideas and style guide will guide all my summer hairstyles to keep styling effortless.
Whatever your hair texture, the low messy bun can be a saving grace! Here are some of my favorite messy bun styles lately.
Bottom Line Up Front
When crafting a messy bun, I don't always like to do fancy with lots of steps – it can defeat the purpose of a messy style! One of my favorite tricks is to use a scrunchie in all my buns. Even if I'm just creating a glorified knot on the back of my head, the scrunchie makes things look messy on purpose!
They add volume to your bun over typical ponytail holders and come in so many styles – from drastic colors, patterns, and thickness. My scrunchie collection is growing almost as much as my jewelry and bags. I love that they serve more than a practical purpose but can infuse personality and attitude into my bun styles!
Criteria for This Messy Bun List!
Creating the perfect – or not so perfect – messy bun can be fun or a headache. So, there are specific criteria in mind when selecting buns for this list!
Ease of Style. Crafting a messy bun isn't easy if the style is too complicated. That defeats the purpose of just throwing your hair up in a quick moment. The buns on this list are easy to copy, so you can just twist your hair without a care.
Different Hair Ties. As much as I love the look of a scrunchie, sometimes it's easier to use a simple elastic, so I've included options on this list for anything.
Hair lengths and textures. On TikTok and Pinterest, messy bun tutorials are full of long, straight, silky hair – but messy buns are for girls with short hair too! As a curly-haired girl myself, making the perfect messy bun can be frustrating, but I've chosen options that work no matter your hair texture!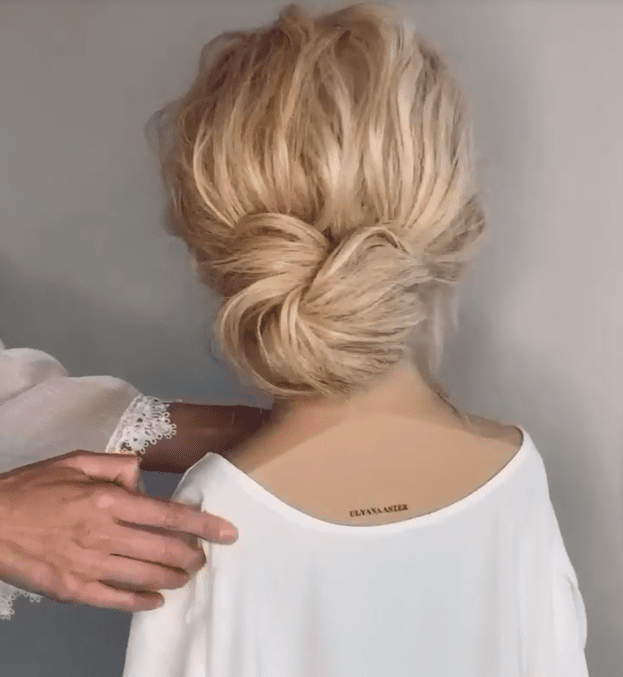 Not all buns have to start from a single ponytail. For a more 'polished' take on the messy bun, this style uses two pigtail loops wrapped around each other to create a streamlined bun that you can easily pin in place. The beauty of this take on the messy bun is that you can pull it off in any setting – even the more serious events.
I love the simplicity of this bun – it can be done in only a few minutes! Then you simply have to pull the strands to frame the face and create some texture on the scalp, and your look is complete.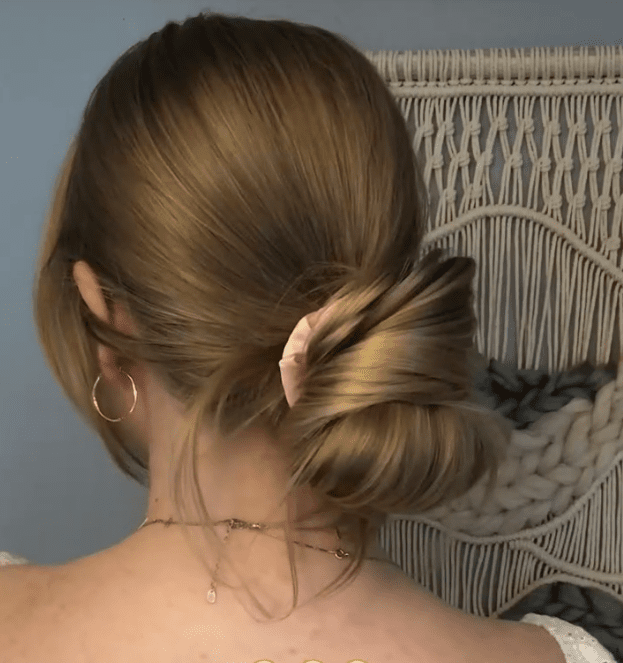 The loop bun has been my go-to for years! It's the easiest bun option to do, but I love this version because it uses the ends of the hair to create a much better feature. Instead of pulling the hair through the loop, keep some extra pieces at the end to tuck under the elastic and create an extra layer to the bun.
Loop buns can look like 90s buns, but this style takes the ease of the old faithful bun and makes it more smooth and aesthetically pleasing without taking up any more time!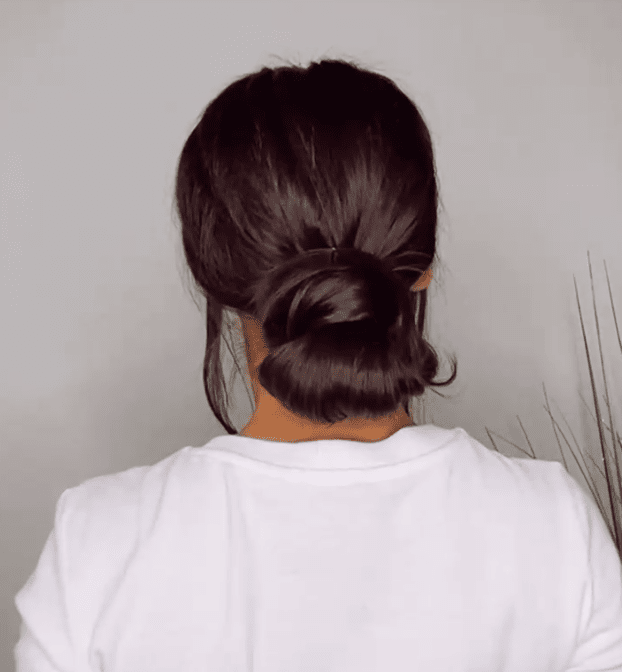 Cutely cover up the look of the elastic with this messy bun technique. Using the same looping bun, this version uses the extra hair to wrap around the base of the bun and cover up the elastic. As someone who dislikes the look of boring old elastics, I love this technique of hiding it gorgeously!
It's super simple, and with a few bobby pins, you can tuck away the ends. I was shocked at how easy it was to tuck away the strands and quickly achieve the sleek style for a lazy day or errands out!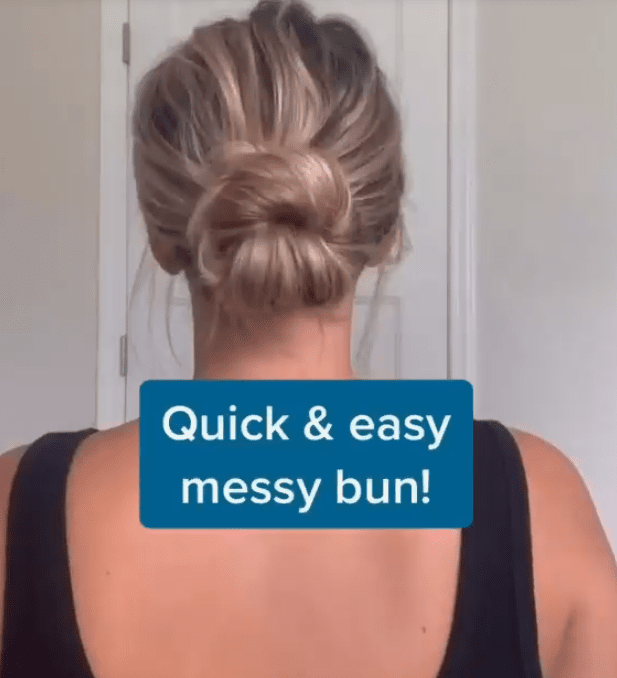 When I was a ballet and lyrical dancer, ballerina buns were mandatory – while the slicked-back styles are no longer my standard, I love the nostalgia of a cute ballerina bun. When I learned how to do a faux ballerina bun that didn't take forever to do, I jumped on the style, and it's still one of my favorite low buns to sport!
It took me some practice to learn how many times my thick hair needed to be twisted and pinning it in all the right places felt like a precise architectural decision, but it was worth the effort!
Curly Hair Knot Bun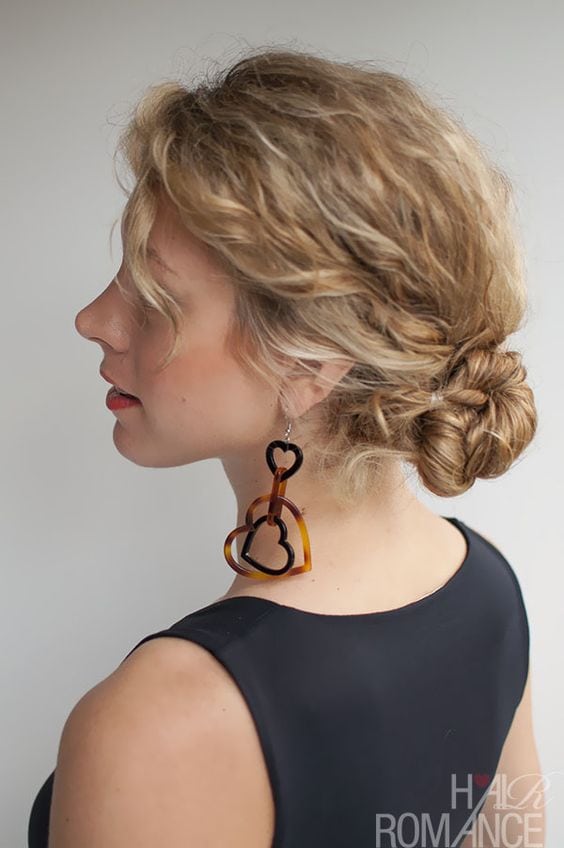 There can be a few obstacles when a curly-haired girl tries to tackle a messy low bun. If you have curls as I do, you know that your hair never curls the same way twice, which can make styling a struggle. On a struggling day, I try to show off the curls less. By separating the hair into two sections, rope braiding, and wrapping the hair around itself, you achieve a cute, messy bun that keeps your strands in check.
I love this option because it still shows off the natural texture at the scalp but tames the length of my curly hair when it's acting up!
Ultra Messy Curly Low Bun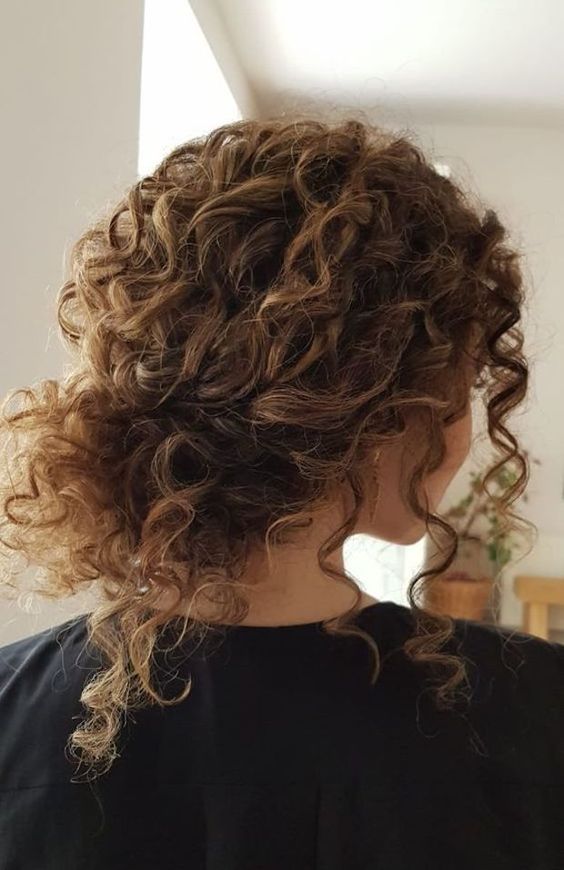 When curly hair is at its best, I want to do everything to show it off! This messy bun's length is still visible and gives your hair significant volume. I simply create a small loop and pin the curls around the base of the bun to cover the elastic. I make the ponytail look super loose, so there's still a lot of hair wisping on the scalp, and keep a few pieces open and face-framing.
Some days, this is not the quickest bun to achieve. It can take some time to play with the strands to fall the way you want them to, and this style is not windy day-friendly – I learned this the hard way!
Short Hair Baby Bun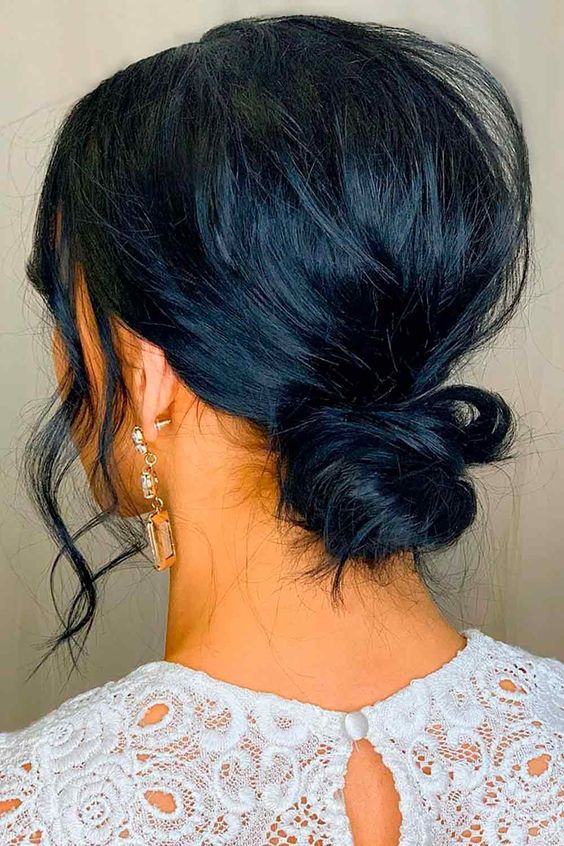 Short hair is not immune to needing – or wanting! – a lazy, easy, low bun look! Shorter hair means smaller buns, but they look chic and adorable. This version keeps the volume at the root and creates a cute twisted bun at the nape of the neck. Because you can't always contain short hair in hair ties, bobby pins are necessary for this style.
While it's been a while since I've had my hair short, this would be my most lived-in look if I ever felt the urge to chop off my locks!
Tucked Low Messy Bun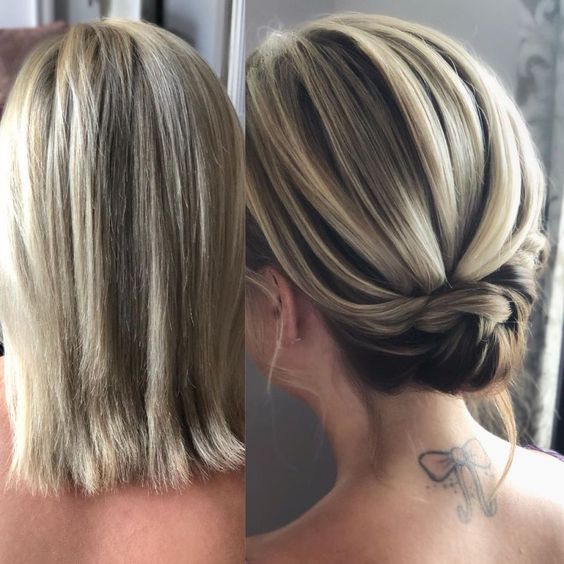 For a more contemporary and refined style for short strands, this bun tucks the locks into itself to create an elegant updo. Long hair struggles with this style, but for short hair, this understated bun is not only cute but is perfect for more formal events, like summer weddings and parties.
With a clear hair elastic and some expertly placed hair pins, this style is perfect for short hair buns! Simply keep some of the volumes and lift at the root for a gentle approach.
Low Messy Space Buns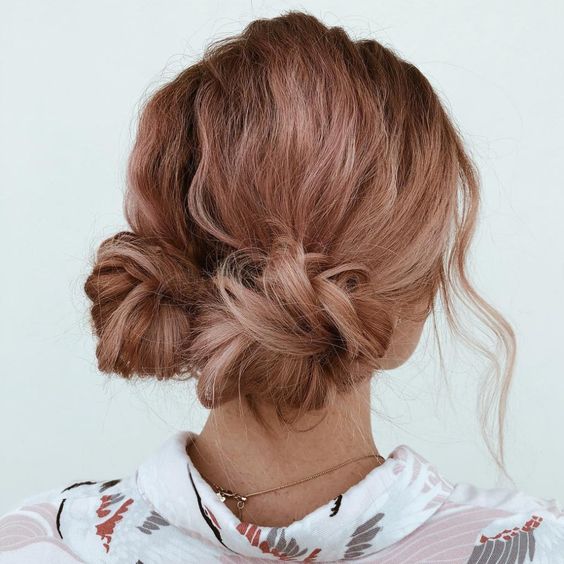 You're not limited to one bun! Move your space buns from the top of your head down to the nape of your neck for two easy low buns! I love this take on the double bun trend – it feels playful, joyful, and perfect for summer. With just a couple of twists at the nape of your neck, you have a lazy style that's casual enough for any summer activity.
This style is also curly and short hair-friendly, which makes me happy! The size of the buns may look a little different, but ultimately, this style is incredibly adaptable to any hair type.
Hair Scarf Messy Bun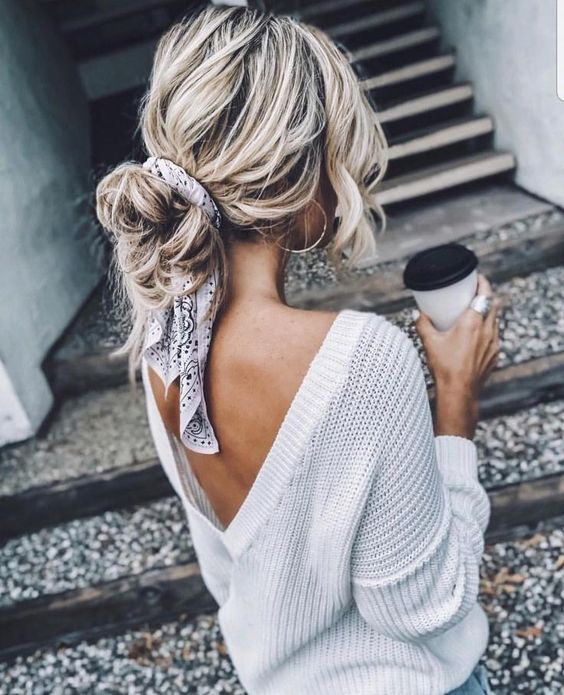 Adding a scarf to your low messy bun can pull a whole outfit together. It works to cover hair elastics, match your style, or add an extra accessorizing element to your hair. I love the ode to the 1960s fashion with a contemporary take – now we have unlimited colors, lengths, and patterns to choose from!
Go for the classic paisley to honor the 60s and 70s style, or make a modern choice with animal prints and more. It will make any messy bun look put together, no matter how the bun looks.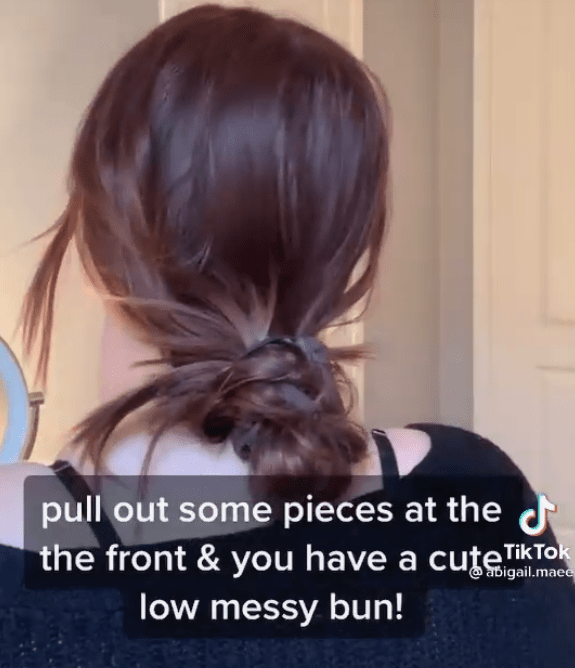 When I can't be bothered to care about the actual style of my low bun, I throw in a scrunchie. I don't care if any hair is out of place because my scrunchie takes center stage and makes anything look good! If there are any weird loops, rogue strands, or messy curls, I think a scrunchie can completely distract from them.
Any color, pattern, or scrunchie style can make a low bun look more voluminous and put together than a boring hair tie! If I need to throw my hair up in 60 seconds or less, I use a scrunchie to hide any flaws.
Products You'll Need for Your Messy Buns
A perfectly imperfect bun needs a helping hand with the right products to make your hair behave as it should. Everyone should have some simple products on hand to create your best messy low bun!
Texturizing Spray
Texturing spray helps give your hair a little extra grip which is especially useful if you have fine hair that struggles to hold a style. With a texturing spray, your hair will achieve tousled strands that not only help hold the style but keep your hair looking lifted and full of volume at the scalp.
Dry Shampoo
If you don't have texturizing spray, dry shampoo will do in a pinch! It adds a little boost of bounciness to your strands while absorbing any sweat or product on second-day hair.
Hairspray
Using a spray of strong hold hairspray makes your style stay in place all day – if your styles are prone to falling out, don't skip this step! Even if your hair tends to remain in place on its own if you're in heat or humidity, your locks could use a little extra product to protect hair from the elements!
FAQs
Question: Do messy buns damage your hair?
Answer: When putting your hair up in buns and twists, the primary concern is that the style can cause damage and breakage. It's true that if you're putting your hair through excessive pulling and tugging, your hair can break, but as long as you're as gentle as possible, it doesn't cause a ton of damage.
Everything we do damages our hair to some extent, and if the choices are between throwing hair in a messy bun or blow-drying and heat styling, giving your hair a break in a bun is a good choice. No way we do our hair is perfect. We just have to nourish and take care of it as we go.
Question: Do buns look good on everyone?
Answer: One of the reasons I love buns so much is that they look great on everyone, so there's inspiration everywhere! Of course, you'll prefer certain bun styles over others, buns are versatile and not only look great on almost everyone, but they fit into any occasion.
Question: Is a messy bun professional?
Answer: Depending on your office culture, messy buns aren't always out of the question. There are some messy buns on this list that are more polished and, therefore, more professional. But, if you're unsure, I'd stay away from it. So please don't wear a messy bun to a job interview and keep it to your off time until you get a sense of the office style.
If your workplace has a dress code, that makes it easy to figure out the rules, but ultimately, messy buns are probably not a good idea for a professional environment.
Bottom Line
My current favorite is the Faux Low Ballerina Bun – it speaks to my inner dancer and brings back many fun memories! And it still looks stunning! Even though I have to rein in my curls to craft this style, I love it enough to do it.
Messy buns are a staple in everyone's style repertoire – they look great on everyone, and there are endless styles to pick from and try out! The beauty of messy buns is that they can take a few seconds or a few minutes, depending on your mood for the day!
Looking for more amazing hair colors? Check out: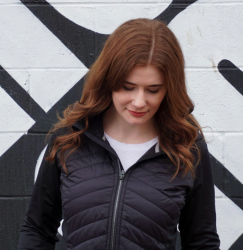 Latest posts by Kelsey Purcell, Hair Product Collector & Tester
(see all)