I have always loved braided hair. I'll never forget once when I was young and on vacation with my dad. We came across this lady who was braiding hair. I had my hair braided, and she added these really cute beads!
I also love these latest braided hair trends, including ombre braids. If you want to experiment with different hair dye colors without damaging your hair, ombre braids are a great alternative. And with so many pre-dyed hairs available, all you have to do is take the hair to a stylist who can braid it in for you.
Are you looking for some ombre braiding inspiration? Continue reading my ombre braiding hair ideas and style guide for more information.
Bottom Line Up Front
The first natural-colored ombre is my favorite. The model's hair is a mix of black, brown, and blonde, and these colors can work for everyone. Her braids are also thin, so you can wear your hair up. Be sure to look at my other ombre braid recommendations!
Ombre Braids Style Guide
Are ombre braids right for you? Here, I discuss some important points in this ombre braids style guide.
Number of Hair Packs You Need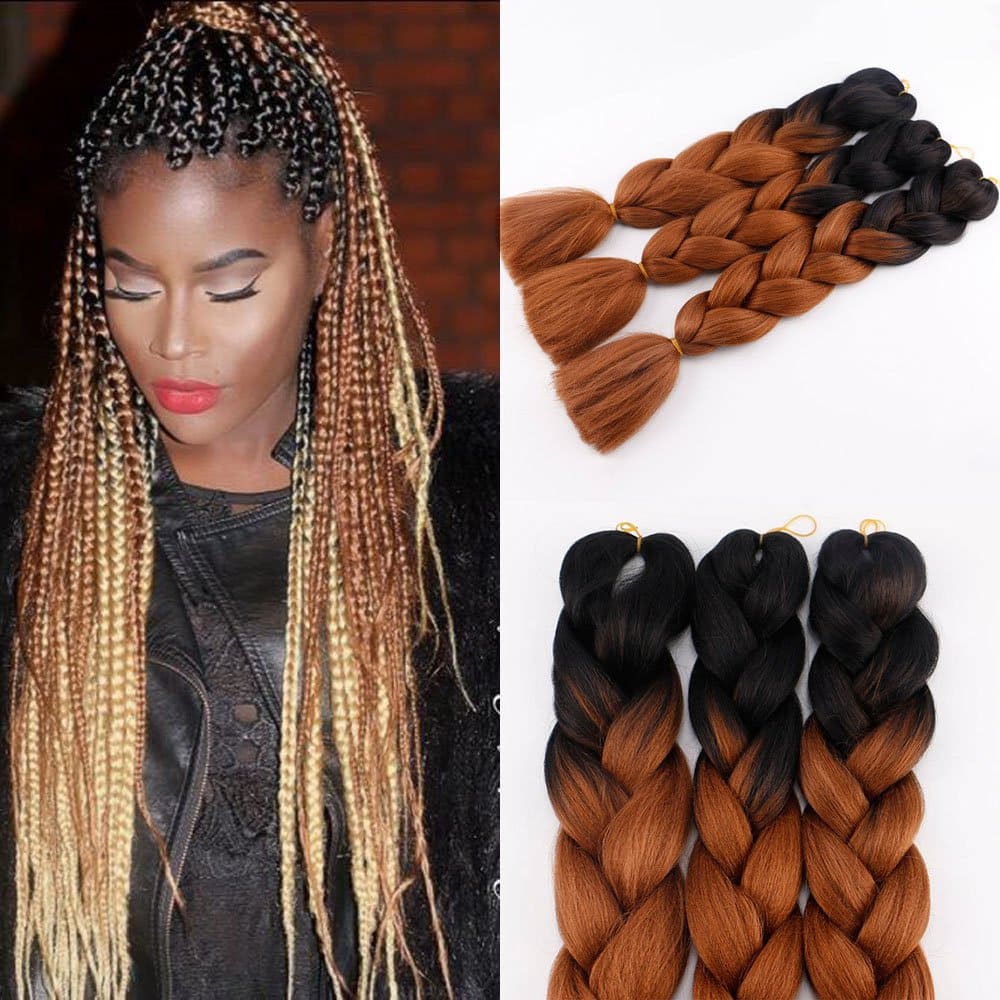 Most box braids are achieved with pre-dyed hair available in packs. The number of packs you need depends on the volume and length of the hair you want. In other words, if you want long and voluptuous braids, you'll need more packs than those who want braided bobs.
The type of hair you get also matters. For example, if you're working with pre-stretched hair, you'll need between 4-6 packs. This hair type has already been picked, so it will look more polished. If you want kanekalon hair, you'll need more packs because this hair type is more textured.
Growing Your Hair With Box Braids
Do you want to grow your natural hair but also want box braids? Don't worry, your hair will continue to grow when your braids are in. However, you'll still need to maintain your hair. You'll need to moisturize your scalp and only use gentle shampoos. While I will recommend some ombre colors that will look cute when your hair is up, you should also refrain from constantly wearing your hair in a ponytail or bun.
Making Braids Last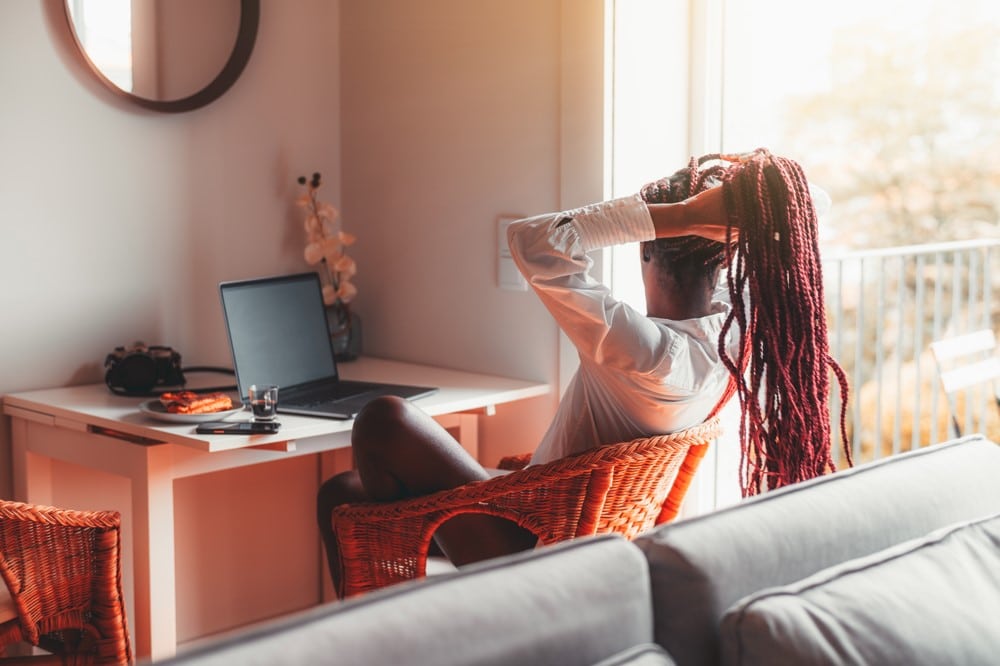 Braids usually last for several weeks, even as long as 10 weeks. However, I recommend taking out your braids at 10 weeks to minimize hair damage. You may also experience product build-up, tangling, breakage, and hair loss. You also shouldn't get braids or another protective style immediately. Wait at least one week before getting another protective style.
Best Hair Type for Braids
Braids can work for any type of hair texture, including 4C hair. The key is maintaining your natural hair before you get your braids and while your braids are in. In addition to moisturizing your hair while your braids are in, use a deep conditioner before getting your braids in. Always go into your appointment with clean hair. You may need a trim, especially if you have split ends.
How I Chose These Looks
Before recommending these looks, I did take some factors into consideration to ensure there were ombre braid looks for everyone. Here are the criteria that I considered.
Color
You can get an ombre in any hair color. Red and blue are the most popular options that I see, but I also found some really cute ombre braids in other funky colors, such as green and purple. I also love the way that ombre braids in natural colors look. I diversified the color selection because I understand that not everyone has preferences. Some people may want an ombre but don't like funky colors. Other readers may have specific funky color looks they want — I know because I have been there before.
Hairstyle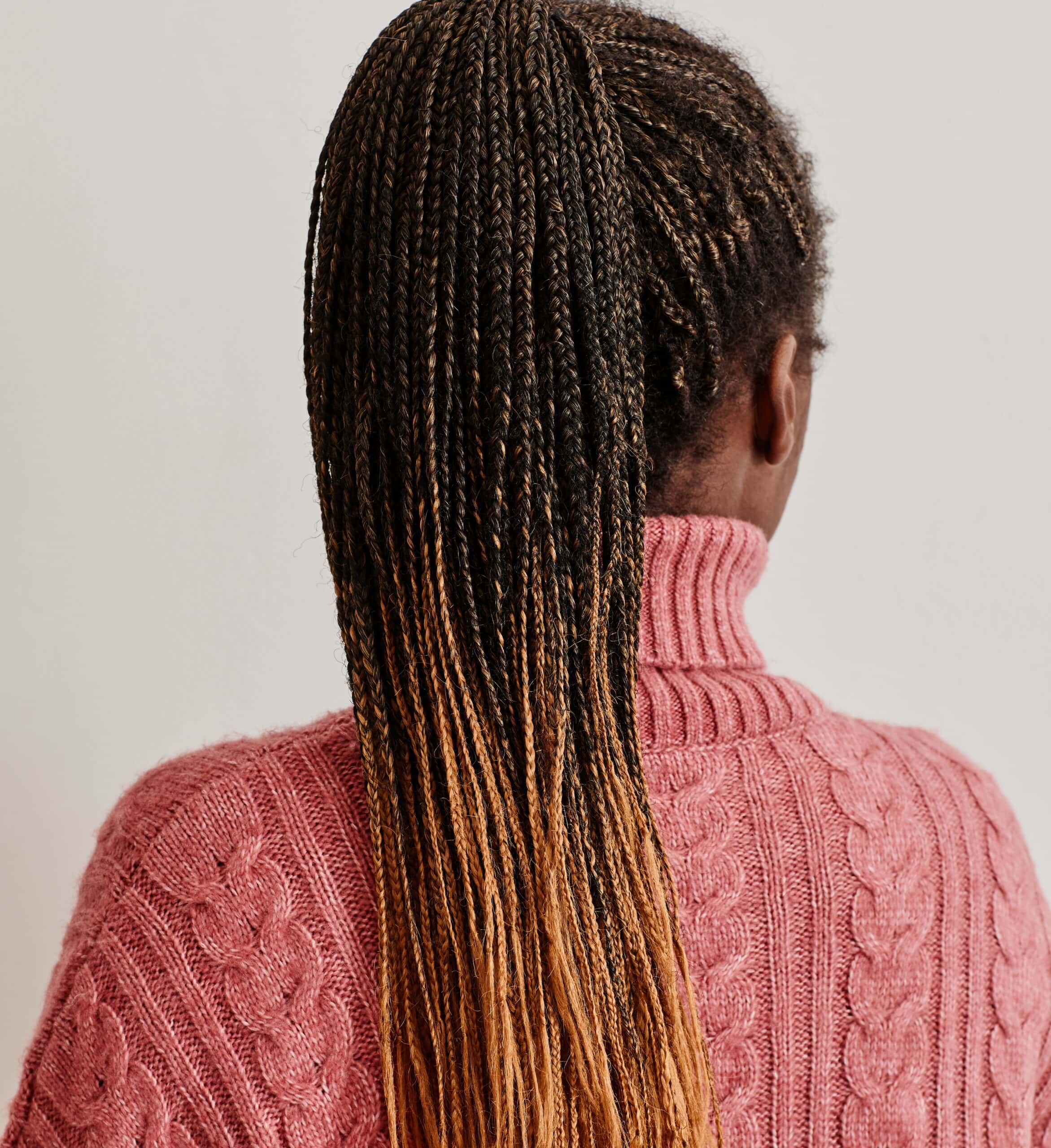 You can do so many cute looks with braids. While I love the way braids look down, I also think braids look so cool in a high ponytail, half-up, half-down, and in a bun. And with an ombre, the different colors make these hairstyles stand out. When looking for these ombre braids, I found ones in different hairstyles, so you can see all of the looks you can achieve.
Length
Most ombre braids are long, but I see ombre braids in all hair lengths. I'm loving the look of bob-length ombre braids. A bob ends at the chin, and this is such a chic and classy hair look. If you want your braids to be longer but don't want extremely long braids, I see shoulder-length braids are popular. At this length, you can achieve a stark contrast between your base color and the ombre shade, and your hair won't be too long. All of these looks will look great with both short and medium-length braids.
My Favorite Ombre Braiding Ideas
Are you ready to check out some of my favorite ombre braids? Here are some of the best looks that I found on Instagram.
You really can't go wrong with a look like this. The ombre on these braids is awesome, and I like how the model has natural colors. The braids go from black to brown to yellow-blonde. I also see these braids looking great with ash blonde instead of yellow. If you want something different than the long cornrows, I suggest opting for a middle part instead. Credit: @justbraidsinfo.
I love all of the colors on these braids! I see lime green, rose pink, and orange here. Her base hair color is black, but the colors mesh together as an ombre-meets-balayage. This unique hair look has so much depth and complexity. Her braids are also extremely long, but you can always opt for a short style. Credit: @ombrebraidhairstyles.
If you want a natural-colored ombre but still want something eye-popping, I suggest this look. Her base hair color is black, then fades to red and white. The colors are all dynamic, so her hair stands out, but this look is also subtle. Her hair is long, but I can see this looking just as good on shorter hair. Her braids are thin and perfect for wearing in a ponytail. But I can see these colors also looking amazing on thick braids. Credit: @allenhair_gh.
Another natural ombre look is this one. The base hair color is black and fades to a trending shade of copper brown. I love these natural color ombre braids because they're so versatile. They're eye-catching enough for daily wear and are classy enough for a big event, such as a wedding.
Her braids are also thin, so you can easily wear your hair up. But since copper brown is a trending hair color, thick braids will make the color stand out more. If you want the copper brown color to frame your face more, I suggest choosing middle-part braids instead of long cornrows. Credit: @braidsandko.
I love this ombre! If you want a stylish eye-popping ombre but want some unique colors, I suggest this one. The intense red and yellow color combination reminds me of sunshine. I would prefer this look with a bit of orange added. If you want to dye your own braids, I suggest adding some orange semi-permanent dye on top of the yellow. I also like the size of these braids. They're a good happy medium, not too thin and not thick enough to be box braids. Credit: @stylezbykey.
Here's another natural ombre look that's very chic. The model has a honey blonde color on the ends. Honey is one of my favorite shades of blonde; it combines shades of amber, light brown, and chestnut brown. Some honey blonde variations add more red to make the color more dimensional.
Honey blonde is a great color if you want to add lighter tones to a dark base, such as what the model here has, but you have warm undertones. Plus, I think honey blonde blends well with black and dark brown hair color bases. Credit: @funky_signature.
As I said before, red ombre is one of the most popular colors on braids. Actually, the red ombre is one of the most common ombre looks I see, period. The model's hair is the perfect example of how chic this color can look on a dark base. The model has trending copper red hair, which has a warm undertone. If you want a similar color but in a cooler tone, I suggest choosing auburn. Her braids are long, but I think red braids look especially stylish when they're short. Credit: @zuto.hair.
If you want an intense ombre, I suggest this bright purple color. Out of all of the funky colors, purple is my personal favorite. This shade of purple, in particular, is so bold and looks amazing in contrast to her dark hair base. I also like the half-up style of her hair, with a bun on top of her hair. This proves that this neon purple color looks just as good up as it does down. Credit: @braidsandko.
Is it just me, or does this color combination remind anyone of cotton candy? I love the mix of colors: dark purple at the top, sky blue in the middle, and light lavender at the ends. This is a creative look, and I never saw this color combination before. Even though these are all funky colors, the different shades balance well. Credit: @zuto.hair.
Here is another classic ombre look that I always see, especially on braids. The electric blue is an intense contrast from the black base, making this another great stand-out ombre braid look. I like the thin braids used here, but I also think electric blue looks great on thick box braids.
Her hair is long, but you can get an equally stylish look if you opt for shorter braids. The only thing with the model's hair is the picture cuts out around the top, so I can't see her parting. I think this blue ombre will look great with all parts, including cornrows. Credit: @stylezbykey.
This is another great look if you want an ombre with natural colors that are still eye-catching. The combination of brown and intense yellow is super creative and brings life to her hair. Also, let's look at the twists instead of traditional braids on the model's hair. They look so cute! Credit: @stylezbykey.
I love peek-a-boo highlights. This technique is a great way to experiment with funky colors if you're new to them or want to hide your crazy colors for work.
The shades of fuchsia and blue that the model has is very bright, which I think is important if you're doing peek-a-boo highlights. At the same time, the look is still pretty simple, and you can always add more colors when you re-do your braids. The thing to remember about peek-a-boo highlights is you'll get the best style results when wearing your hair up. The model's braids are thicker, so I would make them thinner if you plan on wearing your hair up more. Credit: @zuto.hair.
If you plan on wearing your braids up, I suggest making the hair on your scalp a different color and shadow-rooting it into the length. This way, the two colors combine effortlessly when you wear your hair in a ponytail. Her braids are thick box braids; I like thinner braids better in a ponytail, but the box braids look great with this shade of pale yellow. If this pale yellow doesn't work, some color alternatives include gold and strawberry blonde. Credit: @littledutchessbraids.
I'm a 90s kid, so I remember pigtail braids. They were popular during this time, and I would often style my hair in pigtail braids. If you think of Pippi Longstocking when red pigtail braids come to mind, you can do an ombre to revamp this look. The model has fire-red ends that blend well with her brown hair color base. The French braiding effect is also seriously cool! Credit: @littledutchessbraids.
FAQs
Question: What is the best hair color for box braids?
Answer: Any hair color can work for braids! Here are the most popular choices:
• Purple
• Black
• White
• Blue
• Pink
• Blonde
• Brown
• Orange
• Burgundy
Question: This is my first time getting knotless braids. How long will the process take?
Answer: Expect to be in the chair between five and nine hours. Still, the exact time depends on the length, braid size, and thickness.
Question: Which braid style lasts the longest?
Answer: Thin braids usually last the longest — up to three months on average. Since the braids are small, you have more access to your scalp. This also makes it easier to wash and moisturize your scalp.
Bottom Line
Of all these looks, I love the natural ombre the most. Everyone will look amazing with the mix of black, brown, and blonde. You can find these colors and similar in various packs. These natural colors are a good option if this is your first ombre or you're concerned about an appropriate color for your job.
I also like how her braids are thin, making it easy to maintain your natural hair and wear your braids up. Plus, these thin braids last the longest. Her braids are long, and I prefer long hair. You can also wear your braids shorter and still pull off this look.
This isn't the only natural-colored braid ombre look. I also recommended some looks in different shades of blonde and brown. I hope you were able to find the ombre braid look that you want!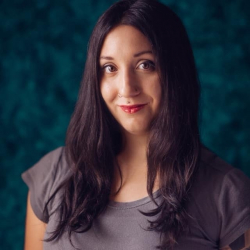 Latest posts by Stephanie Jensen, Hair Trend Spotter & Home Tester
(see all)