Yellow hair has been around for a long time; it was a prevalent hair color with emo and scene kids back in the 2000s, but now it's coming back into trend—and it's hard to find a really good yellow hair dye. There simply aren't as many options as there are, say, with pinks or oranges—and it's a more difficult color to achieve than most other hair colors. So today, I'm sharing the best of the bests, as well as hair tips to get that perfect yellow for you. 
You may ask why I am telling you this. I like your curiosity. I've been dyeing my own hair for almost ten years now, as well as dyeing all of my friends' hair, and their friends' hair, and the hair of friends of friends' cousins' hair. I've used every single color, most brands, and stained my hands for probably a combined time of a whole year. For me, crazy-colored hair is what shows my true personality to anyone around me, and makes me feel uniquely myself. I know many people also feel that way, or want to feel that way and don't know where to start. I hope I can help you through the scariness of dyeing if you're new (and I highly respect you if your first color is yellow; you must like a challenge), and if you're a veteran hair dyer, welcome to the club—and I hope I can show you some dyes you've never discovered.
Bottom Line Up Front
This may sound harsh, but if you're looking for a yellow, you need to bleach your hair.
Remembering that your hair color has to be lighter than the color applied to show up as intended is an excellent rule of thumb. So if you're not willing to bleach your hair, yellow isn't the color for you. Unlike reds and purples, which can show up very well on dark hair in certain lights, you'll just get a muddy yellow hint on darker hair; this may end up looking greener than yellow itself. This article will include my selection criteria, how to get your hair light enough, and what dyes might be best for you. But first, let me share my favorite yellow hair dye:
Kiss Tintation in Funky Yellow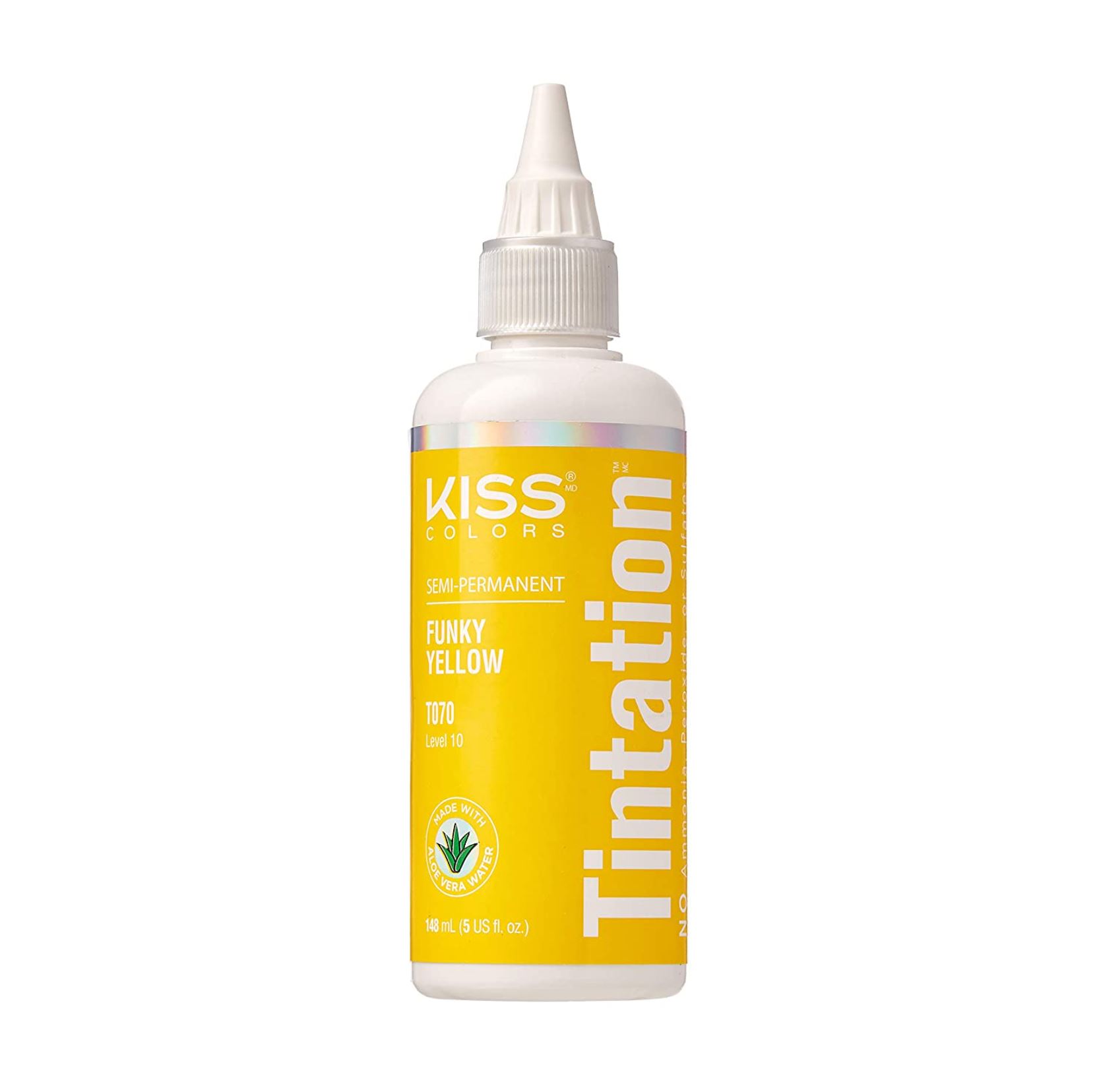 Where to find:

Amazon, eBay, local black beauty stores

Price:

$6

 
Kiss is a brand I'm familiar with and the only brand I dye my wigs with. It's extremely easy to work with and always gives me a bright, vivid color that's shiny and all around just fantastic. Kiss dye has nourishing ingredients, like aloe and argan oil. It's also extremely easy to mix colors to get the perfect color for you. Kiss has a runnier consistency than other hair dyes, similar to liquid gel food coloring. This color of yellow is the shade I first think of when I think of yellow.
Pros
Cheap

Great container and easy to store if there are leftovers

Makes hair feel better after use

If doing a dye bath for wigs, mixes extremely well with water
Cons
Quite liquid, so not as easy to work with

You need your hair to have a light base for this to work well; Kiss dyes don't take as well to darker blonde bleached hair
Let's dig in! First Up
How To Yellow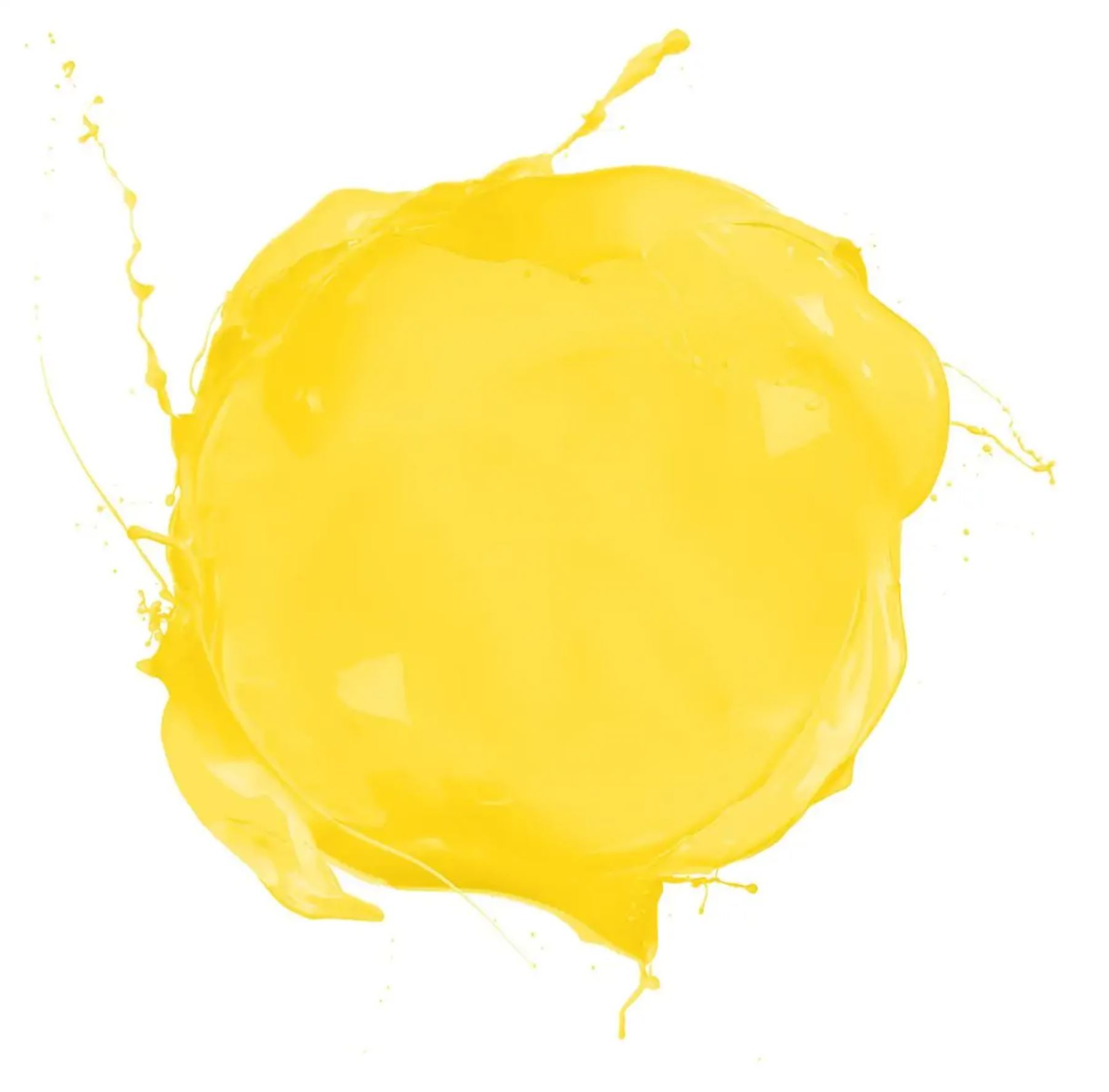 Bleaching isn't as scary as you think, but to get a bright yellow (or even any yellow at all), you'll have to get your hair to a blonde color.
You'll either need to buy a box bleach kit or buy the necessary bleach items separately. You'll need both bleach powder and developer if you buy them individually. Developer is what determines how much your hair will lift in color. The lower the number on the developer, the lower lift you get (and vice versa, the higher the number, the lighter your hair will get). So you'll want to mix up two parts developer to one part bleach powder.
I suggest watching many videos on how to bleach your hair and reading some articles before you start (here's our guide!), but if you insist on going in blonde, don't be sorry! I know I did that, too, my first time. Here are some tips to follow and remember when in the process:
Basic Rules to Follow
Wear easy-off clothes you don't care for, as you will get bleach on it, and it will be a nightmare if your top has a tight neckline

Never get a developer over volume 40

Only use level 40 developer if you have extremely dark hair; it's healthier to have to bleach your hair a few times with volume 20-30 than one time with 40

Any bleach powder will work, but a blue bleach powder will minimize an orange-toned lift in your hair

Bleach usually lifts the hair either more yellow or more orange first, so if you can go more yellow, it'll work with the yellow hair dye, so you won't have to bleach out the tone

Make sure you have the healthiest hair possible for you before bleaching. Bleaching does damage your hair, no matter what you do, but you can help it damage your hair less

Apply bleach as fast as you can without missing any spots; you need to fully saturate your hair in bleach, or you may get dark spots

Always check your hair in the mirror while it's processing. I check mine every five minutes, but usually, people check every ten minutes

Do not leave bleach on for longer than an hour

If you have to take a week to lift your hair light enough to work, that's ok. Don't force a ton of bleach on your hair in a short period of time
Types of Hair Dye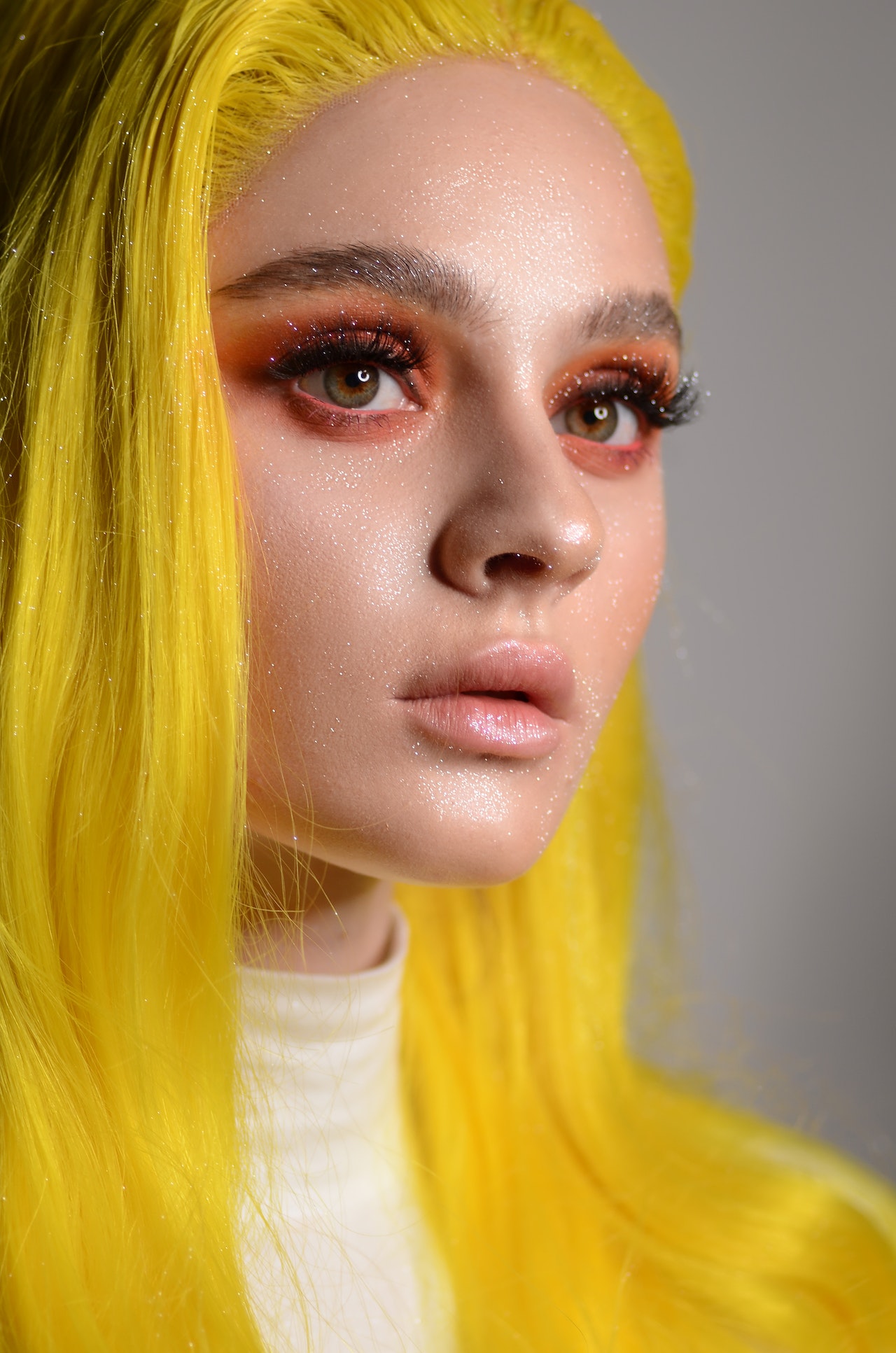 Today, there are only semi-permanent hair dyes or dyes that are more in the other category.
Semi-permanent hair dyes are the color only, i.e., they just deposit the color in your hair. There is no ammonia or any gross smelly chemicals that are found in some permanent hair dyes and some box dyes. Semi-permanent hair dyes will not lighten your hair, they generally don't damage your hair, and you can apply them with your bare hands if you like staining or loathe those gross plastic gloves. You can leave these dyes on for as long as you want (I usually leave mine on for 4-6 hours, because my natural hair doesn't absorb it as well). The average time left on is between 45 minutes to 2 hours.
There are also a few hair dyes on this list that act more like conditioners than hair dyes. Generally, they're still considered a semi-permanent hair dye, but you need to work it through your hair with your fingers or a brush (not recommended, but if you need to, it's possible). This is because they deposit color while conditioning your hair. This doesn't mean you apply it in the shower and rinse it right off, though—these dyes need to stay in the hair fairly long, as well.
Selection Criteria
There isn't a ton of yellow hair dyes out there, so my criteria list for the best yellow hair dye for you was small, but there were a few guidelines they had to follow:
Offers a true yellow hair dye; there are a ton of yellow-leaning orange dyes, but this is just for yellow

Has a good reputation as a brand and as a dye

Doesn't include any harsh chemicals you don't want in your hair
The Best Yellow Hair Dyes
Best Fading: Punky Colour in Bright Yellow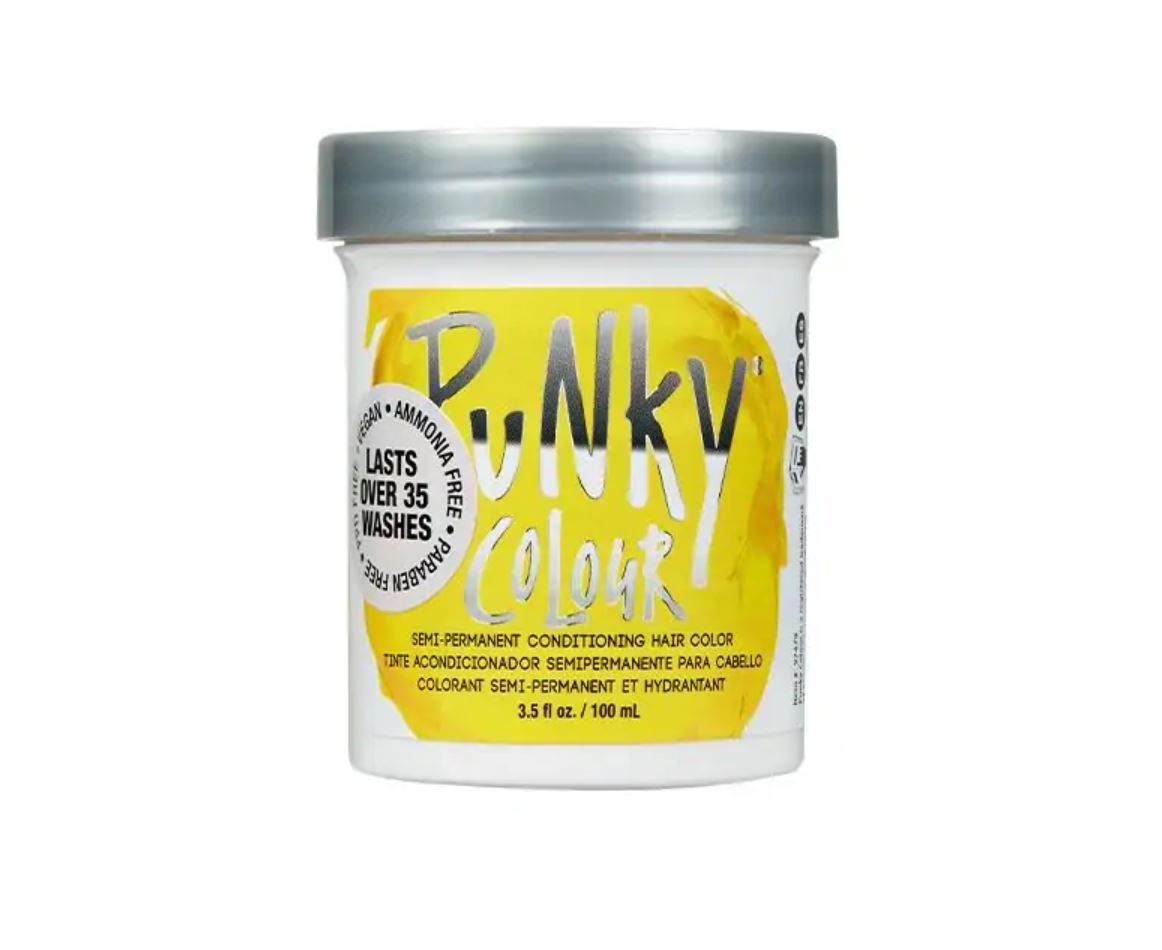 Where to find:

Amazon, locally in the UK, eBay

Price:

$7
Punky Colour is an extremely popular UK brand that is now more available worldwide, thanks to being on Amazon. Punky Colour has less dye than most other companies, so this would be a great option if you like not having any leftover dye to store. This brand is also known for lasting a long time—even their label notes it will last over 35 washes with the same vibrant color, while most dyes last between 10-15 until they fade into a much different color.
Pros
Bright vibrant yellow

Long-lasting

Fades wonderfully
Cons
Small container

Harder to find in the US
Best Easy to Use: Overtone in Extreme Yellow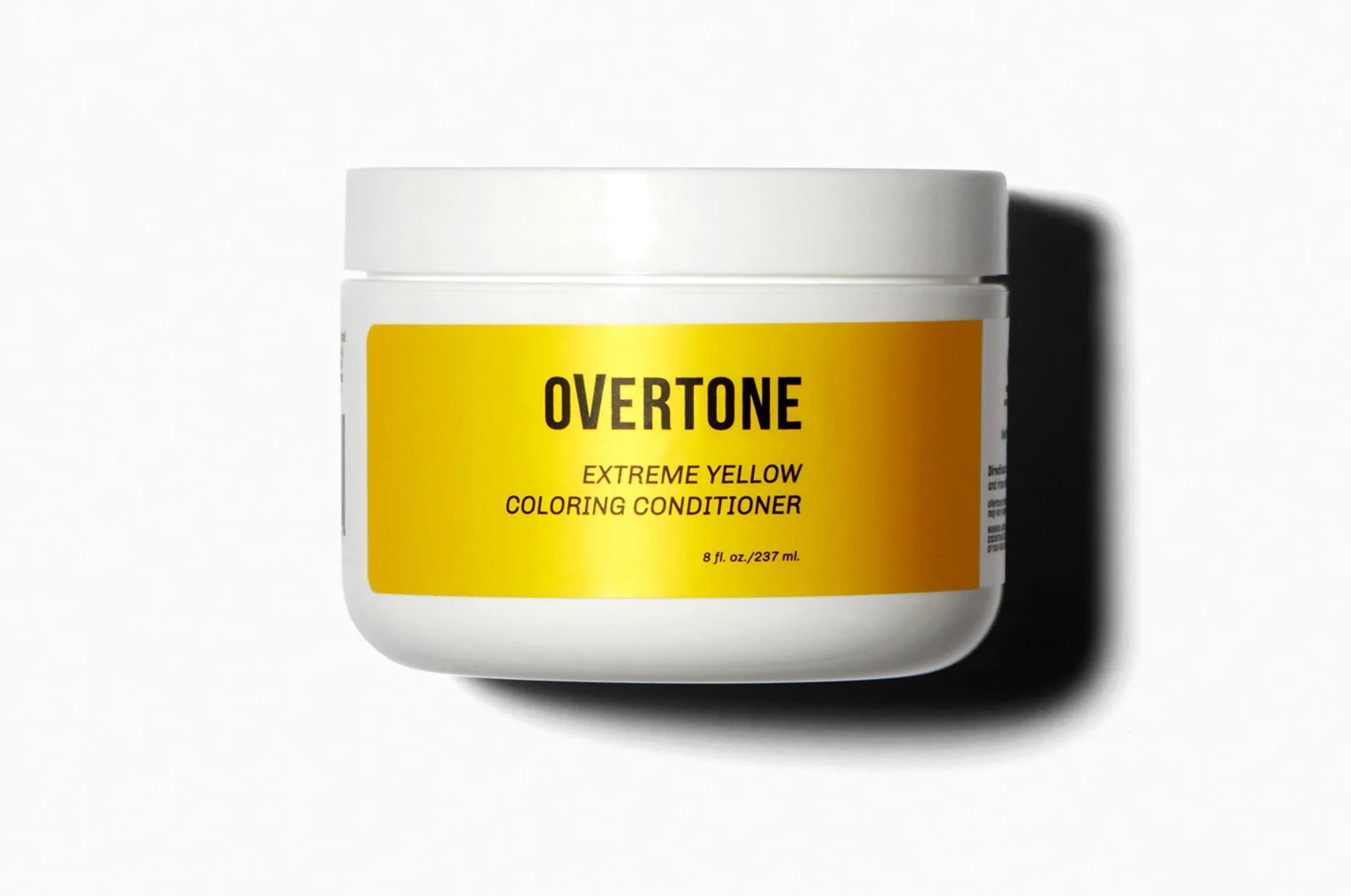 Where to find:

Amazon, Overtone website

Price:

$13-33
Overtone is a hair dye conditioner; it deposits dye while cleansing your hair and reenergizing it. Overtone doesn't damage your hair but heals it. And although semi-permanent dyes don't really do any damage anyway, they can still leave your hair dry and just not as good as it was before, even though it isn't permanent.
Overtone is a great option if your hair already has damage and not much life in it due to bleaching or other reasons. It's not magic, but it is easy, nourishing, and at the end of the day, it's a really good conditioner, as well as a good dye. Technically, it works on darker hair colors, but it doesn't show as yellow, but more as an off-yellow gold
Pros
Great for hair

Easy to use

Works on most hair colors
Cons
Expensive

Can't be found in many places

You have to use a lot since it's a conditioner
Best Vegan Cruelty-Free: Manic Panic Classic Voltage in Sunshine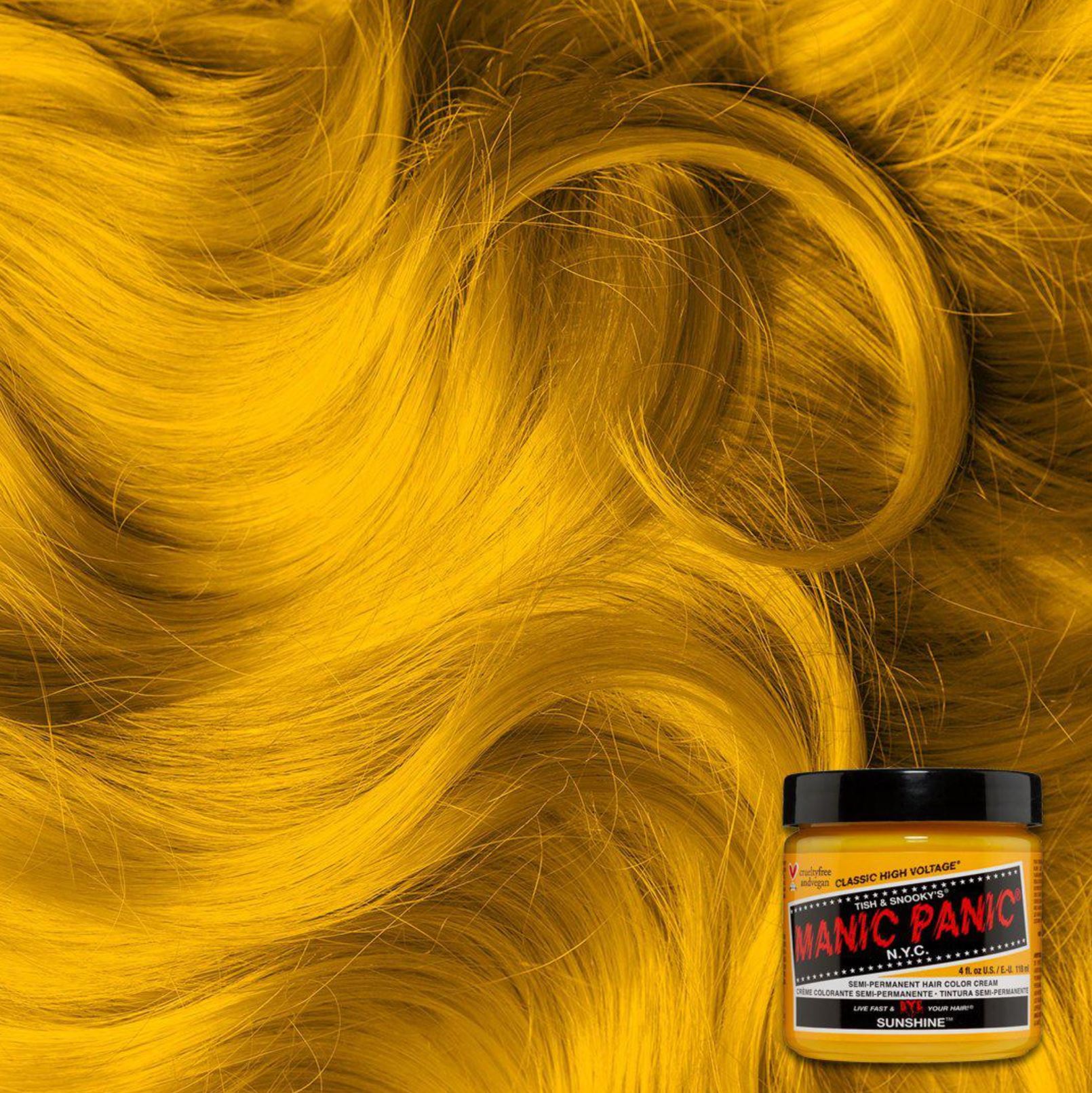 Where to find:

Walmart, Amazon, Sally Beauty, local stores (including beauty stores), eBay, basically anywhere

Price:

$6
Manic Panic is known not to be the longest-lasting dye, but being one of—if not the most­—vibrant colors on the market. It's also vegan cruelty-free, and has a formula that's extremely easy for beginners. Manic Panic also offers three different yellow colors, something the rest of the brands on this list don't have. Since yellow is a newer trending color, most brands have only one yellow, if they have one at all.
Pros
Clean brand

Easy to use

Can be found easily online and in store

Comes in a plastic tub which can be cleaned and reused

Most colors wash out with minimal staining
Cons
Can be expensive; I've seen prices on a 4oz tub go up to $17

Not long-lasting
Best Pastel: Ion Color Brilliance in Lemon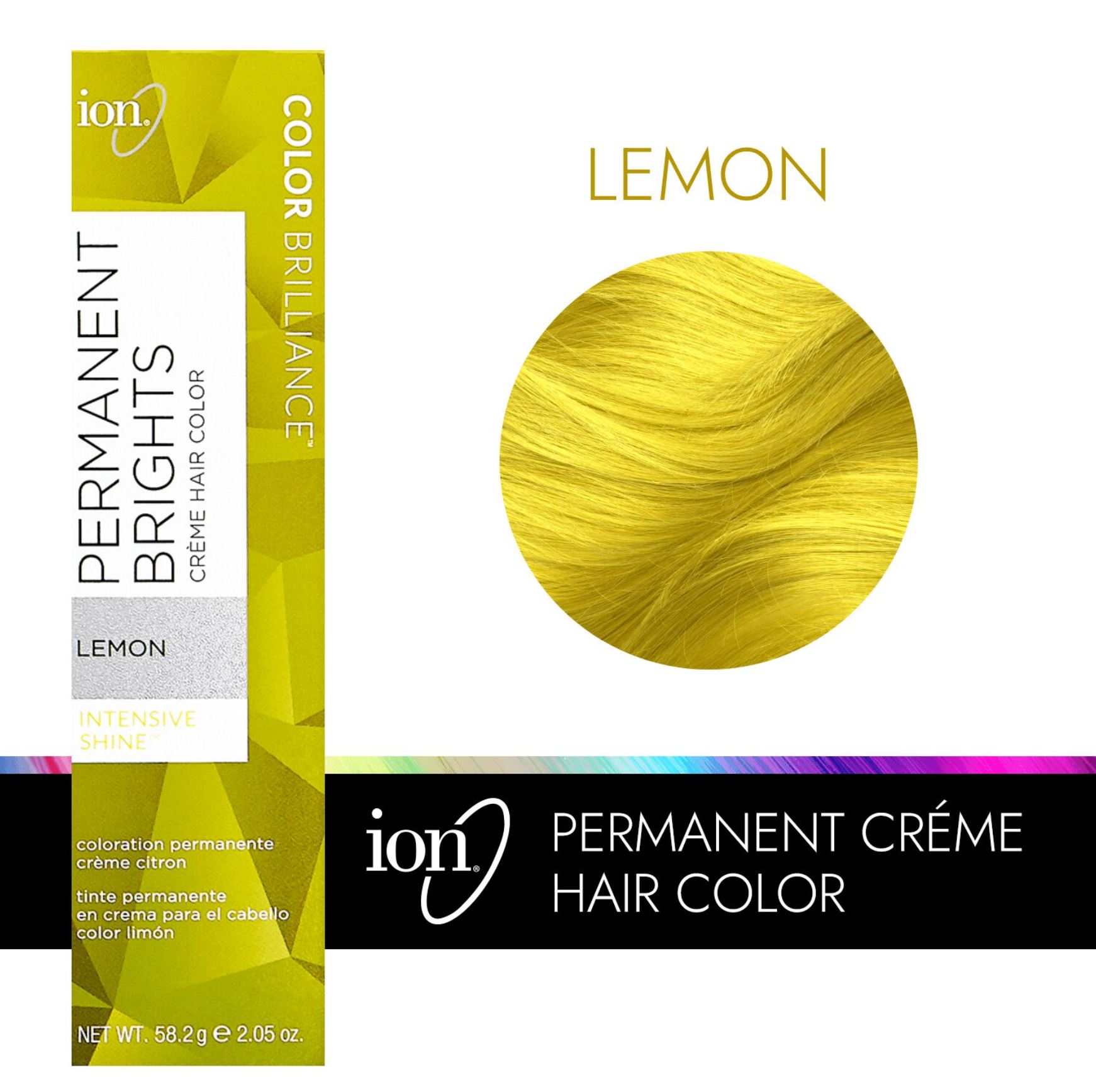 Where to find:

Sally Beauty, Walmart online, eBay

Price:

$9
Ion is always stocked high at Sally Beauty stores, and is a hair color that is a staple in most people's hair color journeys. It's cheap! It has a very thick consistency, which can be challenging for beginners, but it can be mixed with conditioner or their own color mixer to make it easier to work with. The colors are vibrant, and the formula is long-lasting (their blue dye is known, for better or worse, for lasting forever. It won't budge). It's hard to get that pastel yellow since the hair needs to be extremely light to take the color, but if you can achieve that platinum white, this is the best dye for getting that sunshine on a cold day hair color.
Pros
Cheap

Long-lasting color

A great pastel yellow, which is hard to find
Cons
Very thick formula; hard to learn how to use because of that

Needs to be left on for a long time for color to be bright
Best Nourishing Dye: Uberliss Bond Sustainer in Yellow Daffodil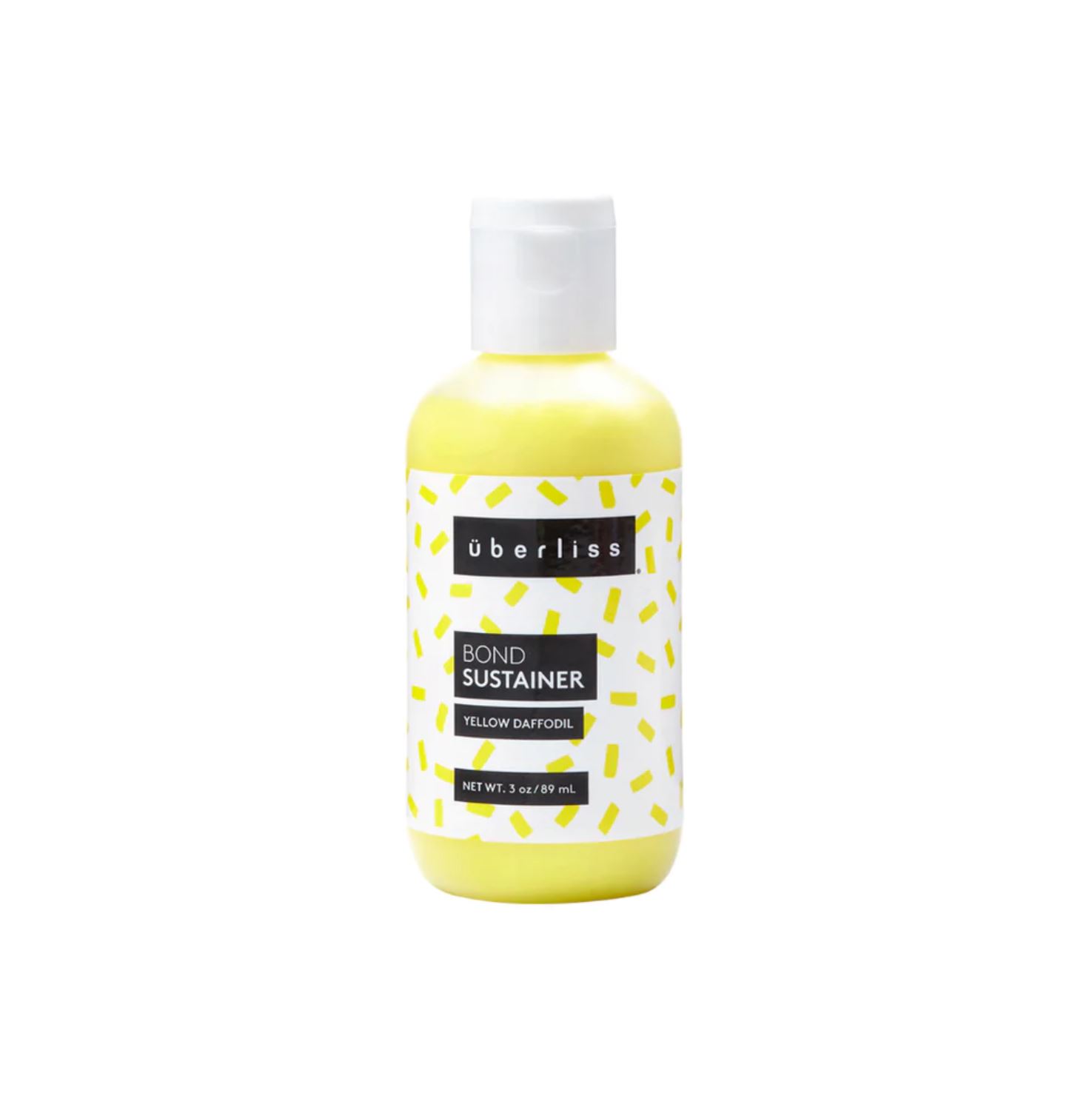 Where to find:

Amazon, Target, Sally Beauty, eBay

Price:

$7-15 (depending on color and place of purchase)
Uberliss is a newer brand to the hair dye scene, and is AAPI (Asian American and Pacific Islander) owned. I've used this hair dye in pink, and it definitely feels like a coloring conditioner. It's very thick and easy to use, but hard to saturate all of your hair. My hair felt extraordinary after using it. This brand does label itself more as a color refresher than a dye, and I can agree with that, as it won't last you more than 8 washes (at most) when used alone. It's perfect for a weekly or bi-weekly dye touch-up to keep colors vibrant.
Pros
Can be found fairly easily in regular stores

AAPI-owned

Easy to use and some come in a squeeze tube

Will leave your hair feeling healthy for a long time
Cons
Doesn't last long; much better used as a color sustainer between hair dyes

Formula can separate (that happened to me, had to shake to mix up)

7 fl oz, which is a little under the average of 4 fl oz
Best Overall: Pulp Riot in Satire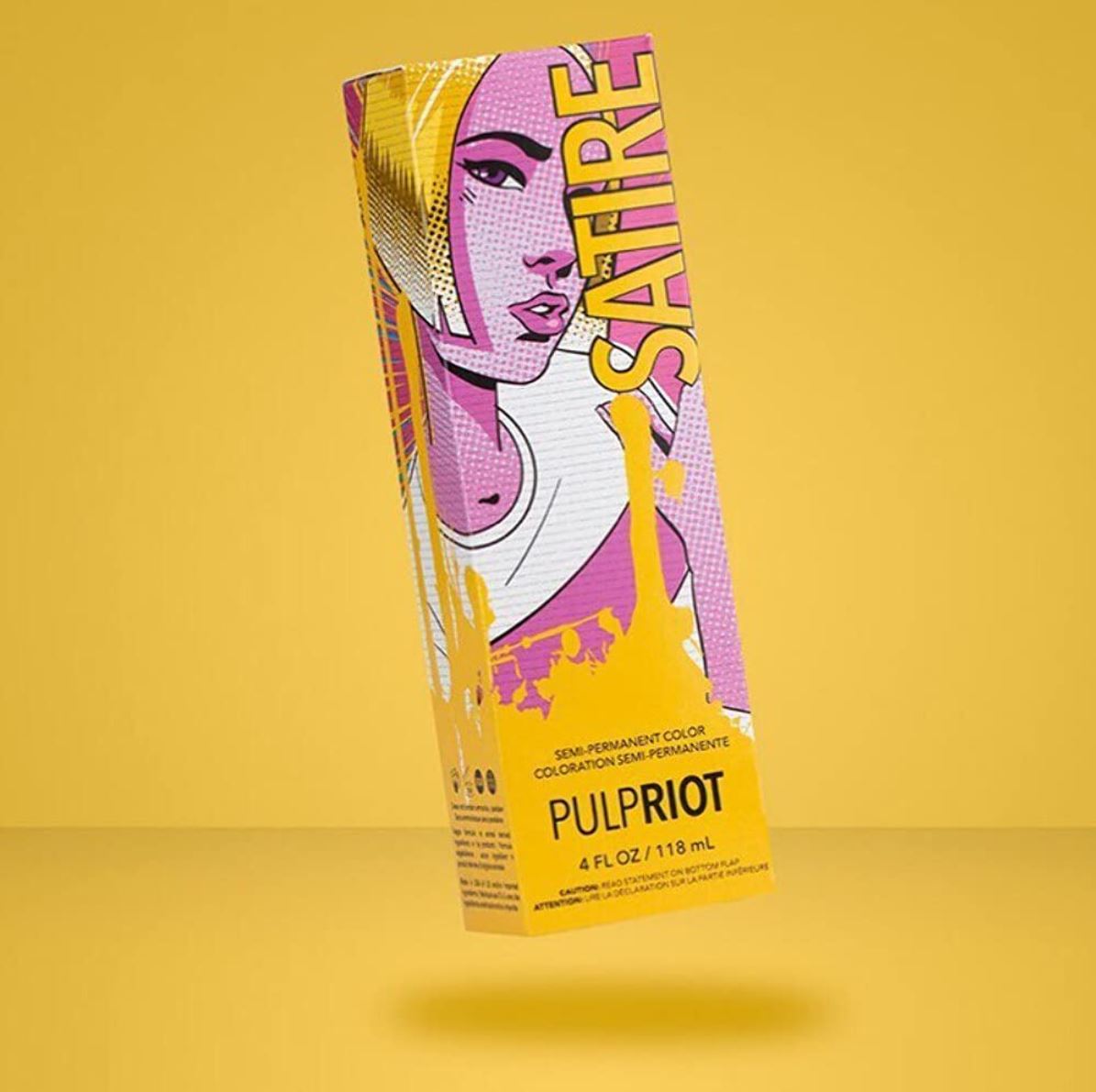 Where to find

: Amazon, eBay

Price:

$22
Pulp Riot is actually a professional brand only; it can be found on Amazon and eBay for non-professionals, but it is definitely the quality you don't often find in hair color. This dye is meant to last long, but not stain your hair forever or be too hard to get out of your hair. It's a thicker formula, which makes it easier to work with. It can cover over other colors pretty well and is extremely vibrant on its own. It's the most expensive dye on this list by far (going between $15 to $30 per tube), but it will give you the longest-lasting and the most vibrant color.
Pros
A professional-grade hair dye

Long-lasting and fades beautifully

Can cover other faded hair colors, like green (we've all been there)
Cons
Extremely expensive for hair dye

Might need more than one tube
Best Drugstore: Good Dye Young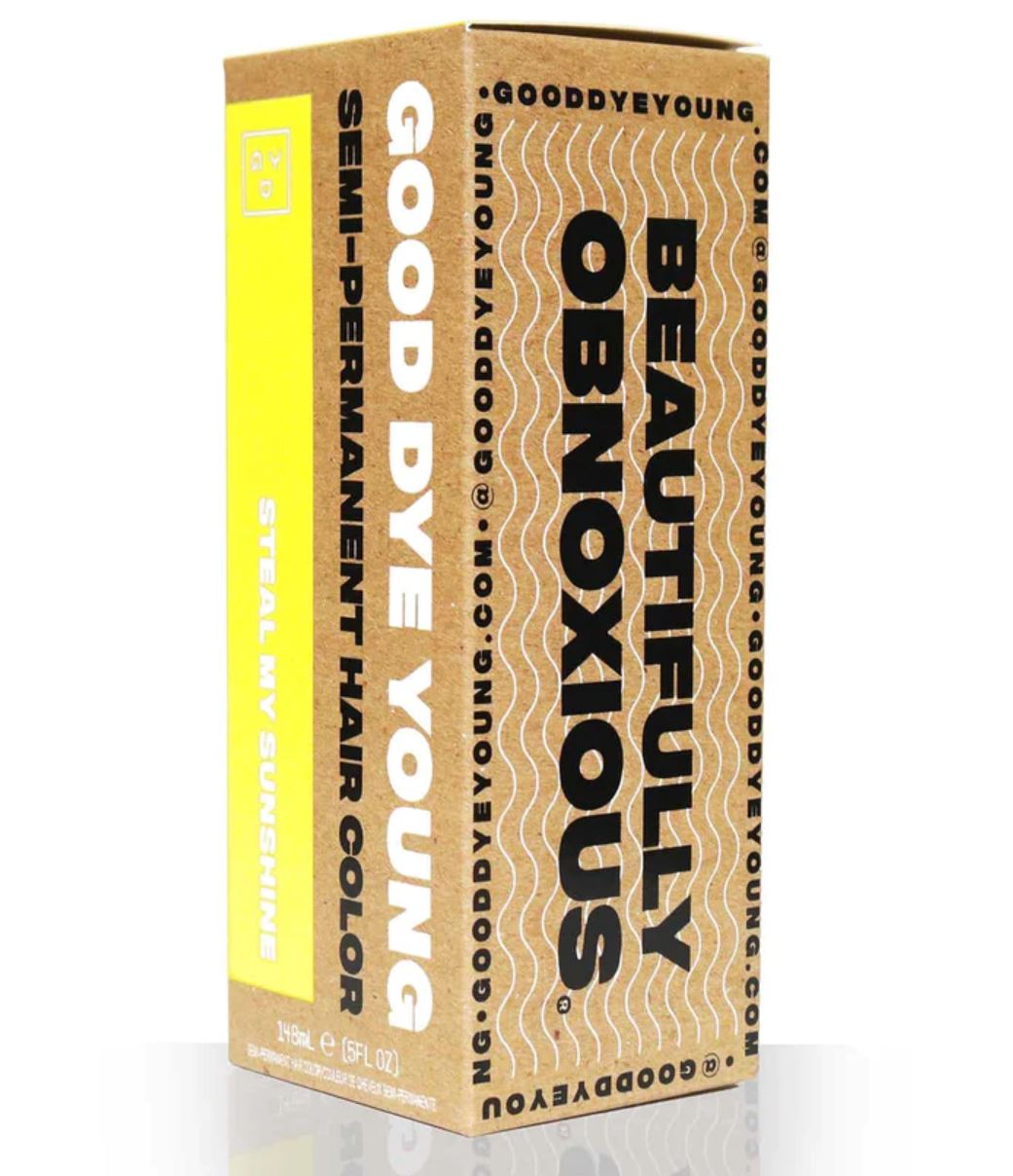 Where to find:

their site, Amazon, most locals stores now carry Good Dye young (so check your shop's site), eBay, Sally Beauty

Price:

$18
Good Dye Young is a brand that was started in collaboration with Hayley Williams, the lead singer in Paramore. They even have an orange that is the exact color of her iconic orange, but we are here for the yellow. Good Die Young is extremely open about how their color looks, with a popular TikTok and Instagram with tons of videos on how their colors work on different hair colors. They also reformulated most of their dye colors to be more vibrant and true to tone.
Pros
Can be found easily in a lot of stores

Easy to find color examples online

Easy formula to work with
Cons
Expensive

General complaints about how long it lasts
Best Neon Yellow: Iroiro in Neon Yellow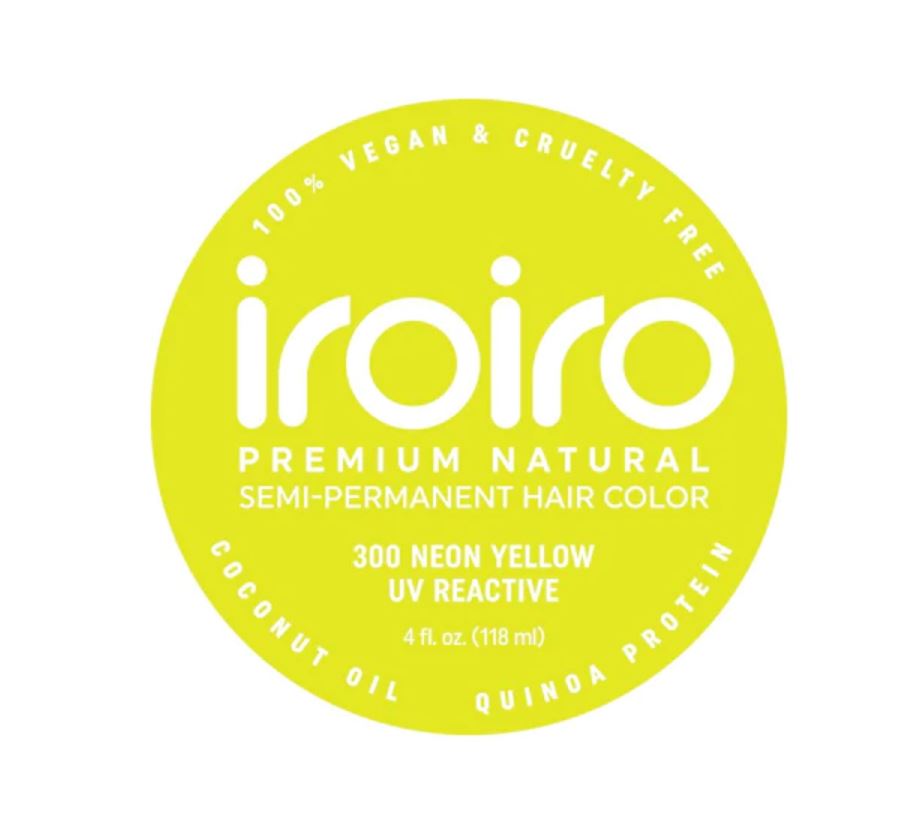 Where to find:

Sally Beauty, Amazon, local beauty stores, eBay

Price:

$15
Iroiro is known for its interesting packaging, being in circle- or tube-shaped plastic, like the reusable water bottles you can find at a dollar store. But they also offer a wide variety of colors and are formulated to help damaged hair. With coconut oil as their main ingredient (if you're allergic to coconut oil, you should stay far away from this product!), this will be a delight. Because of the coconut oil, you have to rub in this color to get the best color possible, which may be strange at first, but who's complaining about a scalp massage? Reviews also say to leave this color on for two-plus hours, something I personally recommend for semi-permanent dyes like this.
Iroiro is vegan and cruelty-free, and does not use harsh chemicals or synthetic fragrances for the sensitive chemical smell people out there.
Pros
Clean brand

Interesting packaging that makes it easy to get every drop of the hair dye

Easy to apply

Fantastic ingredients, no synthetic fragrances
Cons
Not long-lasting

Low stock in stores on color range, so may not have the yellow you want

You do have to lather the hair dye for it to work
Best Color Stay: Arctic Fox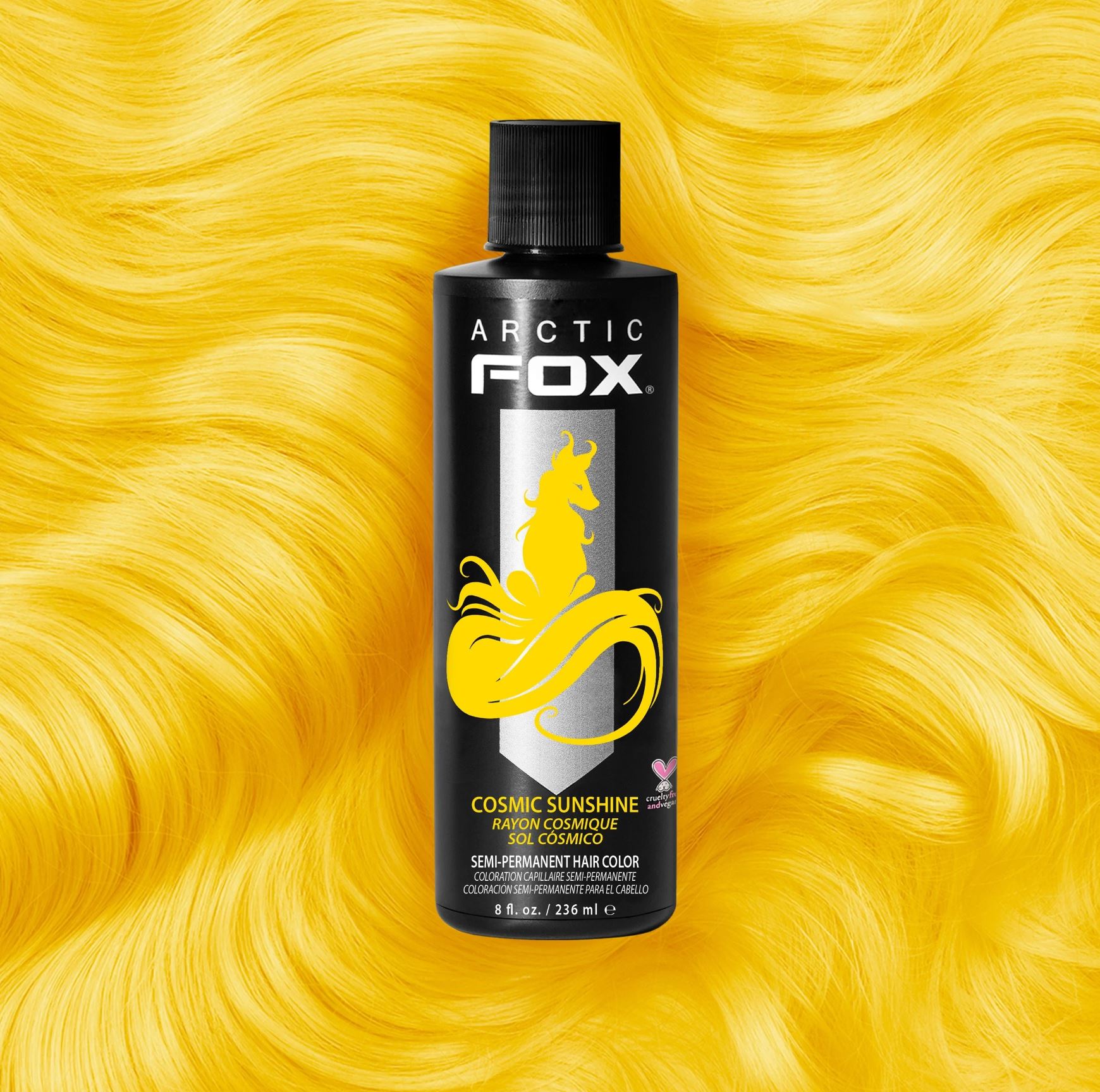 Where to find: Sally Beauty, Ulta, their own website, Hot Topic, eBay, Amazon
Price: $12-19
Arctic Fox is one of the most used hair dye brands out there. It's long-lasting, and as long as you don't get the black hair dye (which is known for staining hair blue and purple), their other dye colors are true to tone and very easy to use, due to its great formula. In addition, it comes in two sizes, which can make life easier if you plan to stick with one hair color for a long time, as the bigger bottle tends to last 4-5 hair dyes (in fact, many professionals hate trying to get the dye out of people's hair because it can be quite difficult).
The problem with Arctic Fox lies in its founder and its new owners. The former owner and founder (a different company now owns it) was alleged to abuse her animals, a former staff of the former owner of the brand alleged hearing her use homophobic slurs, and she has allegedly been extremely racist in the past and present. Iroiro is a very similar formula with a very similar outcome if you're looking for alternatives. 
Pros
Long-lasting

Easy to work with formula

Classic tube containers are great for storing

Many people swear by them as the best hair dye brand
Cons
Has a very dark past toward minorities 

Currently, an MLM/owned by one

Very hard to get out of hair

Expensive 

Excessive hair staining; the color changing when fading is possible
FAQ
Question: Do semi-permanent dye dyes have harsh chemicals? Does it bleach my hair?
Answer: Most semi-permanent dyes don't have any harsh chemicals that would damage your hair. Semi-permanent dyes are just the dye color, so they can't lift the color of your hair. So no, they do not have bleach. If you put a bubblegum pink over dark brown hair, per se, it won't keep the color because the dye is lighter than your hair color. You will have to buy separate lightener, which can be box bleach kits or individually purchased bleach, which is comprised of bleach powder and developer.
Question: I don't have a beauty store near me. What dye can I find in a regular or grocery store?
Answer: The vast majority of these dyes can only be found in beauty stores or online, but the best bet to easily find a semi-permanent dye is Manic Panic or Good Dye Young, which are available at many big chain grocery stores. Because Manic Panic has so many hair dye colors, they are less likely to have the color you want in stock, as opposed to Good Dye Young, which only has a few colors that can be kept stocked all the time. If you can, search the store's main website to see if it's stocked in a store near you; that would cut down the time trying to search for the color if it's not at that certain store. Or, you can always call first to ascertain availability.
Question: How light do I actually have to get my hair?
Answer: You want your hair to be either as light or lighter than the color you want to put on.
Question: I see Splat! Why didn't you mention them?
Answer: You might find Splat hair dye in your store and be excited, but Splat is often called the fabric dye of hair, because some of the ingredients are the same as fabric dye, but also because it's close to impossible to get out of your hair. So if you can get any other dye, I would recommend following that path.
Conclusion
Yellow is a great color all year round and seems to be popping up more and more in stores. While yellow is a tough color to achieve because it's so light, it's a vibrant and thrilling color most people haven't seen. The real stars of the color are Manic Panic, Kiss, and Pulp Riot, which really feel like the essence of the yellow hair trend we're seeing.
Looking for more amazing hair colors? Check out:
Latest posts by Lillie Forteau
(see all)