Curtain bangs are longer bangs that part near the center of the face and come down while curling back towards the rest of the hair. They frame your face similar to the way a curtain frames a window. I've had curtain bangs for about six months now, and I'm not sure I could ever go back, especially with all of the ways to cut and style them.
If you have been interested in curtain bangs or are bored with your current bangs but don't want to get rid of them, here are 13 layered curtain bangs ideas and how to style them.
My Favorites Up Front
I love any bang that frames the face, and curtain bangs define face-framing fringe. I cut curtain bangs into my hair about six months ago, and it's the best hair-related decision I've made this year. I have the long blended curtain bangs. Suppose I ever decided to go with something more trendy or a significant change. In that case, I also love the wolf cut with curtain bangs and the short bob with curtain bangs.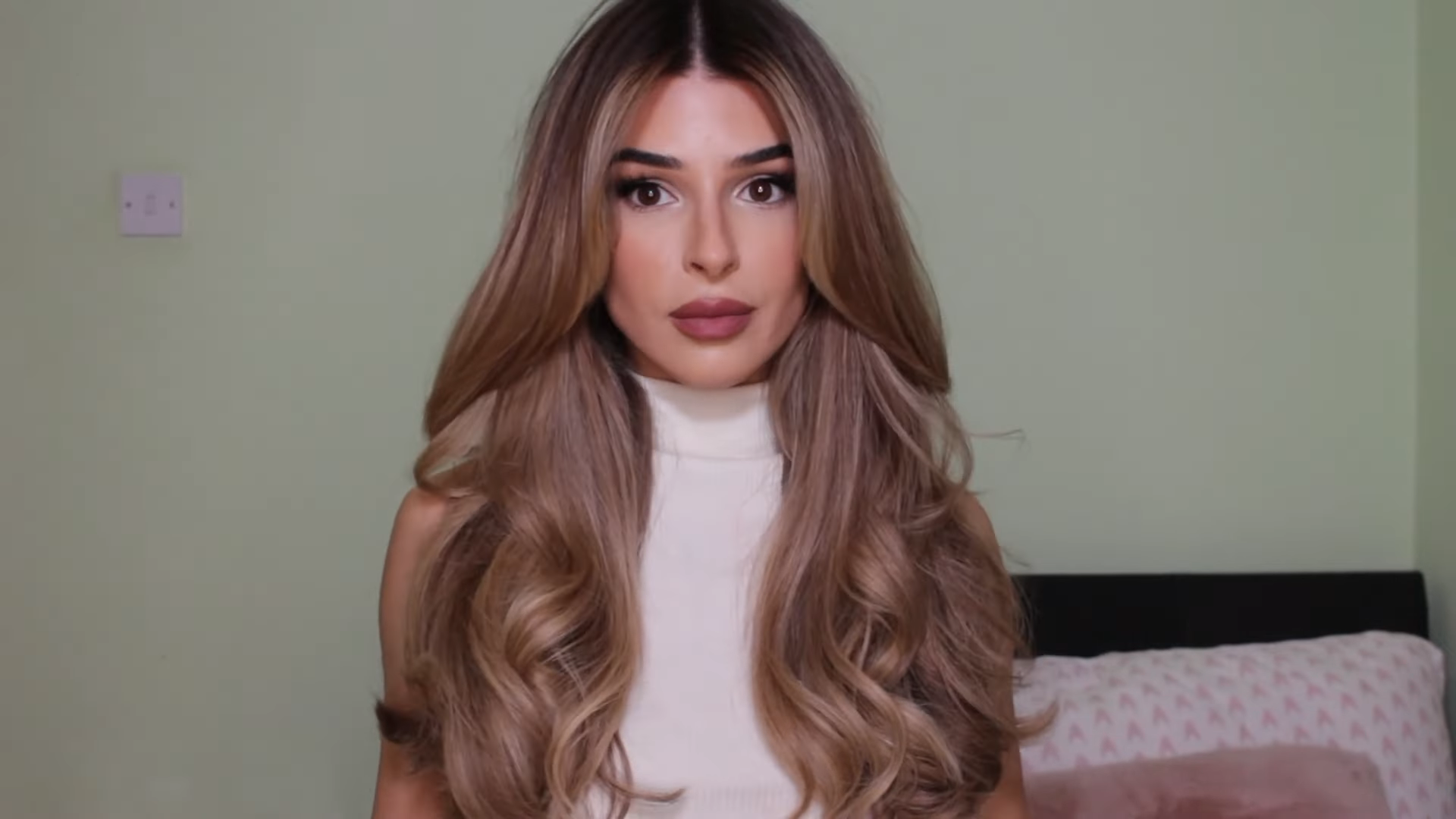 Things to Consider When Choosing Layered Curtain Bangs
Just because anyone can pull off layered curtain bangs does not mean they can pull off every type of layered curtain bang. Below I'll go over a few things you should consider when choosing a curtain bangs style. This will help you figure out the length, thickness, and how much layers you should put into your curtain bangs.
Your Face Shape
When cutting any bangs, your face shape should be the number one deciding factor in the style of bangs. Luckily, layered curtain bangs can look good with any face shape. It just depends on how long you make them.
Round, square, or diamond face shapes typically want to go with mid-length to long curtain bangs to make your face appear thinner. Long, triangular, or oval faces should choose shorter curtain bangs to make their face appear rounder.
How Much Maintenance Do You Want to Deal With
If you don't already know, bangs can be a lot of maintenance. I have some clients come in for a bang trim in between all-over trims because of how much of a pain they can become when they get too long. The longer you go with your bangs and the more layered they are, the less maintenance you will have to do on them.
Your Hair Type
Your hair type will affect the shape your layered curtain bangs will take. You'll have to cut your bangs slightly differently depending on your hair type. To find out which hair type you are, check out our complete guide on all hair types.
Type 1

 hair (straight hair), you'll want to make sure there is a lot of layering and texture in your bangs so they bevel correctly.

Type 2

 hair (wavy hair) is the best hair type for curtain bangs because you can do whatever with them. Just don't overlayer the bangs!

Type 3 and 4 hair

 (curly/kinky hair), you want to keep your bangs section small, texturize instead of layering, and cut them longer than you intend them to be because they'll shrink.
How You Want To Style Them
Curtain bangs can be styled in several ways, including blending them into face-framing curls, flipping them up on the ends to create a shaggy style, and leaving them with your natural curls. Each style creates a different look, but they are all layered curtain bangs.
Layered Curtain Bangs Ideas
Selection Criteria
Since there are so many different ways to style layered curtain bangs, I wanted to include something for everyone. Here are a few of the things that I looked for to make sure there is something for every person on this list of ideas:
Ageless styles to super trendy styles

Curtain bangs that work for every hair type and curl pattern

Styles for those that aren't sure about bangs yet and for those ready to jump in head first

Layered curtain bangs that go with other popular styles today
Curtain Bangs into Layered Face Framing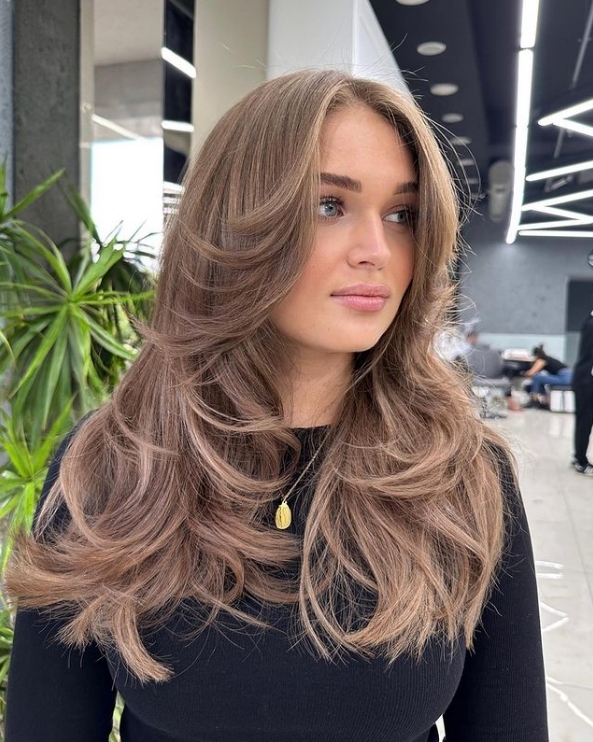 When someone says "layered curtain bangs," this style is the first thing that comes to mind. It is beveled curtain bangs that seamlessly layer into face-framing throughout the lengths. This style is the modern Farrah Fawcett look, and with how popular it was in the 70s, it only makes sense that it eventually came back in full force.
This is a style that anyone with any hair type can pull off. You can start your curtain bangs as long or as short as you would like, with the model in this photo having them start at about the cheekbone. She has styled all the layers with a round brush and blow drier, but you can also recreate a similar look with hot rollers.
Curtain Bangs with a Wispy Pixie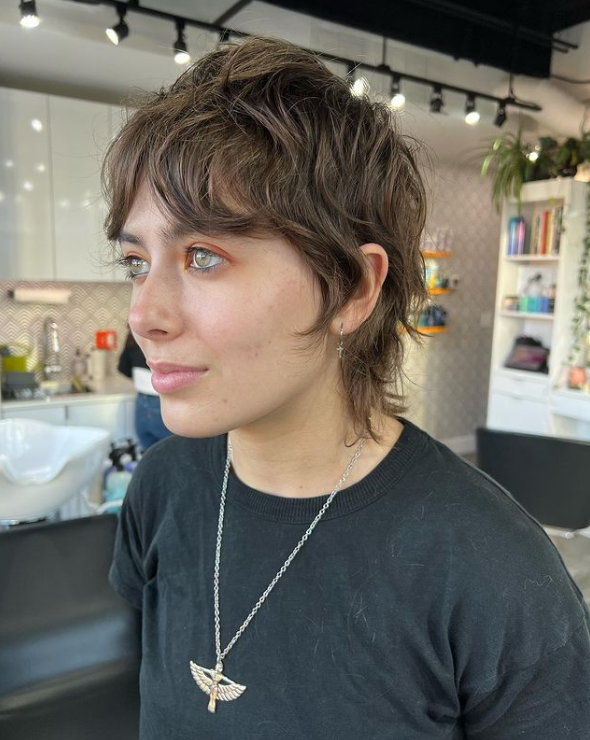 Pixies are a haircut that will forever remain in style but come with their twists every so often. One of the most popular pixies right now is a longer, wispy pixie with lots of texture. Adding some short layered curtain bangs to your pixie can give it that extra oomph it needs.
This style works best for straight to wavy hair that isn't too thick. Styling this haircut should be super simple, with some holding mouse and a blow drier diffuser. It is also one of the most low-maintenance ways to do a pixie, with the curtain bangs falling down the side of the face and the longer pieces becoming even wispier as it grows.
Heavy, Layered Curtain Bangs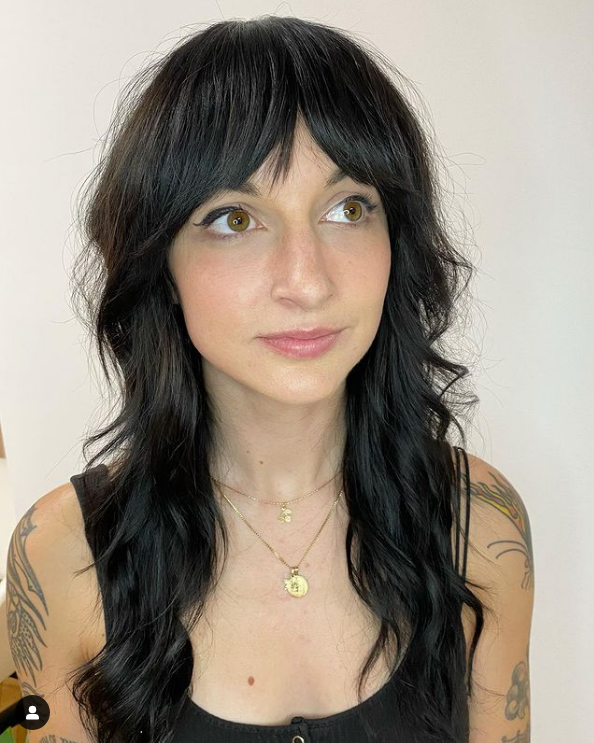 I love a heavy fringe if you want more of a statement. The model has them styled with long hair, but these curtain bangs can also be styled with short hair. I especially love a heavy curtain bang on a bob because it creates fullness throughout the hair and a super trendy look.
You need to be careful when cutting heavy, layered curtain bangs. They can look like blocky pageboy-style bangs if you don't layer them or cut them around the face enough. Typically I like to only do these types of bangs on people with straight or wavy hair and those with thinner hair. You also don't want to go too long with these bangs, or else they'll lay awkwardly, so it's not the best choice for those with round or square faces.
Curtain Bangs and Layers Throughout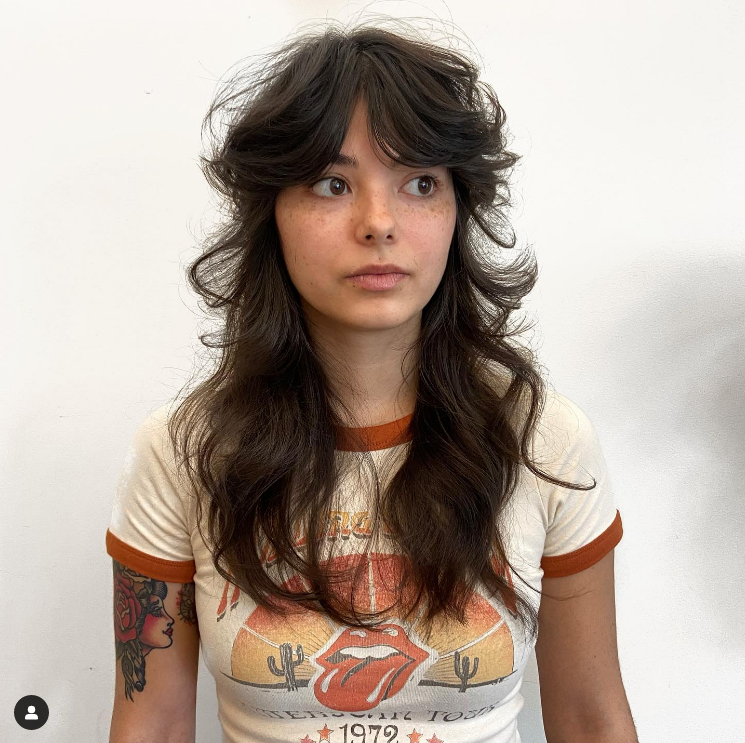 I love when the layers throughout the hair blend into the curtain bangs. It creates symmetry and cohesiveness. As you can see, the model's layers on top of her head are the same length as her beveled curtain bangs, creating a lot of volume and texture.
The nicest thing about this style is that it can be worn with all hair types. If you have curly hair, the layers will help bounce up that curl and give them shape, blending in with your short face framing curtain bangs. If you have thin hair, you may want to go a bit shorter on the length, but the layers will give you volume and texture.
Long Blended Curtain Bangs
Believe it or not, this look has been around long before curtain bangs were a thing. It was just called Kim Kardashian face-framing, though, or at least that's what I called it. I've had this haircut for as long as I can remember, playing with the length of the bangs, how much face-framing is in it, and how layered it is.
The only people I do not recommend this curtain bangs style for are those with long or triangular-shaped faces. It will only accentuate your jawline and make your face appear longer. However, this style can work for any hair type or hairstyle that you may go for.
Curtain Bangs with a Layered Bob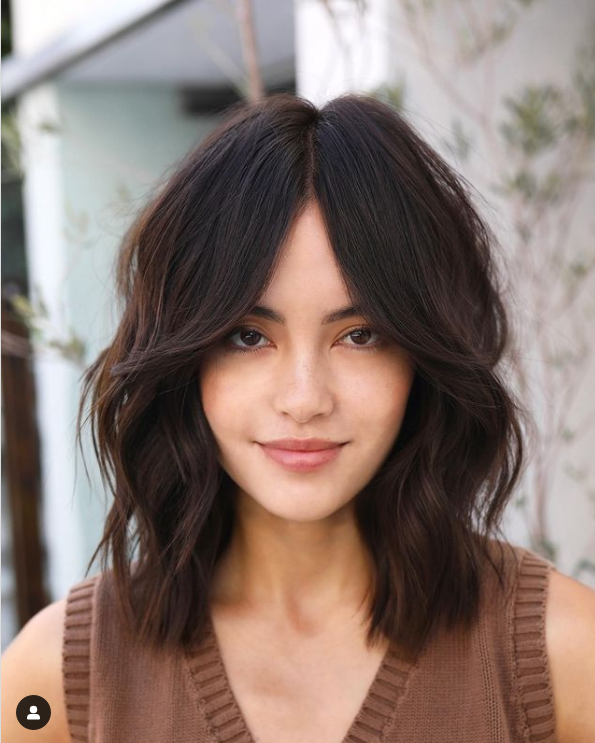 The way this cut frames the model's face is perfect! The curtain bangs stop just above her cheekbones, making them stand out, and the bob's layers round out at her jawline, giving her a more oval appearance. I also like the way she styled the entire look with textured waves.
This style can work for everyone, from thin and straight to thicker, wavy hair. The only hair type that I do not recommend this style for is those with curly hair. Bobs are already somewhat tricky to make work with curly hair, but adding a curtain bang to it can round out the bob and make it look a bit mushroomy.
Short Wispy Curtain Bangs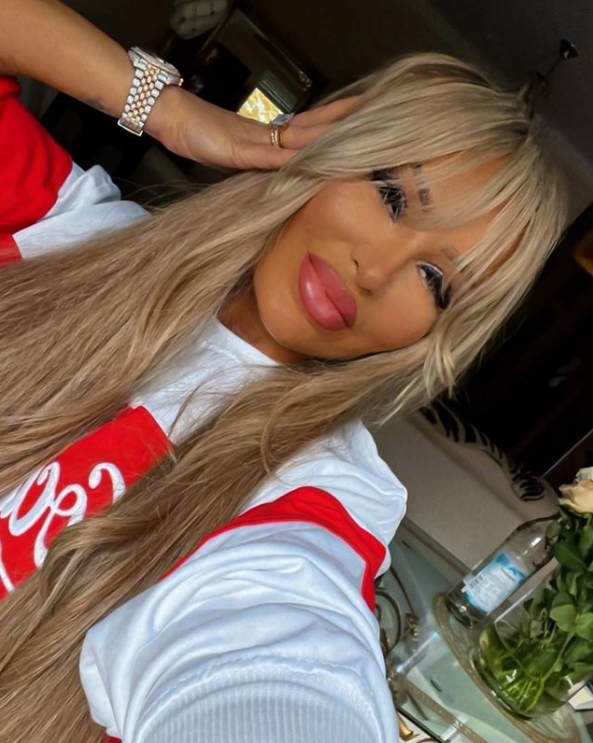 Wispy bangs will always be in style because of their low maintenance, ability to look flattering on any face shape, and the various hair types they can be done on. When you mix wispy and curtain bangs, you get a cross bread of straight-across and face-framing bangs. They're long enough to bevel to the sides but thin enough to bring a few pieces down in front.
Since these bangs are nearly see-through, it is one of the few short curtain bang styles that rounder and square face shapes can pull off. It will still give your face some shape for longer face shapes, but they're pushed more to the side, providing a more oval appearance to any face shape. I also love this style with curly hair as well as straighter styles.
Curtain Bangs with Face Framing Tendrils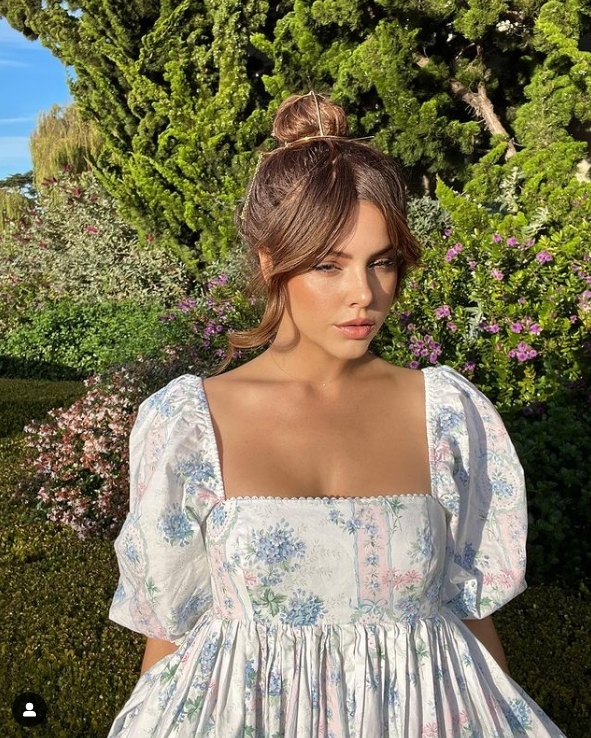 One of the most significant advantages of having curtain bangs is having some hair fall out of a ponytail or top knot to create a young, carefree style. To make it look even more carefree, I like to cut a few smaller tendrils slightly longer than the curtain bangs. This gives your bangs more wispiness when pulled out of an updo, so they're not so blunt.
This look is great for all hair types, from straight to kinky. It can also look good on all face shapes, depending on how long you make the bangs and tendrils. For longer and triangular faces, try short curtain bangs with some face-framing tendrils down to the chin. The way the model has hers in the picture is great for rounder and square face shapes.
Short Curtain Bangs with FLayers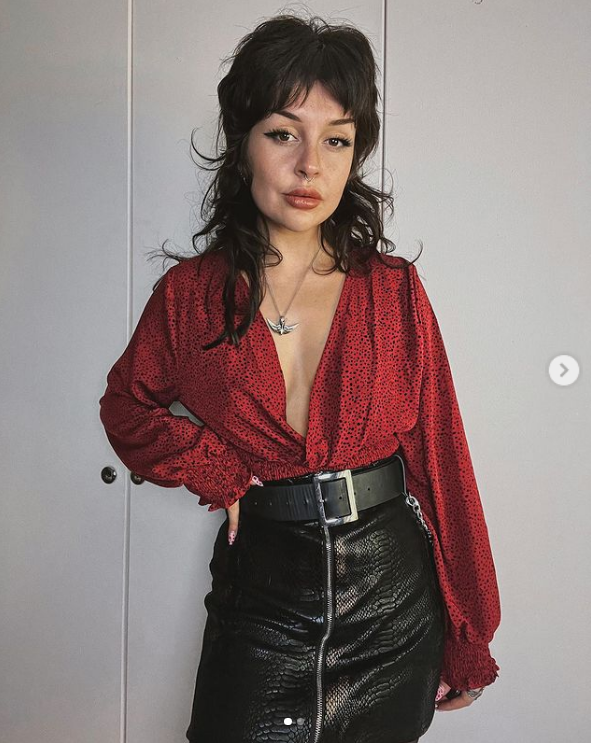 The shag is back in style, and curtain bangs fit the style well because they're from the same era. I like to make the curtain bangs the same length as the layers on top of the head. Therefore you usually end up with short curtain bangs in this style. The curtain bangs naturally become layered because of the shaggy layers throughout the haircut.
Anyone can pull off this style because it's more about your confidence in wearing it than how well it suits your face shape or hair type. You should know that this style is pretty high maintenance, though. The layers need regular trimming and texturizing to stay shaggy and messy.
Long Curtain Bangs with Long Layers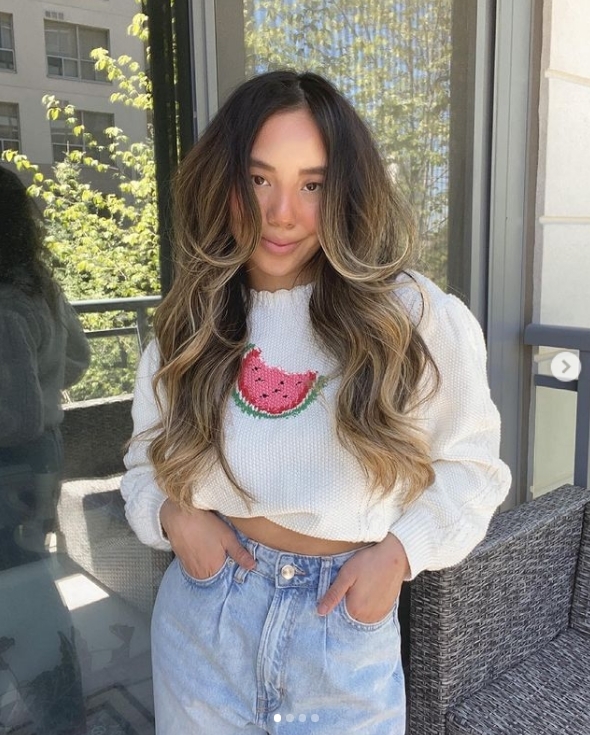 This bangs style is great for those that don't like hair on their face. The bangs are long enough to be tucked behind the ears easily or pulled back into a ponytail. You also don't need to worry about maintenance because the bangs will grow into the rest of your layers instead of growing out of shape.
Another unique thing about this style is that you don't necessarily have to part these curtain bangs in the center to get the flippy, symmetrical style. You can part slightly to one side or the other and still have the curtain bangs aesthetic, as long as it's not a deep side part. It is also one of the least dramatic styles on this list, making it perfect for those unsure about bangs.
Curly Layered Curtain Bangs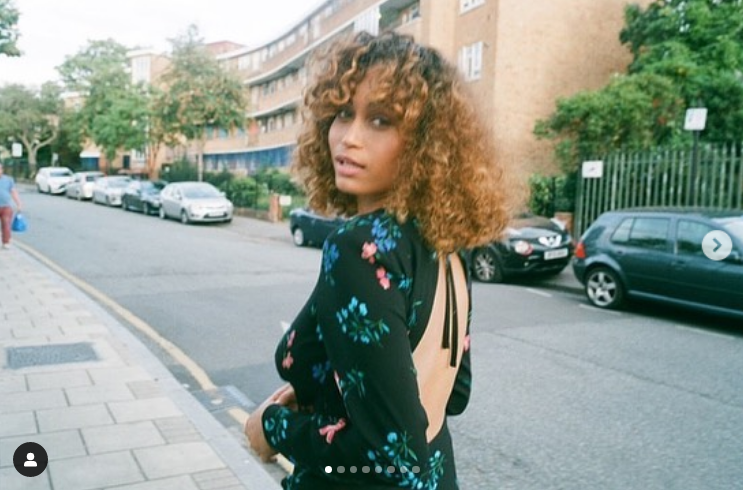 Yes! You can pull off curtain bangs with naturally curly hair! You do need to be careful when cutting them because they could quickly turn into little pom poms on each side of your head, but when they're cut correctly, it's beautiful. Start by taking a tiny bang section and cutting the curtain bangs to your chin. After you've dried and styled them, you can cut more if you want them shorter or thicker.
They will shrink and get fuller as you dry and style them. To create even roundness in your curls, you will also want to slide cut into the bangs by slicing your scissors from the mids to the ends. This will add weightless layers and help them blend into the rest of your curls better.
Curtain Bangs and a Wolf Cut
A wolf cut and curtain bangs go hand in hand. This is because a wolf cut is basically layered curtain bangs brought just a little too far back into the rest of the hair. Doing this creates that nice blend of mullet and shag that we all love about a wolf cut.
This is the edgiest look on this list but also the trendiest. You can make it more dramatic by bringing the shorter layers further back and the back lengths longer and wispier. For a less dramatic look, bring the lengths more forward to resemble more of a shag. The haircut pictured is a mid-level wolf cut, with curtain bangs that perfectly layer into the lengths.
Short Bob with Layered Curtain Bangs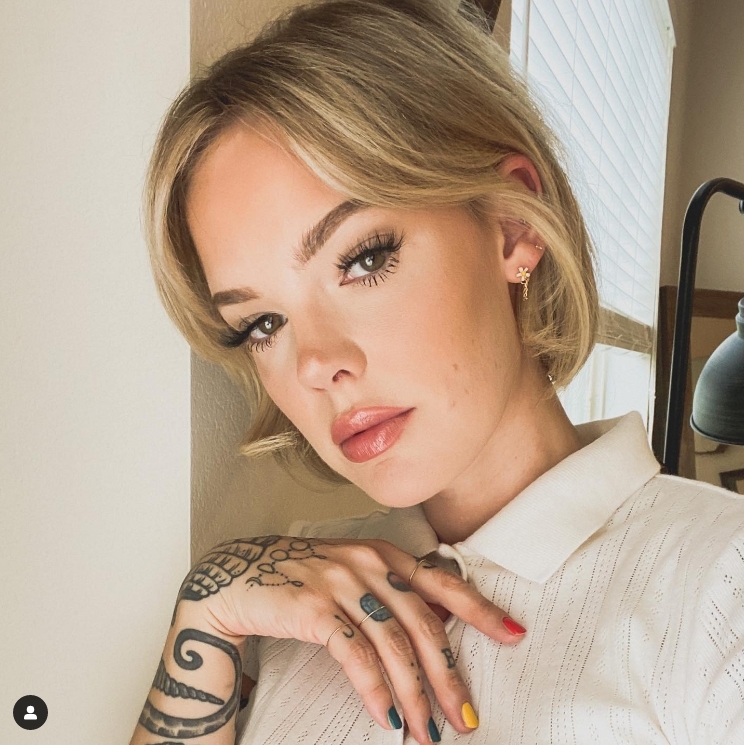 The flippy ends of this bob mixed in with the bevel of the curtain bangs give it a dainty look. It almost reminds me of the styles you saw in Great Gatsby with Leonardo Dicaprio and Toby McGuire. I love how the curtain bangs layer into the tucked hair pieces behind the ear. It gives it a soft look that seems timeless.
This is an ideal hairstyle for those with thin, straight hair. It's challenging to find a hairstyle for this hair type, and this one gives you fantastic volume with the curtain bangs without taking too much weight through the ends. It can also be worn with many face shapes the way she styled it, emphasizing some facial length with the tucked hair and rounding it out with the short bangs.
How to Style Layered Curtain Bangs
Curtain bangs are nothing without the backward bevel that makes them come slightly around the face and back into the rest of your hair. Sadly, nobody's hair naturally does this. I have never seen it in the ten years of doing hair on hundreds of clients. You will have to style your curtain bangs, and this is how you do it:
1. Blow Dry your Bangs
To make your hair go in towards your face a bit, you will have to blow dry the hair into your face. I do this by sectioning out my bangs and blow-drying them straight down with a paddle brush and side to side. Your bangs will be directly in your face after this step, but don't worry. We'll get them out of your face in the next step.
2. Use a Round Brush to Add Bevel
Your round brush should be small enough for your bangs to wrap entirely around it. With your bangs straight down in your face, lay your round brush on top of your bangs. Wrap the hair up and over your round brush and start blow drying from underneath and rolling the brush up to the top of your head. Pull the brush back over the top of your head and let your hair cool for a minute before releasing the hair.
3. Use a Straightener or Curling Iron If Needed
Most of the time, your bangs will do what you want them to do after step two, but if they are not being nice that day, you can fix them with a straightener or curling iron. If you're using a straightening iron, hold your bangs straight up and clasp an inch or two away from the root of your hair. As you pull up the hair, flip the iron back 180 degrees. Curl it like this until the ends fall out.
I usually prefer a straightener when beveling curtain bangs, but it is more challenging to use than a curling iron. If you can't figure out the straightener (don't fret, most people can't), take an inch to an inch and a half curling iron and clasp it over the ends of your bangs with them pulled straight up. Turn the curling iron down, going toward the back of your head. Hold it until the hair is hot to the touch and release.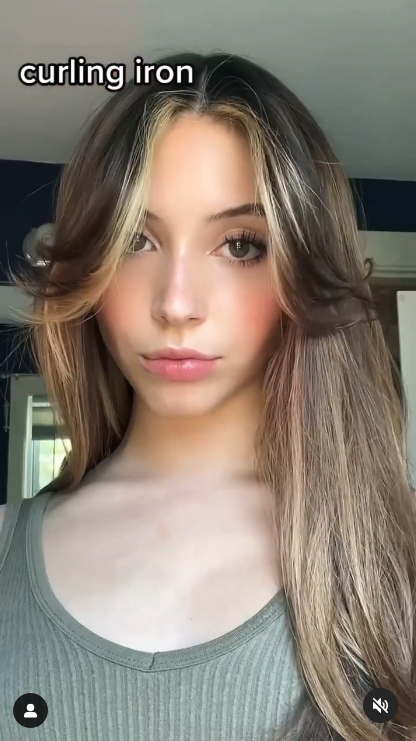 FAQ's
Question: Are curtain bangs out of style in 2022?
Answer: Curtain bangs are very much still in style, and I feel they will stay around for a while. They are a very versatile and low-maintenance bang style, so it is the go-to bangs for the moment. One thing you should know about bangs is that there is always a trendy bang style. The style changes every so often, but there is always a type of bangs in style.
Question: What is the difference between curtain and layer bangs?
Answer: The difference is curtain bangs are a specific type of fringe, whereas layer bangs are a technique that can be used across many types of fringe. Technically speaking, curtain bangs are a type of layer bang. However, layer bangs can also be wispy bangs, choppy bangs, or face-framing bangs.
Question: Do curtain bangs require maintenance?
Answer: Like any other haircut, curtain bangs must be trimmed every six to eight weeks to keep the style. Although, this is much less maintenance than any other type of bang. Different bang types require a trim every four to six weeks to keep their shape. Another unique thing about curtain bangs is that they can be grown out without touching them again. In contrast, other bangs must be shaped throughout the grow-out process.
Which Layered Curtain Bangs Are Right for You?
Out of all the ideas that I have listed above, you should be able to find the perfect layered curtain bangs for you. Overall, the best style depends on what you like and what you feel confident in. However, I like the wolf cut with curtain bangs if you want something fashion-forward. For something subtle and low maintenance, go for what I have! The long blended curtain bangs.
Looking for more interesting readings? Check out: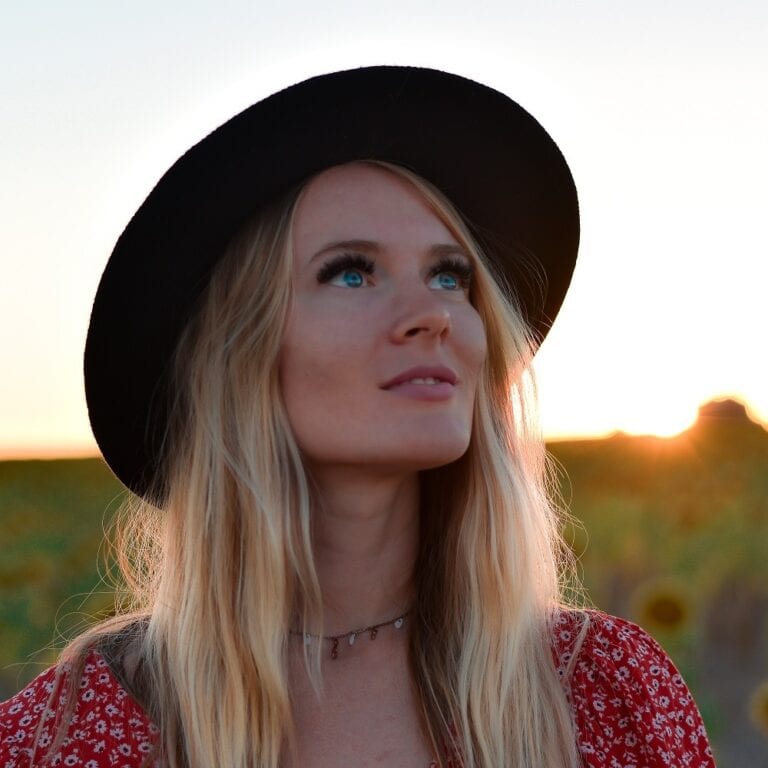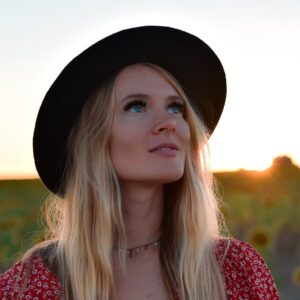 Latest posts by Haley Parker, Licensed Cosmetologist 10+ years
(see all)