A bob with curtain bangs is one of the most stylish hairstyles you can rock this season. Of course, a bob itself is already a big move if you have long hair, but with curtain bangs, you will really make a significant change. A bob with curtain bangs seems really straightforward, but it is just a framework you can work with. There are many different hairstyles and ideas you can try out to personalize and find the perfect bob with curtain bangs for you.
When clients come in and ask for a bob with curtain bangs, I shower them with questions about the type of hairstyle they want. This is because once you create this hairstyle, it is not easy to change it into something new. Therefore, even though I absolutely love a bob with curtain bangs, I always advise my clients to think twice. Still, once they decide and we get the exact idea, the hairstyle turns out to be beautiful and just the right fit for them.
I love how even though it is a very specific hairstyle, there is still room to experiment, so here are my ten ideas&style guide for a bob with curtain bangs.
Bottom Line Up Front
The long bob with curtain bangs is the most subtle change and a good option for starters. It is a hairstyle you can easily adapt and change anytime you want, and it gives you many options to style it. If you are up to something more dramatic, you should choose a pixie, angled, or French bob because they are short, effective, one-time hairstyles that you don't have to style much later.
What Is a Bob With Curtain Bangs?
Bob with curtain bangs. What is bob with curtain bangs? Well, before we get into what it is exactly, let's solve a basic question: what is bob? A classic bob is a haircut that features medium-length to short hair with straight sides and a blunt back. However, bobs can be diverse in terms of length, angle, and way of styling. Curtain bangs are long, center-parted bangs that give off a curtain-like appearance. A bob with curtain bangs is a haircut styled so that the hair at the front of the face is cut into straight, curtain-like bangs. People love it because of the low-maintenance upkeep and the flattering look on different face shapes and ages. The hairstyle makes a face look slimmer while giving a youthful look. 
Fun Fact: The bob with curtain bangs look has been worn by celebrities including Bella Hadid, Hailey Baldwin, and Emma Watson.
Selection Criteria
I have selected all of these ideas because they are interesting and show the diversity of the hairstyle – bob with curtain bangs. They are not basic hairstyles but really something different that will make you stand out. Some are short, some are long, and some have interesting colors. These hairstyles are easy to style and look good on most hair types and colors. You can use these as an inspiration to create your bob with curtain bangs that best describes your character.
Bob and Curtain Bangs Hair Ideas.
1. Pixie Bob With Curtain Bangs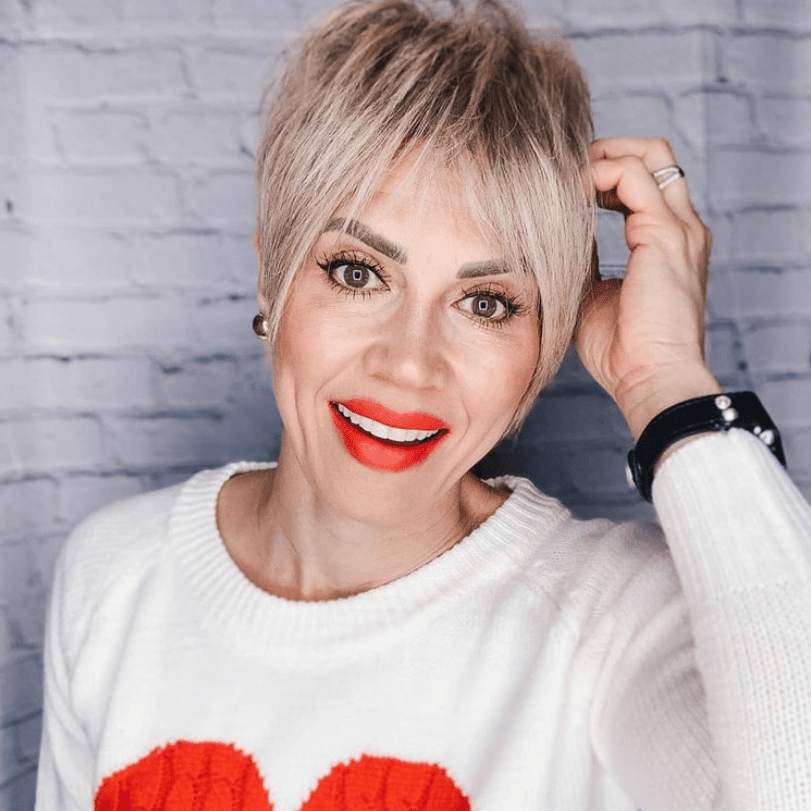 A pixie bob with curtain bangs is a shorter hairstyle for those who want a more edgy and fierce look. It is not your usual bob; a pixie bob is very short in the back and longer in the front. It is very easy to style; you wash your hair and dry it with a blow drier. A pixie bob with curtain bangs is one of those hairstyles that, once you cut it, will always stay in place. That is great for people who love low-maintenance hairstyles.
Still, it is tricky if you want to change your hairstyle for a day; there isn't much you can do. The curtain bangs in this look add more elegance and kind of smooth the look, not making it so bold like just a pixie cut. This look is fantastic for every age group and every color. The blonde and brown highlights are my favorite because they add more depth to your hair, making you look even more attractive.
2. Shaggy Bob With Curtain Bangs
Shaggy bob with curtain bangs is one of the less dramatic looks because your hair blends in with your bangs, making it look like a full look. It is an amazing look for people who want short hair but still want to change their hairstyle every once in a while. The curtain bangs are not so distinctive here, so it is an excellent choice for those who are unsure if they want bangs.
I love the color blonde and the darker roots because it adds depth and volume to the roots, making the hairstyle look more modern and fun. I recommend this hairstyle to anyone who wants a more subtle bob with bangs that you can change whenever you want. If you get tired of the shaggy bob, you can always make a head braid or use a flat iron to straighten your hair. This look gives you many options; whoever has thicker hair can rock it. A shaggy bob is effortless to achieve just by washing your hair and drying it with a round brush. For those who are naturally straight here, you can achieve this look with a curling iron. Just don't forget to shake your hair after using your curling iron to get that non-defined locks look.
3. Angled Bob With Curtain Bangs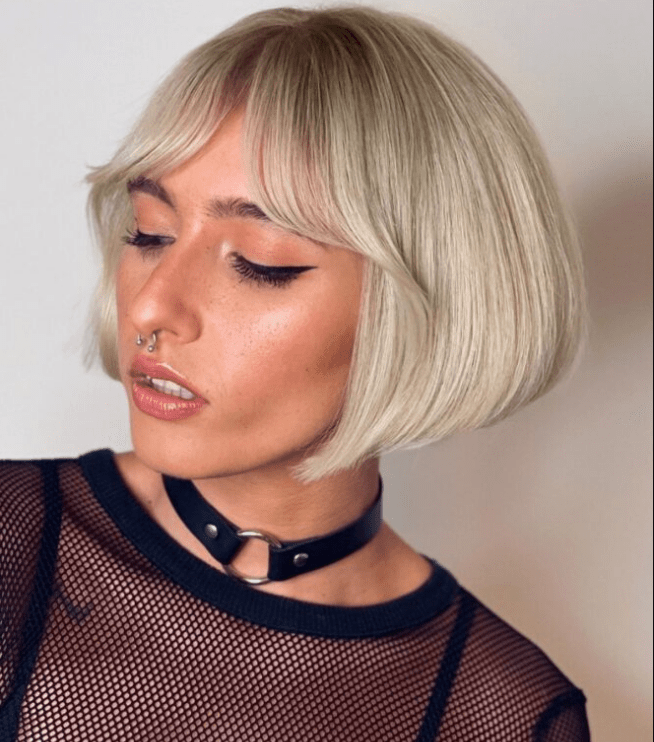 An angled bob with curtain bangs is a fantastic look that is awesome for people who want to make a big change. The angled bob highlights your facial features, and you will have your hair ready in minutes. In addition, it is really easy to maintain. You just wash your hair and blow dry it,  but you can't change it easily if you want to. I love how the curtain bangs are more defined in this look, so it is an excellent choice for bangs lovers. The blonde color spices up the look even more, so I suggest blonde, red, or even pink with this look.
This look is better for younger people because it really highlights your face and neck, making you the center of the spotlight. For the hairstyle to look good, your hair needs to be straight. If it is a bit frizzy or curly, you won't get this look.
4. Long Bob With Curtain Bangs
The long bob with curtain bangs is a very soft and elegant look for those of you who can't decide if you want short or long hair. A classic bob implies shorter hair, but fortunately, we are here to break the rules and make our own long bob with curtain bangs. This look is very classy and elegant, and the best part is that you can style it however you want. Unlike the classic bob, which gives you a form you should follow, a long bob gives you more options.
With a long bob, you can straighten, curl or braid your hair when you want to and enjoy your "primary" hairstyle without much effort. For those of you who are not sure if you want a bob or not, this is a good first step. After a long bob, it is easy to cut your hair into a classic bob. The long curtain bangs are also a big win for this hairstyle because they make it more interesting and stylish. Any hair color goes great with this hairstyle, but I would go for a brighter one to spice up the look. Highlights work amazing on this hairstyle, especially on the bangs.
5. Straight Classic Bob With Curtain Bangs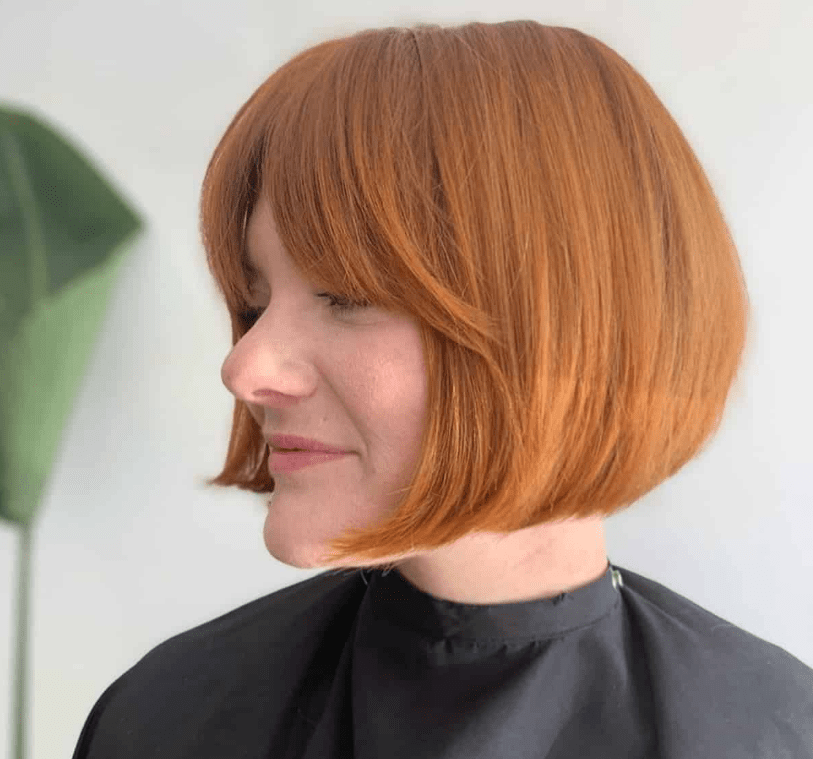 For those of you who don't want to experience and want an old-fashioned good classic bob, here is an idea for you. The short bob looks even more amazing with the curtain bangs. Still, if you want to try out something different, this ginger color takes a look to a whole other level. Ginger is a fun color for every season and hair length. With a bob, it looks spicy but at the same time brings warmth.
I recommend a classic bob to more mature people who don't want to waste hours on their hairstyle. With a classic bob with curtain bangs, you just need to trim it regularly and wash it. Ginger is just an idea for your color; this look can look classy with black and blonde and stylish with more dramatic colors.
6. Wavy Bob With Highlighted Curtain Bangs
A wavy with highlighted curtain bangs is one of my favorite looks for brunettes. This look will give you second thoughts for everyone saying that blondes have more fun. A wavy bob is such a stylish hairstyle that you can wear every day or for a special occasion. You can easily make the waves by rolling up your hair in socks and sleeping with them. Then, in the morning, you will have perfect waves without burning your hair.
This look is very easy to style and looks good on everyone. What I especially love about this look is the highlights on the bangs. The highlights make the bangs and the whole face stand out more and prompt a youthful look. This is a perfect summer glow look that you can rock until your hair grows out.
7. French Bob With Curtain Bangs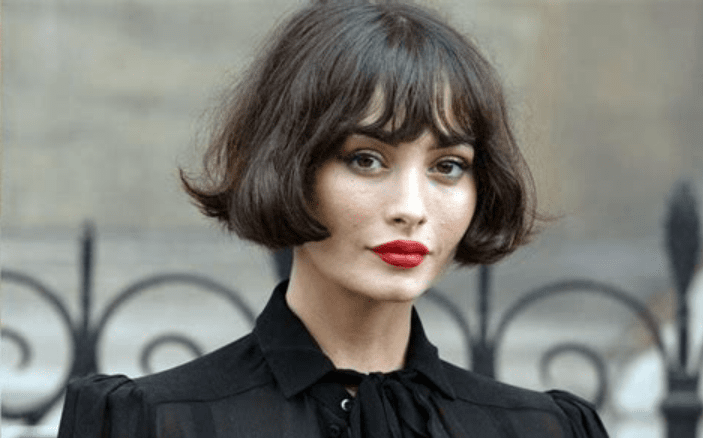 A French bob with curtain bangs is definitely not a look for everyone, but it is fantastic for those who know how to style it. The French bob is a short undefined bob that gives you that "I woke up like this" look but in a very modern, stylish way. Once you cut your hair this short, you don't have to worry about styling it. The messier it is, the better. The point of this hair is for you not to define it, straighten it, or cult it.
This must be one of the easiest hairstyles to rock and style every day. The black color goes well with this one, and I recommend darker colors for this look. I see many older and younger people rocking the French bob with curtain bangs, so I guess it is just your character.
8. Layered Bob With Curtain Bangs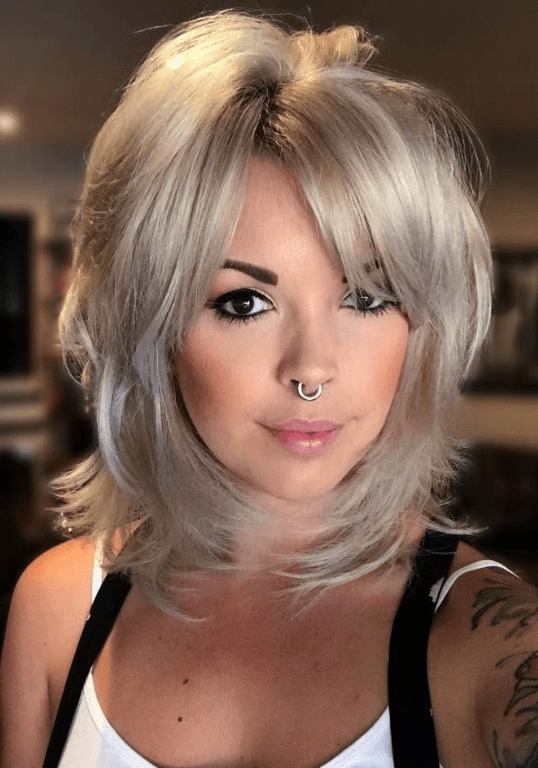 The layered bob with curtain bangs is an amazing look for those who want volume and length while rocking a bob with bangs. It is such a cool hairstyle that doesn't seem like a bob at first. The layers add depth and volume, which is fantastic for people with thick hair or those who want their hair to appear thicker. I love the color blonde for this look because usually, blondes don't like layers, but this look would go amazing with blondes. On darker hair, I don't think the layers would be that much highlighted like in this picture.
You can easily style this hairstyle with a hair brush and a blow drier. Just make sure to blow out each layer individually to make it look this puffy.
9. Classic Purple Bob With Curtain Bangs
A classic bob with curtain bangs but with a big twist. This is for all of you who want to spice up your look with an interesting color. I love how the bangs blend in perfectly with the rest of the hair, and purple gives a whole new dimension. I love purple both on long and short hair because it is a fun color that looks good even when washing off.
You can style the classic bob easily, just by blowdrying your hair, so this hairstyle is easy to manage every day. A shaggy bob would also look amazing with this color. I think this is the best choice for those who want to experiment with colors and not hairstyles.
10. Pink Non-Defined Bob With Curtain Bangs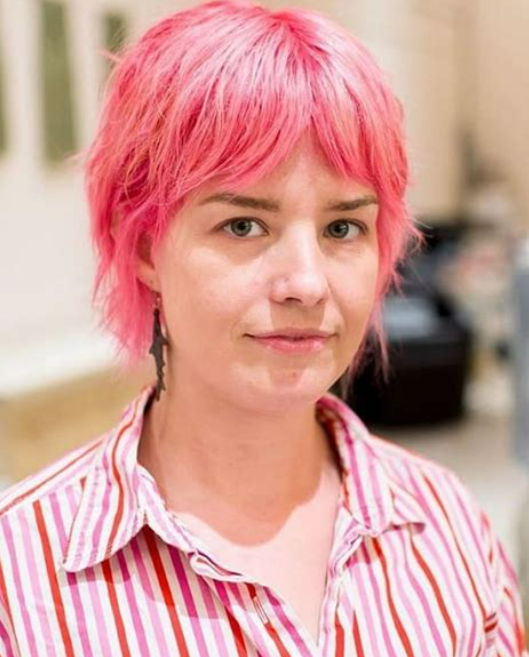 A pink non-defined bob is an edgy look that will make you stand out from the crowd in seconds. This bold pink color looks fantastic with this hairstyle because it makes it more attractive and stylish. The curtain bangs bring this old hairstyle back to life with a new 2022 vibe. This hairstyle is the easiest one to maintain. You don't even have to blow dry it; you can let it naturally dry and just rock it the way it is. The whole point of this hairstyle is for it to look effortless.
Tips and Advice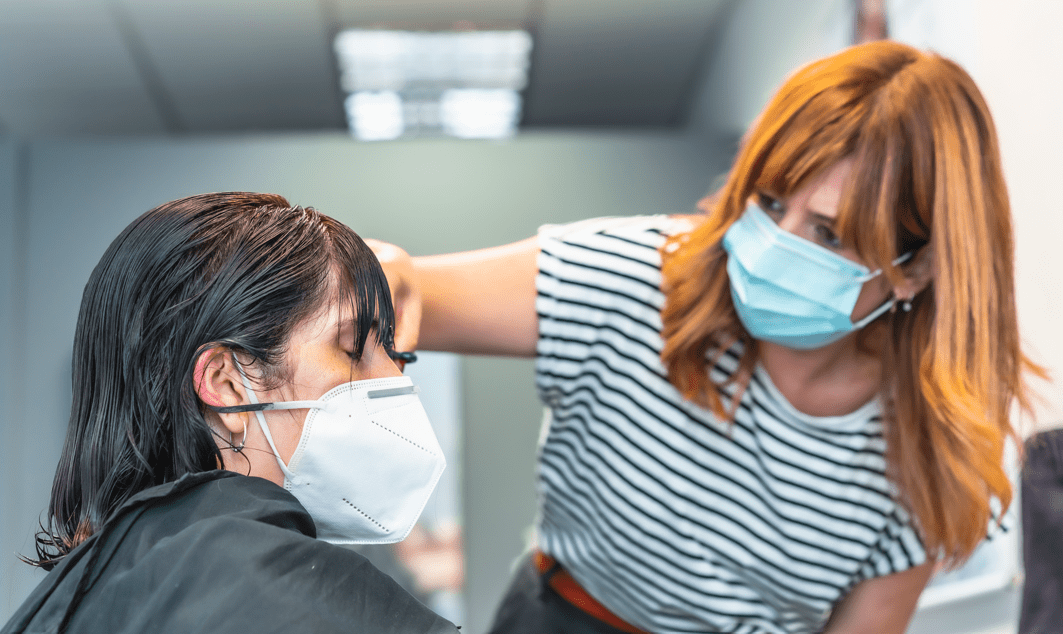 How to Cut Curtain Bangs by Yourself?
Curtain bangs aren't as tricky to cut as other types of bangs, so if you think you can follow these steps, I am sure you will cut them perfectly.
Decide if you are going to cut a center or side part bang.

Comb hair in front of your face straight down over your eyes.

Cut bangs straight across at the desired length, keeping the bangs level.

Determine how long you want the sides of your curtain bangs to be, and trim them at 45 degrees so they are even with each other.

Lay hair back across the forehead and comb it on each side of the part with a rattail comb to create the parting.
Pro tip: Always cut your hair while it is damp. It will give you a better view, and you will cut it more precisely.
Should You Cut Curtain Bangs by Yourself?
I think curtain bangs are one of the easiest bangs to DIY. You can easily cut them with proper scissors and instructions at home. Still, if you are unsure if you will cut them equally by yourself, you should go to the salon. A hairstylist at a salon will charge you, but you will be sure that your curtain bangs are equal. Then, after seeing how your hairstylist does it, you can copy that and do it yourself once they grow out.
Surely you will need to redo your bangs every once in a while because they will outgrow the desired length, which can be easily done at home.
How to Style a Bob With Curtain Bangs Easily?
If you want to style your bob, the easiest way is just to wash your hair and blow dry it. Then brush it and part the bangs; use hairspray to lock in the look. Most bob hairstyles just fit in the place after you have washed them with a good shampoo. Here are some shampoo recommendations you want to try out with your bob.
You can style your bob with a flat iron and a good hairspray if you have frizzy hair. If you want a bit of a non-every-day look, you can curl your hair a bit and create a shaggy bob look.
FAQs
Question: What is the difference between side bangs and curtain bangs?
Answer: Side bangs are longer than curtain bangs and angle in at the sides. Curtain bangs have gotten their name from curtains hanging beside windows. They usually have a poofy appearance and are generally easier to style due to their fullness.
Question: Are curtain bangs suitable for every face shape?
Answer: Curtain bangs work with almost every face shape. They are a good choice for those who have round faces because they add volume and depth and are good for those with longer faces because they can help balance things out and keep those faces from looking too long.
Question: Is a bob good for every face shape?
Answer: Bob haircuts with bangs are great for those with medium to long face shapes – narrow and rectangular. However, I don't advise women with round or square faces to wear short hairstyles with front bangs as it would make their faces appear even more round.
Conclusion 
After reading this article, you will see that even though a bob with curtain bangs seems like a one-option hairstyle, there is plenty to choose from. I recommend these hairstyles to anyone open to changing their hair and making it look stunning.
For those who don't want to give up their long hair so quickly, a long or layered bob with curtain bangs is a great solution. It will give you a fresh hairstyle, but you won't lose much of your length. If you want to experiment more, the pink and the purple bobs are a great color inspiration for anyone. Plus, you have multiple bobs like a shaggy, pixie, and angled bob for a more dramatic look. We hope this guide helps you find the right hairstyle for you and inspire you to be your true self.
Looking for more interesting readings? Check out: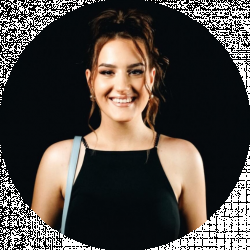 Latest posts by Milica Ugrenovic
(see all)