Do you have black hair and are trying to find ways to spice up your locks? I get it — I have black/dark brown hair naturally. As the most common hair color in the world and one that doesn't take well to many other colors, it can be difficult to find ways to style it. Surprisingly, the same may be said about blonde hair. Blonde hair can be more difficult to hold and maintain color.
But could you combine blonde and black hair? You totally can! And your style options are limitless. I've had the black and blonde look before, and I know how chic the right style can look. Here's our black and blonde hair ideas & style guide.
Bottom line up front: Out of all of these black and blonde looks, the balayage is my favorite. I especially love it because one day I plan on growing out my grays, and this look is the perfect way to do so without bleaching my dark hair white. Otherwise, I love all of these looks, and I suggest you look through all of them. Be sure to always get a recommendation from a hairstylist before achieving any of these hair colors.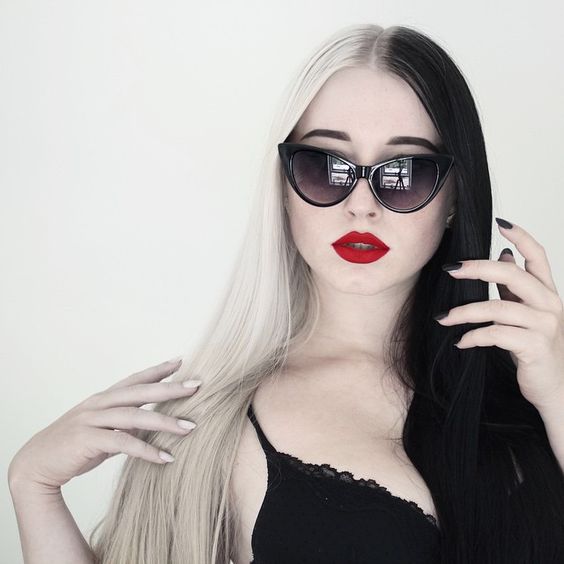 Tips to Dye and Maintain Black and Blonde Hair
I've had the black and blonde look before. One of the best aspects about this look is it's pretty easy to maintain. However, there are some tips and best practices I learned along the way.
Use a Good Dye (Or Go to a Pro)
If you're DIYing your black and blonde hair, make sure you're using a high-quality dye. Since both black and blonde are natural hair colors, you can find these shades in nearly all dye types and from all major dye brands. But you should still do your due diligence to ensure you're buying good quality hair.
I've really only used hair dye from Sally's Beauty Supply and had the best experience with those brands. I used two brands: Ion was one and I also used an anti-aging brand to cover up my grays (I think AgeBeautiful was the brand). Both dyes had a lovely color payoff that was accurate to the description. My hair also felt healthy afterward.
My biggest piece of advice is to ask for help, whether from someone working at Sally's or from a friend who dyes their hair. That's the only way I was ever able to dye my hair DIY.
Now, I only get my hair done professionally. Stylists use better quality dye and can work with your unique hair type. This is especially integral if you're bleaching your hair.
Dye Hair That's in Good Condition
There are many reasons that you should achieve your black and blonde hair when it's healthy. Not only will your hair suffer less damage in the long-run but color holds on better when your hair is healthy. Even if you're dyeing your hair DIY, you should at least make a trip to the salon and get a trim.
How do you maintain hair health? Use a moisture mask. Hair masks have always been the best thing to bring my hair back to a healthy state. You can also use a deep conditioner every day. On the days you don't wash your hair, always use a dry conditioner. This brings us to our next point.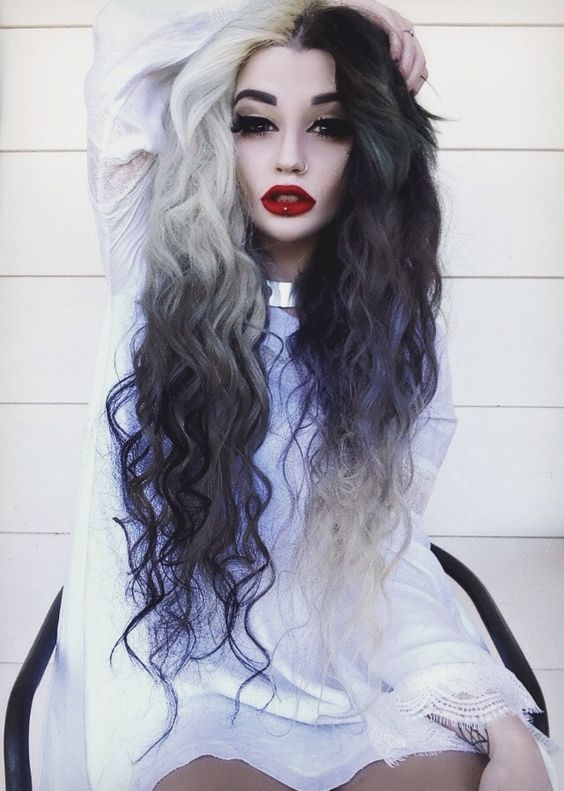 Avoid Washing Your Hair
Even if you use permanent dye, your black and blonde tresses will fade in color over time. The best way to prolong your color is by refraining from washing your hair. I even asked my own hair stylist about different shampoos, formulas, and hair products. She still says that I should only focus on avoiding washing my hair as much as possible. When you do wash your hair, use the right shampoo and conditioner. Use formulas that are designed for color-treated hair.
You should also avoid swimming in the pool or the ocean. If you're a professional swimmer, you can avoid this problem by wearing a swimming cap.
But inevitably, oils will build up around your scalp. How do you avoid that? Dry shampoo and powders are a great way to keep your hair looking fresh throughout the day.
Avoid Heat
In addition to avoiding water, you should also avoid heat. Heat styling products and even the sun can open up your cuticles, which can spill out your hair dye. Let your hair dry naturally. If needed, take your showers at night. Curl your hair with texturizing spray or use straightening serums to tame natural curls. If you need to go out in the sun, wear a hat. I'm dyeing my hair during the summer, and I have a baseball cap ready for when I need to go out in the scorching sun.
Get Touch-Ups When Necessary
Black and blonde hair aren't as high-maintenance as other colors, but touch-ups may still be required. This is essential if you're like me and have grays growing in. Fortunately, most people only need a color touch-up every 6-8 weeks when dyeing their hair black and blonde.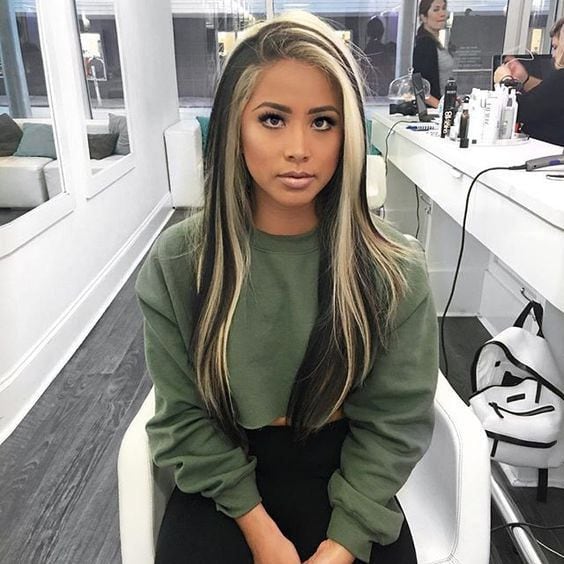 How I Chose These Looks
I took a couple of factors into consideration. Since black and blonde are opposite colors, combining both is eye-catching. This is great if you want a rocker hairstyle, but may not be appropriate in the workplace. I tried to include some subtle looks in addition to fierce looks.
I also kept the season in mind. Most people go lighter in the summer and darker during the winter. In addition, I also considered current hair trends as well as nostalgic looks.
My Favorite Black and Blond Hair Ideas
Now that you know all about black and blonde hair dye, how to maintain it, and what styles to look for, here are my favorite black and blonde hair looks on Pinterest!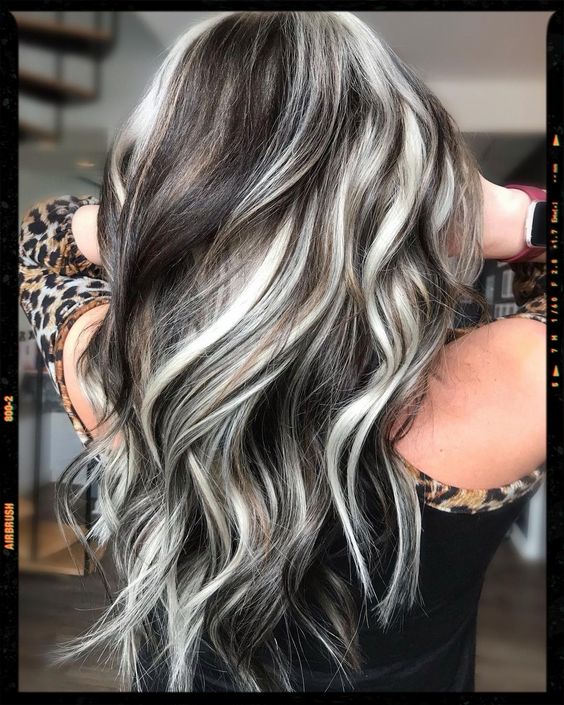 This is such a great look if you have black hair but are growing out your gray roots. I may even consider doing a look like this when my roots are white enough. This look is more of a swirl — not so much a balayage or lowlight style. It's more of the perfect swirl with shades of black, gray/white, ash blonde, and even some brown. The model's wavy hairstyle embraces the contrast of these colors even more. Since ash blonde is a trending hair color, this is also a very modern look.
This is similar to the look that I used to have! This is especially stylish if you want to do something a little extra to your long hair. This look is very edgy but still chic. You can either leave your hair with natural waves, like what the model has, for a casual style or curl and straighten it for a more formal look.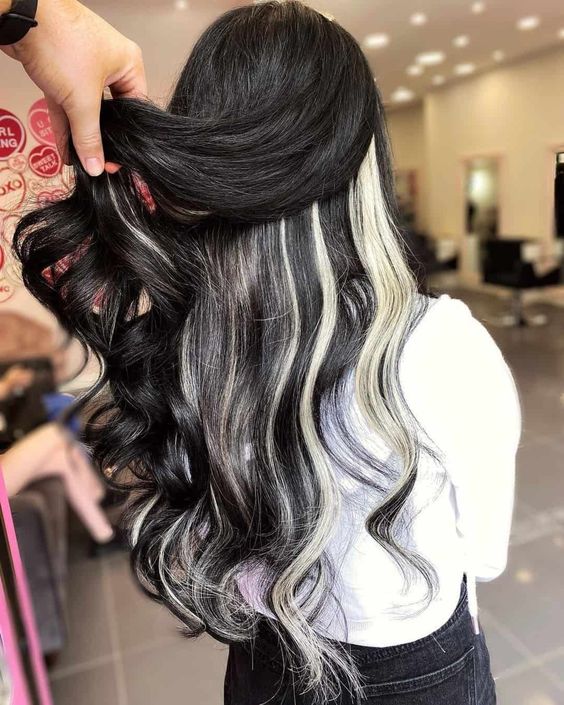 The peek-a-boo look is such a cute and modern look. I especially recommend this look to those who often wear their hair up, since you can see the two colors best in a bun or ponytail. The ash blonde under black hair has such an edgy vibe. Plus, you won't have to bleach as much hair nor do you need to return to the salon for touch-ups.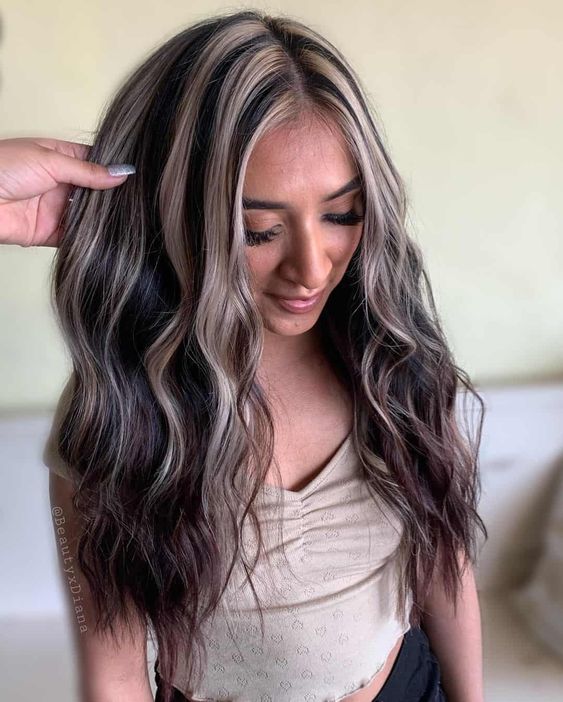 Blonde streaks on black hair are such a nostalgic look. The best part about this is you don't need long hair to achieve cute streaks like this. You can also opt for skinny streaks, like what the model has, or opt for chunkier highlights. I also love the combination of black with the toned-down blonde here.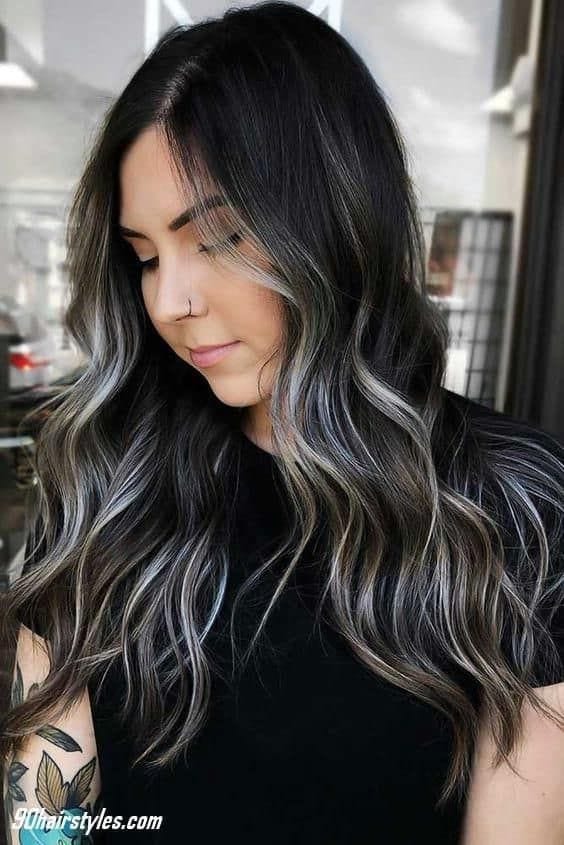 This is a great look if you want to do the black and blonde hair look without going to the salon every other month. Like the balayage, lowlights are super trendy. The light blonde lowlights here are super fashionable. You can also do this look with black lowlights if your hair is blonde.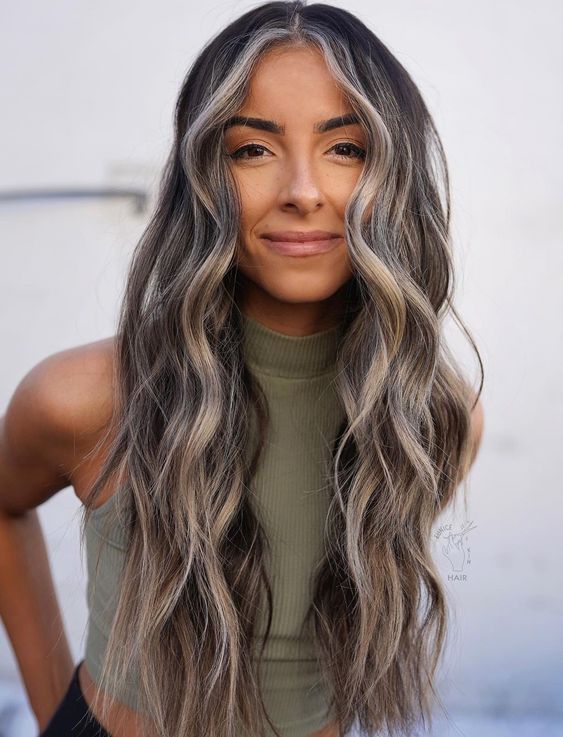 I love the combination of honey blonde and natural gray the model has in her hair. The gray hair in front of her face helps to brighten her complexion. This is a great look if you're growing out your grays or want to mix your existing grays in with stylish hair color. I can also see this look growing out really well.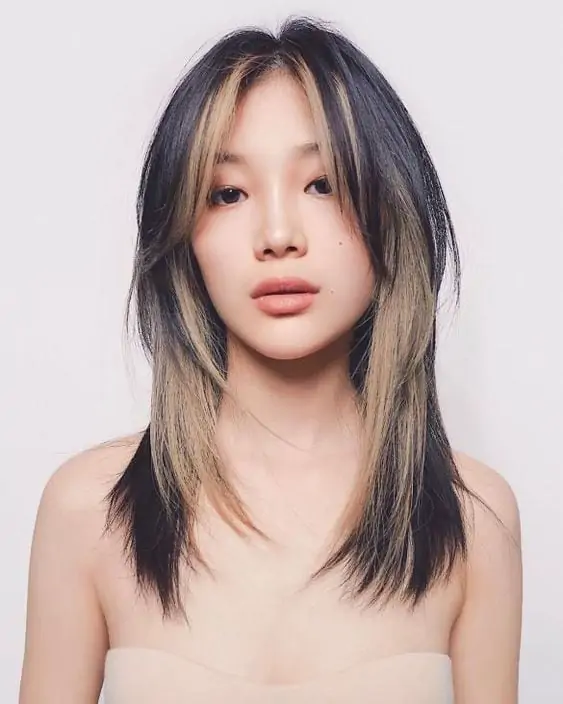 While I love ash blonde, this color doesn't look good on women with warm skin tones. That's why I also want to recommend some looked with a honey blonde variety. I love not only the color of the model's steaks but also the placement. They brighten up her complexion. This look is edgy but still subtle.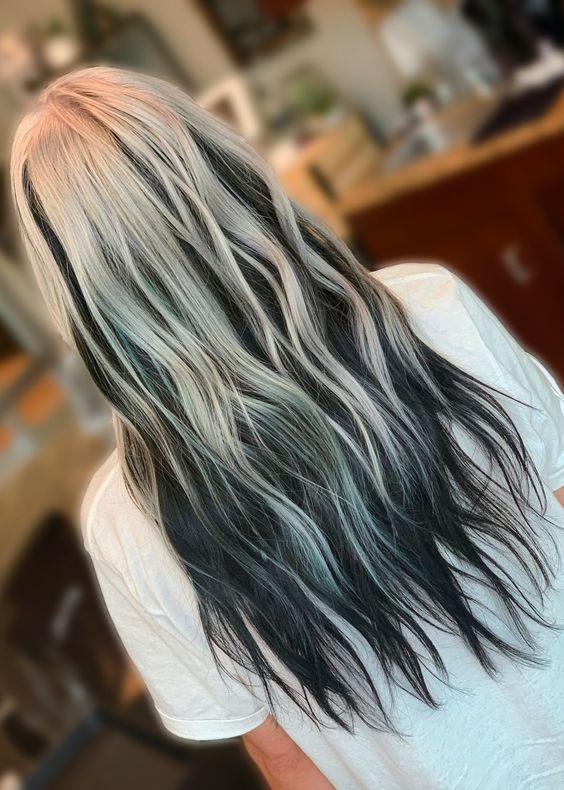 Are you a natural blonde and want to add black to your hair? This is a great look! I love how striking yet reserved this is. I can see this style working in an office setting, and it's also classy enough for formal events. However, it's adventurous enough for those who want a new hair color.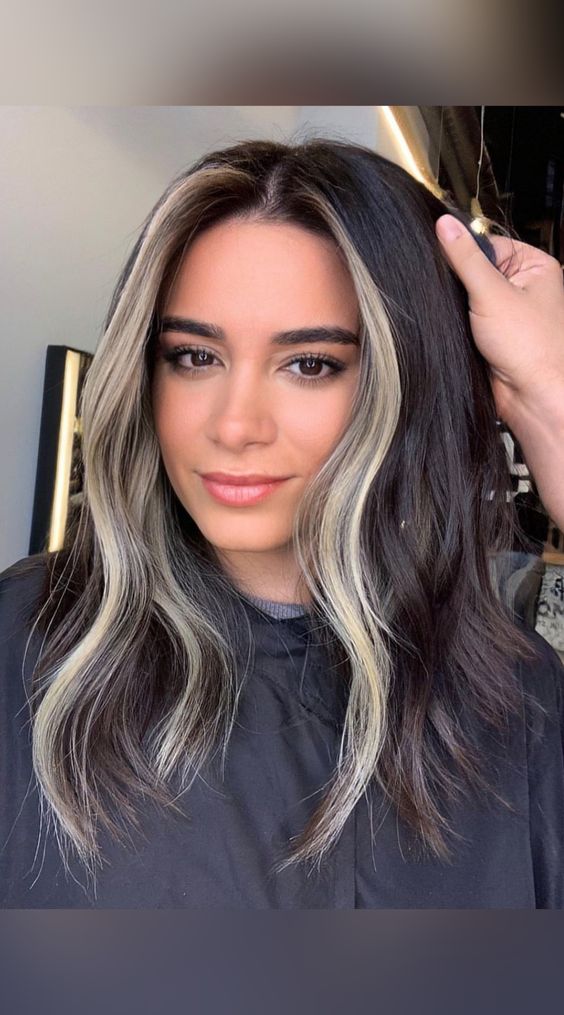 I love how the model here has ash blonde layers framing her face while the rest of her hair is dark. This is a great look if you're a brunette who wants to experiment with blonde hair without going too far. Even though the model has warm undertones, the ash blonde doesn't clash with her features.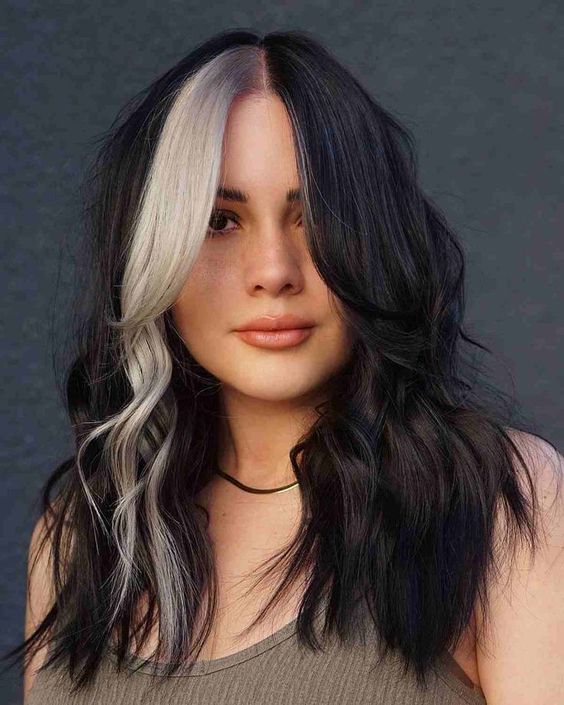 This is another great look if you want to do something similar to the last suggestion but want something out of the ordinary. The model only has one face-framing layer in super light ash blonde. It's a simple look but also so eye-catching. This look still brightens up her face and is flattering.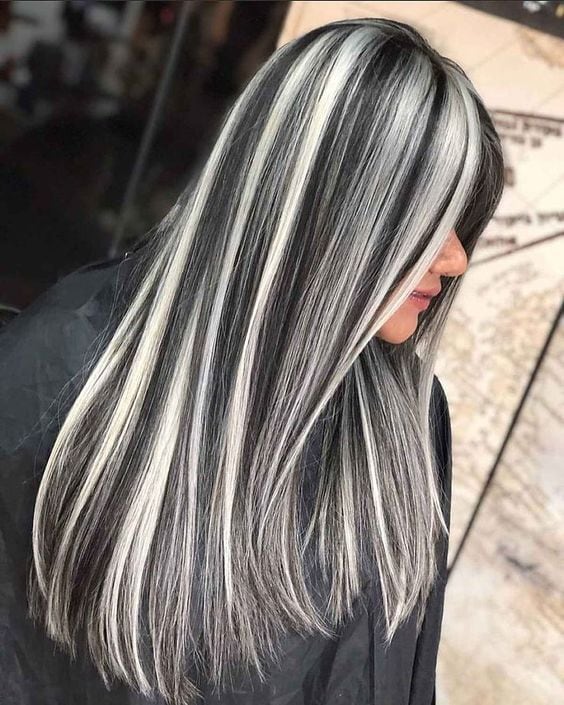 Blonde streaks on black hair were big in the 2000s, but you can still make this look fashionable by opting for ash blonde and gray streaks. The streaks here are incorporated well into the black hair, the two tones blending very nicely even though the hues contrast. If this is too much for you, opt for fewer and skinnier streaks.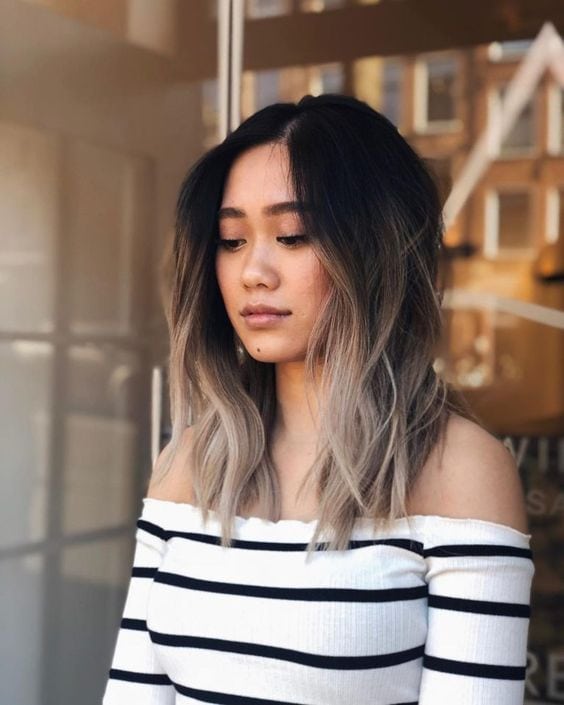 You don't have to have extremely long hair to do the black and blonde ombre trend. This look is daring but still manageable, especially if you're the type who doesn't like extremely long hair. The black and ash blonde here work seamlessly, and these colors are very low-maintenance.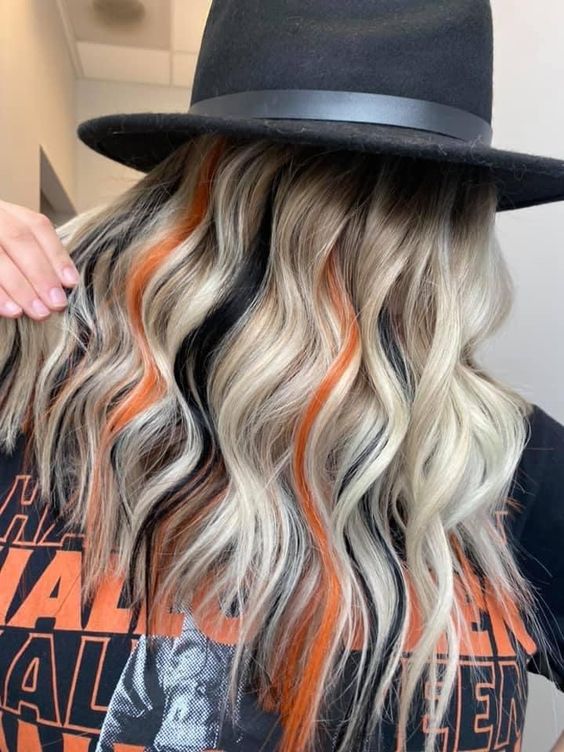 Are you excited for Halloween and want to show off the festivities in your hair? If so, this is a unique look! The model here added black and orange streaks to her blonde hair. This look gives such a cool effect for the Halloween season. Even if it's not Halloween, this look is stylish enough to do all year. The best part is? You can do this look at home!
FAQs
Question: Can anyone pull off black and blonde hair?
Answer: Yes, especially if your hair is naturally either black or blonde. However, if you naturally have red hair or even a light-to-medium brown, it may be unpredictable to know if you will like this look.
Question: I want to dye my hair either black or blonde. Which color is more attractive?
Answer: If you're wondering if men prefer blondes or brunettes, trust me when I say that all guys are different. My boyfriend prefers brunettes, but I've met men who are also into blondes. That's why it's best to know what looks good on you.
Most people say lighter-skinned women look best with lighter hair. However, I'm naturally very pale with dark brown hair. Blonde hair washes me out. If you're not sure which color to choose, try on wigs or use hair filter apps.
Question: My hair is black. Can I achieve any of these looks without bleach?
Answer: No — you'll need to lift your hair by bleaching it.
Question: I want to go lighter but don't want to damage my hair. What do I do?
Answer: This is a tough one. If you have black hair, you risk damaging your tresses if you lighten your hair more than two levels. To achieve those blonde locks, you'll have to go down several levels. Other than seeing a professional for your bleaching, I suggest opting for a look like an ombre or lowlights. If you do damage your hair, you can simply cut off the damaged parts.
Bottom Line
Out of all of these looks, the first balayage idea is my favorite. I love the swirl of black, gray, ash blonde, and even brown. It adds spice and oomph to the model's hair. It's also perfect for growing out grays. One day I will grow out my grays rather than dye them, and I can see myself doing a look like this one.
Otherwise, I also love the ombre and lowlights. I've had the black and blonde ombre before, and I loved it. I suggest looking over these colors but getting advice from a hair stylist before dyeing your hair. I also suggest you know how to maintain your black and blonde hair and get touch-ups whenever necessary.
Looking for more interesting readings? Check out: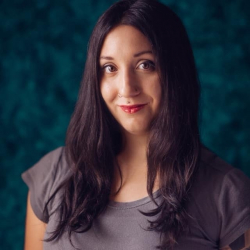 Latest posts by Stephanie Jensen, Hair Trend Spotter & Home Tester
(see all)