At some point, I think all brunettes dyed their blonde. Even I dyed my hair blonde before, and I like my dark tresses. I actually found an article while I was researching this blog, and I discovered that 1 in 3 women dye their hair blonde!
Not only is blonde a popular hair color, but there are also so many shades of blonde that you can choose from. A dark blonde is a popular option, especially if you're a natural brunette or a natural blonde who wants a darker hair color. Dark blonde is a light hair color but still has subtle dark tones, making it the perfect transition color.
Are you interested in dyeing your hair dark blonde? First, you'll have to find the right hair dye. Here's my guide on how to find the best dark blonde hair dye, with some more information about the dark blonde hair color, my favorite dark blonde hair dye recommendations, advice when dyeing your hair dark blonde, and some alternative hair colors you may want to consider instead.
Bottom Line Up Front
Dark blonde is a shade between blonde and brown. I recommend brunettes dye their hair this color over other shades of blonde since you don't have to lighten your hair to lower levels. The dye I recommend the most is the L'Oreal Age Perfect Radiant Color in dark natural golden blonde. The dye is a warm shade of blonde but has natural highlights, so it looks like you just stepped out of the salon.
About The Dark Blonde Hair Color
Dark blonde hair is the color between classic blonde and light brown. I actually find that most have a dark blonde hair color naturally, and they dye their hair lighter or darker. That's because dark hair is not only a stylish hair color but is the perfect base shade for other dyes. Some dark blonde colors may also be more complex, featuring different colored highlights and multiple shades of brown and blonde.
How To Find The Best Dark Blonde Hair Dye
Are you convinced that dark blonde hair is what you want? Fortunately for you, you can dye your hair dark blonde at home! But before grabbing the first box of dye you find, here are some tips to find the best dark blonde hair dye for you.
Know Your Undertone
As with all colors, dark blonde can have a warm or cool undertone. It's best to know your skin undertones and recognize which dark blonde shade will work for you.
To find your undertone, look at your veins. If your veins are blue, your undertones are cool. If your veins are green, your undertones are warm. If your veins are blue-green, you have neutral undertones. Even though those with neutral undertones can technically pull off warm and cool hair colors, you may still have your preference. I have neutral undertones, and I prefer the way I look with cool-toned and ashy hair colors.
Conditioning Formula
The last thing you want is to damage your hair. If you have to bleach your hair, I suggest doing this with a professional initially if you're inexperienced with bleach. Then, you can use DIY dark blonde hair dye to maintain your color.
Regardless of whether or not you need to bleach your hair, the dye should also have a conditioning formula. Many dyes are formulated with conditioning agents, while some box dyes include a separate conditioner that you use after you apply the dye. While selecting the right color is integral, you'll be happier with the results if your hair is also healthy.
Avoid Dangerous Ingredients
Your hair dye may contain dangerous ingredients, including:
DMDM hydantoin
Lead acetate
Methylisothiazolinone
Peroxide
PPD
Ammonia
Some ingredients, such as peroxide, cause hair damage. Others, such as PPD, are linked to cancer.
Easy to Use
Chances are, you're not a hair professional. That's why the hair dye you choose should be easy to use. Ideally, you'll want to choose a dye with one single process and easy-to-follow instructions. All hair dye brands are different, but you should just have to apply the dye, let it sit for the recommended amount of time, and wash it out. The best dyes are also multi-dimensional, so you don't need to add extra highlights.
Full Head Or Highlights
With that being said, you'll want to get the right hair dye if you plan on doing dark blonde highlights. There are highlighting and even balayage kits that make it easy to get that salon look. You can also take traditional dye and hand-paint the highlights on your hair, but you may not get as good results.
My Favorite Dark Blonde Hair Dyes
Are you ready to buy dark blonde hair dye? Here are a few of my favorite picks!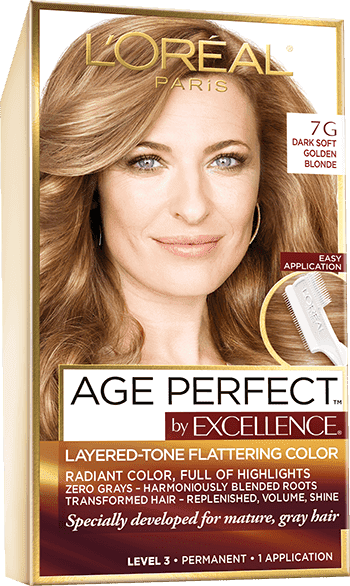 These dyes are marketed to mature women, but I prefer using aging hair dyes. I'm in my 30s and already have a decent amount of grays, so I need all the help I can get.
This permanent dye offers 100% gray coverage. The shade is a golden shade of dark blonde, looking flattering on those with warm undertones. Looking at YouTube tutorials with this dye, the color is darker than it shows on the box, but it is still in the blonde spectrum. I also like the natural highlights the dye offers. But this is definitely a warm-toned color, so I wouldn't use it if you have cool undertones.
Something else I noticed from the YouTube tutorials is the users always had thick, bouncy hair after using the dye. L'Oreal formulated the dye with a Pro-Keratine Complex, so your hair is stronger and healthier. It's also formulated with ceramides and collagen, supporting hair growth. Your hair will also feel soft and will look shiny.
The dye is easy to use and even includes an application tool.
Pros
Natural-looking color
Multi-dimensional color with highlights
Comparable to the salon
Beautiful shade of blonde for those with warm undertones
Cons
This dye can be hard to find
It looks darker than on the packaging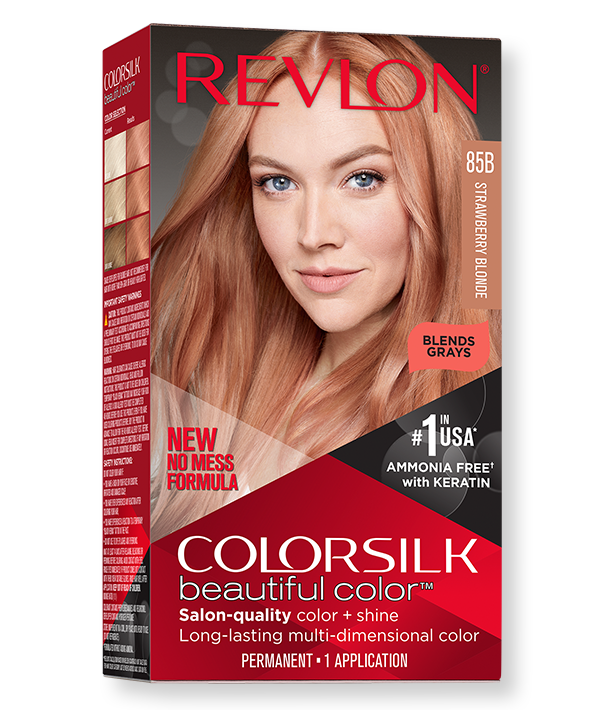 I actually can't find any tutorials or reviews for this dye. However, there is another color in this collection called dark ash blonde that looks amazing. If you want a neutral color, I suggest choosing dark blonde. These Colorsilk dyes are known for lasting a long time.
Pros
Lasts a long time
Dark blonde is a good neutral shade
Dark ash blonde is good if you want something cool-toned
Cons
No warm-toned dark blonde option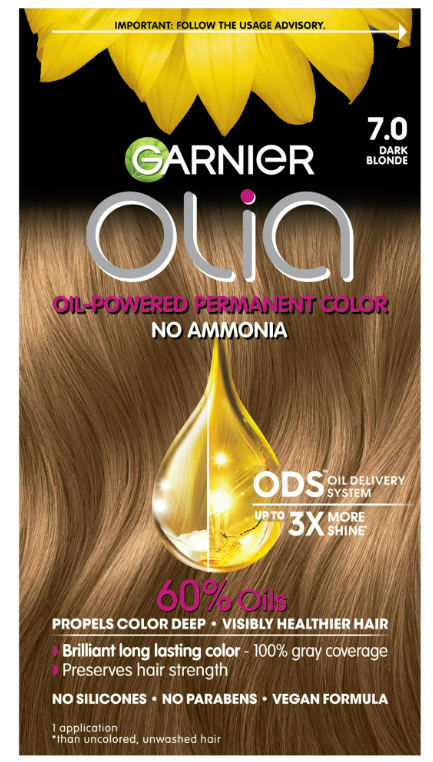 As a permanent box dye, this is one of the healthiest options. This dye doesn't contain ammonia, parabens, or silicones. Plus, it's a vegan formula! Olia is formulated with flower oils for brilliant and long-lasting color that provides full gray coverage. The oils also make your hair feel silky smooth and extremely shiny. The dye doesn't have a strong smell, which works for me since strong scents give me migraines. Olia is easy enough for beginners and isn't messy.
Looking at customer reviews, the color is slightly lighter than what the box shows, but it still looks very natural. But if you use this dye on medium-to-dark shades of blonde, the color does show up as a pretty dirty blonde color. This color does have warm undertones, so I don't recommend this color if you have cool undertones.
Pros
Pretty natural blonde shade
Quick and easy to use
It doesn't have a strong scent
Leaves hair soft, shiny, and feeling healthy
Affordable — about $10/box.
Cons
Color is different from the box
Not good for cool undertones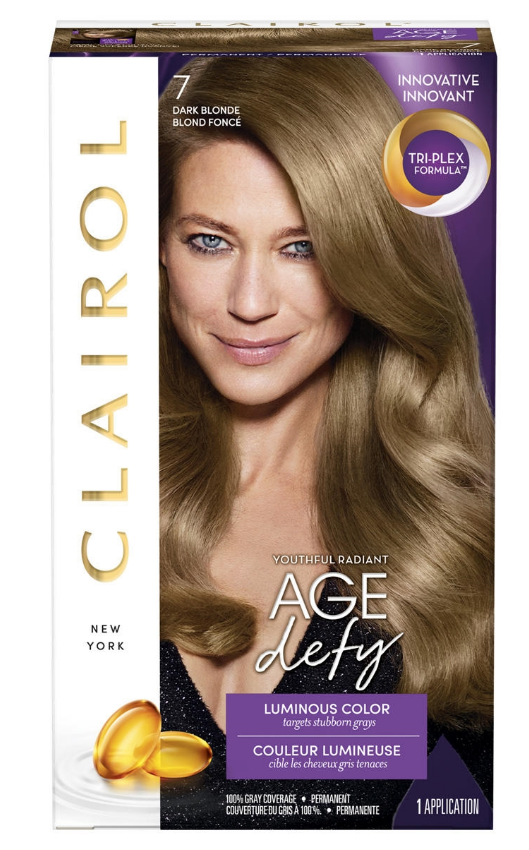 If you're looking for a true dirty blonde shade, I suggest this dye. Unlike the Garnier dye, this one is actually darker than what the box shows. However, it is neutral-toned and ideal for all skin tones. I suggest this color if you're a brunette who wants to go lighter but doesn't want a color that's too light.
I love aging dyes. They cover stubborn grays, last longer than most dyes, and the color payoff is always amazing. This Clairol dye especially has excellent gray coverage; you're required to leave this dye on your roots for 20 minutes. I also love the conditioning treatment included in the box. The conditioner alone can tame frizz, coarseness, dryness, unruliness, and breakage. After using this dye, your hair will feel healthy. And it only takes 25 minutes to get amazing color (unless you have to bleach your hair first).
I would be wary about buying this dye on Amazon. I'm reading complaints where customers received expired dye. You can find Clairol dye at Ulta, Walmart, Bed Bath and Beyond, CVS, Walgreens, and Sally's Beauty Supply. It's also $22 on Amazon, and I found it for $12 at Walmart.
Pros
Excellent gray coverage
Leaves hair feeling soft and healthy
Beautiful shade of dirty blonde
Neutral color
Perfect color for a brunette who wants to go lighter
Cons
Expensive on Amazon
Customers received expired dye
It can be difficult to apply
The dye is a little messy and can turn out patchy
Alternative Hair Colors
Did you read this guide and realize that dark blonde hair isn't for you? Here are some alternative hair colors to consider.
1. Honey Blonde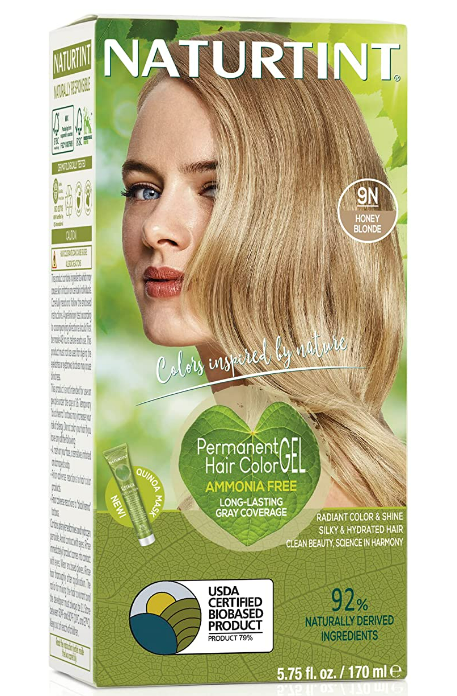 Honey blonde is a warm-toned shade of blonde that's trending online. Colorists get the shade by combining blonde with red and brown, taking on the same color as nectar. Honey blonde is often confused with golden blonde because they're both beachy hair colors. It's a great color if you want a medium-toned blonde that's perfect for the summer.
2. Platinum Blonde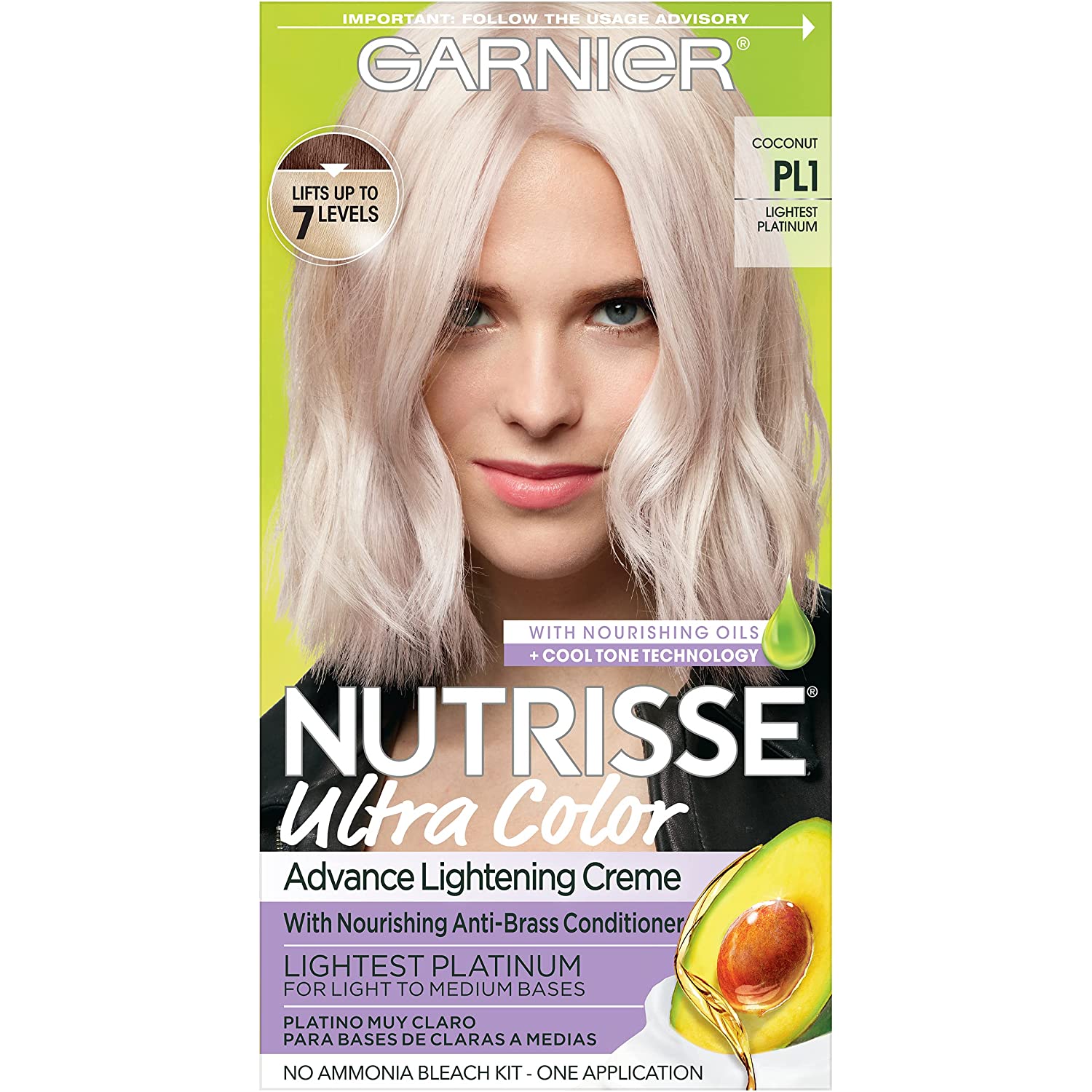 Marilyn Monroe's blonde hair color will never go out of style! I absolutely love this hair color, and I had it at one point. Platinum blonde is the lightest blonde shade there is. It's a cool-toned color that's almost white. While anyone can pull it off, it looks best on those with pale complexions.
The only thing I will say is maintaining the light blonde hues is harder to achieve than you may think. First, you'll have to process your hair at least two times, maybe even three. It's best to get this service done by a professional, especially if you're not experienced. You'll also have to use purple shampoo and conditioner to take out the brassiness in your hair.
3. Rose Gold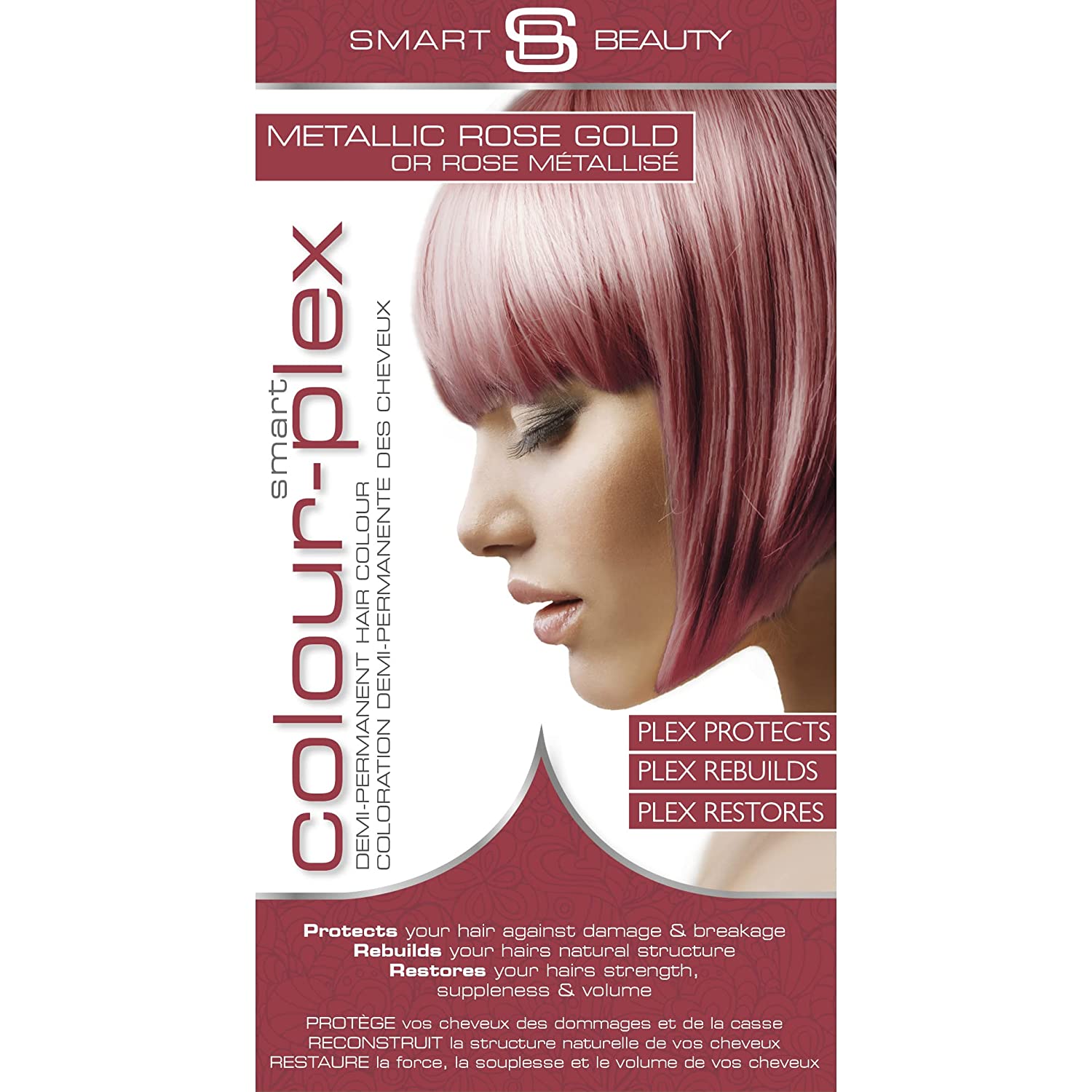 Rose gold is one of the trendiest hair colors right now. It's a combination of pink, red, and blonde. This color is a cool-toned alternative to strawberry blonde, though there are different variations of rose gold that are warmer-toned. There are pinker variations of rose gold and others that look more coppery.
4. Bronde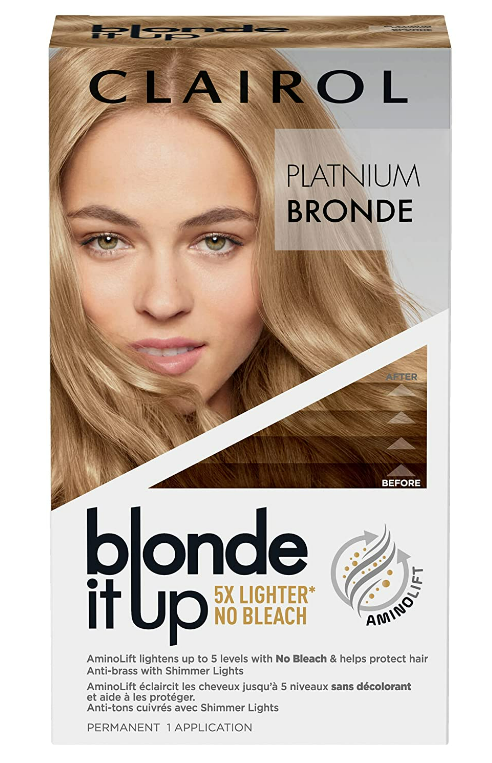 Bronde is a combination of blonde and brown. This shade is deeper than dark blonde but is hard to explain. I like to think of bronde as a lighter shade of caramel. I recommend choosing this color if you don't want blonde hair but don't want a color that's too dark.
5. Brown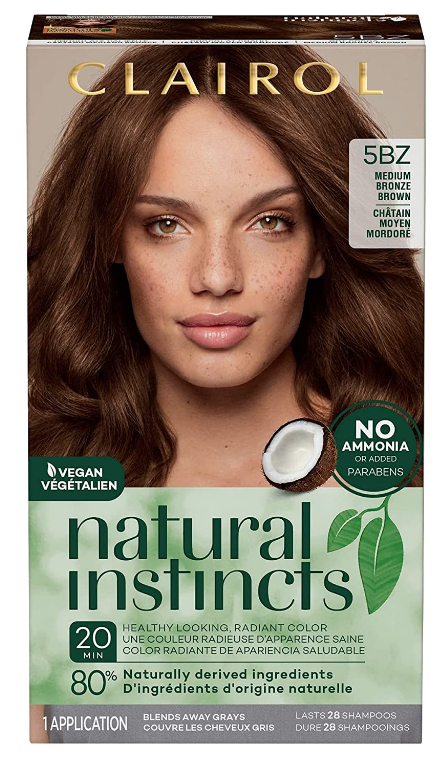 If bronde is still too light for you, there's always brown hair. While "brown" encompasses a wide category, there are various shades of brown that can work for one person. If you want a subtle brown that isn't too dark, I suggest honey brown, caramel, and chestnut brown. You can add depth to your brown hair color by adding highlights or opting for another style, such as an ombre or balayage. If you're still unsure of the right brown hair color, I suggest asking a professional for their recommendation.
FAQs
Question: Do box dyes include bleach?
Answer: It depends. All box dyes are different. Some may include bleach but usually come with specific instructions, making the bleach very limited. I notice this is usually the case with at-home highlighting kits. If you're working with a dark base, I suggest buying separate bleach. I still suggest always getting your hair bleached by a professional unless you have experience bleaching hair. Even if you have experience bleaching hair, always do a strand test first.
Question: Does bleach damage hair?
Answer: It absolutely can if you don't know what you're doing. Bleach can destroy the hair follicles, which leads to split ends and breakage. Even if you get your bleaching job done by a professional, your hair won't feel the same. I never had to use hair masks before I bleached my hair, but I was using a hair mask at least once a week. That was my experience, at least. If your hair isn't naturally blonde, the light hue comes with a lot of maintenance. You'll have to use purple shampoo and conditioner to prevent the color from becoming brassy. You'll also have to re-touch your roots and get regular trims.
Question: Which base color should I have before dyeing my hair dark blonde?
Answer: A lighter shade of blonde is the best base color. In this case, dyeing your hair dark blonde will be a single-process job, which is easy to do DIY and minimizes damage. For lighter blondes, I suggest dyeing your hair dark blonde if you want to go darker but don't want brown hair.
Bottom Line
Dark blonde is the hair color between blonde and brown. It's the perfect hair color for blondes who want to go darker and for brunettes who want to go lighter.
The dye I recommend the most is the L'Oreal Age Perfect Radiant Color in dark natural golden blonde. Even though it's a warm shade of dark blonde, it offers 100% gray coverage. The color is a little darker than what the box shows, but it has natural highlights that are stunning. Plus, the dye is formulated with ceramides and collagen, so your hair looks and feels strong and healthy.
Looking for more interesting readings? Check out: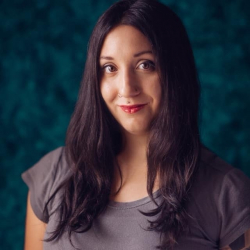 Latest posts by Stephanie Jensen, Hair Trend Spotter & Home Tester
(see all)