I've always admired Jane Fonda. She knows how to maintain her femininity, not only through her amazing body and stylish outfits but also through her timeless hairstyles. I've watched her many times during her red carpet-moments, and every single time, she caught my eye. So I whipped out today's Jane Fonda hairstyl es guide to help you remember her iconic looks.
While you might try to get fitter by following her fitness programs, you could also reinvent yourself, hair-wise, by recreating one of the following Jane Fonda hairstyles.
Bottom Line Up Front!
Jane Fonda looks remarkable, regardless of her hair length or style. She has always known how to catch her public's attention through her performances, style, and wonderful personality. I love all her hairstyles since all of them suit her. Still, if I were to recreate one or a few of her iconic looks, I would avoid cutting my hair too short since that's not really what I fancy.
Instead, my favorite choices would be Jane's curly bob, ash brown medium-length haircut, and her straight and formal look. All these three options would match my face in terms of shape as well as my preferences and girly/feminine personality.
Jane Fonda Hairstyles Guide – 11 Times She Amazed Us with Her Locks
I've handpicked some of Jane's most noteworthy hairstyles. And it wasn't easy since she's had numerous stunning appearances.
#01 Curly Bob-Length Haircut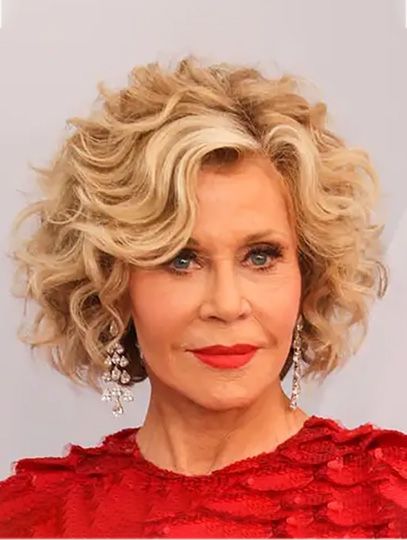 Jane Fonda really stood out with her golden curly locks during one of the Screen Actor's Guild Awards events. I've always loved curly hair, especially since mine is straight and dull. So, imagine my excitement when I saw her volumized and textured curls. The blonde hair flatters her by highlighting Jane's blue eyes. Moreover, this look wouldn't have been complete without her gorgeous makeup, especially her red lips and voluptuous lashes.
I like bob haircuts and have had my hair cut that way. It's practical and flattering for so many people. Also, this hair length is versatile and so easy to style.
#02 Warm Light Brown & Medium-Length Hairstyle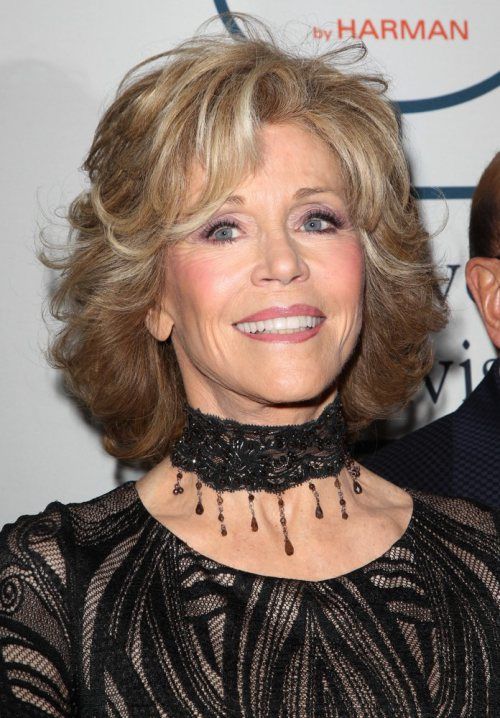 This is more my cup of tea, mainly due to the warm, light brown hair color, which I love. Some might see this hairstyle as dark blonde, but I perceive it as golden brown. She looked charming on every occasion, and this was another beautiful look. I also like how her hair was cut in this photo and how it was styled, with those cute edges curled out and away from her face.
The length is the one of a lob, which is a longer bob, while the ashy brown hair color suits Jane's skin tone perfectly. Once again, her bright eyes are highlighted by this hairstyle.
#03 Young Jane Fonda – Long Hair Throwback
Wow! look at Jane Fonda and her lovely retro look. I love her youthful long hair and how she pinned her bangs to one side. It's easy to see how thick and dense her hair is. I genuinely envy her for that. The honey-blonde color made her look so cute, sexy, and feminine. This hairstyle is one of my favorites because it features long silky locks.
Long hair such as this is harder to maintain but worth it if you want to achieve this stunning look.
#04 The Iconic Classic French Twist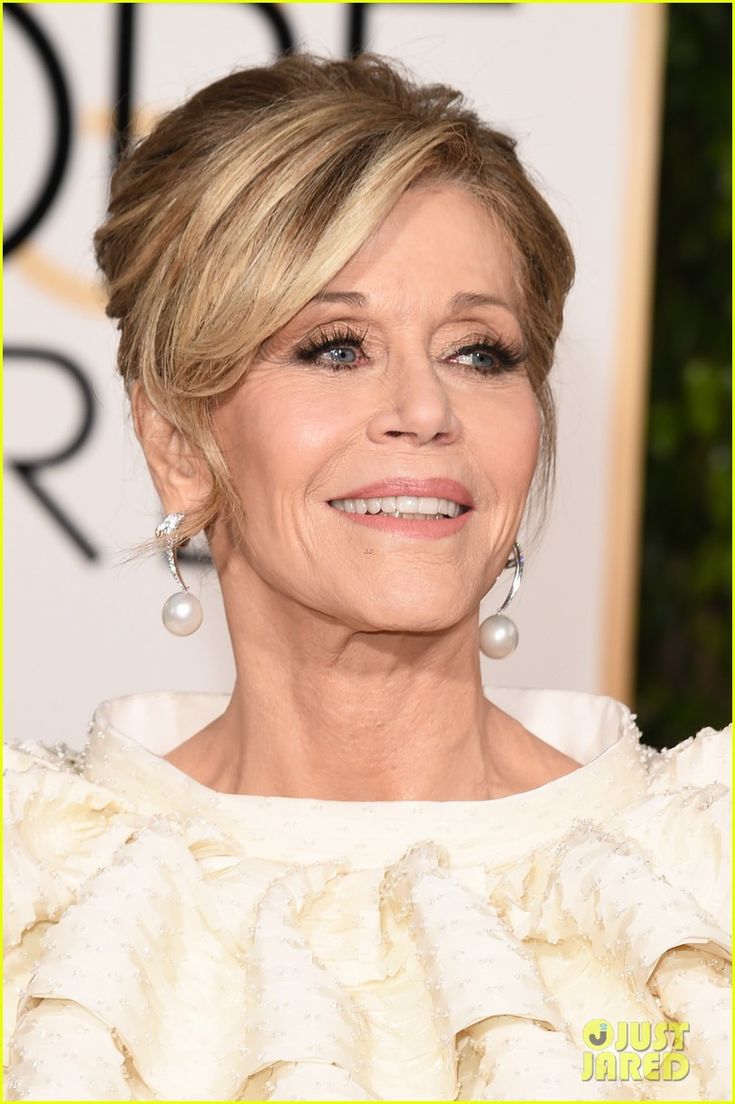 I remember trying to recreate this look when I was a teenager, but I could never style it correctly, which annoyed me. I like how classy the side bangs look, while the back features a classic tight French twist. But what I like most about this hair updo is how volumized locks lift the crown. She proudly wore this look in 2016 at the Golden Globes.
She looks so youthful and fresh, don't you think so?!
#05 Graded Volumized Short Hair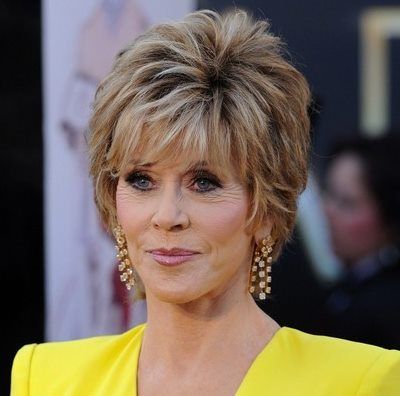 I confess I'm not courageous enough to try this hairstyle yet. But it looks fantastic on Jane, and the style is flattering, especially for those with fine thin hair. The way her locks are styled creates a beautiful volume illusion. Hence, her tresses appear thicker and denser. That's the magical result of layered haircuts.
Also, the way her hair is colored, with darker roots and lighter ends, makes the look more appealing and well-textured.
#06 Wavy Hairstyle with Side Bangs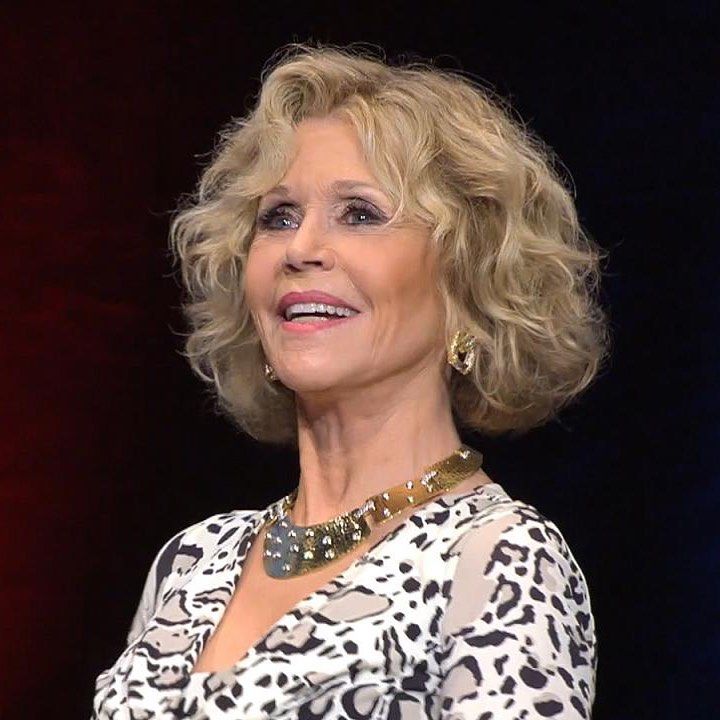 I love this hairstyle due to its wavy locks and volumized layers. I've tried it myself several times, and it suits me. It's playful and looks like her tresses were sun-kissed like she spent an entire day at the beach, and those wavy curls are the natural result of the salty ocean water. Or, at least, that's what this Jane Fonda look makes me feel.
This hairstyle suits her.
#07 Straight and Formal Hairstyle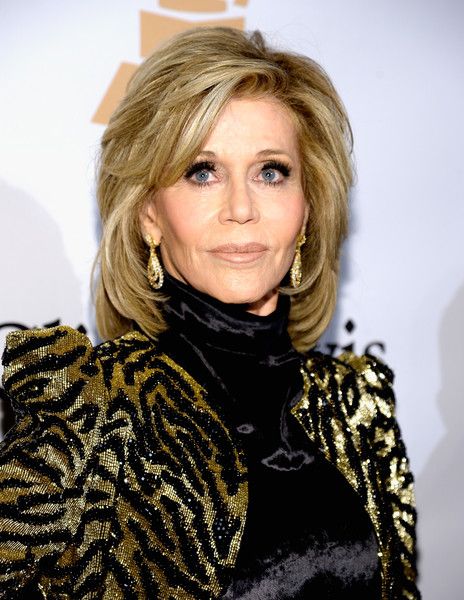 One of Jane Fonda's iconic hairstyles is this one that features straight locks, long swept bangs, and curvy layers that provide volume. It's sleek and elegant, even sophisticated, if you will. This type of hairstyle will never become outdated or unfashionable. I'm a huge fan of this kind of volume and texture. I have straight hair, and many times I curl it to achieve more volume, when in fact, what I really want is natural volume and a nice well-defined shape instead of tight curls.
If you're considering this hairstyle, I'm sure you'll look fantastic and send out a magnetic vibe.
#08 Short and Cheeky Pixie Haircut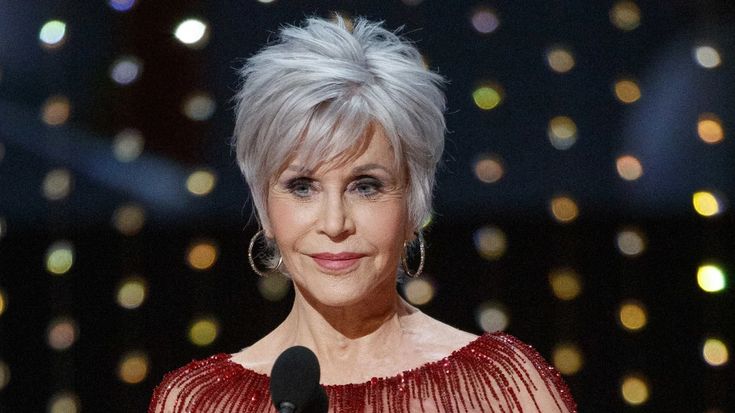 While this hairstyle isn't for the fainted-hearted, it can bring up your bold personality if you're courageous enough to try it. Obviously, it should also fit your personality. It's incredibly chic. Moreover, if it's adequately layered, this short hairstyle will frame your face perfectly, highlighting your facial traits.
Also, if you're as courageous as Jane Fonda and dare to leave your pixie cut featuring a silver color, that would lead to an even trendier look. This haircut reminded me of Jamie Lee Curtis' pixie cut; only Jane's is a little bit longer.
#09 Bouncy and Volumized Hairstyle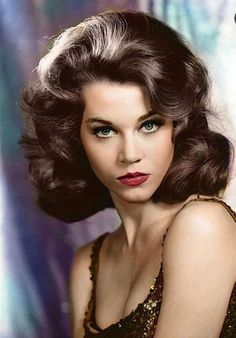 This is another retro hairstyle type, although I would opt for it every single day; that's how much I fancy it. It looks combed and sleek, with luscious highlights and a brown hair color base. It's like seeing a movie from the '40s. I'm jealous of Jane's thick and full-of-volume locks. I wish my hair could look like that all the time. Look at how much she shines and her eyes sparkle, while the hairstyle completes her lovely, romantic appearance.
#10 Heightened Shag Cut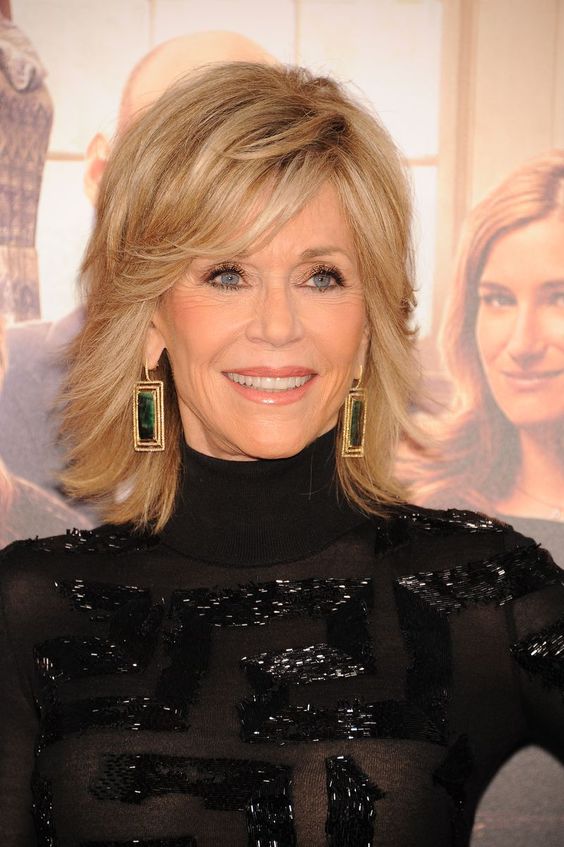 This Jane Fonda hairstyle is about being rebellious and makes me think of the hippie movement. It's a shoulder-long, edgy haircut given by the asymmetrical levels of Jane's tresses along her jawline and the head's back part. I love how this hairstyle softens Jane Fonda's facial traits and shape.
Bonus: Jane Fonda's Ponytail Hairstyle – Then & Now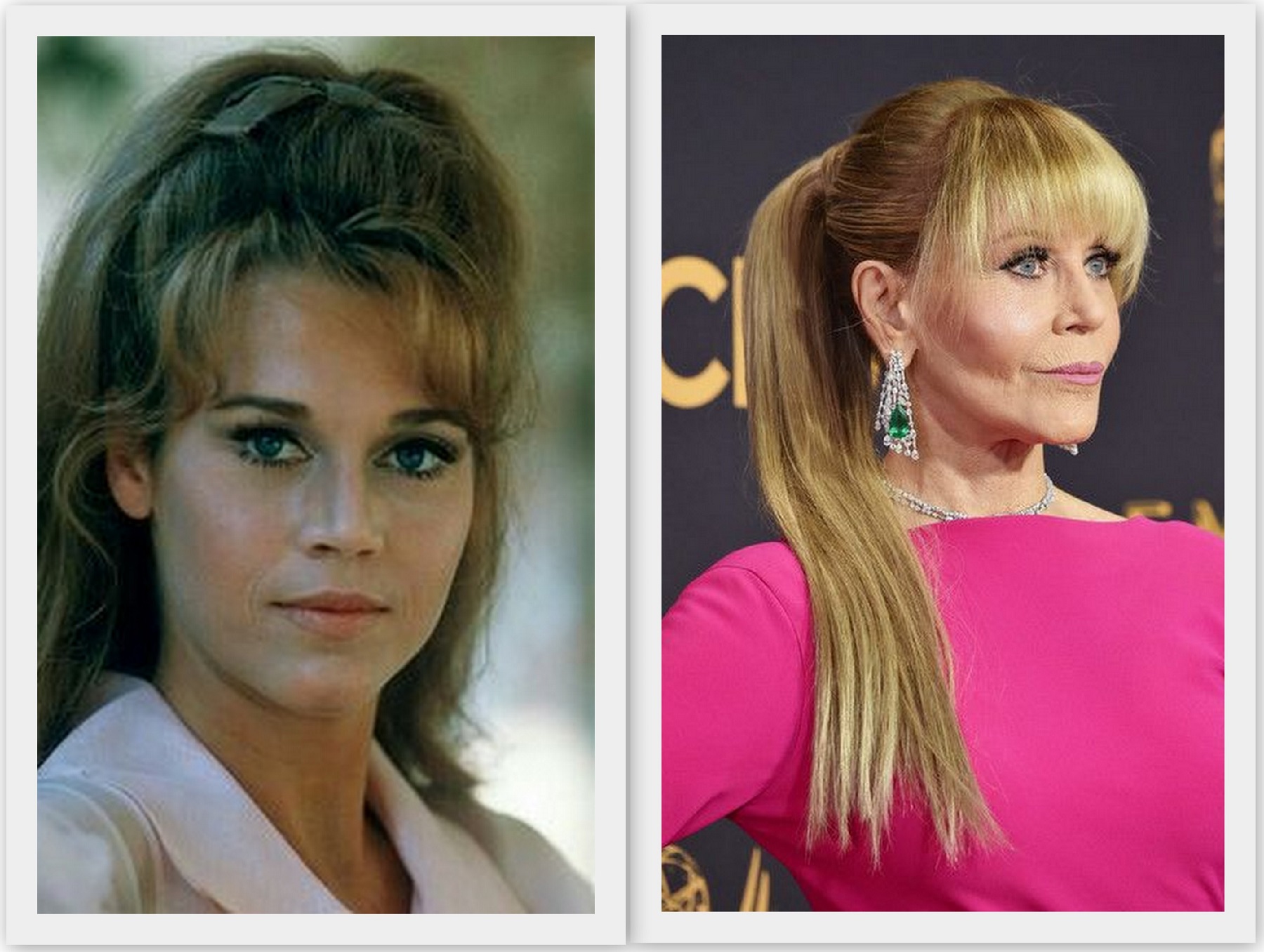 I couldn't decide which ponytail hairstyle I loved more. I'm obsessed with both of these looks. The first one, on the left, features a high ponytail with curtain bangs and a darker hair color. It's all about retro fashion trends and volumized hair – love it. The one on the right is a recent photo of the lovely Jane Fonda with bright blonde locks, a long sleek, straight ponytail, and a fringe covering her entire forehead.
The first photo sends the message, "look at me, I'm a cute and girly young woman," while the second pic sends another message, equally powerful of "I'm here to impress you. Look at how stunning and powerful I am." Looking at her in that pink dress and long blonde locks, something that popped into my mind just now was, "I am a woman; hear me roar!"
How to Style Your Hair Like Jane Fonda's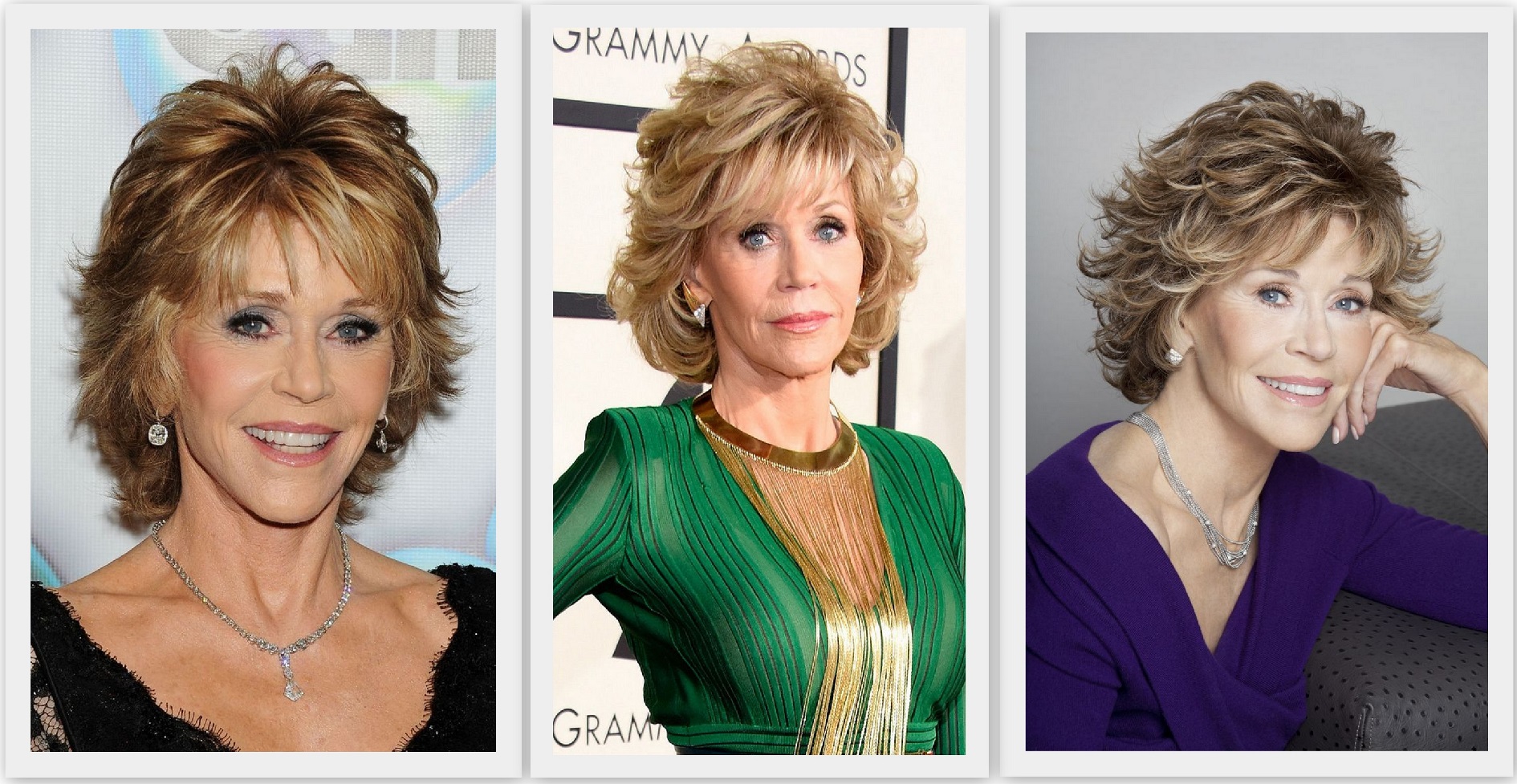 To recreate Jane Fonda's iconic hairstyle, you must follow certain steps, including dying your locks blonde, having a proper haircut, and using the appropriate styling products to create Jane's stunning volume and waves. Here's what you have to do:
Use a dark blonde hair dye to color your hair, but also get some light blonde highlights;
Ask your hairstylist to give you a shag haircut; you could opt for a shorter look with your locks above the shoulders; or you could choose to feature a lob, which is basically a longer bob haircut;
The top part of your head should have many layers, contrasting hair shades, movements, and textures. It's an effective way to obtain fullness;
Get a haircut with bangs, but make sure to keep a long fringe that you can sweep to one side or the other;
I usually apply a volumizing spray or dry volume-boosting powder on my roots;
I've seen Fonda wearing wavy, curly, or flicked-up hair, especially on the sides. So, it would be best if you tried that, too;
To achieve those hair flicks, I use a large round-shaped brush while I blow-dry my hair;
If you prefer Fonda's softer waves, you should ask your hairstylist to use one of their larger curling irons.
How to Choose Jane Fonda's Hairstyle That Suits You
It seems that the shag haircut, that's also Jane Fonda's iconic hairstyle, is trendy again. But is this hairstyle suitable for everyone? It's more about your personality and attitude than your hair. And the answer is yes; this is a versatile haircut that will definitely be flattering if styled following your unique facial traits.
There are so many stunning options you can choose from, including short, medium, or long shag haircuts; with or without bangs; bob or lob; highlighted or not; light hair color or darker hair. So, yes, there's a shag haircut version for everyone.
There are two main aspects to consider:
Your hair type – shag haircuts are ideal for hair like mine, which is thin and fine since it adds volume and texture. It also works well on thick hair, as the one Fonda has;
The shape of your face – shag haircuts are flattering for almost all face shapes. Maybe the only exception is the round-shaped face, especially if you want a full fringe.
The Shag Haircut
This haircut could feel intimidating the first time around, but it's highly versatile and customizable. So, your hairstylist should know how to personalize your shag hairstyle to suit your personality and facial traits. Paul McGregor was the one who invented the shag haircut. This barber focused on feathered layers around the head's crown and sides. So, the haircut looks fuller on top while the edges are thinner.
It's a low-maintenance haircut that works on many hair types, including fine. Still, it's best suited for thicker locks.
Consider
Schedule an appointment first and seek your hairstylist's opinion to see if this haircut would truly suit you;
Texture and density – your stylist should provide a customized haircut based on your hair's natural texture and density. Also, straight hair can be cut when wet, while curly hair is often cut when dry to see how the curls bounce back. While the shag haircut could work on people with thin or fine hair, the best hair type for this hairstyle is a thicker, fuller one;
Hair length – shag haircuts can be short, medium-length, or long. So, it would be best to establish this aspect right from the start. Once the stylist sets your desired length, they will go on with the rest of the haircut.
Avoid
Removing too much hair – you want to avoid your hair looking like an outdated mullet. So, make sure your hairstylist doesn't cut too much of the bottom and mid part of your hair;
Cutting the hair while it's still wet – unlike other haircuts, this one must be done on dry hair. On straight hair, you could perform this haircut on wet locks, but all the finishing details should be done only after the hair is dry;
Bulky bangs – the fringe section shouldn't go too way back. Instead, the person who cuts your hair should follow your natural head curvature.
Styling Tips for Your Shag Haircut
Use texturizing sprays to achieve a voluminous appearance. Sea salt hairsprays are great because they boost texture, volume, and wavy locks;
The best styling product for fine hair that has a shag haircut is a volumizing mousse that tames frizziness;
Styling creams are your go-to products if you have a curly shag haircut;
Use a large round-shaped brush to blow dry your fringe;
Round-shaped faces will look flattering with side-swept fringes, while oval-shaped faces look better with softer shag waves and curtain bangs;
Like Jane Fonda, when you've had a shag haircut, you can easily play with different hair colors, highlights, and shades to create more volume and texture. Shaggy haircuts become more dynamic when you add lighter highlights. Longer shag haircuts could benefit from balayage or ombre looks;
Use powdered haircare products to style your shag haircut. One example is dry shampoo, which I often use because it removes the excess sebum and makes my locks appear less greasy.
Jane Fonda Hairstyles Guide – FAQs
Question: What's the Name of Jane Fonda's Hairstyle?
Answer: Jane has had several different hairstyles over the years. But the one she kept pretty much the same for many years was a layered, textured haircut. Her tresses were relatively short, only covering the neck in the back part of the head. Moreover, her shag haircut featured heavy layering.
Question: What Is Jane Fonda's Favorite Shampoo?
Answer: I'm sure she has tried numerous haircare products during her lifetime. Still, there's a rumor that one of her favorite shampoos is Ever Pure Purple, made by L'Oreal Paris.
Question: Has Jane Fonda Stopped Dying Her Hair?
Answer: It seems that Jane has chosen to embrace her silver tresses and has been seen with white hair a lot lately. At 83, Fonda told the media she felt utterly liberated and happy with herself, just the way she is, with gray hair and all.
Question: Does Jane Fonda Has Thick Hair?
Answer: Yes, the actress was blessed with thick and healthy hair that's easy to style. However, she often uses softening haircare products before styling her locks for a big event.
Final Thoughts – Achieving the Jane Fonda Look
In my book, Jane Fonda is a synonym for elegance and style. No matter what she does to her hair, she always manages to look smashing. Her hairstyles are legendary. Over the years, she pretty much kept the same hair shape (with some exceptions), but the way she plays with textures, layers, fringes, and hair colors, represents the successful manner in which she stands out.
If your face is also long and oval like hers, you should add movement to your locks by getting a layered haircut. Also, the top part of the hair should be shorter all around the head's crown. That way, it will be easier for you to achieve more volume using rollers. Another important tip is to blow-dry your hair, keeping it upside down. Finally, before applying hairspray, you should tease your crown locks to boost your hair's volume even more.
Other interesting reads: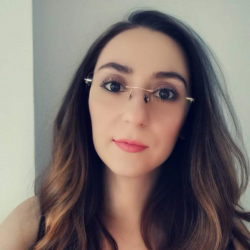 Latest posts by Alexandra Gavrilescu, Home Hair Product Tester
(see all)