Shampooing my hair is one of my favorite moments of relaxation and self-care. So, I wish it to be as easy and convenient as possible. But, until recently, I was always annoyed during shower time by my bottle clutter. I had all these shampoos, scrubs, hair masks, conditioners, and other hair and body care products all crammed into each other alongside my bathtub.
Now, I use a shower dispenser to avoid those issues and have a more relaxing time while I wash my hair. Hence, I will help you buy a great dispenser through the tips I've mentioned in today's guide about finding the best shampoo dispenser.
Bottom Line Up Front!
Choosing a suitable shampoo dispenser can be tricky because there are so many alternatives on the market. At the same time, it's not as difficult as purchasing other home items. If you follow the guidelines I've presented below, this entire process can become very pleasant. Here are the essential aspects to consider (what I would opt for):
I would pick a dispenser with a very durable plastic container and a metallic lid – increased durability and a lower breakage risk;
My go-to shampoo dispenser must have two or three chambers for my shampoo, conditioner, and shower gel;
I would opt for a dispenser with a medium to high price tag because I want quality and boosted comfort as well as an appealing design;
Neutral colors and semi-transparent dispensers are my favorite because they allow me to see how much product there's left in the containers;
In terms of design, I would opt for simple and minimalistic products;
Purchase dispensers with easily-refillable containers, durable yet flexible pumps, and other functionalities you consider crucial;
Choose lightweight yet sturdy materials and opt for a medium-sized dispenser that can hold at least 12 ounces of shampoo;
If you have plenty of room next to your bathtub, you should opt for standalone dispensers. Otherwise, you should consider wall-mounted alternatives;
If possible, pick simpler, readily available designs and choose sellers that also offer excellentlent customer support.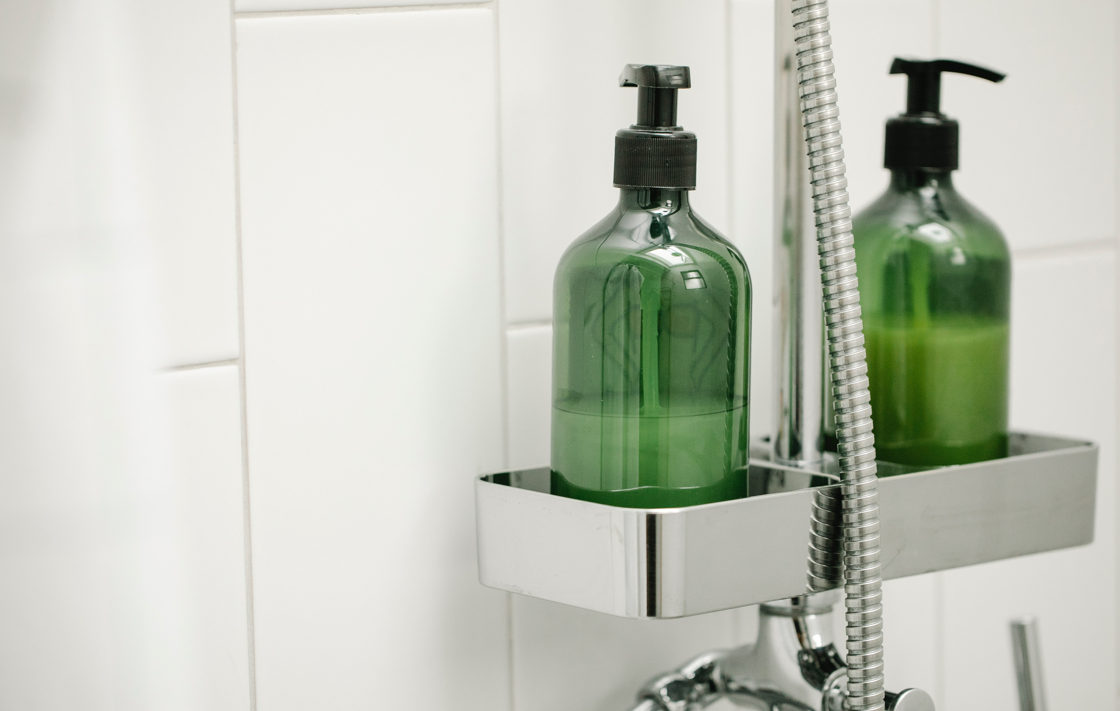 My favorite shampoo dispenser is Better Living due to its durable materials, elegant design, and high convenience.
How to Find the Best Shampoo Dispenser 10 Effective Tips and Guidelines
Here are some of the most important aspects I considered when I bought my shampoo dispenser. It would help if you kept these in mind before making a decision.
Consider The Materials
Materials are important to me in choosing the best shampoo dispenser because they tell me a lot about the product's quality. It is essential to establish how well and efficiently the dispenser works and how long it will last. Hence, choose durable and long-lasting materials. However, some of these fabrics are expensive.
For instance, premium shampoo dispensers made of brushed nickel or stainless steel cost more than their more affordable alternatives made of ABS plastic. Don't get me wrong! This type of plastic is pretty durable and lightweight. But, if you can afford them, you should always opt for metallic dispensers.
Pick Your Desired Number of Chambers
This is the most visible aspect when buying dispensers. How many containers do you want your dispenser to have? Mine has two: one in which I pour the shampoo and the second one that contains my hair conditioner. But you could also opt for dispensers with one, three, or multiple chambers, based on your needs. I'm sure many of you might want an extra container for the shower gel.
Obviously, the price tag increases if a dispenser has multiple chambers. Still, you shouldn't splurge on a multiple-chamber dispenser if you don't use all of those containers.
Price and Budget
Price is also important when buying shampoo dispensers. From my experience, price tags offer pretty clear info regarding the product's quality, durability, design, and functionality. Plastic dispensers are cheaper, while metallic counterparts are more expensive. So, estimate your budget before shopping for a shampoo dispenser.
Still, those dispensers with features you don't really find necessary aren't worth the extra bucks. If your budget is tight, I suggest you analyze the product's specifications. Otherwise, you should invest in a slightly more expensive dispenser.
Color and Design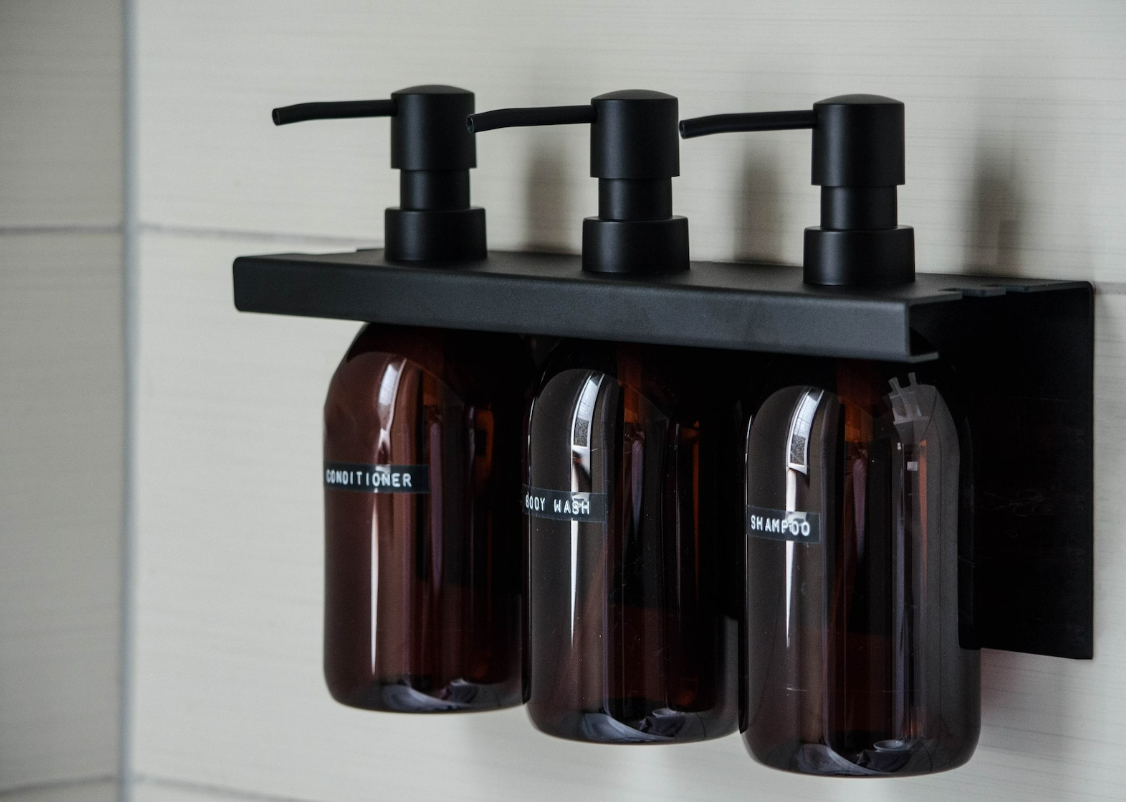 Color and design are crucial to me. I need my bathroom accessories to match the overall design of the room. You could opt for bold colors, or you could choose the safer version and purchase dispensers that feature neutral hues or even transparent containers. If your bathroom has a specific theme, you should pick matching dispensers.
I personally want a sleek, simple, and elegant design for my shampoo dispenser, but based on your bathroom's interior decor, you could opt for a different type of product. For example, maybe you want something with a retro vibe with crystal or glass containers. Or, perhaps you're more into modern, even futuristic styles and would want a more minimalistic look.
Functionalities
This niche is not precisely a niche since it offers many different products. But it's always wise to search for those dispensers that come with a few extra functionalities, including ease of use, durable and flexible pumps, refillable chambers, and more. So naturally, I want a high-quality dispenser with great performance, but, at the same time, I don't want to compromise on either comfort or style.
Size and Weight
These two are all up to you and your preferences. Some people want larger dispensers, so they don't have to keep refilling them too often. Others might prefer smaller and more delicate dispensers to match the rest of their bathroom. Either way, make sure the product you choose suits your unique needs. For example, I would prefer a 12-ounce shampoo dispenser or an even larger one.
Weight is essential in picking a suitable dispenser. Pick lightweight products if you want to achieve higher portability. Smaller and standalone dispensers can be taken away when you're on the go. Larger or wall-mounted dispensers could weigh more if the surface they lean on is strong enough to sustain them.
Installation Process
Many dispensers can be attached with an adhesive, and you won't need any tools. Others require screws to keep them fixed on the wall. In that case, you'll need a screwdriver. Finally, a few dispenser models are trickier because you can only install them once and they remain permanently fixed. I would avoid these since they would undoubtedly transform the installation process into a challenge.
Pumping Mechanism
What would be the most convenient pumping mechanism for you: pulling, pushing, or pressing down a dispenser's handle? You don't have to worry too much about this aspect, though, since all of them are pretty easy to use. The final choice is linked to your personal preference. My favorite pumping mechanism is pressing down on the dispenser.
Availability
Besides its price point, a dispenser's availability is another thing you should focus on. More extravagant designs or specific requirements from the clients lead to poorer availability. In other words, you might have to wait longer if you want something original or out of the ordinary. Also, it would be best if you browsed through client reviews to see what other people think about that specific product or model.
Customer Support & Reviews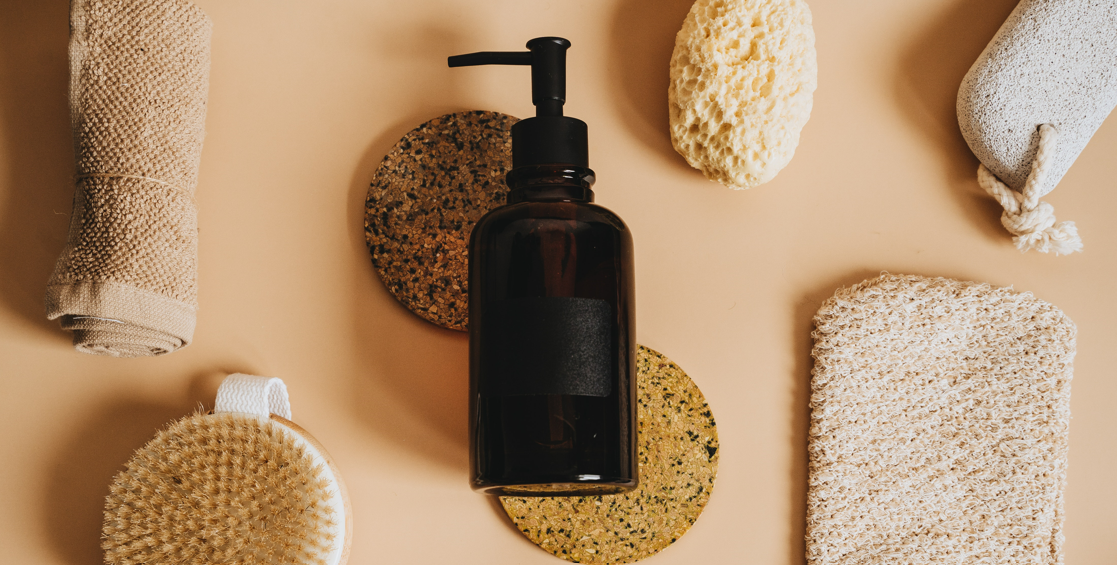 Read all about the customer support options on the product's website. Dispensers that provide effective and quick customer support are the best since they offer you the possibility of technical assistance in case of necessity. Some things to avoid are extra fees or downtime regarding the services you can benefit from after the purchase.
Go to the review section and check what other clients say about a specific dispenser. What is their experience with the product? Are they content with it? Are there any negative reviews? Do people complain about the same or similar features of the dispenser? That way, you'll know what the best choices are and the ones you should avoid.
Finding the Best Shampoo Dispensers – My Top 5 Options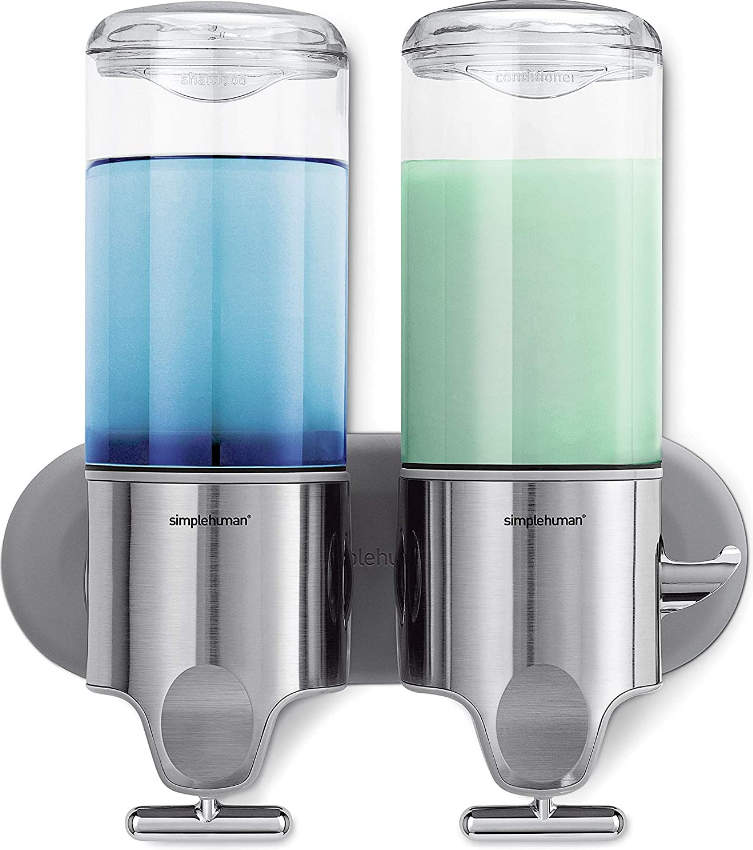 I love this wall-mounted shower pump with two chambers. SimpleHuman makes it, and it's straightforward to install and use. I would put shampoo in the first container and conditioner in the second chamber. Both containers are transparent and made of cylindrical-shaped plastic. I appreciate the storage feature where I can safely place my loofah and razor.
You must pull the lower handle towards your body to pour the shampoo. That's a bit inconvenient for me, but not at all a deal breaker.
Pros
Ergonomic design;
Storage area;
Convenient and easy to use;
Rust-resistant materials that are easy to clean.
Cons
They should enlarge the labels featured on the containers, which read "shampoo" and "conditioner." I always place the shampoo on the left, while the correct container is for my conditioner, so that's not really a huge problem for me;
It doesn't last very long since it's an adhesive-based shower dispenser;
The container's seal might weaken in time, so water can go inside and mix with your hair care products.
I love this Better Living dispenser and its silver chrome satin finish. It looks elegant and classy and comes with three containers where you can place your shampoo, hair conditioner, and body wash. What I like most about this choice, besides the way it looks, is how easy these chambers are to clean by lifting them off the bathroom wall.
Pros
Durable and water-resistant plastic materials;
Elegant finish and classy design;
Three compartments;
It comes with waterproof adhesive, which makes the installation quick and easy;
Convenient and practical.
Cons
It's not suitable for hair care products with a more dense consistency;
I had to press the pump multiple times to get the shampoo out of the container.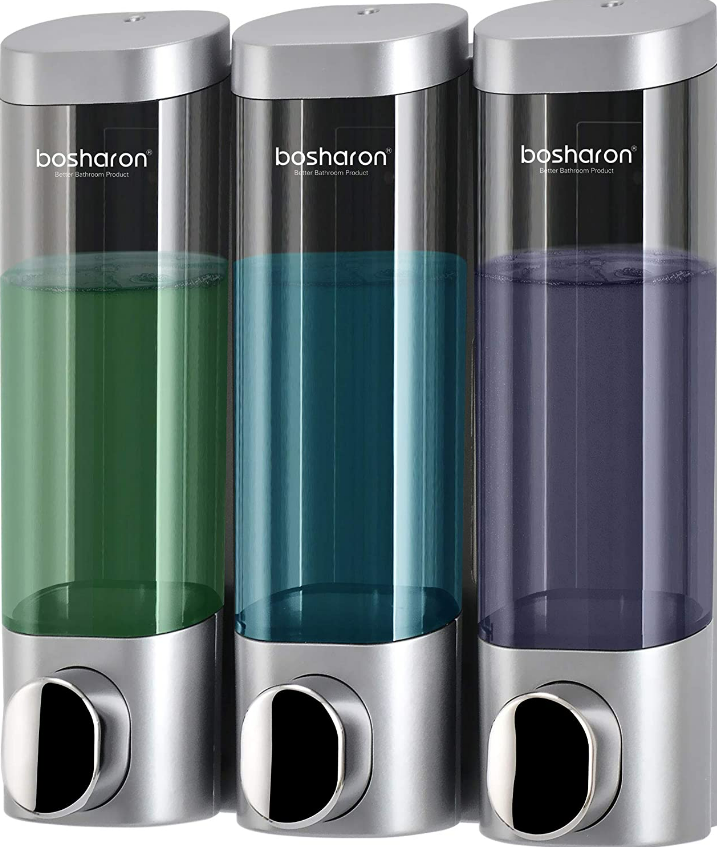 Another elegant option is the Bosharon shampoo dispenser, which has three containers, each with its own press/push frontal buttons. The chambers are made of high-quality plastic and can be mounted on your bathroom's wall. Each container holds up to 10.1 fluid ounces. In addition, this dispenser features a transparent display.
Pros
Elegant design with three chambers;
Easy to use;
Pretty affordable;
I loved that it didn't smell like chemical plastic when I opened it;
They've upgraded and improved the pumping system.
Cons
There's room for improvement regarding the installation process, which can be tricky;
For this dispenser to work smoothly, you'll need to fill the containers with very fluid, almost watery soaps and shampoos.
These MaisoNovo bottles are standalone items that don't require any installation. All you have to do after purchasing them is to place these containers on your sink, bathtub's edge, or on your bathroom's dedicated shelves for hair care and body care products. They're super simple to use and clearly labeled for shampoo, conditioner, and shower gel.
To me, they look like vintage apothecary containers, which provide a nice retro vibe. You must push down the plastic lids to get the product out. If you want, you can opt for the wall-mounted version with three black stainless steel hooks.
Pros
I love these shower bottles due to their versatility and ease of use;
I can easily refill them using the silicone funnel that comes in the box;
You can place them on your sink or mount them on your bathroom wall;
The labels are waterproof;
The materials are BPA-free;
Thick bottles with a glass-like finish.
Cons
Not suitable for thick shampoos;
The pumps could be sturdier;
Pretty expensive.
This three-chamber shower dispenser looks sleek and modern with its black finish and simple design. I prefer the black version, although the company also sells white and silver alternatives. This dispenser has many excellent and practical features, including anti-slip buttons and an anti-finger residue design. The box comes with screws so that you can mount this product on the wall.
Although it's a three-chamber dispenser, you can use each container individually.
Pros
The plastic material is environmentally-safe, being a special kind of plastic;
Three chambers that you can mount on the wall;
They're durable and elegant;
Ease of use and easy installation;
An anti-finger residue feature, which comes in handy;
Resistant to corrosion.
Cons
The overall value of the product could be better, considering its price;
If you want to use adhesive, you'll need heavy-duty tape. Otherwise, it won't stick to the bathroom tiles;
The amount of shampoo that comes out isn't enough for me.

How to Find the Best Shampoo Dispenser FAQs
Question: Are Shower Dispensers Worth It? Should You Buy Them?
Answer: I strongly consider this a wise investment. It makes the entire showering experience a more pleasant and relaxing one. However, it mostly depends on your needs and preferences. For instance, it comes down to how often you plan to use the dispenser. Another essential aspect is the product's lifecycle or how long you intend to use the dispenser.
Question: Should You Buy a Shower Dispenser That Comes with a Warranty?
Answer: Yes, you should. Look for those dispensers that provide a good warranty since not all manufacturers offer this perk. So, make sure to read the item's description before buying it to see if it has a warranty or not.
Question: What Should You Focus on When Buying Shampoo Dispensers?
Answer: Besides aesthetics, colors, and design, you should also focus on the product's functionalities, features, convenience, ease of use and installation, etc. Last but not least, customer support and return policies are also important.
Final Thoughts
I tend to focus more on design and beauty than on functionalities when it comes to purchasing home items. That's why I always ask for my husband's opinion since he's better at technical features than I am. So, to recap, you should pay attention to a dispenser's practicality, materials, number of compartments, installation type, and a few other important aspects before buying it.
My favorite shower dispenser would be the Better Living option. It has a waterproof adhesive, durable materials, and a sleek design. Have you bought a shampoo dispenser yet? How was your buying experience, and are you pleased with what you got?
Other useful reads: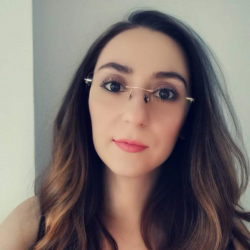 Latest posts by Alexandra Gavrilescu, Home Hair Product Tester
(see all)