I love Bumble & Bumble products. They're expensive yet high-quality hair care items that deliver on their promises. I started using BB shampoos and conditioners a while ago when I saw these products on an online platform, by accident. Since then, I've tried several options, including the company's thickening product line, which is my favorite since I have fine hair.
For today's review, I've tested a couple of Bumble & Bumble shampoos, including the Thickening Volume shampoo and the BB Gentle shampoo. They were both great, but they served different purposes. I will discuss that in more detail later on. Besides these two shampoos, I've also added other BB shampoo alternatives for you to consider.
Bottom Line Up Front
Both BB Thickening and Gentle shampoos worked amazingly on my hair type. I have fine and straight hair that lacks volume. While the Thickening shampoo plumped my hair, the Gentle option is more like a creamy cleanser. I can use it daily to keep my locks moisturized and hydrated. But even BB Gentle offered me some kind of volume. So, I recommend both these products.
After washing my hair with these products, it felt smoother and easier to brush.
About Bumble & Bumble
Bumble and Bumble has a long history, being founded in 1977. Before becoming a product company, it functioned as a hair salon. Michael Gordon, a reputable hairdresser, started this business. Nowadays, Estee Lauder owns BB.
The company's headquarters are in NYC, and the brand's goal is to make clients happy by offering them high-quality hair care products. These items are all presented in a fun and youthful manner. Bumble & Bumble's most popular product is the Invisible Oil Primer from the Hairdresser's product line.
Bumble & Bumble Shampoo Features
So far, I've used the Gentle and Thickening BB shampoos, and I'm pleased with both. Bumble and Bumble shampoos are also cruelty-free and versatile.
BB Thickening Shampoo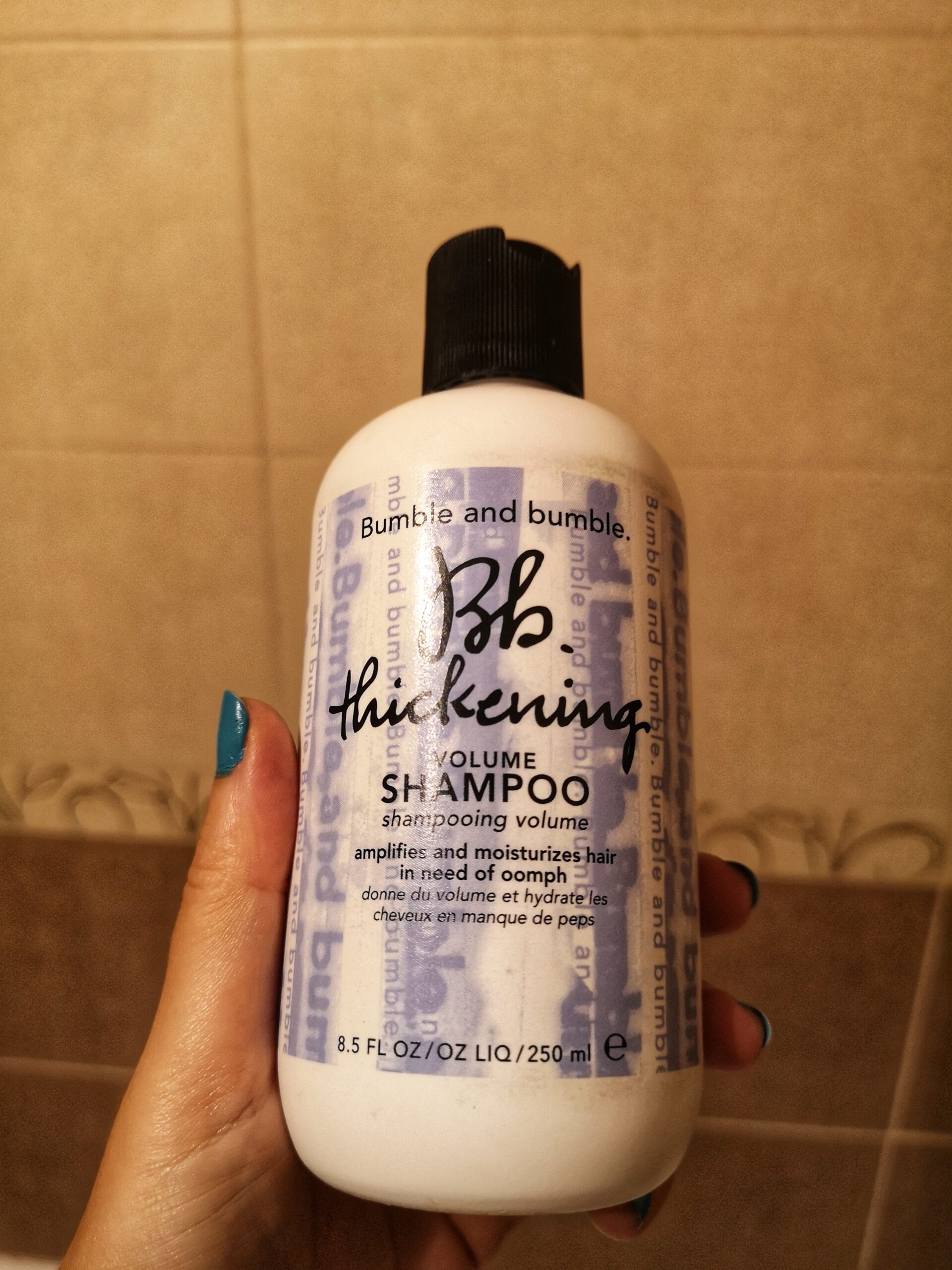 This was the first Bumble and Bumble product I've ever used, with the Thickening hair conditioner and BB Volume hair spray. Both the shampoo and the conditioner volumized my hair. After washing my hair, my tresses felt squeaky clean and plumped.
I ordered these products from a third-party seller, so I could only make a one-time purchase. Still, if you buy them directly from BB's official site, you have the possibility to subscribe and receive their hair care items on a regular basis. You can activate the subscription by pressing the auto-replenish button. With this feature, you'll receive your desired BB products at a certain frequency (from every month to as rare as every 120 days).
Ingredients
It's a lightweight and plumping shampoo suitable for all hair types. This BB shampoo is excellent if your hair is fine like mine. However, people with medium-density hair can also use it successfully. It contains all sorts of ingredients that many other shampoos are formulated with, too. But, the Thickening shampoo also has Aloe Vera leaf juice to boost your hair's hydration and citric acid for a boosted cleanse.
All BB shampoos are free from mineral oils, parabens, formaldehyde, and phthalates. 
Pros
It makes a lot of foam very quickly, which I love because it makes me feel like I'm cleaning my hair properly.
The scent is lovely and mild. I can't stand strong perfumes.
After washing my hair with it, it looked a lot fuller and volumized.
My hair became softer without losing its volume and shape.
Cons
The bottle is relatively small, and I couldn't find bigger bottles that could be delivered to my area (on their official website, I see they also have one-liter bottles as well as tiny bottles of only two fluid ounces)
I wish this shampoo would've been more hydrating. My hair was squeaky clean but also a tad dry and tangled.
The scent is mild and pleasant, but it doesn't last very long after I blow-dry my hair.
There's a tiny hole in the cap, so it was difficult for me to take out as much shampoo as I would've liked.
Overall, the Bumble and Bumble Thickening shampoo does what it promises, but my plumped hair only lasted for several hours. So, I might reuse it regularly, and hopefully, I'll achieve even better results. I'm eager to try some other items from the Thickening line, including the hair treatment and plumping hair mask.
BB Gentle Moisturizing Shampoo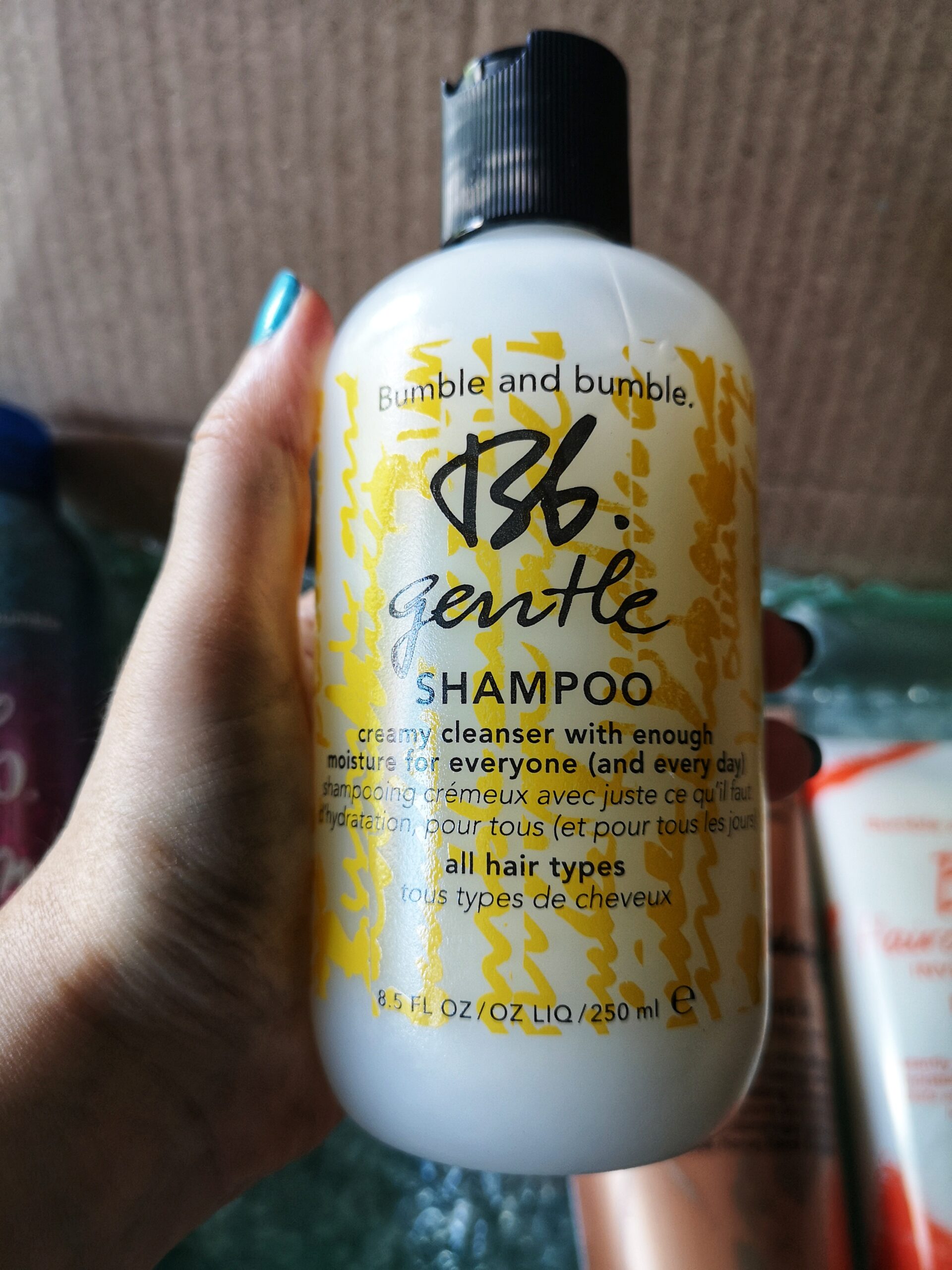 This is the latest BB shampoo I've tried, and I was more than happy with the outcome. The BB Gentle shampoo is the star of today's review since I'm looking forward to using it again and again. My hair felt amazing after using this product. It was clean without being dry. Moreover, my locks were smooth, detangled, and super soft – gentle, indeed.
Compared to the Thickening shampoo, the BB Gentle alternative works great for all hair types, from fine to thick. Whether your hair is damaged or healthy, curly or straight, this shampoo adds shine while cleansing and moisturizing your locks.
Ingredients
I was happy to see that this Bumble and Bumble shampoo contains avocado oil, making it highly nourishing for my hair. It's also formulated with nettle leaf extract and citric acid. Nettle leaf has many hair benefits, like fighting against hair loss, boosting hair growth, and restoring your hair color.
Like all BB shampoos, the Gentle cleanser is also free from harmful compounds such as parabens and phthalates.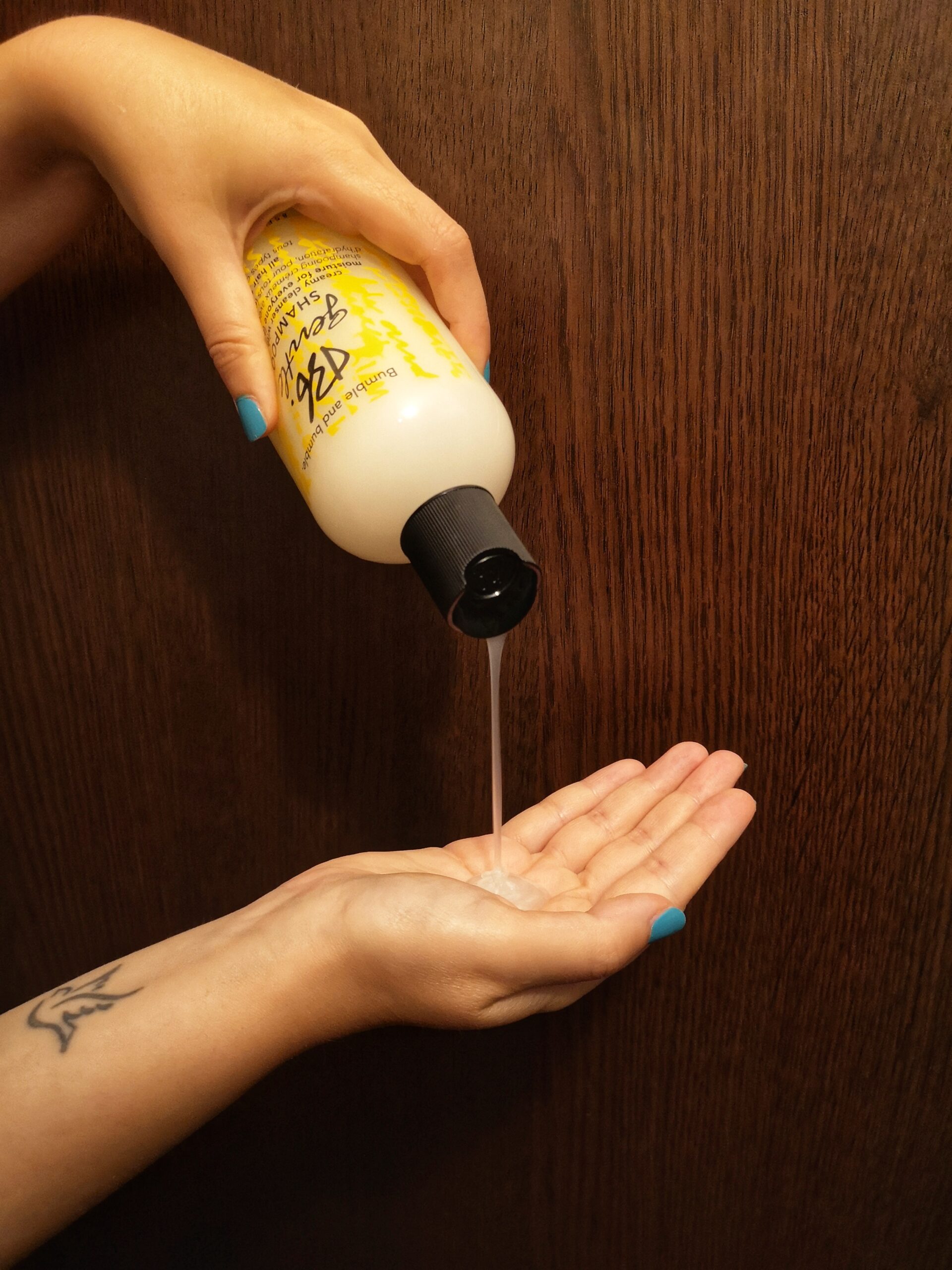 Pros
It's versatile and easy to use.
Suitable for all hair types, from straight to wavy and curly.
Very gentle on my scalp – it didn't leave any residues, and my scalp wasn't itchy after using this product.
It's so mild that I can safely use it every day – although I usually wash my hair every other day.
If you live in the US, you can choose your desired bottle size, from tiny ones to one-liter bottles.
I liked its texture and creamy yet fluid consistency.
It has excellent lathering power.
My hair felt so clean and soft after washing it.
Cons
Again, the bottle size was an issue for me because the local online shopping store from where I ordered the product didn't market any other sizes than this eight-ounce one.
The lovely scent didn't last longer than a couple of hours on my hair.
It was pretty expensive.
The next day, I felt some residues on my scalp, but those might've appeared from using a BB strong-hold hair spray.
Before Wash
The bottle is quite small, which makes it easier to hold, especially for my small hands. It's easy to open the cap and pour the product. All I did was press the edge of the lid. I wish it had a central and larger bottle opening to pour more shampoo at once, but that wasn't a deal breaker for me.
I couldn't help but smell the shampoo even before using it. It has a pleasant and mild fragrance. Not too gentle, but not strong either. The product has a nice consistency. I felt it was creamy but fluid enough.
I had huge expectations from this product, mainly because, as you can see, my hair was brittle, dry, and tangled.
During Wash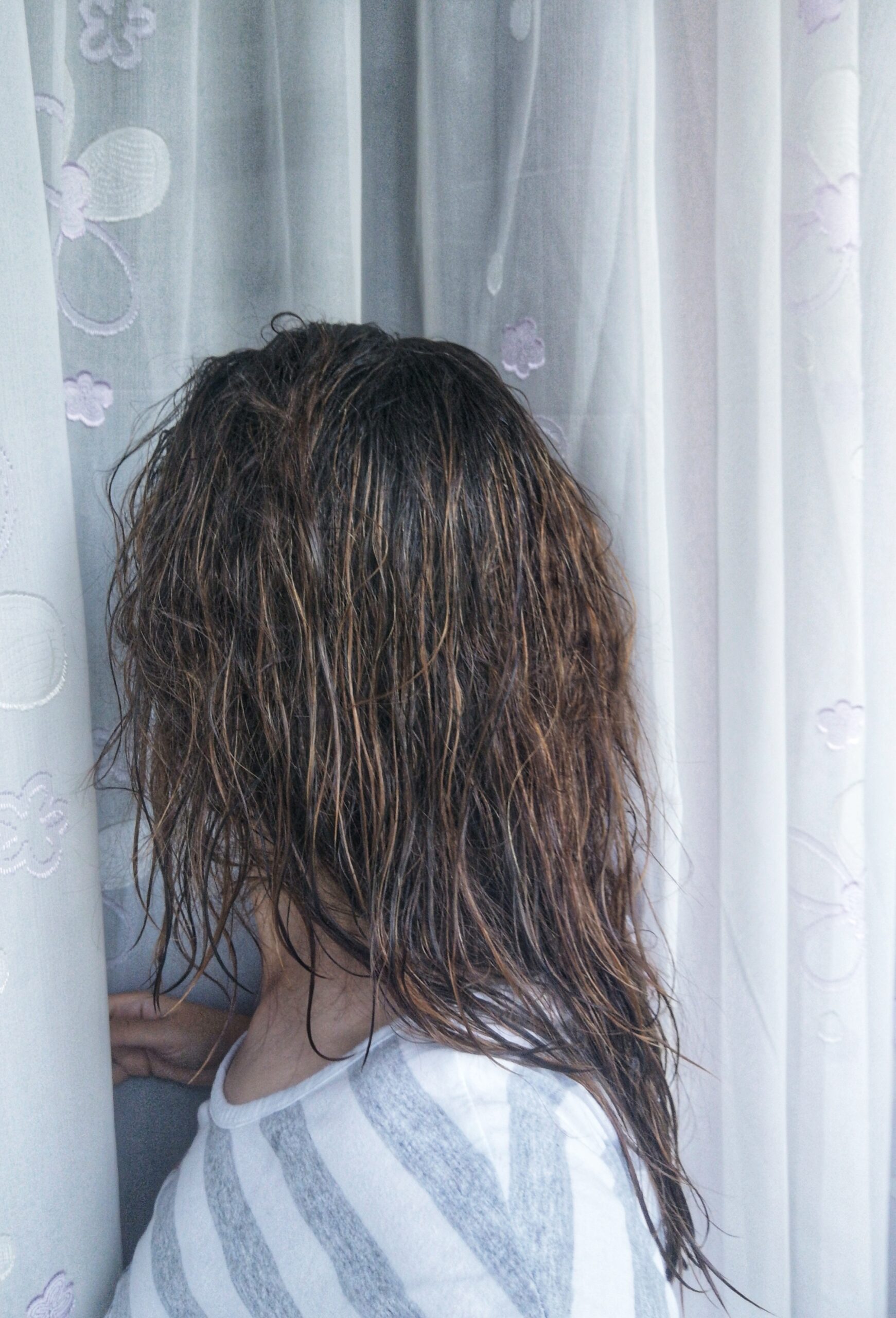 The shampoo has a milky translucent color. It made a lot of foam right from the start, and I didn't have to apply many products. I felt my scalp and hair cleansed, but there was one issue I didn't like. After rinsing my hair, it felt a bit tangled. I'm unsure if that was because of the product or because I have fine hair that gets tangled easily.
However, once I applied the BB conditioner and then the BB hair mask, my locks became untangled once again.
After Wash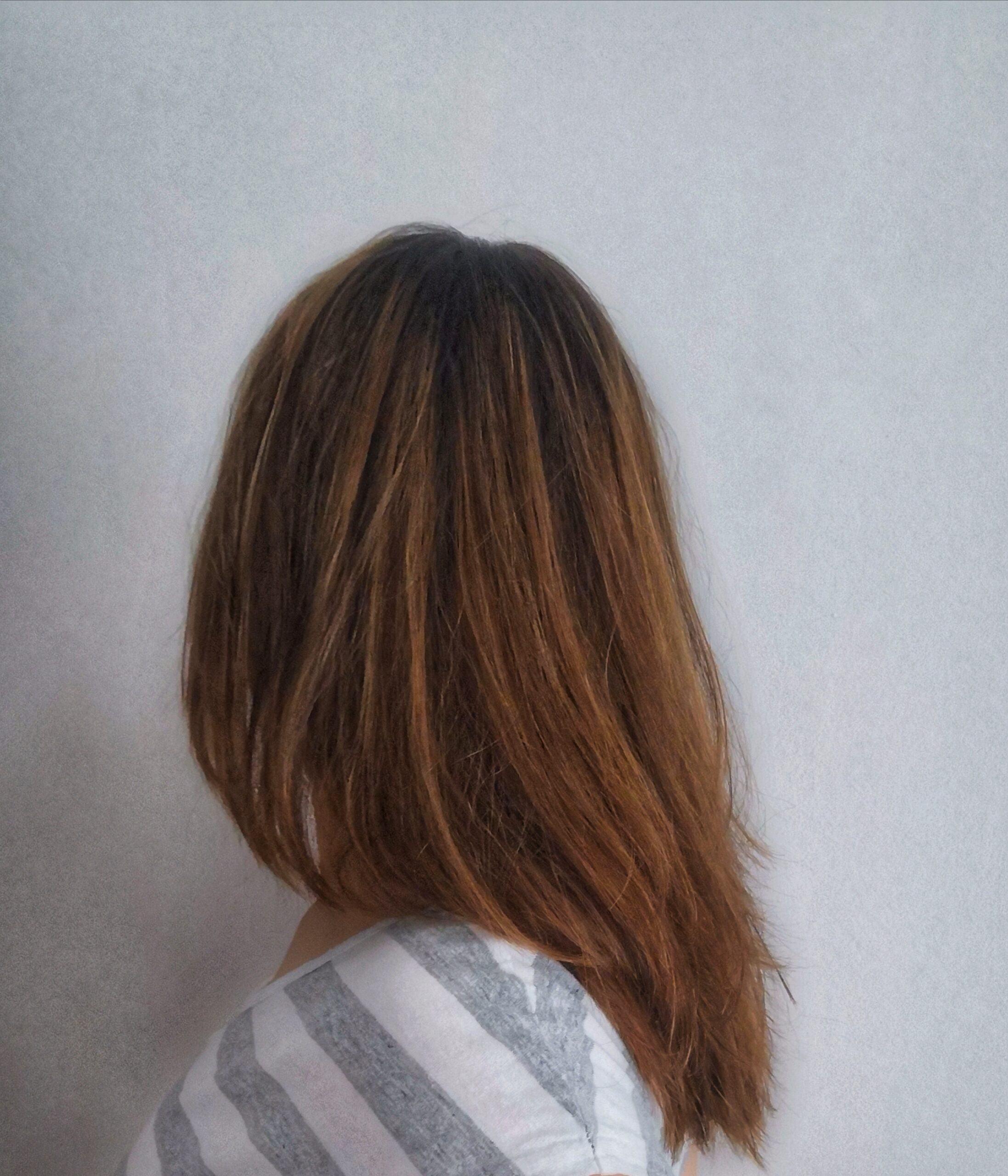 I wasn't expecting any volume, but this Gentle shampoo surprised me. Indeed, my hair wasn't as plumped as I would've wished, but truth be told, the BB Gentle cleanser isn't meant to give you more volume. Its main purpose is to cleanse and nourish your damaged hair. Nevertheless, my slightly-plumped hair lasted for a few hours.
I truly loved how soft and easy to brush my hair was. I usually struggle when it's time to brush my locks after washing them, but this time it felt like a walk in the park. Considering that my hair got a bit tangled when I was shampooing it, the detangling part might have resulted from using the conditioner and the BB mask. My hair felt good and not greasy. Moreover, it looked nice and airy. These things made me feel fabulous and confident, and that sensation stayed with me throughout the day.
It almost felt as smooth as it would've been if I had gone to a beauty salon's hair treatment appointment.
Fragrance and Consistency
Lovely scent, pleasant and mild – but it doesn't last long.
Great consistency, creamy, and easy to pour without being too fluid or thick.
Packaging
The bottle was a bit small but easy to handle. The cap is simple to use and open or close. I would have liked the opening to be a bit larger so I could pour more shampoo at once. The label is cute and easy to recognize due to the brand's font, style, and colors.
Foaming and Cleaning Power
I loved this shampoo's cleaning and foaming capabilities. It does a great job of cleansing my hair without making it dry or brittle.
Other BB Shampoos
Let's take a closer look at some of the other BB shampoos.
BB Curl Moisturizing Shampoo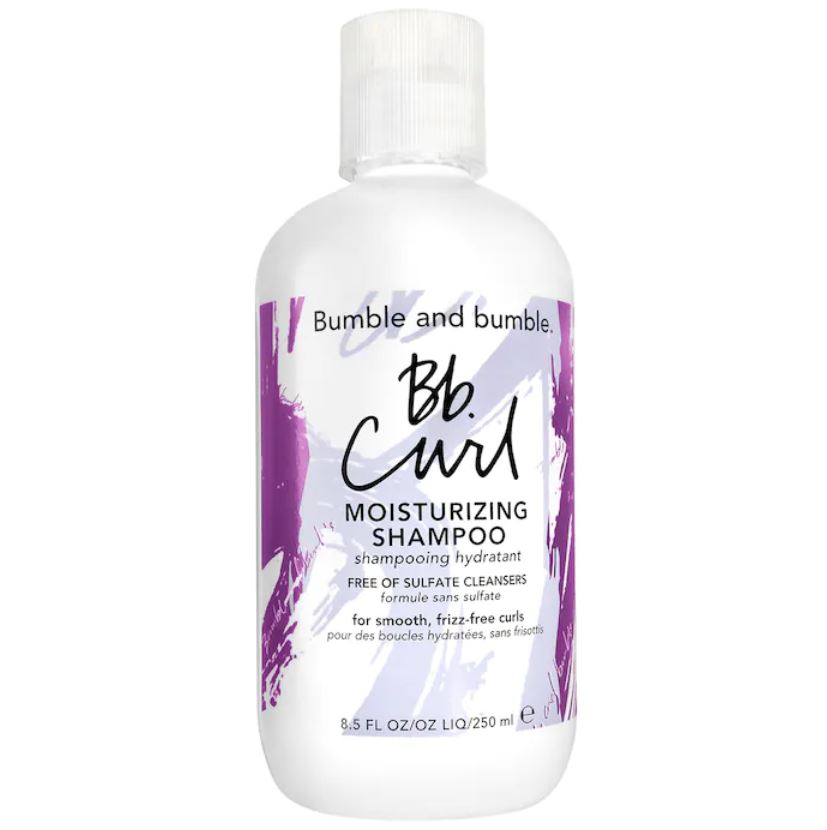 This BB moisturizing shampoo is for people with curly hair to help them control frizz and tame those locks. The formula contains several nourishing oils, including Shea butter, avocado oil, cocoa butter, Jojoba oil, and coconut oil. I don't have curly hair, but I would be a bit afraid to use this shampoo even if I did. I would worry that this product could make my hair feel greasy. I get that feeling every time I use oil-based hair products.
However, it works as a gentle cleanser.
Pros
Nourishes your curly locks
It's paraben-free
Reduces frizzy hair
Smells divine
It's great for curly and wavy hair
I love its cleansing and moisturizing power
Cons
It could give a better curl definition
Not meant for straight hair
It reduces frizz, but not as much as you might want
It might make your hair oily
BB Invisible Oil Shampoo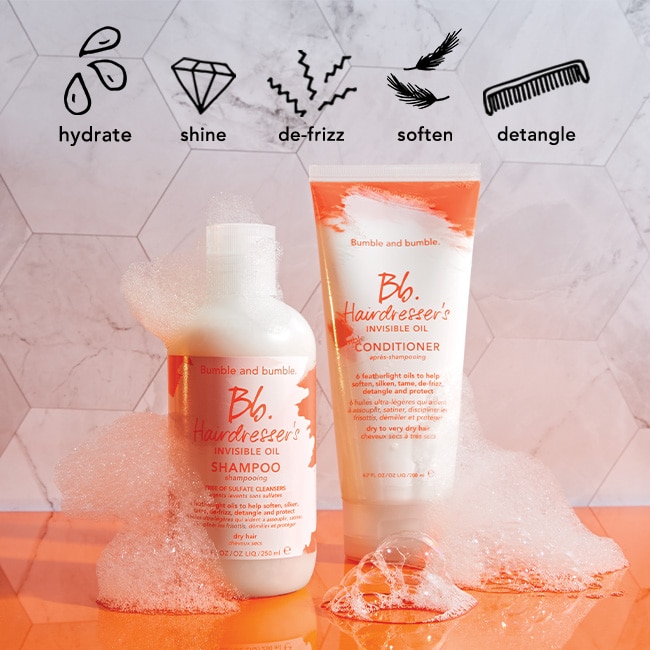 The Invisible Oil shampoo contains no less than six different oils, but all of them are lightweight, so they don't make your hair greasy. The product aims to make your hair soft and smooth. Moreover, it improves the way your locks feel and look. This shampoo might be the perfect solution if you have frizzy or dry hair.
Pros
Your hair becomes softer and easy to detangle;
Even with its high content of oils, this product doesn't overwhelm your hair – you won't feel like it's weighed down;
It tames frizzy hair;
It contains many nourishing ingredients: grapeseed oil, argan oil, coconut oil, etc.
Protects your tresses from further damage and breakage
Cons
If you have a sensitive scalp, this shampoo might not suit you since it can lead to buildups and residue;
It won't protect your hair color.
BB Surf Foam Shampoo

I think this is the next BB shampoo I want to try because its formula has got me intrigued. It contains algae extract, sea salt, and tropical oils. These compounds make your tresses look like you've been to the beach. I'm a sucker for wavy looks and boosted volume. I bet I would love it. It's the perfect choice for straight or wavy hair. Still, it's best used on healthy hair.
Pros
I love the turquoise color of this shampoo;
It smells great;
It leaves your hair wavy and well-textured;
This shampoo increases your hair's volume.
Cons
It might not work well on damaged or dry hair;
I would have issues trying to detangle my hair after washing it with this shampoo because it contains sea salt. As we all know, sea salt can easily tangle fine hair.
Bond-Building Repair Shampoo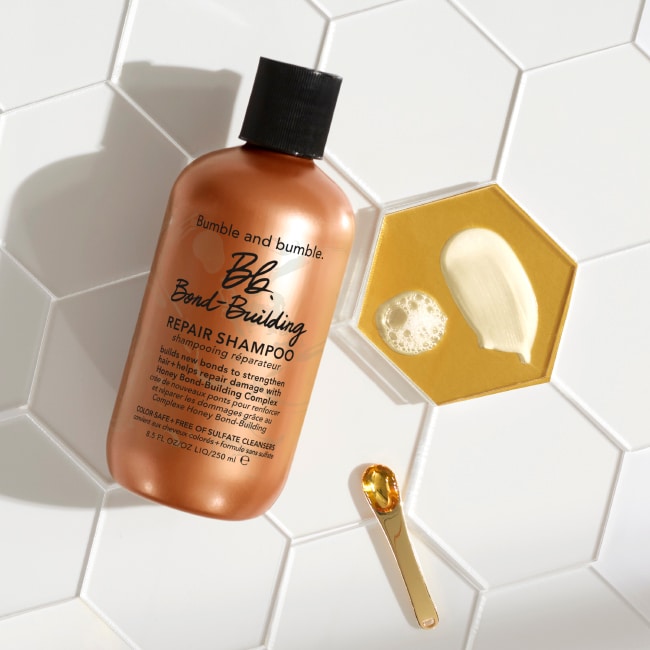 The Bond Building shampoo repairs and strengthens your locks inside and out. I would try this BB shampoo as long as it doesn't make my hair too soft and volumeless. Your hair will develop new and stronger bonds. Moreover, it will be shinier and well-hydrated. That's possible due to the shampoo's honey and castor oil content.
Pros
It has excellent restorative abilities
It can be used daily
Meant for damaged and dry hair
It's suitable for all hair types
Hydrates and makes your hair shiny and luscious
It improves your hair's elasticity
Cons
Not suitable for sensitive scalps. It could cause mild yet annoying skin rashes and other allergic reactions
I'm not a fan of strong perfumes, and this shampoo smells way too overwhelming.
BB Seaweed Shampoo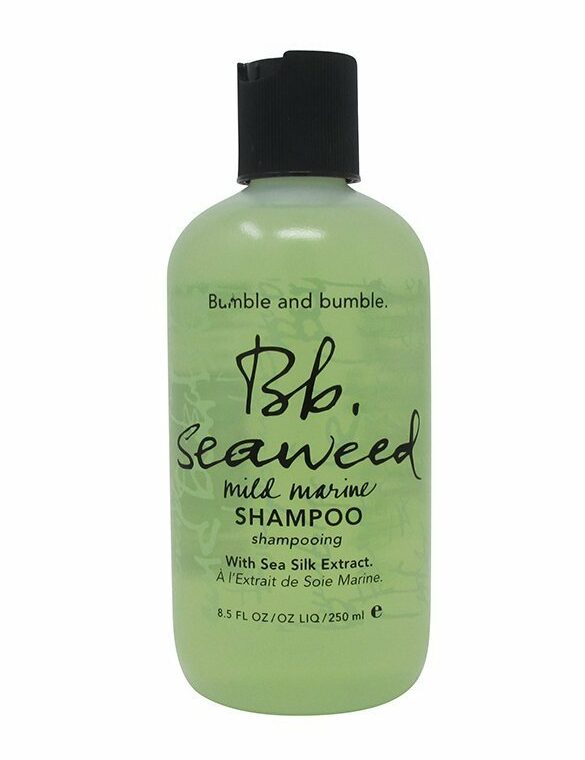 The BB Seaweed shampoo should be your to-go product if you want something lightweight that cleanses but doesn't weigh down your hair. It contains three wonderful ingredients: kelp, seaweed, and spirulina, all of which provide a deep cleanse, similar to a detox. Let's say you've used inappropriate hair care products; this shampoo will fix that with its mild moisturizing properties.
Pros
It's mild and lightweight on your hair and scalp
It smells refreshing
The scent is very soft and pleasant
It helps colored hair to maintain its shade for an extended period
Cons
It could dry your hair because it makes it squeaky clean. It almost feels like it strips your locks from all its oils, good and bad.
BB Full Potential Shampoo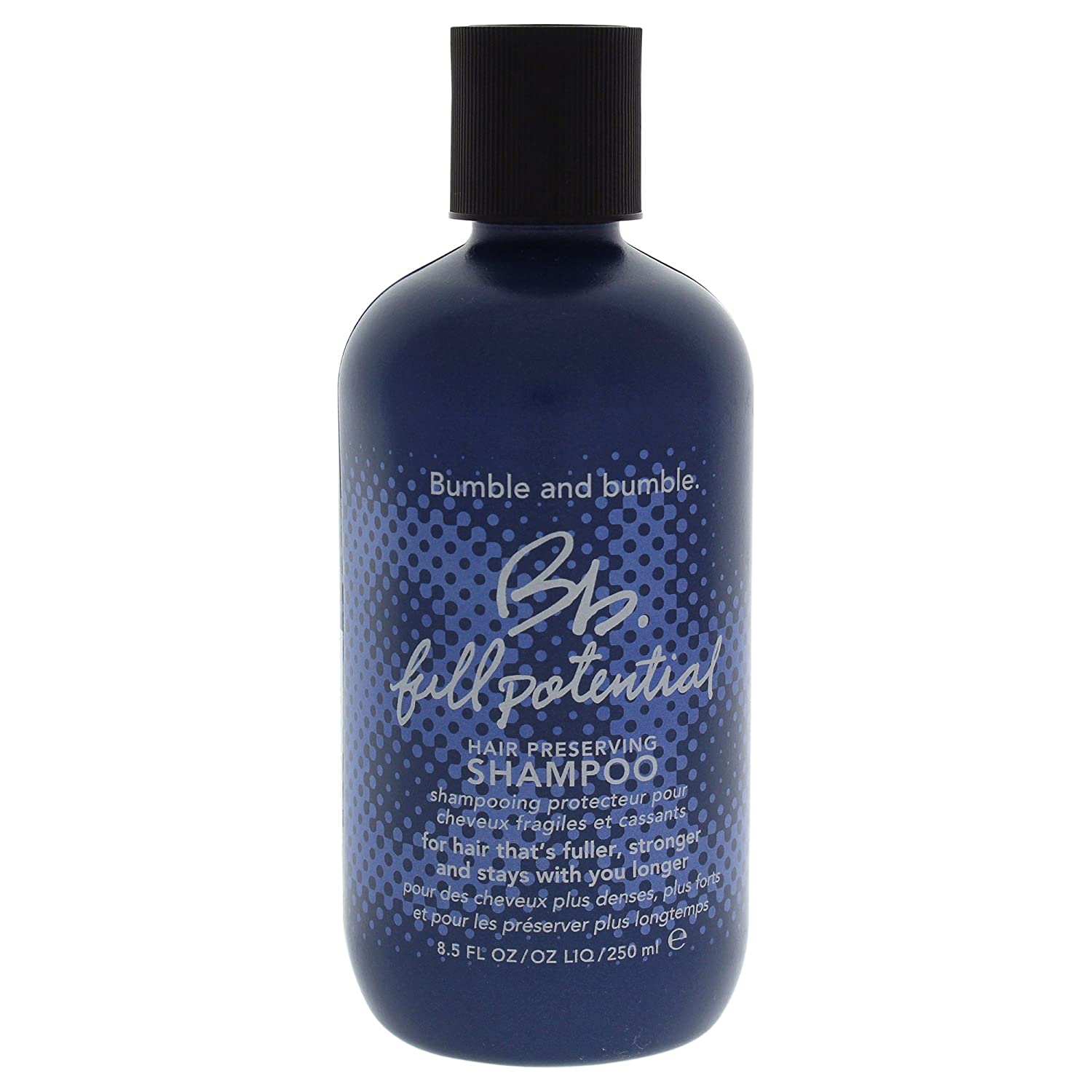 The Full Potential shampoo was created for weekly use. This is going on my wishlist since it's perfect for fragile hair like mine. It makes your hair stronger and fuller. But, at the same time, it prolongs these remarkable results. The Full Potential is an invigorating BB product suitable for all hair types.
This shampoo contains creatine, caffeine, menthol, rosemary leaf extract, birch extract, and other effective ingredients. Creatine protects your hair strands by strengthening them, while rosemary extract promotes hair growth.
It's a weekly substitute for the BB Thickening shampoo I've used.
Pros
It's invigorating and removes scalp and hair buildup
Works well on all types of hair, from curly to straight and thick to fine hair
It's an effective fix if your hair is thinning
You'll be able to see excellent results after the first wash, but those effects improve if you use it for at least one month
Your hair will become easier to style
Cons
It smells awful – the scent is overpowering
It might not work for all hair types. Those with sensitive scalp might develop flakes, while fine hair might get tangled
Creme de Coco Shampoo

I love how Creme de Coco smells, with its tropical vibe and anti-frizz power. It cleanses your scalp and moisturizes your hair. Its coconut oil extract promotes shine and nourishes your tresses. Still, it's not the ideal choice for people with fine hair. I guess I should avoid it, then.
Pros
It smells nice
Controls frizzy hair
It works as a deep moisturizer
It's great for curly and wavy locks
Cons
It's only suitable for those who have medium to thick hair
It's not the perfect option if you have straight hair
This shampoo might make your hair feel oily because of all the oils it has in its formula.
BB Sunday Shampoo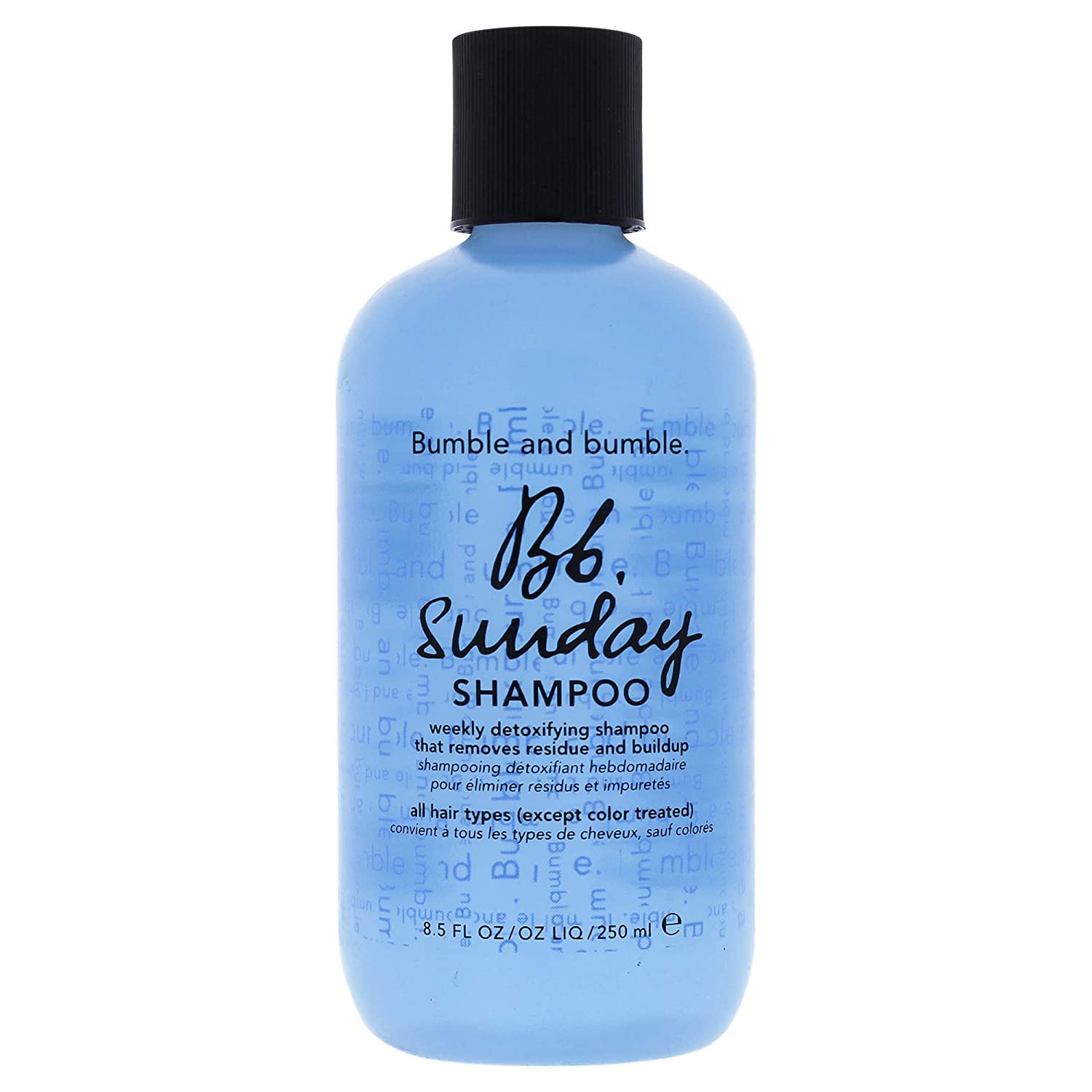 The Sunday shampoo is a clarifying product that acts as a detox agent for your scalp. Where I live, the shower water is a bit hard and harsh on my skin and hair. Therefore, I need a gentle shampoo that fixes some of the damage done by hard water, outdoor pollution, dust, dirt, and other factors.
I was disappointed to read on the label that this Sunday shampoo isn't designed for color-treated hair. That means I can't use it, although I was eager to try it. It's a pity because I love the ingredients included in the formula: Ginseng root extract, rosemary leaf oil, and sage leaf extract.
Pros
Removes residue and buildup
It's gentle on the scalp
You can wash your hair less frequently because this shampoo keeps your locks grease-free for a longer period
Cons
It's not suitable for color-treated hair
It can dry your hair and make your scalp feel a bit itchy
Alternatives to BB Shampoos
FAQs
Question: Why Are BB Shampoos So Expensive?
Answer: These products are positioned on the market as premium items made with high-quality ingredients. They're salon-grade products with amazing results. All their features lead to increased effectiveness. My hair feels and looks much better after using BB shampoos. Hence, they have higher price tags compared to other similar shampoos.
Question: Are BB Shampoos Worth It?
Answer: Yes, they are because they make your hair easier to comb (honestly, I've used these shampoos followed by a conditioner and a mask, so my hair was detangled by the end of my routine). My hair is smoother, softer, plumper, and easier to style. Their formulas are nourishing, and they foam and lather well.
Bottom Line
Most BB shampoos are amazing. I've been using them for a while, and I'll continue to try different BB product lines. Maybe I'll avoid those alternatives that contain too many oils or heavy ingredients like Shea butter since these could make my hair feel greasy. I'm pleased with all the Bumble and Bumble shampoos I've tried. My hair feels smoother and has more volume. More importantly, it's easier to comb and style.
I would recommend these hair care products, despite being expensive.
Stay tuned for some more Bumble and Bumble product reviews.
Other reads: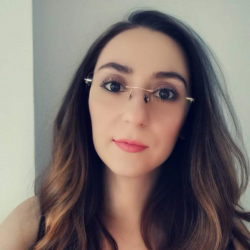 Latest posts by Alexandra Gavrilescu, Home Hair Product Tester
(see all)