When it comes to hair issues, having an oily scalp that leaves your hair feeling sticky and greasy is definitely the worst. Even if you use all of your best shampoos, it's frequently hard to get all of the extra oil out of your hair. The value of using a good hair conditioner for all hair types, not just oily hair, cannot be overstated. Conditioning is one of the most important aspects of having healthy, springy, moisturized, nurtured, and strong hair, as well as preventing excessive oil production in the scalp. 
We discovered a variety of oily hair conditioners, all of which claim to make hair strong, oil-free, and nourished. Let's get started! 
How to prevent oily hair 
Controlling greasy hair is literally within your grasp. Simply keeping your hands off your hair can help avoid greasy hair. This also applies to brushing your hair since both will spread grease throughout your strands. Hair that is greasy is also a cyclical issue. Excessive shampooing or scrubbing can irritate the scalp, leading it to produce more oil. 
When you deprive your hair of its natural oils, your scalp produces an excessive amount of oil. Do not wash your hair more than once a day for this reason alone. To ensure that all shampoo and conditioner are removed from your hair, rinse it with cold water for at least 30 seconds.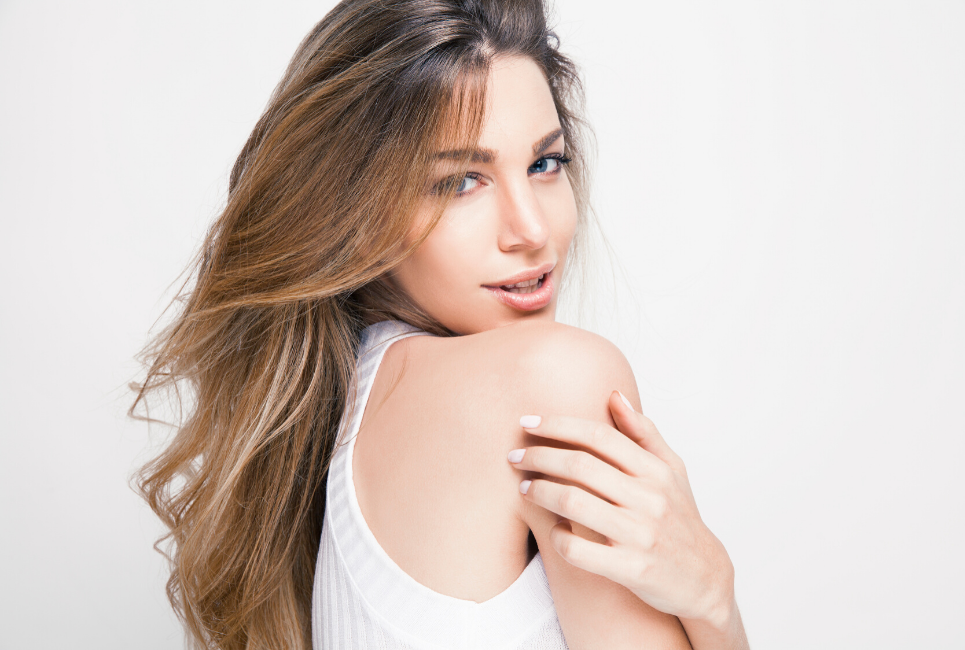 The sebaceous glands are stimulated by hot water, whereas the sebaceous glands are shut down by cold water. Cool water also aids in the closure of your cuticle, minimizing hair damage. Allow your hair to air dry as much as possible, or use the least amount of heat feasible. Hot air, like hot water, can speed up the creation of oil. The excessive product can also produce a buildup on the scalp, resulting in grease.
How to buy t
he best conditioner 
On the market, there are a variety of hair care products that promise to help with oily hair. How do you tell which products will work for your hair when new ones are released all the time? 
Ingredients 
You should familiarize yourself with the components that clean your hair's scalp and roots without stripping or harming the strands. Ingredients like peppermint, rosemary, and tea tree oil can help to clarify the structure of your hair while also eliminating oil and product buildup. Prepare yourself for some trial and error. 
It's also worth noting that some essential oils and botanicals can cause contact dermatitis, so if you detect indications of irritation or redness, stop using the product.
Chemicals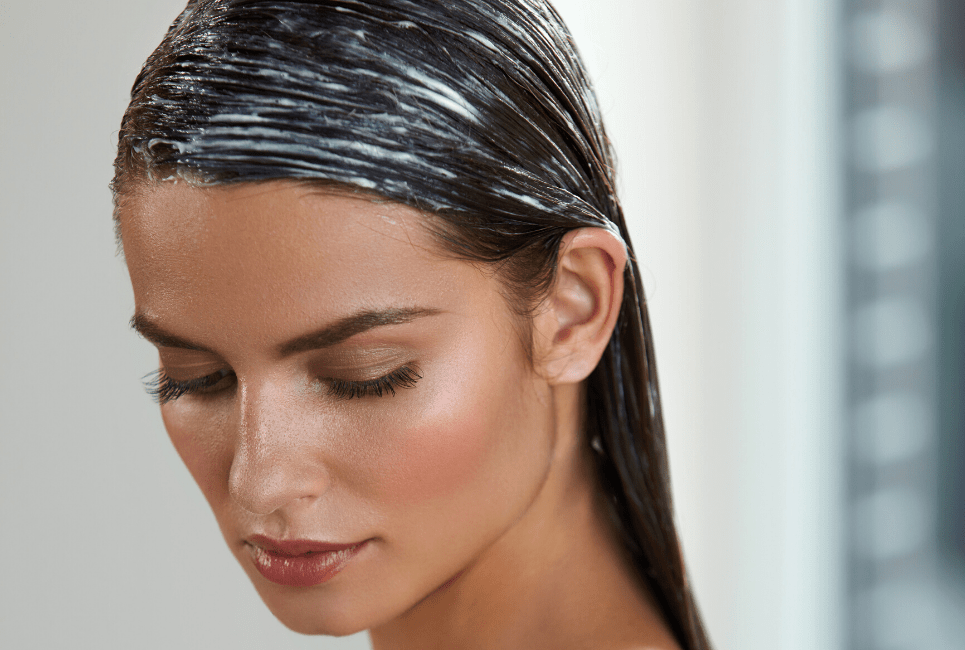 For those with greasy hair and scalp, formulas with more natural components may be very useful. Harsh soaps and sulfate chemicals may be disrupting the natural balance of sebum production in your hair follicles and scalp, resulting in an increase in oil production. Sulfate- and paraben-free products are essential if you have greasy hair. 
What's important to you?
You may ask yourself further questions about the product you want to buy after you know which components you're looking for and which compounds you should avoid. When looking for the shampoo and conditioner of your dreams, consider the packaging's sustainability, vegan or cruelty-free standards, and green production methods.
The Best Conditioner For Oily Hair – Our Top Picks
When your hair is greasy, it might be difficult to find the proper conditioner. Many cleaning products tend to add additional oils and silicone substances to your hair, making it seem heavier and less clean even after you wash it. 
Truss Equilibrium Conditioner for Oily Hair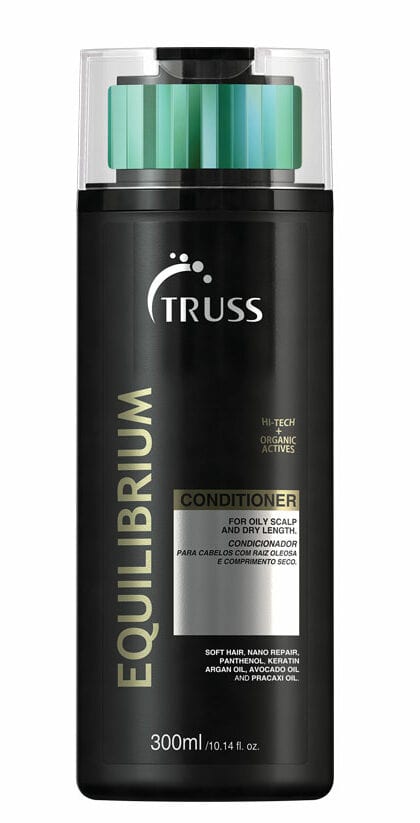 This conditioner despises greasy hair and scalps! Pair up with this product if the feeling is reciprocal. This conditioner is a light yet deep hydrating conditioner that restores and repairs hair while also eliminating and regulating excess oil. Excessive oil production may spoil a style and make hair seem greasy and limp, as we all know. 
Instead, it provides an all-around sophisticated composition that includes argan oil, avocado oil, keratin, pracaxi oil, and panthenol! It gives you sparkle and shines while preserving your hair from environmental harm by protecting and sealing the hair shaft. 
 Pros
Smooths hair, reducing frizz
Balances dryness
Controls excessive oil
Cons
Nexxus Hydra-Light Weightless Moisture Conditioner 
Do you want to retain your long hair without adding to your weight? Nexxus conditioner knows what you're going through! It's designed for people with fine to flat hair who suffer from hair grease. Proteins that have been naturally extracted are used to make this conditioner. It's also designed to revitalize your hair without adding weight.
Minerals and protein are included in the recipe, which nourishes your hair from the roots and gives it a wonderful, flowing movement. It penetrates your hair strands and bulbs, rehydrating and rejuvenating them from the inside out. It also cleanses your scalp, leaving you with a light sensation that lasts through the shower curtains.
Pros
Provides volume
Controls excessive oil
Reduces frizz
Balances dryness
Cons
OGX Purifying & Charcoal Detox Conditioner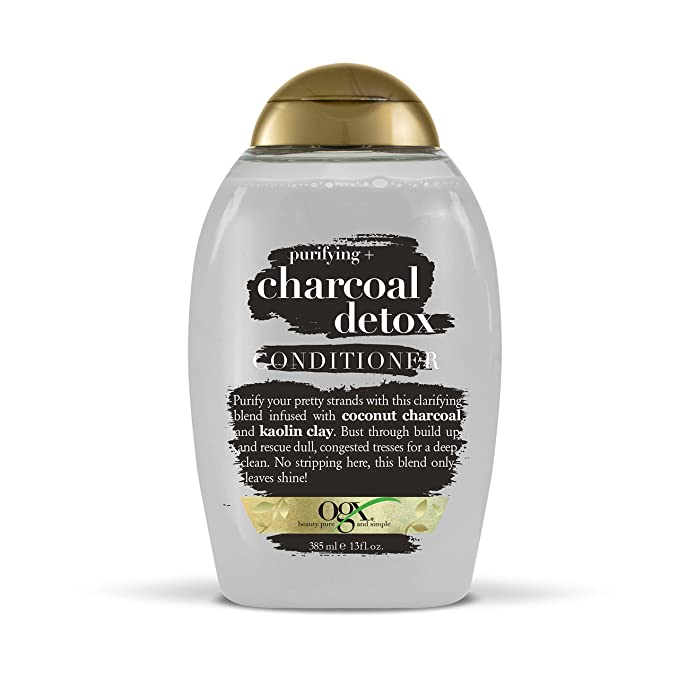 Strip down with the OGX Purifying + Charcoal Detox Conditioner and give your hair a rest from all the hairsprays, colors, and hair-exhausting treatments! This conditioner has a clarifying combination with activated coconut charcoal and kaolin clay to help break down buildup. It works for even the most fragile hair and grease-streaked scalps. 
All of this without being squeaky or devoid of moisture. This clarifying conditioner hydrates and nourishes hair for a healthy, balanced look. When your hair has had enough of your beauty junkie lifestyle, it's your go-to! 
Pros
Cruelty-free
Controls excessive oil
Detoxifies hair
Cons
Philip Kingsley Moisture Balancing Combination Conditioner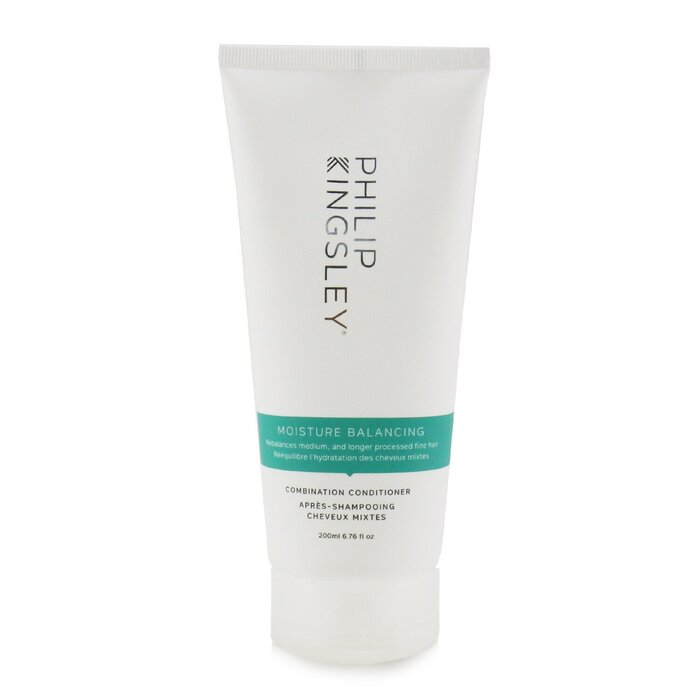 The Philip Kingsley Moisture Balancing Combination Conditioner is a must-have for both you and your hair. This product hydrates the driest sections of your hair, which are generally the mid-lengths and ends, while leaving the roots alone to avoid weighing down your style. It detangles your hair in seconds and leaves it light, silky, and lustrous. It aids in the rebalance of sebum production. 
Wheat protein is used in this conditioner to help strengthen and plump up the hair around the roots, giving you instant volume. The Hydrolyzed Elastin and Guar in their anti-static composition leave your hair shinier, smoother, and stronger. It also lowers your chances of becoming tangled up very soon. This means fewer combing sessions and, even better, fewer breakages! 
Pros
Controls excessive oil
Hydrates ends
Cleans roots
 Cons
Sukin Oil Balancing Conditioner

This vegan balancing conditioner is devoid of a slew of potentially harmful chemicals! It's like having a Caesar salad for your hair! This conditioner helps to balance oily hair and dry ends by providing mild moisture from jojoba oil. 
Your hair and scalp will be nourished by moringa extract and wheat protein. It also contains aloe vera and vitamin E to moisturize your hair, leaving it feeling smooth and rejuvenated. Finally, it has a spearmint and citrus botanical combination for a wonderful time while singing away your oils in the shower! 
Pros
No harsh chemicals
Controls excessive oil
Anti-frizz and detangling formula
Cons
How to manage oily hair 
Did you know you can make your hair less oily by training it? A good oily hair care routine starts with a gentle wash and a thorough cleaning process. A mild conditioner can help restore and regulate your scalp's moisture levels without causing it to overproduce.
A poor rinse job is often the cause of a perceived buildup of oils in the hair. If the conditioner is still too much for your hair, consider conditioning first and then washing to eliminate any remaining residue. Another alternative is to use a leave-in conditioning spray instead of a conventional conditioner (on your ends only).
We've come up with a few ways to help manage any excess oil you're struggling with. Keep reading to find out more!
Shampoo the right way 
If your hair is particularly greasy, you may want to shampoo every other day with a mild shampoo, but most individuals find that every other day is plenty. Instead of lathering and washing right away, consider lathering and waiting two to three minutes for the shampoo's surfactants to enter and break down the oils in your hair. This will remove them much more effectively and prevent excessive oil accumulation. 
No-hair touching 
This includes your hands as well as your face. Avoid twisting or messing with your hair because your face and fingertips both produce oil that may easily be transferred to it. Also, avoid haircuts and hairstyles that expose too much of your hair to the face. 
Buy a great shampoo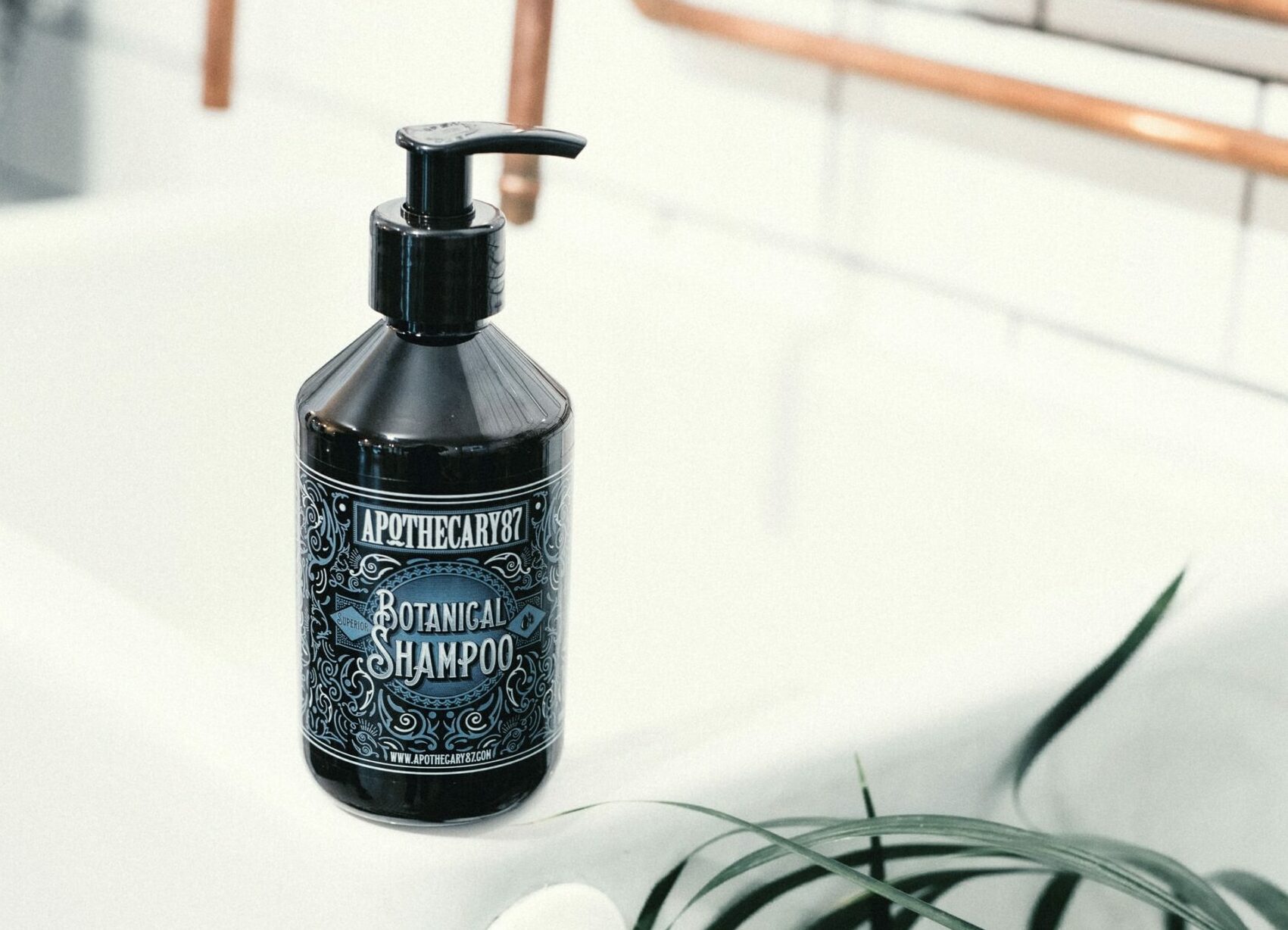 Dry shampoos are made up of chemicals that absorb excess oil before brushing it out, and there are a variety of brands to select from. Each one has its own set of advantages, so consult with your favorite hairdresser before making a decision. He or she can advise you on the finest items for your specific need. 
Hair that is oily may be a benefit and a burden. You'll have to shampoo it more regularly and be more selective about the products you use, but you won't have to deal with the itching and flaking that comes with a dry scalp. The five suggestions above will help to make your greasy hair more manageable without compromising shine. 
Try out hair masks 
You may pamper your hair with a nice greasy hair mask on occasion if you want to go above and above. The hairdresser can sell it to you. Make sure you buy one that's intended for greasy hair! 
You may make your own hair mask if you don't want to spend too much money on one or if you want one composed entirely of natural materials. Those various hair mask recipes may be found online, including many for oily hair. Ingredients such as cornflour, coconut oil, honey, avocado, beer, banana, baking powder, and eggs can be found in the mix. If you prefer organic goods, you may make the hair mask entirely organic by using organic components.
Avoid heat
After you've finished washing your hair, lightly towel it dry. Keep in mind that hot air and heat encourage glands to produce more sebum, so try to style with cold air as much as possible. Straightening hair with an application of hair iron can also cause oil production to increase. When using a hair straightener, try not to handle your hair too much because this might lead to increased oil production. 
Cut down o hair products 
Product residue and buildup are extremely damaging to oily hair since they just weigh it down and exacerbate its oiliness. To avoid all of this, use gels, mousses, and hair spray with extreme caution. You should also look for products that leave less residue on your hair strands and scalp.
If you're having trouble locating one on your own, you may always ask your hairdresser for recommendations. Following the above oil-control methods should help you attain a healthier and more luscious mane in no time. 
Treat your hair once a month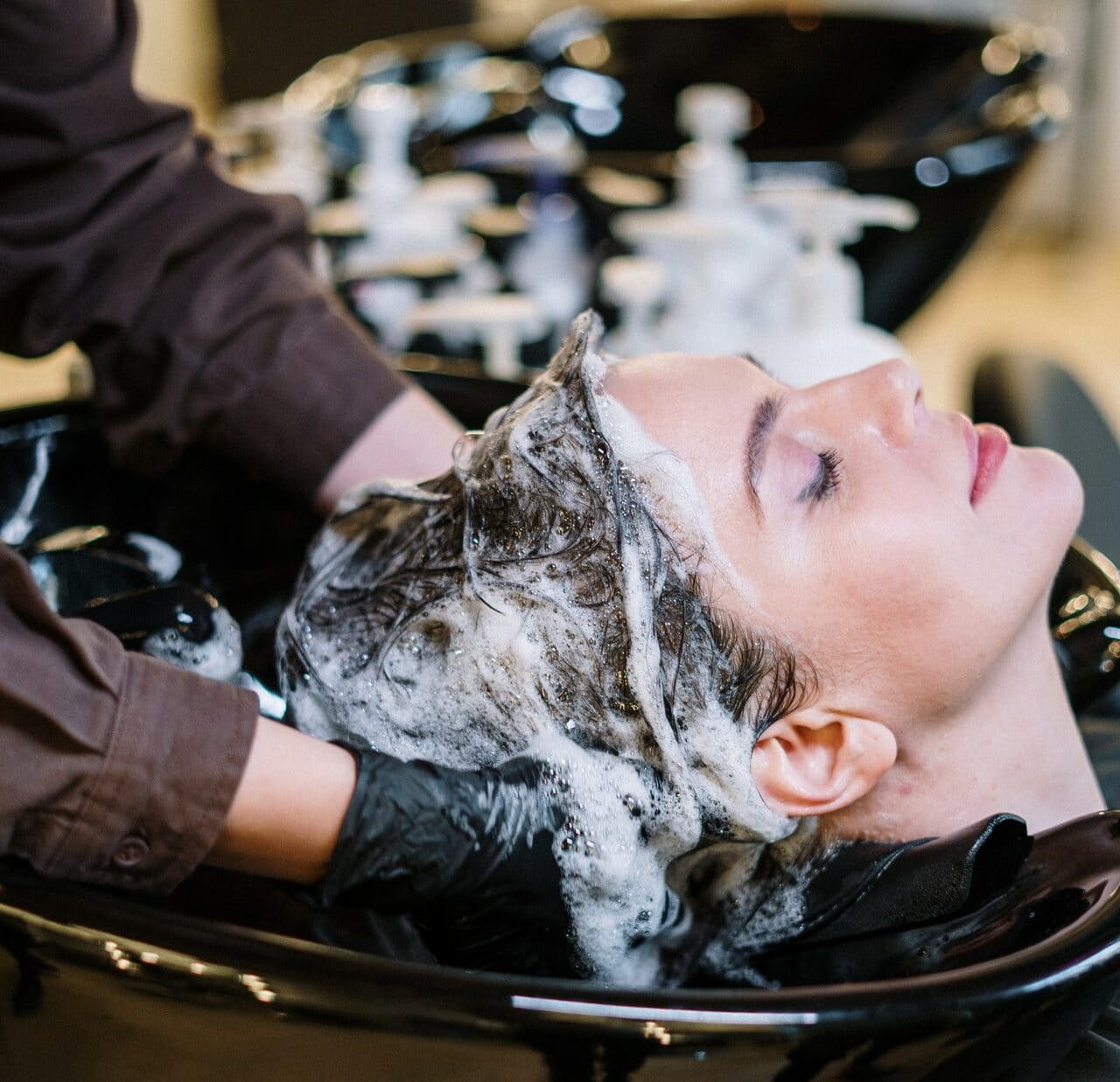 Even if you wash every day, a monthly clarification should be part of your regimen – especially if you use hair products every day. These shampoos are meant to clean your hair more thoroughly than regular washes, efficiently removing excess oils and hair product buildup. If you don't want to spend the extra money on a clarifying shampoo, mix a spoonful of baking soda into your regular shampoo and apply for two to three minutes. 
FAQs
Do you still have more questions regarding how to handle oily hair? We've answered some of the most common questions about the best conditioners for oily hair. 
Question: Is it good to use conditioner on oily hair?  
Answer: Conditioner is not only acceptable but also required for oily hair types since it gives a good amount of hydration, nutrition, and protection that shampoo alone cannot provide. What you believe is grease is often simply shampoo or conditioner that hasn't been entirely washed off. 
Question: Why does my hair get so oily after one day? 
Answer: It's conceivable that your bad habits in terms of personal hygiene are to blame. Shampooing too little or too frequently might cause oily hair. If you have oily hair, you should shampoo every day. If you wash your hair more than once a day, your glands may overreact and generate additional oil to compensate for the extra shampooing. 
Question: Does oily hair help grow my hair?
Answer: A clean, healthy scalp promotes hair growth. The main truth is that filthy hair doesn't grow any quicker than clean hair, so keep your scalp clean and your tresses fresh. Your strands will look, feel, and be healthier as a result of this treatment. 
Best Conditioner for oily hair – conclusion
As you can see, there are several conditioners for oily hair available. Each one contributes to the delicate balance between oily and silky hair. I hope this list of oily hair conditioners, how to purchase the right conditioner, and how to manage your oily hair has helped you discover the right one for you!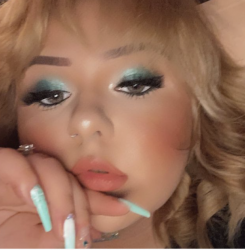 Latest posts by Annalise Swain, Hair Trend Spotter
(see all)