When I started doing hair color ten years ago, I called this type of color-blocking "headband hair color," and I did not mean it nicely. Little did I know that people requesting this were simply ahead of their time with it being one of the trendiest colors today. I've come to like it over the years, with people coming out with more creative ways to do blonde front pieces.
The high-contrast front pieces that you see on so many people today were actually a look that originated in the 90s, and it went out of style with the chunky highlights era, but it has been making quite the comeback. You'll now see people rocking this style, calling it a "money piece," but it is nearly the same thing we saw way back.
My favorite color combination for these front pieces is ginger and bright blonde. These two colors do an excellent job of creating contrast without having to color your hair dark. Since this look has grown on me so much, I've compiled a list of my favorite twelve ginger hair with blonde front pieces ideas.
My Favorites Up Front
Ginger and blonde hair colors are one of my favorite combinations, and I love that it is coming back with the front pieces. Some of my favorite looks with this trend are blonde color blocking on bangs, peachy orange with a blonde money piece, and vivid orange with a one-sided blonde. These are probably the looks on this list that stand out the most, but I love a good striking color.
How I chose These Ideas
Ginger hair with blonde front pieces may seem like an up-front hair color description, but there are many ways to achieve this look. Each of the twelve styles I found looks drastically different from one another. Here are the few things I considered when choosing these looks:
Different Shades of Ginger
Ginger can be interpreted as a multitude of colors and is any color with red or orange tones. Some colors classified as "ginger" include copper, strawberry blonde, vivid orange, auburn, and so much more. You will find inspiration for each one of these ginger colors and more in this list of ideas.
Subtle to Unique
Blonde front pieces can be super subtle and natural looking or chunky and unique, depending on the color placement. Whether you are someone looking for a little dimension to take your ginger color to the next level or something that will stand out amongst the crowd, one of these hair styles will work for you.
Something for Every Hair Type
Whether you have short hair, straight hair, long hair, or curly hair, you can pull off a ginger look with blonde front pieces. It's an effortless color to customize to fit your hairstyle and type. Plus, if you doubt whether a particular look will look good with your style and hair type, you can always start with a subtle look and go up from there.
Ginger Hair with Blonde Front Pieces Ideas
Onto the part of this article that shines as bright as your hair will with these golden, copper hair color ideas!
1.
Copper and Baby Blonde Face Framing
For something subtle that adds a bit of definition to your copper hair, try adding a few fine blonde highlights around the front perimeter of your hair. To make the face-framing blonde go down the length of your hair, make sure to add highlights to the underneath sections of hair above the ear. This gives you a slight pop of color that frames your face giving you a sun-kissed vibe.
This color goes well with face-framing layers and any style or hair type. I like to start people with this look if they aren't too sure about the chunkier blonde front pieces that are trending right now. If you like this look, you can gradually make the blonde sections in front larger each time you color it.
2.
Asymmetrical Blonde Front Pieces
I've been seeing this exact placement with this look often lately. You can achieve this look by color blocking, a technique where you section off large sections of hair from the rest and color it blonde. I like to do triangular areas instead of squares to help the two colors blend better and not look too stripy.
Since this color is a chunkier look, it is bound to stand out and looks best on those with medium to long hair. If your hair is curly, I recommend making the top chunk of blonde slightly smaller or taking a section diagonally off the part instead of right on it, and this will help the color blend in better with your curls.
3.
Auburn with Blonde Peek-a-Boos
I love doing peek-a-boos on those who want something more striking but want to make it look professional as well. For this look, take a triangular section that starts an inch or so away from the part to the back of the ear. You can then bleach the whole area to create a peek-a-boo look that frames the face.
One of the most significant advantages of this look is that the blonde chunks are not right on top of your head, so it works great for all hairstyles and types. If you have naturally curly hair or style your hair curly, the peek-a-boos will be more visible. You can hide the peek-a-boos by wearing straight hair, but they will always be visible because they are right around your face.
4.
Ginger and Platinum Front Chunks
This is one of the most striking looks on this list, with two of the most contrasting colors and the blonde section on top of your head. For this look, color a half-moon section right on your part with bleach. You will want to lift the hair as light as possible, then tone it with an ash blonde.
The blonde section can be as large or as small as you would like. The smaller the section, the less chunky the blonde will be. The only hairstyle I would not pair this color with is bangs or short face-framing layers because the blonde color will not go through any of the lengths on the sides.
5.
Curly Hair with Blonde Bangs
The trick to making this hair color look great on curly hair is to have some ginger curls falling over the blonde a bit. You can do this by starting your blonde front section an inch or less from the front perimeter and then bringing it back into the rest of your hair diagonally. The further you begin the section from the front of the hair and the further back you go diagonally, the chunkier the blonde will be.
The model in the photo has brought her blonde section down the front perimeter of her hair to make the blonde frame entirely her face. She also has cut a lot of layers into her curly hair to make the curls lay perfectly on top of the blonde. You do not need a lot of layers for this look, and you can even do it on curly hair without bangs.
6.
Blonde Color Blocking On Bangs
This look was done by one of my close friends and a previous coworker, @trystendoeshair! It was done very similarly to the asymmetrical look above, except on one side. You can start as far to one side of the bangs as you would like, but I like it starting right down the middle.
When you do color blocking on bangs, it almost gives you that half-and-half look you usually see with blonde and black or vivid colors. Except it's a little less extreme than that. It stands out and usually looks best on those that style their bangs straight rather than curly.
7.
Auburn With Blonde Balayage Front Pieces
If you are looking for a low-maintenance color, look no further. Auburn is a more natural dark red color and does not need to be touched up nearly as much. The balayage hair fades into the dark roots instead of coming all the way to the root, so the grow-out is virtually unnoticeable.
This model also seems to have a bit of balayage throughout the ends of your hair. Although, it is a darker honey blonde than the front pieces, making the balayage money piece the focal point of this color. This color has about an inch section balayaged, but you can do a smaller or larger area depending on how much you want it to stand out.
8.
Vivid Orange With One-Sided Blonde
Try bright orange with an asymmetrical chunk of bright blonde for a color that stands out more than any other ginger color. To get this bright ginger color, you must start with blonde hair by bleaching the entire head. You can then section out where you want your blonde front pieces, tone those with a bright blonde, and color the rest with a vivid orange.
This color's most significant disadvantage is it's super high maintenance. Vivid colors fade faster than any other type of hair dye. You will most likely need to bleach your roots and color the entire head with vivid orange every four to six weeks. Luckily, this color will fade into a pastel golden peach color, so it never looks ugly or dingy.
9.
Copper With Golden Blonde Front Pieces
This color is a fairly basic ginger with blonde front pieces look, but the difference is that the blonde parts are a bright gold color. It reminds me of those super golden and orange sunsets you usually get right after a storm. Gold and copper are not as high in contrast as ash blonde and copper, but you still get a lot of separation if you make the gold light enough.
Since hair naturally lifts to a golden shade, you will not have to tone this blonde or worry about the copper color bleeding onto the blonde. If anything, the copper color bleeding over to the blonde will only enhance the golden tones. You may only have to tone it if you've lifted your hair too light and you need to add gold.
10.
Spiced Red with Blonde Curtain Bangs
If you love a pumpkin spice latte with extra foam on top, you will love this hair color. This color screams fall vibes with a cinnamon red base color and neutral blonde face framing. I especially love how the blonde pieces melt into the rest of the dark red hair as it flows down the lengths of her hair.
To get this look with curtain bangs, take a section that is an inch or less wide around the front perimeter of the hair. Make sure some of your curtain bangs still have the red color in them on top, so it lays over your blonde a bit. You don't have to bleach the hair super light with this one to get a lovely neutral blonde, making it great for people with dark hair.
11.
Strawberry Blonde With Face Framing Highlights
One of my favorite colors right now is strawberry blonde hair, and I'm not just saying that because it is my natural hair color. This look has a bit of balayage that seamlessly brightens up this strawberry goddess. The money piece in front is definitely the focal point, though, with a thick band of bright blonde perfectly framing the face.
This is another extremely low-maintenance look because it is a more subtle ginger color, and the blonde pieces are done with balayage. The stylist seems to have added a couple of brighter balayage pieces on each side of the part with this look instead of one large section. If you decide to add some balayage throughout the rest of the hair, add a minimal amount, so the focal point stays on the front pieces.
12.
Peachy Orange With a Blonde Money Piece
To get a vivid, pastel orange like this, you must first bleach all of the hair. Much like the other vivid orange color on this list, you will select the pieces you want to be left blonde and color the rest with a pastel orange color. This model has a small section along the front of her hair of blonde, but you can make it as large as you would like.
I love this color, but it is the most difficult one to maintain on this list. Since it is lighter orange and done with vivid colors, it will probably only last for about four or five weeks, depending on how much you wash your hair and heat style it. However, it is an extremely fun color to try out if you like soft colors that stand out.
FAQ's
Question: What are the blonde front pieces called?
Answer: Blonde pieces placed around the face a generally called money pieces. This trend started in the 90s and recently reemerged in the fashion world. You can make your money piece look natural with some face-framing highlights or do a chunk of blonde color around the face for a look that stands out.
Question: Do redheads look good with blondes?
Answer: Blonde and red hair go exceptionally well together. It is a color combination that people have been choosing forever due to the high contrast it creates without having to go to a super dark color. You can do a golden blonde with your red hair to create a more blended look or an ash blonde for more contrast.
Question: How do I maintain my ginger hair color?
Answer: Red hair color is one of the fastest fading colors you can get because the red molecule is much larger than other color molecules. Try washing your hair less frequently and rinsing with colder water to make the color last longer. It would help if you also used a heat protectant when blow-drying and styling your hair.
There are also red and copper toning shampoos and conditioners that can drastically prolong your ginger color. However, if you have blonde in your ginger color, it will also stain the blonde hair.
Question: How long does ginger hair last?
Answer: This depends on how bright of a ginger color you have and what color your hair was previously. If you go with a super bright orange or the color was put over blonde hair, it will last about four to six weeks before needing to be refreshed. You must touch up your locks every six to eight weeks for deeper ginger colors and more natural-looking gingers or if you had brown hair or black hair before coloring.
I recommend using a demi-permanent color to refresh your ginger color to keep your hair from becoming damaged. Every so often, you can layer on a permanent ginger color over your ends for a maximum color boost, but I wouldn't do this more than every four months.
Question: How much does a blonde money piece cost?
Answer: Adding a money piece to your color can cost anywhere from $40 to $80, depending on how big of a money piece you want and if you need a toner. Almost 90% of the time, a blonde money piece will need a toner, so I would anticipate spending $60 to $80. Your stylist may give you a slight discount if you add a money piece to another color service.
Which Blonde Front Pieces To Choose
There are many ways to do this trend nowadays, with stylists coming up with their own renditions everywhere. If you like this look but aren't ready to stand out with a big chunk of blonde in the front of your head, I recommend trying one of the variations that are balayage or highlighted. These include the baby blonde highlights, blonde balayage front pieces, and face-framing blonde highlights.
Personally, I love the looks that stand out more, like the color-blocked bangs, both the vivid orange colors, and the copper and golden blonde color. If you're already rocking a bright ginger color, why not go all out with blonde pieces that stand out in the crowd?
Looking for more interesting readings? Check out: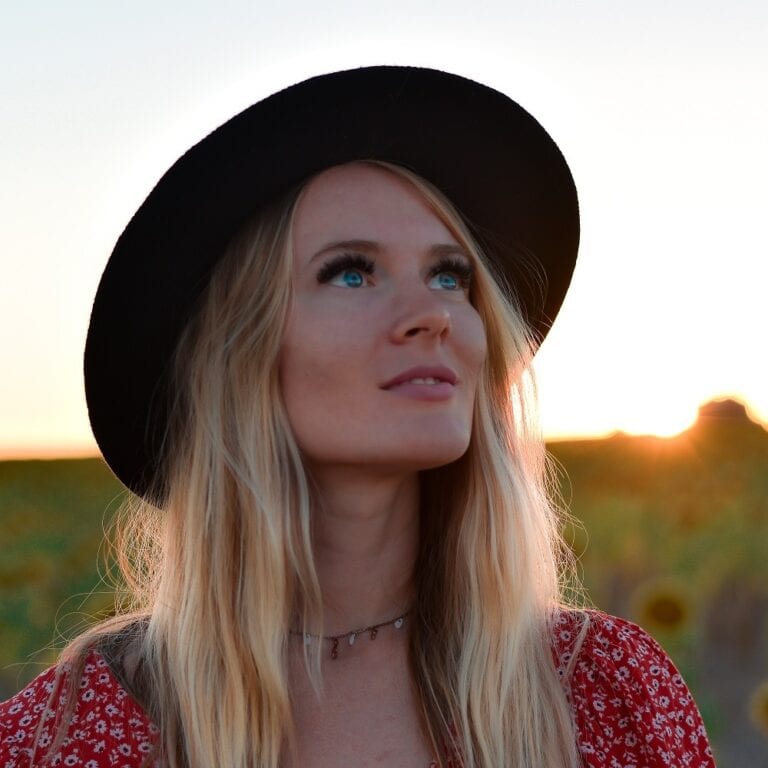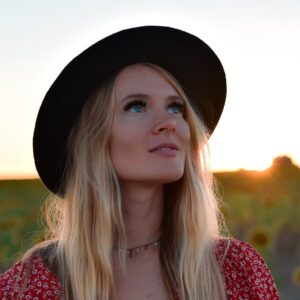 Latest posts by Haley Parker, Licensed Cosmetologist 10+ years
(see all)