Although I don't have this haircut anymore, I did have it ten years ago, and I loved it! So, suppose you have fine hair like me and love the convenience of a shorter haircut? Then, the next time you wander into a hair salon, consider asking for an undercut stacked bob. 
If you're unsure what this is, a stacked bob is a haircut on the shorter side, with a shaved side or nape. Typically, the length sits anywhere between your ears and chin. 
While this means the look is quite versatile, one thing is for sure: A stacked bob is a bold and fun hairdo that can be dressed in multiple styles!
So, when you're tempted to make a daring change to your style, the undercut stacked bob is worth a second glance! With that said, I've listed some inspiration below; let's look!
What is a Stacked Bob?
Although we've just touched upon it in the intro, here's a quick refresher at what makes up this particular hairstyle. 
As you probably already know, the classic bob is cropped at jaw level. However, this isn't true for the stacked bob! This style can vary in length. Some stacked bobs end an inch above your shoulder, while others resemble the traditional bob a little more and end at the jaw. 
The cut itself is also vastly different from the traditional bob. Usually, a bob features one length. However, with a stacked bob, your hair's angled, so it's longer in the front than the back. At the back, your hair is rounded with gradual layers to achieve a textured, voluminous finish. 
You can also add an undercut to this style, introducing clean, decisive lines to make the bob particularly fierce. This is also great for making your hair lighter, particularly during the summer.
Who's an Undercut Stacked Bob Right For?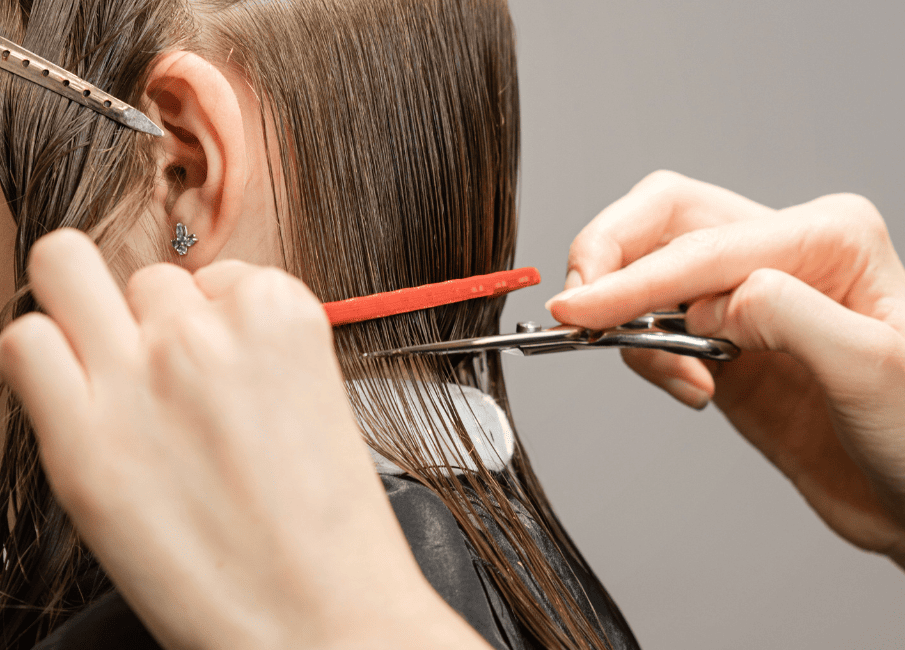 As I've already hinted, a stacked bob is excellent for anyone with thin hair. 
But that isn't to say it wouldn't work for those with thicker or even curly hair. All you need is the correct layering technique to pull it off, and your stylist should be able to assist you with that!
Bring inspirational photos, like those I'll list below when you go to the hairdresser so your stylist has a clear sense of what you're after. Not all stacked bobs look alike, as you'll soon see, so a reference for them to work from is undoubtedly beneficial.
Not Sure About Short Hair?
While some of you might already love short hair and looking for your next inspiration, others might still need some convincing that short hair is right for them. 
However, the truth is that short hair isn't for everyone. Short hair might look great on models rocking this style on Instagram. Still, you might have a different face shape, rendering the style to look entirely different on you.
Luckily, it's pretty easy to figure out whether short hair and a stacked bob would compliment you based on some simple observations:
Your Face Shape Matters!
Arguably, face shape is the best indicator of whether short hair will suit you:
An oval face 

shape is ideal for any short haircut. 

Long, more angular faces

 also look great with short hair, though you might want your bob to frame your face with some volume for a softer effect.

Square faces

 can also rock a bob, especially with bangs that frame your face. This is easily achieved with straight hair, but those with curly hair should know this might take a little more work to maintain.

On the other hand,

 round faces 

can use a more angled bob to make their faces appear a little longer. Side-swept bangs are an excellent idea for this face type and work perfectly with an undercut stacked bob!
But let's not forget personality when choosing a short haircut! As cheesy as it sounds, I firmly believe in following your heart when it comes to your hair. After all, it will grow out again, and life's too short to say no to every hair adventure that someone online thinks wouldn't suit you. 
If you want short hair. Please do it. It really is that simple. You should let your own preference dictate what you do with your hair! For many, short hair feels remarkably true to their character. A short, stacked bob is edgy, bold, playful, and decisive – characteristics that appeal to many. 
Benefits of the Undercut
We've already talked about bobs and stacked layers, but what about the added element of an undercut? Undercuts are super trendy in 2022 and come with a range of benefits. 
Namely:
They're a great way to manage thick hair. It achieves that edgy, confident look without spending tons of time styling it daily. 

A lighter look! The advantage of an undercut is that it's less hair to deal with. This means less weight, making it a cooler option in summer.

As undercuts take away a decent chunk of hair, you might reduce frizz.

An undercut slims down the sides of your hair, creating a sharper, more elegant silhouette.

As the back of your hair sits further up the nape of your neck, wearing higher collars and scarves is more comfortable.
How Much Work Is It Maintaining an Undercut Stacked Bob?
Occasionally people rush towards short hairstyles because they sound near-on effortless to maintain. However, this is only true if your haircut works with your natural hair texture and you're flexible about the exact styling.
If that doesn't apply to you, styling short hair can be very high-maintenance – especially if you want to create a chic, clean look. After all, you can't just throw your hair into a ponytail to hide it away.
One way of styling high-maintenance short hair is to ensure you have the right products to help you. For example, a dry texturizing spray or a pomade/wax. I like Bumble & Bumble City Swept Texturizing Spray. As for pomade, look for something that isn't too heavy or sticky. 
Remember that to keep your bob at your desired length, you'll probably need regular trims- roughly every four to six weeks. If your stacked bob has bangs, these might need more frequent touch-ups, and the same goes for your undercut.
How to Style a Stacked Bob
This haircut is immensely flexible. You can wear it straight and smooth one day and curly another. But don't just take my word for it. Below, I've picked out several examples to show how versatile the undercut stacked bob is:
Volume for Thin Hair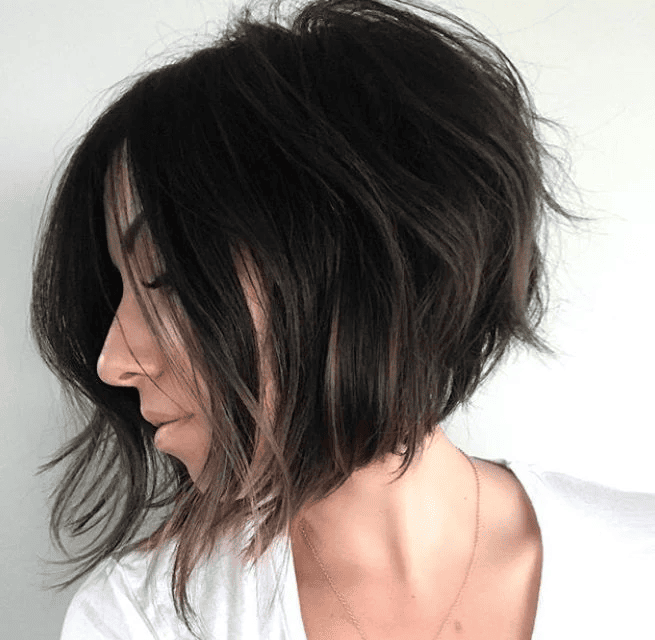 If more often than not, your fine hair resembles an unmanageable mane and is causing you a headache, a stacked bob haircut like this is the perfect solution.
With choppy layers at the back, this haircut by headrushdesigns adds depth and dimension- so say goodbye to flat hair and hello to volume. 
Product Recommendations
Texturising spray can help style stacked layers and create a naturally messy, voluminous look. I've already mentioned Bumble & Bumble's texturizing spray, but if you prefer something on a budget, try Hairitage Magic Spell Texturizing Spray for All Hair Types Volumizer Spray.
Also, if you have thin hair, how about some volume-building shampoo and conditioner to get that added bounce and volume? I like the OGXThick & Full + Biotin & Collagen Extra Strength Volumizing Shampoo + Conditioner with Vitamin B7 & Hydrolyzed Wheat Protein for Fine Hair.
Lastly, you can use TRESemmé's One Step Volume for Fine Hair. This hair mist not only lifts your roots but also adds some much-needed hold while protecting your hair from heat and static. Great, right? To use this product to the fullest, spritz it onto the roots of your hair (while damp). Then dry with a round brush to create extra volume. 
Sleek and Smooth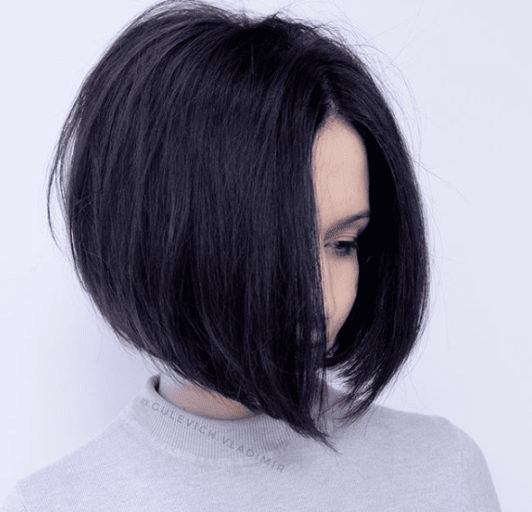 An undercut stacked bob doesn't have to look wild or messy. On the contrary, Bob haircuts look especially beautiful when they're sleek like this. This style frames this lady's face to perfection. She achieves an elegant and immensely confident look with smooth, straight hair.
The credit for this cut goes to @gulevich.vladimir on Instagram!
But remember, achieving straight stacked bob haircuts takes extra work. To go smooth and sleek, you'll have to blow-dry your hair to get every strand sitting perfectly.
Product Recommendations
A personal favorite is to use a flat iron. There are tons of flat irons on the market at various prices. A non-budget version is the GHD Platinum+ Styler, or there's the more affordable HSI Professional Glider.
If you prefer not to use a flat iron and instead use a brush and your hairdryer, you'll still need products to achieve a sleek finish. To help with this, you could try using any or all of these:
Not Just For Straight Hair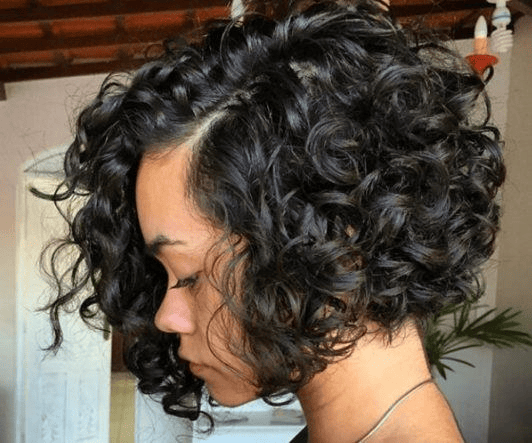 For a while, people used to say that curly hair shouldn't be too short. Nowadays, we're fortunately seeing a change in attitude!
One style idea for your proud curls is a stacked bob, as pictured above by @meucabelocurto. A cut like this avoids the nuisance that's triangle hair. This is often experienced by those with curly hair. It's also sometimes called Xmas tree head or mushroom head – hopefully, you get the drift of what I'm talking about here! 
It's a haircut where all your hair is one length, and the curls mount on each other, with the roots too flat because the layers are too long. Other causes are when you over-shampoo your curls.
If you're struggling with triangle hair, it's probably because your hair doesn't include enough shape or angles. An undercut stacked bob is an excellent solution because it lightens the weight of your curly hair and introduces body to your mane!
Product Recommendations
My favorite products for curly bobs are:
Your Little Secret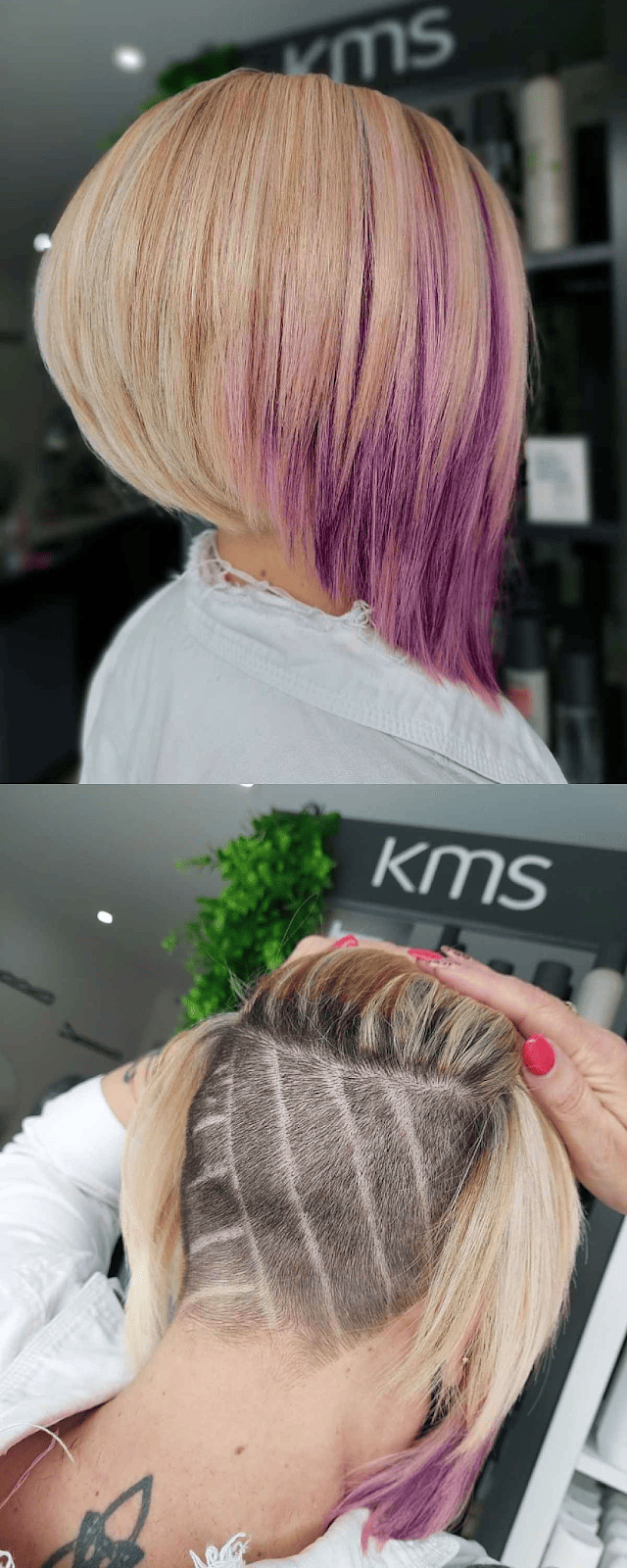 I'm in love with the bold color transition of this stacked lob by @CARMY_HAIR. Talk about sleek elegance! The individual strands of color add texture to this perfectly styled bob.
What makes this even more surprising is the hidden undercut, where the stylist has shaved a fun criss-cross design. You can show off your secret undercut or hide it – the choice is yours! In any case, it will make your thick hair much more manageable in one swoop!
Product Recommendations
For bob hair that's thick and also colored, I suggest:
L'Oreal Professional's range of Vitamino products includes the 

Color Radiance Moisturizing Shampoo

 and the 

10-in-1 Perfecting Multipurpose Spray

. The shampoo helps maintain your hair color while keeping it moisturized. Apply a generous amount to wet hair, lather at the roots, and rinse. The multipurpose spray protects your hair from heat while enhancing its shine. Spray onto washed and dried hair. Don't rinse. 

Davines MINU Color Retention Shampoo for Color Treated Hair

 to cleanse, protect and lock your hair color in for longer. It's also great for nourishing your mane. Apply to wet hair, lather, and rinse. 

R+CO Jackpot Styling Creme

 is a medium to firm-hold styling cream. It's vegan and cruelty-free. Add to towel-dried hair (after shampooing and conditioning) and then comb through and style your look.
Romantic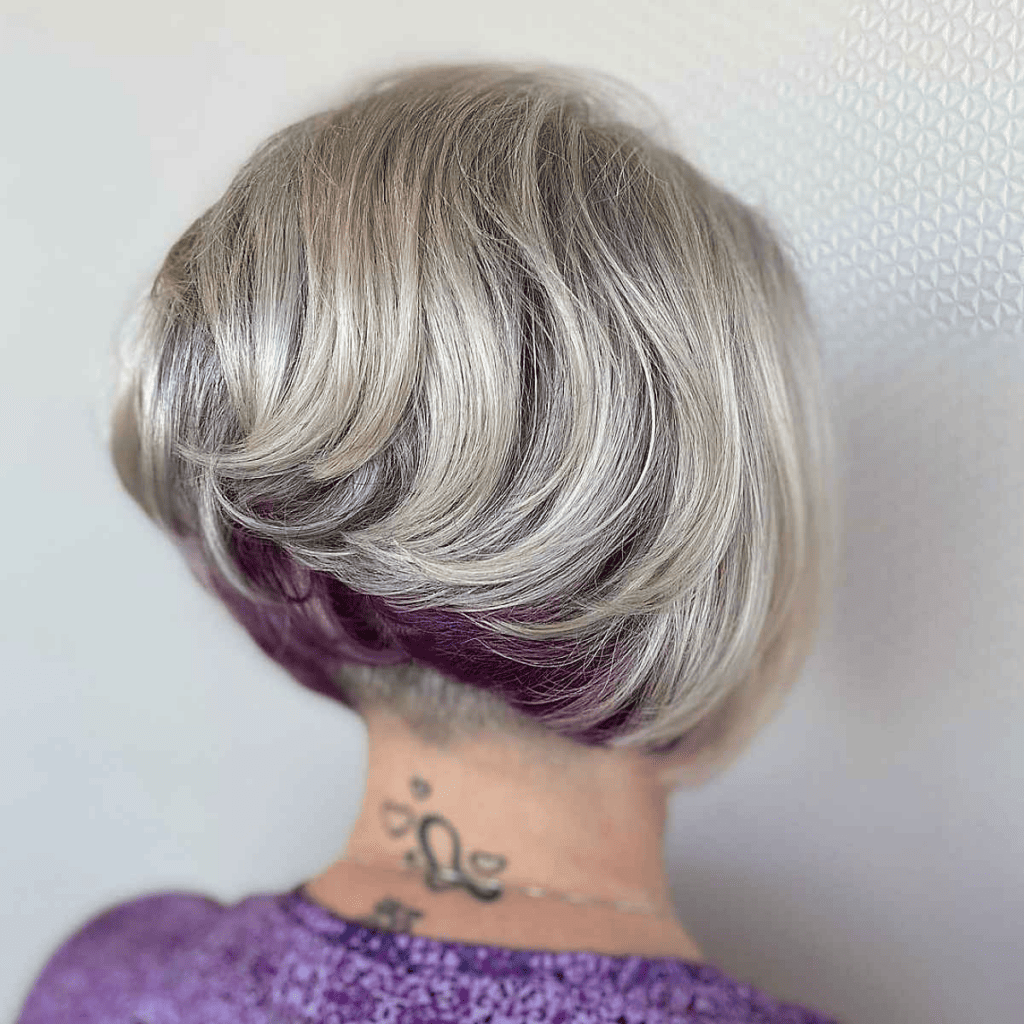 Short hair doesn't have to be harsh. There's no need to abandon even an ounce of femininity. In fact, you can create a more romantic style by blow-drying your layered stacked bob with a round brush.
Create flips and waves that add volume to fine hair, and angle this style down longer to the front to frame your face!
This one is by @Hairlife.by.Alex.
Product Recommendations
For products that add volume and waves to your fine hair without weighing it down, try:
Stacked Inverted Bob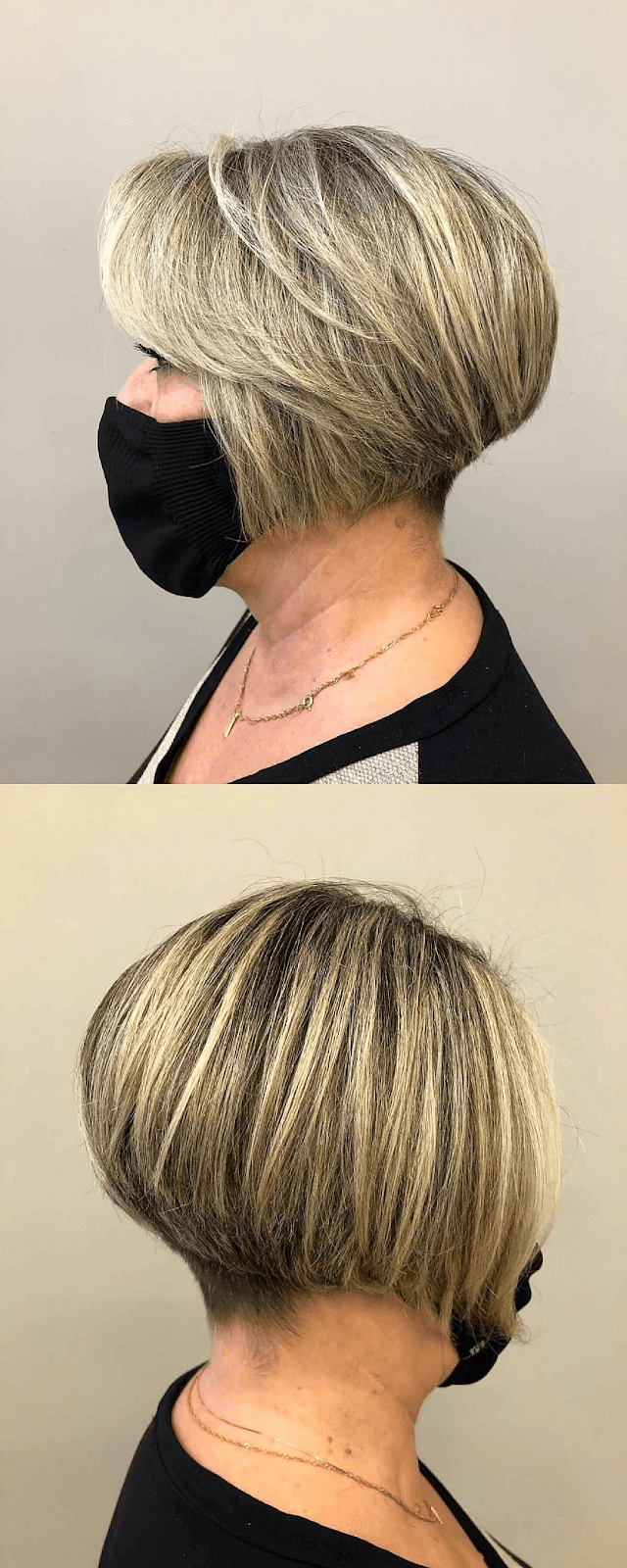 This stacked inverted bob by @TicoandRadeHairstylist makes it much easier to style thick hair! The undercut has released a lot of weight from the bottom, meaning less product and time needed to style the hair. If you're after a low-maintenance wash-and-go look, consider this option.
Product Recommendations
Some styling cream will help keep it all in place! I like the following:
Undercut Designs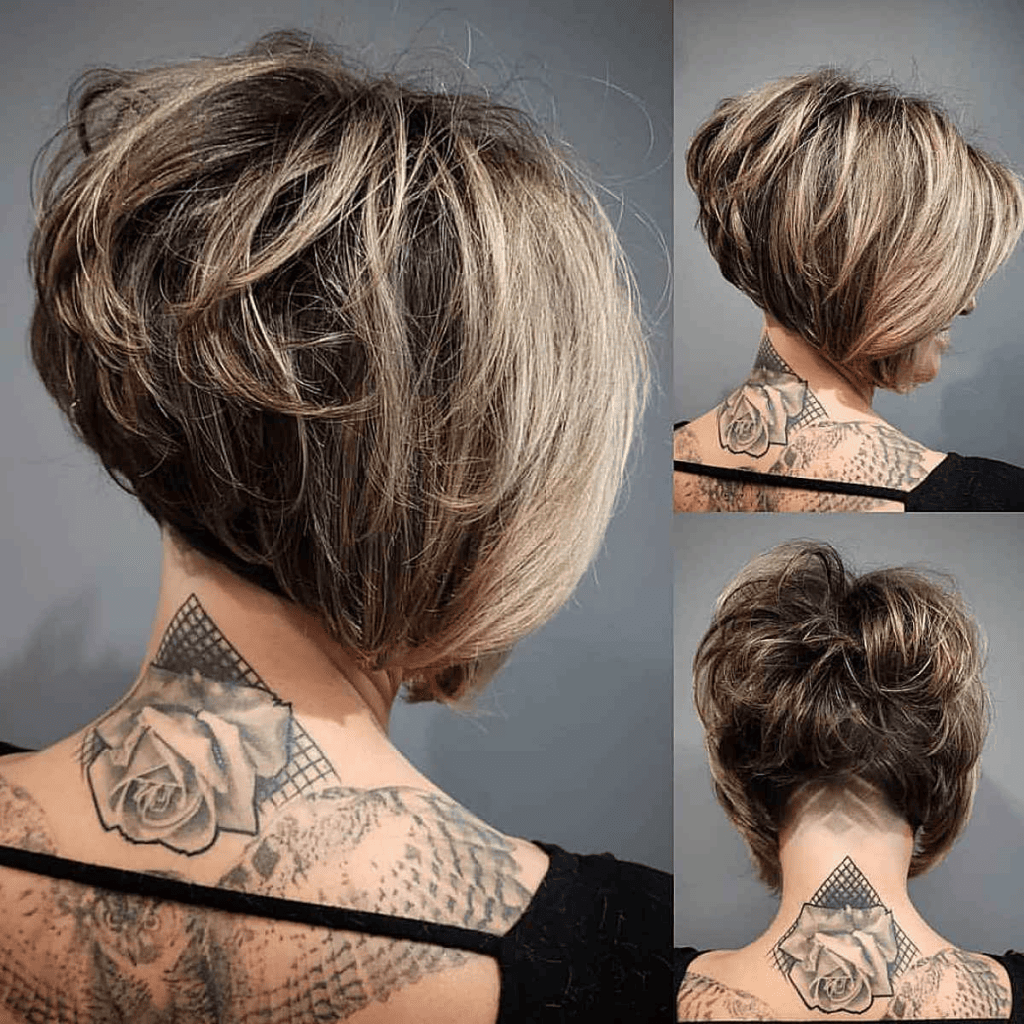 While I've already covered an example of a hidden undercut pattern, this lady has decided to show hers off by stacking her bob higher than her stylish undercut design! There are many bold and beautiful angles in this style by @Rambutbob, with the contrast of light strands on darker hair adding even more drama. On top of this, the hair is styled so that it's textured and messy, perfectly pairing with this lady's beautiful tattoos!
Product Recommendations
For products to style textured and messy hair, try:
Pointed Hairline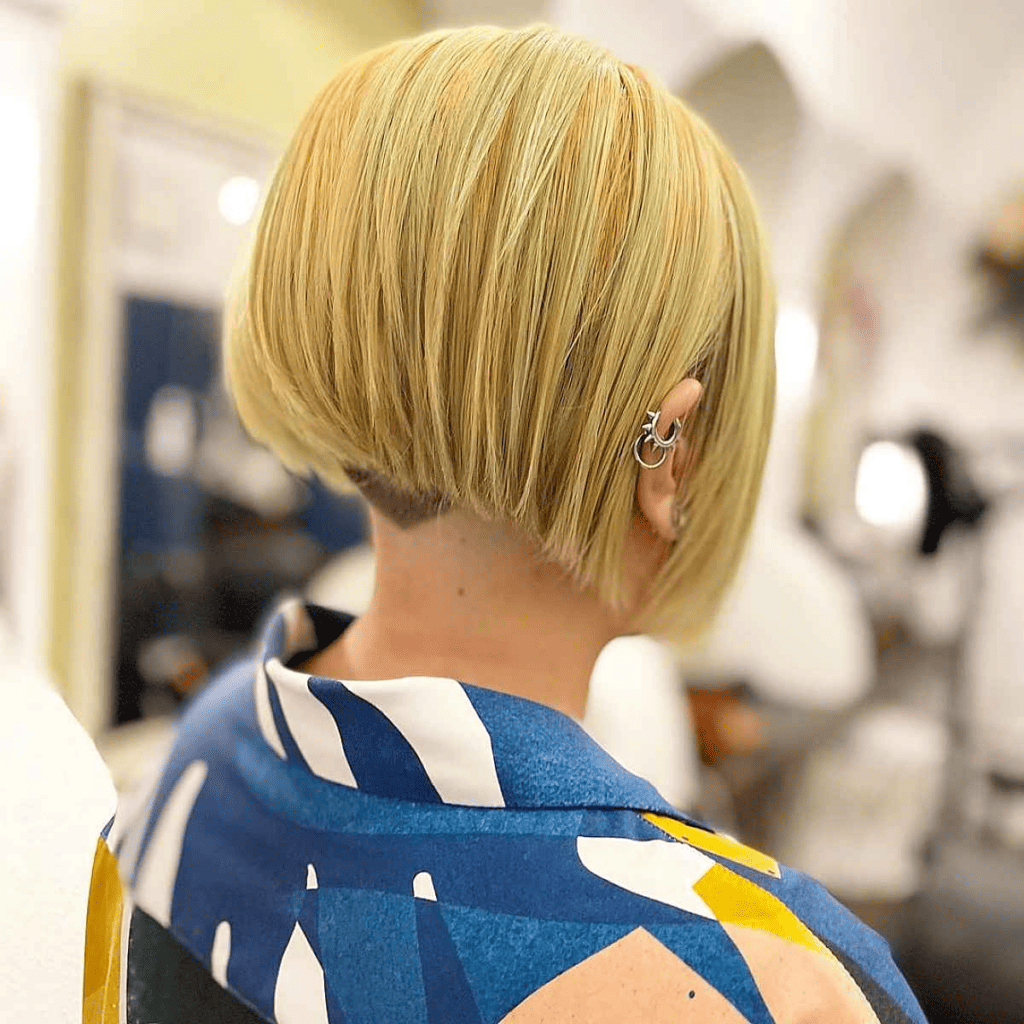 As you've probably already gathered, the back of an undercut stacked bob is as versatile as its front. In this example, a sleek bob is paired with a pointed hairline, adding an edgy flair. You can see more from this stylist at @Queue_Hair.
Product Recommendations
For products to help keep this style in place, try:
Paul Mitchell Super Skinny Serum is perfect if you want to add shine to your pointed cut. This speeds up blow drying and keeps your style frizz-free. This is a very concentrated product so just add one pump to clean, damp hair and style as usual.
R+Co Balloon Dry Volume Spray for an added lift from the roots, especially if you have finer hair. Shake the can, spray at the roots, flip the hair over, and then spritz from mid-way down the hair to the ends for an all-over finished look. 
GHD cordless flat iron – to help achieve that super sharp look, keep frizz away, and add shine. Place your hair into sections and gently move the flat iron down your hair from root to tip in a gliding motion. 
The Professional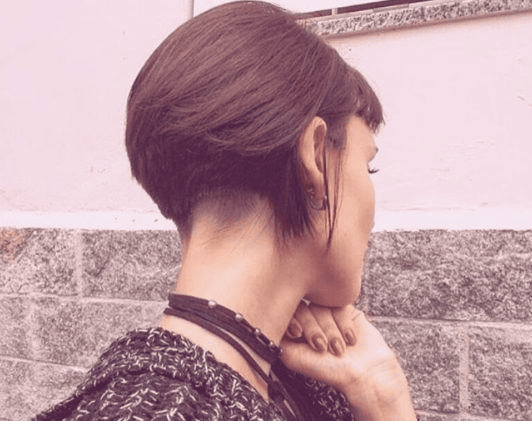 I had to include this creative stacked bob haircut by @boblovers for its effortless elegance and because it reminds me of Natalie Portman's iconic role in The Professional. This style is classy and clean, with a french-chicness about it.
Product Recommendations
For the best products for this colored and choppy straight-hair look, try:
20s Flapper Style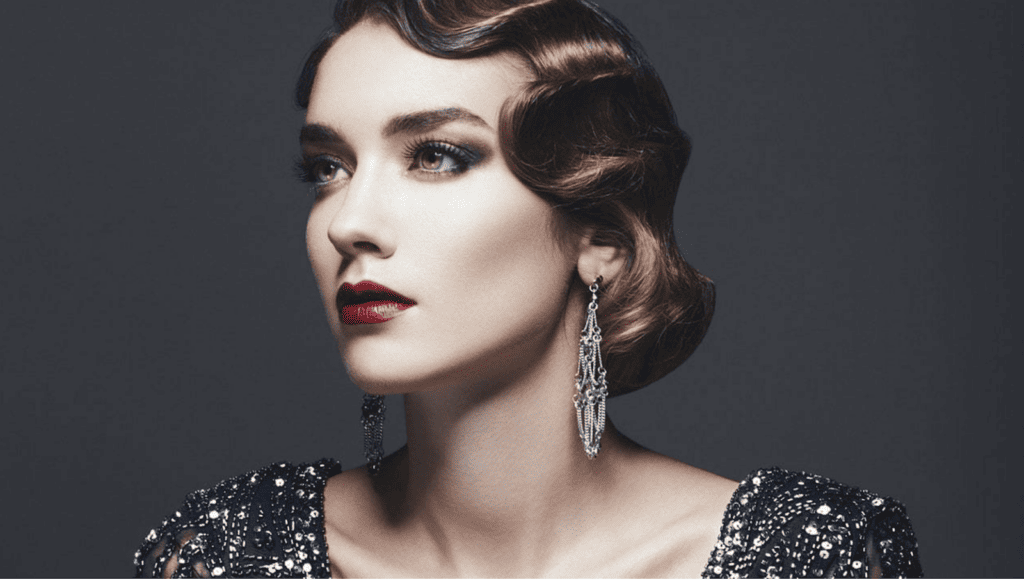 Though stacked bobs are undeniably modern, I love a vintage look. So I think it's a neat idea to turn for inspiration from the twenties. Look at this flapper-style bob cut by L'Oreal and tell me this isn't artistic, bold, and eye-catching.
Product Recommendations
To achieve this classic retro wave vintage look, try the following after shampooing and conditioning: 
L'Oreal LOCK IT Clean Style Gel for an all-day extra strong hold. Squeeze a dime size amount onto your palm and apply evenly onto damp towel-dried hair before styling. 
Use a fine tooth comb to part your hair either to the side or center. Then use bobby pins or hair clips to style your hair into these finger waves, following this L'Oreal guide on achieving this beautifully stylish look. 
Undercut Stacked Bob FAQs
Last but not least, I'll endeavor to answer some of the most frequently asked questions about the undercut stacked bob:
Question: What are the different types of bobs?
Answer: Bobs are super versatile, and even if you don't fancy the stacked look, you have plenty of options. There are A-line bobs, graduated bobs, layered bobs, asymmetrical bobs, concave bobs, typical bobs, inverted bobs, and lobs (short for long bobs)!
Question: Are stacked bobs still in style in 2022?
Answer: Although the classic bob hails from the 60s, it's been transformed and innovated many times since then! Nowadays, there are countless styles you can achieve with stacked bobs.
In addition, you can pair them with a wide range of fringes and cuts, so stacked bobs virtually never go out of style!
Question: What should you expect when growing out of an undercut?
Answer: The grow-out phase of any short hairstyle or undercut style is dreaded. On average, hair grows half an inch every month. 
If you want to grow an undercut out, you'll need to match the short lengths with the longer ones. One option is to let your undercut grow a few inches and then cut your hair into a pixie style, where it's all uniform. Otherwise, you might want to grow out your top layers to cover the shorter ones below while they catch up. 
In the grow-out phase, expect higher maintenance hair as you'll need to style disconnected and unblended pieces.
Question: Where did the bob come from?
Answer: The bob has a fascinating history! It first came about in the 20th century as an avant-garde choice for women who wanted to rebel against beauty standards. Then, by the second World War, it became a popular choice for women working as medics.
They had to keep their hair short since they couldn't take care of it, nor was long hair as hygienic. So they cut their hair into bobs! Nowadays, the bob is widely accepted by women across all races and has fanned out into various styles.
Ready to Try an Undercut Stacked Bob?
I'll be the first to admit: an undercut paired with a short bob isn't for the faint of heart. If you're attached to your long hair, it's essential to consider whether you want to go in for it, as your undercut will take a while to grow out.
So make sure you've found a style inspiration you love and feel confident that a shortcut like this will look good with your face shape.
Otherwise, if you're easy about changing your hair and want to try something new, I think this is a great style to go for! There are many variations, so you can make your stacked bob unique to you. Add an exciting fringe, color, or extra texture to create your desired appeal!
I hope this style guide has helped you decide whether the undercut stacked bob is the right choice. Let me know how you get on in the comments box below!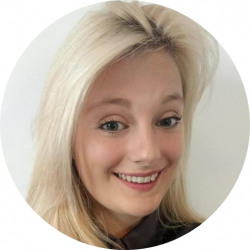 Latest posts by Rosie Greaves
(see all)