This is the 3rd Redken shampoo I've tried, after Color Extend Magnetics and Extreme Length. I was satisfied with both of them, but the All Soft shampoo truly amazed me with its wonderful results. Of course, it's not perfect, but it's definitely one of my favorite shampoos. In the following sections, I've talked all about it, including the things I loved and those I liked less.
So far, the other two Redken shampoos tangled my locks, but the experience was quite different with the All Soft option.
Bottom Line Up Front!
I'm more than happy with how Redken All Soft worked on my tresses. My hair became so much softer and smoother. It was easy to brush it and, even wet, before blow-drying it, I could feel my locks almost completely detangled. This shampoo should do the trick if your hair lacks shine and smoothness like mine.
Redken All Soft Shampoo Review & Guide – Features at a Glance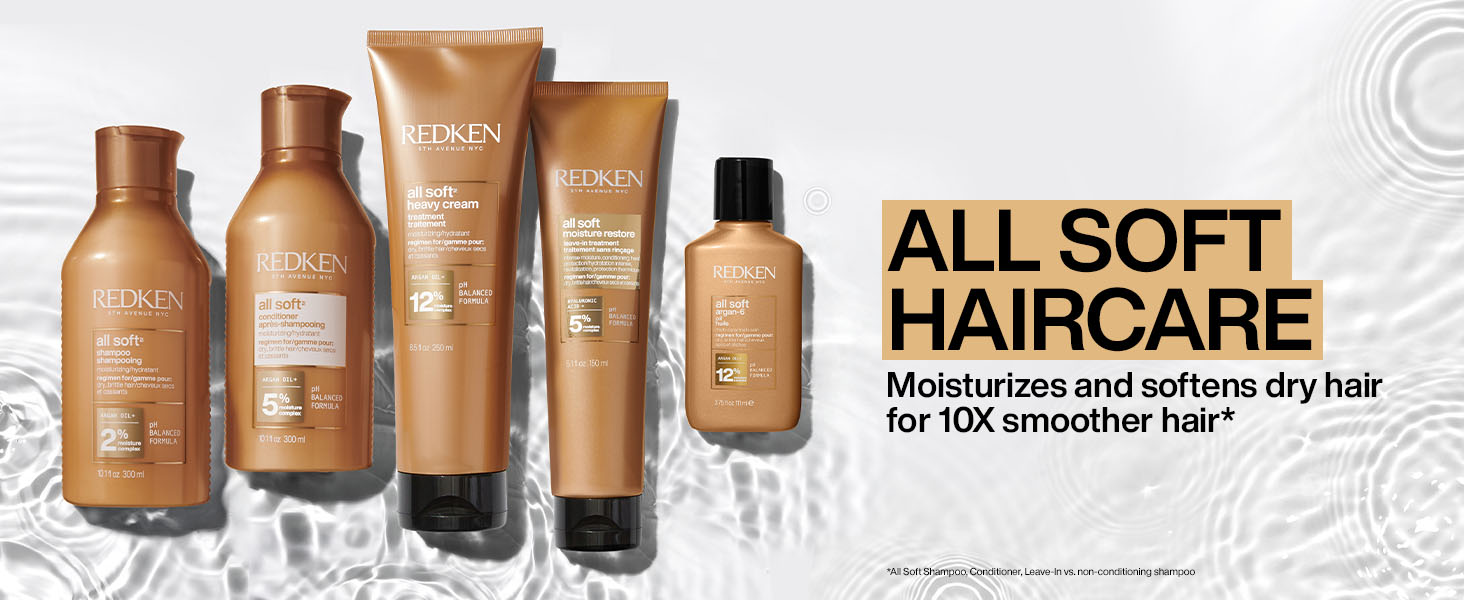 It's an argan oil-based formula that made my hair a lot smoother;
It's excellent for dry and brittle hair that needs some extra nourishment and moisturizing;
Great cleanser and subtle perfume;
Gentle on the scalp;
Medium-priced and good value;
Easy to squeeze out of its bottle.
 Packaging & Size
The bottle is the same as the containers of the other two Redken shampoos I've tried. The shape is compact yet a bit bulky. However, pouring out the shampoo is very easy, and the lid opens out wide. I love the silky light brown color of the bottle. I find it glamorous and shiny, just like my hair looked after using the All Soft shampoo.
Texture & Smell
The texture is rich and creamy, yet it doesn't weigh down my hair. It's pleasant to the touch and lathers well, making a lot of foam. In terms of smell, Redken All Soft has a pleasant fragrance that mixes sweet and fruity notes. Unfortunately, the perfume disappeared when I blow-dried my hair. Overall, the product is pretty decent when it comes to the way it smells and feels.
Ingredients
Here are the most remarkable ingredients included in this shampoo's formula:
Argan oil – protective and moisturizing;
Citric acid – powerful cleanser;
Glycerin – prevents split ends, provides deep conditioning, and eliminates frizzy hair;
Aloe leaf juice powder – repairs the scalp, prevents itchiness, and boosts hair growth;
Cactus flower extract – restores your locks' hydration, reviving your hair;
Hydrolyzed soy protein – reduces flaking, makes your hair more supple, and leads to a healthier scalp and hair;
Lactic acid – boosts your hair roots' growth and improves hair health; it's also an effective moisturizer;
Arginine – stimulates your scalp, which further leads to boosted hair growth; repairs split ends;
Sepicap – protects your hair's natural keratin production, smoothens your hair fibers, and fights against damage caused by environmental factors.
Price & Where to Buy
All Redken shampoos are medium-high in terms of price. The price tag happens for a couple of reasons. For starters, the brand is very popular and has thousands of happy clients. Secondly, all Redken products are positioned as premium or salon-grade. From my experience, Redkens shampoos are far from perfect, but they did boost my hair's volume.
I am delighted with the All Soft shampoo, which nourished and detangled my tresses. You can find this product all over the Internet, from Amazon, Ulta, Sephora, and Walmart to the brand's official website.
My Experience with Redken All Soft Shampoo
Redken All Soft was a pleasant surprise, and I want to share my experience with all of you. Redken shampoos are very popular, so the fact that I wanted to try another one after testing Extreme Length and Color Extend should come as no surprise.
Before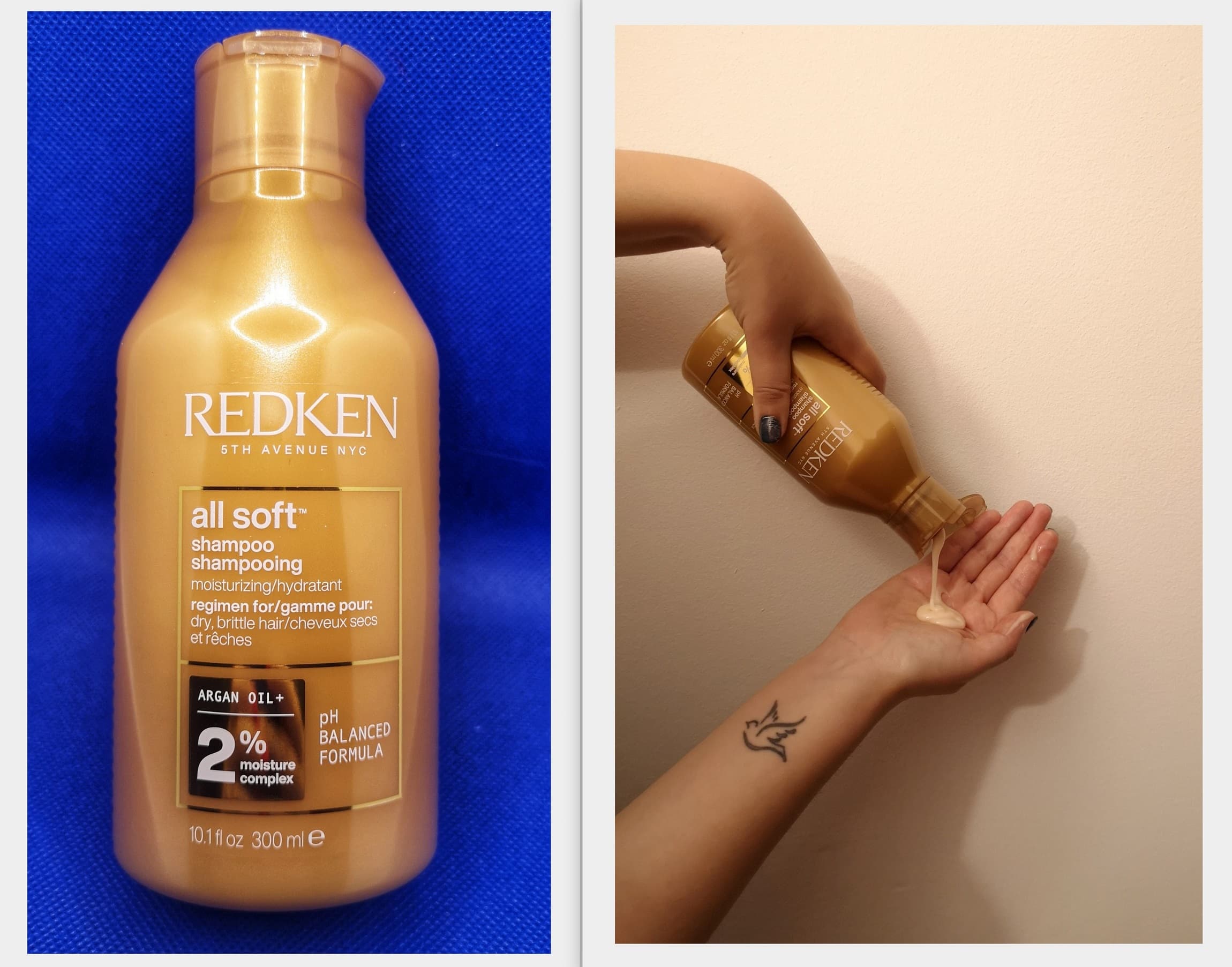 I liked this shampoo from the moment I opened the bottle and tested its texture. It feels rich and creamy and has a lovely light beige color. It didn't feel sticky at all in my palm, and the smell was more than pleasant. I felt a sweet, fruity, and floral fragrance as I opened the container. I was already used to Redken shampoo bottles, so opening and using this product was like a walk in the park.
During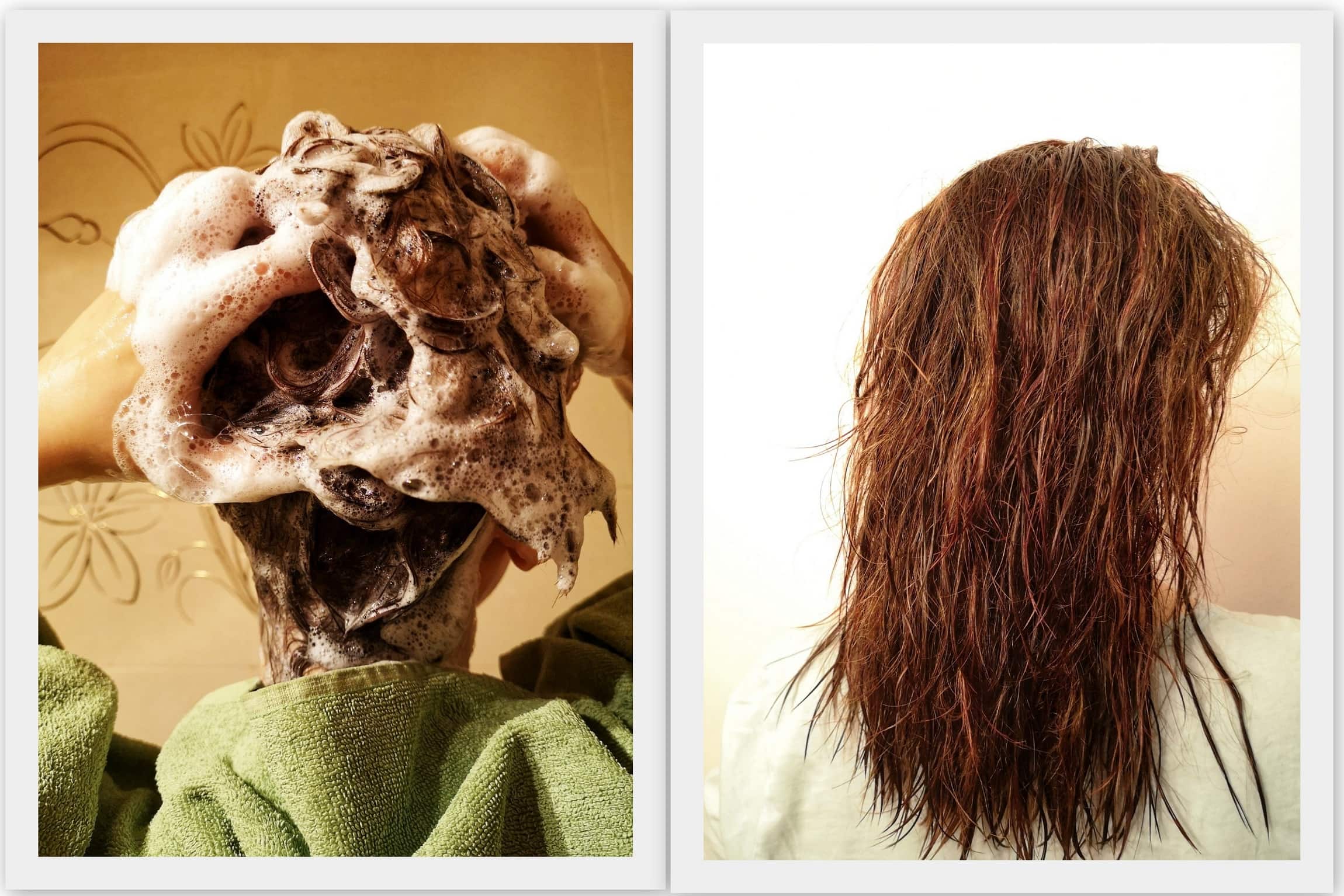 Immediately after I applied a small amount of Redken All Soft shampoo on my hair, I was happy with how much foam it made. Moreover, I could feel my locks getting softer and smoother as I shampooed them. I've never felt this incredible softening sensation with any other shampoo before.
Because of the shampoo's rich texture, I was afraid it might overwhelm my hair, but that didn't happen. In fact, in the end, my locks felt lightweight and airy. In addition, I only had to apply a small amount of shampoo since it lathered well and made so much foam. I also loved how soft and semi-detangled my tresses felt while shampooing them.
After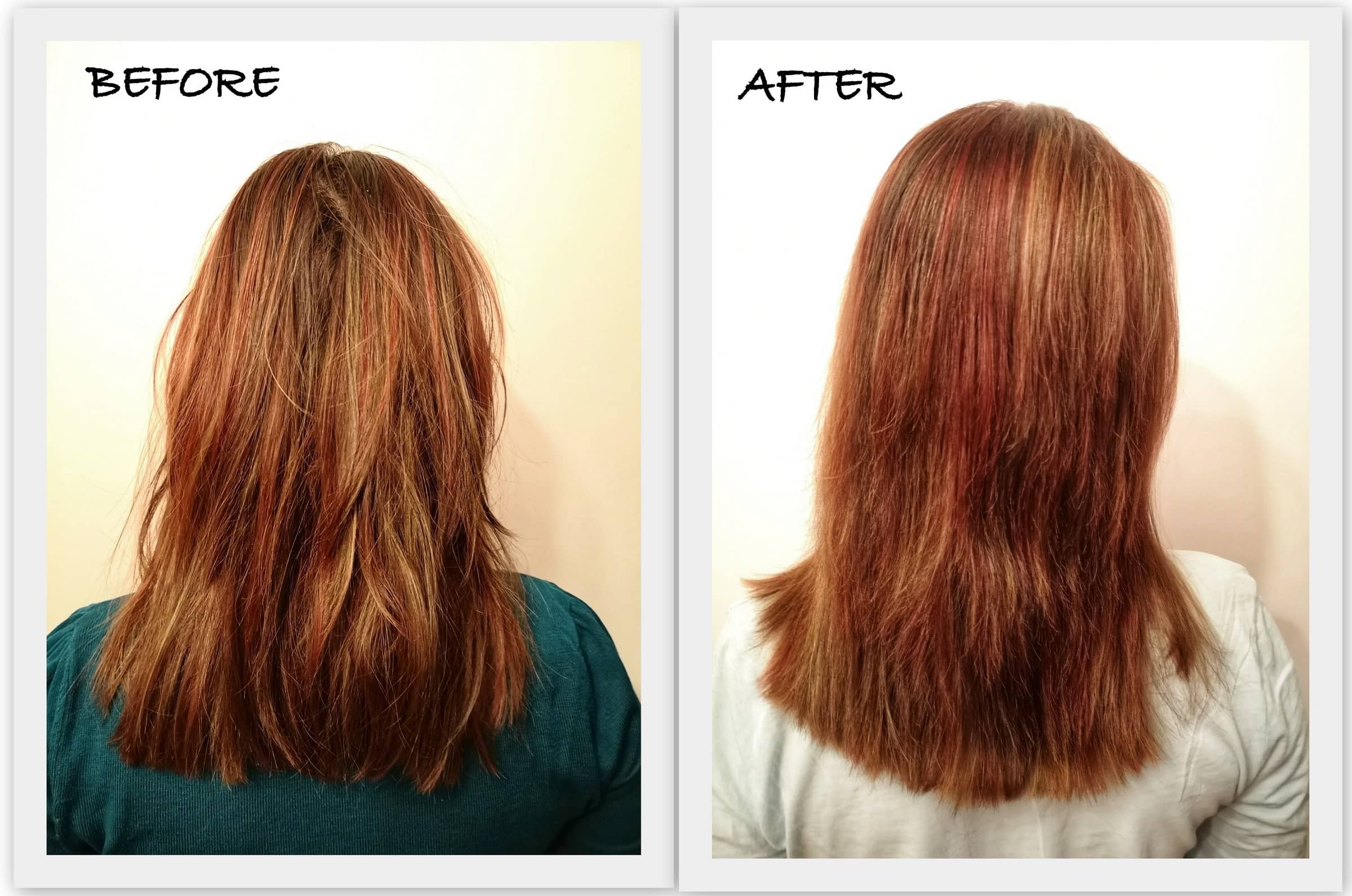 I didn't have to apply hair oil or any other extra detangler this time since the All Soft shampoo worked like a charm. The outcome made me happy. My locks were detangled, smooth, and soft. I even had a bit of a volume boost, which I loved. It was so easy and nice to brush my strands without fearing I would deal with breakage or hair damage.
I can't wait to use this shampoo again. Moreover, I would recommend it to my friends and dear ones needing this type of hair care product. No, they didn't pay me to promote them. It just happens I am finally pleased with a Redken shampoo from the beginning to the end. But you can see what I'm talking about in the before-and-after photos I've uploaded above.
The only downside for me was the shampoo's scent which vanished after drying my hair.
What I Liked
It's a pH-balanced shampoo;
Redken All Soft is genuinely effective and makes my hair strands so soft and silky;
My hair color was shinier and more vibrant after washing it with this shampoo;
It was so easy to brush, manage, and style my locks after using Redken All Soft;
My locks felt lightweight and volumized – not weighed down at all;
Great value for the money;
It boosted my strands' moisture.
What I Liked Less
Some of you, including myself, might also need to apply a nourishing conditioner to achieve a very silky and smooth look;
Unfortunately, the formula isn't clean, and some of the ingredients aren't natural;
The shampoo's consistency might feel too thick for some, although I'm pleased with it since I've tried other, thicker shampoos before;
The product's scent doesn't last too long – as soon as I dried my hair, the fragrance was gone.
Other Redken Shampoos I Like
Here are some other popular Redken shampoos I used or want to use.
Redken Shampoos I Used
Redken is officially one of my favorite shampoo brands. Let's see the ones I've already used.
Redken Extreme Length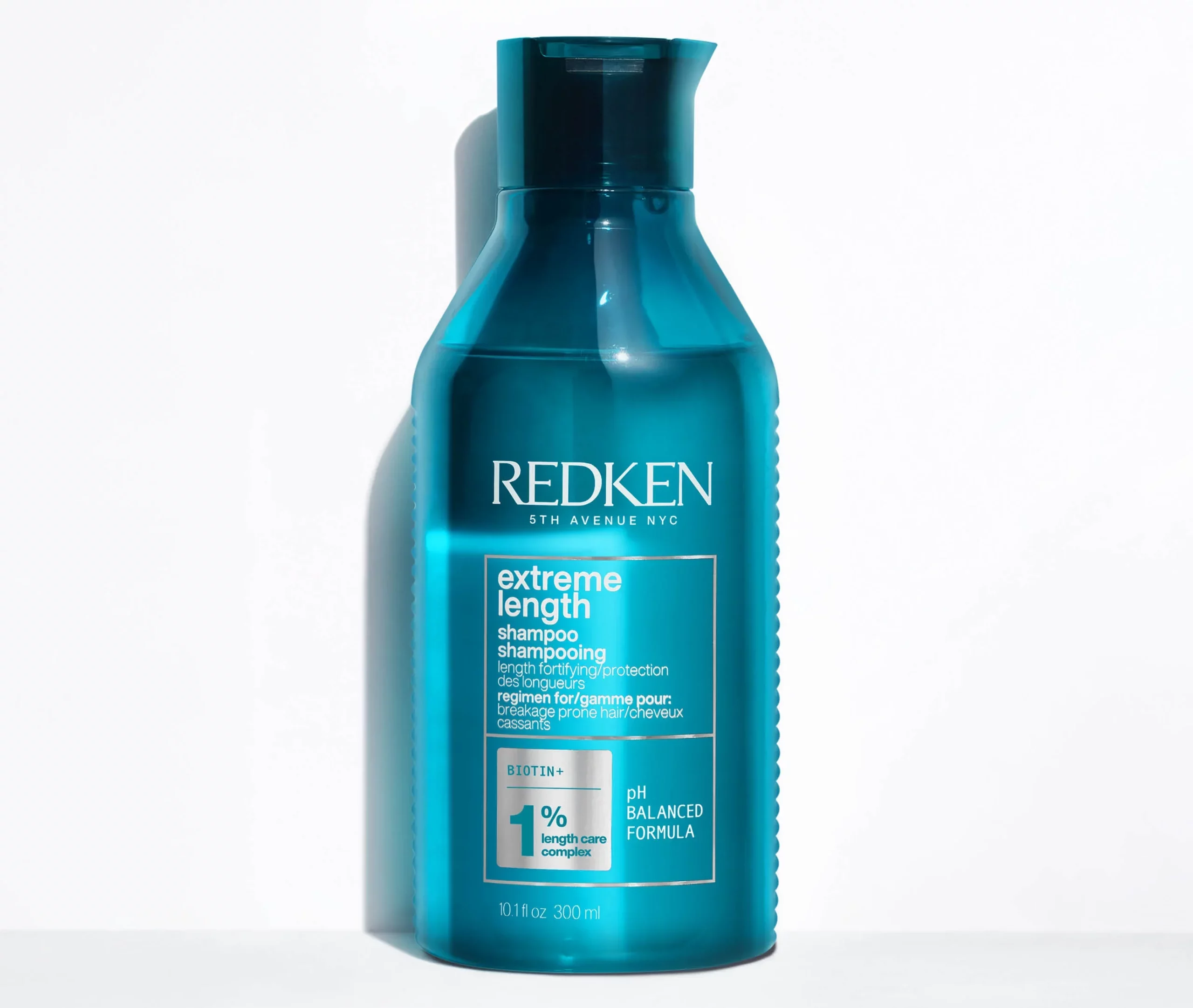 I've chosen the Redken Extreme Length shampoo as my second brand testing attempt due to the formula that's enriched with biotin. This compound is said to fortify one's hair. I needed this type of product to revive my hair's color and nourish my tresses after getting some blue highlights that dried my locks a bit.
I loved the shampoo's compact and easy-to-use bottle. It had a fantastic foaming and lathering power. This time, my scalp was squeaky clean, free of residues. I even noticed a volume boost which I didn't expect but was happy about. I would certainly recommend it and use it again. The only concern I had at the moment was that my highlights' shade faded away, which could also have occurred because of the poor-quality semi-permanent dye I used.
Redken Color Extend Magnetics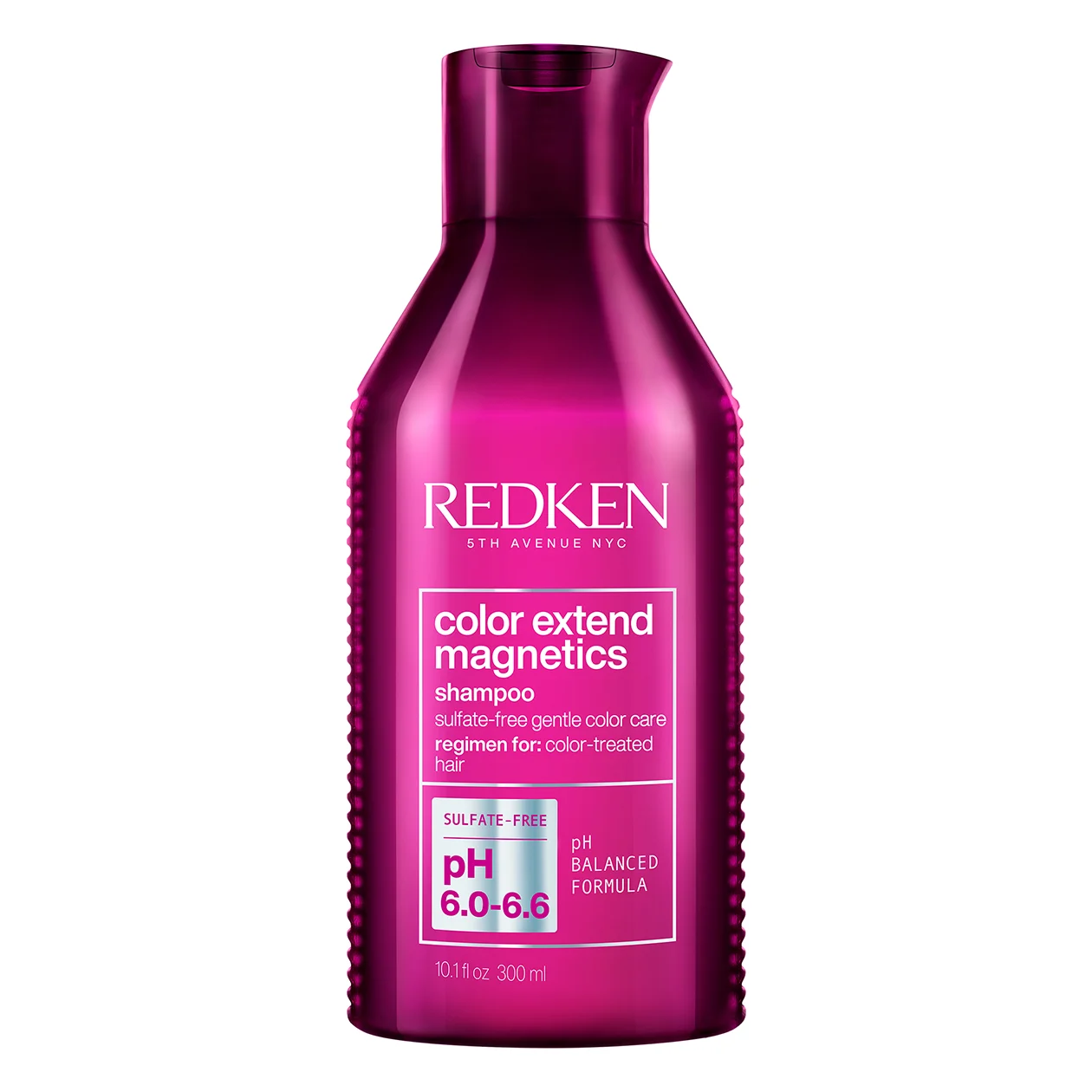 I wanted to try this Redken shampoo due to its sulfate-free formula. I expected it to preserve and boost the vibrant color of my highlights, which it did. Unfortunately, while it worked pretty well, it tangled my locks. That was its most significant downside, I would say. However, my scalp felt cleaned and fresh after using Redken Color Extend.
Another significant advantage is the shampoo's UV protection which always comes in handy, especially during summer. I loved its subtle scent, lightweight consistency, and the way this product foams and lathers on my tresses. What I liked less were a couple of oily shampoo residues found on my hair, towards the roots, after rinsing my strands.
Redken Shampoos on My Wishlist
These are other Redken shampoos I want to try in the future.
Redken Volume Injection
The Volume Injection shampoo is first on my list since I have fine and dull hair that needs plumping. This shampoo lifts your locks, plumping them and offering your hair a nice and appealing body. It's suitable for fine hair like mine. Not only will this product volumize your strands, but you'll also achieve a silky and shiny finish.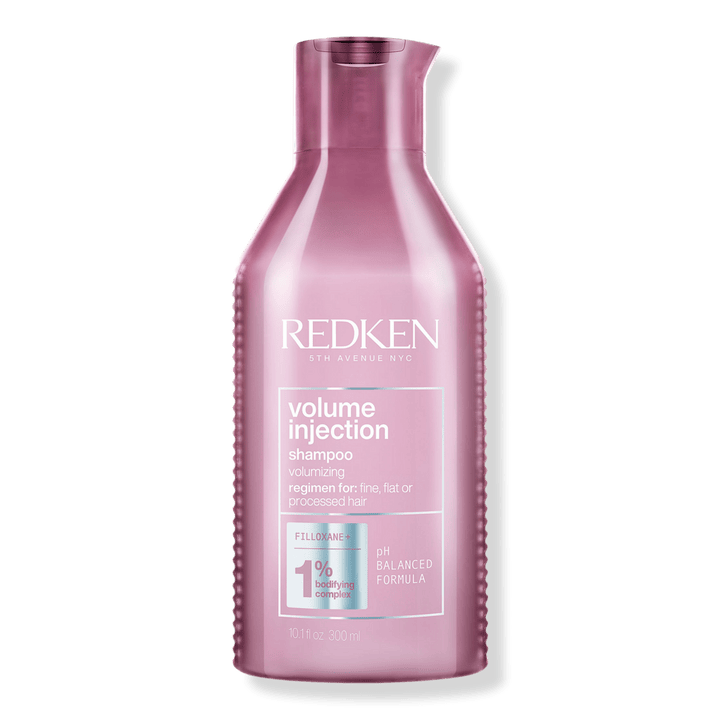 Pros
Boosts volume;
Impressive lather;
Amazing foaming;
Great scent.
Cons
It might dry your hair;
It could leave some residues;
It doesn't tame all frizzy hair.
Acidic Bonding Shampoo
The Redken Acidic Bonding shampoo is made for really damaged and fragile hair due to its restorative and reparative properties. It's meant to fortify and strengthen your locks, from the roots to their ends. The Acidic Bonding shampoo lowers hair breakage and makes your strands significantly softer and easier to detangle.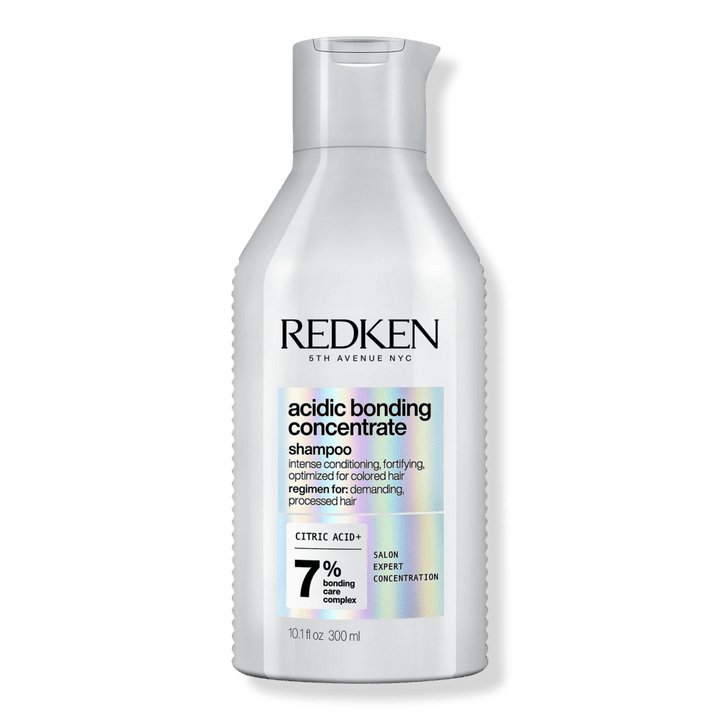 Pros
Repairs and conditions your hair;
Sulfate-free formula;
Strengthens and fortifies your locks;
Smells nice.
Cons
Dries your hair a bit – I've seen this is a commonly-met issue with several Redken shampoos;
It can cause frizzy hair and dandruff, especially if your locks are thinning and you have a sensitive scalp.
Redken Scalp Relief Shampoo
Redken Scalp Relief could help me eliminate the itchy sensations that appear from time to time. It also keeps dandruff production under control while soothing your scalp and leaving your locks airy and shiny. Many of this shampoo's excellent results are due to its formulation, which contains pyrithione zinc.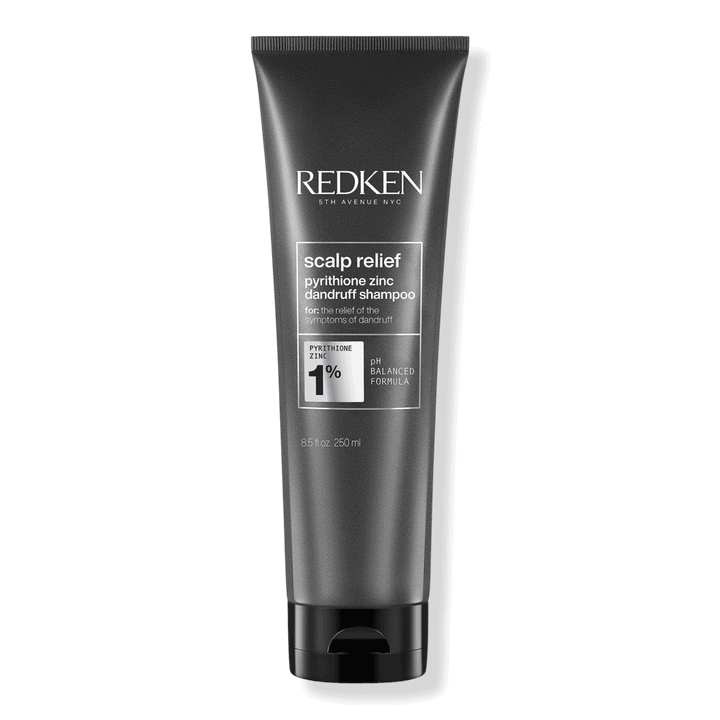 Pros
It contains lavender oil for soothing purposes;
Great cleanser;
Impressive lathering;
Gentle on the scalp;
Pleasant scent;
Boosts hair health.
Cons
It can dry your locks;
It's not as effective at combating dandruff as expected.
Redken Clarifying Detox Shampoo
This Redken detoxifying shampoo cleanses your scalp from all potential product build-up and residues. It protects your hair from pollution and removes any excess oil. The formula strengthens your tresses and boosts shine. It's a pH-balanced shampoo that also works as a volume injection. Moreover, it removes harsh minerals and other substances found in hard water.
Pros
Cleansing and refreshing;
Strengthens your hair cuticles;
Effective on all hair types;
I love how this shampoo smells;
Your tresses will feel so lightweight after using this haircare product.
Cons
Expensive;
It might make your colored hair lose some of its vibrancy;
The formula contains sulfates;
It could dry your locks.
Redken Frizz Dismiss Shampoo
Winter is coming, and I would surely benefit from using the Redken Frizz Dismiss shampoo. I don't like cold weather, so you'll often see me wearing a hat on chilly winter days. That, plus wearing wool sweaters, leads to frizzy hair and flyaways. It's made with nourishing oils and smoothing ingredients that fight frizz and offer humidity protection.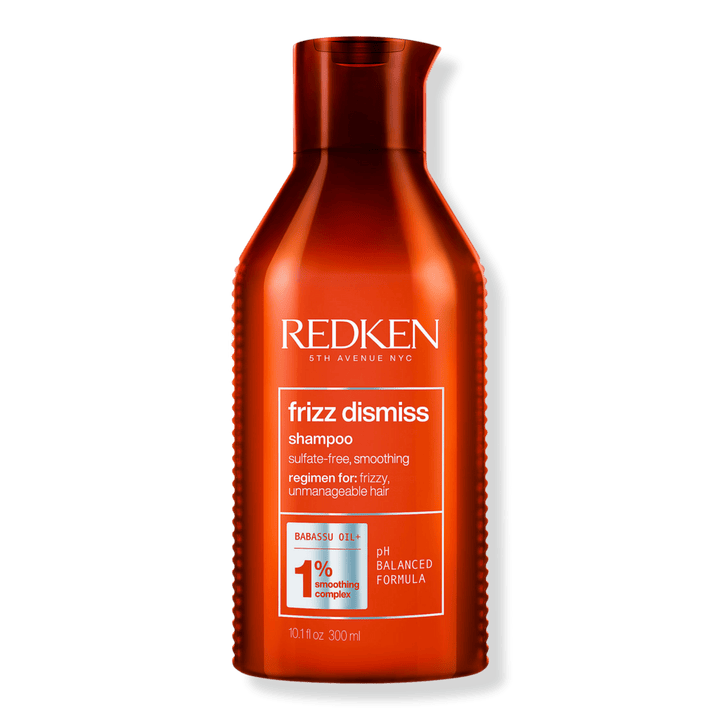 Pros
Sulfate-free;
Great cleanser;
Lathers well;
Gentle on the scalp;
Amazing fragrance.
Cons
It could leave your hair feeling greasy;
The anti-frizz capacity isn't long-lasting.
All Soft Mega Shampoo
I'm guessing this is the next level or upgraded formula of the All Soft shampoo I've tested and reviewed in today's article. The All Soft Mega alternative is for dry and brittle hair strands. It has deep-conditioning effects, and the outcome should be a shiny and smooth finish. It contains Aloe, among other nourishing ingredients.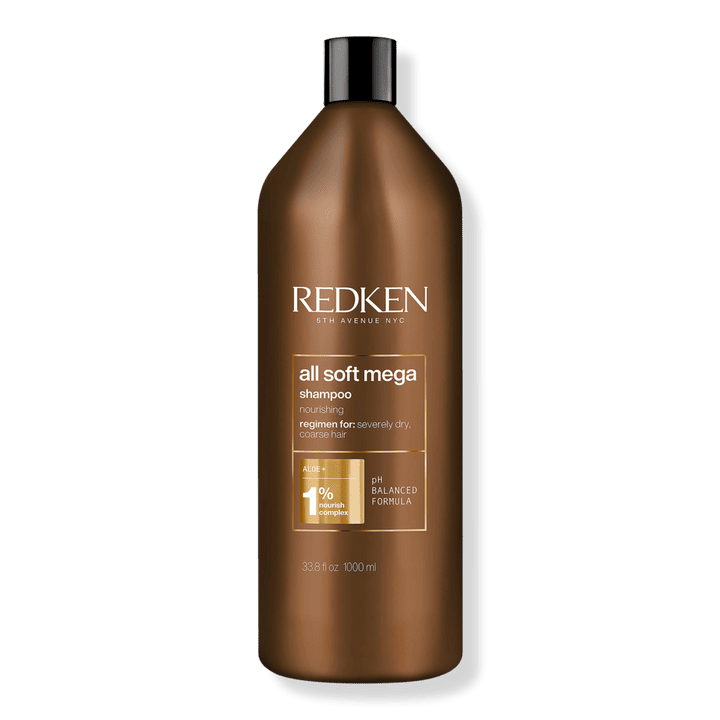 Pros
Detangles dehydrated hair;
Smoothing effects;
Shiny outcome;
Replenishes your hair's moisture;
Boosts your hair's health.
Cons
Pricey;
Not as effective as expected;
Not suitable for fine hair;
It might leave your locks feeling a tad greasy.
Extreme Hair Strengthening Shampoo
You should try the Redken Extreme Strengthening shampoo if your hair is damaged. It was created to repair split ends and lower hair breakage. This Redken shampoo contains protein that promotes healthier locks, cleanses the scalp, and restores your hair's natural shine. If your strands are thinning or weakened, this is the suitable Redken option for your needs.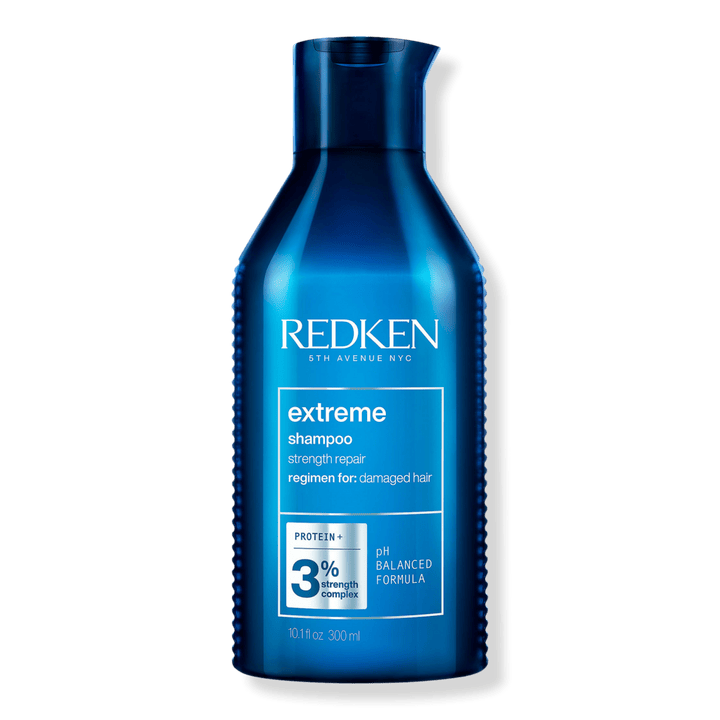 Pros
Improves your hair's health and fortifies your locks;
Cleanses the scalp;
Smells nice and lathers well;
It acts gently on both your hair and scalp.
Cons
Again, I'm so sorry to repeat myself. This is another Redken shampoo that could dry your hair;
You might feel greasy residues on your scalp after washing your hair with this shampoo.
Redken All Soft Shampoo Alternatives
Here are some other shampoos that provide similar results to the ones offered by Redken All Soft.
Pureology Hydrate Shampoo
Pureology Hydrate is excellent for both color-treated and dry hair, being highly moisturizing. I'm impressed with its formula, that's made with some of my favorite ingredients: green tea, patchouli, Jojoba, lavender, sage, and bergamot. In addition, this Pureology shampoo is free of sulfates, which is a major plus.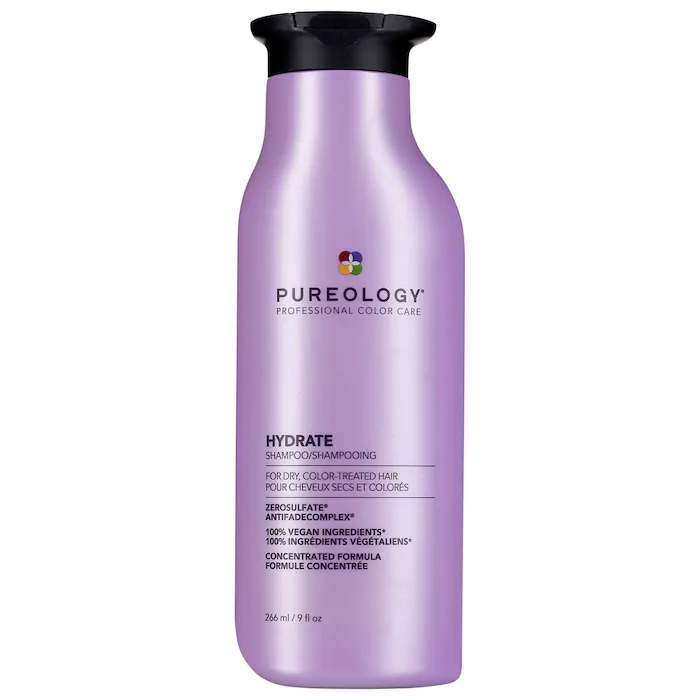 Pros
Vegan formula;
Suitable for thick and dry locks;
Moisturizing;
No parabens;
A fantastic scent given by wonderful ingredients.
Cons
Not suitable for fine hair;
Some might not like the overpowering smell or the tingling minty sensations on the scalp.
L'Oreal Total Repair Extreme
Elvive Total Repair by L'Oreal Paris will penetrate your hair's follicles and repair your locks' broken fibers. It's a powerful shampoo that revives over-processed or very damaged tresses. This L'Oreal shampoo is formulated with ceramides and wheat protein. This combo fortifies your hair strands.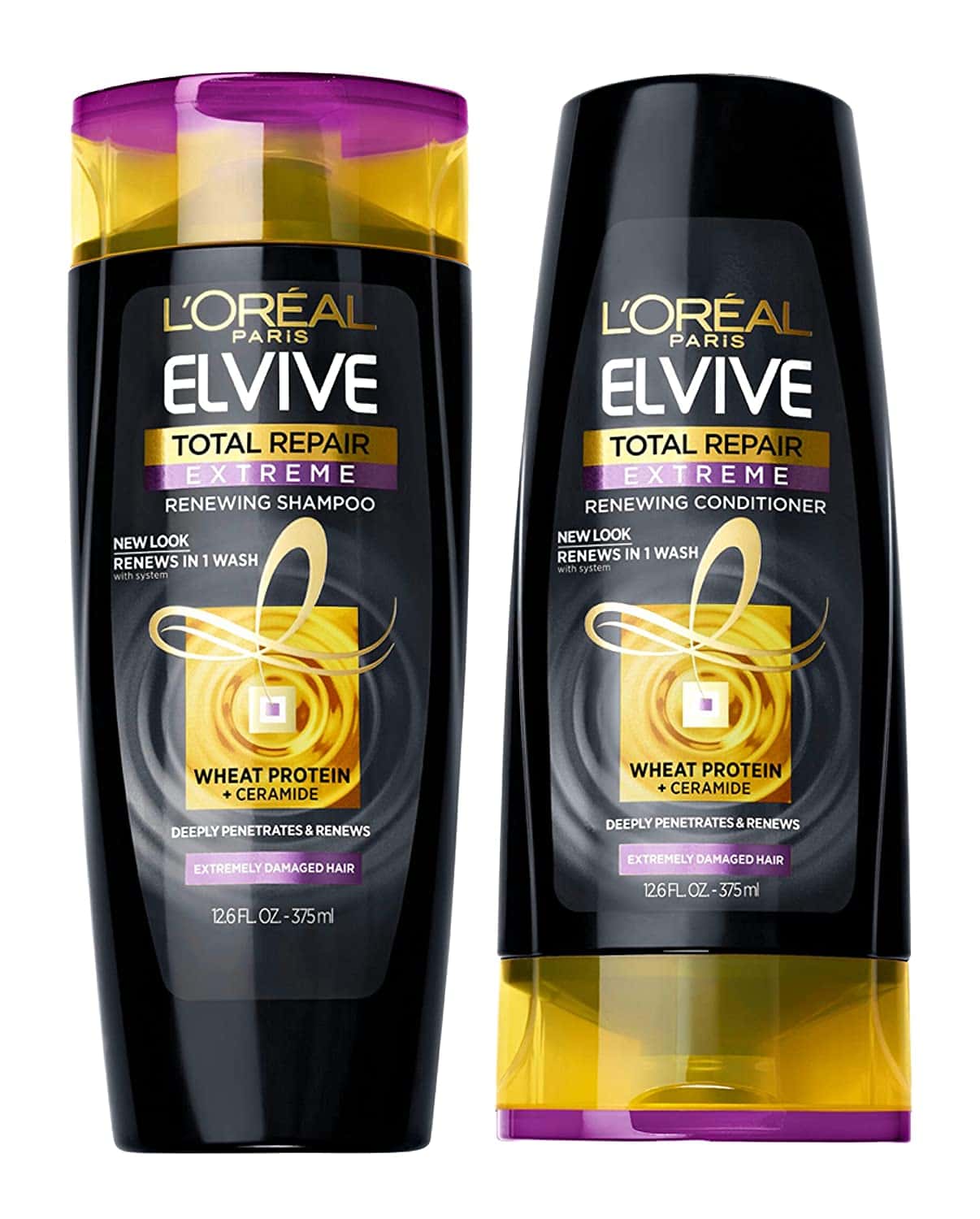 Pros
Budget-friendly;
Reparative and nourishing;
It makes your hair shiny and soft.
Cons
Not suitable for fine or thinning hair;
It could make your locks feel a bit sticky or greasy.
Maui Moisture Shampoo
The Maui Moisture shampoo contains Shea butter, which deeply nourishes and moisturizes your dry, brittle, and damaged hair. This Maui shampoo, that's free of sulfates, will heal and soften your tresses while hydrating and repairing split ends. It's the perfect choice for curly hair. Moreover, it's safe and color-preserving, which means it won't fade your hair shade.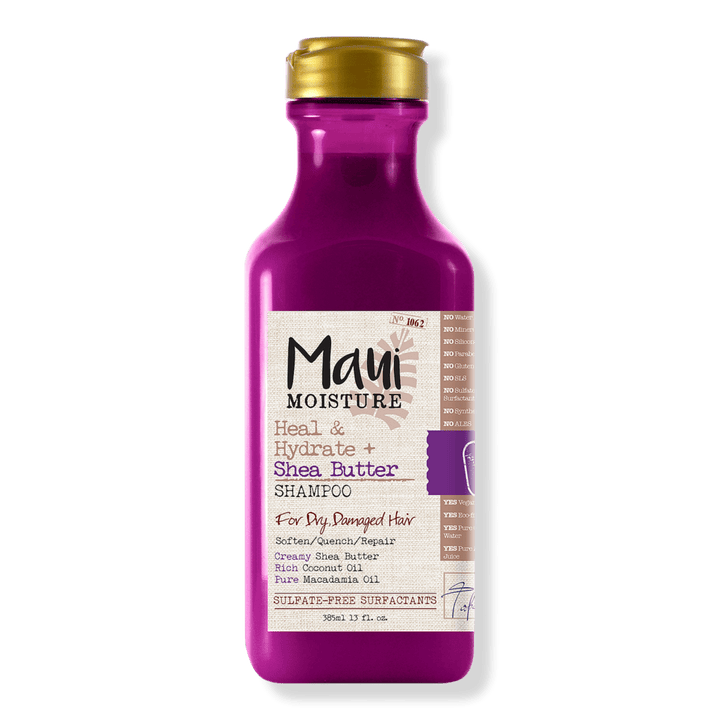 Pros
Hypoallergenic;
Nourishing and hydrating formula;
Sulfate-free;
Great tropical scent;
Vegan.
Cons
Not fragrant-free;
Leaves residues.
Redken All Soft Shampoo Review & Guide – FAQs
Question: Who Should Use Redken All Soft?
Answer: Redken shampoos are pretty effective, and they're so popular. But the All Soft shampoo is made for those with brittle and dry locks. It's hydrating and moisturizing while softening detangled tresses. It also restores your hair's natural shine and gently cleanses your scalp.
Question: Is Redken All Soft a Daily Product?
Answer: It depends on your hair type and hair-washing behavior. For instance, those with normal hair could use this shampoo every day. It's pretty gentle. However, I would recommend washing your strands twice or three times a week, not more. After all, this shampoo also contains some chemicals and artificial ingredients that might lead to minor hair damage when used too often or inappropriately.
Question: Why Is Redken All Soft So Expensive?
Answer: I've asked myself the same question. Well, the price tag relies on these products' formulation, which is enriched with high-grade compounds, including essential oils, minerals, protein, vitamins, and other nourishing ingredients.
Bottom Line – Would I Use It Again?
Yes, I would definitely use Redken All Soft again since it did exactly what it promised: this softening shampoo made my hair smoother and silkier. Brushing my locks after blow-drying them felt like a walk in the park. I would recommend it to those dealing with damaged, brittle, or dry hair. This shampoo will offer your tresses a fabulous makeover.
All Soft gave my hair extra body and plumpness. In addition, it felt creamy during shampooing and detangled my locks while cleansing my scalp. All in all, I was delighted with this product, and I'll use it again.
This company has made some bold claims in the past as well, but this time, they delivered. I have my silky and smooth hair as proof of that.
Other useful reads: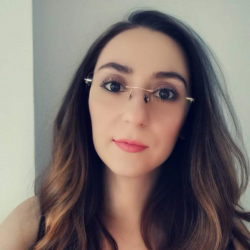 Latest posts by Alexandra Gavrilescu, Home Hair Product Tester
(see all)