Rosehip oil is a skin and hair-boosting substance that celebrities and experts can't get enough of. This non-comedogenic oil can help with scars, dullness, and eczema, in addition to moisturizing the skin and smelling like freshly cut roses. Now the question we ask is what is the best rosehip oil for hair? 
We've gone through and found the best rosehip oil for hair that will benefit you in every way from hydrating your scalp to bringing life back to your hair. Let's get to it! 
What is rosehip oil? 
Rosehip oil is made by extracting oil from rose hips using a cold-pressing technique. You might be wondering what a rosehip is. It is, after all, the fruit of a rose. However, it should not be mistaken with rose oil: The latter is derived from the flower's petals, whilst rosehip oil is derived from the rose's seeds and fruit. 
Rosehip oil has been used for hundreds of years: it comes from the Chilean rosa canina shrub and has long been prized for its medicinal qualities by Native Americans and ancient Egyptians. 
Side effects of rosehip oil 
It's crucial to understand the difference between rosehip essential oil and conventional oils derived from extracts. Rosehip extract, unlike essential oils, does not require dilution with a carrier oil. Rosehip oil extract is actually used as a carrier oil for essential oils by certain people. 
However, patch testing a tiny quantity of rosehip on another region of skin before applying it heavily to your scalp is still a smart idea. If you're going to use essential oil, dilute it first using a carrier oil. After that, apply the oil to the inside of your elbow and wait 24 hours to see if any allergic reactions occur. 
While adverse reactions to rosehip oil are uncommon, the following signs should be kept in mind:
Skin rash 

Crusty skin 

Itchy skin 

Redness 

Hives 
Make sure you don't get any rosehip oil in your eyes. You may avoid this by using the oil as a mask with a shower cap and thoroughly washing it off in the shower. Rosehip oil is only for external usage. This is true for hair and scalp treatments as well. Never put the oil in your mouth. Before taking rosehip oil, see your doctor as it may interfere with some of the medications you take. 
Best Rosehip Oils: Top Picks
Rosehip oil is a dry oil, which means that if it is exposed to air for an extended length of time, it will harden. It's a fantastic product since it absorbs quickly and does not leave a greasy or unpleasant residue. We've gone through and compiled a list of all the best rosehip oils available today. 
Best organic: PURA D'OR Organic Rosehip Seed Oil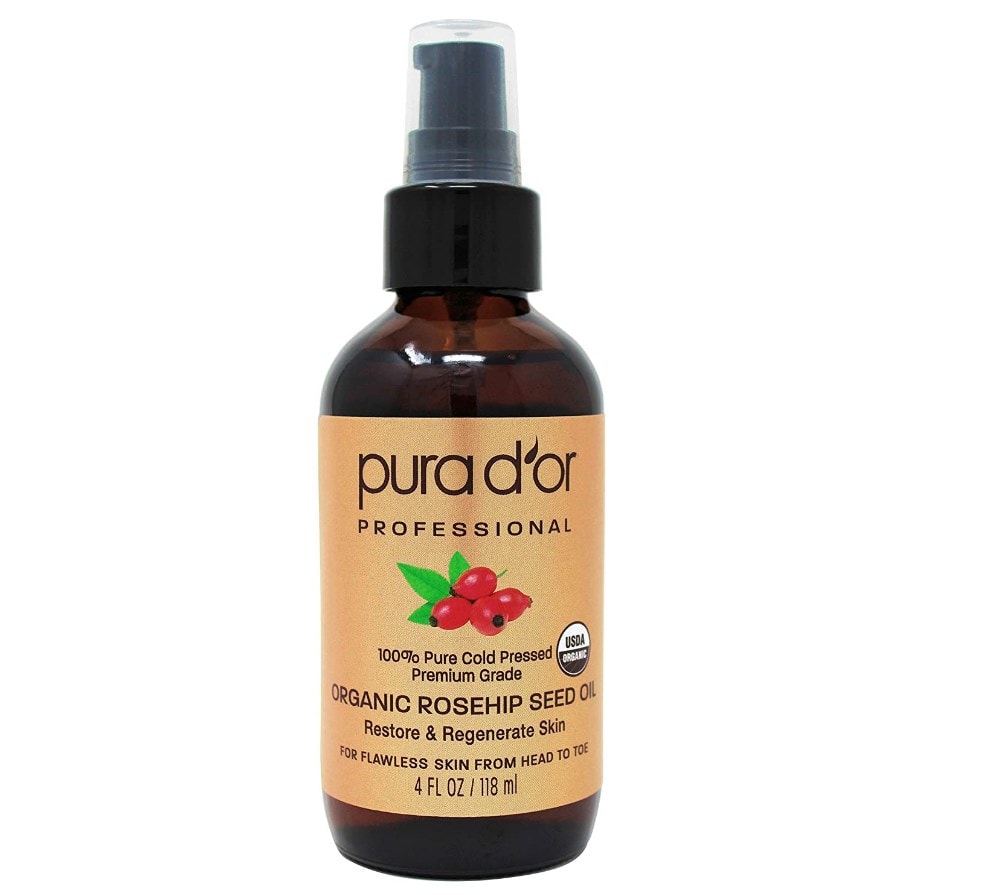 Rosehip seed oil is naturally high in antioxidants and retinol, which help to stimulate collagen synthesis and minimize the appearance of fine wrinkles. It also comes in a convenient pump container, making it more hygienic than a dropper-style oil. 
Price: $15
Best Budget: The Ordinary 100% Organic Cold-Pressed Rosehip Seed Oil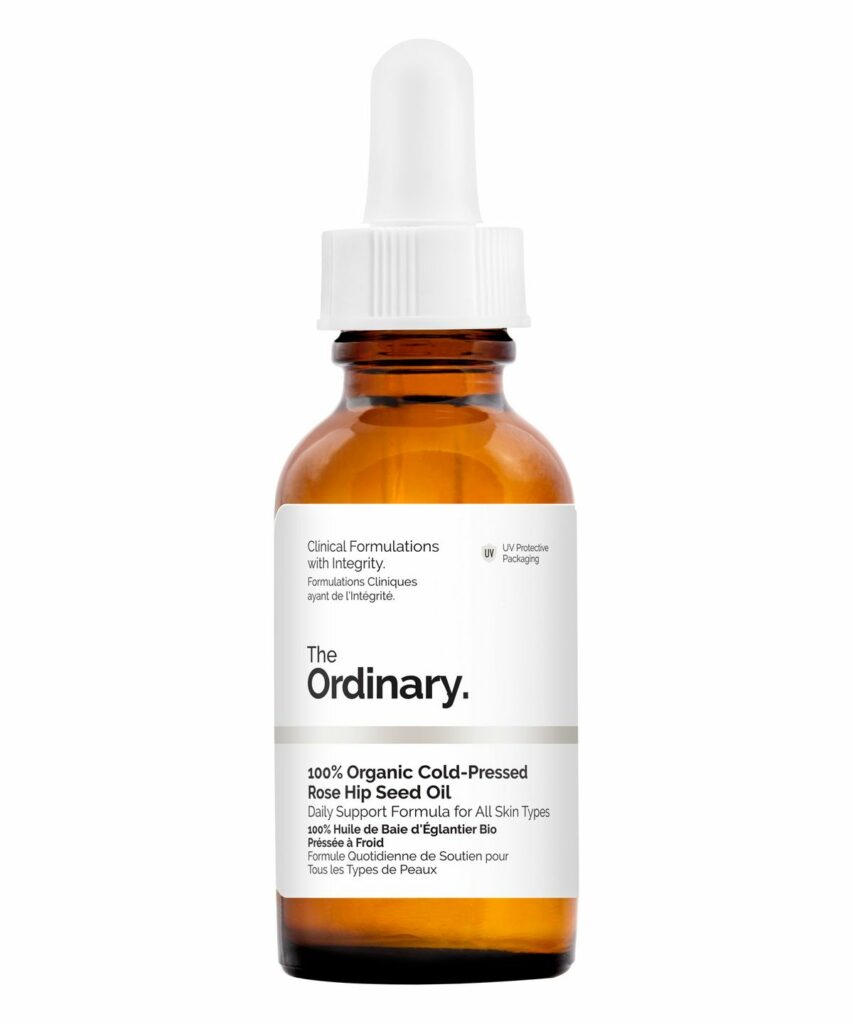 The Ordinary is known for its straightforward goods with low prices, and the brand's rosehip seed oil is no exception. This 100 percent pure organic oil is cold-pressed and responsibly sourced. It comes in a dropper container that looks like a tincture, and you only need a few drops. This rosehip oil contains natural vitamin A, linoleic acid, and linolenic acid, which can help reduce UV damage.
Price: $10-$15 
Best splurge: Herbivore Phoenix Oil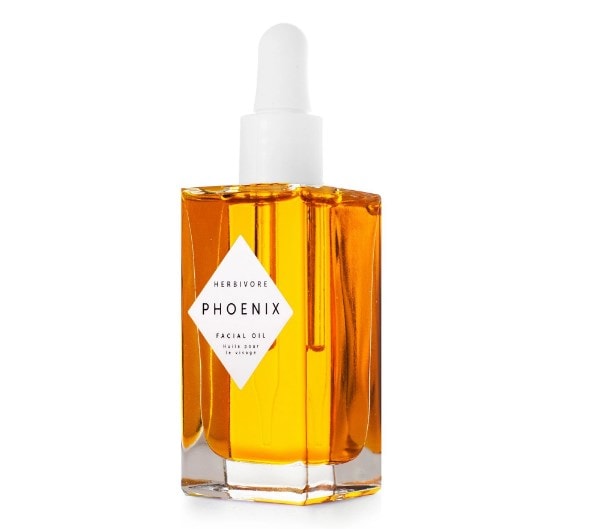 Herbivore's Phoenix Oil is certainly worth exploring if you're willing to spend a little extra on a genuinely fantastic product. 
Aside from rosehip oil,  meadowfoam, jojoba, neroli, chia seed, and sea buckthorn oils, as well as vitamin E and rose extract, make up this golden liquid—or should we say liquid gold? It moisturizes the skin while addressing dryness.
Price: $88
Best for sensitive skin: InstaNatural Organic Rosehip Seed Oil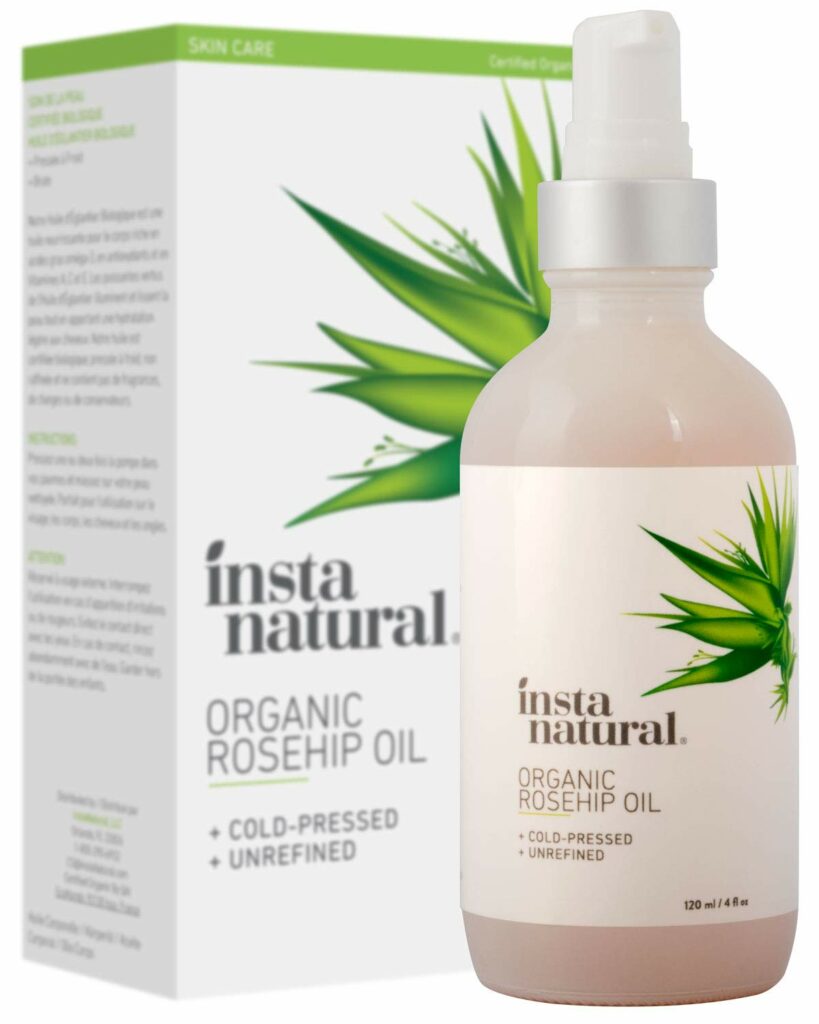 This mild oil from InstaNatural is ideal for those with sensitive skin. This plant-based product is unlikely to irritate or inflame your skin because it only contains pure organic rosehip oil. It also absorbs quickly and hydrates, giving you brighter, healthier-looking skin straight away. 
Price: $22
Best overall: Teddie Organics Rosehip Seed Oil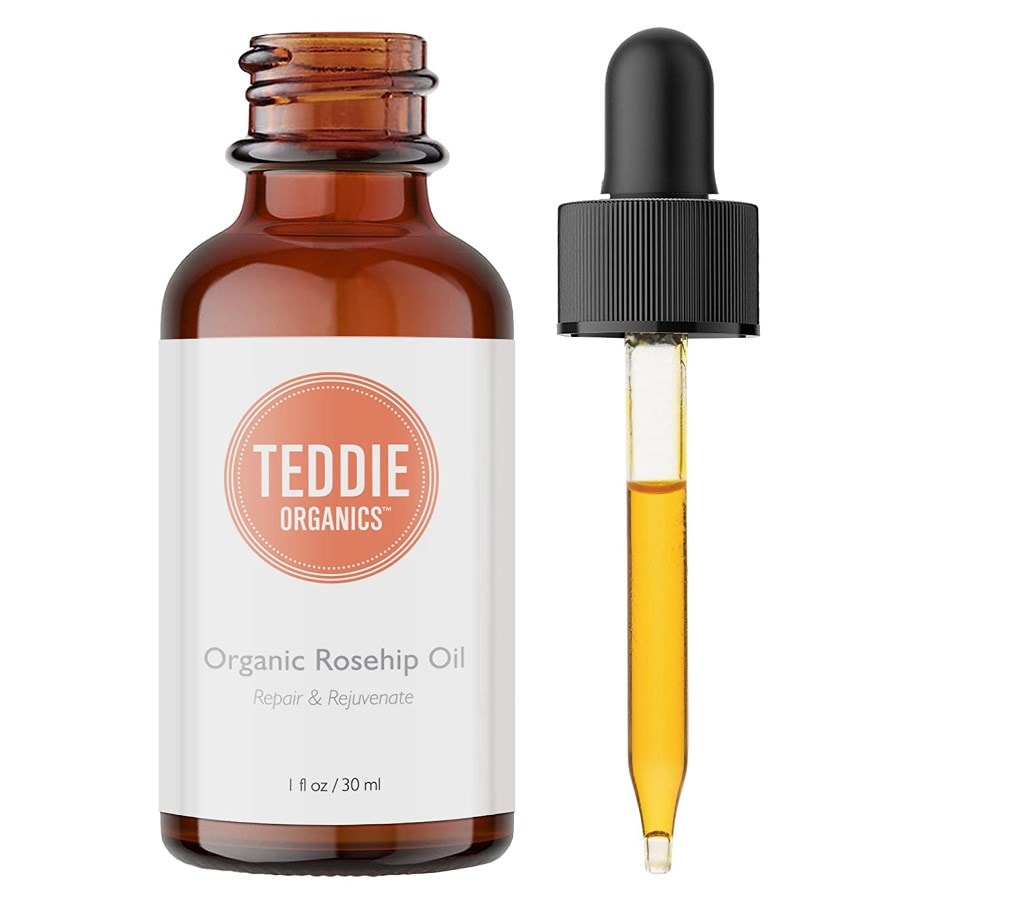 Teddie Organics is the place to go if you want 100 percent pure rosehip oil. For a young, healthy-looking glow, use this organic, cold-pressed oil from head to toe, day or night. It acts as a natural moisturizer, improving suppleness and reducing dullness. We really like that you may use it alone or combine it with your favorite lotion.
Price: $13
Best drugstore: Radha Beauty Rosehip Oil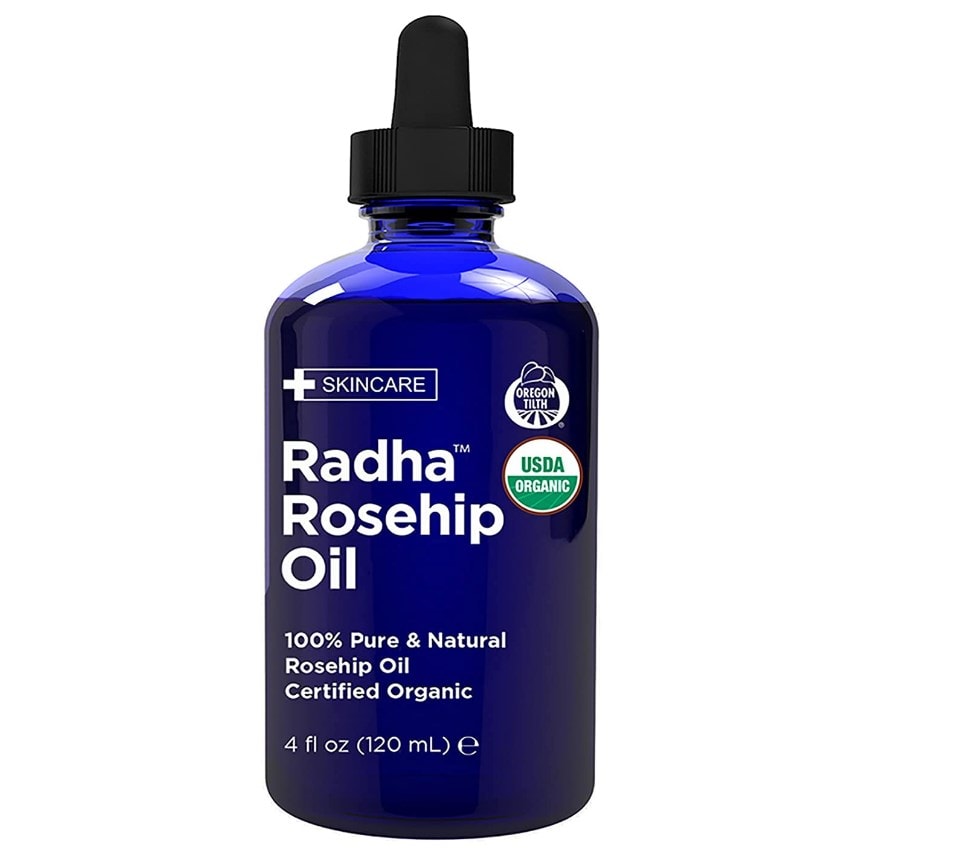 Another 100 percent pure, organic alternative is Radha Beauty Rosehip Oil. You'll get a large (4 ounces) bottle of multi-purpose oil to use as a moisturizer for your face or body. It may be used as a massage or aromatherapy oil as well. 
Price: $15
Is rosehip oil beneficial to hair?
Now that we've discussed what rosehip oil is and the possible side effects of using it, let's discuss how rosehip oil is good for your hair. 
Moisturizing 
Rosehip oil, like other oils, is excellent for retaining moisture. Rosehip oil is excellent for hydrating the hair, particularly the ends. Because the ends of the hair are the first to dry out, adding oil to this area can provide rapid hydration. Split ends and breakage may be avoided by adequately moisturizing the ends of the hair.
Inflammation 
Rosehip oil helps to keep the skin barrier healthy, which is important for the scalp. The oil is not only nutritious for the skin, but it also includes carotenoids that have anti-inflammatory qualities, which might help if you have a red, irritated, or itchy scalp.
Fatty acids 
Rosehip oil may be used as a natural conditioner because of the quantity of vital fatty acids it contains. These fatty acids can not only nourish and soften hair strands but can also maintain your scalp healthily and balanced.
Hair growth 
Vitamins C and A in rosehip oil can help promote collagen formation (vitamin C, in particular, is an essential part of the collagen synthesis process). It can help your skin cells' fibroblasts (which generate collagen) and maintain the collagen you currently have for one healthy head of hair when applied topically to the scalp. 
How to use rosehip oil for your hair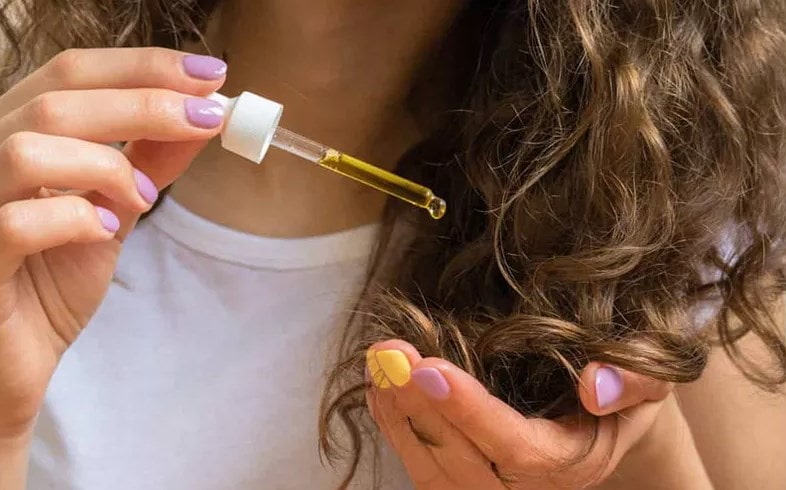 There are multiple ways you can use rosehip oil on your hair. We've found a few ways that you can use rosehip oil for the best outcome for your hair. 
Spot treatment for scalp 
This treatment is especially useful for scalp dryness, dandruff, and skin inflammatory issues. 
To successfully do this treatment, follow the steps below: 
Massage rosehip oil into your scalp for 15 minutes.

Put on a shower hat to keep your hair out of your face.

Allow for a half-hour rest period.

Rinse the oil well and avoid getting it in your eyes.

Allowing your hair to air dry will give it a smoother texture. 
Rosehip oil hair mask 
Hair masks are almost essential when it comes to keeping your hair healthy. So here's how to make a rosehip oil mask yourself. 
Ingredients: 
Peppermint essential oil: 3 drops

Jojoba oil: 2 tablespoons

Rosehip seed oil: 1 teaspoon 
What to do:
Mix all ingredients together in a jar or bowl.

Massage the mixture onto clean, wet hair.

Let rest on your hair for about 30 minutes.

Rinse off with warm water and shampoo. 
Total time: 
35 minutes 
Remember to seal your hair with cold water. This is because warm water opens the cuticle of your hair, allowing moisture to escape. As a result, it's critical to seal the cuticles to keep the moisture in.
Hot rosehip oil massage 
Many individuals prefer to reheat the rosehip oil before using it. You must, however, keep an eye on the temperature to avoid inadvertently burning your scalp. 
Furthermore, too much heat might cause it to lose its inherent characteristics. Because this approach is not backed by any scientific data, you should use it at your own risk. 
Remedies with rosehip oil  
Did you know that rosehip oil may be used with other essential oils to promote hair growth? Experimentation is beneficial as long as it is done with caution. Here are some examples of possible combinations: 
Argan oil and rosehip oil 
Argan oil is referred to as "liquid gold" for a reason. It can make your hair healthier, glossier, and stronger, restoring its former splendor. Due to the high vitamin E concentration in both components, combining rosehip oil with argan oil is said to prevent hair loss. 
In a mixing bowl, combine the oils in equal parts.

Apply the oil and wait 30 minutes before removing it.

Use a mild shampoo to remove the mixture.
Coconut oil and rosehip oil 
To promote hair growth and scalp health, combine pure coconut oil with rosehip oil. This assertion, however, is based on no scientific proof. Before you apply this combination to your scalp, be sure to do the following: 
Take equal amounts of both oils.

Warm the coconut oil just a little.

Combine the two oils in a mixing bowl.

When the mixture is finished, use a cotton ball to gently apply it to the roots.

Allow 20 to 30 minutes for the oil combination to soak into your scalp.

Use a gentle shampoo to remove it.
Amla oil, castor oil, almond oil, and rosehip oil 
Follow these methods to discover the hair growth advantages of amla oil, castor oil, almond oil, and rosehip oil: 
Combine all of the oils in equal parts.

Massage the mixture into your scalp gently.

Allow at least 20 minutes for the combination to moisturize your scalp before washing it off.
FAQs 
When it comes to your hair routine you should always do research and find what is best for your hair. If you have more questions regarding rosehip oil, keep reading to find out the answers to the most asked questions. 
Question: Can curly hair people use rosehip oil? 
Answer: Rosehip oil may be used on curly hair and is a realistic option. It's actually good for all hair types, including wavy, curly, and straight. Rosehip oil, in particular, is an excellent conditioner for curly hair. Curly hair is difficult to manage, but rosehip oil keeps it smooth and hydrated. 
Choose a hair oil brand you can trust, ideally one that doesn't include any ingredients. To choose a high-quality product, look for phrases like "cold-pressed" and "organic" on the label before purchasing the oil. 
Question: How frequently can you use rosehip oil in your hair? 
Answer: To get the greatest effects, gently massage rosehip oil into your scalp using the tips of your fingers. If you do this twice a week, you will see a big difference in terms of hair loss and general hair health over time. 
Question: Can I leave rosehip oil in my hair overnight? 
Answer: After 30 minutes, you may rinse off the rosehip oil that you applied straight to your scalp. There isn't enough evidence to show that keeping rosehip oil in your hair overnight has any advantages. It is suggested that you wait 20-30 minutes before showering. 
Best rosehip oil 
Seasonal changes need updating your hair care routine. Rosehip oil is worth a try if you're searching for a new hair oil to add to your collection. It's packed with fatty acids and vitamins that feed both the hair and the scalp, and it's especially good for those who have thick or naturally textured hair.
Rosehip oil may be used in a variety of ways, depending on your hair and scalp's needs. To minimize accumulation, finer hair types should be more cautious with oils in general. Rosehip oil should be used with caution, especially if you're attempting to cure a scalp problem. If you don't see any changes after a few weeks or start to experience adverse effects, see a dermatologist. What do you think? 
Looking for more interesting readings? Check out: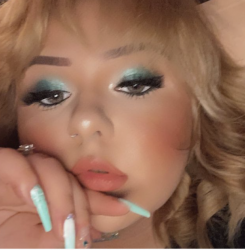 Latest posts by Annalise Swain, Hair Trend Spotter
(see all)