Persistent hair fall and hair thinning issues can have serious and negative effects on your emotional health and general well-being. After all, our hair is oftentimes an extension of our personalities, and we tend to style, color, and cut it to express ourselves and our unique sense of fashion.
However, losing your hair can quickly put a damper on that. Extreme hair loss or baldness arises due to hormonal imbalances and, despite popular misconceptions, it's actually fairly common amongst both men and women. DHT, or dihydrotestosterone, is a hormone that has been cited as one of the leading contributors to baldness. 
Nearly two-thirds of men start to experience male pattern baldness before the age of 35 years. Even though some have no objection and are happy to rock a bald look (and look amazing doing so!), many people turn to hair treatment therapies and products.
Many DHT blocking shampoos and alternative treatments are available in the market, some of which are more effective than others. When treating hair loss, picking the right ingredients and supplements in your shampoo is incredibly important. 
Why Use DHT Blocking Shampoos?
Testosterone is found in both men and women, although it is primarily responsible for the development of stereotypical male characteristics in men. This includes:
Giving them a strong libido

Helps them build muscles

Creates red blood cells

Increases bone mass
Many scientific studies have pointed out that when certain enzymes react with testosterone in the males' testes and prostate, as well as women's ovaries, it gets converted into DHT. 
DHT is a strong hormone, and it's considered to be the main contributor to hair growth all over our body — except for the head, of course, where it behaves mysteriously. Here it can attach to the follicles of hair and encourage some receptors to start shrinking their size. 
Over time, it gradually leads to thinning of hair, followed by hair fall and then eventually baldness if left untreated. DHT blocking shampoos will not only treat this hair fall, but it will also revitalize your scalp and nourish it with adequate supplements required for healthy hair growth.
Ingredients like ketoconazole (an antifungal), saw palmetto, and lavender oil have been proven to block the production of DHT by a fairly substantial margin. They are one of the main substituents in DHT blocker shampoos, along with some other pharmaceutical and natural supplements. 
The DHT shampoo market has seen a drastic rise in demand in the last decade, as more and more effective variants start to come out. Because of this, many manufacturers tend to use a variety of marketing techniques to boast about their unique formulas and ingredients used.
Understandably, this can easily overwhelm customers in the beginning. Needless to say, the sooner you address hair loss issues, the better are your chances of curbing it.
Our Evaluation Criteria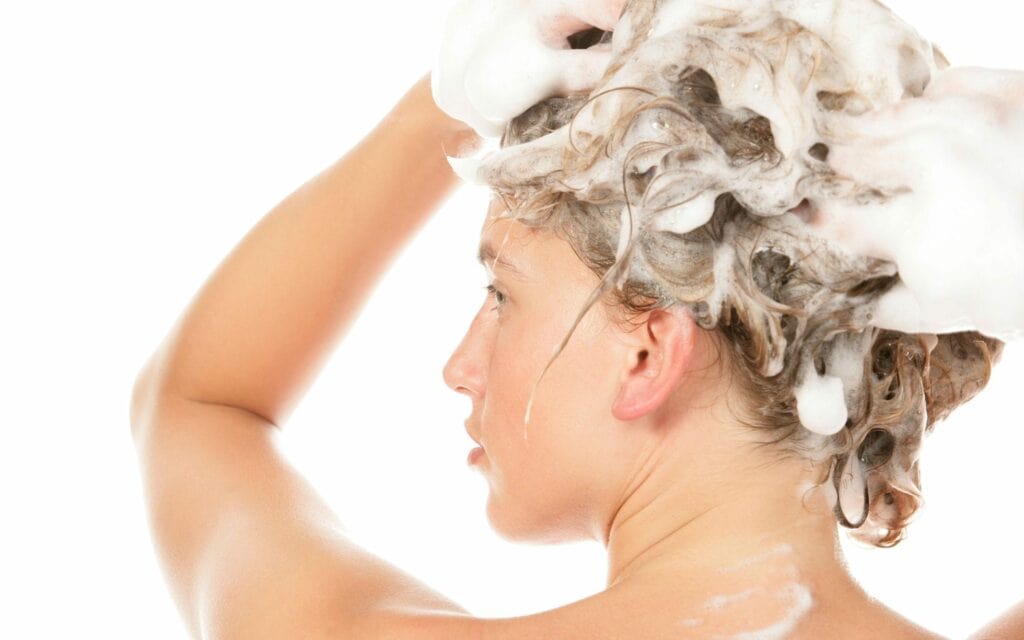 Before we dive into the best DHT blocker shampoos, we wanted to let you know a little bit about our evaluation criteria. That is, why exactly did we choose certain shampoos to include on our list? Things we looked at included:
The shampoo's ingredients

The skin and hair types it addressed

What the user reviews said

The price of the DHT shampoo
Let's go ahead and take a closer look at these considerations, shall we?
The Ingredients
When shopping for a DHT blocking shampoo, you should keep a lookout for proven and effective ingredients that block the DHT and support hair growth. Some of the best brands use a combination of natural herbs and allopathic medicines in their DHT-blocking shampoos. 
Some of the well known and lab-tested ingredients that you should keep in mind include: 
Pumpkin seeds

. These have been known to increase hair growth in men by up to 40% over the course of 24 weeks. Studies have also proven that their usage showed mild to moderate antiandrogenic effects on men's scalps. 

Lavender Oil.

In many scientific studies involving mice, the use of lavender oil showed a significant increase in hair growth. There were also signs of improvement in the health of hair follicles, their density, and the thickness of hair. It also has antimicrobial and antibacterial properties, which are very good for your scalp. 

Saw Palmetto

. This is one of the most common natural ingredients found in DHT blocking shampoos. Although it has a mild effect on DHT levels,

a study

involving men showed that it can reduce DHT by up to 32%.

Lemongrass essential oil

. Dandruff usually goes hand in hand with hair fall. Lemongrass oil is a common ailment that nourishes your scalp and can reduce dandruff in just one week.

As shown by a 2015 study, massaging your scalp with lemongrass oil or mixing it with shampoo daily can get rid of your dandruff and dry scalp in a matter of days.
Ketoconazole

. This is a conventional antifungal medication that can fight against the fungi that are known to cause dandruff. Many studies have also concluded that ketoconazole has DHT blocking properties, too, which can reduce hair fall and improve hair follicle depth. 
We also thought it would be wise to mention some ingredients that you should keep away from when shopping for DHT blocking shampoos, too. Some chemicals and pharmaceutical ingredients used in these shampoos can potentially have harsh and long-term side effects, such as:
Sulfates

. Components such as sodium lauryl sulfate and sodium laureth sulfate can seriously strip your scalp of moisture. They have detergent-like qualities and are generally used in shampoos and soaps to increase lathering. However, they can cause skin irritation and dryness to some people.

Many brands include sulfates for lathering in their oily skin-type shampoos, which you should definitely keep an eye out for. Studies have found that these chemicals are harsh on your skin and can cause harmful side effects from daily long-term usage.
Parabens

. These are a group of synthetic compounds that have antibacterial and antifungal properties. Although trace amounts of parabens are no threat to human beings, researchers are afraid that their accumulation over longer periods can have radical downsides to our health. 
The Skin and Hair Type
It is very important to consider your hair type when buying a DHT-blocking shampoo. Whether you have normal, dry, oily, thin, colored, or curly or frizzy hair, there is a specific variant for your type. 
Your skin type, whether oily or dry, will also factor in when picking out a new shampoo. Shampoos made for dry skin will have the necessary ingredients to hydrate and nourish your scalp accordingly. On the other hand, shampoos for oily skin will do the opposite and suck the moisture out of your scalp. 
Picking out the wrong variant might subject you to uneasy side effects like:
Skin allergies

Rashes

Dryness

Further hair loss

Itchiness
With that in mind, it's always very important to make sure you're using the best one for your hair type!
The User Reviews
When coming up with a listing of products with such diversity, it was important for us to consider user reviews. Although almost every brand boasts about the results of their products, customer reviews often help you to paint the real picture. 
We have included only those products that have shown proven results and are backed by positive customer reviews.
The Price 
I made sure to keep the price within a reasonable range (between $20-$80) when picking out these products. There are, without a doubt, some solid shampoos within this price range that have been performing very well in the market. 
The Best DHT Blocker Shampoos On the Market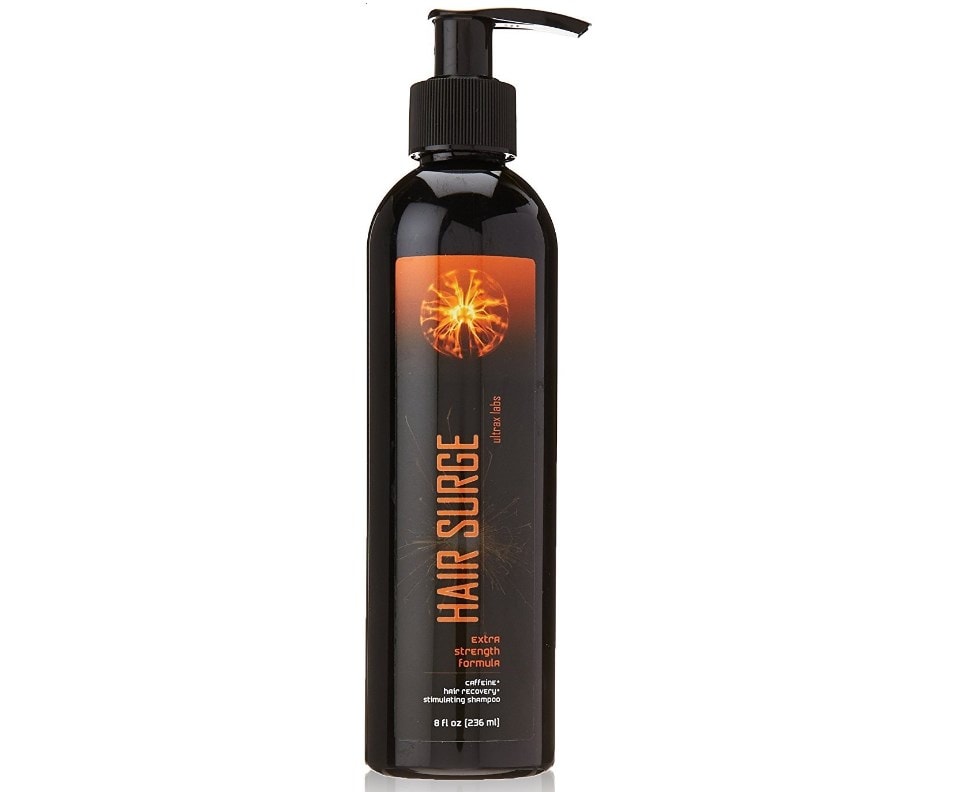 One of the best hair growth-stimulating shampoos in its price range, the Ultrax Labs Hair surge consists of tried and tested medication that addresses hair fall at the root level. It contains some of the best DHT blockers like:
Saw palmetto

Caffeine

Ketoconazole

Niacin

Mango butter

Lauric acid

Peppermint oil 
Ultrax Labs' extra strength formula effectively increases the absorption of active ingredients in the shampoo. This means the benefits of this shampoo will last longer and provide the best care for your scalp. 
In addition to DHT blockers, this shampoo is laced with supplemental ingredients that will enhance hair growth and thickness. For instance, this shampoo uses caffeine, which has been known to increase the life of hair follicles and encourage hair growth. 
A combination of saw palmetto and ketoconazole is very good in blocking the enzyme 5-alpha-reductase, which is the leading contributor to the production of DHT in your body. 
Pros
Can be used by both men and women

A good combination of natural and pharmaceutical ingredients

Works on dandruff too

Clinically tried and tested ingredients

Increases hair volume

Cruelty-free
Cons
A bit on the expensive side

Less lathering than other variants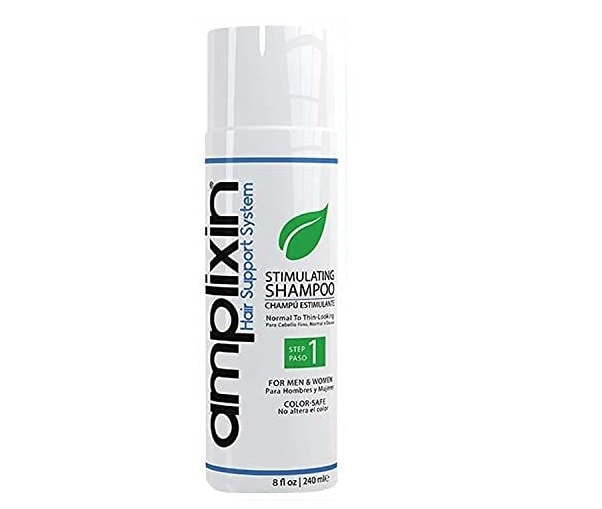 Coming up next in the second spot we have Amplixin stimulating shampoo, which is good for both normal and thinning hair. This is another variant that introduces caffeine in its mix of clinically tested anti-hair loss ingredients. 
This shampoo is free of sulfates and parabens which have harsh detergent-like qualities, providing a smooth and comforting shampoo experience. Its brilliant formula uses caffeine with red clover and acetyl-tetrapeptide-3 which promotes blood circulation in your scalp and strengthens hair roots. 
If you were looking for an all-rounder shampoo that blocks DHT, removes dandruff, and supports hair growth, then this should be your pick. 
Pros
Good for all hair types

All-natural ingredients

Sulfate and paraben-free

Good for daily use

Hydrates and improves scalp health
Cons
Not the best smelling shampoo

Not a good choice for sensitive or very thin hair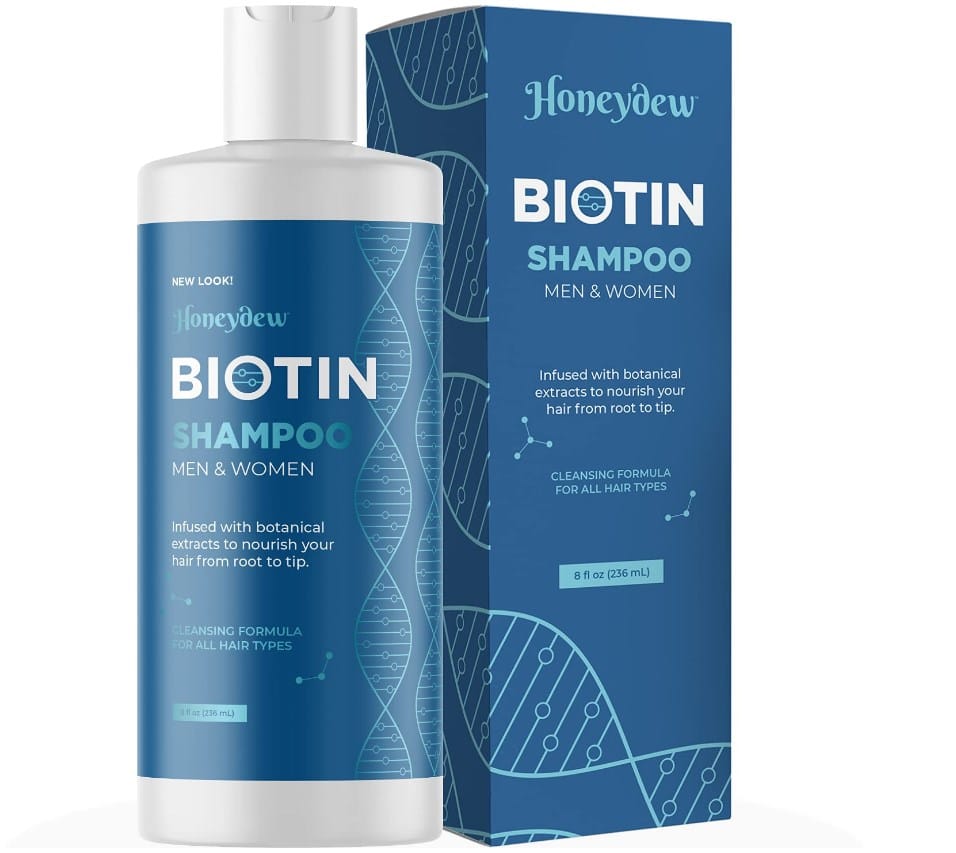 Maple Holistics Biotin Shampoo is one of the highest-rated products in the market that has shown practical results in the past. This shampoo is packed with biotins that fortify each strand of hair and promote hair growth in a natural manner.
With some of the finest DHT blockers and botanical extracts in the formula, this shampoo will help you revive the luxurious look that you have always wanted. Essential oils from coconut, olives, jojoba, tea tree, argan, and primrose are present in this shampoo that revitalizes your scalp, blocks DHT, and reduces hair breakage. 
Rich in supplements like zinc, provitamin B5, antioxidants, and necessary fatty acids, this shampoo will nourish your scalp and make it as healthy as possible. This product is highly praised in the market right now and you have to try it to believe some of these claims. 
Pros
Made with natural ingredients

Detoxifies scalp 

Deepens and strengthens hair follicles

Good for color-treated hair

Free of sulfates, parabens, GMO, and cruelty-free

Good for most hair types
Cons
The scent can be off-putting to some

Some users found it to be drying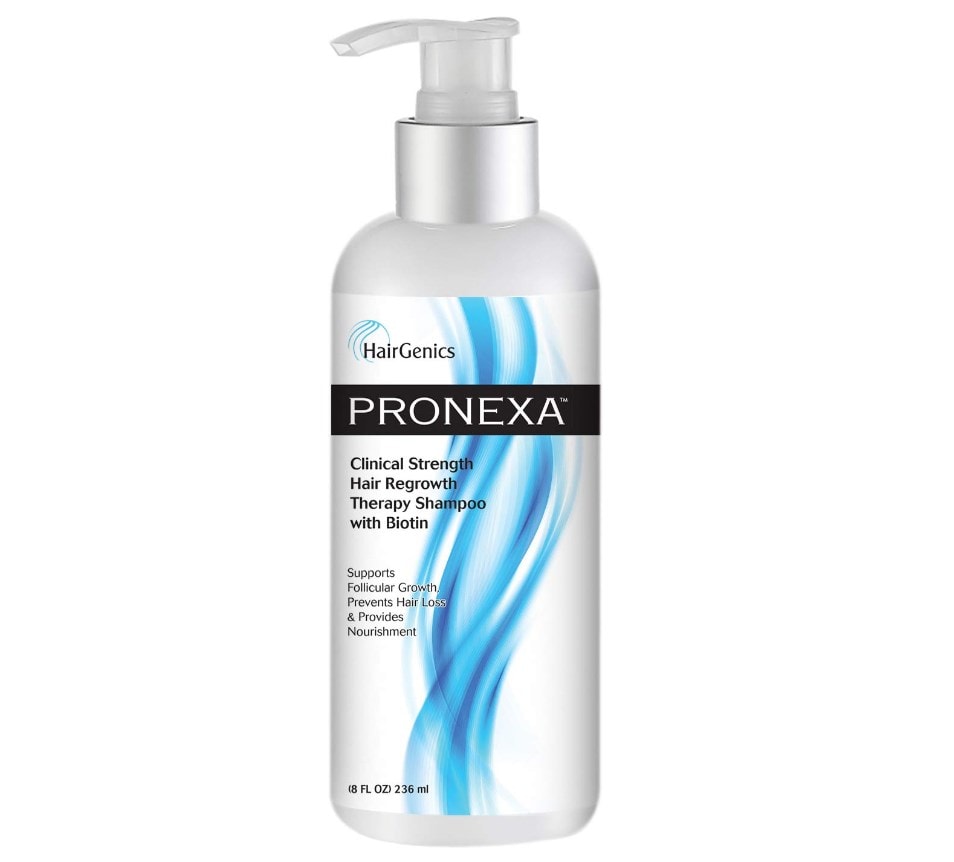 Our next pick is the Hairgenics Pronexa shampoo, which uses an FDA-approved and clinically-tested formula specifically for balding and thinning hair. 
With top-of-the-line DHT blockers such as Biotinoyl Tripeptide-1, Apigenin, Oleanolic Acid, and natural extracts from aloe vera, saw palmetto, and seaweed present in this shampoo, you can expect really great results. 
This shampoo also has clinically curated levels of collagen peptide, hydrolyzed silk protein, and vitamin B5 in it, too. These nutrients provide necessary proteins to your hair to regain strength in the roots and curb the ongoing aging process of your scalp. 
Pros
Reduces thinning and breakage of hair

Very good for increasing volume and thickness of hair

Clinically approved for both men and women

100% money-back guarantee
Cons
Poor quality dispensing pump

A little more pricey than some of the other variants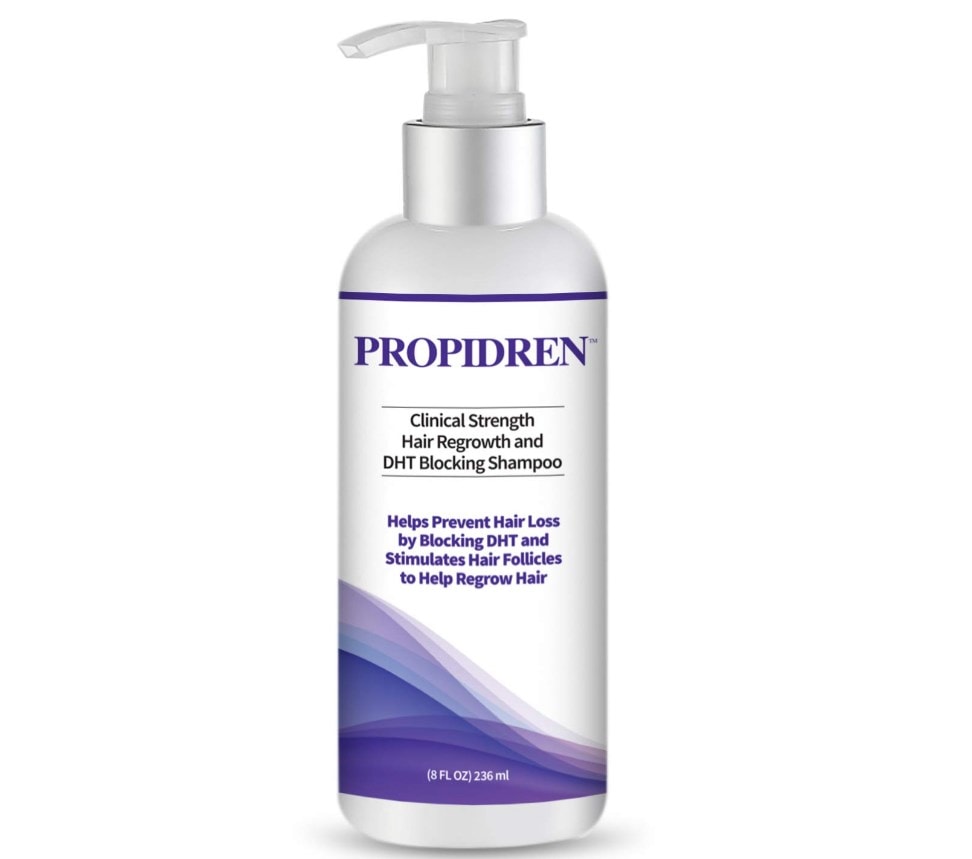 We have another Hairgenics product on this list, which has shown verified results in the past. The advanced formula in Propidren hair regrowth and DHT blocking shampoo improves the integrity of keratin that is synthesized in your head. 
Keratin is majorly responsible for maintaining the elasticity, thickness, and strength of your hair. The shampoo incorporates the benefits of saw palmetto, which is a strong DHT blocker to naturally reduce hair fall and improve the texture of your hair. 
The DHT blockers work in synergy with vitamins and proteins to provide a layer of protection for your hair and stimulate growth. 
Pros
FDA-approved formula

Created in a GMP-certified facility

Makes hair silky smooth and stops breakage

Money-back guarantee

Environmental friendly

Good for most hair types
Cons
Substandard bottle and dispensing nozzle

Strong peppermint scent

Have to use a lot to get a decent lather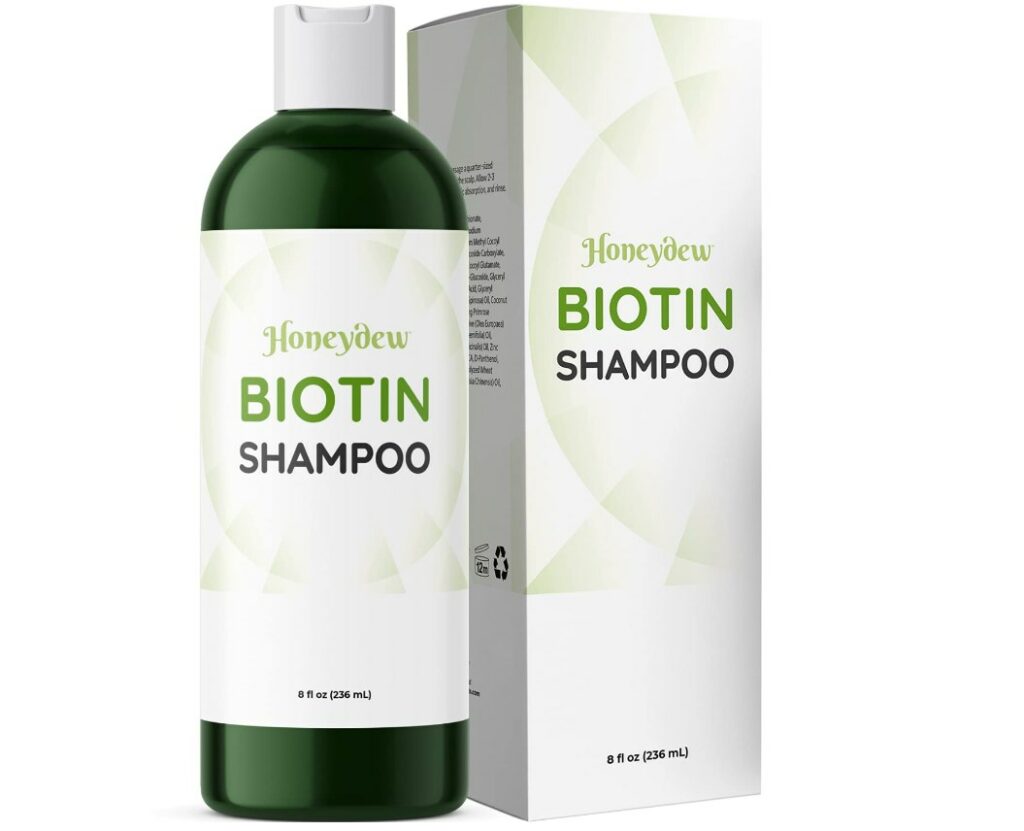 Number six on our list is Honeydew's Biotin shampoo, which has raked up many positive reviews from its customers. Their formula is very flexible and has shown brilliant results in both men and women. 
It boasts about targeting the hair follicles directly and making hair thick and silky from the root up. This shampoo has only the best ingredients that are meant to clean your scalp of any harmful bacteria or fungi and promote natural strength to the roots of the hair. 
A solid blend of essential oils from coconut, jojoba, and tea tree — along with keratin and zinc supplements — will help rehydrate and nourish your scalp back to perfect health. This pyrithione zinc shampoo increases hair volume and restores moisture to the hair follicles. 
Pros
Antibacterial and antifungal formula

Sulfate and paraben-free

Cruelty-free and environmentally friendly

Cost-effective for long term treatments

A good mix of essential oil extracts
Cons
 

Needs long term usage for promised results

Can be a bit drying

Not the best lather
Our next DHT blocking shampoo is loved by many and uses a solid combination of exotic herbs and essential oils to kick start the healing process of hair and the scalp. Some of the key ingredients include turmeric, hibiscus, Korean red ginseng, and niacin, which have a variety of healing properties. 
Their all-natural and alcohol-free formula has shown promising results over the years. With nearly 14 DHT blocking elements present in this shampoo, you are sure to stop hair fall within months of use. 
In addition to promoting better blood flow and circulation in your scalp, it also strengthens the hair strands from the bottom up and nourishes the roots from within. It's infused with a range of vitamins, amino acids, and essential oils that will speed up hair regrowth. 
Pros
All-natural formula with no sulfates, parabens, or other harsh chemicals

Stimulates natural keratin production

Suitable for daily use

Works best for colored hair

Nourishes and detoxifies the scalp
Cons
Less lather

Some people reported a "funky smell"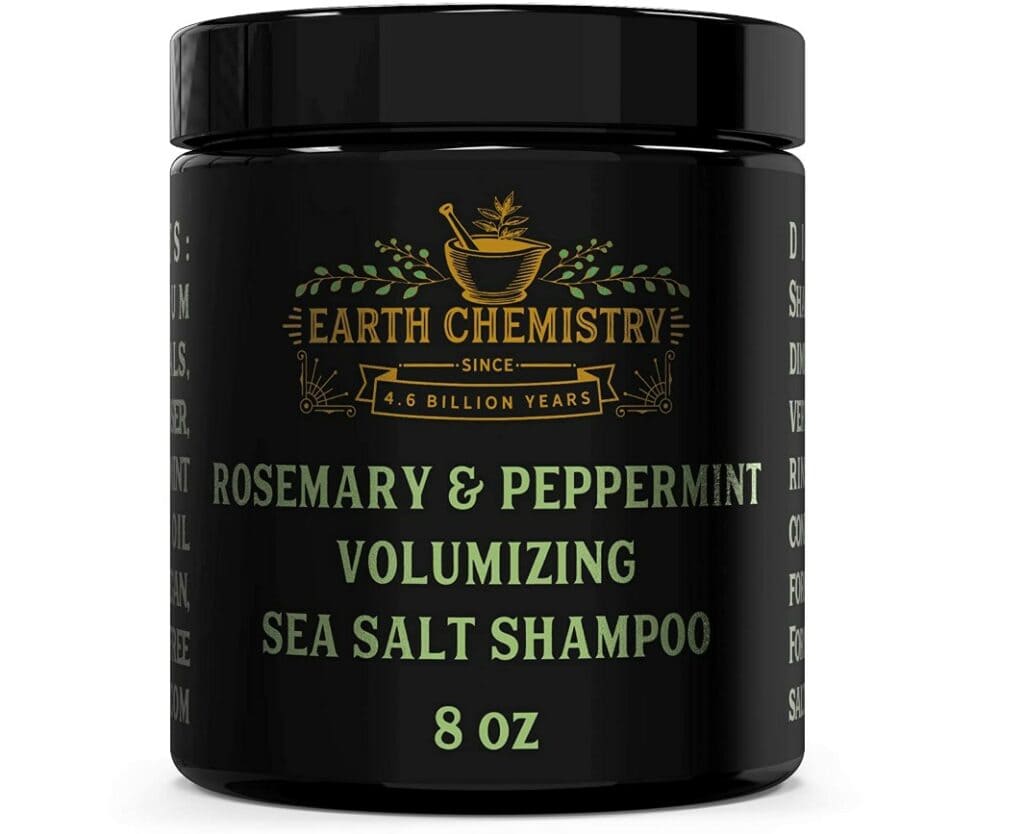 The next product in our list brings a special twist to the table with exotic sea salt minerals and crystals, based on essential oils from rosemary and peppermint. It's infused with a long list of natural ingredients that block DHT and stimulate hair growth. 
Sea salts are exceptionally good to treat oily skin or hair issues. They are very efficacious in cleaning up skin pores and removing any oil and dirt buildup. This allows for necessary DHT blocking elements to get absorbed in your skin properly and provide long-term protection. 
Their 100% plant-based formula will also help you gain hair volume in no time. Since there are no harsh chemicals like sulfates present, any hair type — be it blonde, brunette, or red hair — can use this shampoo. 
Pros
Environmental friendly and natural ingredients

Stimulates blood circulation and oxidizes your scalp

Free of chemicals like sulfates or parabens

Good for detoxifying your scalp

Very good for oily hair

Increase hair volume and health
Cons
Somewhat unpleasant smell

Needs thorough cleaning to remove all the residue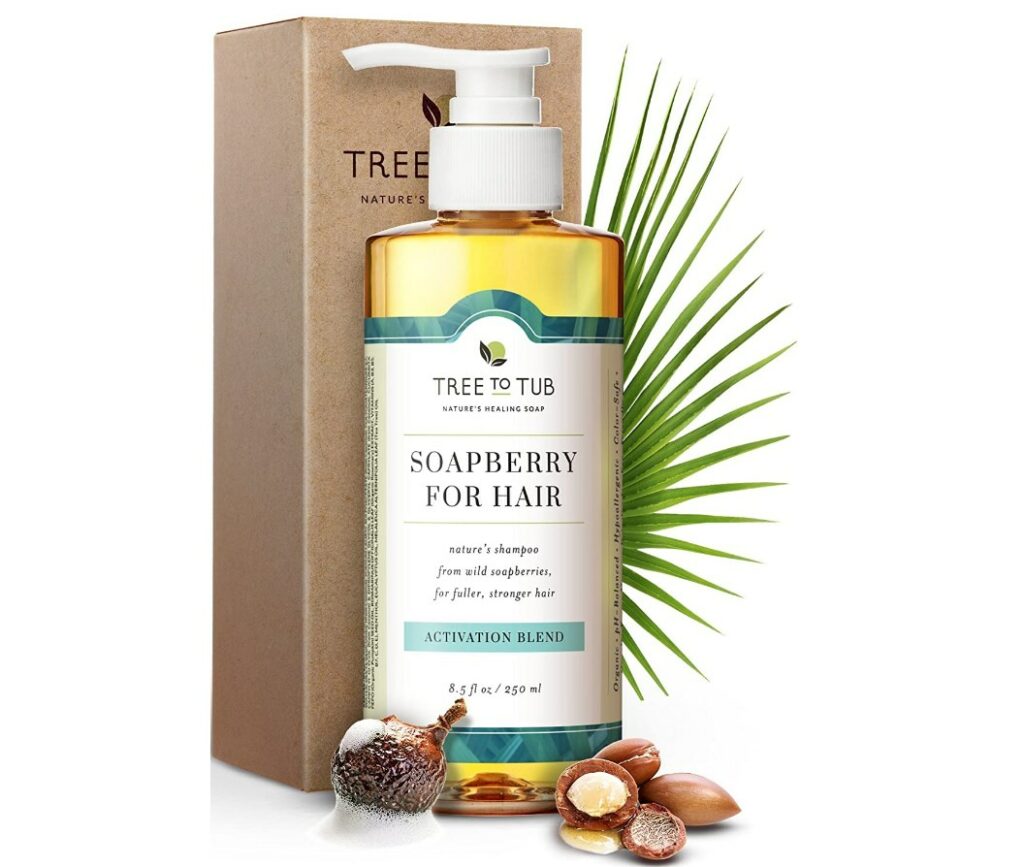 If you are looking for a 100% organic shampoo with guaranteed results then the hair volumizing shampoo by Tree To Tub is for you. It is made of all-natural ingredients that have been proven to reduce hair fall and restore a natural look to your hair. 
It contains extracts from wild-grown soapberries, which are great pH regulators and have natural cleansing properties. It has the perfect blend of nourishing botanicals, stimulating caffeine, and rosemary oil, which will detox each and every hair follicle. 
By reaching every strand of hair at the root level, it will make your hair look fuller and thicker. With this brand, you'll get is a sulfate-free, mildly lathering shampoo that will gently cleanse your scalp and rekindle the natural beauty of your hair. 
Pros
Free of artificial lathering compounds like sulfate

No artificial fragrance

Suitable for both adults and children

Mild formula
Cons
Less lather

Can make your hair a bit dry
The Major Differences Between a DHT Blocker Shampoo and a Regular Hair Fall Shampoo
In general, hair fall shampoos have little to no effect on male pattern baldness. It is the DHT that needs to be blocked, which can only be done by specialized shampoos. 
Some of the major differences between a DHT blocking shampoo and regular shampoo have been stated below: 
DHT blocker shampoo treats hair fall caused by DHT in your body, whereas regular hair fall shampoo is more for the treatment of scalp conditions like dandruff and psoriasis. 

DHT blocker shampoo generally contains ketoconazole, which is an effective antifungal and antibacterial medication, whereas hair fall shampoo typically does not contain ketoconazole.

DHT blocker shampoos improve hair follicle depth, hair thickness, and support new hair growth, whereas hair fall shampoo does not promote hair growth (unless stated on the bottle).

DHT blocker shampoos are usually weird and admittedly somewhat unpleasant-smelling shampoos (mainly because of their ingredients), whereas regular hair fall shampoos are commonly laced with perfumes or artificial scents.
What Are the Advantages of Using a DHT Blocker Shampoo?
DHT blocking shampoos with ketoconazole target the hormone's cycle directly at the root of the hair follicles. This allows for not only reduction of hair fall but the treatment of hair loss at the root level. 
Prescription DHT blocking shampoos can be paired with other hair treatments to radically slow down baldness or hair fall. In addition, DHT blocking shampoos have a variety of natural and synthetic medicines that improve the overall health of your scalp and hair besides treating hair loss. 
The Disadvantages of DHT Blocker Shampoo
DHT is a crucial hormone for our body, which is also linked to some antidepressant and antianxiety qualities. In the absence of DHT, some people can experience depression or elevated levels of anxiety. 
Some mild side effects of DHT blocker shampoos include dry skin and irritation, which can be easily sorted out by picking out the right variant for your scalp type. Finally, one of the biggest downsides of using DHT blockers is that they can stop hair growth all over your body. 
Some men have also claimed it adversely affects their libido and body weight. 
Some Best Use Tips
We've gone ahead and gathered some of the most helpful tips from world-renowned dermatologists on the usage of DHT blockers. Hopefully, this can help greatly increase the positive effects of your treatment!
These were the tips that stood out the most to us:
Massage your scalp properly with the shampoo and leave it for a few minutes before rinsing.

Pair up your DHT blocking shampoo with essential oils (such as lavender, jojoba, lemongrass, or pumpkin seed) to increase its efficacy.

If you are suffering from acute hair loss, consider using the DHT blocking shampoo twice a day. 

Don't use it more than two times in one day, as that can be counterproductive and actually be harmful to your hair. It's always best to double-check with your dermatologist about it if you are in doubt or experiencing any side effects. 
Our Top Recommendations
Although many people prefer all-natural treatments for hair fall, there are some pharmaceutical compounds that are very beneficial in dealing with acute hair fall issues. 
If you are experiencing mild shedding and dandruff, then you should go with some of our milder variants, which focus on natural ingredients more. These include: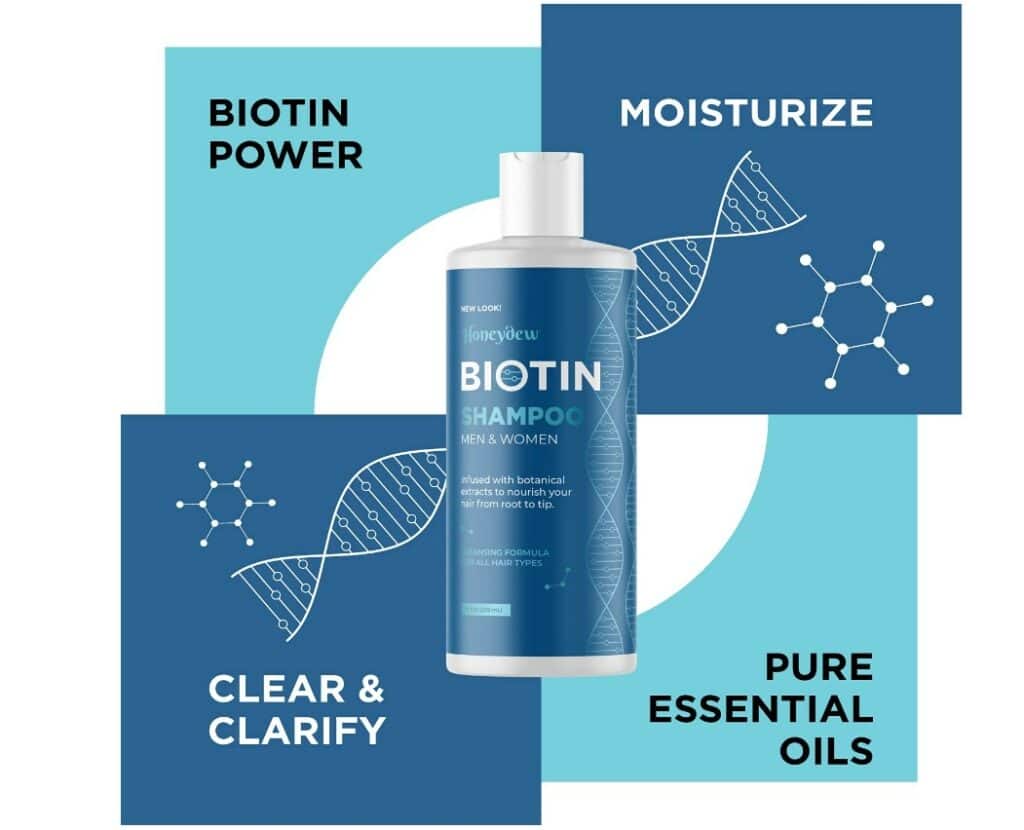 Keratin is one of the most vital enzymes that supports hair growth and texture. The Honeydew Biotin Shampoo for Men and Women puts extensive focus on biotin and keratin production. As a result of that, we get one of the most successful shampoos that will treat a number of issues besides hair fall, like dandruff, dryness, and texture. Their hypoallergenic formula is free of any harsh chemicals and lathering compounds, making it great for daily use.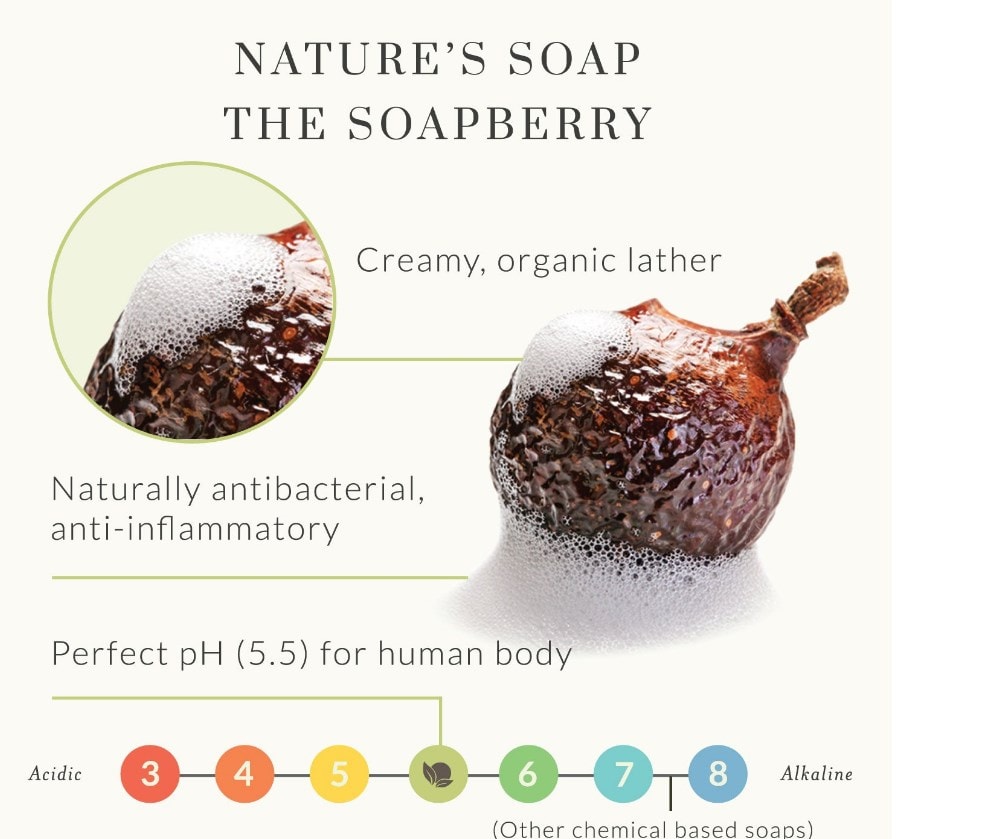 Looking for organic shampoo? This shampoo boasts an all-natural formula that peculiarly blends together some of the best DHT blockers and natural supplements for your hair problems. It contains natural lathering ingredients, like wild soapberry extracts, which create a gentle and pure lather. The Tree To Hub Nature's Healing Shampoo contains natural pH regulators which will bind protective molecules to your hair strands and keep them safe and healthy for a long time.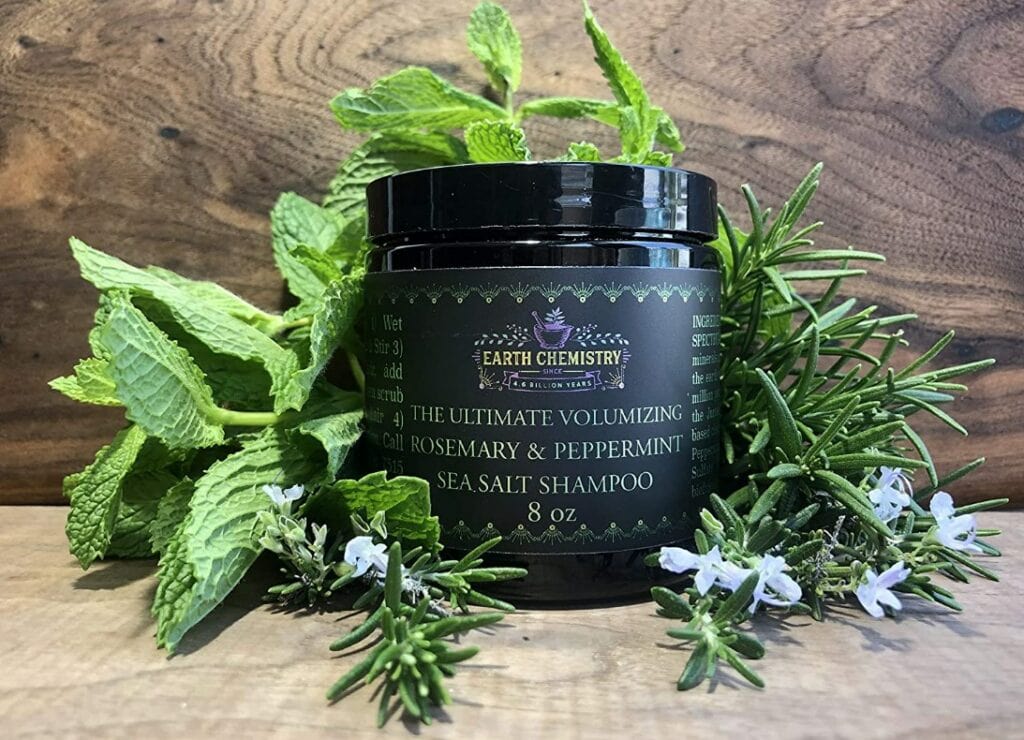 This one is again for the lovers of organic shampoos. Their ingenious plant-based formula is very effective in curbing the harmful effects of excessive hair fall and provides natural vitamins and proteins to your hair follicles.One of the major benefits of using this shampoo is its ability to detox and circulate clean blood through your scalp. All-natural, antifungal, and antibacterial compounds present in this blend are properly controlled and not too strong for sensitive hair types.
Frequently Asked Questions
Question: Do DHT blocking shampoos really work?
Answer: If the primary reason for hair fall is excess of DHT in your body, then yes, DHT blocking shampoos are very successful in treating those symptoms. They will effectively target the hormones at the root of your hair follicles before they get attached and block their effects. 
Question: How long does it take for DHT blocking shampoos to start to work?
Answer: Depending on the variant of DHT blockers you decide to go with, the results of these shampoos can take anywhere from 3 to 6 months to start showing. To speed up this process, doctors advise patients to use parallel treatments, such as Rogaine and Propecia. 
Question: Can I naturally reduce DHT?
Answer: Naturally occurring compounds like linoleic acid and oleic acid have been known to reduce the levels of DHT in our bodies. They can be easily acquired from plants and fruits such as:
– Aloe vera
– Flaxseed
– Black sesame seeds
– Grapeseed
– Black cumin
– Indian gooseberry
– Mangoes
– Watermelon
– Poppy seeds
In addition, vegetables with a high zinc content have also been proven to block and reduce the conversion of DHT. Fruits like watermelon, tomatoes, carrots, and mangoes have lycopene in them, which controls the levels of DHT in our bodies. 
Question: Are bananas good for treating hair fall?
Answer: Bananas are very rich in biotin that restricts the conversion of testosterone into DHT. They also contain high amounts of potassium which readily provides essential nutrients to your hair. It is one of the most commonly used homemade treatments for hair problems. 
Question: What are the signs of high DHT?
Answer: Here are some of the signs of high DHT you should know about:
– Acne
– A receding hairline
– Hair loss at the temples and the crown
Our Final Thoughts
Blocking the DHT molecule and revitalizing the scalp with necessary nutrients seems to get rid of most people's hair fall issues. These shampoos have given hope and a sense of relief to people who suffer from acute or premature hair fall. 
We are happy and satisfied with the results of each and every shampoo mentioned in this list. However, if we had to pick one out of all the mentioned products, we'd go with Ultrax Hair Surge as our top recommendation, as it has an unbeatable track record in the market right now. This is one of the highest-rated hair fall shampoos that has taken the battle with hair fall issues to the next level.
Remember, though: if you are losing your hair, it's not a character flaw, and you're not less of a man (or woman!) for it. However, if finding the right DHT-blocking shampoo helps boost your confidence, then we hope this list helps you!
Looking for more interesting readings? Check out: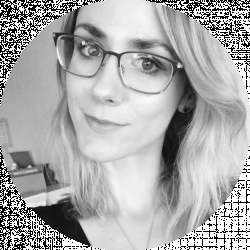 Latest posts by Karyl Trejo
(see all)