You have probably been hearing the word "balayage" everywhere. It's a massive hair trend now. What separates balayage from traditional highlights? The balayage is a technique where the stylist paints highlights on the hair, giving your locks more definition.
I've seen several balayage looks, but the caramel balayage is one of my favorites. The caramel color is universally flattering, looking amazing on all skin colors. This is also the perfect color if you're a brunette who wants to go lighter. I had caramel highlights for so many years, and it was one of my favorite hair looks.
Are you thinking about rocking a caramel balayage? Here are some of the best caramel balayage ideas & style guide!
Bottom line up front: While I found some unique looks here, the traditional caramel balayage is still my favorite. This look will work on nearly everyone. If you have cool undertones, you can use a cool-toned shade of caramel. And if her hair is too light for you, you can opt for a darker shade of caramel.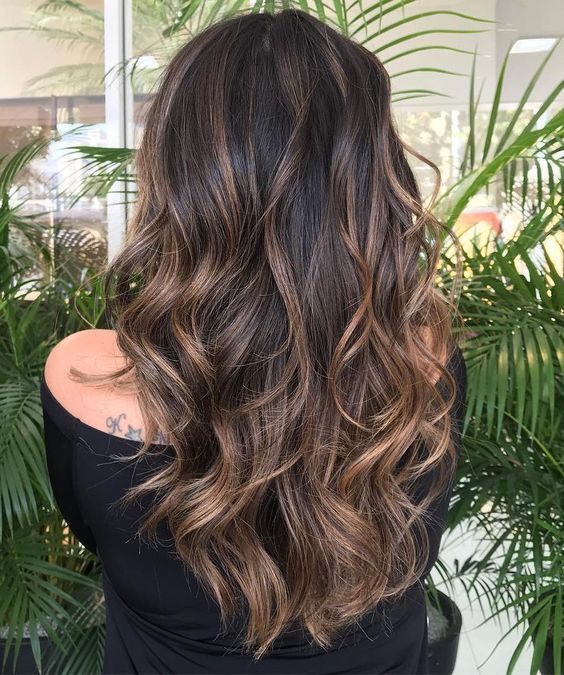 Is a Caramel Balayage Right for You?
The caramel balayage works well for so many people. It not only offers effortless definition and style but it's an easy color to maintain. If you want to get a dyed look where you can wash your hair daily and refrain from going to the salon every few weeks, this is the hair look for you.
Plus, the balayage technique looks just as pretty when grown out as it did right after you emerged from the salon. That's because the look combines highlights and lowlights that give you impressive color. You can curl your hair, wear it straight, or let it hang naturally — either way, your hair will look amazing.
What about the caramel color? First, let's describe what the caramel hair color is. Caramel is a blend of blonde and brown and is usually warm in tone. It's a natural hair color for many people, so it doesn't look too striking. The color is sophisticated enough to work in a professional setting.
The only time this hair color won't work is if you have cool undertones. Since caramel is a warm-based light brown, this can clash if your skin is on the pink side. If you have cool undertones and want a similar look, an ash brown balayage is a good alternative for you.
How I Chose These Looks
I tried to be as diverse as possible. The only downside with the caramel balayage is so many styles look the same, so I tried to recommend a variety of looks. I also included some honey colors. Honey is a golden blonde color and may work better if you're a warm-toned natural blonde. I also tried to find looks that are good for both natural brunettes and natural blondes.
My Favorite Caramel Balayage Ideas
Are you ready to rock a caramel balayage but aren't sure which look you want? Here are some of my favorite ideas!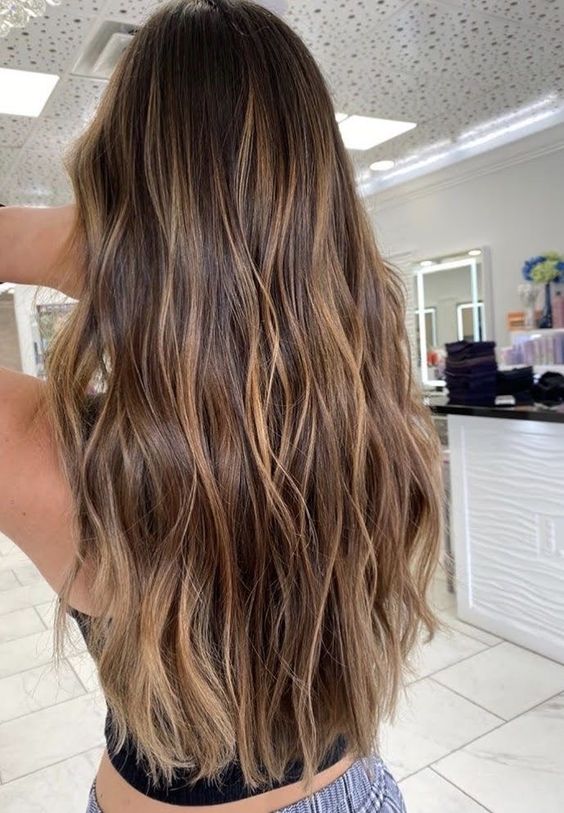 First, let's look at the traditional caramel balayage. This is a sexy and effortless hair look, perfect if you want to brighten up your brown locks. The model here has dark roots that cascade down to a swirl of warm-toned caramel and honey colors. Her loose waves are also easy to achieve with either a hair curler or some texturizing spray. I recommend this look if you want that perfect balance between brown and blonde and if you have long hair.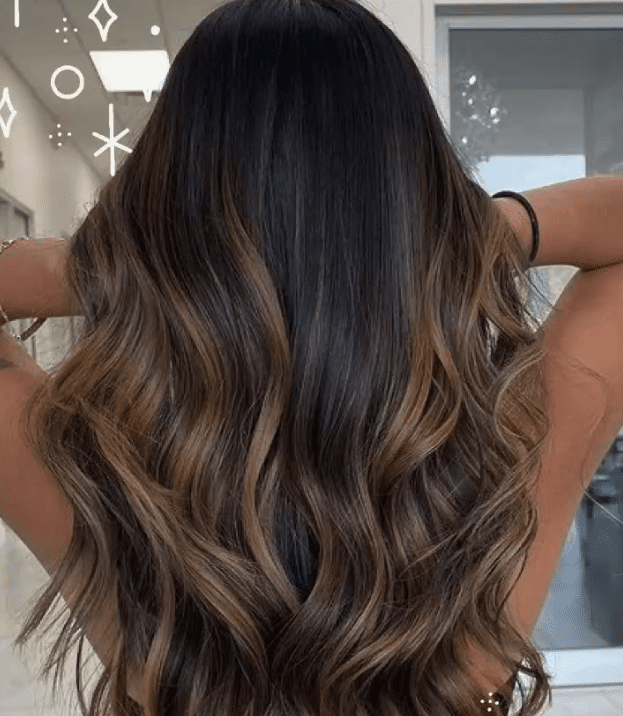 Do you want a caramel balayage but don't want to go too light? This dark caramel balayage looks amazing! The model has dark brown hair with toned-down layers of caramel toward the bottom. The caramel is subtle but gives a striking effect. Plus, the caramel makes the model's hair look fuller and more defined.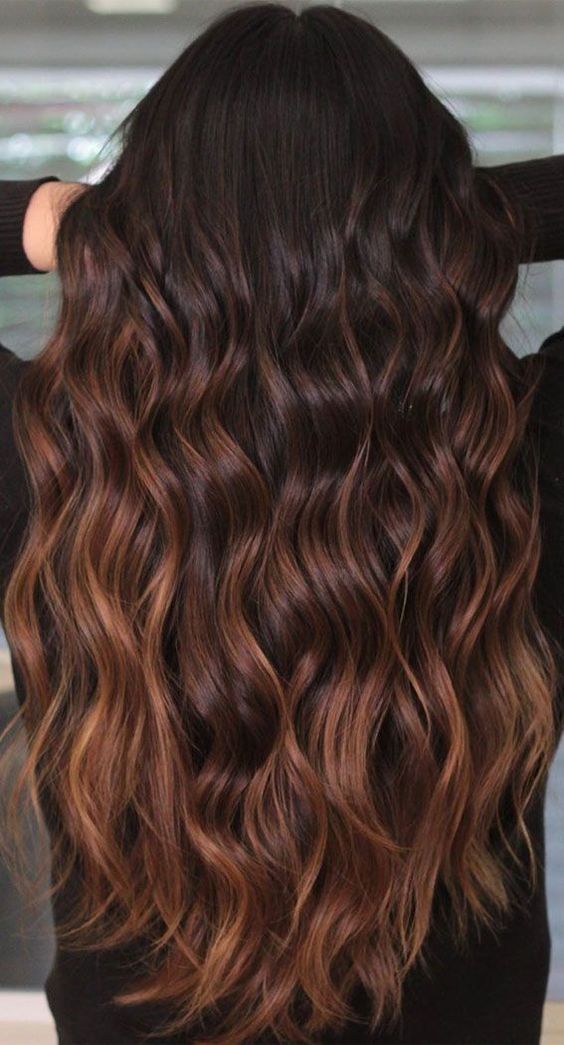 Don't want to opt for a traditional caramel? Add some auburn! This color is so lush and gives the model's hair more shine. The caramel, plum, and auburn colors are an interesting contrast to the dark hair. The model's wavy hair also makes the different colors more defined. Even with the intricate mix of plum, caramel, and auburn, I can still see this look being easy to maintain. I would also love to see the way this looks in a ponytail.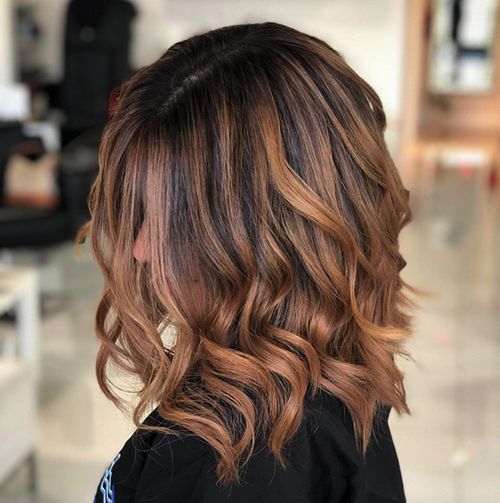 Who said your hair has to be long to do a caramel balayage? The golden caramel tones look amazing on this shoulder-length bob. The key here is to have layers to ensure the color looks intricate yet chic. This is a sophisticated look if you struggle to keep your hair long but still want something alluring.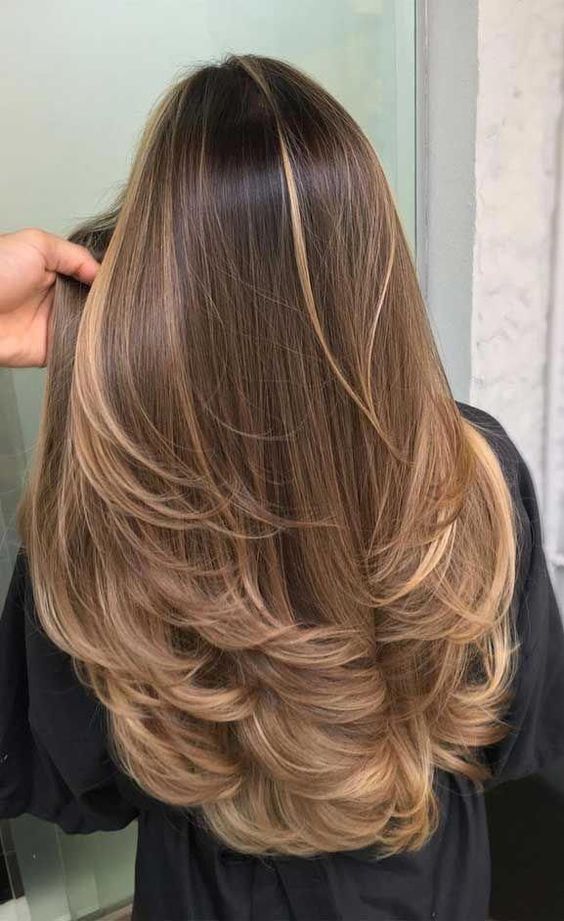 The caramel balayage can also work for natural blondes. Instead of the caramel being used at the bottom, the caramel is used around the middle and fades to a honey blonde at the tips. As with the other styles, there's no fuss with this color and it looks amazing on the model's straight hair. The color isn't too dramatic but adds so much definition to the typical blonde look.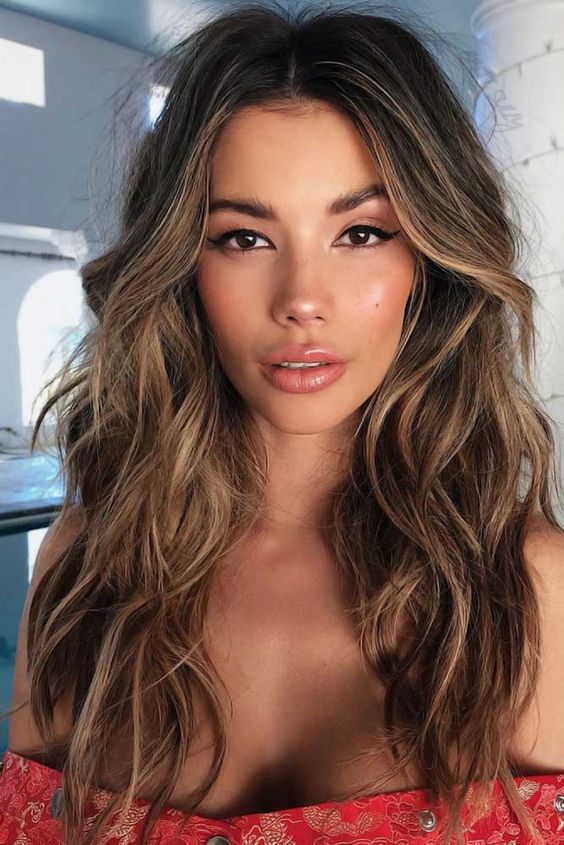 The best part about the balayage is how versatile it is. Take this look as an example. You can see the model has a caramel balayage with streaks close to her face. Her wavy hair makes the color flow better, giving her brown hair more depth. Again, this is a great look if you want to brighten up your face and have little maintenance.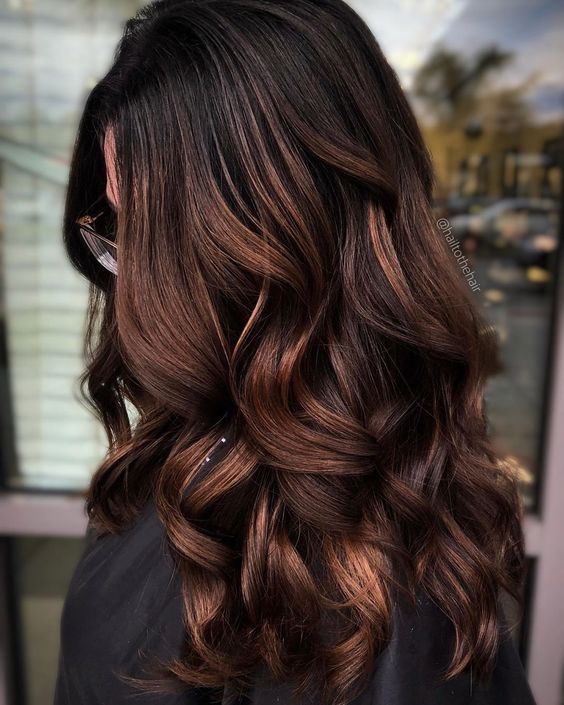 What if your hair is not too long but not too short? This balayage look is a great choice for you. Instead of a classic balayage, this model has chunkier caramel-auburn hues toward the bottom. This reminds me of an ombre but doesn't look as harsh. Her roots are black but fade to that pretty caramel-auburn color. It's great if you have naturally dark hair and want to go red but also want to keep things more natural.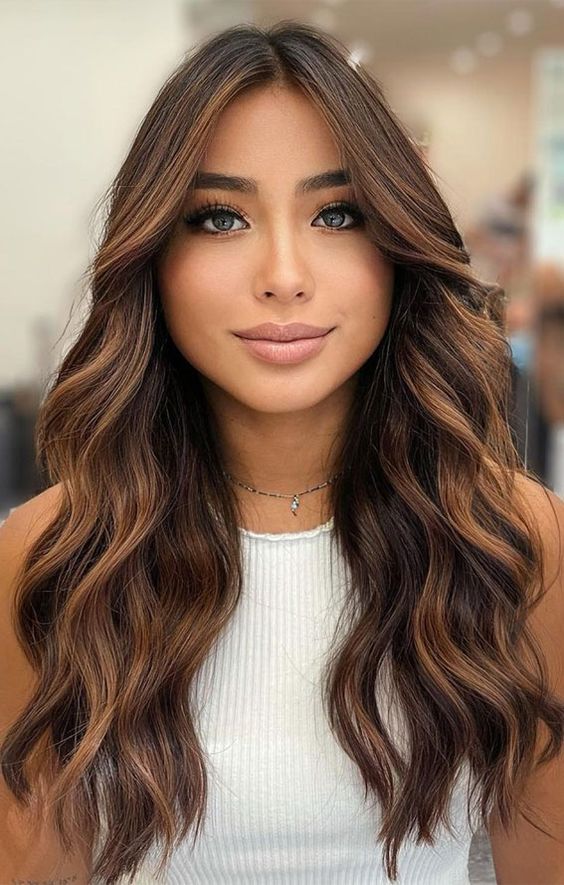 If you really want to brighten up your dark hair, choose a look like this. The model has caramel highlights that cascade down to a balayage. This look lightens up the model's hair without looking too dramatic. The highlights also make the contrast between the dark and caramel colors very subtle. The maintenance here is effortless. The curly hair also makes the color look more stylish but you can achieve the same with waves from a texturizing spray.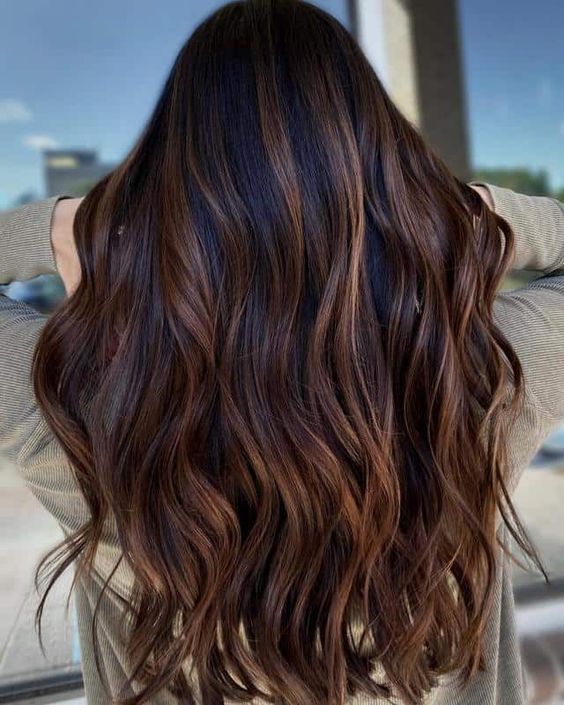 You can still get a caramel balayage and keep your dark hair with a look like this. This balayage combines caramel and dark red colors to create a mesmerizing look. I think the blend of dark colors with small touches of caramel makes the model's hair look fuller while giving her locks more dimension.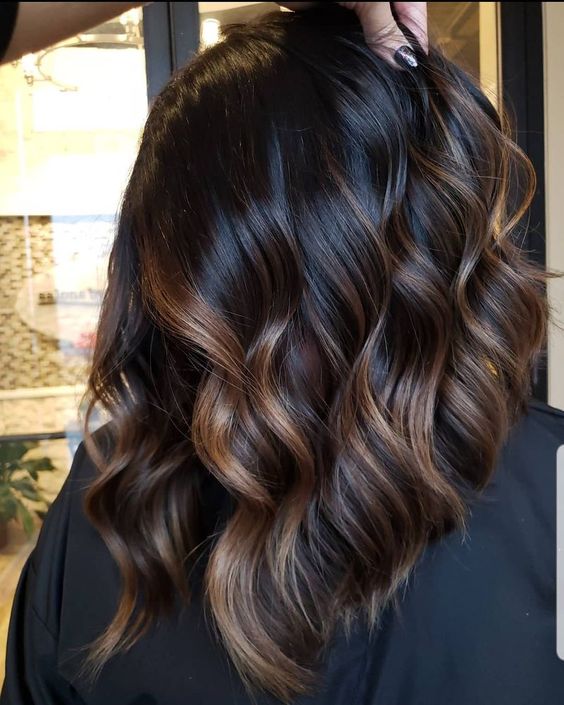 If you want to add a caramel balayage to your dark hair but still want to keep the black, I suggest doing a look like this. This look is cool and sexy, and the caramel balayage isn't overbearing. The model's hair is also on the shorter side and has a tousled style, a look you can do really quickly in the morning.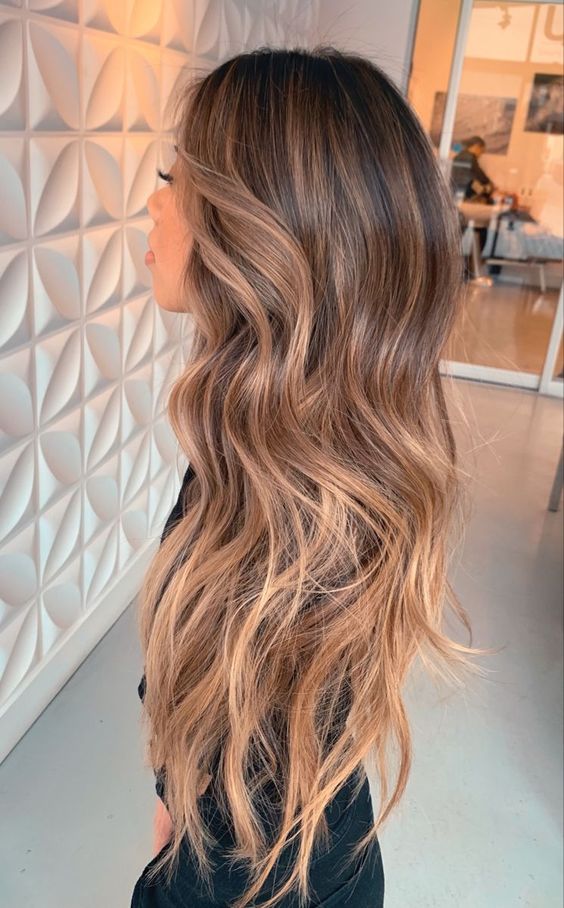 A caramel balayage looks great on honey blonde hair. Even if you have naturally dark hair, like the model, the caramel and blonde accents will give more dimension to your dark roots. I know more people say "the darker your hair, the more subtle the lighter colors," but I think the way the model has her hair is so chic. I will say that caramel is the perfect color to complement the dark roots and honey blonde color since it's an in-between shade.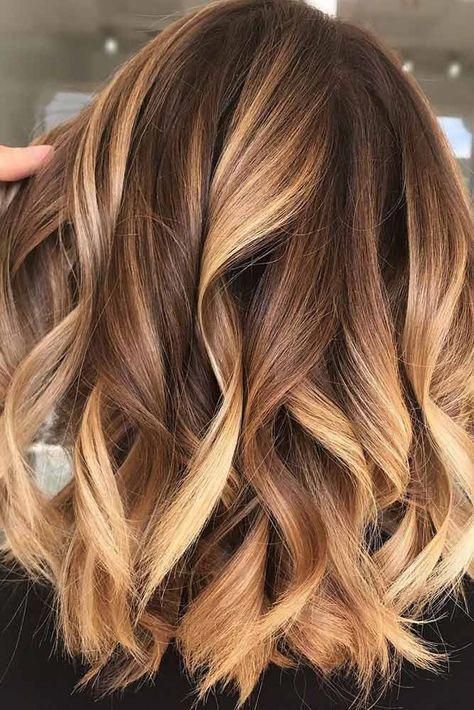 If you want a caramel balayage on the blonder side, I suggest a look like this. The blonde chunks look beautiful with the caramel colors. The curly waves also accentuate the blonde even more, though I can also see this color looking great on hair that's sleek and straight.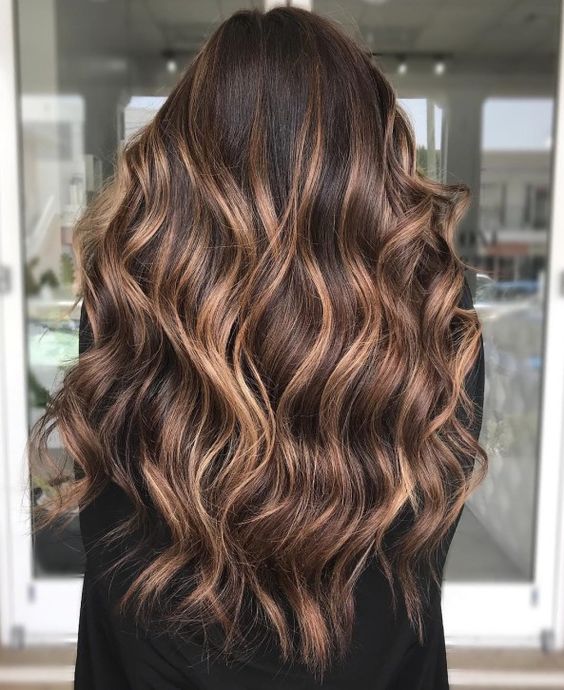 Are you a brunette with cool undertones? If so, choose this ashen shade of caramel. The color is a very cool-toned shade of caramel-blonde, looking better if warm colors wash you out. The curly hairstyle also accentuates the ash caramel even more. Plus, the model still has her chocolate brown color with the lighter colors.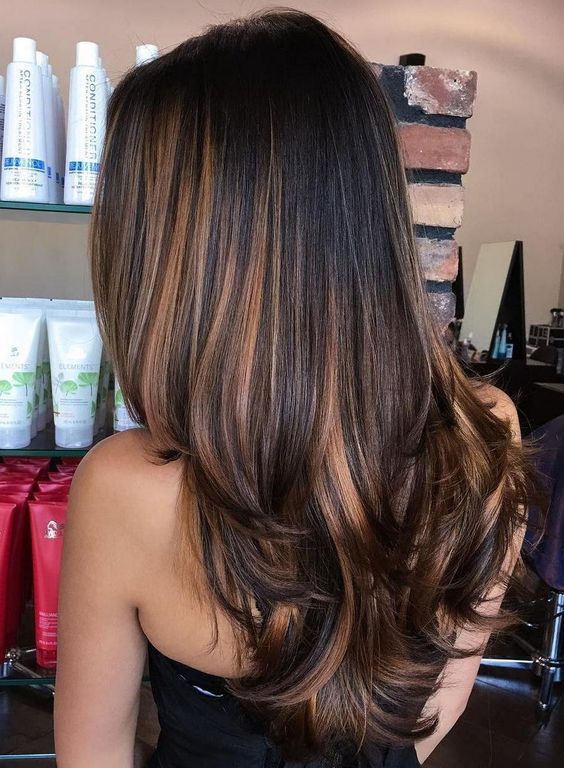 If you prefer caramel streaks, you can still achieve both looks. The model's hair here looks more sunkissed yet bold with caramel streaks toward the bottom of her hair. Her hair is straight but with flipped ends, giving her hair more volume.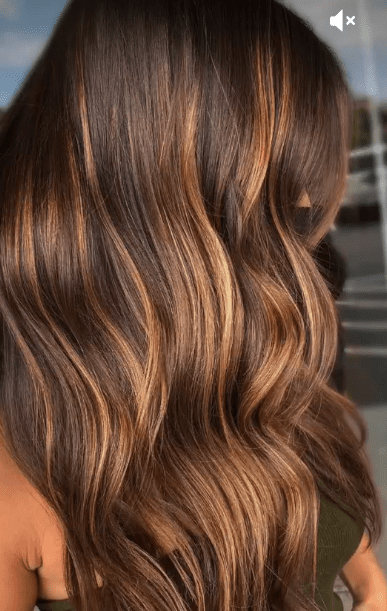 If you already have light hair but still want a caramel balayage, this look is perfect for you. The balayage here is simple — the model has light brown hair, and caramel streaks are painted throughout her hair. The look is warm, perfect for summer but effortless enough to rock all year round.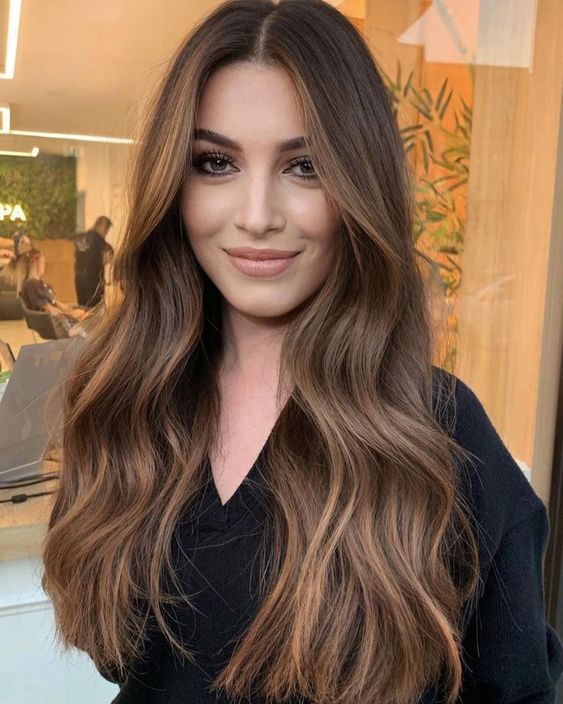 This hair look is very fashionable without being too bold. The model has naturally brown hair, but the colorist blended caramel and bronde colors into her hair effortlessly. Because the hues mix in together, this look is gorgeous without looking too commanding. The model's hair is long, but I also saw this looking good on short hairstyles.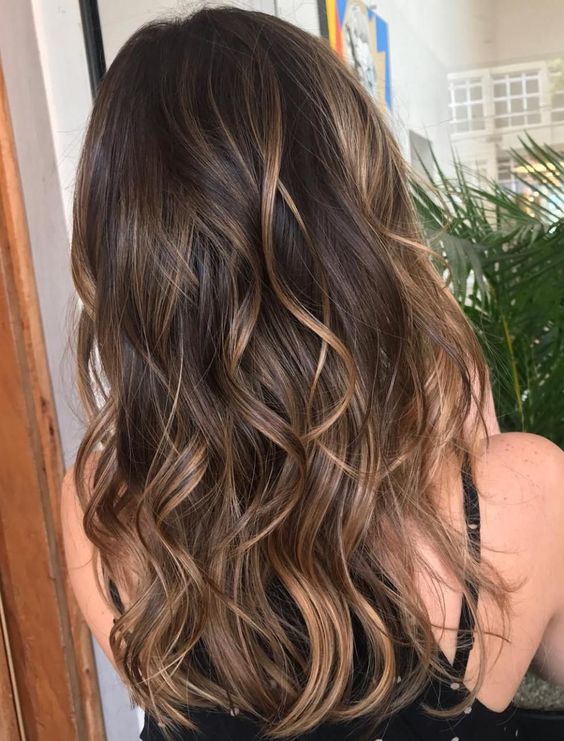 Curls and balayage hair go together like peanut butter and jelly, and this look proves it. The model here has very fine ringlets, but big barrel curls will also look good on balayage hair. This is a great look if you're attending an evening event.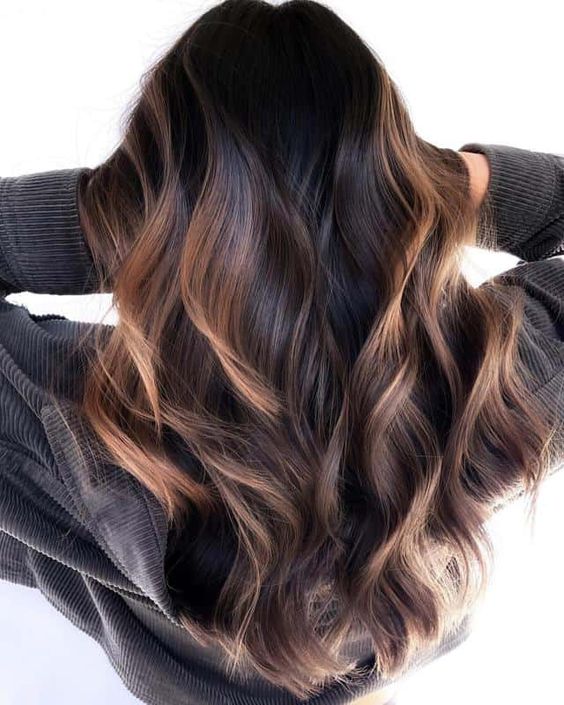 I love all of the different colors going on here! The model's natural hair color is chocolate brown, but the warm and ash-toned caramel balayage gives this look more dimension. Even though there are two different caramel tones, the color blends together perfectly. The caramel colors are placed sporadically but in a way that makes her hair look intriguing.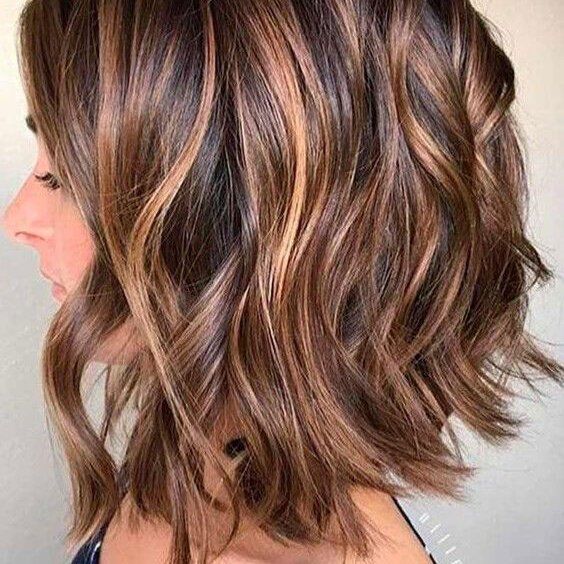 Who knew that strawberry blonde would mix with caramel so perfectly? It looks like the model's natural hair color is a light brown, but the mix of caramel and strawberry blonde makes her hair look more fashionable. And the best part? You don't even need long hair to rock this style. The model has a short haircut. Adding some curls will create a beautiful hairstyle.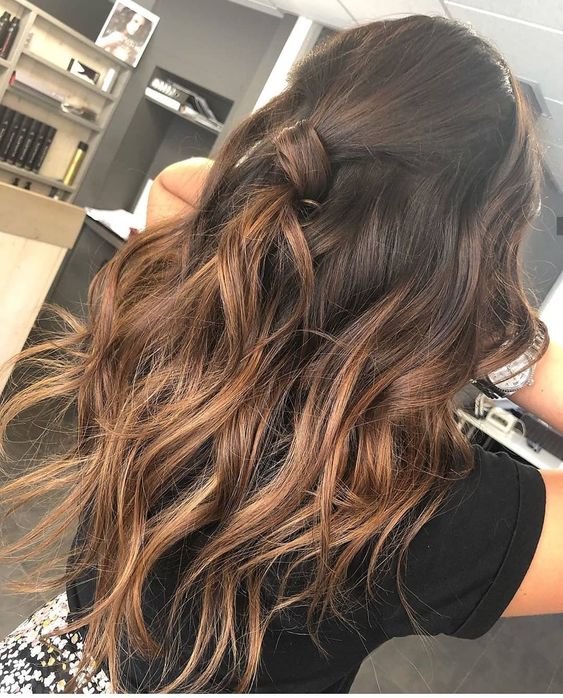 For our last suggestion, try a look like this if you want an updo that doesn't always involve a messy bun. This look is easy. Section the top part of your hair off and tie it in a ponytail. Grab a lock of hair and wrap it around the hair tie. Because of the contrast of dark hair on the root and light caramel on the tips, the color also helps to bring more attention to the hair.
FAQs
Question: Can I do a caramel balayage DIY?
Answer: It's not recommended. That's because a balayage is a difficult hair technique to achieve. The goal of the balayage is to give a natural dimension by combining different colors. If you have the experience, you may be able to achieve this at home, but it's best to get this look at the salon.
Question: What level do I have to bleach my hair to get the caramel color?
Answer: I would say a 6 but always ask your hair stylist for their recommendation first.
Question: What are the three balayage techniques?
Answer: The three main balayage techniques that your hair colorist will use include:
 1- Glide and Slide – saturates the color at the end of the hair
 2- C-Motion – sweep your arm as if you were painting a "C"
 3- Backflip – flip the hair up to work on the under section
Bottom Line
Out of all of these looks, I like the traditional caramel balayage the best. This color works well for so many people since it's warm-toned and combines both dark and light colors. The majority of the light shades are at the bottom of the hair, so there's less damage if you have to use bleach. If you have cool undertones, you can swap out the color with an ash-toned caramel. There are also different shades of caramel you can choose; for example, you can opt for a caramel that's more on the auburn scale.
There are still so many looks here, so I suggest going through all of them to find the best caramel balayage style for you.
Looking for more interesting readings? Check out: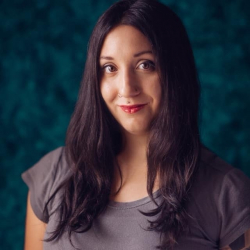 Latest posts by Stephanie Jensen, Hair Trend Spotter & Home Tester
(see all)