Having great hair is important. Why? Because a good hair day makes us feel and look good. After all, no one wants a head of hair that looks like a giant haystack. Or a flat, lifeless mop, right? 
Luckily, tons of shampoos on the market can help us ensure our hair looks its best. But, if you're one of those people who simply snatch the nearest (and often cheapest) shampoo from the shelves of your local Walmart store…there is another way. 
Many of us are accustomed to one type of shampoo we've used for years or buying a standard catch-all used by all the family. But, once again… there is another way. 
For example, suppose you're a frequent flier at Walmart (and who isn't?!). In that case, you may be surprised to know that the multinational supermarket chain has a wealth of different shampoo types to suit your needs. With the rising cost of living, everyone is looking to make savings wherever possible (myself included), which prompted me to start looking into drugstore shampoo. 
So, join me as we look at the best shampoos Walmart has to offer:
Bottom Line Upfront
Walmart offers a wide range of shampoos for its customers, regardless of their hair type. There are shampoos for those of us on a budget, as well as anyone who wants to spend a little more on their locks. In addition, some shampoos are sulfate and paraben-free for anyone who wants to avoid chemicals. There are also products for color treated hair. 
If you're looking online, the Walmart search bar works pretty effectively for exploring the type of shampoo you need. But, ultimately, you may discover products you aren't familiar with. For instance, shampoo bars or products addressing multiple issues such as frizzy and color-treated hair. 
The good news is that there's a Walmart shampoo for everyone, whatever their budget and requirements. 
While it's impossible to pick just one shampoo, if I absolutely had to, it would be 10 Miracle Heat Protection Humidity Resistant Daily Shampoo with Keratin & Almond Oil. Not only can you use it daily, but it protects your hair against humidity and drying effects, making it an excellent all-arounder.
How to Buy Walmart Shampoo
Before making your final purchasing decision, let's look at some of the things you need to consider before popping that bottle into your shopping basket:
Understand Your Hair
Before diving in, you need to determine what your hair type is and what your scalp is like. For example, do you have dry, sensitive, damaged, or oily hair? Is your hair colored? Do you have a sensitive scalp that's prone to dryness? All these things matter. In addition, do you have fine hair that may droop if you use a heavy, creamy shampoo? Or do you have thicker, coarser hair that needs moisture? Finally, if your hair is color-treated, you'll need to consider that too. 
Shampoo Ingredients
Environmental factors aside, using sulfate and paraben-free shampoo is an excellent longer-term decision for your hair. Remember, these ingredients strip your hair's natural oils. Unfortunately, they can also potentially do the same with your scalp, leaving it dry and scaly, which you'll then have to treat, so it's worth keeping that in mind. 
What about a Conditioner? 
That's a whole other story in itself! It really does depend on your hair type. For example, if you have coarse hair or thick and curly locks, you may benefit from one. However, if your hair is fine, a conditioner could weigh it down. A conditioner may also make your hair look a bit limp if it's oily. In this instance, I'd recommend a good shampoo and conditioner combo.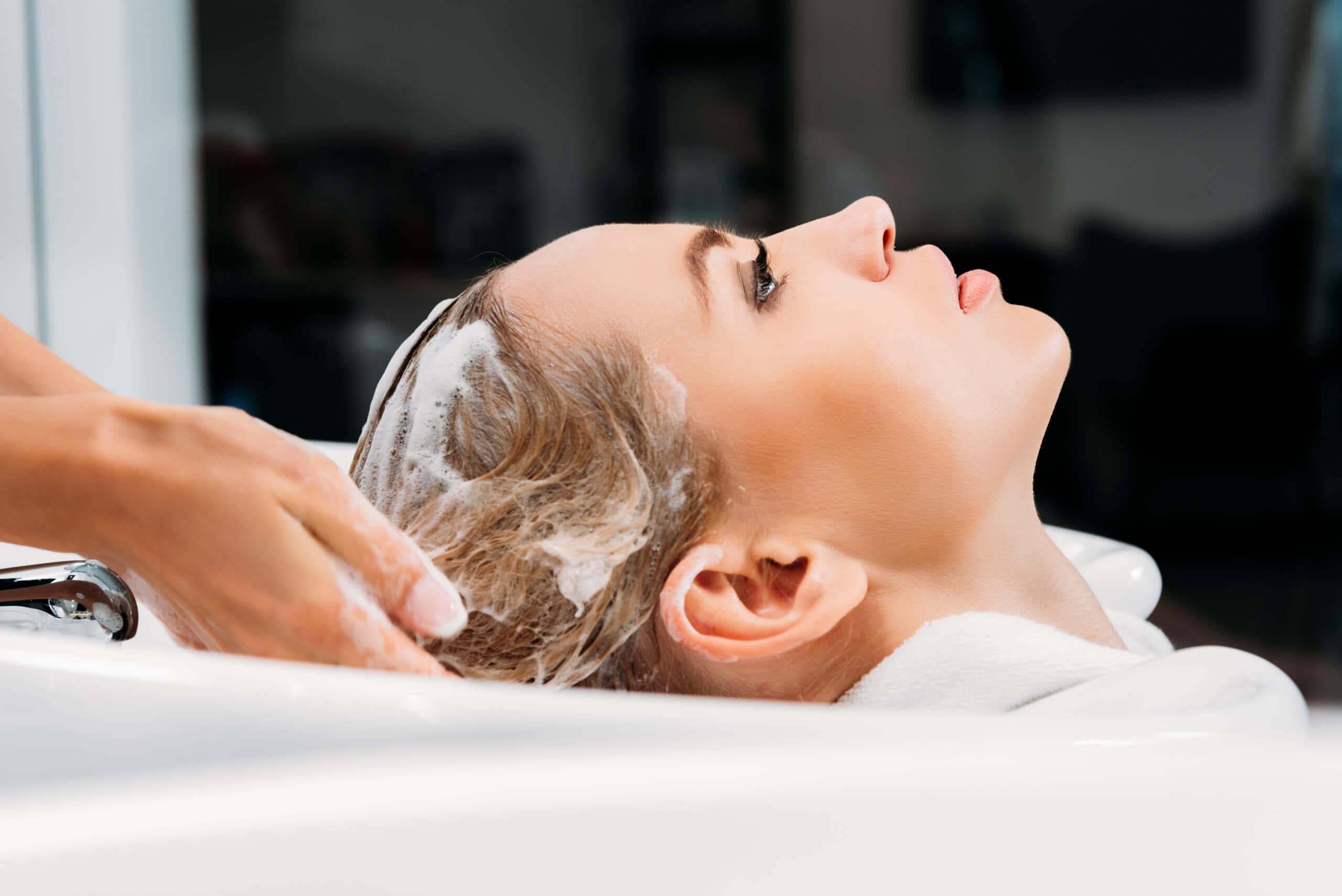 Budget Shampoo
If you're looking for a budget shampoo that you can stick in the shower for everyone in the household to use, this section is for you. Of course, you can still invest in a luxury brand that's stored in a secret cupboard for your own special locks…
However, for less fussy family members, especially those that use tons of shampoo daily like those with thick hair, you may prefer to grab a budget shampoo that's a good all-rounder that doesn't break the bank. 
My choice: Suave Essentials Moisturizing Daily Shampoo with Clean Ocean Air Scent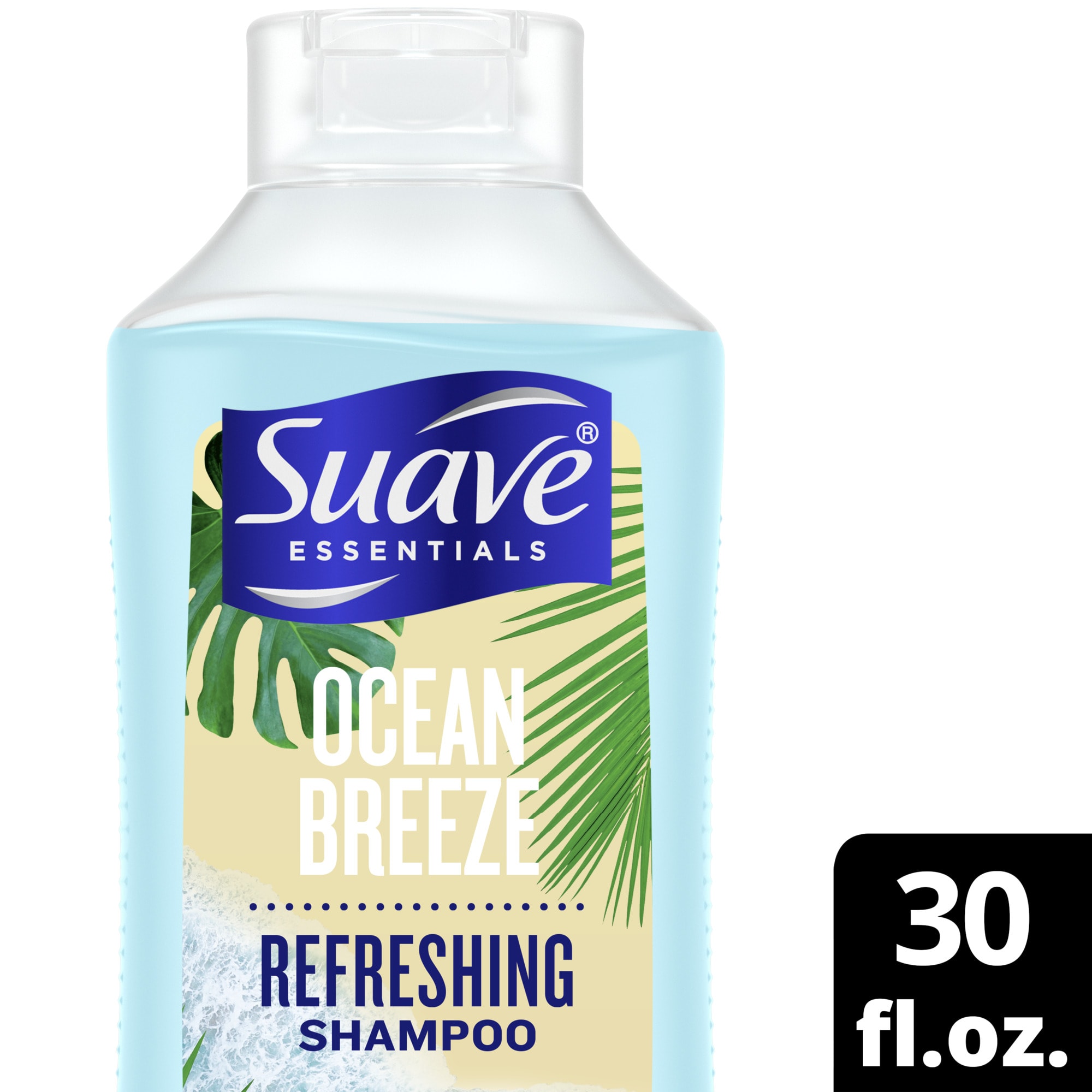 One of the reasons I chose this shampoo is because it smells of the ocean; what's not to like about that, right? Infused with sea algae extracts and vitamin E, it's an excellent daily all-rounder for anyone on a budget.
It's a moisturizing shampoo that removes build-up but won't strip your hair, especially if you pair it with a conditioner in the same range. I also like that it comes in various scents, including sun-ripened strawberry, waterfall mist, and everlasting sunshine. 
Pros:
One of the most budget-friendly shampoos at Walmart
Smells great, with multiple scents available
Helps with dry hair with moisturizing ingredients, while giving a deep cleanse
Cons:
Has a few harsh ingredients, like sulfate and paraben
Luxury Shampoo
There are dozens of luxury brands, so, unfortunately, I can't include them all in this list. However, if you're looking to invest in outstanding hair care, don't assume you can't get higher-quality luxury shampoo at Walmart. 
The supermarket chain stocks some higher-end shampoos from big-named brands such as L'Oreal Professional, Aveda, and Kerastase. You may simply opt for the shampoo your hair stylist uses in the salon. Or you may prefer to plump for your own choice after doing some background research. 
In either case, the luxury shampoos found at Walmart offer a choice for different hair types and styles, so I don't think you'll be short of options. 
My Pro Tip: While more expensive at the outset, you're usually better off buying a larger bottle because you get more for your money. Not to mention, with luxury brands, a little product often goes a long way. 
My choice: Kerastase Nutritive Bain Satin 2 Moisturizing & Nourishing Daily Shampoo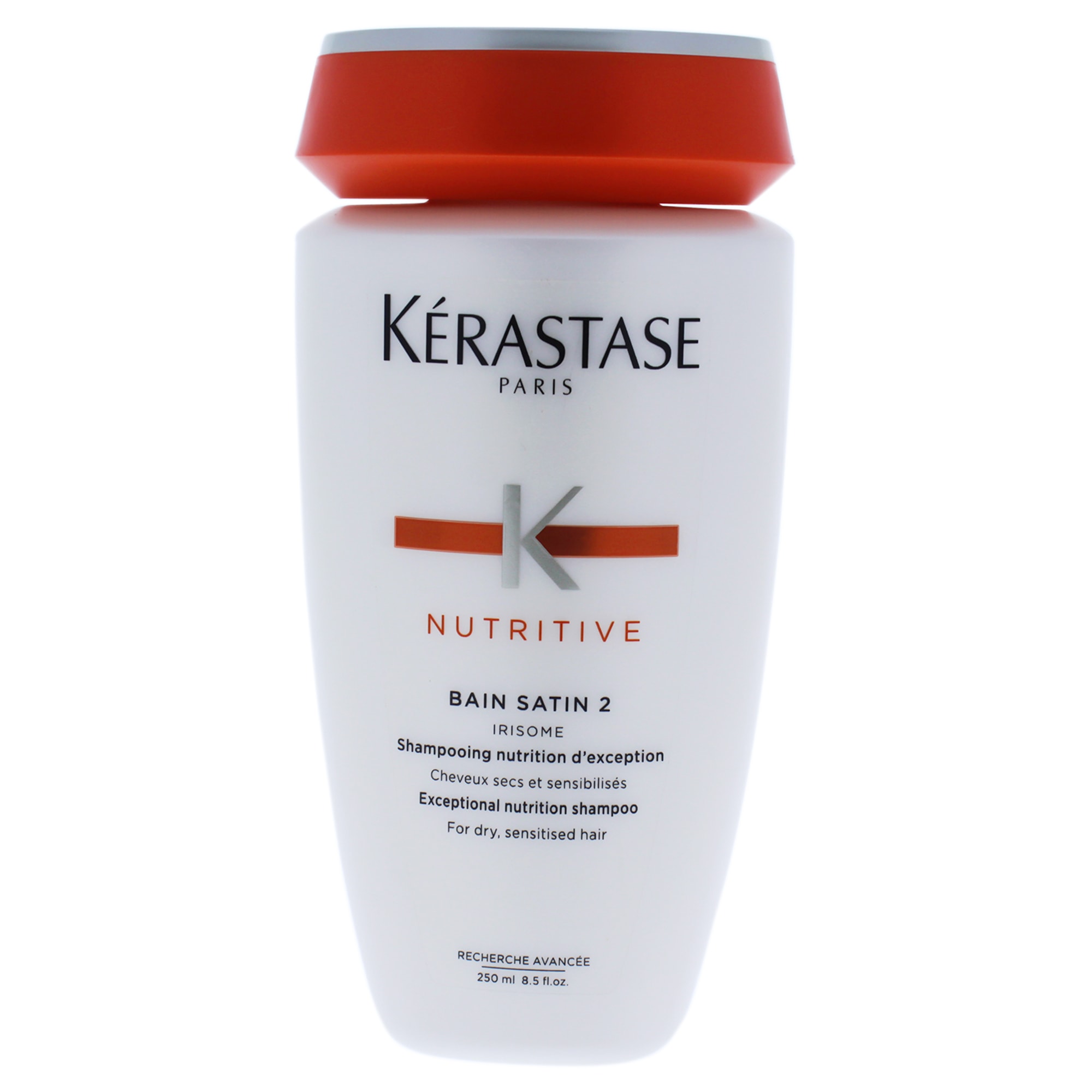 Kerastase comes from the L'Oreal family and is a popular choice in many salons. I chose this particular shampoo because it's a good all-rounder, albeit luxurious. It's aimed at anyone looking to achieve soft hair that's easy to manage. This particular product is excellent for taming frizz, nourishing your hair, and strengthening it while giving it a good clean. 
Pros:
Its main ingredient is keratin, a natural protein found in hair
Salon grade product
Can help tame frizzy hair while giving it nourishment
Cons:
One of the most expensive shampoos at Walmart
Fine Hair Shampoo
Fine hair tends to have less volume, be prone to oiliness, and take less time to dry. So, I would advise avoiding heavy shampoos that leave lots of deposits. Instead, you're better off looking for a volumizing shampoo that doesn't lather up lots. This will go a long way to adding body and bounce to your hair by lifting the cuticles. I would also say that a silicone-free shampoo is ideal because silicone tends to weigh your hair down. 
My choice: OGX Thick & Full + Biotin & Collagen Volumizing Shampoo for Thin Hair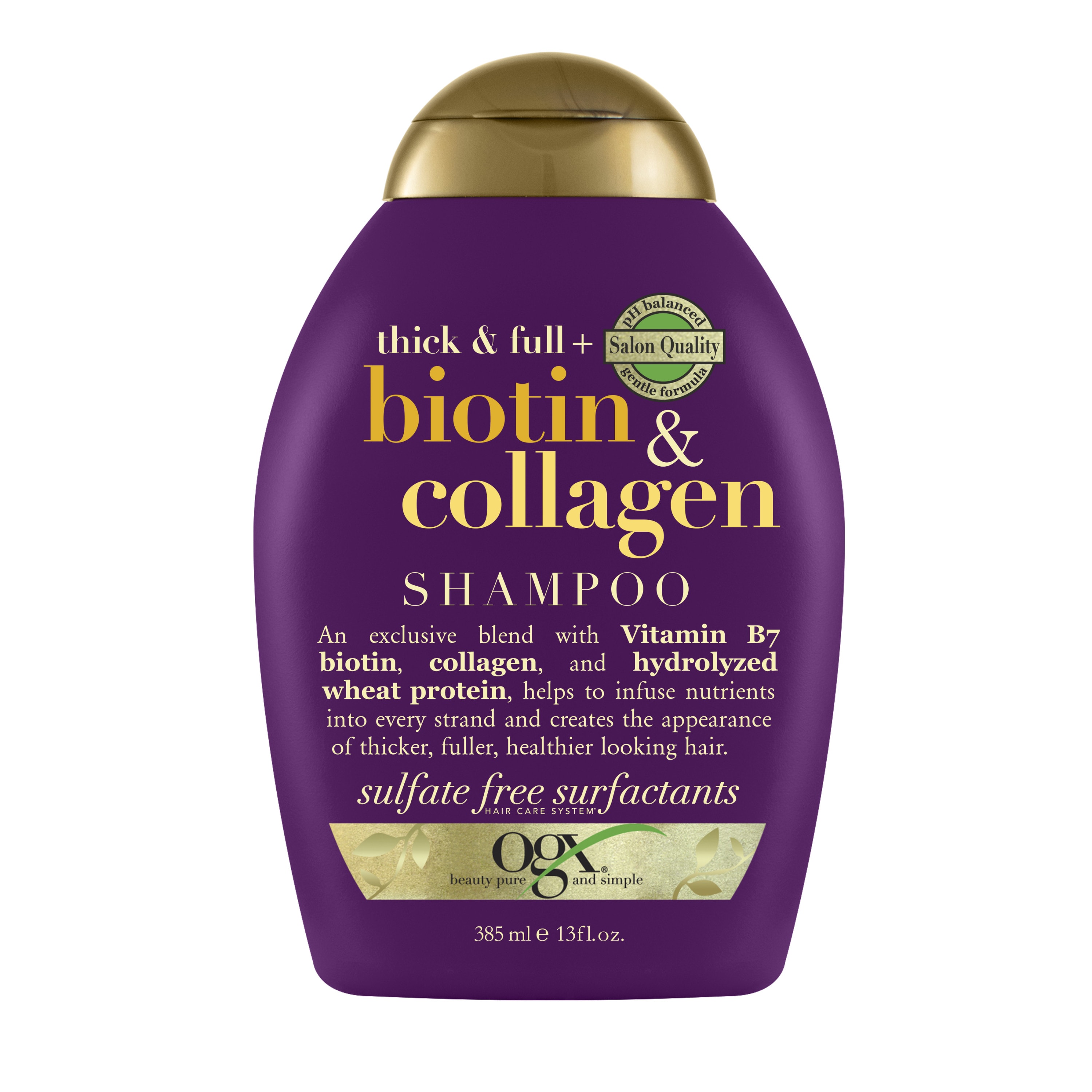 I love that this shampoo is sulfate-free, and the collagen works wonders for producing thicker, healthier-looking hair without weighing it down. Not only that but it's also infused with vitamin B7 to help strengthen your fine locks!
Pros:
Helps give you volume at the hair follicle, with collagen and vitamin B7
It has the ingredient biotin which is known to help make hair fuller
Sulfate-free and PH balanced
Cons:
Can be a bit drying on some hair types
Curly Hair Shampoo
Curly hair can sometimes be challenging because it's hard to find good products that don't weigh the curls down. Typically, this causes curly hair to appear flat at the root and curly at the base. In light of that, I would advise using a shampoo that moisturizes. This should ensure your locks remain nice and shiny while noursihing your roots- win-win!
My Pro Tip: Avoid shampoos with petroleum or alcohol because the former will weigh down your curls while the latter dries them out. 
My choice: Carol's Daughter Wash Day Delight Aloe & Micellar Water Sulfate-Free Moisturizing Daily Shampoo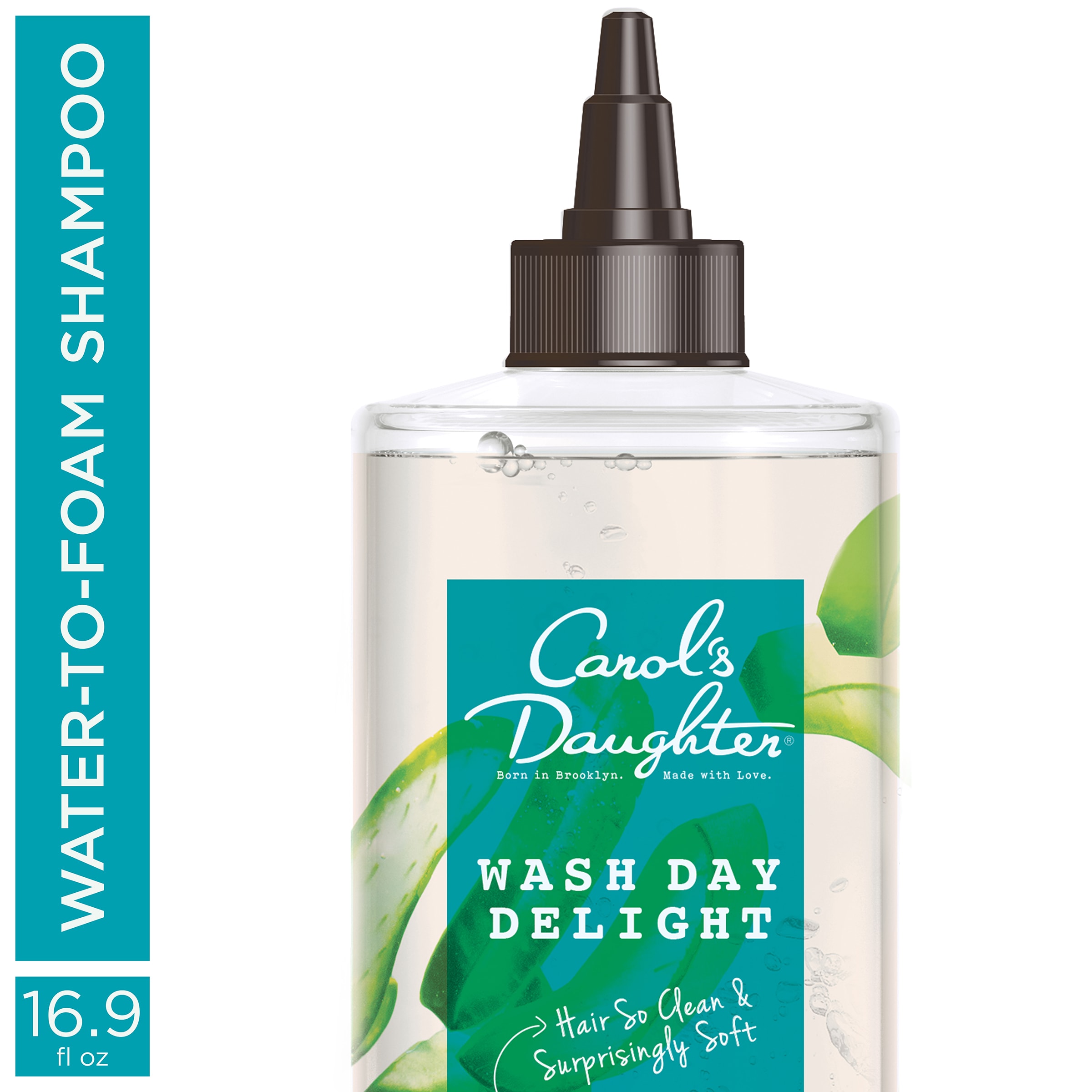 While not specifically a shampoo that targets curly hair, I chose this because it removes build-up without leaving your hair feeling stripped. The gentle lather minimizes tangles in your curls and rinses clean, so your locks have no added weight. The end result? Your curls will feel soft and clean without being weighed down by the product. In addition, it's a sulfate-free shampoo containing Micellar Water which works wonders for removing build-up. 
Pros:
Won't strip your hair's natural oils
Can cleanse product build-up well
Hydrates your curls without weighing them down
Cons:
Liquidy consistency when it comes out of the bottle
Greasy Hair Shampoo
Those with oily hair know it's because we produce too much sebum. To reduce greasiness and promote shiny hair, you must wash it, ideally with a good product designed explicitly for oily hair. I would also add that avoiding products offering added moisture and hydration is a good idea. Instead, look for shampoos containing salicylic acid or tea tree, which are great for breaking down grease. 
My choice: L'Oreal Professionnel Serie Expert Salicylic Acid Volumetry Shampoo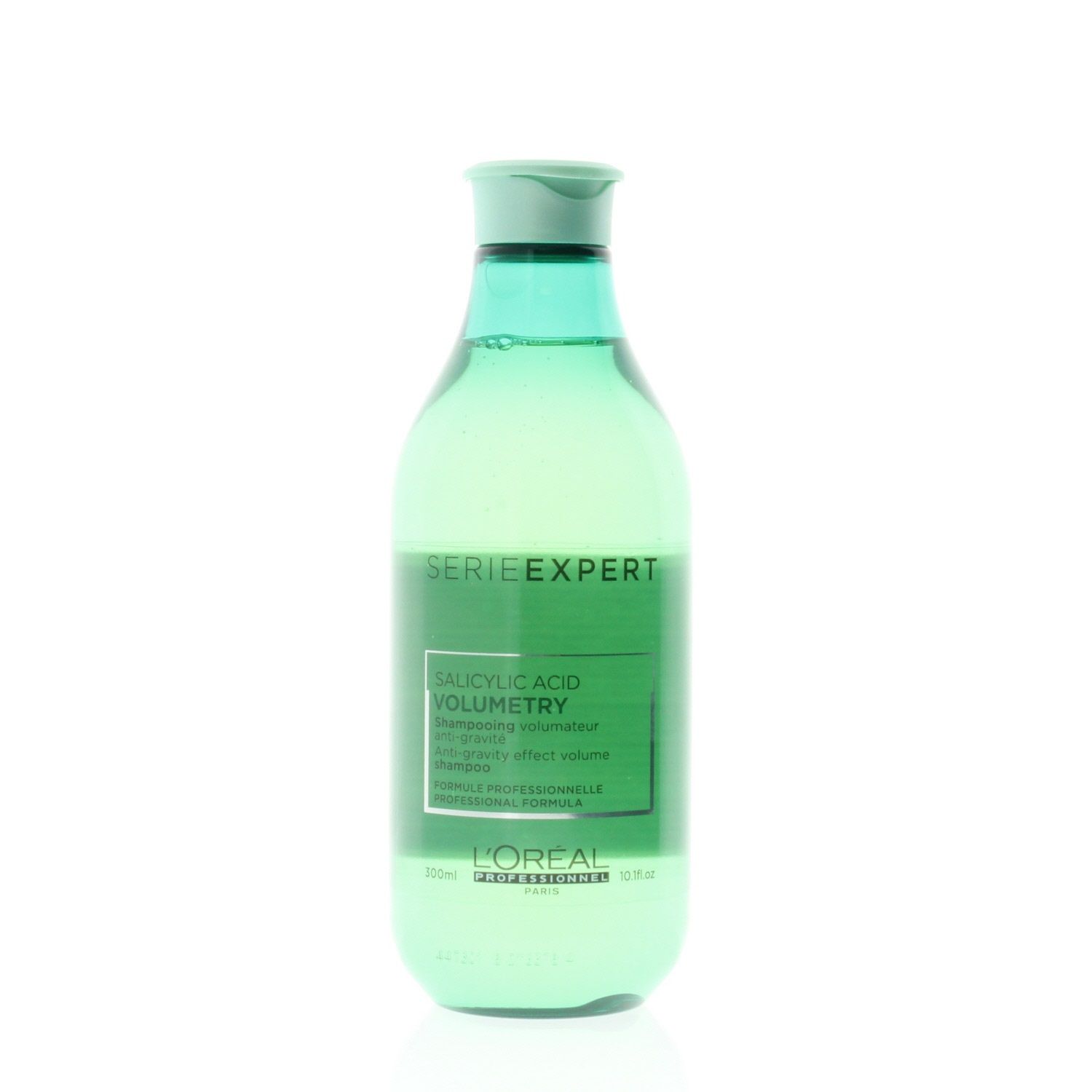 This unisex shampoo contains salicylic acid to remove added oil, leaving your hair nicely volumized. It's aimed at people with more delicate hair, but you can use it no matter what your hair type; if it's greasy, this shampoo hopes to help without weighing your hair down. 
Pros:
Both men and women can use it
Contains the ingredient salicylic acid, which is great at removing oils
Can add volume to fine or thin hair
Cons:
Can be extremely drying for those without an oily scalp
Shampoo for Damaged or Dry Hair
If you have dry hair, you'll need to nourish it with some added moisture. It's possible, also, that you may have a frizz problem. Managing dry hair can be tricky because it's prone to breakage and can lack shine. However, there are plenty of shampoos for dry and frizzy hair on the market that can help. Ideally, I would advise looking for a moisturizing, creamy shampoo that will condition your hair to help tame the frizz. 
My choice: Aveeno Sunflower Oil Blend Moisturizing Nourishing Daily Shampoo, Red Currant Sugared Peony Vanilla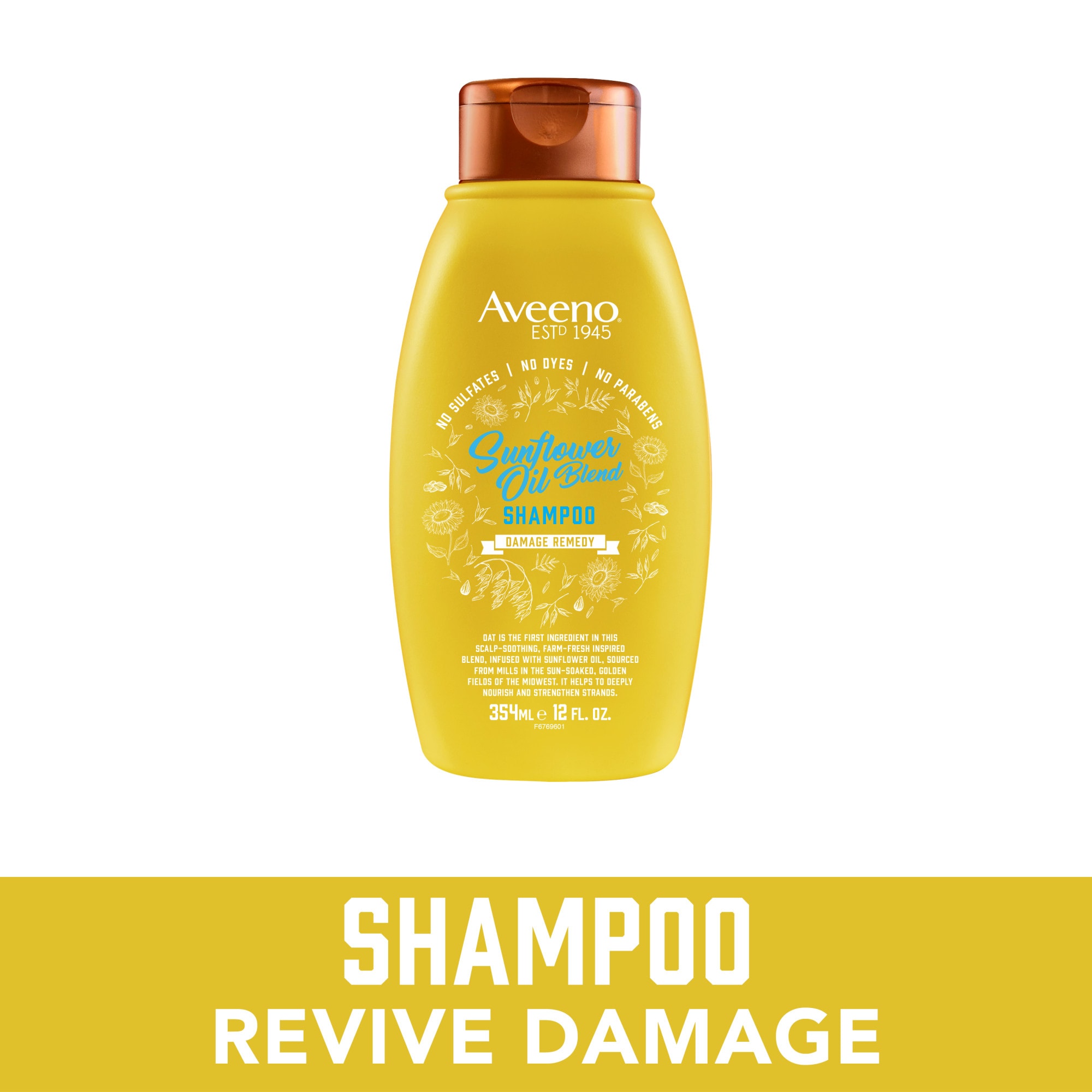 Here's a lovely, brightly scented, affordable, and attractively packaged shampoo. I love it. It's infused with sunflower oil to address that dryness, combined with oats to soothe your scalp and nourish your hair. The shampoo also addresses frizzy hair, especially if it's been damaged by over-drying or the sun. There are no sulfates, parabens, or dyes to be found either. All in all, I think this shampoo is an excellent all-around winner for anyone with dry, over-styled, frizzy, and colored hair. 
Pros:
Smells great
Sunflower oil is a great ingredient for breakage and dry hair
No harsh ingredients, like sulfate, paraben, and dyes
Cons:
Can weigh down fine hair textures
Colored Hair
When you have colored hair, your hair needs the best shampoo you can afford to protect the color from fading. Ideally, I would suggest looking for a shampoo formula that doesn't strip your hair color while nourishing your locks and cleaning your scalp. The aim is to keep your hair color looking vibrant and fresh for as long as possible.
Fortunately, there are tons of products aimed at hair-color-conscious shoppers; luckily, some of those are sold at Walmart. They range in price, so my advice in this instance is to invest in as much quality as you can afford. 
Luckily, Walmart sells some well-known brands for colored hair, such as Kerastase, Olaplex, and Aveda. They may cost more, but they'll help you maintain your hair color for as long as possible. 
At this point, I would like to add that it's worth avoiding shampoos containing parabens and sulfates, such as sodium lauryl sulfate (SLS) and sodium Laureth sulfate (SLES). These will cause your color to wash out. 
Also, some shampoos for colored hair are designed for specific hair colors, and my choice in this section reflects this.
My choice: Olaplex No.4P Blonde Enhancer Toning Shampoo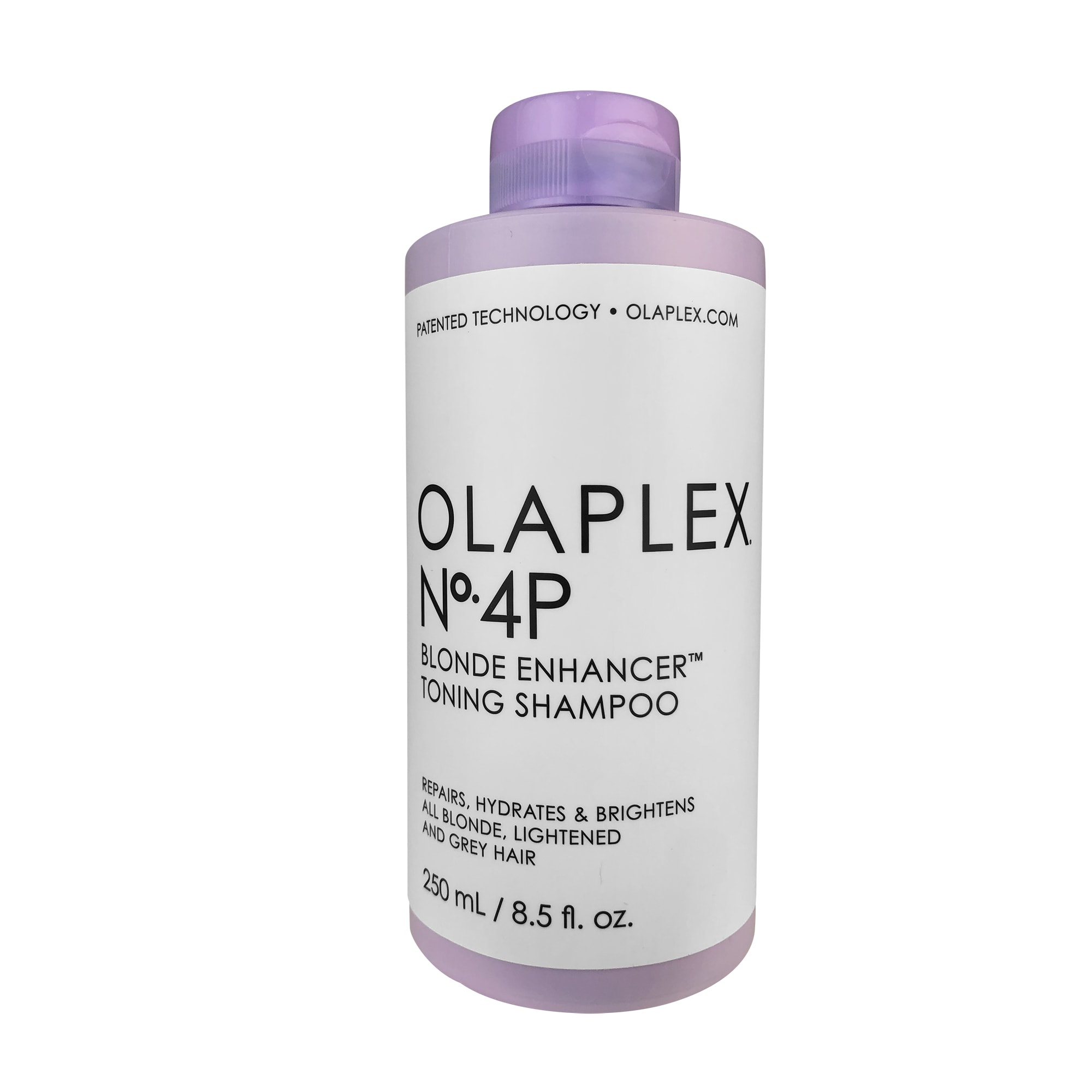 Here's a shampoo specifically formulated for anyone with blonde, lightened, and gray hair. It's a highly concentrated purple shampoo, so you won't need a lot when using it. I also like that this particular shampoo also helps to neutralize those unwanted brassy-looking yellow tones. 
There's also a generic version aimed at damaged hair, which can also be used for colored hair. It's called the Olaplex No.4 Bond Maintenance Shampoo. 
Pros:
Can counteract brassy tones in blonde hair
Has bond reinforcers inside to help with damage
Professional hair product
Cons:
Gray Hair
If you have gray or graying hair, you may want to opt for a product that explicitly targets gray hair for several reasons. I say this because:
First, gray hair can change texture and shape; for example, it can become thicker and wavy – even after being straight for years. Gray hair also loses moisture, so you'll need to look for a product that offers extra nourishment. 
If you only have gray at your roots because you're coloring it, then I think your focus should be on shampoo for colored hair. If, however, you have a full head of gray, look for two shampoos: one that moisturizers that you can use several times a week, and one that's purple-blue colored to use once a week to protect your hair from changing color due to environmental factors such as the sun and pollution, which may turn your hair yellow. 
That's why I have two choices here:
My purple shampoo choice: Aveda Blue-Malva Shampoo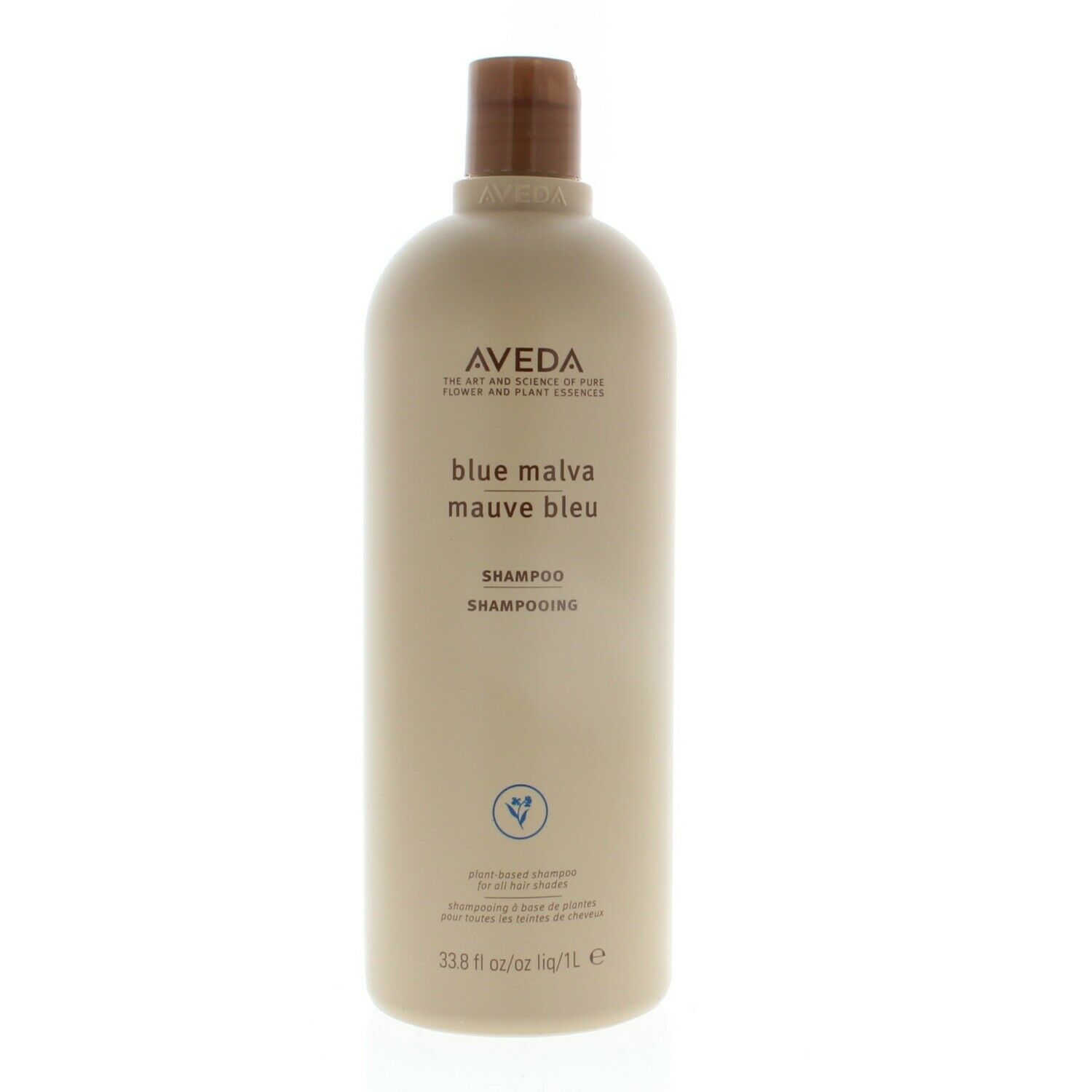 This shampoo neutralizes all brassy/yellow tones in different hair colors, including gray and blonde. It adds silvery brightness to gray hair and has a lovely organic ylang ylang, lemon, and eucalyptus scent. I also love that it can be used on all types of gray hair, be it curly, dry, straight, oily, fine, and so on. 
Pros:
Comes in a gigantic bottle that lasts forever
All natural, organic ingredients
A soft scent that is not too overpowering
Won't overtone your hair like some other purple shampoos
Cons:
Won't tone out the most stubborn brass tones
My moisturizing shampoo choice:  Kerastase Chronologiste Bain Regenerant Shampoo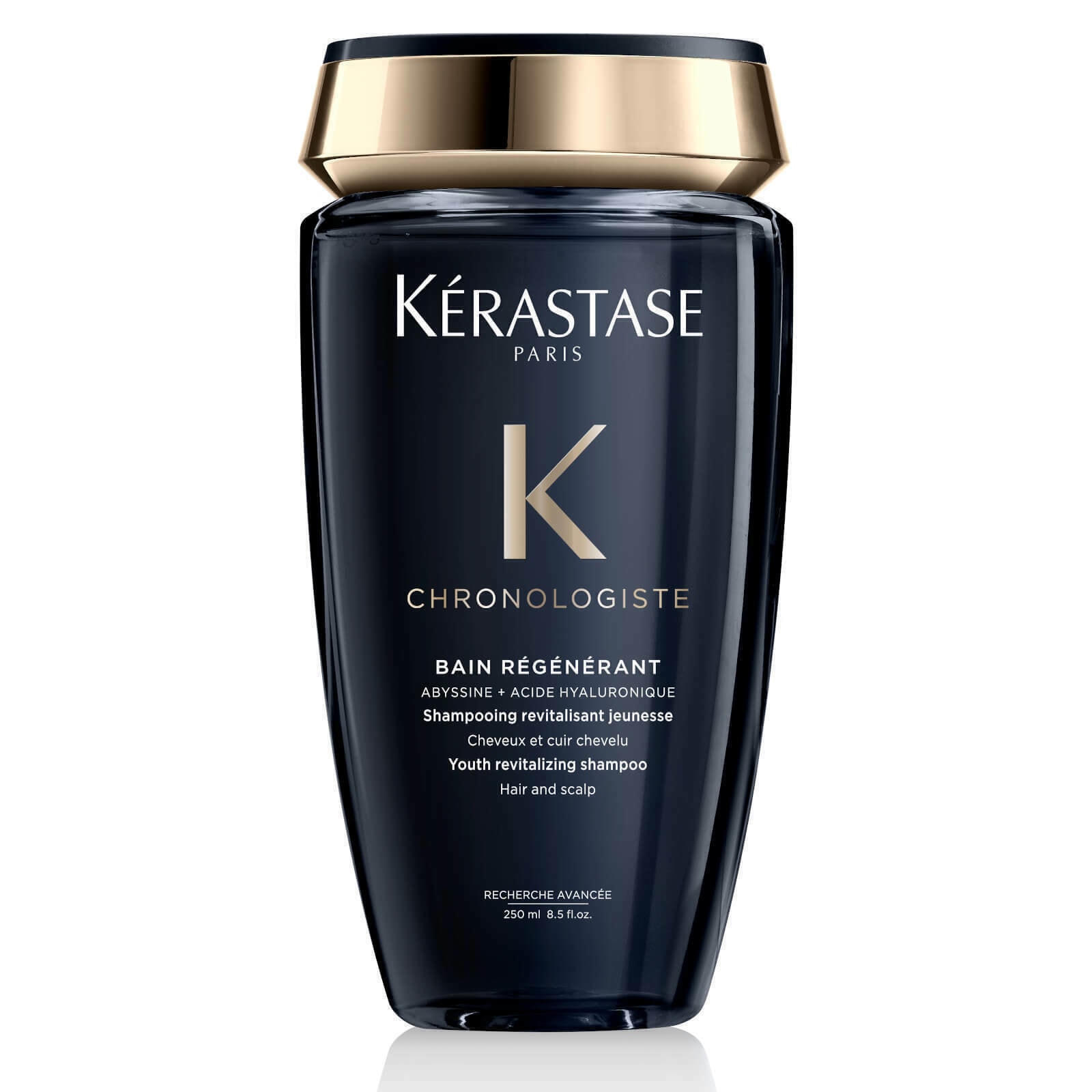 I like this shampoo because it's unisex, and its formula acts to revitalize hair while cleaning the scalp and removing any impurities. It also has moisturizing qualities to help keep your hair looking healthy and strong. 
Pros:
Unisex shampoo
Can help liven up dull hair
Has Hyaluronic acid to help add moisture
Cons:
Can feel a bit heavy on thin hair
For the Environmentally Conscious Shopper
Much has been written about parabens' harmful effects on our hair, skin, and health. However, parabens are also believed to harm marine life too, including coral reefs. So, suppose your focus is on eco-friendliness; in that case, I would suggest looking for vegan and cruelty-free shampoos that are non-toxic and, ideally, ethically sourced. 
My choice: Ethique Shampoo Bar, Pinkalicious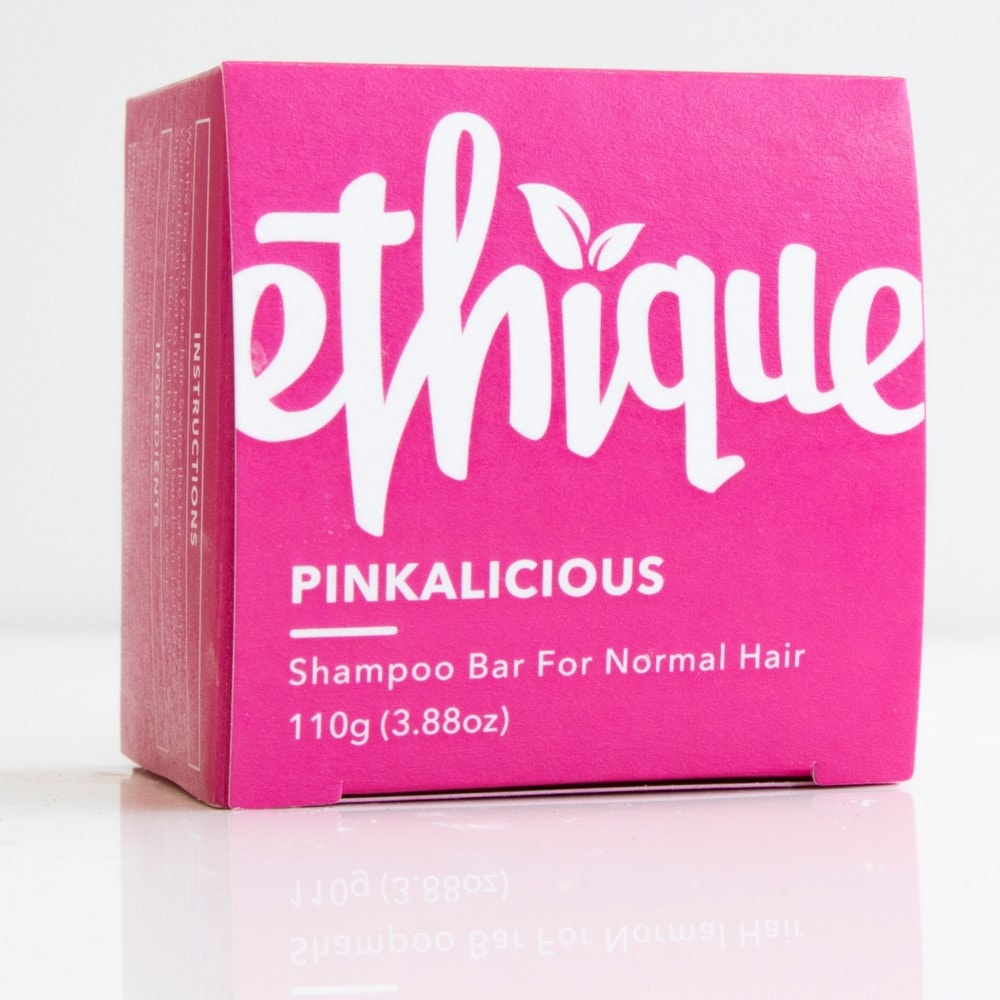 The only shampoo bar to make it onto my Walmart shampoo guide! Not only is it plastic and waste-free, but this New Zealand brand makes bars suitable for all hair types. This particular one is aimed at normal hair; its scent is vanilla and pink grapefruit. Initially created for the brand's fifth birthday, it's still popular. Made from cocoa butter, pink grapefruit, creamed coconut, and vanilla oil, this bar has no soap. 
Pros:
Suds up much better than other shampoo bars
Free of plastic packaging and everything is compostable
Smell amazing
Cons:
Switching to a shampoo bar takes some getting used to
Frizzy Hair Shampoo
Although I've referred to frizzy hair a few times in this review, I think it deserves its own section. Frizzy hair can be hard to battle and manage. You might have it because you have dry hair, or you could have it because you have curly hair that turns to frizz when it's humid. 
My Pro Tip: If you have frizzy hair, stick to just washing your hair two or three times a week rather than daily, with a hydrating shampoo that also conditions your hair. This will help to combat dry ends. 
I don't think you need to spend tons on products for frizzy hair, just something that will keep that frizz in check and boost moisture and shine with natural ingredients that don't weigh your hair down. The best ingredients to look for in your shampoo are natural oils such as argan and coconut, shea butter, and aloe vera. Again, avoid shampoos with lots of sulfates as they'll strip your hair of moisture. 
My choice: Redken Frizz Dismiss Sulfate-Free Shampoo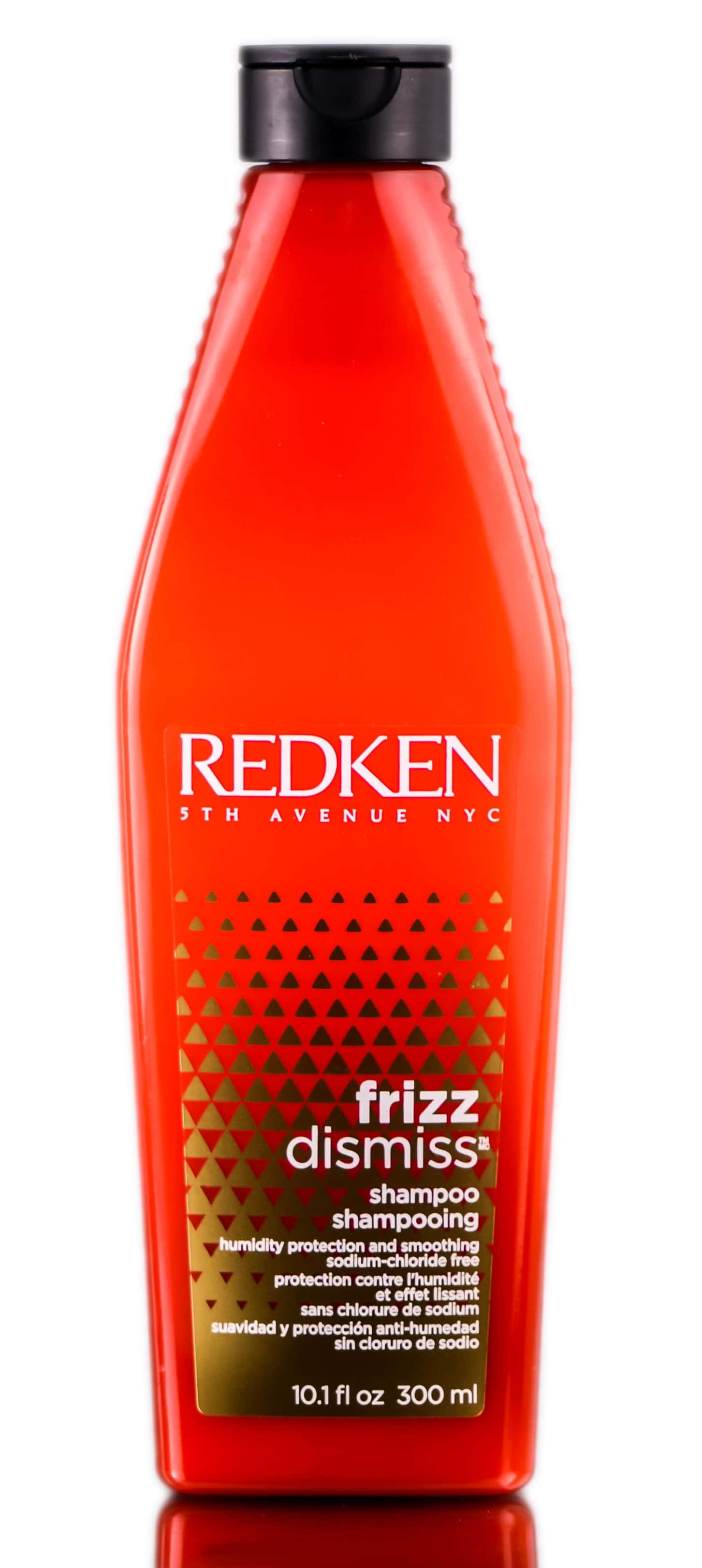 This shampoo may not be the cheapest out there, but it targets all hair types, including hair that's been color-treated. Its gentle formula includes babassu oil, cleansing your hair while protecting it from frizz and humidity. I also like that it's sulfate-free and helps to restore your hair to its former glossy glory. 
Pros:
Professional hair care brand
Made for all hair types
Can help with humidity to keep your hair frizz-free
Cons:
Some say it can build up on the hair
Shampoo for Flaky Scalps and Dandruff
Flaky scalps and dandruff can be dry, itchy, and scaly. Unfortunately, for anyone with dark hair, it's more noticeable. There are different causes- dermatitis, ringworm, eczema, psoriasis, or psoriasis as a reaction to chemicals in hair dye, gels, or mousses.
The good news is that it's treatable and not serious. Ideally, I would suggest using a product that contains one of the following: salicylic acid, coal tar, ketoconazole, zinc pyrithione, or selenium sulfide. 
My choice: Neutrogena T/Gel Therapeutic Dandruff Relief Daily Shampoo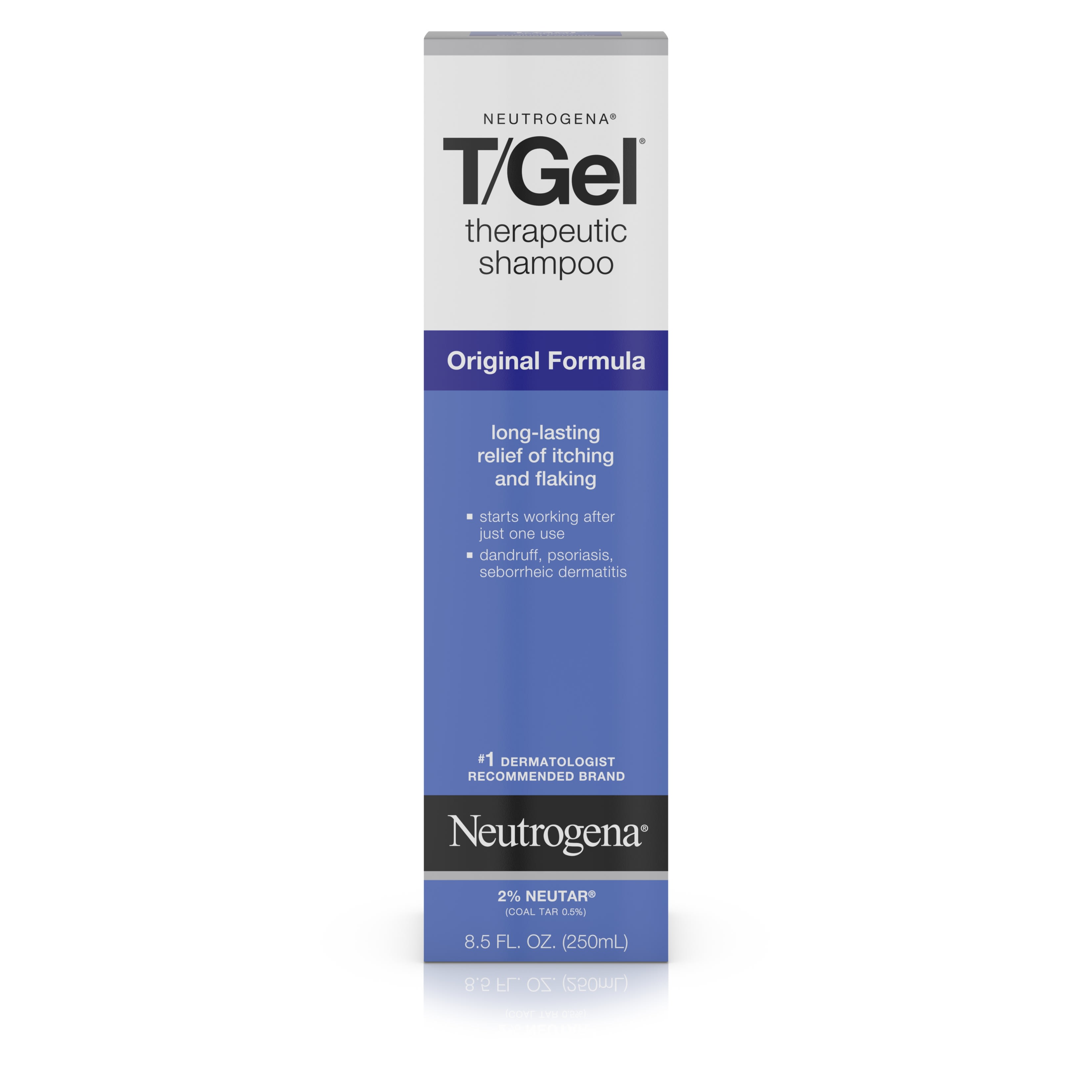 There are lots of different dandruff and flaky scalp shampoos on the market. However, I think this is one of the better options, and you can use it daily. It's alcohol-free and helps combat itchy scalps and any redness you may have. In addition, it contains 1% coal tar which gently cleanses your hair. The plus point is that the National Psoriasis Foundation also recognizes the product.
Pros:
Can help with more skin and scalp conditions than dandruff
Have ingredients proven to help 
It will also help with itchy, dry scalp if used sparingly
Cons:
Shampoo to Protect Your Hair
Hair can become damaged for all sorts of reasons. Most commonly due to drying, straightening, or curling your hair too much. I've already covered shampoo for colored hair, but it's worth noting that your hair doesn't need color to get damaged. Regular hair dryers, straighteners, and curlers can inflict damage to your hair, removing natural oils and making it dry and brittle over time. Thankfully, there are products out there that can help:
My choice: It's a 10 Miracle Heat Protection Humidity Resistant Daily Shampoo with Keratin & Almond Oil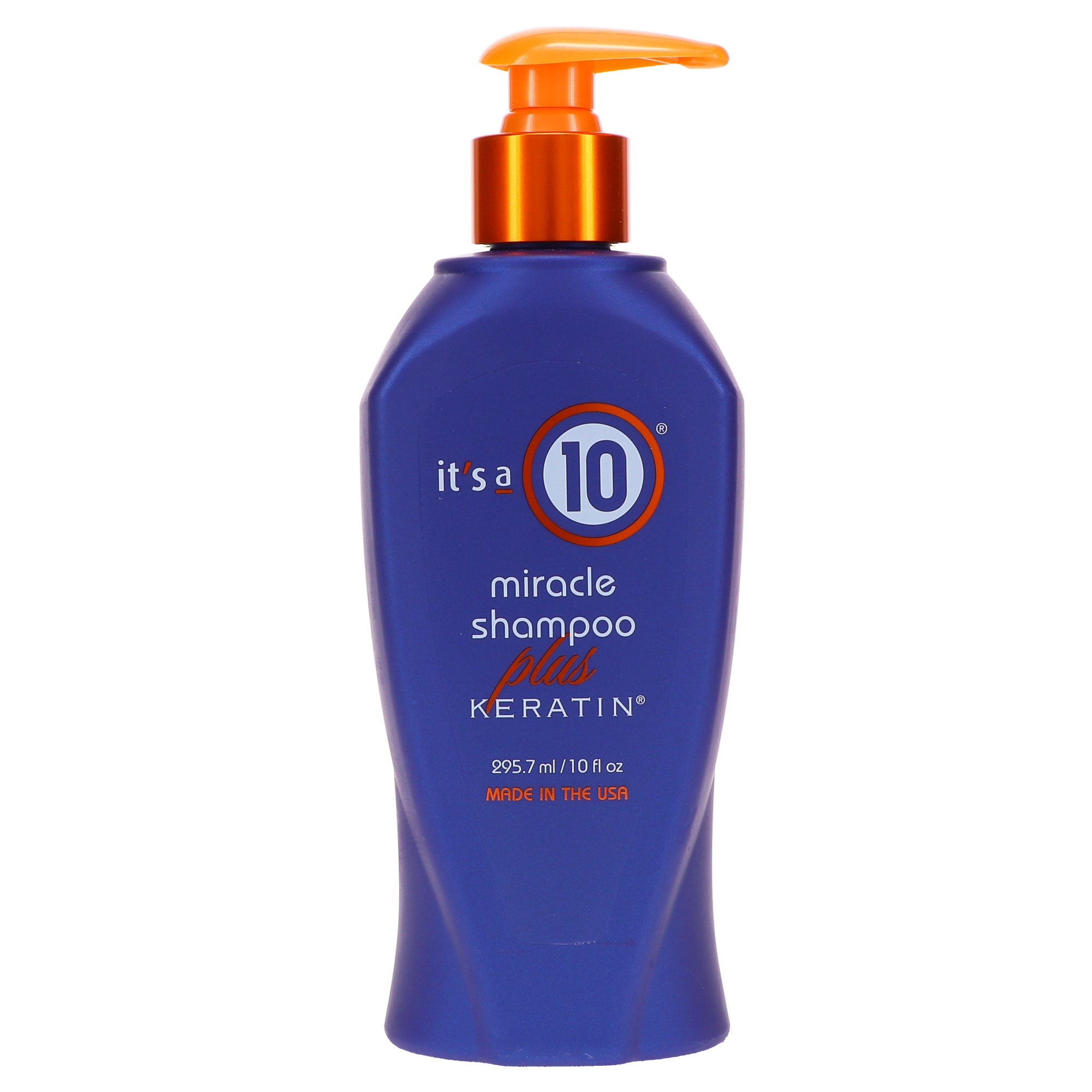 Here's a shampoo that's infused with keratin and almond oil to protect your hair not only against harsh drying regimes but also against humidity. I also love that this formula can help restore moisture and protect your hair from heat, including UV protection from the sun and sun damage. In addition, it helps preserve your hair's elasticity. 
Pros:
Has ten different benefits
Protects your hair from all aspects to prevent damage
Also has keratin, a protein ingredient naturally found in hair
Cons:
It may be too heavy if used with the conditioner as well
FAQs
Before rounding up this guide, let's answer some of the most frequently asked questions about Walmart shampoo:
Question: Does the shampoo's scent matter?
Answer: Ultimately, that's down to you. Of course, it's always nice to have a shampoo with an attractive fragrance, although some of the products for the flaky scalp can smell pretty strong. But, remember that sometimes shampoos with a scent can have chemical ingredients that damage your hair. 
Question: Does Walmart offer free delivery if I buy online?
Answer: You can get free delivery at the time of writing, but only if your total purchases on the Walmart website come to more than $35. However, if you regularly shop at Walmart, you may want to buy a Walmart+ membership, which costs $98 a year or $12.95 a month with a 30-day free trial.
Question: I've found a great Walmart shampoo, but should I switch it now and again?
Answer: There's a commonly held belief that you need to switch your shampoo and conditioner every now and again to feel their benefit. However, there appears to be no objective evidence that this is the case. So it's more a question of understanding that your hair quality can be influenced by various factors such as:
• Age
• Environment
• Any chemicals you may have in your hair
If anything about your hair or where you live changes, you may want to change your shampoo.
If you're unsure if you need to switch up your shampoo, talk to your hairdresser the next time you have your hair cut. There's no need to buy one of their salon products; just talk in general terms so that you get the info you need to buy an affordable shampoo that suits the needs of your hair.
The Right Walmart Shampoo for You
Hopefully, my best Walmart shampoo guide has given you some sense of the best products for your wallet. Ultimately, you don't have to break the bank to buy a shampoo that suits your needs. Walmart may not have all the higher-end products on sale. Still, there are plenty of high-quality options both in-store and online that are more mainstream and affordable. 
While it's impossible to opt for just one shampoo over all the others in my extensive review, if I absolutely had to, my overall winner would be the 10 Miracle Heat Protection Humidity Resistant Daily Shampoo with Keratin & Almond Oil. Why? Because not only can you use it daily, but it protects your hair against humidity and drying effects. After all, beautiful hair doesn't always come naturally, so why not give your hair the best product you can to protect it against harsher and unforgiving elements? 
So, there you have it – you've made it to the end of this guide! Good luck finding an affordable shampoo that will restore your hair to look soft, healthy, and shiny. Don't forget to tell us how you get on in the comments box below!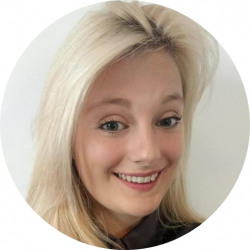 Latest posts by Rosie Greaves
(see all)