For all those of you who want to stop using shampoos and other hair care products that are full of chemicals, this article is for you because I discuss the benefits of herbal shampoos. You will also find the best way to choose the right kind of herbal shampoo that's suitable for your hair type.
Switching to natural and herbal shampoos could significantly reboot the way your hair looks and feels. It will become healthier and more supple. Natural shampoos have been used in the Indian culture since ancient times and, unlike the products that contain synthetic ingredients, herbal hair care products won't damage your tresses or your scalp.
An Ayurvedic Approach
According to the ancient concept of Ayurvedic methods, we are made of three main elements: body, soul, and mind. These three elements are the ones that give life energy. Therefore, our well-being, from a holistic point of view, is linked to whether or not these elements are balanced.
Ayurvedic experts and practitioners believe that whenever one of our main elements is imbalanced, the door for illnesses opens. They also think that scalp and hair-related issues occur because of body, soul, or mental imbalances.
The Ayurvedic tradition has come up with numerous excellent herbal formulations that are supposed to take all the aforementioned elements that are known as "doshas" to their natural balanced state. This is possible due to the medicinal properties that many herbs provide.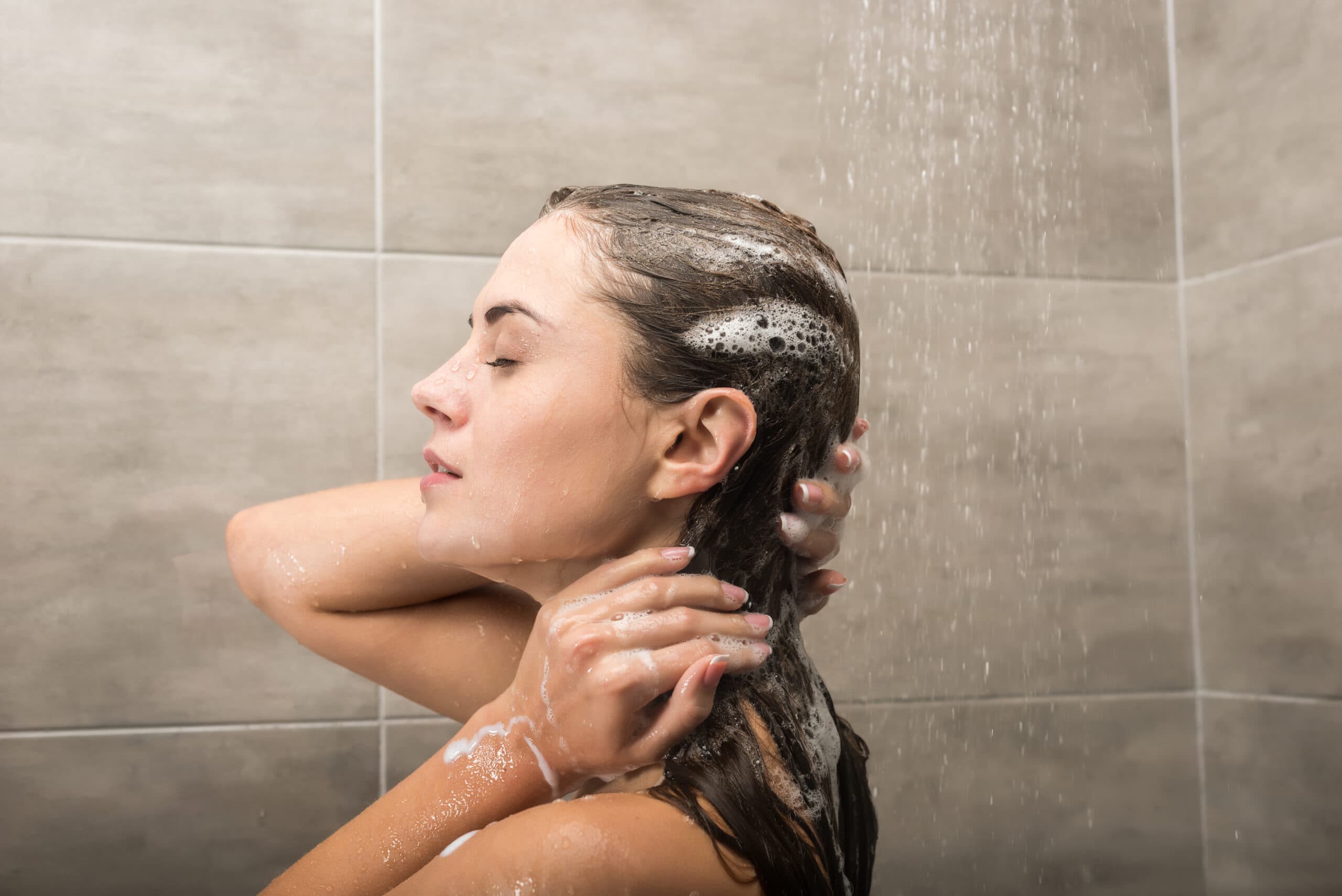 When using herbal shampoos instead of chemical-filled ones, you finally treat the cause that created your scalp or hair problem instead of only taking care of the symptom. Before choosing the right herbal shampoo that suits your needs, you must first discover where your imbalances have started in relation to the way your scalp and hair feel and look.
Know Your Hair
Both your hair and scalp can become dry and dehydrated if the air dosha is imbalanced. This can eventually lead to dandruff, thinning hair, split ends, frizzy locks, brittle hair, and even hair loss;
When the fire and water elements of your body are aggravated, your scalp will become overheated. This will translate into dandruff, inflammation, hair fall, weaker hair roots, and premature grey hair;
If the water and earth elements of your organism are elevated too much, your scalp will produce a lot of sebum which will further create greasy hair, hair loss, and even infections.
As you can see, you need to keep the pH of your scalp within a normal and healthy range which is approximately 5.5. Your hair shaft should have a pH of about 3.67. If a hair product has an alkaline pH (which is higher than 7), the exterior layer of your hair fibers will experience an increase in their net negative electrical charge. Simply put, it means your hair will become damaged and broken.
Finding the Best Herbal Shampoo – Main Advantages of Using This Kind of Product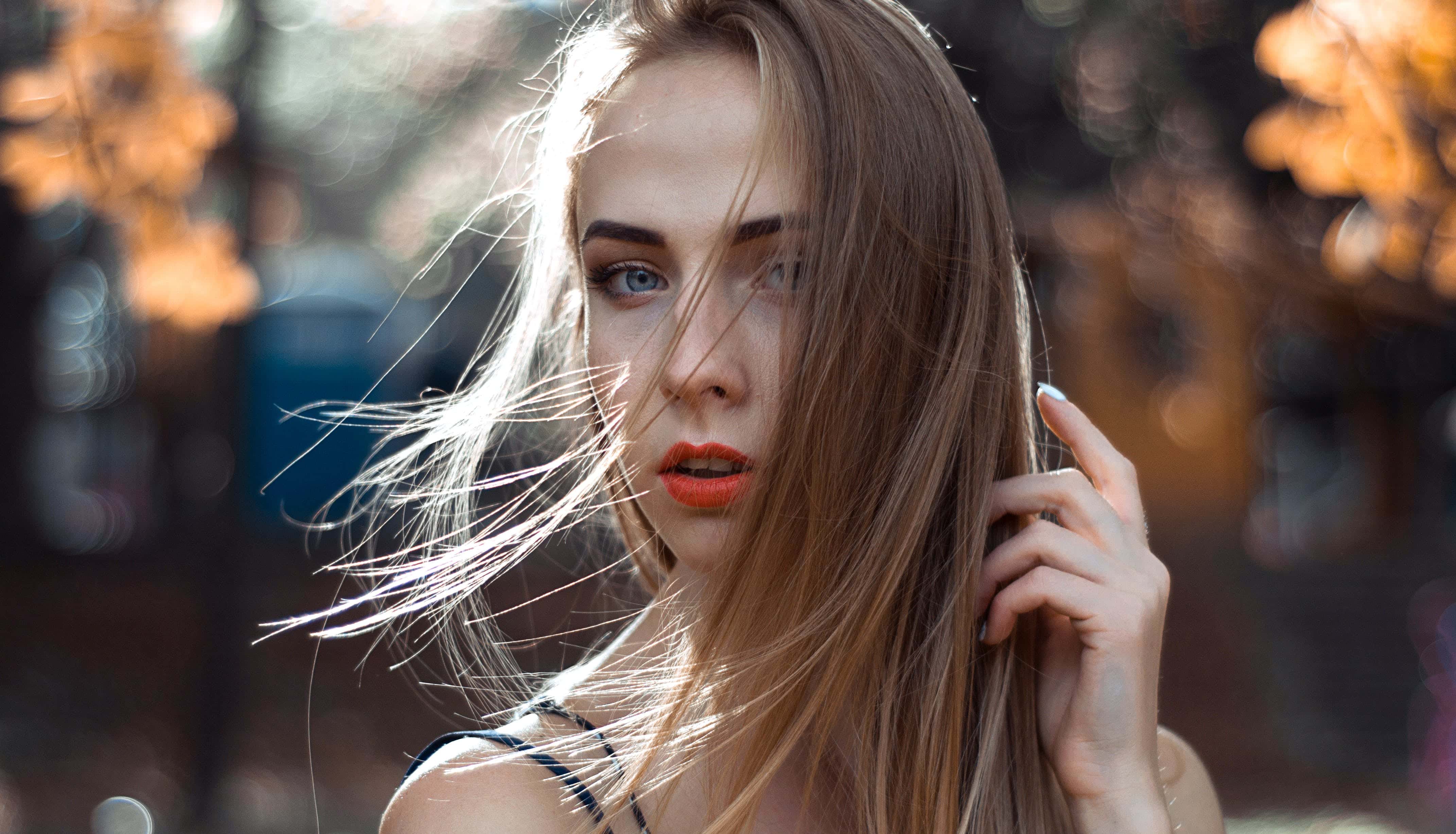 Here are the most important benefits of washing your hair with herbal shampoo instead of the ones you normally find on the shelves of any supermarket:
Herbal shampoos are as effective as their chemical alternatives when it comes to cleansing your hair. The difference comes from the fact that herbal shampoos have natural ingredients and they're free from parabens and sulfates;
Numerous natural shampoos made from herbal extracts also provide a certain level of hair smoothening and conditioning;
Herbal shampoos will maintain the normal pH of your natural hair while also maintaining the proper level of sebum and oils created by your scalp;
Besides cleansing your locks, these shampoos will also promote hair growth and will nourish your locks;
While chemical shampoos lead to faded colored hair over time, herbal alternatives will keep the dyed color of your hair intact for a longer period;
All herbal shampoos are made of biodegradable compounds. Therefore, these products are ideal for conscious people since they're friendly to the environment.
How to Find the Best Herbal Shampoo – Top 5 Choices
Here are some of the most popular and effective herbal shampoos available on the market. They're listed randomly, but I have chosen them based on their ingredients, effectiveness, and customer ratings.
1. Anti Hair Fall Shampoo by Indulekha Bringha
This brand is owned by the HUL company, which stands for Hindustan Unilever Limited. It's a herbal shampoo that's made of extracts sourced from the popular Bhringraj plant. This plant is known for its hair-fall prevention benefits. The Indulekha Bringha shampoo will also revive your hair roots, making your locks grow stronger.
It's a very effective and hypoallergenic herbal formulation that will cleanse your hair and offer you plenty of ayurvedic medicinal properties.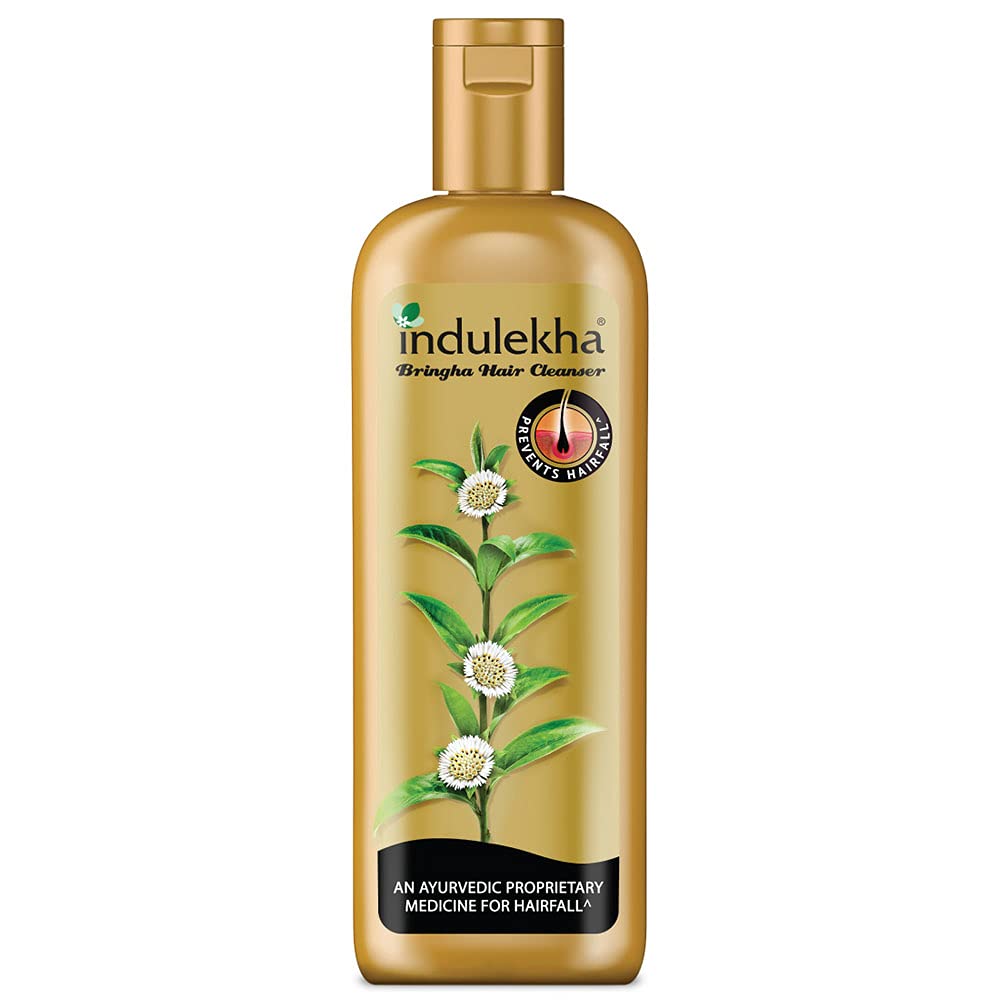 Features
Each bottle contains no less than nine different herbal extracts;
It is an organic formula that's free from any artificial substances;
The formula is enriched with many other natural herbal extracts such as Amla, Tusli, and more;
It is said to prevent hair loss and boost hair growth;
There are two alternatives available in terms of the container's size: you can either buy a bottle of 200 ml or choose a larger bottle of 340 ml.
Pros
It has many medicinal properties due to its organic formula;
It is said to regenerate new hairs while also reducing hair fall;
Due to its natural formulation, this herbal shampoo will make your hair healthier and smoother;
It is a safe and hypoallergenic hair care product that doesn't contain any added perfumes or artificial colors;
Besides improving the health of your hair, this product will also moisturize your scalp and improve blood circulation.
Cons
A few customers believe that this is a good herbal shampoo, but it's a tad overpriced;
One customer said that she didn't see any difference after using this shampoo, while another reviewer published her opinion, saying that the smell isn't that great.
2. Bio Green Apple Purifying Shampoo by Biotique
The Bio Green Apple shampoo is marketed by Biotique, a brand owned by the reputable health and personal care company Bio Veda Action Research.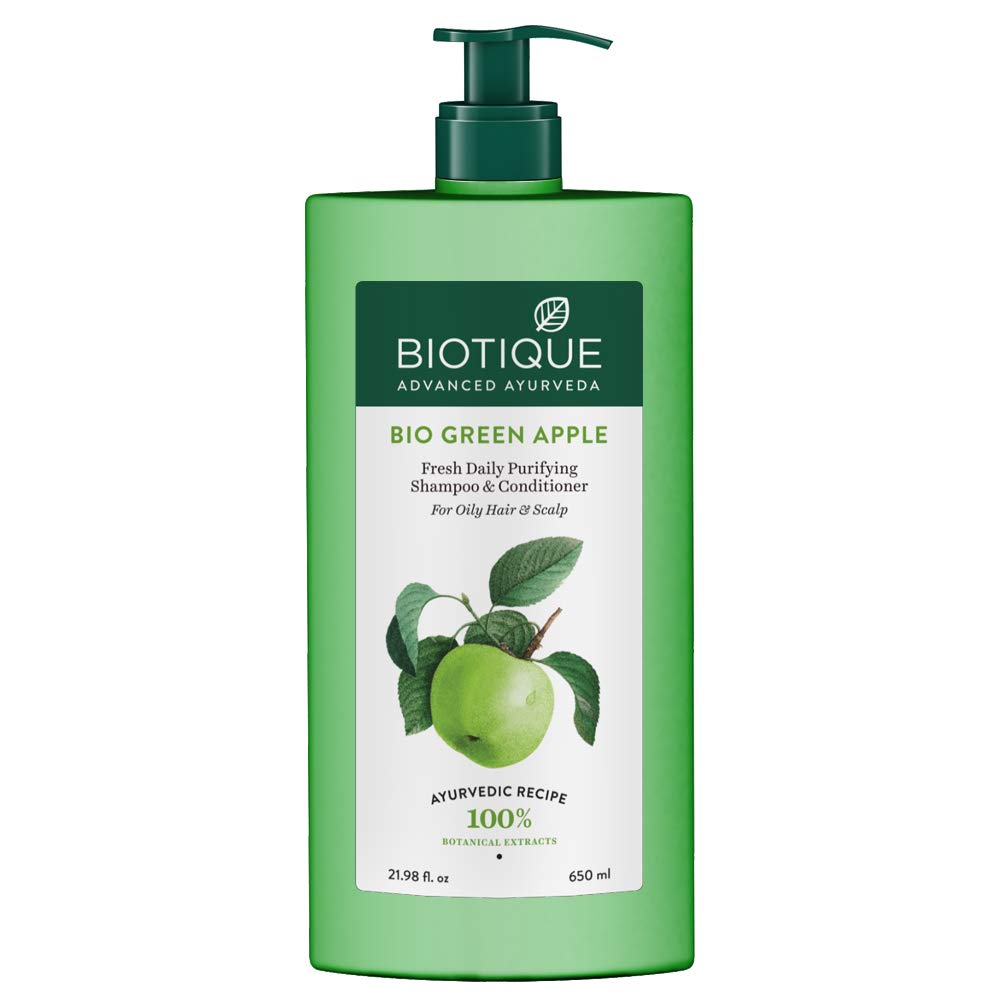 Features
This product's herbal formula consists of sea algae, green apple extract, and Centella. All these together will rejuvenate and nourish both your hair and scalp;
The formula is gentle and features a natural pH level that makes this product a great one for daily use;
It is a two-in-one kind of product, acting as both a herbal shampoo and a conditioner;
Your hair will receive natural nourishment with this herbal shampoo due to its therapeutic Ayurvedic properties.
Pros
This shampoo will stimulate and purify your scalp due to its protein and mineral content;
It is a high-quality herbal product that makes your hair fresher, bouncier, and smoother;
The formula is made of natural botanical extracts and it was created especially for oily scalp and hair;
It's safe to use this herbal shampoo, regardless of your hair or skin type.
Cons
A couple of buyers complained about the quality of this shampoo bottle, saying it's a bit thin and it should be made of a thicker and more durable material.
3. Coconut Milk Shampoo by Wow Skin Science
I don't know if you've heard about Wow Skin, but it's a pretty acclaimed brand in the healthcare and beauty industry. This grooming brand markets all sorts of premium herbal products such as herbal creams, supplements, essential oils, body lotions, serums, shampoos, and more.
When it comes to natural hair care solutions, this Wow herbal shampoo is a great choice because it prevents hair loss and restores the bounce and shine of your natural locks; all that is possible due to the product's mix of DHT blockers and coconut milk.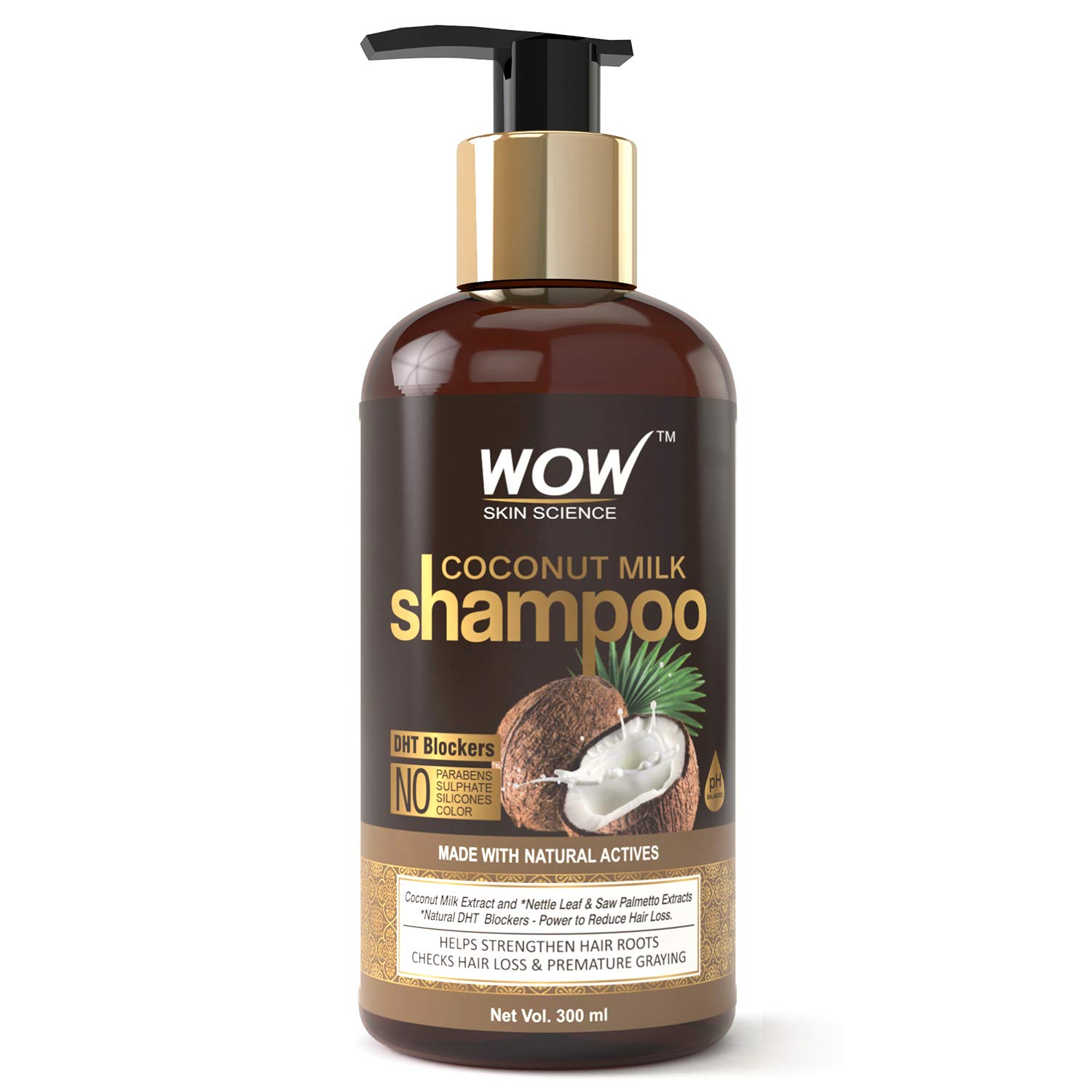 Features
This is a high-quality herbal shampoo formulated with natural extracts sourced from coconut milk that is full of minerals and vitamins;
The nettle leaf extract contained by this product plays the role of a strong DHT blocker and fights against chronic inflammation;
There are numerous wonderful ingredients and essential nutrients in this herbal shampoo like iron, magnesium, lauric acid, copper, and vitamin E;
It contains saw palmetto extracts which are rich in fatty oils and act as hair growth boosters.
Pros
Your scalp and hair roots will be nourished by this creamy shampoo, whereas your hair strands will become well-moisturized;
It's a great formula that makes your hair healthier, shinier, bouncier, and glossier;
It makes your hair stronger due to the protective barrier that this shampoo builds on your tresses which retain moisture;
This shampoo will make your hair cuticles a lot smoother;
It is said to boost hair growth and prevent your hair from getting thinner;
This product prevents brittle and dry hair.
Cons
Don't expect a rich lather because you won't get one with this herbal shampoo;
One reviewer said that after the first use of this shampoo, her hair got tangled.
4. Chickpea Protein Shampoo by Himalaya Herbals
Everyone has heard and even used Himalaya Herbals products since it's a popular global company that sells both personal care and health care items. They have successfully blended modern technologies with ancient Ayurvedic science and created high-quality products in numerous countries all over the globe.
This Himalaya Herbals shampoo is suitable for both men and women and it will revitalize your hair by helping it retain enough moisture to keep itself well-hydrated for longer periods.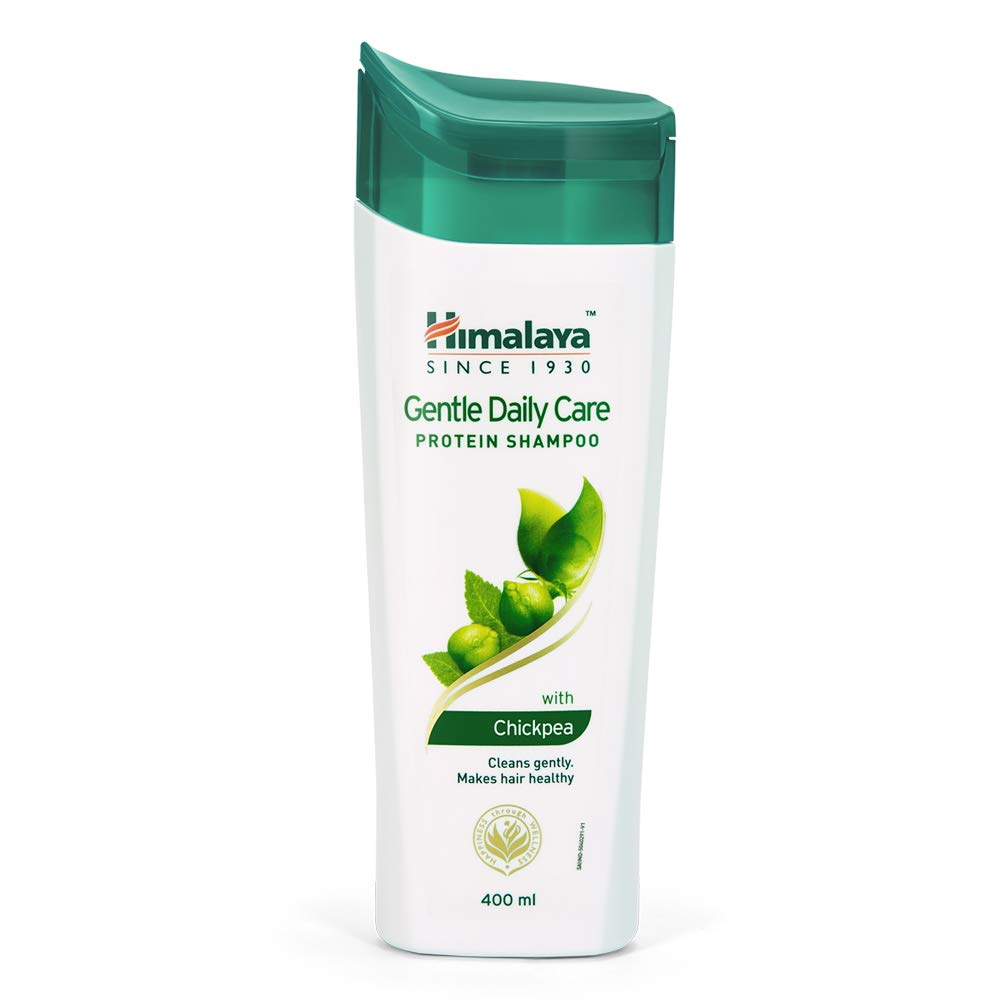 Features
It's a gentle and effective formula that will moisturize and nourish your locks;
It is rich in protein due to its chickpea content;
The formula contains licorice and Amla. The second ingredient is a natural tonic;
In terms of bottle sizes, there are 4 available choices to pick from: the smallest bottle contains 80 ml of shampoo, whereas the largest container comes with 700 ml of shampoo.
Pros
It cleans your hair gently and makes it healthier;
It's a natural and safe herbal shampoo that's also hypoallergenic;
This shampoo features a fresh scent;
It's suitable for normal and oily hair.
Cons
One reviewer said that this shampoo made his hair a bit dry;
Another client said that she prefers the anti-hair fall shampoo made by Himalaya instead of the protein one.
5. Natural Hair Cleanser by Mother Sparsh
The Mother Sparsh herbal shampoo is infused with great natural ingredients and it doesn't contain sulfates or parabens. You will be able to bring your hair strands back to their natural beauty and health due to this herbal cleanser. Even your hair texture will significantly improve after using this hair care product.
According to the manufacturing company, this natural hair cleanser will prevent hair fall and will make your hair roots a lot stronger.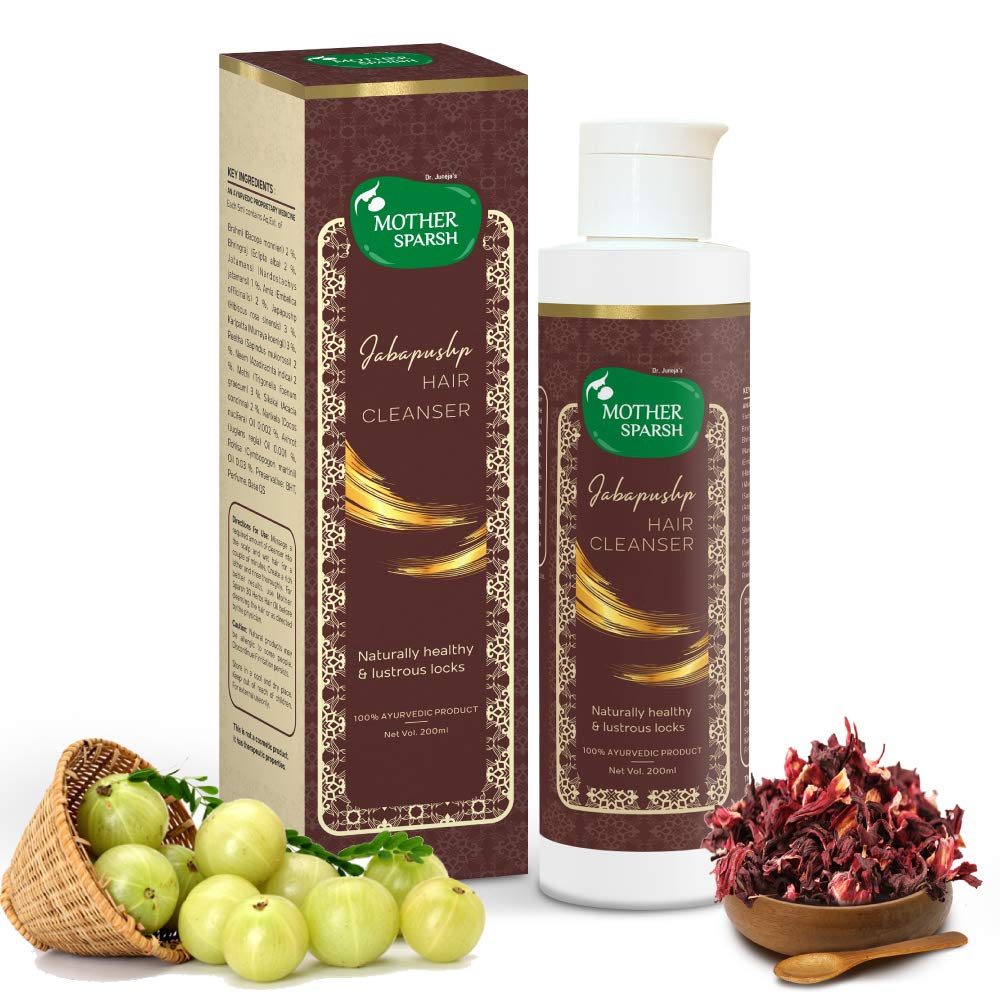 Features
The company had applied the Ayurvedic concept when it created this herbal shampoo;
It fortifies your hair and maintains your scalp clean without damaging the natural flow of your skin oils;
It is made of numerous unique ingredients like herbal extracts sourced from Reetha, Amla, Japapushpa, and others.
Pros
This shampoo provides many benefits, such as clarifying your scalp;
It restores the natural health of your scalp and hair;
It is supposed to rebuild the density of your locks;
Your hair will feel lustrous and smooth.
Cons
It may not be suitable for people who have very weak or thin hair.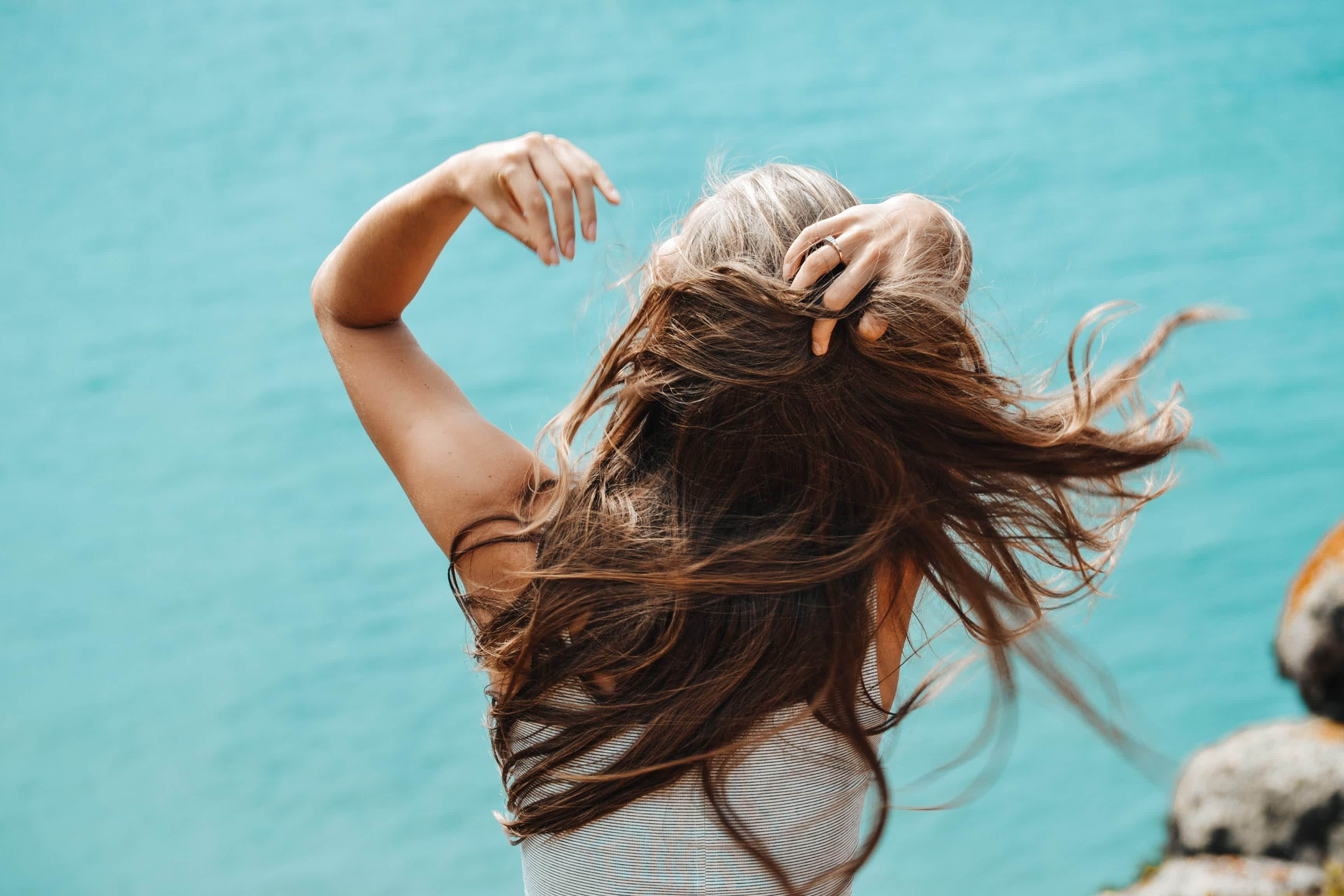 Finding the Best Herbal Shampoo – Frequently Asked Questions
Question: What Should You Consider When Purchasing Herbal Shampoo?
Answer: There are several aspects you must keep in mind before buying a specific brand or type of herbal shampoo:
♦ Your hair type – whatever shampoo or any other hair product you want to buy, you must always consider the type of your hair. Nourishing formulas that contain coconut oil and shea butter are always good if you have damaged, dry, or coarse tresses. If your strands are fine and oily, you should opt for clarifying ingredients like witch hazel;
♦ The ingredient list – the best natural shampoos are the ones that combine haircare and skincare formulations in order for you to achieve optimal results. The products we apply on our scalp and hair should fix problems instead of just covering them up. If you want to give natural and herbal shampoos a try, you should avoid those products that contain chemicals such as triclosan, sulfates, artificial fragrances, parabens, silicones, synthetic colors, mineral oil, and petroleum;
♦ Your previous experience – if this is the first time you're about to use herbal shampoo, you should have realistic expectations regarding this new hair-washing experience. For instance, artificial ingredients like silicones are the ones that normally make your hair feel silky to the touch, whereas sulfates provide foamy lather. Natural alternatives won't feel the same in terms of texture and level of foam. But feel free to try several of them before deciding the one that you like the most.
Question: Which Brand of Herbal Shampoo Is the Best One?
Answer: There are several great brands of hair care products that sell herbal shampoos. Among them, you will find the following options:
♦ Morocco Shampoo
♦ Himalaya Herbals
♦ Induleka Bringha
♦ Biotique Bio; etc
Question: Can Herbal Shampoos Lead to Hair Fall?
Answer: According to specialists, no shampoo can cause serious hair fall, especially natural and herbal shampoos. If you want to avoid any hair issues, you should opt for a herbal shampoo that's free from chemicals.
How to Find the Best Herbal Shampoo – Bottom Line
To make sure you purchase the right kind of herbal shampoo suitable for your unique needs, you must consider certain important aspects such as the type of your hair, the list of ingredients, and the Ayurvedic properties of the product.
Based on those facts, any of the herbal shampoos I've mentioned above could be the ideal choice for your scalp and hair. They are all gentle and have mild scents. Moreover, they're hypoallergenic and free from chemicals.
Looking for more interesting readings? Check out: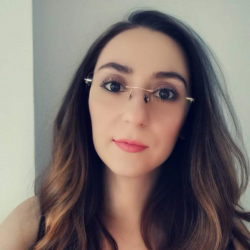 Latest posts by Alexandra Gavrilescu, Home Hair Product Tester
(see all)