The balayage hair coloring technique has been one of the biggest trends. A balayage is a freehand coloring technique where the colorist "paints" the color on the hair. The color is blended together with your natural hair color. This way, the highlights look natural.
If you're interested in getting a balayage, you probably heard of terms such as partial and full balayage. What do these terms mean? Here's my partial balayage vs full balayage explained guide to find the hair look that works best for you.
Bottom Line UpFront
A balayage is a technique where the colorist paints highlights into your hair. You can either get a partial or full balayage. A partial balayage is subtler than a full balayage, only applied to one section of the hair. A full balayage is applied all over the hair.
Main Differences Between a Partial and Full Balayage
Full balayage is applied to the majority of the hair, whereas a partial balayage focuses on one area of the hair.
The full balayage is applied to the top and bottom, whereas the partial balayage is applied to the ends.
Full balayage has more noticeable colors, whereas a partial balayage is subtler.
Partial Balayage
A partial balayage is only applied to one area of the hair, usually the mid-shaft to the ends. There are top-layer, and face-framing balayage looks out there — they're just not as popular. Like the full balayage, the partial balayage is flattering on most people, can enhance your unique features, and can achieve various creative looks.
Pros
Less damaging
Looks great on anyone
More affordable
Cons
Not as vibrant
Highlights may not be as noticeable
How Long Does It Take?
A partial balayage takes less time than a full balayage, but the length of time it takes depends on the style you want and the length of your hair. If you have short hair, the partial balayage will be shorter than if you have long hair. The type of highlights and placements also matter. Only getting a few highlight pieces will take a shorter amount of time than partial balayage mermaid hair.
Full Balayage
With a full balayage, the colorist hand paints the highlights over your head instead of focusing on one area. In addition, the colorist will paint the highlights on the top and bottom of your hair. A full balayage is more flexible than a partial balayage. There are limitless results you can achieve that all depend on your needs and preferences. Plus, a full balayage is still more low maintenance than other coloring techniques. If you decide to go for touch-ups, you may only need to go back every four months.
Pros
Highlights are noticeable
Full balayages still look natural
Trending coloring technique
Less damaging than other coloring techniques
Can customize the color and placement
Cons
It may require a toner if your hair gets brassy
More damaging than a partial balayage
Extremely expensive
How Long Does It Take?
Because you'll be applying the highlights all over your hair, your full balayage will take longer than a partial balayage. Still, the average full balayage time varies between 45 minutes and four hours. If your balayage is simple, you can expect it to be closer to 45 minutes or an hour. But if you want a multi-layered balayage with different colors, the process can take at least three to four hours.
Partial Balayage Inspiration
Are you still unsure if a partial balayage is right for you? Here are some of my favorite partial balayage looks I can find on Instagram.
Caramel Partial Balayage
If you're a brunette, this is your first time doing a balayage; this caramel-colored partial balayage is a great look for you. Caramel is a warm-toned shade of light brown. It looks very natural and still adds dimension. I personally think brown and caramel look dreamy together, especially if you have warm undertones. Credit: @kymstyles.
Honey Partial Balayage
If you want something even lighter than caramel, opt for a honey-colored partial balayage. Honey is a shade of golden blonde that looks amazing on those with warm undertones. A honey balayage looks especially amazing on a dark base for the ultimate sun-kissed look. Credit: @hairwithmaria.
Platinum Blonde Partial Balayage
If you have blonde hair and are looking for some partial balayage inspiration, I suggest going all-out for a platinum look such as this one. I appreciate this look since platinum and white-blonde tend to look unnatural — the different tones in this balayage give the hair a natural definition. Credit: @hair.by.jilly.g.
Mushroom Brown Partial Balayage
Are you a brunette and want a less brassy balayage? I suggest choosing the color mushroom brown. Mushroom is a cool-toned brown, perfect if your hair tends to turn brassy after you lighten it. Looking at the before and after pictures, the mushroom color tones down the model's brassy hair. The different tones give her hair definition while still looking natural. This is a great fall hair look since we're entering the autumn season. Credit: @shannon_love_hair.
Full Balayage Inspiration
After looking at the partial balayage photos, are you thinking that a full balayage may be what you want? Take a look at some of my favorite full balayage styles that I found on Instagram!
Blonde Full Balayage
This is a typical example of a full balayage. You can't really see it, but this full balayage has various blonde tones to brighten up the model's hair while giving her locks more definition. I specifically see platinum and dark blonde pieces in the base color. The colorist carefully applied all of these colors for a blended look. Credit: @lexisbeautymark.
Short Hair Full Balayage
While most balayage looks are applied to long and wavy or curly hair, those with short and straight hair can still achieve an exceptional balayage. Take a look at this model as an example. Dark blonde colors were added to her brown base. The colorist applied the blonde from the top to the bottom of her hair to brighten up her tresses. Credit: @hairbeautykarla_.
Red and Pink Full Balayage
At first, I thought this was a red balayage, but some of these pieces look pink. I can also see these red and pink pieces are mixed with brown. Brown hues give the model's hair more definition, but the pink brightens up her complexion. This is a super dreamy and unique look if you want something other than your ordinary full balayage. Credit: @devinnicolegetty.
Caramel Full Balayage
If you want a brown balayage that's stunning yet natural, choose a caramel-toned full balayage like what this model has. As I stated previously, caramel is a warm-toned shade of light brown hair. This is the perfect color if you want to go lighter but not too light. The model here has different shades of brown mixed in with her caramel hair, resulting in the definition that looks natural. Credit: @devinnicolegetty.
Alternative Color Techniques
Do you realize that neither a partial or full balayage look is right for you? Here are some alternative coloring techniques to try.
Highlights
Highlights are sections of hair that are a different color from the base color. Hence the name, your colorist will apply highlights near the scalp. Most highlights are a lighter color than your base color, but this still varies. Highlights can either be chunky and applied to a few sections or thinner and applied all over your hair.
Ombre
An ombre is a coloring technique that transitions from one color to another. On hair, an ombre is usually darker on top and transitions to a lighter color toward the bottom. The color transition happens around mid-shaft, resulting in a harsh difference. This is different from a balayage; while a balayage consists of more than one color, each color is blended together, resulting in more natural-looking.
Lowlights
Lowlights are different colors applied to the lower part of your hair. The goal of lowlights is to add more definition and contrast to your base color. Most lowlight looks consist of darker colors applied to a lighter base, but those with darker hair can achieve the same effect with lighter-colored lowlights. Lowlights are similar to a balayage because the highlights are usually thin and applied throughout your hair. Plus, lowlights are also low-maintenance.
Babylights
Babylights are low-profile highlights. They consist of thinner streaks of a lighter color on a dark base. Like balayage, the colorist will weave the streaks into your base color, resulting in a more natural look. This way, babylights still provide a sun-kissed look that is simpler than traditional foil highlights.
eGirl
eGirl hair is a modern revolution, which is where the style gets its name. However, I first discovered eGirl hair in the 90s, thanks to Ginger Spice. If that didn't give it away, eGirl hair is when you have face-framing highlights. In other words, the front pieces of your hair are a different color than the rest of your hair. You can apply any color to eGirl hair. Most of the looks I see consist of blonde pieces over a darker base, though you can go all Ginger Spice and add blonde pieces to your red hair.
Peekaboo
Peekaboo highlights are hidden pieces of color. The colorist will only color the inner part of your hair. You can easily conceal peekaboo highlights unless you wear your hair in a particular style, such as in a ponytail or half-up-half-down.
Unlike the balayage, a peekaboo highlight isn't blended at all. The element of surprise is what makes this coloring technique so eye-catching, so the separation between the base and highlight color is harsher. You can apply any color to a peekaboo highlight, though most use unnatural colors such as blue for more of a striking effect.
FAQs
Question: How do I know if a balayage will suit me?
Answer: A balayage will honestly look great on anyone; it just depends on the colors you choose. While most balayages brighten up your complexion, only go too bright if you're certain those tones will look good on you. You should also pay attention to your skin undertones.
Question: What are some popular balayage hair colors?
Answer: Here are the most popular balayage colors that I can find right now:
• Light and platinum blonde
• Dark blonde
• Medium blonde
• Medium brown
• Light brown
• Watercolor
• Dark brown
Question: What are the trendiest hair colors right now?
Answer: Fall is almost here, so it's time to think about your autumn hair look! Here are some trendy fall hair colors:
• Toasted caramel
• Copper
• Auburn
Bottom Line
A balayage is a hair coloring technique where the colorist paints different colors into your hair. A partial balayage only focuses on one area of the hair while a full balayage focuses on the entire head. If you want this technique applied all over your head, you'll want a full balayage. If you only want one section done, such as the mid-shaft and/or the ends, you'll want a partial balayage.
With both styles, you'll have noticeable highlights and more definition. You still have a lot of flexibility with a partial balayage, such as choosing the colors and where you want the dye. Partial balayages also over some benefits over a full balayage, such as being more affordable and less damaging. If you're unsure which one you want, look at my balayage inspiration section!
Looking for more interesting readings? Check out: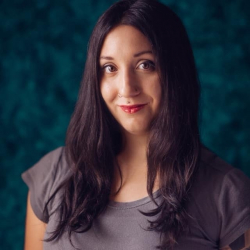 Latest posts by Stephanie Jensen, Hair Trend Spotter & Home Tester
(see all)