It's not that easy to find the perfect rosemary shampoo that suits your hair type and meets your unique needs. There are so many different traits to look for in a good shampoo, and with all these options available on the market, it can be tricky to select one single product that does it all.
The ideal type of rosemary shampoo shouldn't contain any chemicals or toxic ingredients, for starters. Furthermore, it should act gently on your scalp and must be suitable for a wide range of hair types, if not for all.
You must look for rosemary shampoo that's formulated with essential oils and vitamins, which will invigorate your scalp while also improving the appearance and texture of your hair locks. However, doing all this daunting online research takes a lot of time. This is why I have decided to write about it, and help you find your desired product.
You can always count on the details provided by me in the following review of the most effective rosemary shampoos that will support healthy hair growth.
At a Glance: My Top 7 Rosemary Shampoo
Biotin Thickening Shampoo: Best for Thin Hair
Maple Holistics Shampoo With Rosemary And Jojoba: Best for Oily and Greasy Hair
Jason Dandruff Relief Rosemary Shampoo: Best Anti Dandruff
Taza Natural Shampoo With Rosemary And Lavender: Most Gentle on Scalp
Laritelle Organic Rosemary Shampoo: Best for Softening Hair
Avalon Organics Volumizing Shampoo: Best Overall
BWC Rosemary Shampoo: Best for Unmanageable Hair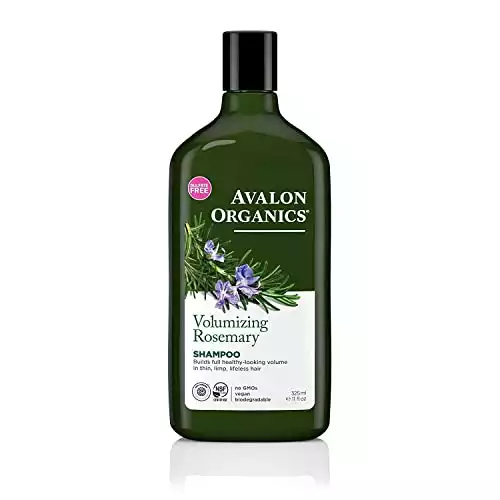 Best Rosemary Shampoo Guide – Top 7 Choices to Consider
The following rosemary shampoos are presented in no particular order. I have picked them based on their user reviews and ratings, ingredients, and level of efficacy.

The Biotin rosemary shampoo is made by Paisle Botanics. It's a natural and mild hair care product that's supposed to thicken your hair locks while preventing hair loss. This product provides you with numerous benefits, including healthy hair growth and fuller hair. The formula is enriched with the vitamin B complex known to fight against thinning hair.
Besides vitamin B and rosemary, this shampoo also contains coconut, saw palmetto, and Aloe Vera, all of which will invigorate your tresses and make your hair look so much better. It also has DHT, which it's said to prevent hair loss.
Pros
All the nourishing ingredients in this shampoo, such as essential oils and vitamins, support healthy hair growth;
It's a natural rosemary shampoo that's free from any chemicals;
This product can be safely and effectively used by both men and women and prevents hair loss;
The company's return policy is great since it gives back the money to those clients who're not satisfied with the product.
Cons
One user said that after washing his hair with this shampoo, he noticed redness areas on his scalp, but that could probably be just the effect of very sensitive skin;
Another client said that the price is a bit high.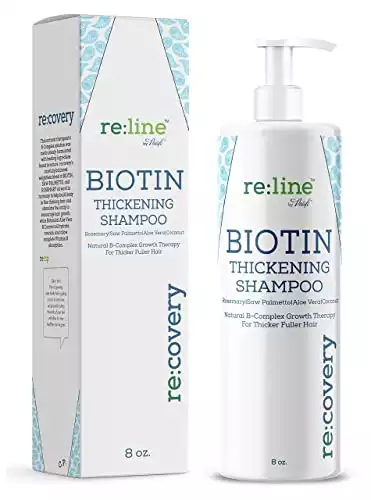 Biotin Shampoo for Hair Growth | Amazon
Natural Shampoo For Thinning Hair - 100% natural hypoallergenic hair growth shampoo formula contains no harsh chemicals and is Paraben-free, Sulfate-free, SLS, and Sodium Chloride free.
Buy at Amazon.com
We earn a commission if you make a purchase, at no additional cost to you.
08/03/2023 06:12 pm GMT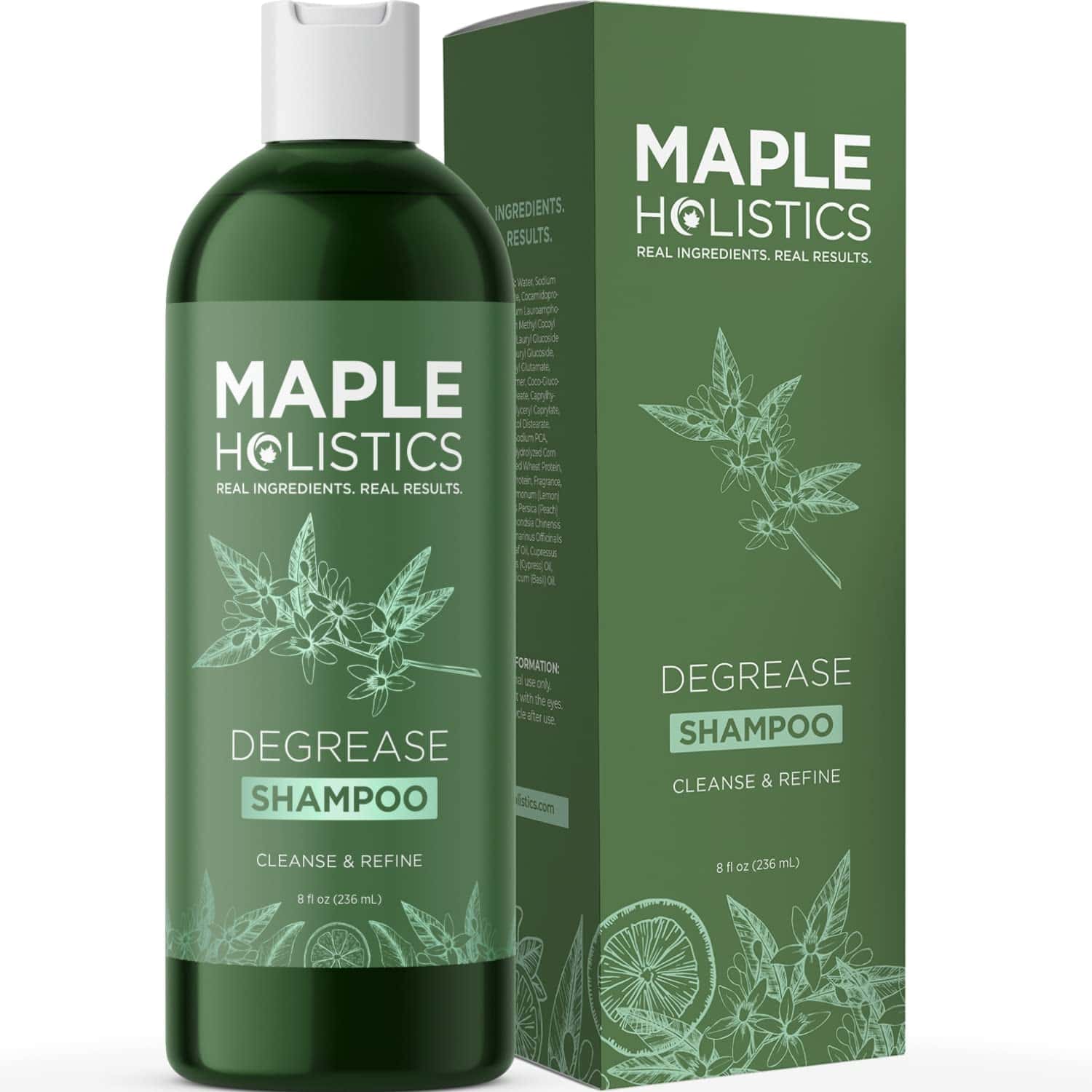 This Maple Holistics shampoo contains Jojoba oil and rosemary, and it's one of the best solutions for oily scalp and greasy hair. It also works as a clarifying shampoo. Hence it removes potential scalp buildup. It's formulated with pure essential oils that will moisturize and nourish your hair. If you have dandruff, this hair care product might be the solution you're looking for.
The lemon extract included in the formula restores the natural sebum production of your scalp while also balancing the pH of both your hair and skin. Maple Holistics shampoo contains a blend of wonderful compounds like rosemary, basil, jojoba, and cypress. This gentle product lacks any harmful ingredients like sulfates and parabens.
Moreover, it will stimulate your blood circulation without acting harshly on your scalp.
Pros
It contains real and natural ingredients, so it's a safe choice;
It works great for those who have oily hair and dandruff without making their locks too dry;
If your scalp is itchy, this rosemary shampoo could truly help alleviate those reactions;
All clients can benefit from the company's money-back return policy;
Although it provides a thorough cleansing, this shampoo also nourishes your hair tresses.
Cons
One user complained about the fact that this shampoo has dried her scalp;
Another reviewer mentioned that she didn't get rid of her greasy hair as she had hoped.

This Jason Natural Cosmetics shampoo will help you get rid of dandruff. It contains olive oil, rosemary, and jojoba extracts, and it was created to heal and refresh your scalp. I would totally try this shampoo since it's a cruelty-free product that can help me with my scalp issues. I often deal with annoying dandruff created by other shampoos, and my scalp tends to get dry, while my hair gets greasy quickly after washing it.
It's based on sulfur, which is known to fight off scalp itchiness, flakes, and dryness. Besides these purposes, the Jason rosemary shampoo will also lower the risk of hair loss, and boost hair growth.
Pros
It gently cleanses and nourishes your hair and scalp;
Its formula helps you control problems such as mild psoriasis and scalp dermatitis;
This shampoo isn't tested on animals;
It's free of chemicals like parabens, harsh sulfates, and phthalates.
Cons
A few users complained about how this shampoo smells because of its sulfur content, but I believe that's a very low price to pay for such an effective hair care product;
Several clients mentioned that the company had changed the formula, trying to improve it, but, according to users, the newly upgraded shampoo is a bit disappointing. They consider the original formula a lot better.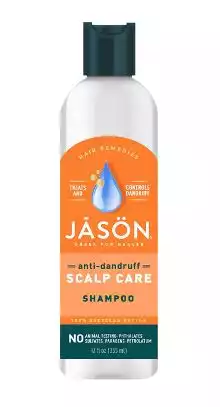 Jason Dandruff Relief Treatment Shampoo | Amazon
Jason Dandruff Relief Treatment Shampoo gently cleanses and nourishes hair while controlling scalp dermatitis and mild psoriasis. An approved combination of sulfur and salicylic acid treats mild psoriasis and dermatitis to help eliminate flakes and itchiness.
Buy at Amazon.com
We earn a commission if you make a purchase, at no additional cost to you.
08/03/2023 12:56 am GMT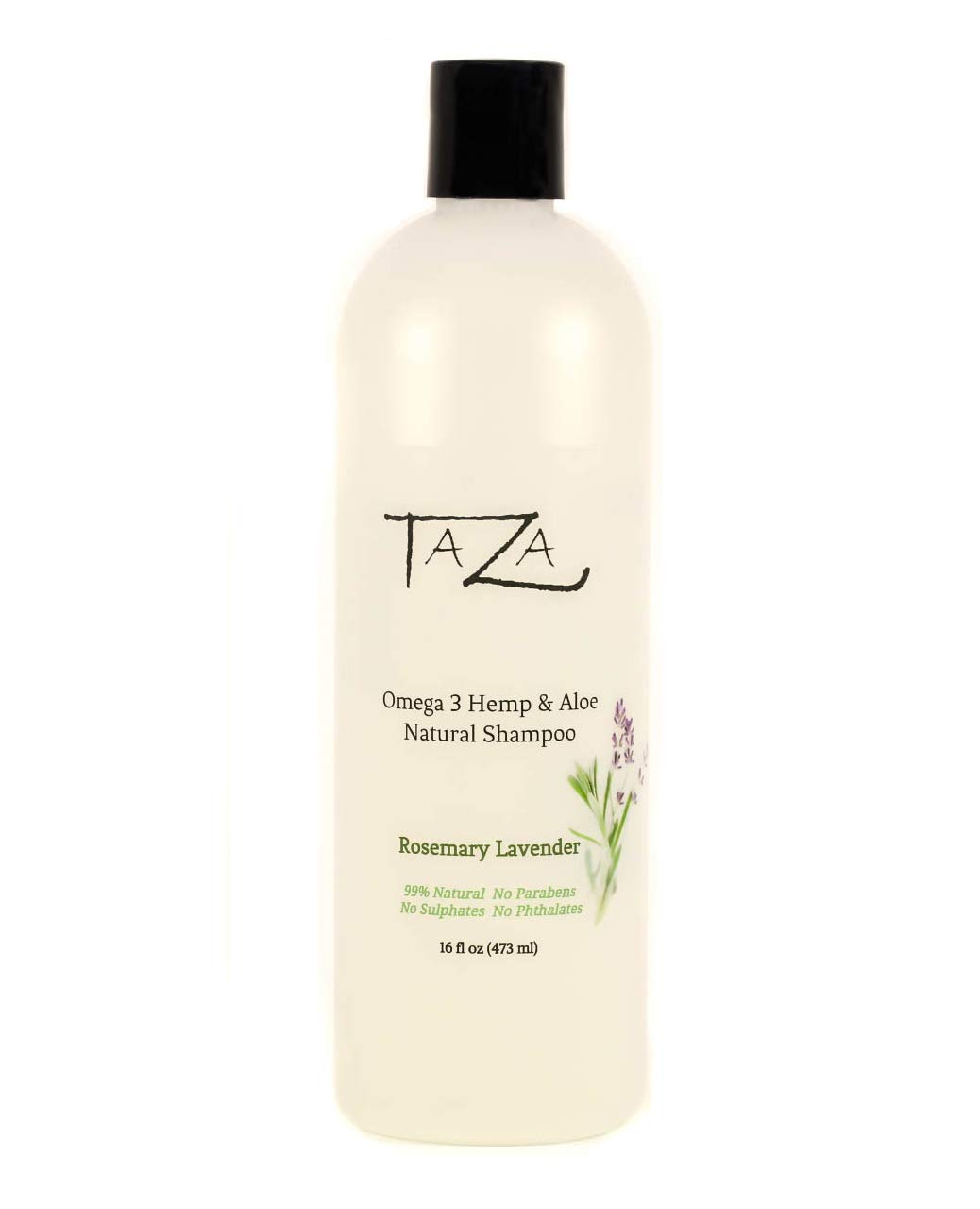 The Taza Natural rosemary shampoo contains lavender, hemp, Aloe Vera, and Omega-3 fatty acids, all-natural and beneficial ingredients. It is gentle on your scalp, and it prevents irritations. The formula is enriched with Aloe leaf juice, which stimulates hair growth, while also controlling dandruff production.
The hemp seed oil included in the product promotes healthy hair growth due to its polyunsaturated fatty acids content. Two other ingredients will keep your locks protected from harsh weather conditions. The ingredients that I'm talking about are Panthenol and Glycerin. After using this shampoo, your strands will look stronger, fortified, thicker, silky smooth, and full of volume.
Pros
It tames tangled hair and supports hair growth;
It's made of healthy and safe ingredients;
Your damaged hair will become healthier and silky due to many amazing ingredients that this shampoo contains: proteins, minerals, vitamins, and fatty acids;
It will restore the natural moisture of your hair;
This product is great for those who want something to soothe their itchy scalp due to its blend of chamomile flower, elderflower, willow bark, and red clover flower extracts.
Cons
One reviewer complained about the shampoo's smell. She said it isn't awful, but it could be better;
Another user said that her scalp became a little dry after using this shampoo.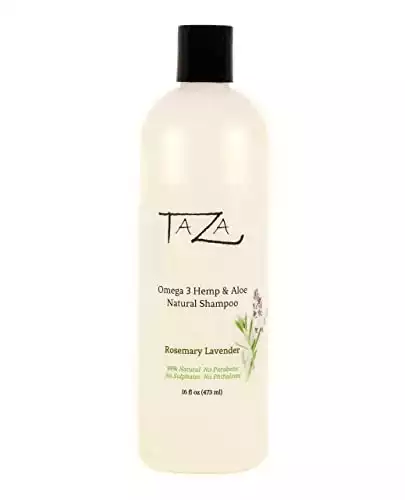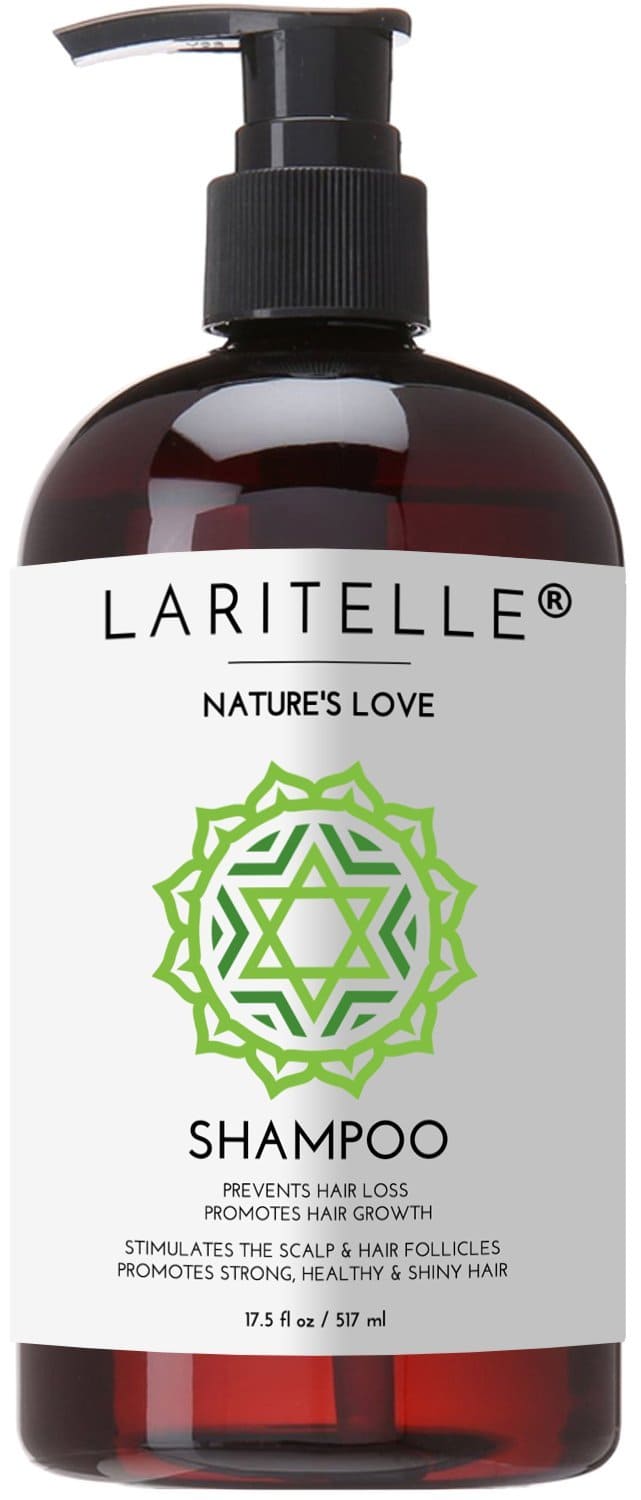 The Laritelle rosemary shampoo is an organic hair care product that also contains grapefruit and keratin. It will soften your hair and detangle it. Moreover, your hair follicles will become rejuvenated, and your hair shaft will be deeply nourished. All the ingredients included in the formula are effective, safe, and high-quality ones: horsetail extract, hibiscus, quinoa protein, rosehip, fenugreek, marshmallow, and vegan-friendly keratin protein.
This Laritelle shampoo also comes with an excellent mix of essential oils: rosemary, pink grapefruit, cinnamon leaf, thyme, and ginger, all of which boost hair growth and lower the risk of thinning hair. The shampoo acts very gently on your scalp, and it provides amazing healing properties. Due to the fact that's free of parabens, gluten, and sulfates, this product also works as a natural hair detangler.
Pros
It prevents hair loss;
It supports healthy hair growth;
This shampoo will stimulate your hair follicles, as well as your scalp;
Your hair will look thicker and shinier after using this shampoo;
It smells heavenly.
Cons
It has a rather watery texture;
The company's customer support service could be improved.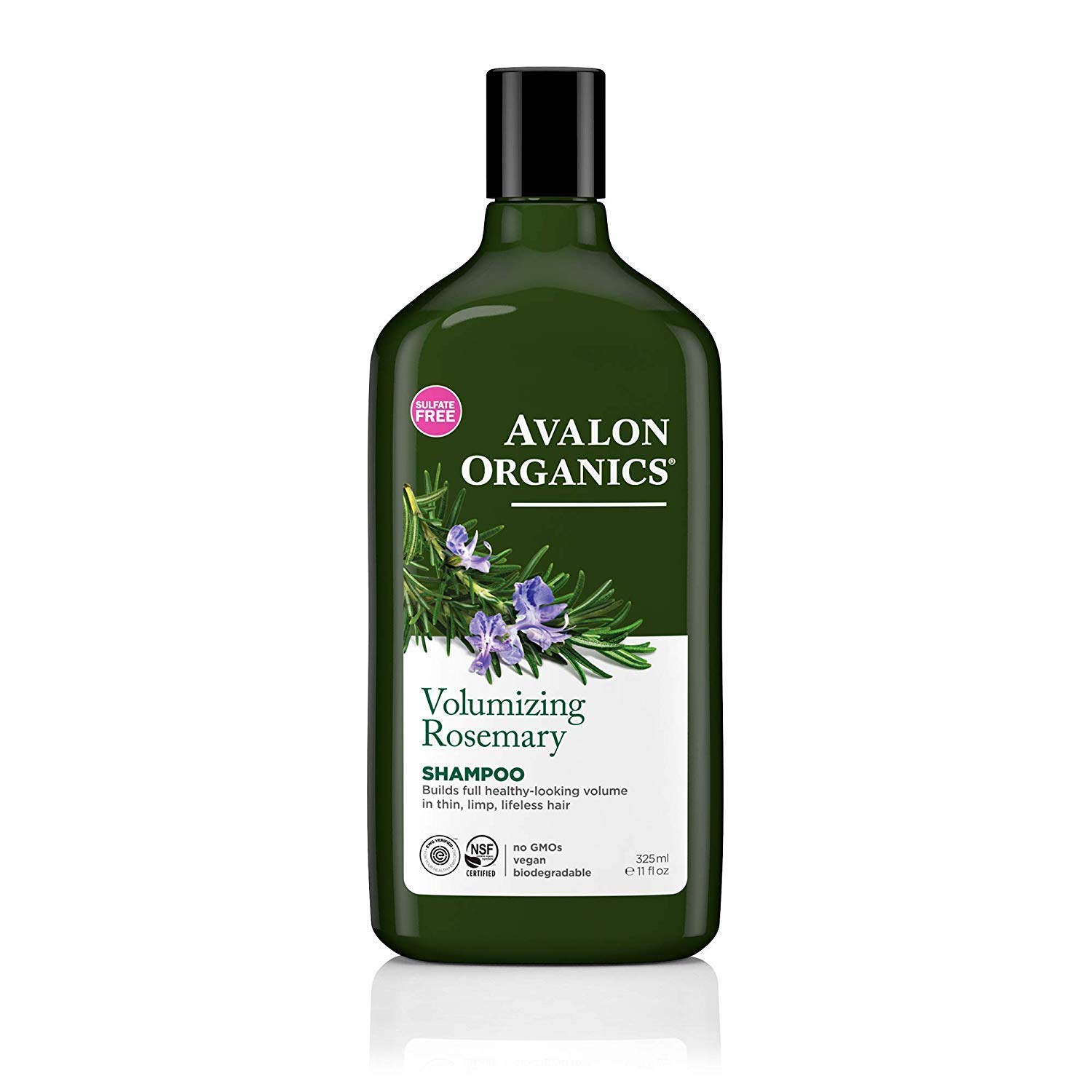 This rosemary shampoo made by Avalon will boost your hair's volume, which I simply love since I've always suffered from very straight and fine hair. It's an organic product that will thoroughly cleanse your scalp and hair. By the end of the wash, once your locks get dry, you will enjoy having full and volumized tresses.
It's formulated with both essential oils and organic botanical extracts. These two ingredients will nourish and moisturize your hair locks, and, since it's free of chemicals, you will know for sure that this product is safe to use, even by those with sensitive skin.
Pros
It's a certified organic shampoo;
This is a climate-friendly hair care product;
It contains vitamin E and chamomile, both of which prevent scalp buildup and strengthen your hair;
Your locks will look smooth and shiny after washing them with this product.
Cons
A few users said that this shampoo doesn't really lather well;
Another client mentioned the watery texture of this product.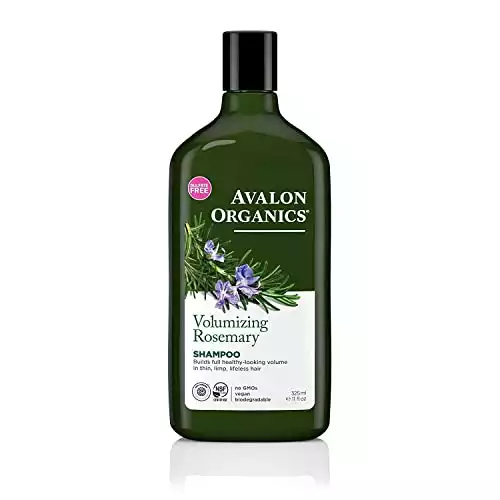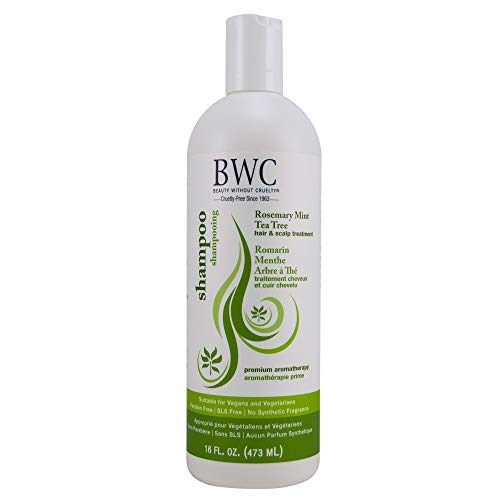 This BWC shampoo relies on three main ingredients: rosemary, tea tree extract, and mint. All these ingredients are safe and natural, so you can easily use this shampoo on a daily basis if you want. Other amazing compounds that helped to formulate this product are plant extracts, essential oils, vitamins, and sea minerals.
It's an affordable shampoo that's marketed in a simple bottle, but it's highly effective. With this rosemary shampoo, it will be much easier for you to manage and detangle your untamed hair locks. It's said to fight against oily hair, but it doesn't dry your skin.
Pros
It's made with natural and safe ingredients;
The smell of this shampoo is a very pleasant one;
It's a refreshing formula that will alleviate symptoms of an itchy scalp and dandruff;
It's less expensive than many other similar products;
Your hair and scalp will be deeply nourished and cleansed, without becoming dry.
Cons
I wasn't able to find any serious negative reviews about this shampoo. Only a couple of reviewers have expressed their concern regarding some of the product's ingredients. Others said they like the way this shampoo works on their hair, but that it isn't their favorite alternative.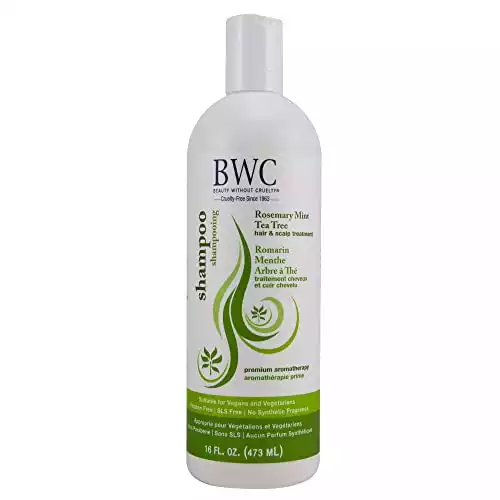 BWC Rosemary Shampoo | Amazon
BWC Rosemary-Mint-Tea Tree Shampoo is a special, plant-based formula that thoroughly cleans your hair while promoting a healthy-looking scalp. Nature's vital botanicals and pure premium aroma-therapeutic essential oils stimulate, clarify and refresh.
Buy at Amazon.com
We earn a commission if you make a purchase, at no additional cost to you.
08/03/2023 10:47 pm GMT

Best Rosemary Shampoo Guide – Finding the Best One for Your Hair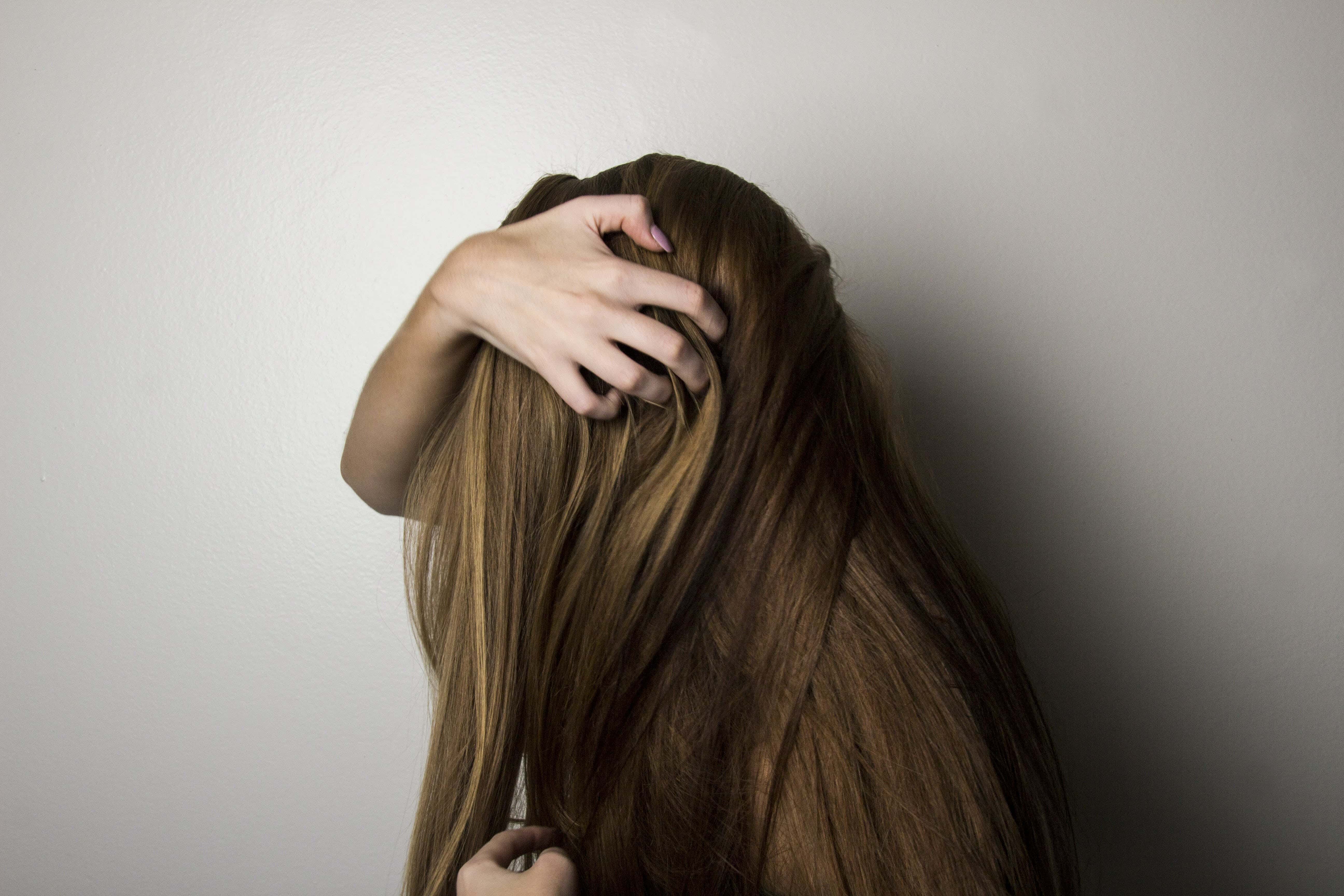 I've already mentioned, in the beginning, that a good rosemary shampoo is one that's free from chemicals, made with natural and mild ingredients, and that has a high level of efficacy when it comes to refreshing your scalp and boosting hair growth. Let's see what other aspects you should consider when purchasing this type of hair care product.
Know Your Scalp
If your shampoo doesn't meet the unique requirements of your scalp, it will not deliver your desired results. If you choose correctly, you will benefit from an effective crown cleansing. For healthy and thick hair, you must first take care of your scalp, since your hair roots start within it.
Some cases are more complicated than others. For instance, there are people who have dry hair tips but deal with oily scalp issues. In that case, one must use a shampoo that targets one's scalp problems and then apply a moisturizing hair conditioner only on the ends:
For a normal scalp, all you need is a pH-balanced shampoo;
Those who have oily scalp should not wash their hair every single day, especially if most shampoos will eventually dry their scalp. Dryness further leads to increased sebum production, hence greasy scalp. I'm telling you, this is a frustrating vicious circle, but, the good news is that you can end it, with the right kind of hair care products. Get rid of the hair conditioner, use mild shampoos, and wash your hair with clarifying shampoos, from time to time;
If your scalp is dry, you should opt for very gentle formulas, hydrating and nourishing shampoos, products that retain your hair's natural moisture. Also, avoid strengthening and sulfate-based shampoos because they will dry your scalp even more.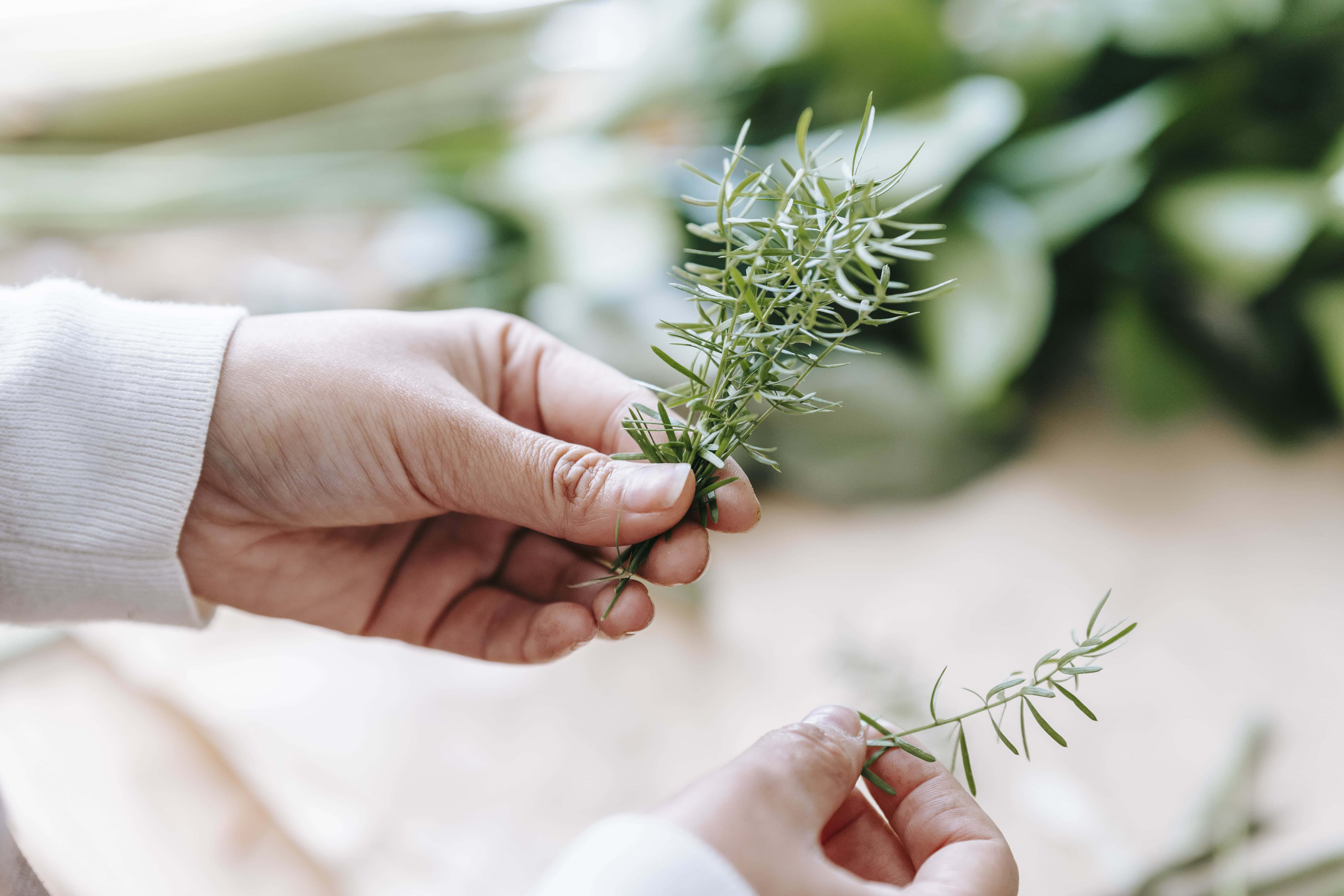 Read the Label
It's always wise to read the label of any product you're about to purchase, including shampoos. You should aim to buy hair care products that are made with natural, safe, and hypoallergenic ingredients. Moreover, stay away from those shampoos that contain harsh and harmful chemicals like parabens, silicones, and sulfates.
Take a moment to read the whole label, including the fine print.
Opt for the Proper Formulation
Choose those rosemary shampoos that contain other compounds that complement the main ingredient. Rosemary works better with certain ingredients, and it might not be as effective when paired with other substances. For example, for a very refreshing and cleansing effect, you should focus on shampoos that contain rosemary, peppermint, and green tea, or tea tree oil. When put together, these compounds also have healing and soothing properties.
Know Your Hair's Structure
Straight hair has different needs than curly hair. Each hair texture and structure are unique; they behave a certain way, and they must be treated with suitable products:
Curly hair will get frizzy and tangled a lot quicker than straight hair. So, pick a hydrating and moisturizing shampoo, one that will tame and detangle your stubborn curls;
Straight hair needs a shampoo that locks its moisture in it and protects those silky smooth hair cuticles;
Colored or damaged hair requires special attention, and a hair-strengthening rosemary shampoo that's enriched with protein is the way to go. One that contains amino acids and soy extract is the ideal choice. Stay away from shampoos that have sulfates in their formulas;
My personal go-to option will forever be a rosemary volumizing shampoo because my fine hair needs that boost to create the illusion of fuller and thicker locks. In that case, I try to purchase shampoos that are gentle on my skin and don't have a very creamy texture.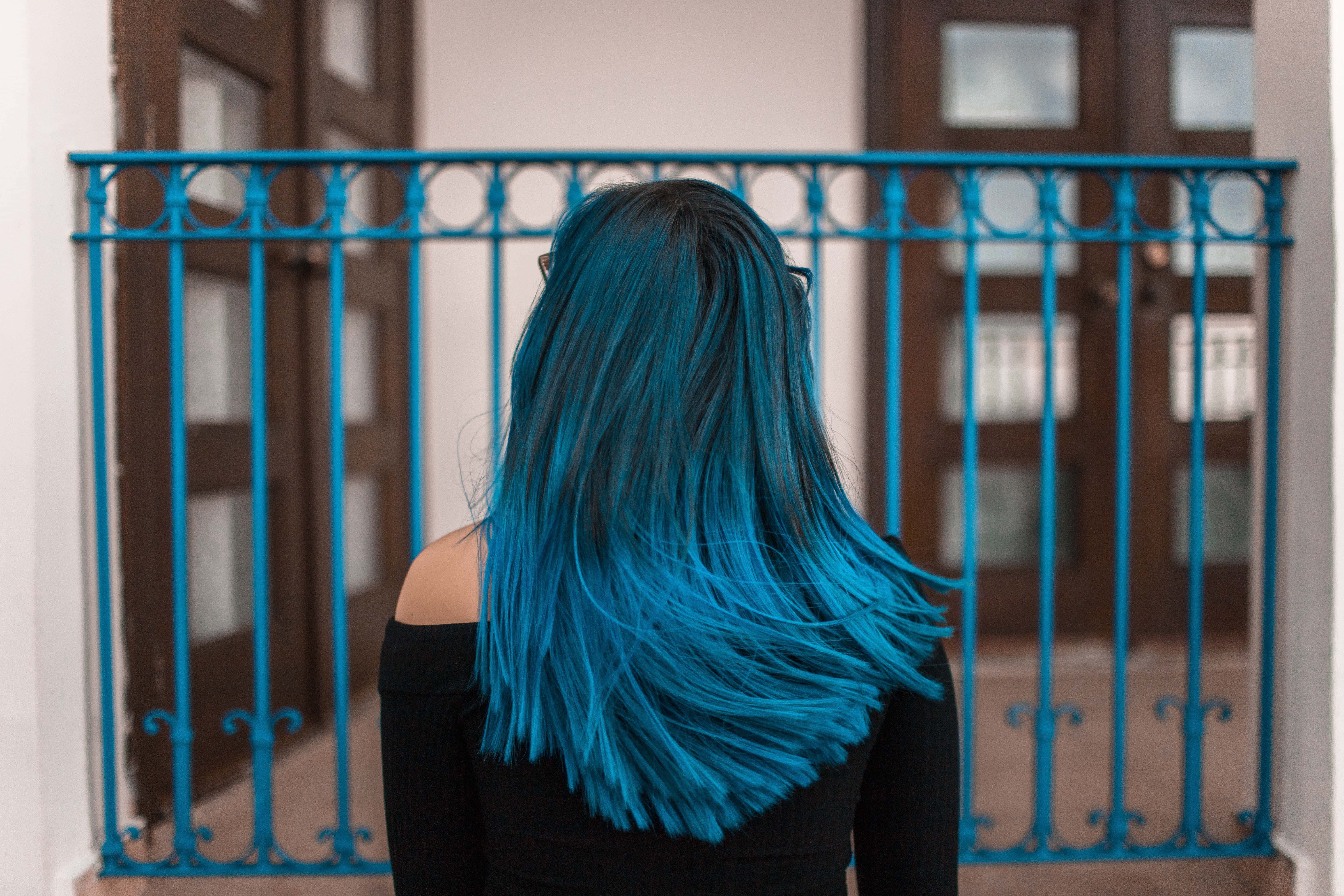 Best Rosemary Shampoo Guide – Frequently Asked Questions
Question: Are Rosemary Shampoos Good for Your Hair?
Answer: Rosemary is a member of the mint family, just like other herbs such as sage, peppermint, and lavender. It is said to have a lot of amazing benefits for your hair, including boosting hair growth, improving your hair's texture, increasing its shine, etc. Also, it has powerful antibacterial properties, which will cleanse and refresh both your scalp and hair.
Question: Does Rosemary Shampoo Thicken Hair?
Answer: It's well-known that rosemary oils can and will lead to healthy hair growth. Moreover, several studies have shown that this ingredient is often associated with thicker hair. So, yes, rosemary might thicken your hair locks.
Question: Is There a Perfect Rosemary Type for One's Hair?
Answer: Yes, there is! It is believed that, of all types of rosemary, the most beneficial one is the ct. verbenone. This is an amazing essential oil that some rosemary shampoos are infused with, and it's linked to nourishing and healing properties.
Best Rosemary Shampoo Guide – Bottom Line
I don't know about you, but I personally consider rosemary shampoo to be a blessing. Even my husband says how wonderful this type of product is, especially for those who deal with scalp issues such as redness and itchiness.
Of all the products listed above, my favorite one is the Avalon volumizing shampoo because it makes my hair look fuller. I don't know if you're aware of this, but I've also mentioned other articles of mine that I am always dealing with fine and dull hair, and I am always craving for a volume boost.
But, to be frank, I also like the way the BWC rosemary shampoo works in terms of scalp and hair refreshment. I also love the fact that this product wasn't tested on animals.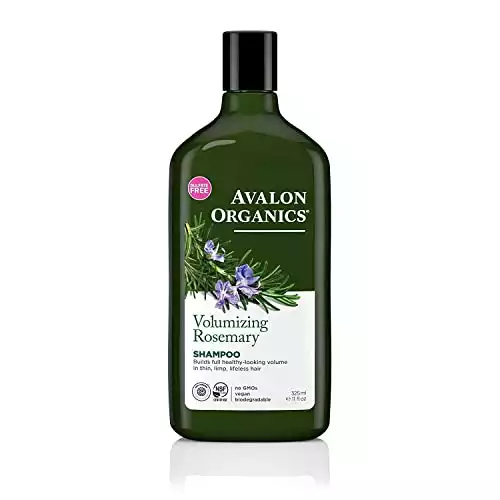 Looking for more interesting readings? Check out: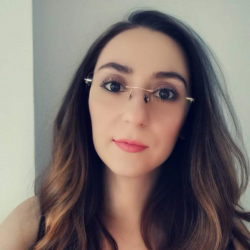 Latest posts by Alexandra Gavrilescu, Home Hair Product Tester
(see all)