In today's Bumble and Bumble Invisible Oil mask review, I'll reveal everything there is to know about one of my favorite hair care products. I love the Bumble and Bumble brand and all the products I've tested. The Invisible Oil mask is meant to give you deep conditioning and intense nourishment that can last up to three days. But, I'll detail all these aspects in the following sections.
My hair can quickly become dry, although my scalp is prone to excess sebum and oils. So, I was curious to see the outcome after using this hair mask.
Bottom Line Up Front!
While I don't care much about its thick consistency, I love the Invisible Oil hair mask made by Bumble and Bumble. Its results are amazing. It leaves my hair feeling soft, smooth, detangled, and frizz-free.
My experience with this BB hair mask is similar to the ones I've had with other BB hair care products. So far, all the BB items I've tested met or even exceeded my expectations, and this hair mask is no exception.
It says on the label that the mask nourishes one's hair for up to three days. I don't know what to say about that. It did nourish and condition my locks, but I don't think the effect lasted that long.
Ingredients
Like all the other BB products I've tested until now, this hair mask is also made with high-quality and effective ingredients that soften your hair, making it much easier to detangle. In addition, the formula reduces frizz, adds shine, and nourishes your locks. However, according to the label, it's a weekly hair mask, so you should only use it as per this guideline.
The Hairdresser's Invisible Oil mask contains the following compounds:
Coconut oil – heals damaged hair and nourishes your locks;
Shea butter – softens and moisturizes your hair while repairing split ends;
Gardenia flower extract – acts as a natural antioxidant, and it's gentle on sensitive scalps;
Safflower seed oil – boosts circulation and promotes hair growth;
Sweet almond oil – makes your hair smoother and easier to detangle;
Kernel oil – adds shine and prevents dandruff;
Macadamiaseed oil – makes your hair healthier and stronger;
Grape seed oil – moisturizes your locks and reduces frizz.
Moreover, this BB mask doesn't contain parabens, mineral oils, or phthalates.
Features
One curious thing about this hair mask is its thickness when I squeeze it into my hand. However, despite that consistency, once I spread it on my hair and sank in, the texture became curiously thin and flowy, almost watery. Here are some other features I've noticed about the Hairdresser's Invisible Oil mask:
It's great for all hair types, from fine and straight, like mine, to thick and curly;
It's versatile and suits all hair textures;
The mask has a thick consistency when I take it out of the tube, but then it mellows down when I apply it to my hair;
It smells pretty nice, although other BB products have better perfumes;
This mask is white, and if you first apply it on your palms before spreading it on your hair, it will become easier to use;
It softens your locks and reduces frizz, helping you eliminate flyaways.
Whether or not your hair is color-treated, if you deal with dry and damaged locks, this BB hair mask is that deep nourishment you've been waiting for. After washing your hair with it, combing your tresses will feel like a walk in the park. However, don't fret if you think this product doesn't work for you. You should leave it on for about 20 minutes if you have parched hair. My hair is pretty healthy and not very dry, so I only leave the mask on for 2-3 minutes and then rinse it off.
Size and Packaging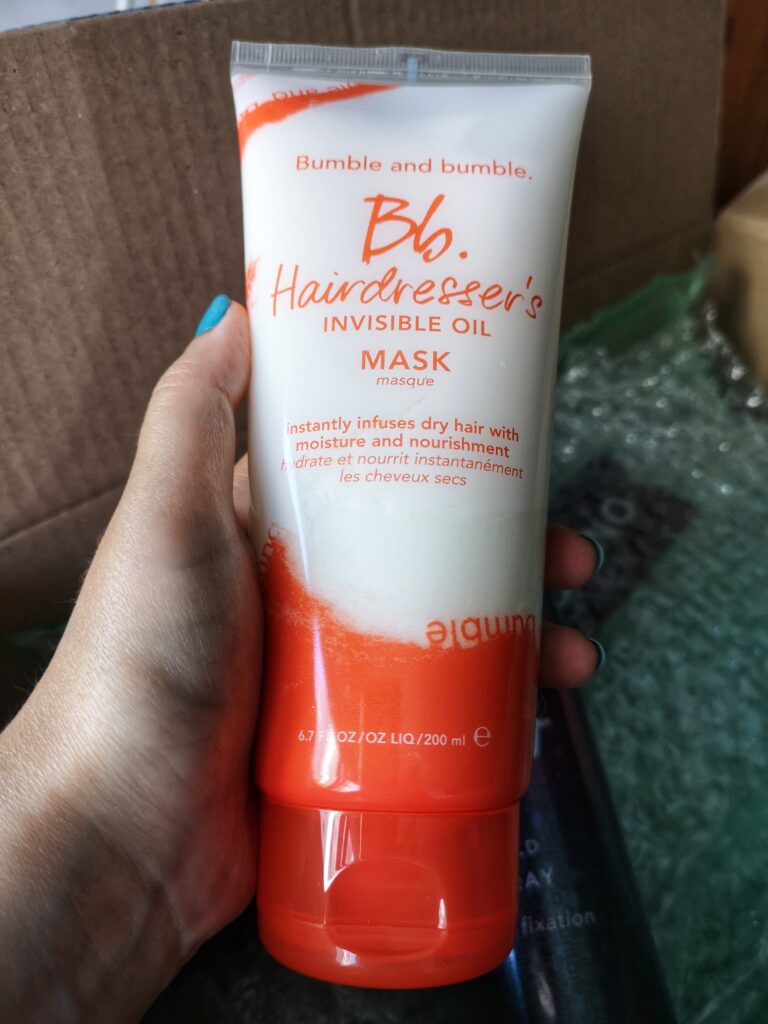 The size of the mask tube is medium and large enough for my needs, although it's yet to be seen since the mask is very thick. That type of consistency makes me feel the need to apply a higher amount of a certain product.
I hope it will last and won't run off quickly. The container has 200 ml or 6.7 ounces of hair mask. Moreover, the product is white and as thick as toothpaste. There's also a smaller tube if you only want to test this product without really committing to it.
I'm not impressed with the design of the bottle. It features a mix of two standard colors: white and orange. One thing that bugs me about the label and packaging is the large number of words featured on the tube. It can be distracting. I preferred two or three targeted words focusing on this hair mask's results and effects.
Price & Where to Buy
This BB hair mask is expensive but delivers on its promises. The small container of only two ounces costs $16, whereas the larger tube of 6.7 ounces is sold for $43. I opted for the larger version. But, this was something I expected since all Bumble and Bumble products are expensive and positioned as premium hair care items.
There are many places, both physical stores and online platforms, where you can buy this product. I got it from Sephora, but you can order it from the brand's official website. You can opt for a one-time purchase or select the auto-replenish feature, which means you'll receive the same product automatically as frequently as once per month.
Ulta, Amazon, and Walmart are other online platforms where you can buy this hair mask.
Using the BB Invisible Oil Mask
Before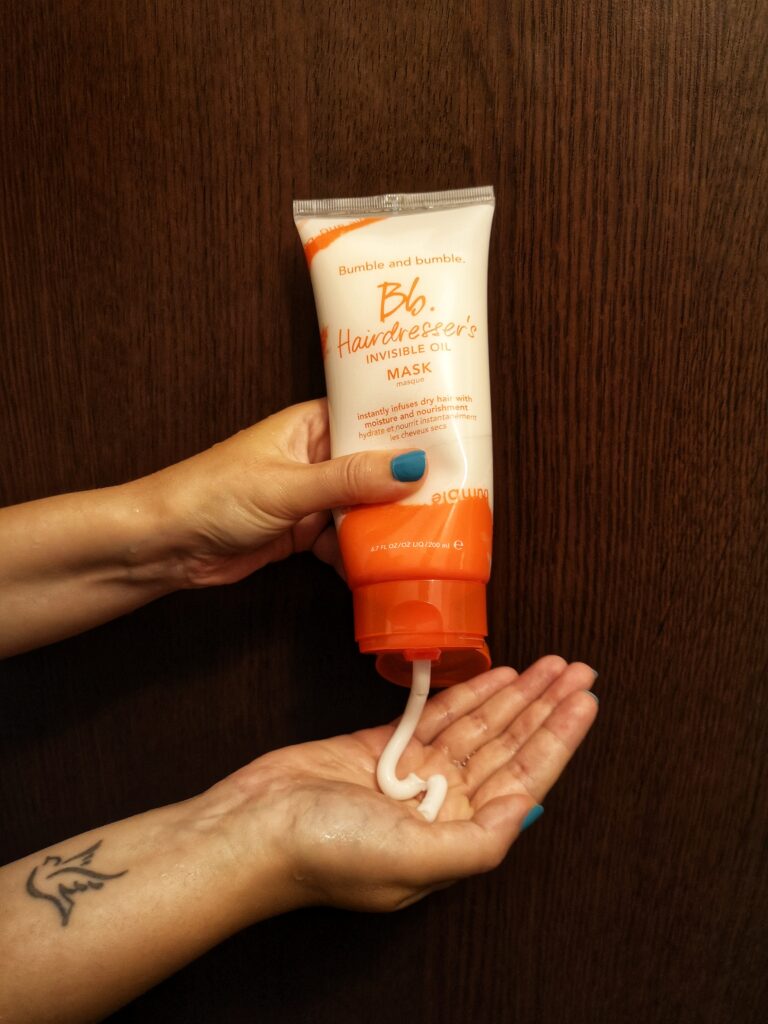 I liked the tube's size, which is a medium one. Of course, you can always opt for the smaller version, but I'm not a fan of tiny containers or samples regarding beauty and hair products. I opened the tube and smelled it, but the fragrance didn't impress me. What intrigued me was the mask's thick consistency. I had to squeeze the tube hard enough to get the product out.
By now, my BB-related expectations were huge, so I wanted to see impressive results with this hair mask. Truth be told, my hair isn't dehydrated. It's a bit dry around the edges but slightly oily around the scalp. So, before using this product, my main concern was whether or not the mask would make my hair greasy.
Maybe some of you prefer to apply the mask on damp hair, but I've always used it on wet hair in the shower so that I can rinse it off after a couple of minutes.
During
I was surprised by how thick this hair mask was. If you think that Bumble and Bumble hair conditioner is thick, you've never used the Invisible Oil hair mask. It reminded me of a face night cream. It felt a bit weird when I applied it to my hair. Because of its thick consistency, it can be tricky to spread the mask evenly all over my hair, but I did it.
I left it for a couple of minutes (no more than three), then rinsed my locks with plenty of water. I was afraid my hair would be full of product residues because of its unusual thickness. But fortunately, that wasn't an issue with this BB hair mask. Another thing I've noticed was its mild and pretty decent smell. Still, the perfume didn't impress me since it reminded me of artificial fragrance.
While the repairing BB conditioner I've used before, the mask had a more pungent smell. However, it was much more pleasant than the one of the Invisible Oil mask.
Overall, it's a pretty decent fragrance that's not a deal-breaker for me. One thing I appreciate about this company is that each BB product line features a unique scent. For example, the thickening line has a specific perfume; the repairing line comes with a different scent, and so on.
While this mask isn't oily, if you apply it on your damp (not wet) hair and your hands dry, you might feel like an oily layer on your skin. But fortunately, that doesn't translate to your hair.
After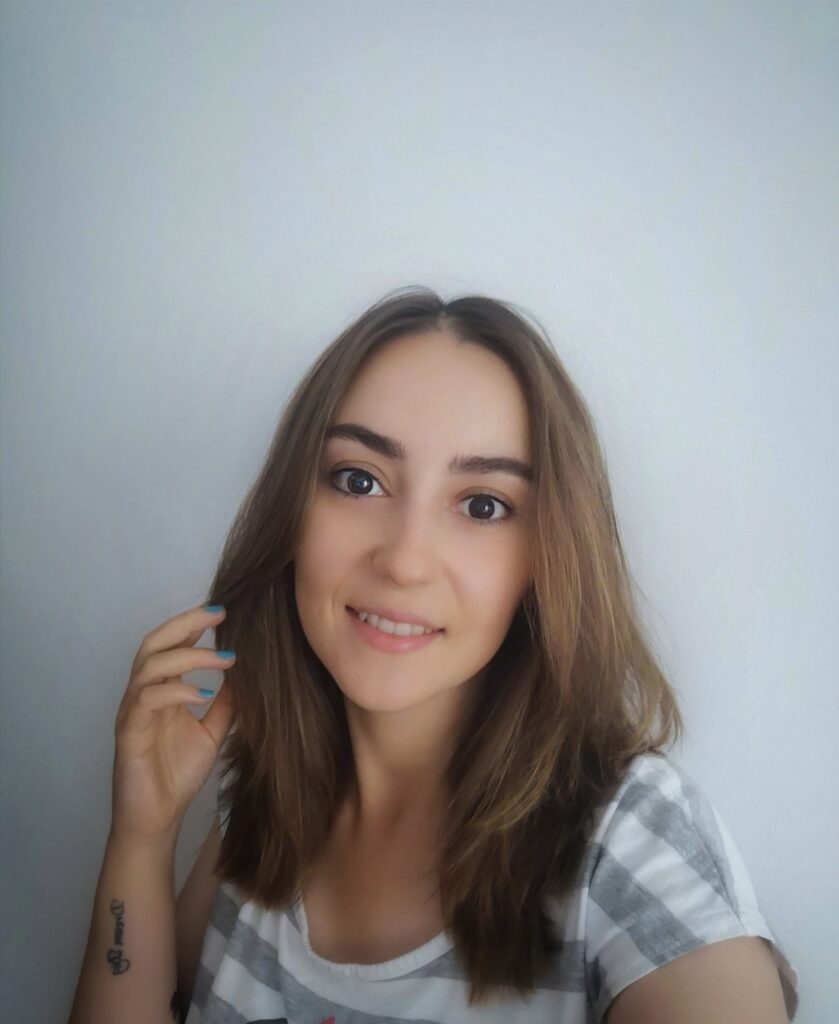 As you can see, my hair looked awesome after using the Invisible Oil hair mask. It felt so smooth and lightweight, flowy, with just a tad of extra volume, which I appreciated even though the product isn't meant to boost volume. Moreover, my hair color was protected and didn't fade away after washing my locks with this mask.
I loved how my hair smelled in the end, but I think that was the combined result of the BB Bonding conditioner and the hair mask. All in all, I felt my locks conditioned and moisturized. They felt well-hydrated and looked super healthy and bouncy. So, the mask is made with so-called invisible oils for a reason: they don't overwhelm your hair and don't weigh it down.
What I Liked
It leaves my hair smooth, soft, and detangled;
It makes my locks easier to comb and style;
I didn't have any residues left on my scalp after rinsing this mask off;
It's a high-quality product made with premium ingredients;
It's cruelty-free;
My locks felt lightweight, soft, and bouncy after using the mask.
What I Didn't Like
I didn't fancy the smell – it's pretty decent but not as impressive as the one featured by the BB Bonding hair conditioner. The scent of this hair mask has a tint of artificial perfume in it, and it's not long-lasting either;
It's an expensive hair care product, but all Bumble and Bumble items are;
The design of the packaging is a bit too plain and dull. They should come up with something more creative;
Because of its unusual thickness, this hair mask can be hard to apply evenly to your hair. But, that only occurs in the beginning, till you get the hang of it. I've used it twice so far, and the second time I squeezed the mask in my palms and spread it on both hands before applying it to my hair. That way, it became a lot easier to use.
Other BB Hair Masks to Consider
Here are some other Bumble and Bumble hair masks you should know about.
Thickening Plumping Mask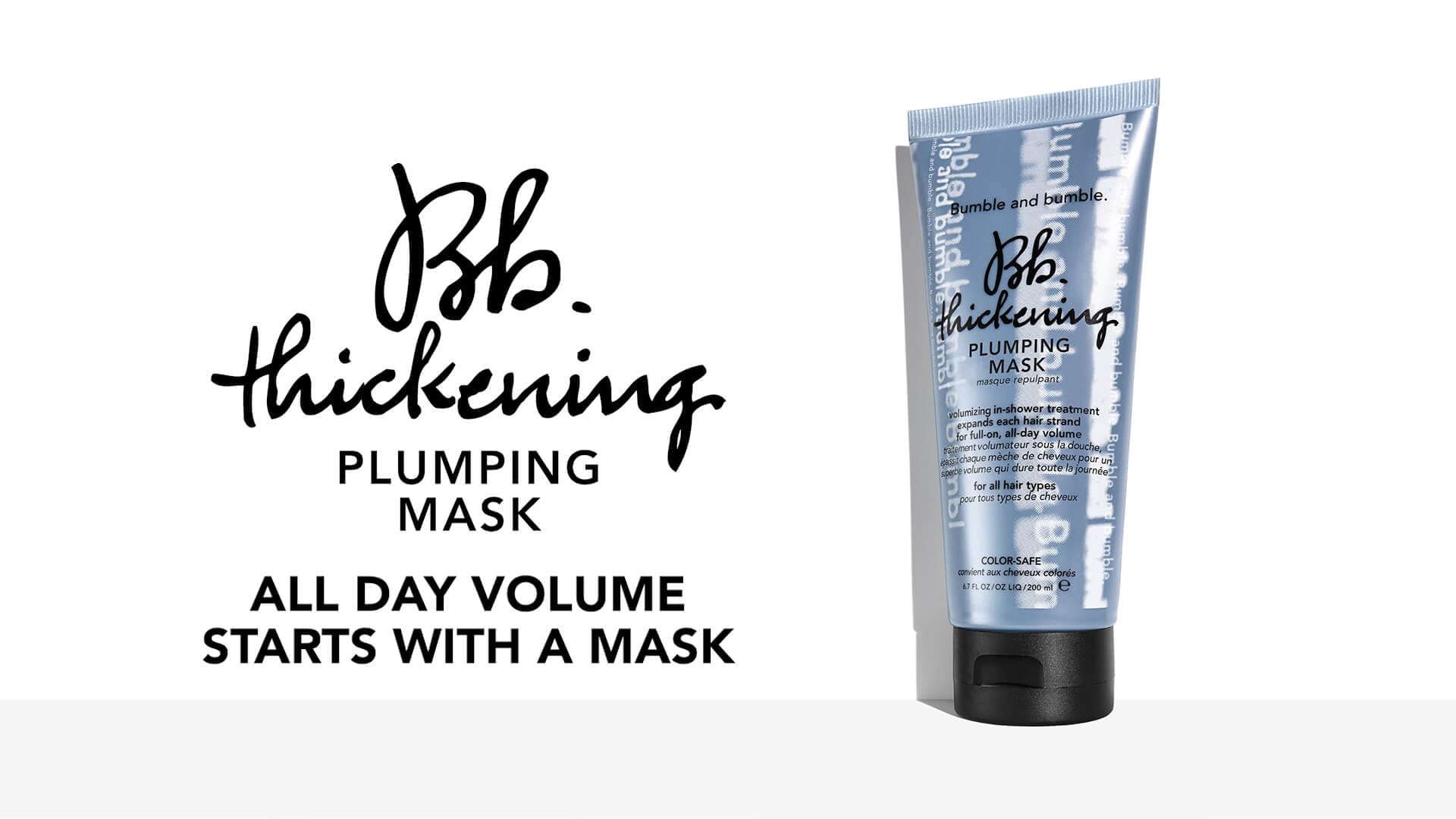 Thickening Plumping mask – You only need two minutes to achieve long-lasting volume. It's used in the shower and has a very lightweight texture. Your locks will look bouncy due to the formula's hydrolyzed rice protein. Although it adds volume, the product won't dry your locks due to its coconut oil infusion.
Curl Butter Mask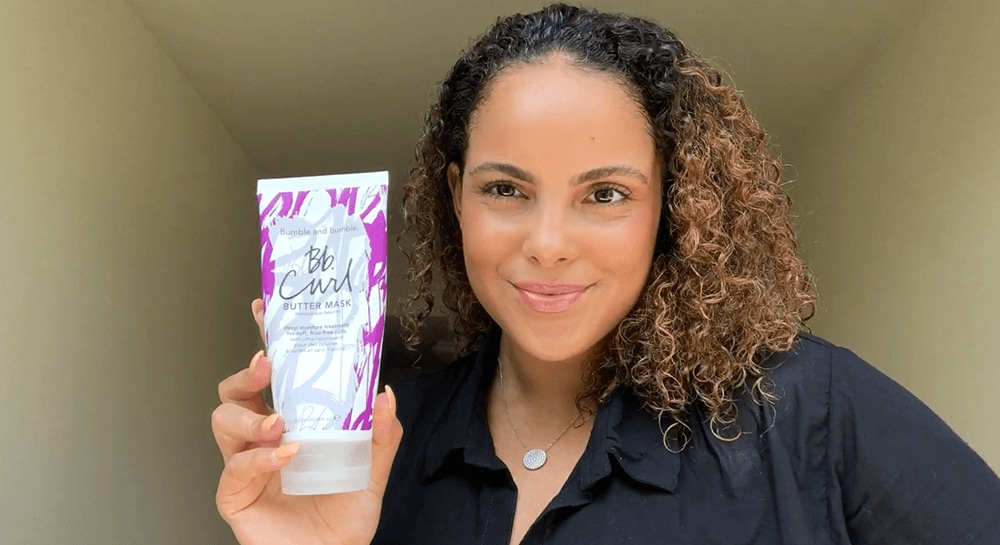 Curl Butter mask adds ultra moisture to thick, frizzy, and coarse hair. But, it also works on wavy and curly hair types. It contains Shea butter, avocado oil, cocoa butter, coconut oil, and Jojoba oil. So, if you want to repair your dry hair with this mask, you have to leave it on for up to five minutes before applying shampoo.
While You Sleep Mask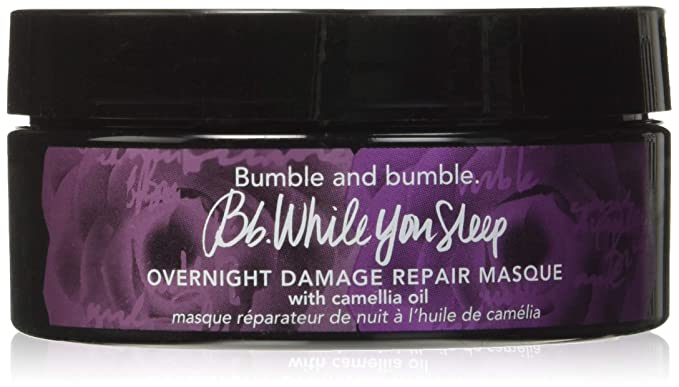 The perfect BB overnight mask that will repair your damaged locks. This is the dream if you want a super quick fix. You'll leave the mask on during the night, and, by morning, your locks will look and feel a lot softer and healthier.
Unlike the other BB masks, this one comes in a jar, just like face cream. In addition, it contains Camellia oil and evening primrose, both of which will repair and soften your locks while also adding UV protection.
Bumble and Bumble Invisible Oil Mask – Main Alternatives
Let's find out some great alternatives to the Invisible Oil hair mask.
Garnier Ultimate Blends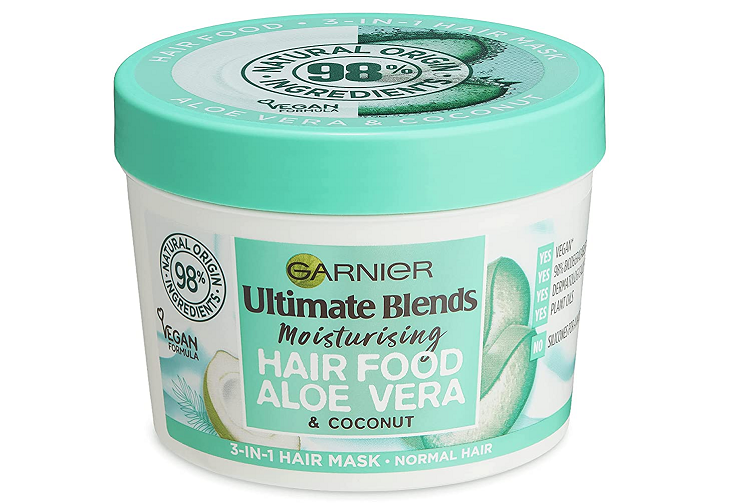 This Hair Food mask contains Aloe Vera and coconut. It's very hydrating and moisturizing. Moreover, you can use it daily since it's lightweight and refreshing. Still, it's not suitable for very oily hair, but great on dry and brittle locks. The container is large, and the scent is fantastic, not to mention it's super affordable.
Amika Soulfood Nourishing Mask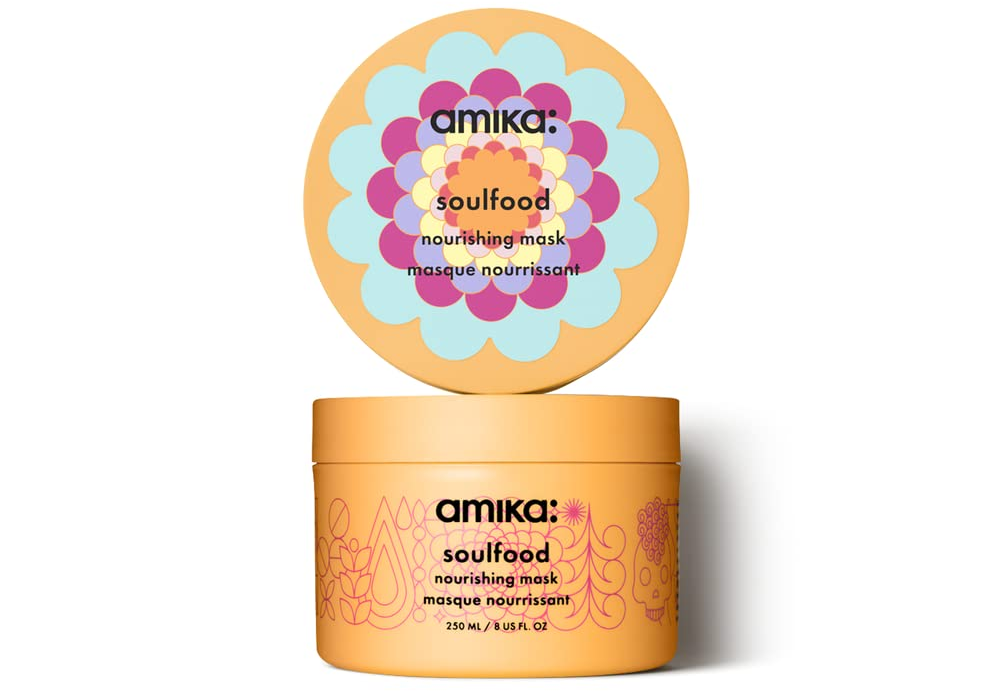 Amika Soulfood Nourishing mask – it's a bit expensive but has stellar reviews. This Amika hair mask is a vegetarian and cruelty-free formula that restores your hair's natural shine and health. In addition, your locks will become bouncier, more elastic, and softer due to the mask's essential oils, amino acids, and vitamin content.
L'Oreal Elvive Total Repair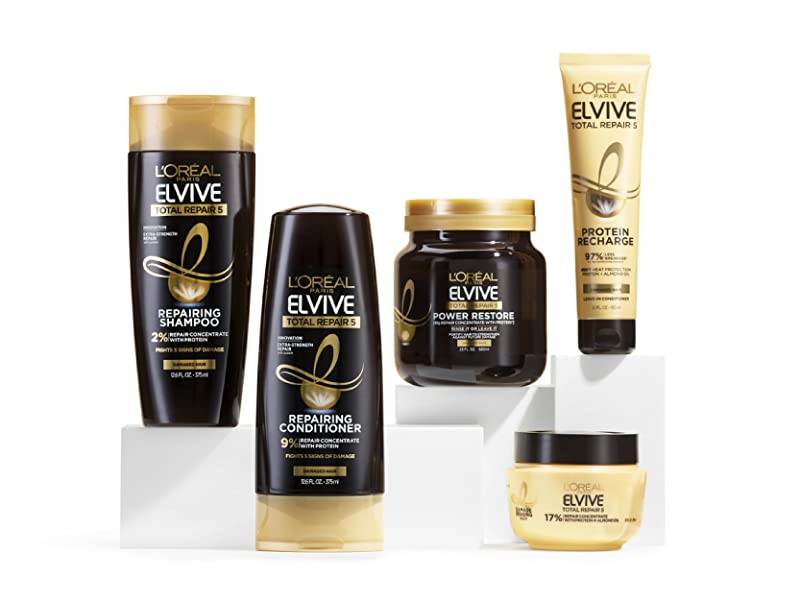 L'Oreal is one of the hair care brands I trust, so I would definitely try this hair mask. It's a rich treatment that deeply conditions your locks. The formula is enriched with protein and almond oil. It's affordable and makes your hair stronger while also repairing split ends.
FAQs
Question: How Should You Use the BB Invisible Oil Mask?
Answer: It depends on how you want to use this hair mask. For instance, if you apply it before washing your hair with shampoo, you should spread it on your dry locks.
Leave it there for up to five minutes before rinsing it off. Those with extra dry or damaged hair should keep it on for up to 20 minutes at a time. I prefer to use it in the shower, after the shampoo and conditioner. I leave it on my hair for a couple of minutes before removing it.
Question: Is the BB Invisible Oil Mask Free of Sulfates?
Answer: I know that this hair mask is free of parabens, phthalates, and mineral oils. I'm unsure if it contains sulfates since I couldn't find this information anywhere on their website or packaging. However, the brand sells the Invisible Oil shampoo that's sulfate-free and smells of peaches.
Question: When Should You Apply the Hair Mask?
Answer: It's best to use the hair mask after you've used the shampoo and the conditioner, especially if the mask is supposed to act as a repairing treatment. Cleaning your hair with a shampoo will remove dirt, grease, sebum, and dust. That will further help the mask sink in inside your hair follicles a lot better. The best way to apply the hair mask is to start from the middle area, not the roots.
Bottom Line
I must say that, even if, at first, I was disappointed by how thick the Invisible Oil mask was, in the end, I was more than satisfied with the results. My hair was amazingly nourished and very soft. I didn't expect it to boost my locks' volume, but it did. I think the company could improve the mask's fragrance and packaging, but I'm pleased with this Bumble and Bumble product.
Therefore, I would recommend it to anyone who asks me for recommendations (and no, I'm not paid by the brand to promote its products; it just happens I like all the BB items I've used until this point).
So, if you deal with brittle, damaged, or dry hair, you should opt for this BB hair mask. I bet you'll notice significant results after the first use. Remember that my hair is a bit dry, but not that damaged. So I can leave the mask on for a shorter period. Otherwise, I would've left it for up to 20 minutes to achieve optimal results.
Looking for more interesting readings? Check out: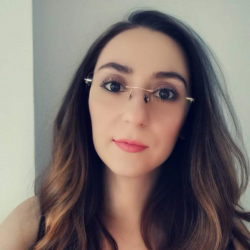 Latest posts by Alexandra Gavrilescu, Home Hair Product Tester
(see all)