I'm not exaggerating when I say that my thin, fine hair is so difficult to style and curl. My straight hair's lack of volume has been my lifelong frustration. So, although I only want volume, curling my locks is the only way to achieve it. I avoid doing that with heat-based tools. Instead, I wash my hair, use non-heat, old-school plastic curlers, and keep them on for a couple of hours.
Therefore, I wanted to test the BB hair spray by applying it to my curls to see if it makes them last longer than similar products I've used before. And the results were surprising. But, you'll find all that in today's Bumble and Bumble hair spray guide.
Bottom Line Up Front!
The Bumble and Bumble hair spray I've tried is called Strong Finish, and I am more than happy with its long-lasting effects and firm hold. I have fine and thin hair, and for this review, I curled it just to see how effective the hair spray would be. So, this was the ultimate resistance and effectiveness test – to try this hair spray on my freshly-curled fine hair. And the results impressed me. It gave me a significant volume boost and stronghold that lasted for hours.
Even the next day, my hair still had plenty of volume and an excellent airy shape, although the curls were gone. I've tried a few styles using the Strong Hold BB hair spray.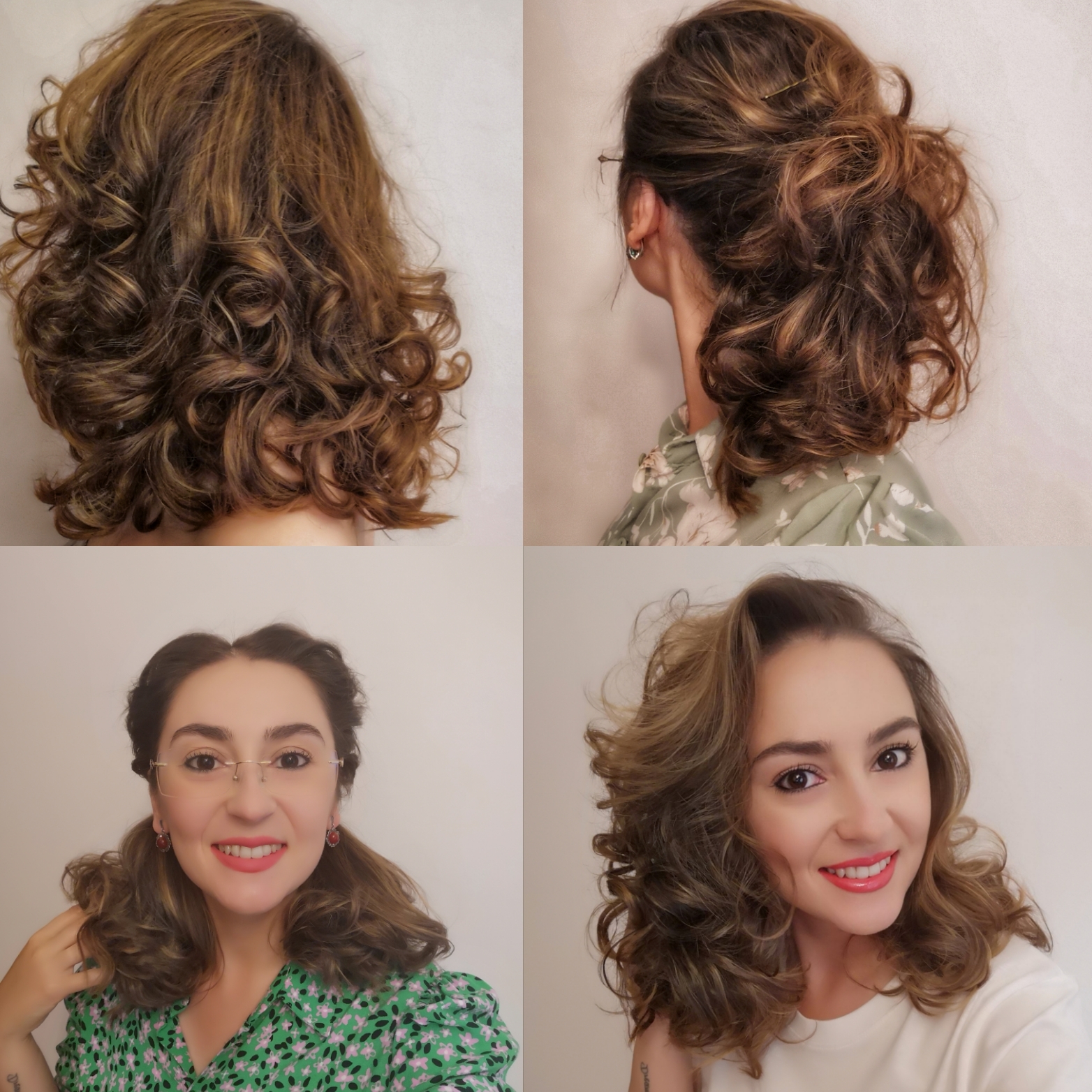 Size and Packaging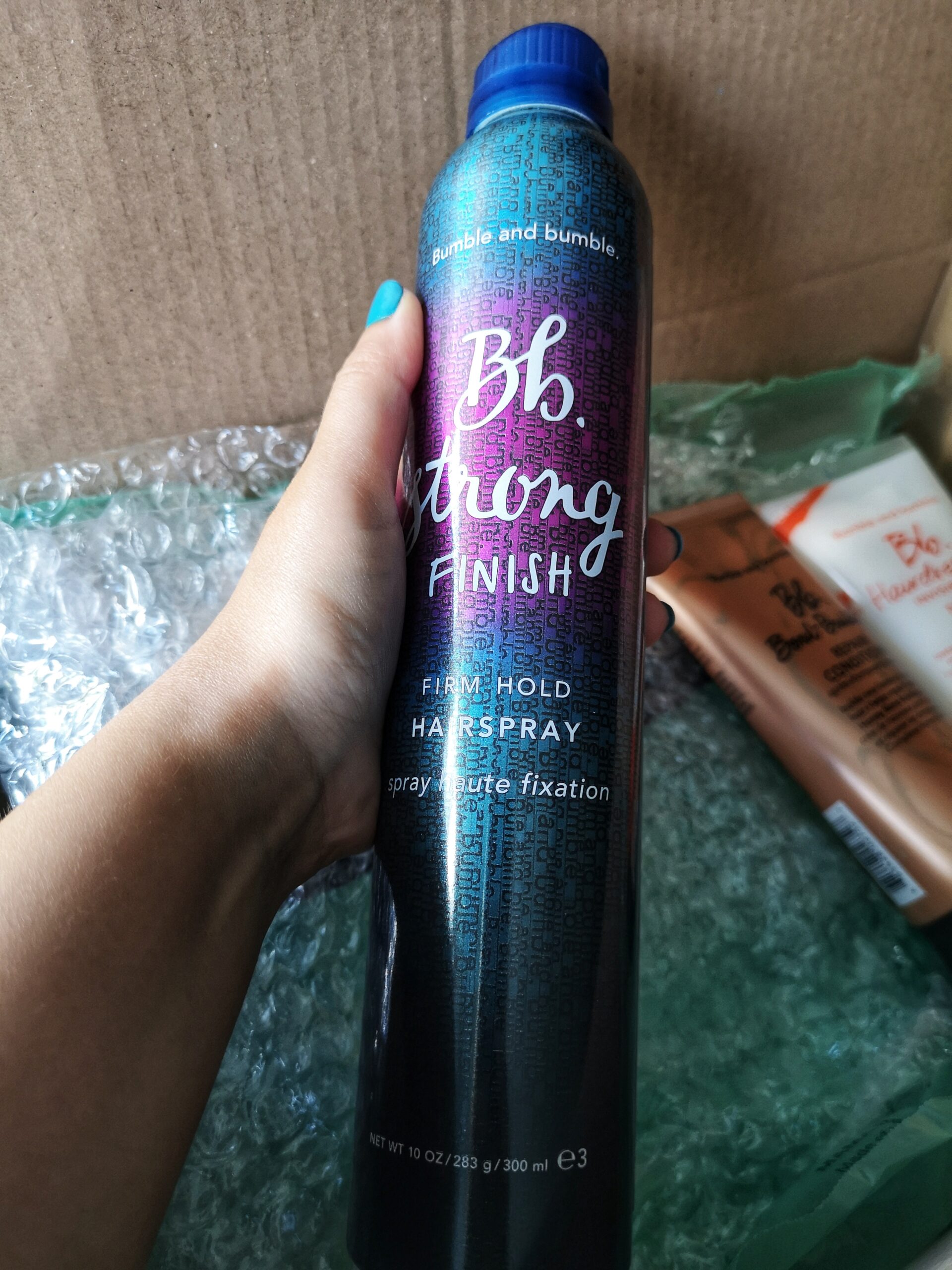 I was intrigued by how tall the bottle of this BB hair spray is. It's longer and thinner than many other hairsprays I've used. The container comes with 300 ml of product. The bottle length wouldn't have bothered me if it weren't for its tricky handling. I have small hands, so it was a bit tricky for me to use this hair spray while also trying to follow the distance-linked guidelines – since it's not advisable to apply hair spray too close to your locks.
While I'm not really into this hairspray bottle's shape and length, I like the packaging design. It features bold, sparkling colors and appealing fonts. It's a great mix of purple and dark turquoise hues, both of which are eye-catching. The BB Strong Hold font is playful and youthful, while the Firm Hold mention right there on the bottle is helpful yet concise information.
Features
The bottle is too long for my small hands. Its length makes it a bit difficult for me to manage the container and spray the product onto my hair from a safe distance of about 25 cm;
I like the colors and fonts chosen for this BB hair spray bottle – they're appealing and youthful;
Unlike other BB products, this one isn't overwhelmed with too much information on the front part of the label;
I also enjoy its fragrance – it's nothing like I've ever experienced with other hairsprays; it reminded me a bit of the lovely perfume the BB Bond Building conditioner has;
I could smell a hint of alcohol when applying the product, but I guess that's something familiar in all hairsprays;
It offers a strong and long-lasting hold – my curls remained unchanged for hours.
Price and Where to Buy
I purchased this product online, ordering it from Sephora. It was nice that it came with a small gift, the BB Invisible Oils styling oil in the sample size version. It arrived pretty quickly. If you're not a Sephora client, you can also buy this hair spray from BB's official website. As a heads-up, this product is pretty expensive, but by now, I'm not surprised anymore when it comes to Bumble and Bumble.
Besides the company's platform, you can also find this hair spray on Amazon, Sephora, and other third-party retailers, including Ulta and Walmart. The price ranges between $34 and $40.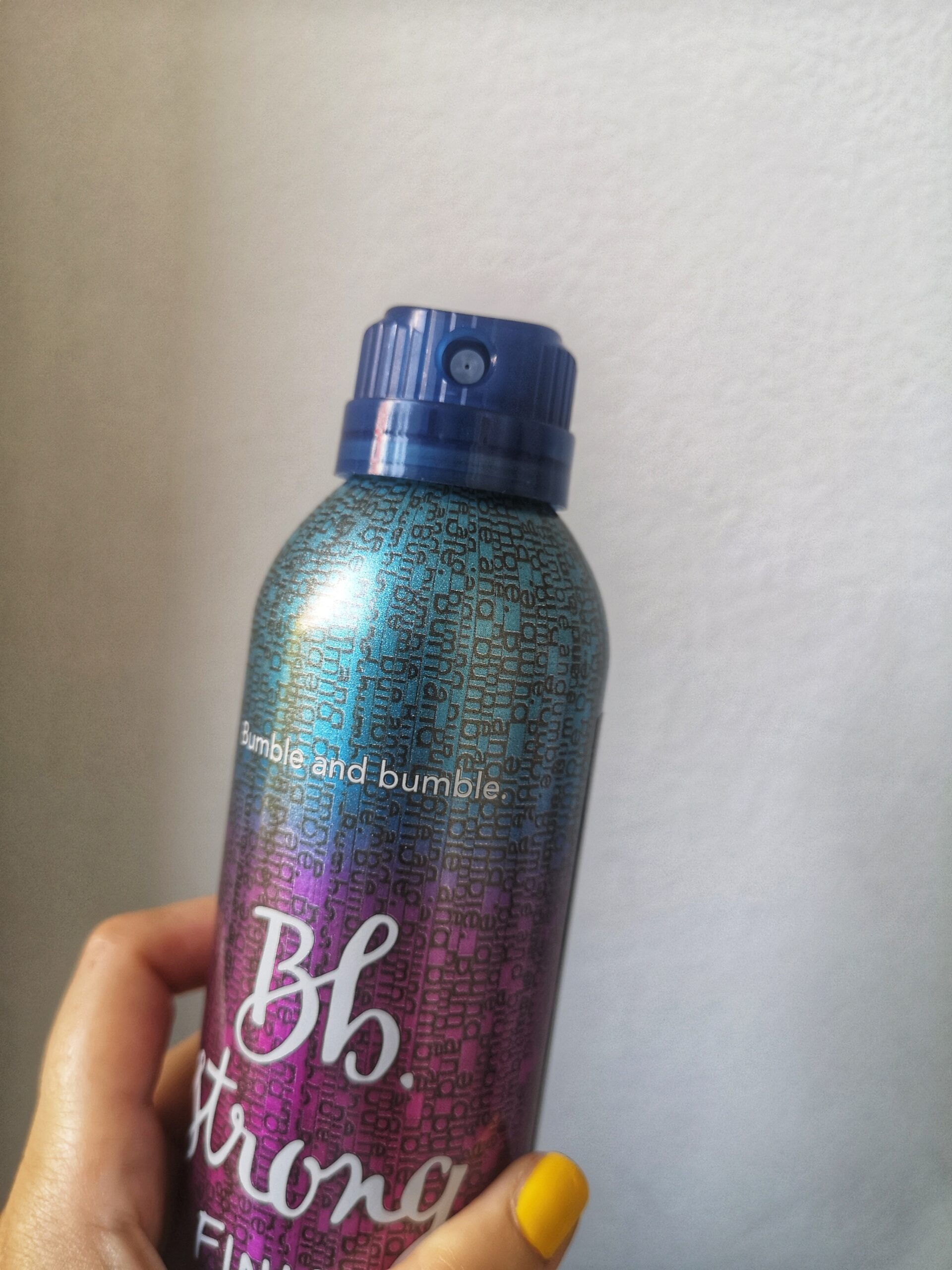 What I Liked
It comes with a Lock-in feature that's highly useful for storage or when I'm on the go, and I want to avoid the product starting spraying on its own in my purse;
It smells nice and expensive – the scent reminded me of the perfume the BB conditioner has;
I enjoy using this product due to its fun and enticing fonts and colors – its design makes me think about disco globes;
I was genuinely impressed by this BB spray holding power – it lasted a long time on my curls;
The results are wonderful – the product does what it says it will – even the next day, my hair still had a lot of volume left;
I could easily brush the excess hair spray off with a comb, so my locks didn't feel overwhelmed with too much product.
What I Didn't Like
I could feel a bit of alcohol in the product's scent, but I guess that's something all hairsprays come with;
I would have liked the bottle to have a smaller size. Its length makes it difficult for me to handle the spray and hold it at the recommended distance from my locks;
At first, when it makes contact with my hair, the spray feels a tad overwhelming (but not too much). Right after I applied it, my locks felt stiff on the outer part, and some were stuck together. But, that all went away after I combed my hair with my fingers;
It's pretty expensive but totally worth it.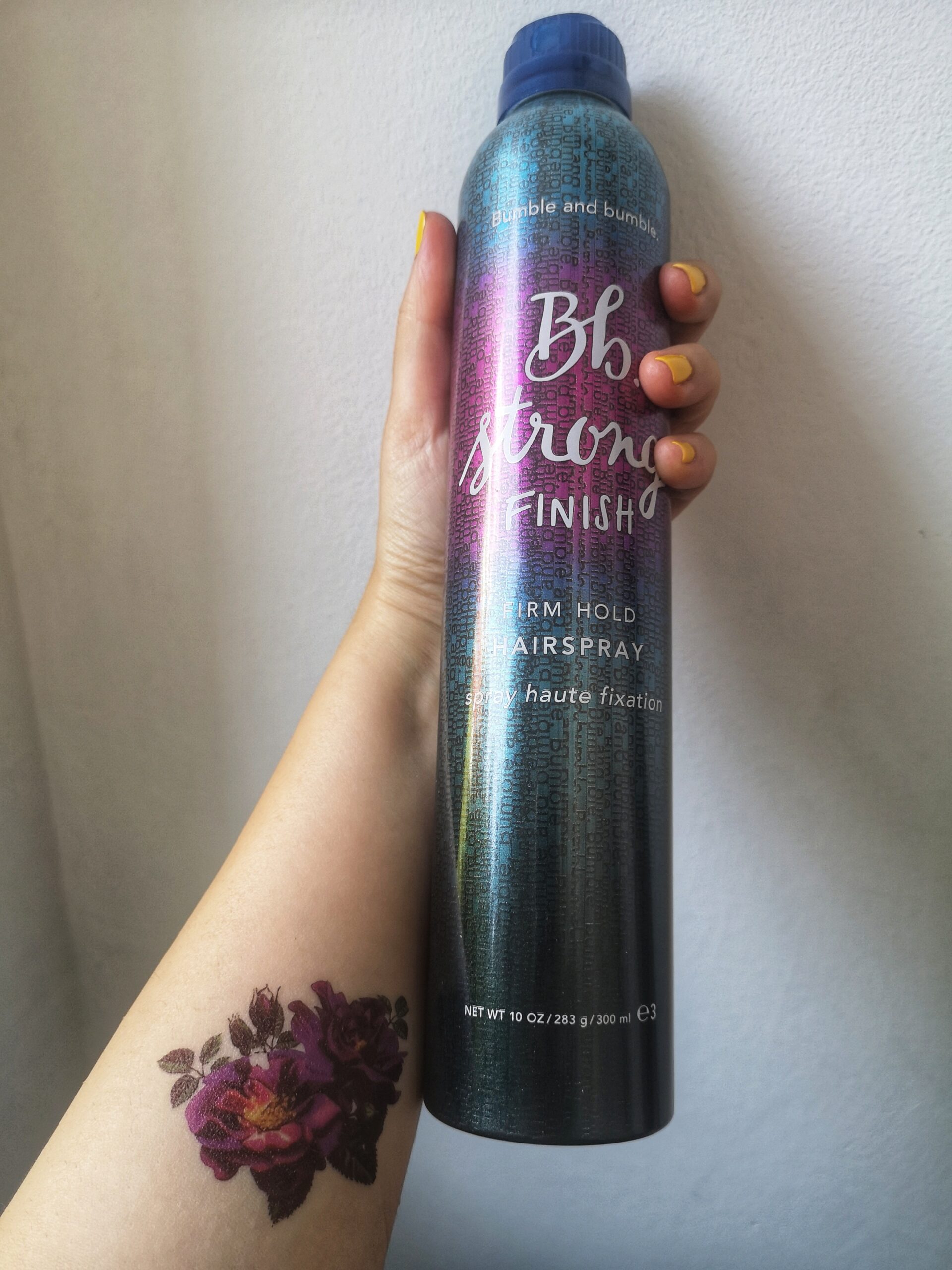 How I Used It
First, I washed my hair with the BB Gentle shampoo and moisturized it with the BB Bond Building conditioner. Then, I used the BB Invisible Oil hair mask as a treatment. Finally, I curled my hair and styled it with the BB Strong Hold spray. I left my non-heat curlers on for about three hours before removing them, combing my hair with my fingers, and styling it with the hair spray.
How It Felt
Let's get down to business and talk about how the hair spray behaved once applied to my curls.
Right After – Ready to Withstand the Wind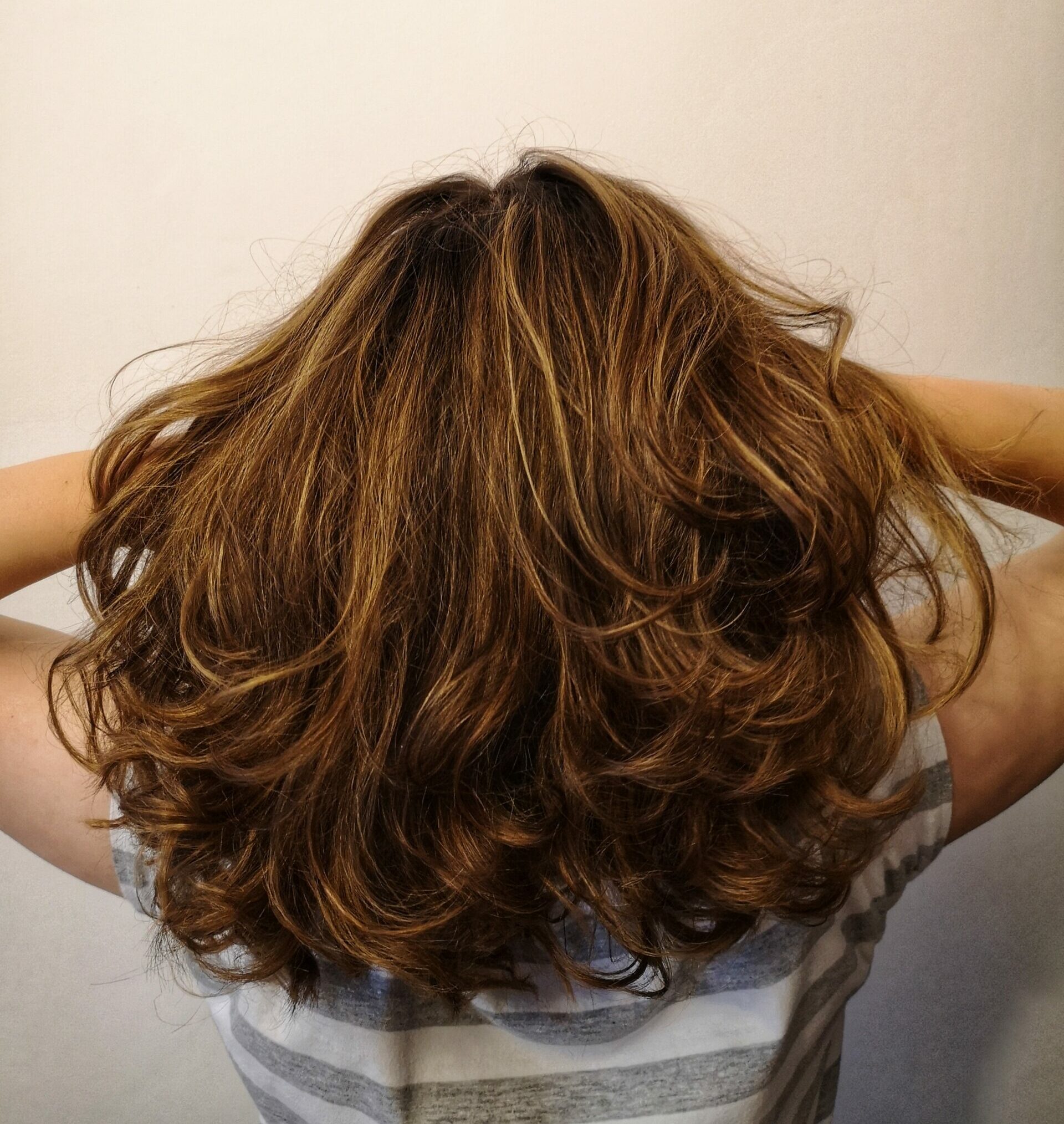 I loved the smell of this hair spray, despite its slight alcohol scent. I managed to apply it, although it was pretty hard for me to hold and handle the bottle from a safe distance since the container was so tall. At first, I felt slightly disappointed when I saw that some of the outer hairs got stiff and stuck together. Then, I tried to brush through my hair using my fingers to loosen up those locks.
That worked and what I achieved was a satisfying result. My hair moved naturally, although not as it would've been without any hairstyle products. But, it wasn't as overwhelming as it had been when I used other hairsprays. So, these two tiny downsides (some hairs becoming sticky and stiff) are no longer an issue if you gently comb your hair after applying this BB hair spray.
After Brushing My Hair – A Sea of Lovely Curls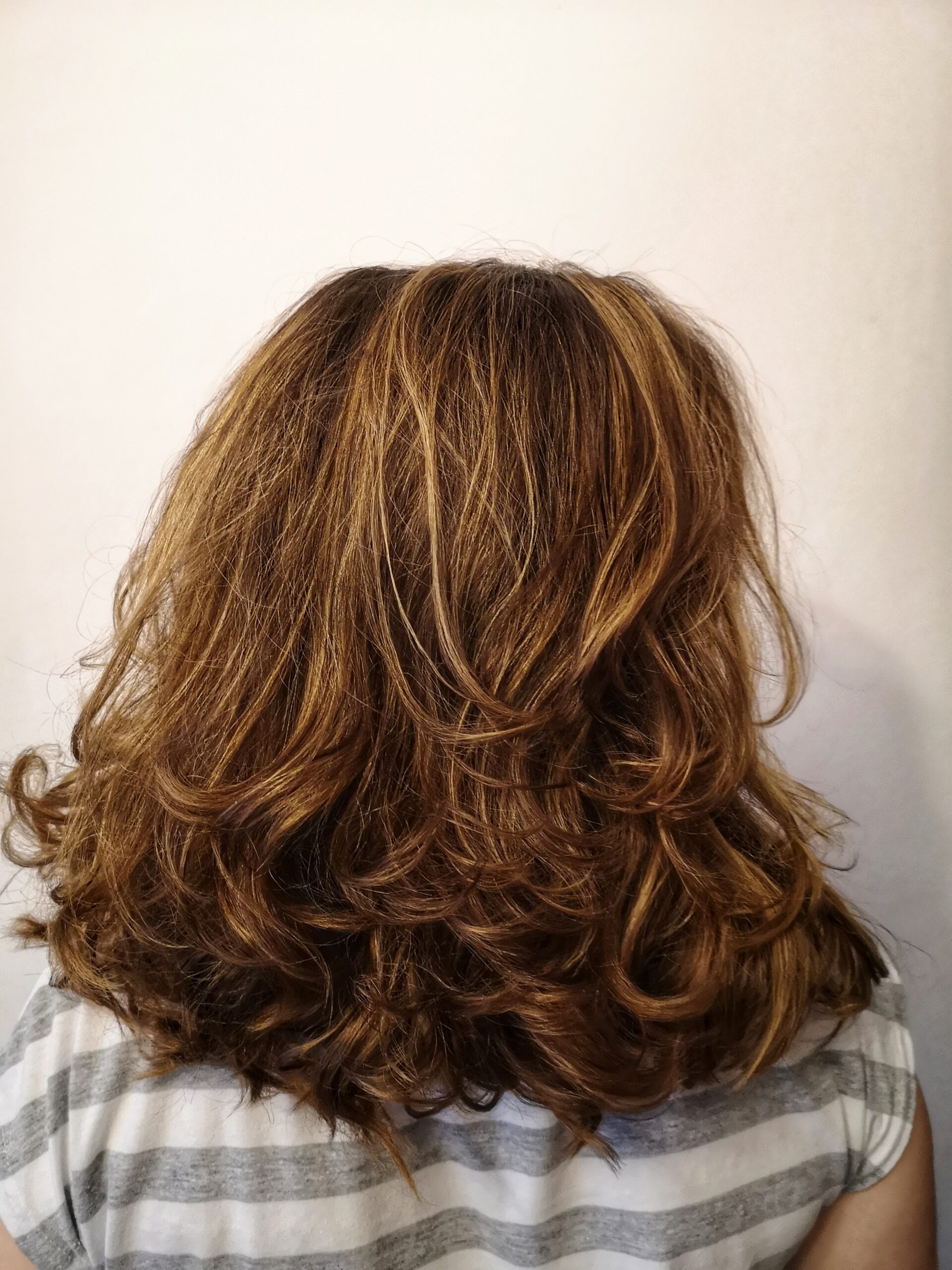 This is a fantastic styling solution because it's a brushable product. After brushing my hair, I didn't lose the volume and its pleasant shape. Instead, I got a lightweight hairstyle that wasn't weighed down. As a result, my locks felt bouncy and light without becoming heavy. Overall, the hair looked natural and effortlessly beautiful.
After combing my hair, the part that felt dry and sticky was removed. So, there was nothing to worry about in that department. Once my hair was styled, I got dressed and went out for the evening. After several hours, I returned home and was impressed with what I saw in the mirror. My hair was still plumped and full of volume, although my curls were looser than before.
The Next Day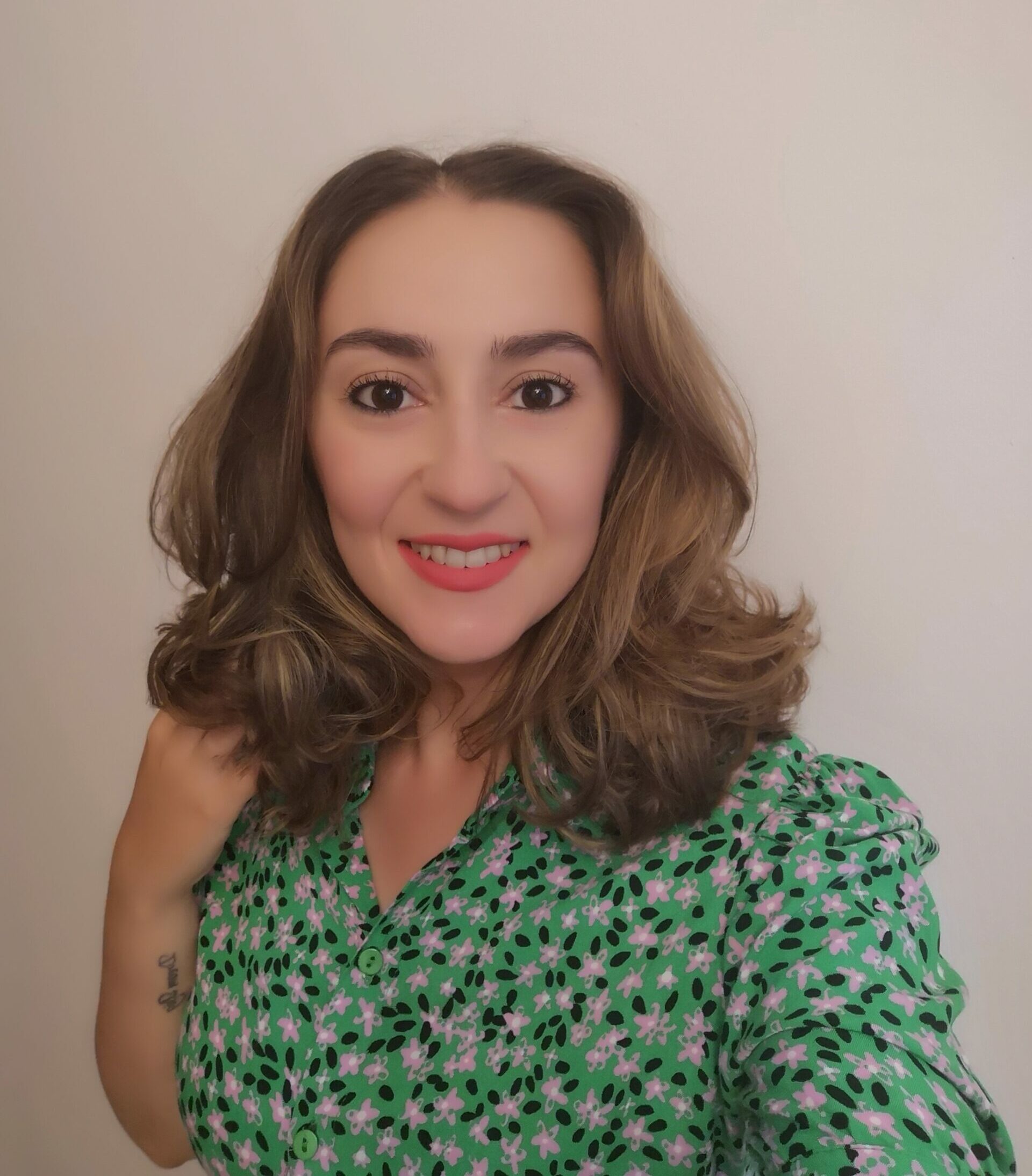 As you can easily see from the photo, my hair looked good even the next day. While my curls were gone, I was left with lovely wavy locks that were still full of volume. I loved the way it looked and felt. Moreover, the long-lasting hold truly impressed me, especially since the product didn't pull down my hair.
On the other hand, I found a few product residues stuck on my scalp. So, this could be a downside, but not an important one. Hence, I will use this BB hair spray again.
Other BB Hair Sprays
Bumble and Bumble also markets other excellent hair sprays.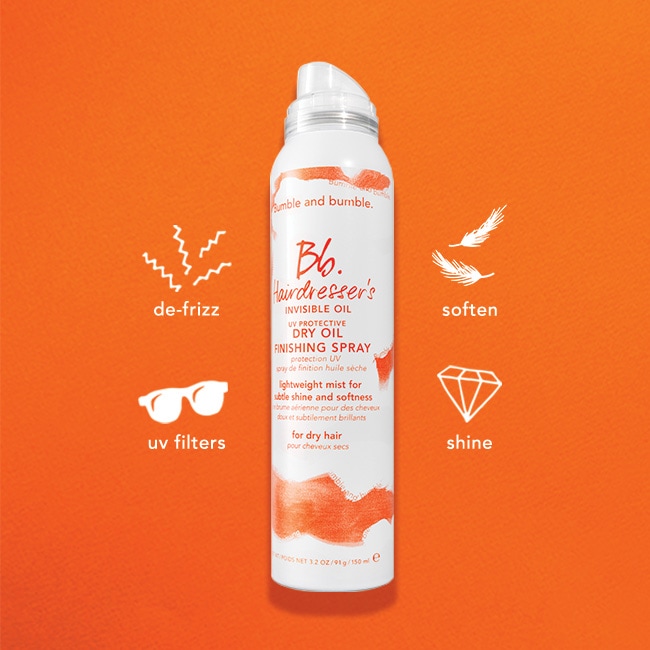 This BB spray comes in the form of dry oil and provides UV protection. Despite its oil-based formula, it has a lightweight texture and boosts your hair's radiance by reducing frizziness. It's suitable for fine and medium hair, but both curly and straight locks can benefit from this spray. I have very fine hair, so I must apply the product on my palms before using it on my locks.
It contains many amazing ingredients like safflower, coconut, and grape seed oil.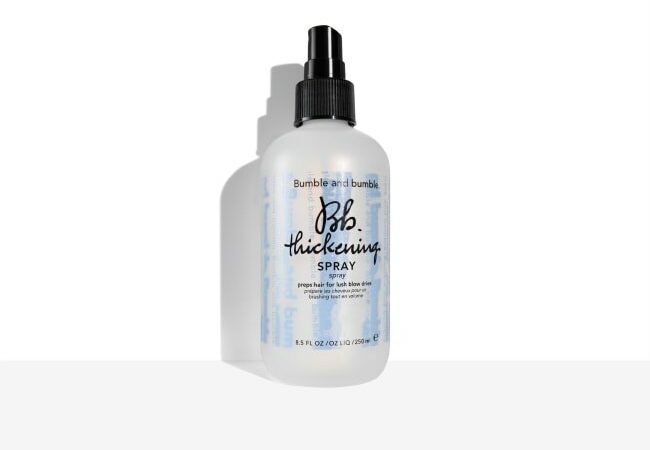 I've used this BB spray before trying the Strong Hold hair spray. Unlike the one I've reviewed today, this Thickening spray comes in a liquid form inside a bulky and shorter bottle. It has a lightweight texture, although I had to comb it to remove the excess. But, one thing's for sure: it boosts volume, which I'm looking for when using hair care products.
I usually apply it after washing my hair and blow-drying it. It's free of parabens and contains hydrolyzed wheat protein.
The Does It All spray provides a light hold suitable for softer and more natural styles. It's brushable and doesn't weigh down your tresses. Like the hair spray I'm reviewing today, this one also has a twist-lock nozzle, ensuring ease of use. This spray pairs well with other BB products, such as the Thickening spray and Tres Invisible dry shampoo.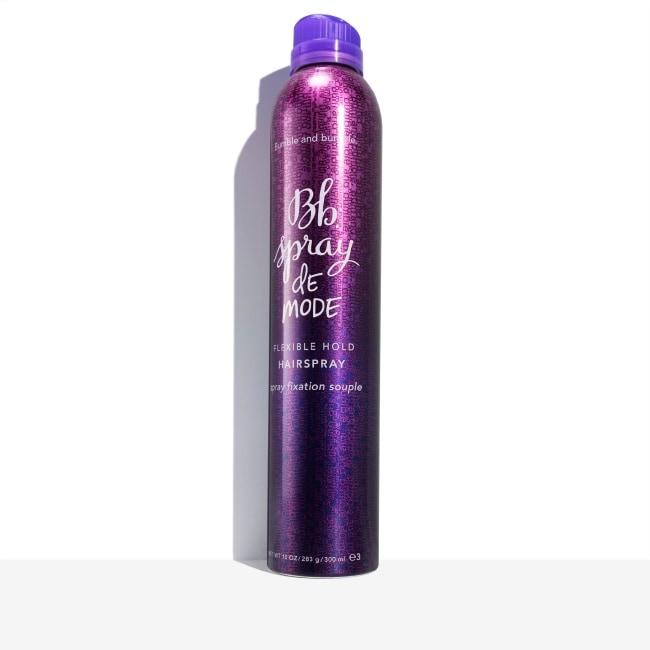 The Spray de Mode is a great alternative that offers a manageable and brushable hold. As a result, your hair will be styled but remain flexible and bouncy. This BB spray has a fancy name and a strong yet flexible hold. It leaves your hair plumped and bouncy even after you brush it. Moreover, it pairs well with the BB Thickening mousse.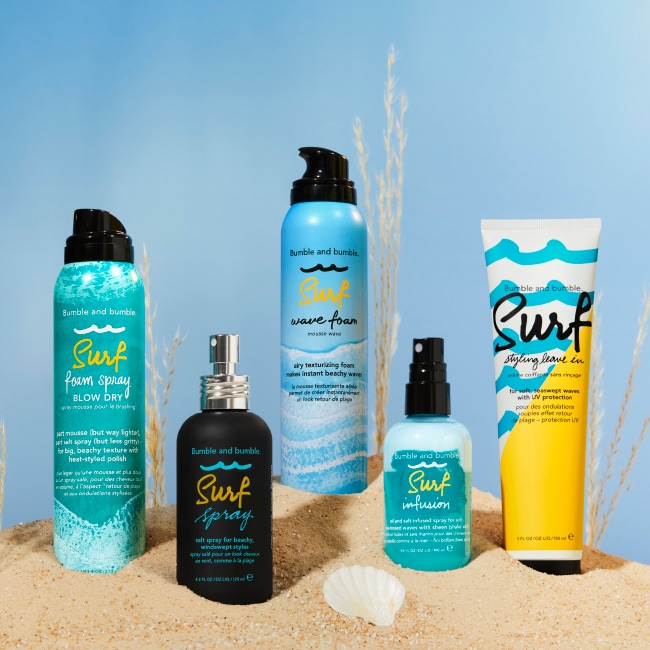 While I haven't tried the products from the Surf line yet, I am eager to test them since I'm curious about the texture I will achieve. This BB hair spray is formulated with a particular salt mineral complex representing the product's trademark. Other wonderful ingredients are coconut water, algae extract, mango seed oil, and hydrolyzed soy protein.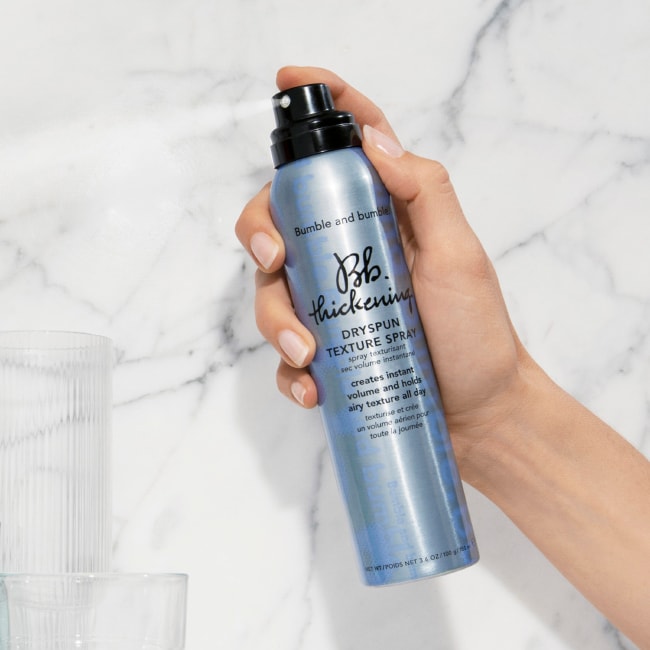 I love and have tried most of BB's items from the Thickening product line several times. That's because they suit my needs the most regarding my desire to achieve bouncy and volumized hair. This BB thickening spray offers a dry finish while adding plumpness and an airy texture to your locks. In addition, the finishing is translucent without making your locks stiff and sticky.
Main Alternatives
Here are some of the most popular alternatives to BB hair sprays. I've picked those options that, just like the BB sprays, won't make your locks feel crunchy or stiff:
Coconut Milk Hairspray by Love Beauty and Planet – this hairspray provides medium hold and plenty of volume, being one of my favorite hairstyling products. It's suitable for all hair types, and it's very affordable. What bugs me is when the nozzle gets clogged;
Kerastase Laque Couture Hairspray – is very expensive but provides flexible hold and comes with color protection ingredients. It protects your hair from humidity and reduces frizziness;
Kenra Professional Volume Spray – this is my favorite BB alternative since it's incredible for fine hair, and its holding power is long-lasting. So if you're about to go out on rainy days, this spray is perfect for preserving your hairstyle and keeping it intact. This product is also less expensive than the others.
FAQs
Question: Does Bumble and Bumble Sell Hairsprays?
Answer: Yes, they do, and these sprays are lovely. A wide range of BB sprays is available for each hair type and texture. For example, you can pick one suitable for fine hair and boosts volume, or you can opt for a BB spray that makes it easier for you to style your locks. The most versatile option is the Spray de Mode item which takes care of numerous needs, including flexible yet lasting hold and a high level of manageability.
Question: Is the BB Thickening Spray Effective?
Answer: Yes and no. For my fine hair, it works; it makes it more volumized. But I don't particularly appreciate that it makes my locks sticky and crispy, even after brushing them. So, yes, it's effective for volume boost, being a decent BB product, but there are other BB sprays that I love more.
Question: Is There a Difference between Hairspray for Volume and Thickening Sprays?
Answer: Yes, there is. Volumizing hair products make your locks look fuller by acting three-dimensionally. Thickening sprays add an extra coating to your locks, making them wider.
Spray It Away
After using this BB Strong Hold hairspray several times, I can honestly say I'm impressed with how it works and feels on my locks. My hair keeps its volume and curls all day long, and even after I brush it, the curls are still bouncy while the excess spray is removed. I'm on the 3rd day after applying the product, and my braids feel clean without being dry, stiff, oily, or greasy. It's truly a fantastic hair care product that I would definitely recommend.
Obviously, you should test it and see how well it works on your hair type, and let me know if the results meet your expectations.
Other Interesting Reads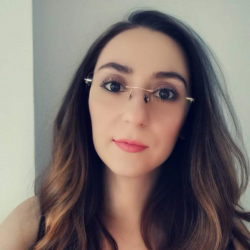 Latest posts by Alexandra Gavrilescu, Home Hair Product Tester
(see all)