I've taken a break from doing anything too dramatic to my hair lately, and so has my daughter, but ever since split hair dye style ideas started showing up wherever I look, I have been itching to try it.
I wish split dye styles had been a thing several years ago when this color placement was a fleeting thought in my mind. I couldn't choose between two shades and wanted to figure out a way to make them both work. I don't think I could've gotten away with it then, but it looks like it was a good idea, after all! 
Split dye hair is easy to achieve if you choose colors that work with your current hair color (or you could go to a pro and get pretty much whatever you can dream up).
You don't have to stick to the typical two-color, center-part styles you see most often. The dye's–I mean the sky's–the limit here. Take what you like about a style and make it work with your personality. 
Selection Criteria
I was looking for variety and creativity to find the right split hair dye ideas and styles to share here. I wanted to find:
"Classic" split hair dye ideas and styles, like black and white, parted straight down the middle, etc.

Fun with unusual or unexpected color combinations

"Almost natural" looks where two natural colors were used in the split hair dye technique

Unusual splits that didn't just feature one color on the left and another on the right
I wanted to give you all the options, color placements, and color combos you need to express yourself and show off your creativity and style.
What Does Split Hair Color Mean?
It generally means you've split your hair down the middle from forehead to the nape of your neck with a center part, then dyed each side a different color.
However, there are other takes on this, like:
Top and bottom/front and back

Side parts with each side being a different color
Regarding which colors to choose, you can go bold with bright or pastels, use natural shades, or some combination in-between.
You could even use split dye hair as an excuse to try on two shades you might want all over one day and see which one looks and feels the best.
Split Hair Dye Style Ideas to Get Your Creativity Flowing
Take some inspiration from some of these ideas, meld them together, and see what split hair dye styles you can come up with.
See if you can imagine a look that features hair colors you want to try on. Look for colors that flatter your features and current or upcoming haircut. Determine the placement that makes you stand out (if you don't want to do the typical center part). 
Stark Contrast: Light and Dark
Black on one side and platinum blonde on the other is one of the most common examples of split hairstyles I've seen. It's the perfect solution when you want a dramatic color but can't choose between the lightest and darkest options. Been there.
Pastel Pink and Black: a Fairytale with an Edge
Similarly, a split between pastel pink and black can be the compromise between edgy and ethereal. What a fantastic way to display different facets of your personality. Plus, the makeup and fashion options for this hair color are endless. 
Business on the Right, Party on the Left
I'll just go ahead and apologize right now for linking split hair dye ideas to the saying about mullets. Still, split hair is a fun way to keep things natural on one side and as much fun as you want on the other. I can think of so many occasions where this could be a helpful hair coloring strategy. Need a new LinkedIn pic? Use your "serious" side. Personal social media account or dating app? Fun side. 
I seriously love this brown and pastel hair combo thehairwitchbristol shared on Instagram. 
Off-Center
I love this option because it's unexpected. With the bangs, it's especially effective when you use a color that complements your eyes on most of the hair, then throw another fun color on the other side. If you part your hair on the side instead of the middle but don't have or want bangs, you can still do the same thing. Bangs just make it even more striking.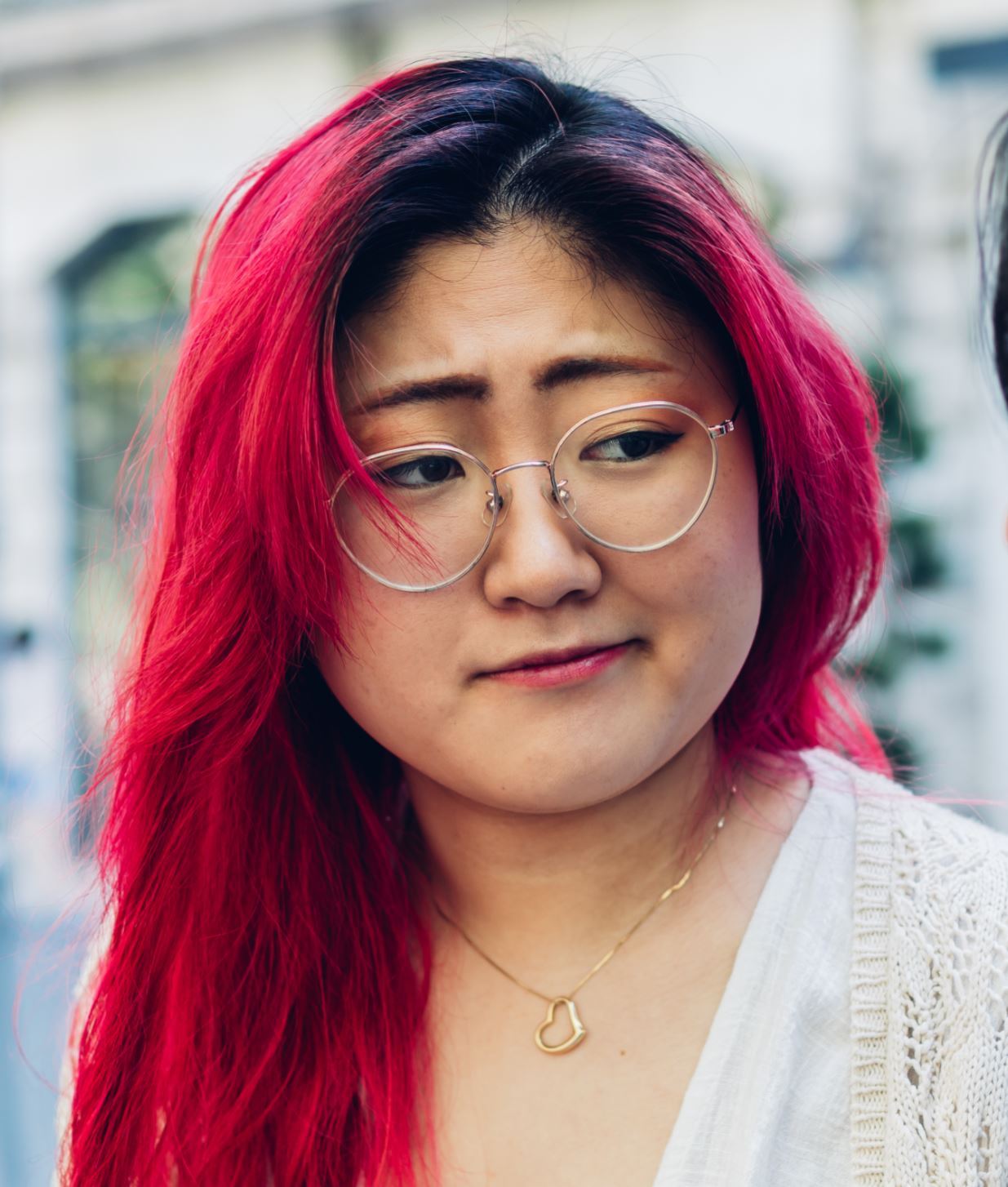 Naturally Pretty
Okay, nobody's hair naturally grows in the split color pattern (that I know of). Still, when you choose two shades that complement each other and your skin tone, it almost looks like it could have. These natural-looking shades aren't in stark contrast and look beautiful with her skin tone. I can't tell which one (if either) is her natural color.
Black and Caramel: Another Almost-Natural Look
Here's a darker version of the almost-could-be-natural split hair dye style. This time, it features black and caramel, but both shades complement her skin tone so well, that either could be natural. This combo works well with heavy makeup and a grunge vibe. 
Extra Pops of Color to Break the Mold
Think you're restricted to two colors when you split dye your hair? That's how it's traditionally done, but beauty rules are made to be broken. Here's a perfect example of a neon pink and green combo that features fluorescent yellow "highlights" near the face. My inner child is giddy to see this–in my mind, this was the best color scheme on the planet back then. 
Put Your Own Spin on the Rules
I love when two commonly accepted things are combined in a new and different way. While split hair dye styles don't fall into the "common" category, the placement usually involves a simple middle part–with or without bangs. They tend to feature two different colors in equal amounts, one on each side of the part.
When black and platinum shades are used, it's almost always in that context.
This flips that on its head.
Here, the hair is parted from side to side and split so that the front is platinum and the back/top is black.
Red and Blonde Split
Natural redhead but want to change things up? (As a brunette who's always wanted to be a redhead, I can't imagine that, but to each his or her own.) What about going blonde on one side and leaving that gorgeous red on the other side?
Or if you're blonde, try painting one side red.
Brunette like me? You could still pull the red-blonde split dye off, but I recommend going to a pro.
Turquoise on Top, Blue Underneath
This isn't your typical split hair dye style, but the colors are stunning together. It's less dramatic than turquoise on one side and royal blue on the other. It's perfect if you're dipping your toe into the world of unnatural colors and want something slightly subtler.
When you want to show off both colors, just clip the front/top of your hair up. Suppose you feel shy about bold hair colors. In that case, you could also do this with natural color on top and an unnatural one underneath. 
Twins! 
Did you dress up like your twin sibling when you were kids? These sisters took it to the next level, and it might be fun for you if you have a family member (maybe even an identical twin) you'd like to "twin" with now that you're older. These ladies used pink and yellow for a bold, statement look. 
Blue, Green, and Rainbow
I love when someone takes something simple enough, like the split hair dye trend, and adds their own flair to it. There's so much personality showing through in this blue and green split (that would've been gorgeous on its own) with a rainbow streak on one side.
I'm obsessed. The how-to walk-through makes me feel like I could even do this at home if I were blonde.
Don't think that split dye hairstyles limit you to just two colors. There's a whole rainbow in here, even if it is limited to one spot.
FAQ
If you have more questions, some of the most frequently asked ones might help you decide on your course of action (and whether a split hair dye style is a good idea for you right now).
Question: What color should I split dye my hair?
Answer: The beauty of split dye hair is, that anything goes! Go as bold as you want and use your two favorite colors.
Consider two natural colors, or only dyeing one side of your hair (natural, bright, or pastel) while leaving the other side your natural shade. Try on the drama of black and platinum (or pastel). The sky's the limit.
Speaking of the sky, you could try sky blue and midnight blue…hmm… See what I mean? Anything.
Question: Is a split dye worth it?
Answer: It could be. Are you looking for something quick, easy, and dramatic? This could be for you. Can't decide between two colors? Try them both on at the same time. The only time I advise against it is if there will be a lot of bleach involved (like when you want to go bright, pastel, or platinum from dark hair).
I also don't recommend it if you will be going to a school or job that won't allow that color placement within the next several weeks. Suppose you're not changing your color so dramatically that there will be a lot of damage to contend with. In that case, it could still be worth trying a split dye style for such a short period. It might not be worth it if you're trying to go from very dark to very light. 
Question: What two hair colors go well together?
Answer: When we're talking split hair dye styles, anything goes. You could choose two natural shades with similar undertones (like a strawberry blonde and auburn), two equally bold shades (like purple and yellow or green), black and white, pastel and black, brown and black, cool brown and icy blonde, etc.
Since the colors will be separate from one another, for the most part, you don't really have to worry so much about them blending well. Just pick two colors you like.
Question: How do you split dye hair?
Answer: The easiest way is to make a center part from your forehead to the nape of your neck, then use a clip to keep one section out of the way as you paint color (or bleach) on the other.
If you'll need to lighten both sides first because of the chosen colors, complete that process before you part your hair. 
Once you have the color done on one side, clip that out of the way and start on the other side. Wait the amount of time on the package, then rinse in cool water and style.
Check out Crystal Lindy's YouTube video to watch the process.
Question: Can you do a split dye with a side part?
Answer: Of course! It'll look lovely! Though most split hair dye styles feature a center part, there's no reason you can't do it with a side part.
Another idea would be to split the hair down the middle and then rock your side part for a layered look.
Or part it on the side, dye it, and then part your hair in the middle for a different peekaboo-type effect. 
Choose Your Split Hair Dye Style
If you made it this far, you're probably about 99 percent sure you will soon be sporting a split hair dye style. If you don't already know which colors you want, here are a few things to ask yourself before your make your appointment or go to the beauty supply store:
Do you want to leave one side your natural color and only bleach and/or color one side? 
Do you want to use natural hair colors?
How light do you need to go, and what's your starting point (in other words: does this require a professional, and will it be highly damaging to one or both sides of your hair)?
How long do you want to maintain the color? (It's likely to fade within a few weeks if you go with a bright or pastel shade, but you'll still need to address the residual, faded color and roots).
Do you have or want bangs, and do you want to choose a color that complements your eyes incredibly well because of them?
Will you be moving your part to the middle from one side (and in that case, what haircut will be most flattering to your features and the overall look you're hoping to achieve with the split dye style)?
There's a lot to consider, but most of the decisions are fun to think about. Don't be afraid to take inspiration from any of the ideas above and put your own spin on them.
Split hair dye styles are relatively easy to achieve and make a good starting point when you want to get creative with your hair. 
Looking for more interesting hairstyles? Check out: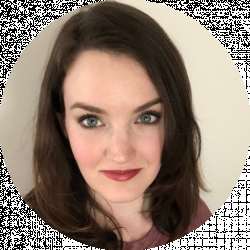 Latest posts by Crystal Schwanke
(see all)