Have you got long hair that you absolutely love? Finding the perfect style to show off that length and keep it interesting can be difficult. I should know- I have the same dilemma. 
While researching ways to style my hair, one haircut that came up time and again was the V-shaped cut with a few layers. It's perfect for accentuating long, straight hair and has become increasingly popular over the last decade. The V-cut creates an eye-catching and dramatic shape that depending on how you style it, can bring soft femininity or elegant cool. 
The good news is that this haircut works for almost all hair types and presents dozens of styling options. So if you love braiding your long hair or showing it off in loose knots, fear not, because a v-shaped cut-out offers plenty of opportunity for that.
So, with that said, I'll talk you through everything you need to know about layered V-cuts and list some of my favorite V-cut hairstyles. 
Sound good? Great. Let's get started.
My Bottom Line Upfront
My favorite V-shaped cut is the salt and pepper colored style with loose curls. The soft highlights add texture to an already voluminous hairstyle, making it one of the best ways to show off this dramatic cut!
What's a V-Shape Hair Cut with Layers?
Many hair trends have come and gone over the years, but the V-shape cut is one that's survived the ages. In fact, it was largely introduced by Audrey Hepburn in her role in Breakfast at Tiffany's!
A v-shape haircut, as its name implies, creates the letter "V" when your hair is swept back – so that the ends of the hair form a sharp tip. 
The hair is cut at sharp angles in several sections to create this look. 
Usually, v-cuts go hand in hand with lots of layers to add volume to the style. Typically, layers start from the top or mid-way down your hair – (where you begin your layers depends on how much volume you want to achieve). You can also cut layers to frame the face. Thanks to this layered approach, v-cuts suit various hair textures and lengths. 
The V shape you create can also be subtle or much more severe, depending on the length that your hair starts to taper. 
Blunt Cut vs. U Shape Cuts vs. V Shape Cuts
Now that I've introduced v-shape cuts, you might be interested to hear a few other ways you could taper your hair.
First, there's the blunt cut. This is when you cut your hair in a straight line, or, in other words, at a single length. Lots of influencers and celebrities rock this style – for instance, Anna Wintour, Emilia Clarke, and Emma Roberts – to name a few! Sharp, blunt cuts can create a dramatic, sophisticated edge, but keep in mind that you'll have to return to the hairdresser every few weeks to maintain that style.
In contrast, a u-shaped cut is similar to a V-cut. However, instead of a sharp triangular shape, this hair is longer at the back and gradually gets a bit shorter at the sides. The U-cut mirrors how hair grows naturally, making for a softer look that suits many layers. As such, the U-cut requires less maintenance than the blunt cut or even the v-cut because it won't if it grows out too quickly; it won't look unnatural or odd. 
What to Know Before Getting a V-Shape Hair Cut
The v-shape haircut is undeniably a highly versatile style suited to many people. But as with any haircut, there are a few things to consider before taking the plunge. So, to help you get a feel for whether the v-cut is the right choice for you, we've made a quick list of its most notable benefits and drawbacks:
The Benefits
V-cuts are low maintenance and often look great without much styling.

A v-cut hairstyle is a good choice for those with longer hair wanting to frame their face.

With the v-cut, you don't have to lose much of the length of your hair.

It adds volume to your hair, making v-shaped cuts ideal for people with thin hair looking to create a more voluminous style.

V-shaped hair is ideal for straight hair.

As the V tapers, it visually elongates your waist, making it look narrower and accentuating an hourglass figure.
The Drawbacks
To keep a V shape in your hair, you'll need to visit the hairdresser relatively frequently for a trim, as strands might quickly grow choppy or uneven. This is especially true if you've opted for a sharper V shape; in these instances, you'll likely have to visit the salon once every three weeks. Whereas, with a softer V-cut, we recommend going every six weeks. 

Typically speaking, v-shaped haircuts with layers framing the face don't suit rounder faces or those with smaller chins as much – but, of course, that isn't always the case!

Depending on how quickly your hair grows, growing your hair out of a V cut can take a very long time – especially if you've opted for a more dramatic V-shape. In these instances, if you don't want to chop your hair off at the top, where the ends begin to taper, it will take a while to achieve a straight cut or even a U-cut.
My Favourite V Shape Cut Out With Layers Ideas
V-shape hair lends itself to most hair types and a wide variety of styles! Any hairstyle that accentuates your layers is an immediate winner. If you're looking for inspiration, I've listed some of my favorite v-shape cutouts with layers below!
1. V Shaped Long Hair with Highlights
I love this v-cut with dramatic bright highlights 
by coloredbycaitln
. The dark base color captures attention, and the contrast against the highlights creates an elegant yet interesting look. I think this is an effective way to make your hair color stand out. If you're feeling bold, I reckon it would even look great with more vibrant hues! 
Check out our galaxy hair ideas
 for extra inspiration. 
2. Long V Shape Cut with Soft Curls and Layers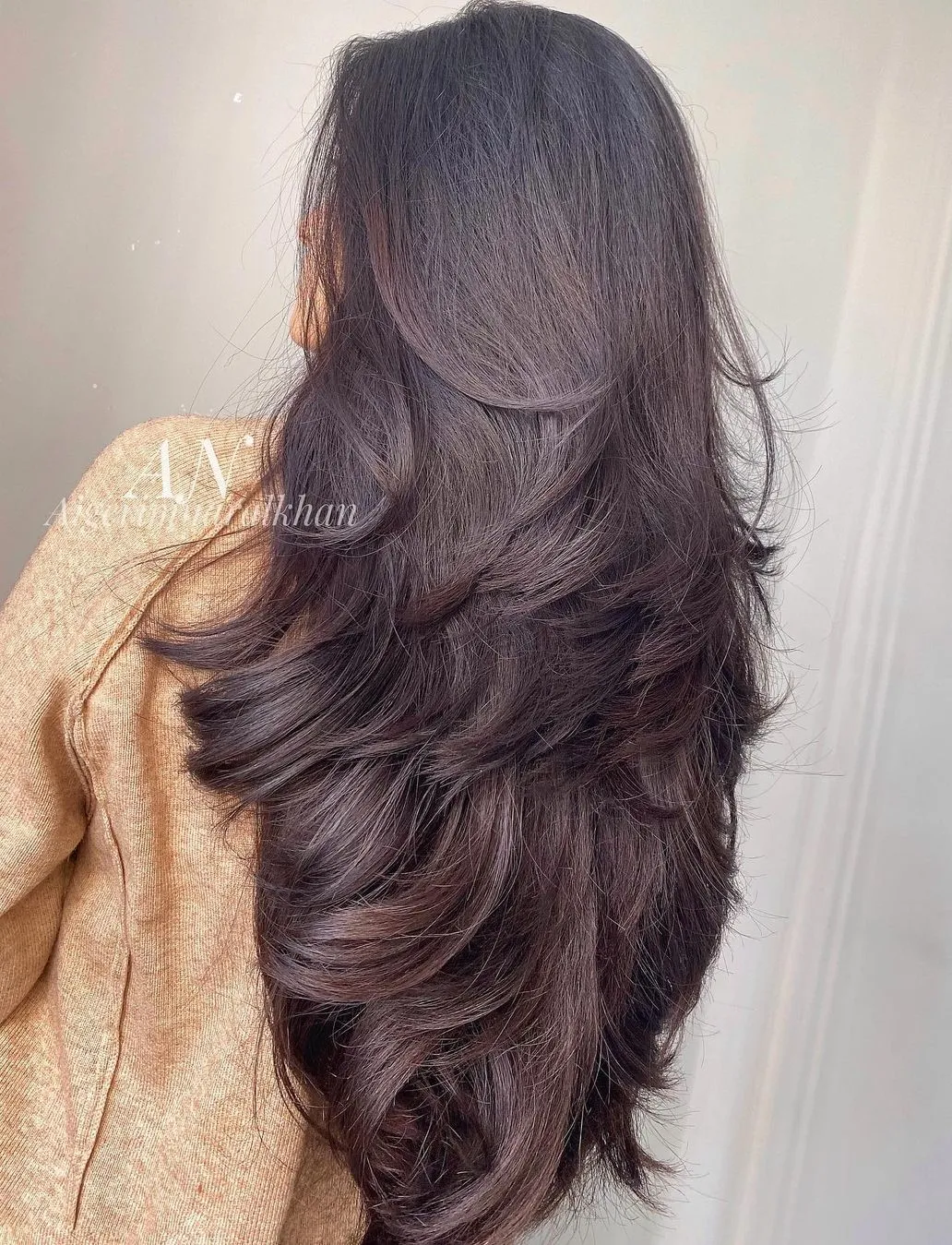 I love this layered V cut's delicate, wispy curls for a more romantic look. The chocolate brown coloration paired with this style makes for a feminine, stylish vibe. This is just one way to introduce subtle curls into long, straight, layered hair!
3. DIY V-Shaped Cut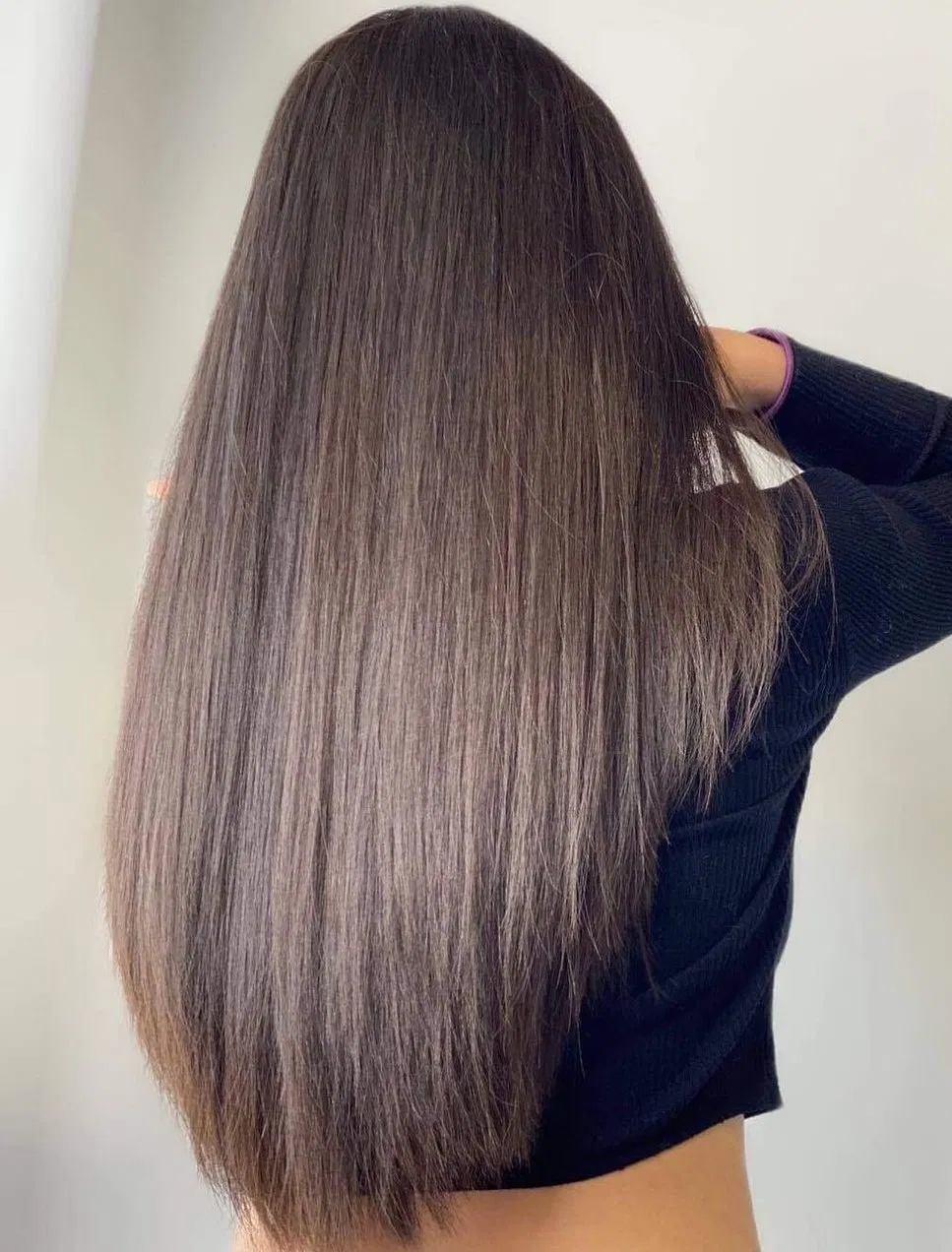 Paying a professional to cut your hair is always better – especially if you want to add lots of layers or cut a more dramatic style. However, suppose you already have some hairdressing skills. In that case, you can follow plenty of simple video tutorials on the web to achieve a gorgeous V-shaped cut like in this picture at home! Here's one of my favorites by Rachel Grace, all the way back from 2014.
4. Shattered V Shape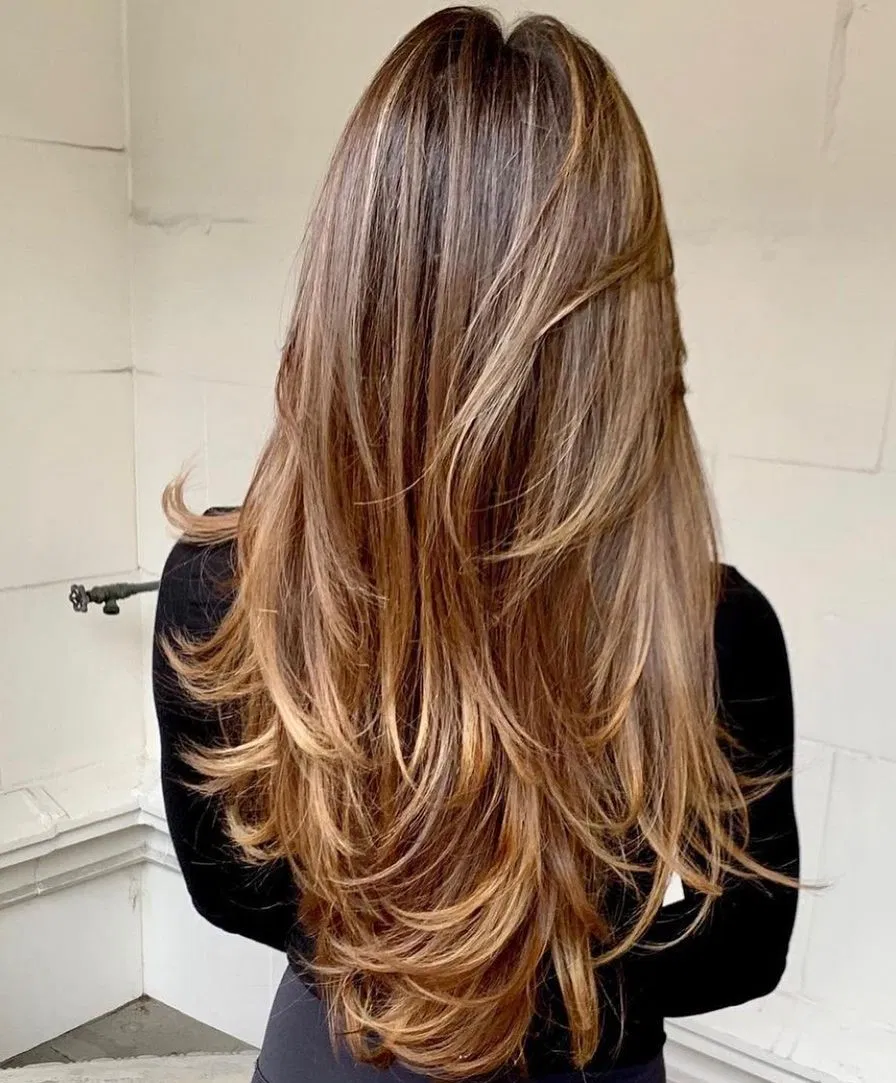 This salon provides terrific inspiration for this wild yet elegant-looking v-cut. It's easy to picture too clear-cut geometry when we hear "V shape." Still, by fraying out the bottom of your hair and introducing some curls and motion, you can quickly achieve a stylish yet relaxed look like this. The highlights add extra dimension!
5. Salt and Pepper V Shape
Add some spice to your haircut! Suppose you're looking for a more unusual hair color to flatter thicker hair. In that case, this v-cut by Kim is a perfect inspiration. Lowlights like this add more texture to your hair, which is all the more visible if you have thick strands, making the hairstyle look even more voluminous. 
6. V-shaped Hair with Fine Layered Ends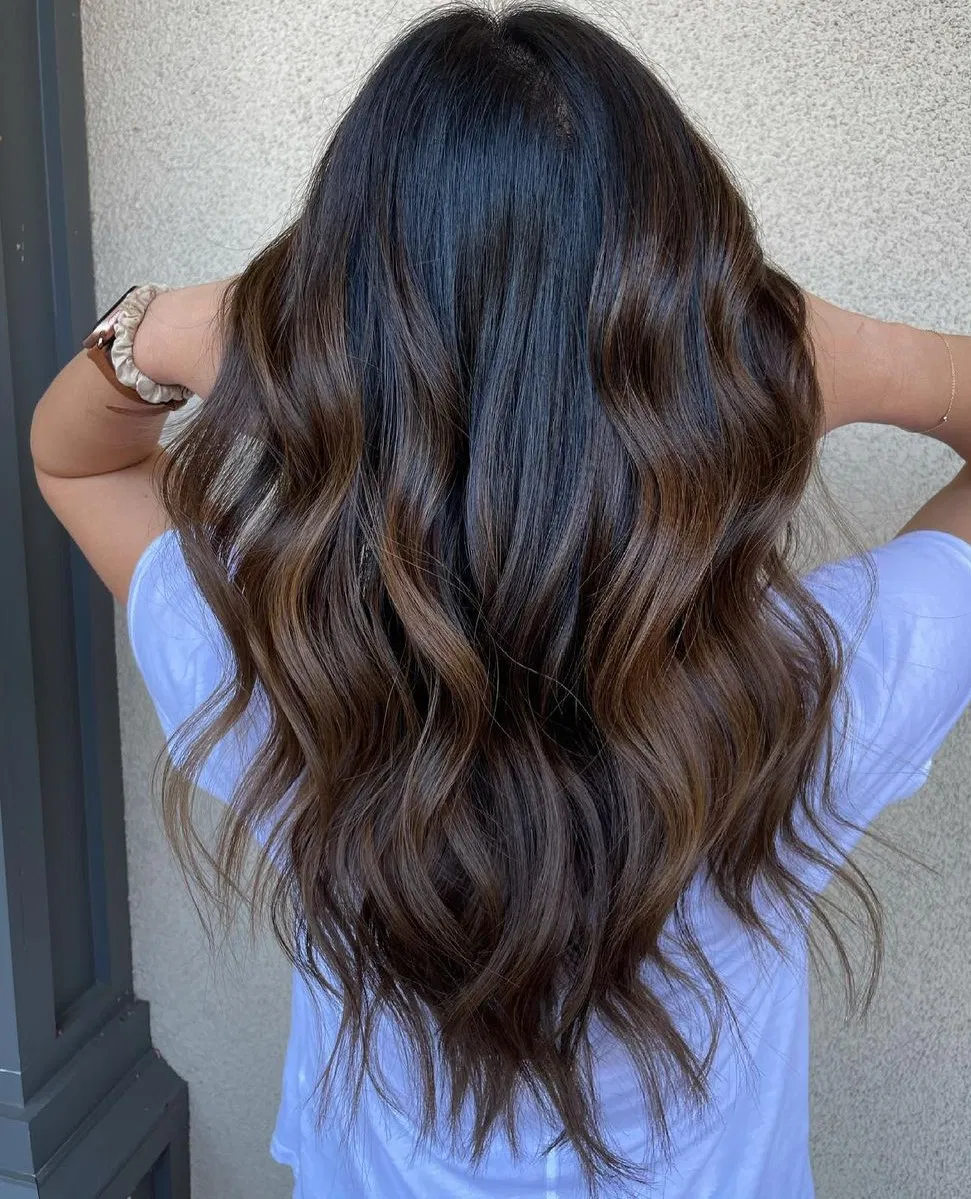 Check out this example by Kacie to see how finely layering your hair at the end can bring out more texture. I think this mixture of hazel, mahogany, and chocolate looks really sophisticated. However, it's easy to see how the same style could work for any range of colors! You could stick to monochrome or introduce some vibrant highlights for a twist – the choice is yours!
7. V-shaped Hair with Flipped Up Layers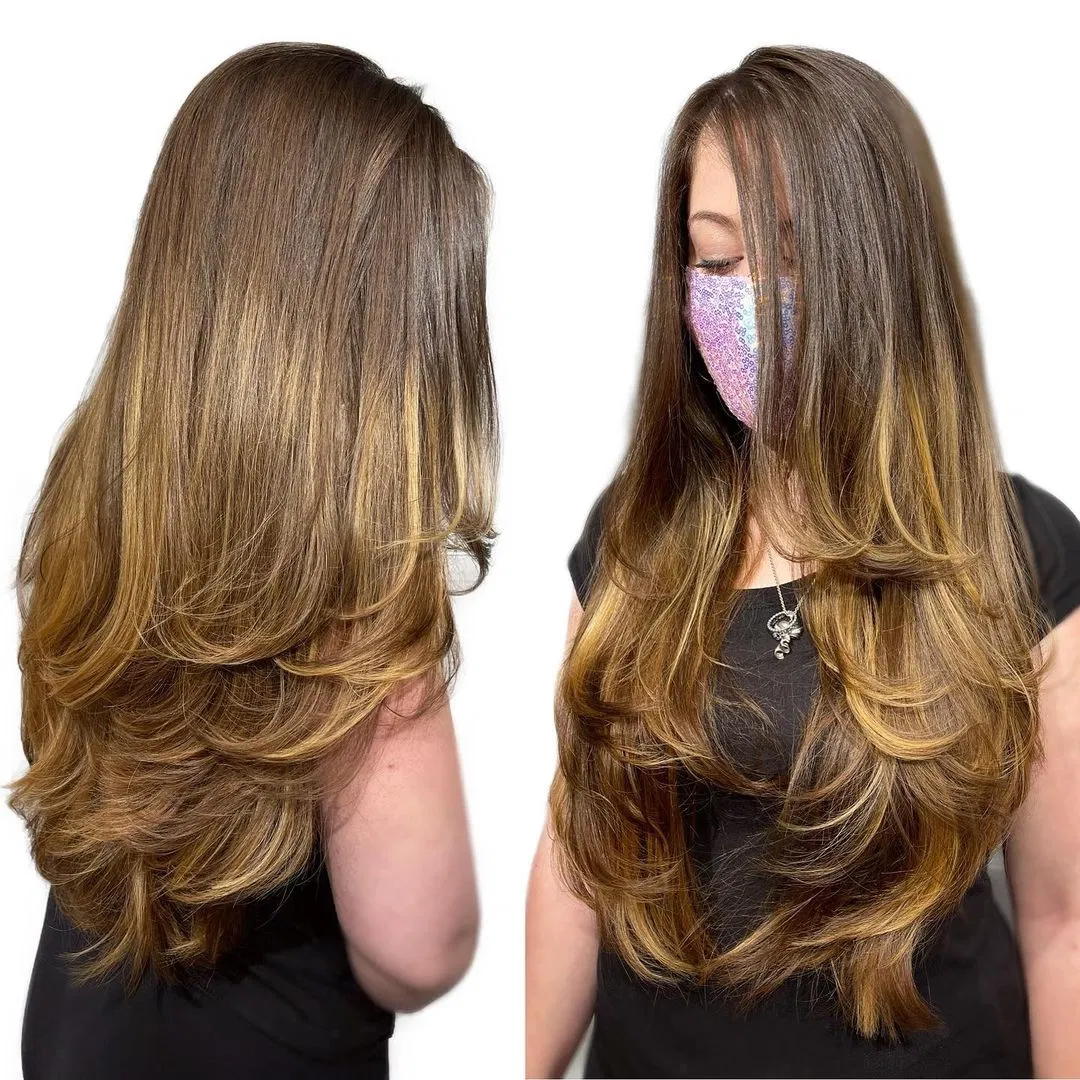 This look by Jesica is a great way to frame your face. The style looks feminine and whimsical and is even better when combined with highlights for a little something extra. 
8. Warm Balayage and Luscious Curls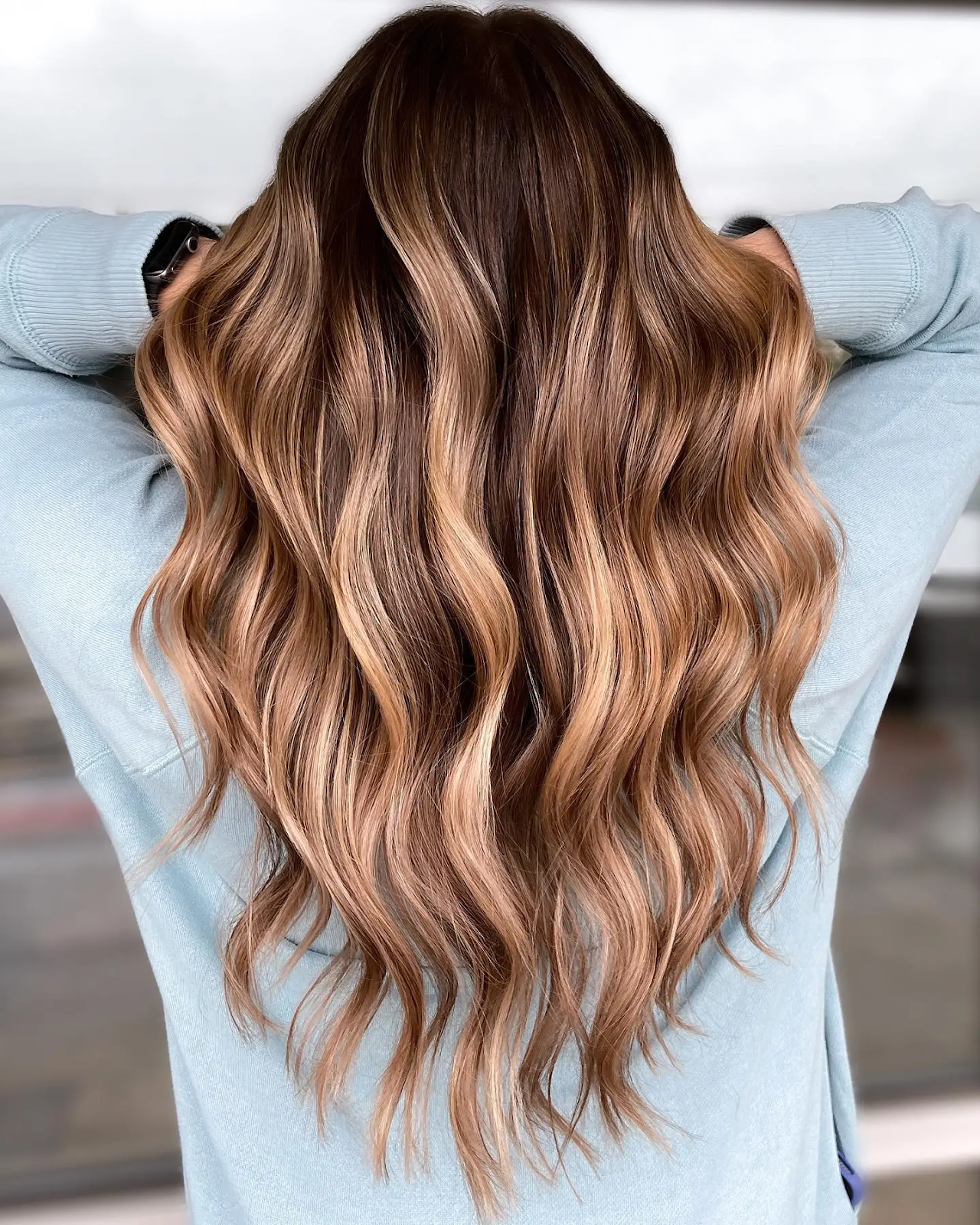 These caramel blonde balayage highlights modeled by Melissa Maloney create a super-feminine look. In addition, the wavy curls add a softness to the haircut, allowing this hair to cascade elegantly. 
9. Think, Long, Twice-V-Shaped Hair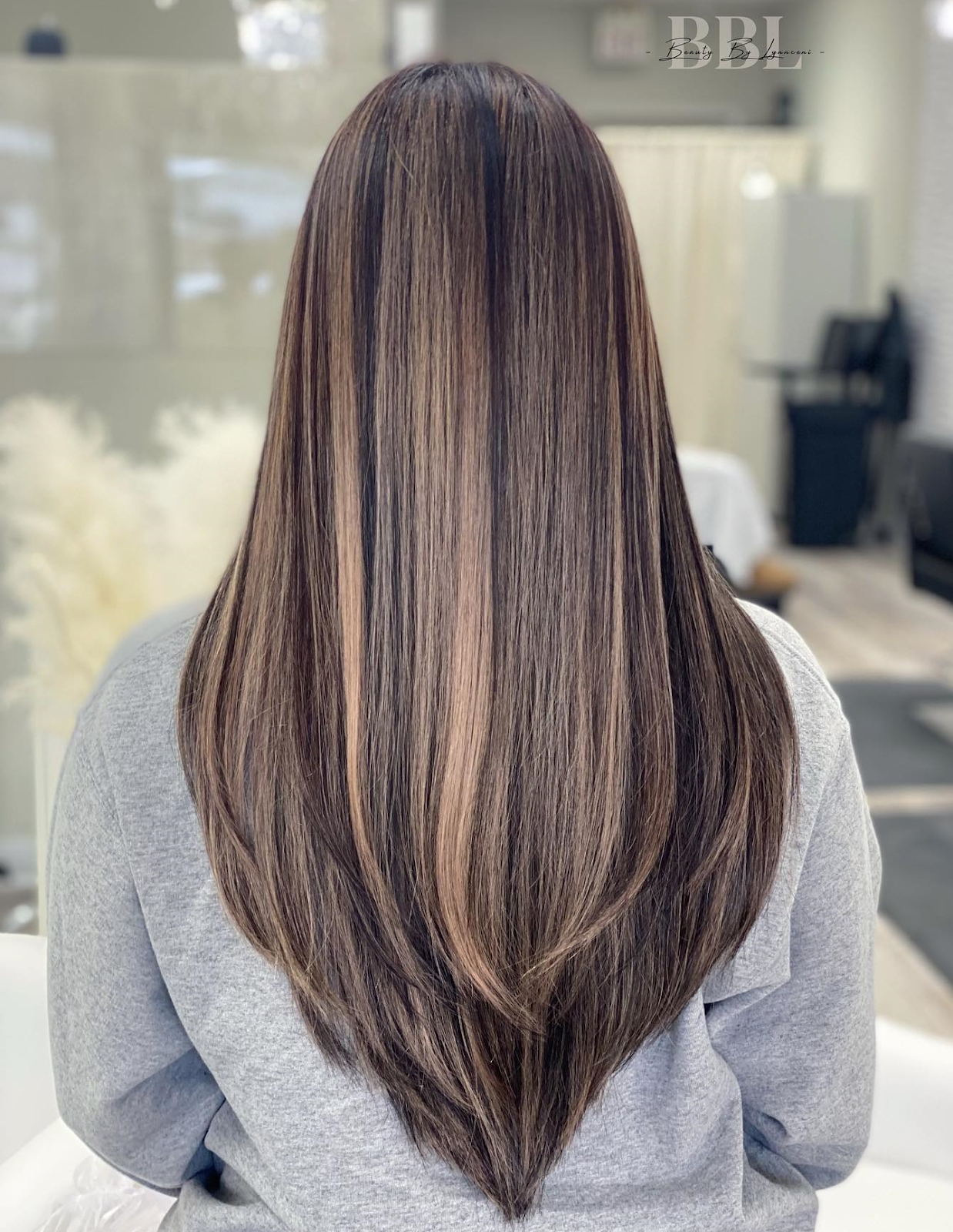 This style is perfect for thick, straight hair. It showcases two layers of v-shaped hair that underline the drama of the v-cut. In the example by BBL pictured here, I think the highlights help introduce additional vertical lines, which look pretty elegant.
10. The Effortlessly Natural-looking V-shape
If you're looking for an effortless style and hair that looks good every day, take inspiration from this 
hand-styled v-cut with foam-fuelled curls by atomicliz
. The foam (moose) achieves natural waviness for a relaxed style that looks sporty and chic. At the same time, the v-shape adds elegance and structure without high-effort styling. 
11. V-shape with Light Bottom Curls
This haircut by 
Cosmosbyjess
 is a nice example of how even single-colored hair looks good with a v-shaped cut with soft curls at the bottom. The curls add enough dimension to give this style extra je-ne-sais-quoi without too much effort. If you're looking to recreate this look, this particular example pictured here was styled using Wella thermal image and stay firm hairspray.
12. Short, Modern V-shaped Hair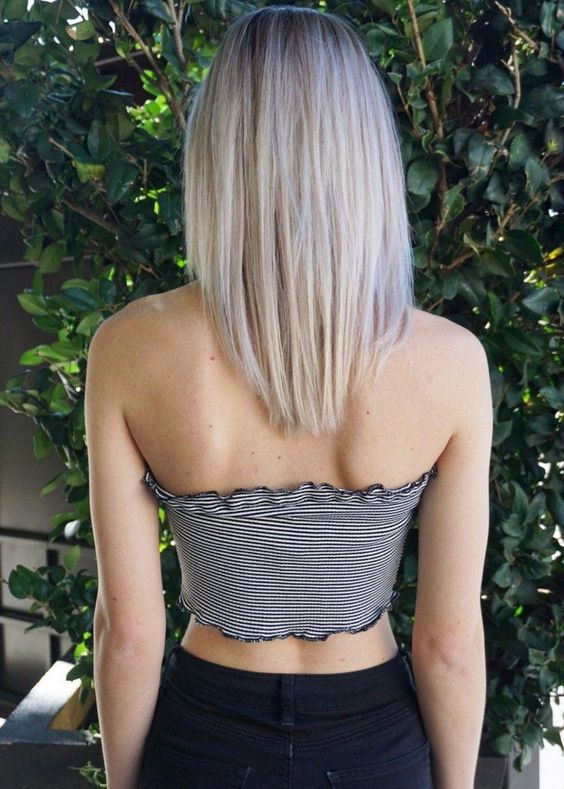 So far, I've shown many examples of long v-shaped layered cuts. But, V-shapes can also look great for medium-length hair- particularly if you're after a cool, more dramatic look. However, I think the v-shape is even more striking with shorter-length hair. As a side note, I also like this bright hair color pictured here; I think this really exacerbates this haircut. 
13. Sharp V on Long, Straight hair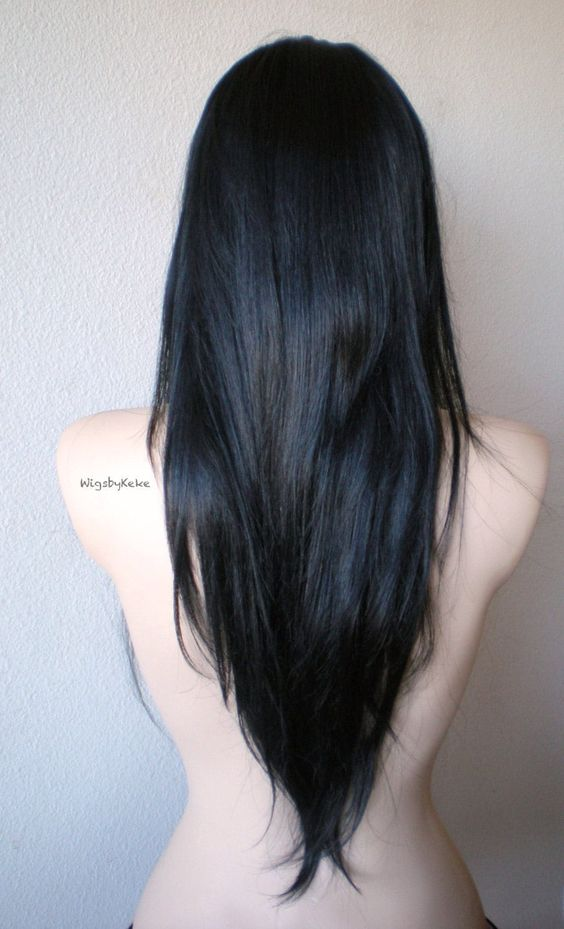 While the style here is shown on a wig rather than a person, it's easy to picture this look on anyone with long, dark, straight hair. This V is particularly pronounced, starting relatively high up and tapering to a very narrow end, creating a deft, dramatic effect.
14. Blue Highlights on Dark V-Cut Hair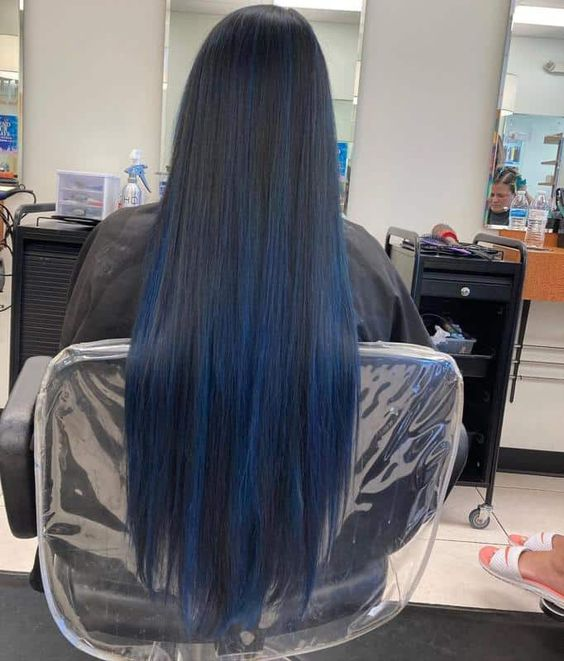 This cut from Jessicas showcases a gorgeous color combination: sea blue on black hair. I think dark, bold colors are one of the best ways to style V-shaped hair if you want a more striking, gothic look. 
15. Dark Mysterious Violet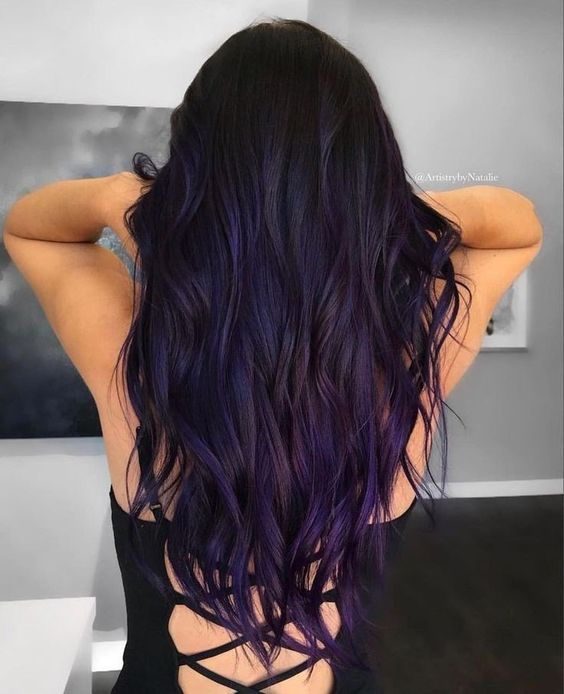 While we're already speaking about color, what could be more gorgeous than this V-shaped layered cut interspersed with dark violets, fading towards a warmer purple towards the bottom? The effect is nothing short of magical!
16. Soft, Natural V-shaped Cuts
Finally, here's a reminder that V-shaped haircuts don't have to be long or extreme. The difference between U-shaped and V-shaped cuts can be subtle; you can fall somewhere in the middle!
For instance, this style is a nice example of a more natural, subtler v-shape that isn't too dramatic. Instead, the shape simply adds a little extra elegance and volume.
V-shaped Hair FAQs
Before I wrap up this v-shape cut out with layers guide, below, I'll try to answer some of the most commonly asked questions about this haircut:
Question: Can I cut a v-shape style at home?
Answer: While I'd always recommend seeking a professional to cut your hair, executing a v-shaped haircut at home is possible. You can follow plenty of video tutorials to accomplish this style and even a handy Wikihow article. 
Question: Is v-shaped hair expensive to get?
Answer: Compared to other styles, a v-cut isn't expensive. The cost only mounts up when you start adding complex colors into the mix. However, it's worth noting that you may have to return to the salon sooner to maintain the v-shape than you would with other styles. As your hair grows out, more sharply defined, v-cuts might lose their appeal once the ends become uneven. So, to maintain the cut, you'll likely need a trim at least every six weeks.
Question: Which face types does v-shape hair suit?
Answer: V-shaped hair is a great way to further frame and accentuate squarish or oblong-shaped faces. 
Question: Can I have a v-cut with short hair?
Answer: You'll generally need longer hair to show off the full effect of a v-shape cut with voluptuous layers. You can easily create a v-shape with shoulder-length hair. However, v-cuts are also possible for those with shorter hair, though the style will show differently. For example, your hair stylist can taper your hair to your neck to spruce up a pixie cut.
Question: Is it a good idea to color v-shaped, layered hair?
Answer: Absolutely! Adding highlights can add texture and dimension to a v-cut with a multitude of layers, as shown in a few examples above!
My Final Thoughts on the V-Shape Cut Out With Layers
All in all, I think v-shaped layered cuts are great for those with long hair looking for a style that frames their face. You can't go wrong with this style if you want more volume in your hair without too much weight.
But, what I love most about the v-cut is that there's something for everyone – they range from soft curls with delicate balayage highlights to straight, boldly colored gradients. The possibilities are seemingly endless!
I think it's safe to say that v-cuts aren't about to go out of fashion anytime soon! Just remember that sharp-angled v-styled haircuts will take a while to grow out again. So do your research and spend time browsing different looks to find one you're 100% in love with before going to the salon.
That's all, folks; I hope my list helped provide some inspiration! Let me know in the comments below which style is your favorite – speak soon!
Looking for more interesting readings? Check out: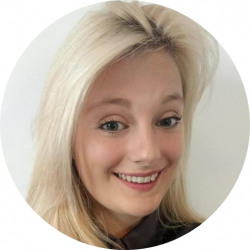 Latest posts by Rosie Greaves
(see all)